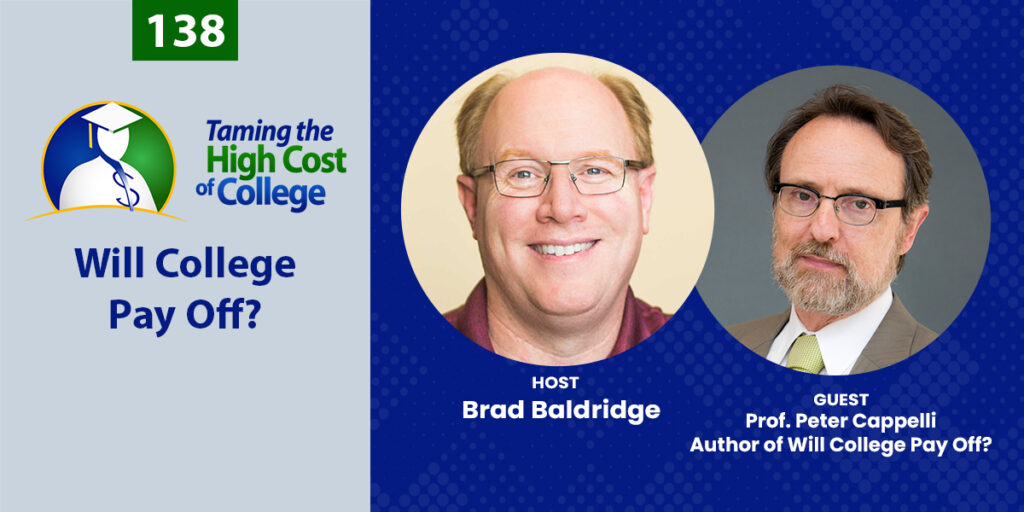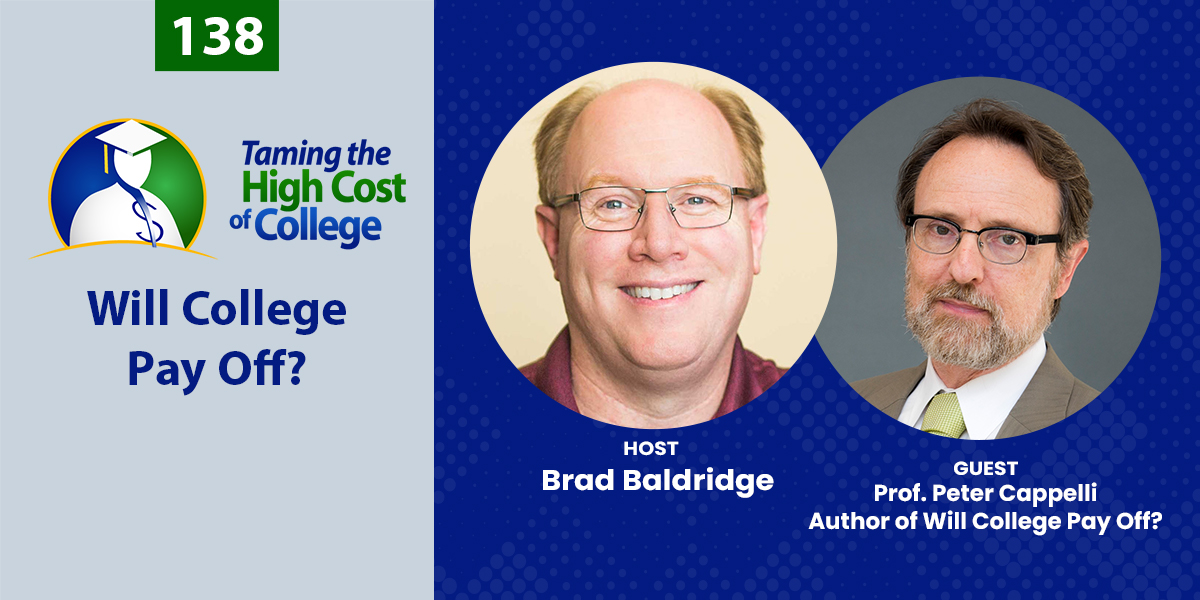 ---
Today's Guest:
Prof. Peter Cappelli, author of Will College Pay Off?
Peter is a Professor of Management at The Wharton School. Having worked in the U.S. Department of Labor and Department of Education, Peter's focus is on education and the quality of the workforce.
Backed up by extensive research and immense experience, Peter wrote the book, Will College Pay Off?, to improve people's understanding of the financial risks involved in going to college.
Questions Answered Today:
Is it true that people who go to college get paid more compared to those who don't?
Surprisingly, the answer is not an outright "yes." Studies suggest that the pay a college graduate gets is only 2% higher than those who did not go to college.
The real answer is that it depends. According to research, there are three reasons for this:
It depends on the person's cognitive skills. People who go to college may have more family support, money, resources, social connections, etc. These possibly lead to better cognitive skills compared to those who did not go to college.
It depends on whether the person actually finished college. Getting into college doesn't mean that much for employers: it's actually graduating that does.
It depends on the person's demonstration of skills that are helpful for employers.
Now, here's the scary part, as Peter said. While these are three very different reasons, there's not enough data that tells us which matters the most. The key, though, is to understand that going to college does not equate graduating from college. In fact, statistically, only around 30-40% of college students get a college degree.
Hence, getting a college degree is quite a financial risk that needs careful consideration.
"Doing well in college does not predict much about income after college."

— Prof. Peter Cappelli
What are the common misconceptions about getting into college?
"The idea of thinking of a college degree as a uniform thing, which we often hear about, is just a mistake."

— Prof. Peter Capelli
WHEN you go to college doesn't really matter. Students don't have to go to college after high school. Students should go when they're ready, as readiness increases the chance of finishing a degree.
It's not true that people who get the most money are from elite schools. Why? These schools mostly produce professionals in the Arts, which don't make money. It's Colorado College of the Mines, the Coast Guard Academy, or engineering schools that produce graduates that have greater access to high-paying jobs. The field where the student wants to work should be carefully considered.
There has been an increase in the number of people who go to college but are on the "lower end of the academic spectrum." Here are the differences for these students compared to those who get a degree from an elite school:
As they often (not always) make less money, these graduates often don't do as well as graduates of elite colleges do.
The student often doesn't have the same background, resources, and support as the other elite school student has.
Standards may be lower at the schools these students attend, so there's potentially not as much to learn.
Sometimes, the internships that schools offer are not the best bet. Peter thinks that paying tuition to have your student volunteer somewhere, not getting paid, may be an expensive way to go. A better option may be to get work experiences during summer. Ask yourself, "Is this the best use of my money? Could my student get experience some other way?"
Did COVID really change education and the workforce?
Contrary to what many believe, Peter says that there haven't been any major reforms or changes in job sectors due to COVID-19. There's no evidence that there's a need for skills or that there are new jobs out there.
Take working and going to school from home as an example. We initially thought that working and going to school from home might be the "new normal," but here's what's happened:
Workers:
Only 11% of employees work from home, with some companies cutting up to 20% pay for remote workers.
Students:
Students are now back in classrooms, only with masks on.
Pre-COVID programs such as Sunrise Semester and Massive Open Online Courses (MOOCs) have been launched, but they weren't really successful.
While Peter thinks that these may change in the future, he hasn't seen changes happening now.
"I don't think [COVID] changes much of anything to be honest. I don't think jobs have changed."

— Prof. Peter Capelli
So, how do I know if college will pay off for my student?
Fortunately, there are ways to predict your student's chances of actually finishing a degree. Here are some of the things you could do:
This is a no brainer—gauge their readiness for college. There are plenty of resources you can use to evaluate this.
Pick schools carefully! Your student's success can be aided by the environment they are in. These details will help you get to know the school more:
Graduation rate. If the percentage of students that graduate on time is 10%, it's probably not a great pick.
Scheduling of courses. Often, a major that has a lot of pre-requisites is harder to finish.
"The more that you go to a school that provides lots of support, the better the odds are your kids will graduate on time."

— Prof. Peter Cappelli
Peter also notes the following:
It's harder to graduate from state universities compared to private schools.

Sciences may be harder to get through due to lack of lab spaces and other related resources.
Specialized schools (i.e. engineering schools, etc.) may not be the best idea. If your student changes their mind, they may end up needing to change schools instead of just changing majors.

There's absolutely no big disadvantage to starting college a year later, so let the student take a gap year if they must. Readiness precedes everything else!
What tips can you give from a college financial perspective?
Peter could not stress this enough—waiting may be a good idea. If you are not confident that your student could make it in college, think hard before making risky financial decisions such as:
Taking out a home equity loan
Putting your own retirement at risk
If your student fails to get a degree, you may end up in a worse situation, even worse than if the student never went to college in the first place.
"Your kid doesn't have to go the year they get out of high school. If you wait, it's not the end of the world."

— Prof. Peter Cappelli
If you really want the student to pursue getting into college without risking everything, here are some smart tips:
Look for financial aid, especially if the student is highly qualified based on need or merit. There are many colleges that are looking for academically competitive students.
Don't be afraid to explore, even the most expensive schools. You never know what they're looking for in a student, and they typically offer financial aid to help you with the cost.
Educate yourself about the application process. There are legitimate resources available from different organizations and higher education associations to help you learn and understand the process. Books such as Peter's Will College Pay Off? should also provide some golden nuggets that are helpful in decision making.
Brad Recommends
Today, I recommend a series of podcasts we released recently. Recorded with college advisor Chuck Erickson, Taming the High Cost of College's episodes 119 through 129 are great resources for college planning. Here are each episode's highlights:
Episode 119: How college consultants can help you with the college process
Episode 120: Knowing and recognizing good-fit schools for your student
Episode 121: Learning how much college costs by understanding 'net price' vs. 'sticker price'
Episode 122: Choosing a major and a career
Episode 123: Researching colleges and some tools to help you
Episode 124: How college visits can help you choose a college
Episode 125: How to get accepted in the college of your choice, including competitive schools
Episode 126: How to find and win the right scholarships for your student
Episode 127: The good and bad of student loans
Episode 128: College testing, why it matters, and how it's changed from the pandemic
Episode 129: Everything you need to know about need-based financial aid
---
Links and Resources
Helpful Articles and Resources
---
---
THANKS FOR JOINING US!
We'd like to extend an invitation to our listeners to share their feedback and questions. Contact us to submit a question.
If you find our podcasts helpful, please share us on social media and tell your friends!
The bottom line is that we care what you think and want to help you out, so we'd appreciate you reviewing us on iTunes or on Stitcher. And even better, receive automatic updates by subscribing to the show on iTunes or Stitcher.