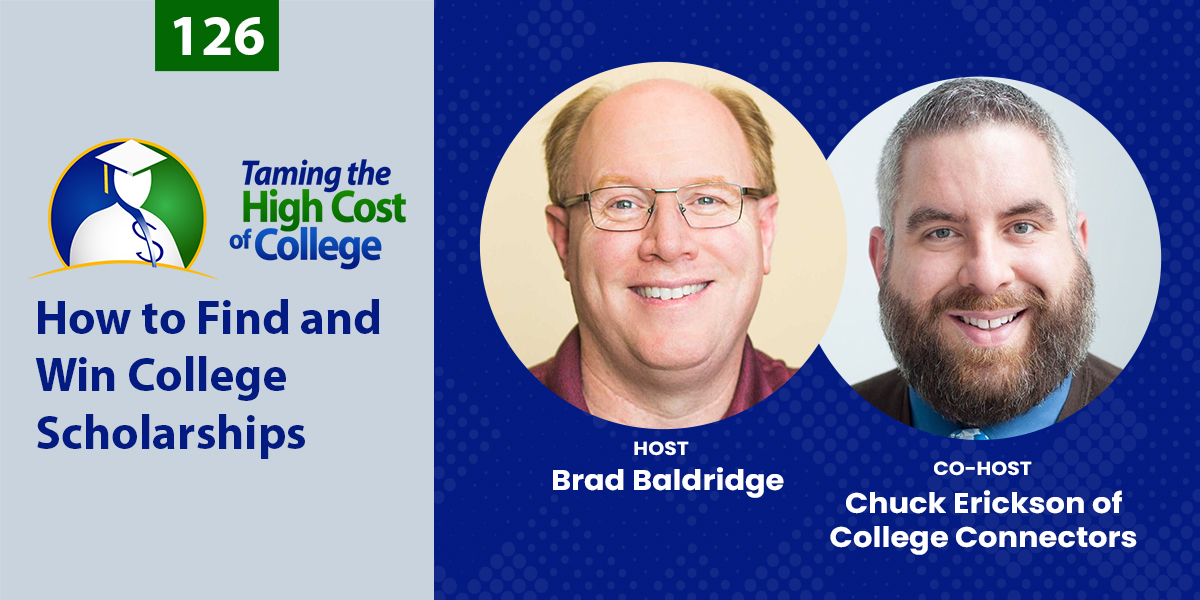 Access This Episode's Free Resource
Get a crash course in scholarships with my free Scholarship Guide for Busy Parents, a four-episode video series that walks you through everything you need to know. Subscribe to my free college planning e-newsletter or confirm your subscription to get access to the videos right now.
---
Today's Guest:
Chuck Erickson, Independent Educational Consultant from College Connectors
As an independent educational consultant at College Connectors, Chuck Erickson has worked in higher education for 15 years, helping students and families with college applications, admissions, and career planning. Along the way, he's learned many great tips to help parents and students. Join Chuck and Brad to hear their best advice for how to find and win scholarships, including types of scholarships, how to apply, and how to give yourself the best chance at success.
Questions Answered Today:
Where can I find scholarships to help pay for college?
Scholarships are "free money" or discounts that you can get to reduce college costs. Most parents and students miss the opportunity of landing scholarships simply because they don't know where and how to find them.
However, many of these scholarships are need-based, so be sure to tap financial experts to see if they're a good fit for your family's situation and to see if you qualify.
Here are the two general categories of scholarship you can find:
Institutional Scholarships from Colleges
Colleges offer scholarships to students they want to admit. As a general rule, you can't use the scholarship that college A gave you if choose to go to college B. You could either automatically qualify upon admission or apply upon their invitation. You may also need to exert effort on other requirements such as interviews. Most colleges offer scholarship because:
The student has good academic standing
They think you're awesome and thus an asset
You chose their school
They have scholarship slots to give away
Private Non-Institutional Scholarships
These scholarships do not come directly from colleges but from different foundations or organizations. The biggest and most popular grants, as mentioned by Chuck, are from Coca-Cola, Buick, and the Bill Gates Foundation, where thousands apply.
Getting slots from these scholarship awards are not easy because they're highly publicized and widely marketed mostly for PR purposes. Also, many students with a highly competitive background apply.
While Coca-Cola's scholarship slots are entirely based on merit, most of these big grants mentioned are highly need-based or for the very high-need families.
The smaller ones, which normally offer one or two thousand dollars, could be from:
Local businesses near your high school
Credit unions
Law firms
Community foundations
Professional organizations who want to recruit students in the same profession
Most of these organizations give these small grants to interested students generally because they'd like to give back to the community.
How do I officially apply for scholarships?
First of all, save some time to fill out the applications and submit the requirements. From Chuck's experience, each scholarship application takes an hour or two to finish. As for the requirements, they differ, but writing personal essays, getting letters of recommendation, and submitting transcripts are the common ones.
Here are some more tips Brad and Chuck have for parents:
Organize everything. Figure out which requirement needs photocopies, which you should mail, which you should submit online, etc.
Start early. The earlier you start looking, the more scholarships and grants your student can qualify for. That means more savings for your family. Some students start as early as 9th grade. Chuck once had a student who got the entirety of his first two years covered with the aid of scholarships.
A spreadsheet is also helpful to keep track of the scholarships and their corresponding deadlines and requirements.
Be proactive with reminding your students to find time to apply because if they're really qualified and willing, most students end up with more than one scholarship, and that's very helpful.
Hire independent consultants. They're really helpful in searching for scholarships that are a good fit for your student.
How do I find scholarships that are a good fit for my student?
It's a good idea to avoid Googling "scholarships" because it's overwhelming. Chuck recommends starting with scholarship databases to keep things manageable and to ensure the scholarships' legitimacy.
Being methodical in searching for these scholarships is one of the keys to landing the best ones.
Once again, hiring independent consultants is critical at this point. Here are some important things to remember as you start looking for scholarships that are the best fit:
Find a scholarship that is related to your student's interests. It increases their chances of getting it.
Know that it's a competition, so make sure to stay on top of each application.
Check your email. Most colleges send their invites online. Don't miss an opportunity!
Decide if you'll go for that one big scholarship or just accumulate the small ones. Both Brad and Chuck agree that it's more feasible to get ten $1,000 scholarships where there is less competition than it is to win one $10,000 scholarship with a lot of competition. Remember that the higher the award, the tighter the competition becomes.
Are there any other scholarships I should look out for?
Yes. These may be uncommon, but some colleges may offer small scholarships because:
The student expressed interest in a school's particular academic area
The student knows some alumni
Parents complete the FAFSA (Free Application for Federal Student Aid) early
Also, there are completely independent entities that give away scholarships, and they're the best kind because most people don't know about them. These include but are not limited to:
A group of people that pooled their money and created a small committee
Successful alumni of a particular alma mater
A family that would like to help out some students
A small business that just decided to give back to the community.
You may also find some special type of scholarships from talent contests your student participated in during their early years. These may come from drawing, singing, or sometimes, even beauty contests.
Lastly, there are some scholarships that students can apply for once they're already in college. Chuck commonly sees this in medical and education, but it's most common in business. He says that this is a way for businesses to potentially recruit future employees.
Therefore, your search for scholarships does not end when your student gets admitted into college because there are so many opportunities out there.
Are there any other helpful scholarship tips?
Yes, here are a few more things you should keep in mind:
Come up with a scholarship plan. Ask yourself, how many and what type of scholarships should I apply for based on my financial capability and my availability? There is always a plan that works out for families.
Check outBrad's Scholarship Guide for Busy Parents to create the perfect scholarship plan. You can access it from the top of this web page, under Download This Episode's Free Resource.
College scholarships that appear on random websites are most likely scams. Ignore them, especially if they ask for payment.
Have a separate email for the entire application process. It's almost impossible to get out of those college subscriptions once you get on their mailing list.
---
Links and Resources
Helpful Resources
---
Brad Recommends:
Scholarships help your family save, so be sure to plan to get the most out of them. Strategize so your family doesn't waste time and effort chasing the wrong scholarships, and you can hopefully get the ones where you have a high chance of qualifying.
You'd be surprised with the number of opportunities for scholarships that are out there. Some can be found in places you don't even expect. These are just few of the avenues worth checking:
From the colleges themselves, regardless if they're private or public
Corporations
Charities
Government
Important: Most but not all scholarships are need-based, so be sure to talk to an expert to see if your family qualifies.
The best way to explore scholarships and build a plan is through my free videos series, The Scholarship Guide for Busy Parents. These are four quick videos that will tell you everything you need to know about scholarships and how to get them.
Just click the link above, sign up for my free college planning e-newsletter, and I'll help you get started!
---
THANKS FOR JOINING US!
We'd like to extend an invitation to our listeners to share their feedback and questions. Contact us to submit a question.
If you find our podcasts helpful, please share us on social media and tell your friends!
The bottom line is that we care what you think and want to help you out, so we'd appreciate you reviewing us on iTunes or on Stitcher. And even better, receive automatic updates by subscribing to the show on iTunes or Stitcher.