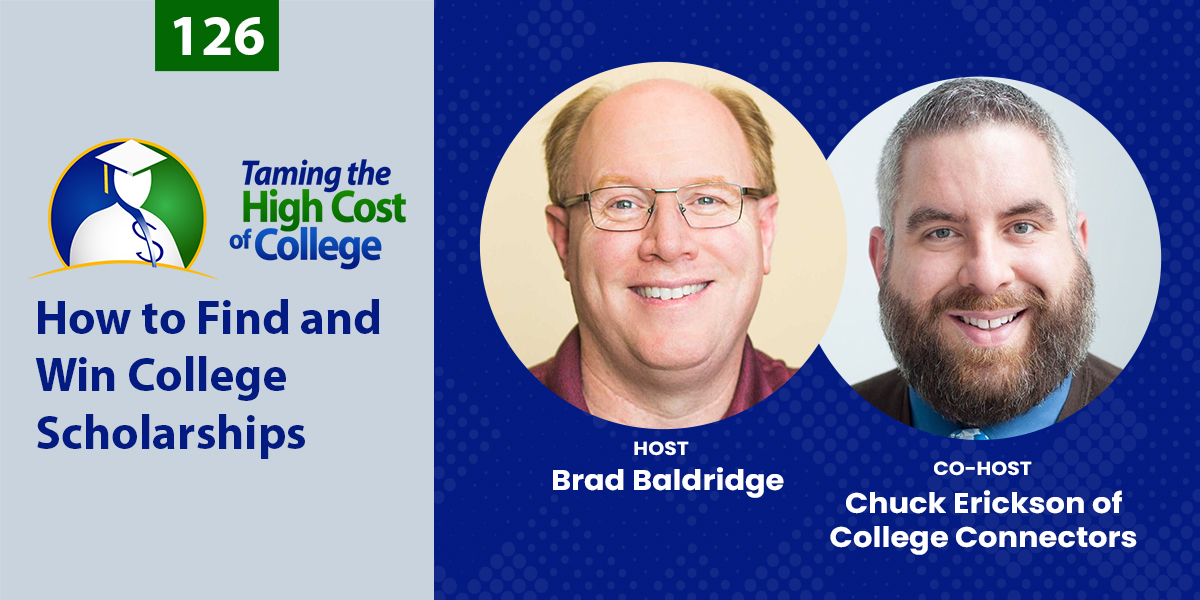 Access This Episode's Free Resource
Get a crash course in scholarships with my free Scholarship Guide for Busy Parents, a four-episode video series that walks you through everything you need to know. Subscribe to my free college planning e-newsletter or confirm your subscription to get access to the videos right now.
---
Today's Guest:
Chuck Erickson, Independent Educational Consultant from College Connectors
As an independent educational consultant at College Connectors, Chuck Erickson has worked in higher education for 15 years, helping students and families with college applications, admissions, and career planning. Along the way, he's learned many great tips to help parents and students. Join Chuck and Brad to hear their best advice for how to find and win scholarships, including types of scholarships, how to apply, and how to give yourself the best chance at success.
Questions Answered Today:
Where can I find scholarships to help pay for college?
Scholarships are "free money" or discounts that you can get to reduce college costs. Most parents and students miss the opportunity of landing scholarships simply because they don't know where and how to find them.
However, many of these scholarships are need-based, so be sure to tap financial experts to see if they're a good fit for your family's situation and to see if you qualify.
Here are the two general categories of scholarship you can find:
Institutional Scholarships from Colleges
Colleges offer scholarships to students they want to admit. As a general rule, you can't use the scholarship that college A gave you if choose to go to college B. You could either automatically qualify upon admission or apply upon their invitation. You may also need to exert effort on other requirements such as interviews. Most colleges offer scholarship because:
The student has good academic standing
They think you're awesome and thus an asset
You chose their school
They have scholarship slots to give away
Private Non-Institutional Scholarships
These scholarships do not come directly from colleges but from different foundations or organizations. The biggest and most popular grants, as mentioned by Chuck, are from Coca-Cola, Buick, and the Bill Gates Foundation, where thousands apply.
Getting slots from these scholarship awards are not easy because they're highly publicized and widely marketed mostly for PR purposes. Also, many students with a highly competitive background apply.
While Coca-Cola's scholarship slots are entirely based on merit, most of these big grants mentioned are highly need-based or for the very high-need families.
The smaller ones, which normally offer one or two thousand dollars, could be from:
Local businesses near your high school
Credit unions
Law firms
Community foundations
Professional organizations who want to recruit students in the same profession
Most of these organizations give these small grants to interested students generally because they'd like to give back to the community.
How do I officially apply for scholarships?
First of all, save some time to fill out the applications and submit the requirements. From Chuck's experience, each scholarship application takes an hour or two to finish. As for the requirements, they differ, but writing personal essays, getting letters of recommendation, and submitting transcripts are the common ones.
Here are some more tips Brad and Chuck have for parents:
Organize everything. Figure out which requirement needs photocopies, which you should mail, which you should submit online, etc.
Start early. The earlier you start looking, the more scholarships and grants your student can qualify for. That means more savings for your family. Some students start as early as 9th grade. Chuck once had a student who got the entirety of his first two years covered with the aid of scholarships.
A spreadsheet is also helpful to keep track of the scholarships and their corresponding deadlines and requirements.
Be proactive with reminding your students to find time to apply because if they're really qualified and willing, most students end up with more than one scholarship, and that's very helpful.
Hire independent consultants. They're really helpful in searching for scholarships that are a good fit for your student.
How do I find scholarships that are a good fit for my student?
It's a good idea to avoid Googling "scholarships" because it's overwhelming. Chuck recommends starting with scholarship databases to keep things manageable and to ensure the scholarships' legitimacy.
Being methodical in searching for these scholarships is one of the keys to landing the best ones.
Once again, hiring independent consultants is critical at this point. Here are some important things to remember as you start looking for scholarships that are the best fit:
Find a scholarship that is related to your student's interests. It increases their chances of getting it.
Know that it's a competition, so make sure to stay on top of each application.
Check your email. Most colleges send their invites online. Don't miss an opportunity!
Decide if you'll go for that one big scholarship or just accumulate the small ones. Both Brad and Chuck agree that it's more feasible to get ten $1,000 scholarships where there is less competition than it is to win one $10,000 scholarship with a lot of competition. Remember that the higher the award, the tighter the competition becomes.
Are there any other scholarships I should look out for?
Yes. These may be uncommon, but some colleges may offer small scholarships because:
The student expressed interest in a school's particular academic area
The student knows some alumni
Parents complete the FAFSA (Free Application for Federal Student Aid) early
Also, there are completely independent entities that give away scholarships, and they're the best kind because most people don't know about them. These include but are not limited to:
A group of people that pooled their money and created a small committee
Successful alumni of a particular alma mater
A family that would like to help out some students
A small business that just decided to give back to the community.
You may also find some special type of scholarships from talent contests your student participated in during their early years. These may come from drawing, singing, or sometimes, even beauty contests.
Lastly, there are some scholarships that students can apply for once they're already in college. Chuck commonly sees this in medical and education, but it's most common in business. He says that this is a way for businesses to potentially recruit future employees.
Therefore, your search for scholarships does not end when your student gets admitted into college because there are so many opportunities out there.
Are there any other helpful scholarship tips?
Yes, here are a few more things you should keep in mind:
Come up with a scholarship plan. Ask yourself, how many and what type of scholarships should I apply for based on my financial capability and my availability? There is always a plan that works out for families.
Check outBrad's Scholarship Guide for Busy Parents to create the perfect scholarship plan. You can access it from the top of this web page, under Download This Episode's Free Resource.
College scholarships that appear on random websites are most likely scams. Ignore them, especially if they ask for payment.
Have a separate email for the entire application process. It's almost impossible to get out of those college subscriptions once you get on their mailing list.
---
Links and Resources
Helpful Resources
---
Brad Recommends:
Scholarships help your family save, so be sure to plan to get the most out of them. Strategize so your family doesn't waste time and effort chasing the wrong scholarships, and you can hopefully get the ones where you have a high chance of qualifying.
You'd be surprised with the number of opportunities for scholarships that are out there. Some can be found in places you don't even expect. These are just few of the avenues worth checking:
From the colleges themselves, regardless if they're private or public
Corporations
Charities
Government
Important: Most but not all scholarships are need-based, so be sure to talk to an expert to see if your family qualifies.
The best way to explore scholarships and build a plan is through my free videos series, The Scholarship Guide for Busy Parents. These are four quick videos that will tell you everything you need to know about scholarships and how to get them.
Just click the link above, sign up for my free college planning e-newsletter, and I'll help you get started!
---
THANKS FOR JOINING US!
We'd like to extend an invitation to our listeners to share their feedback and questions. Contact us to submit a question.
If you find our podcasts helpful, please share us on social media and tell your friends!
The bottom line is that we care what you think and want to help you out, so we'd appreciate you reviewing us on Apple Podcasts, Spotify or your preferred podcast platform. Even better, to receive automatic updates, please subscribe to Taming the High Cost of College on Apple Podcasts, Spotify, or wherever you listen to your favorite shows.
Brad Baldridge
Welcome to Taming the High Cost of College. This episode is all about scholarships.
Presenter
You have kids. They grow up and before you know it, it's time to plan for college. Where do you start? How much is it going to cost? Will you qualify for financial aid? Should you be looking into scholarships? When will you be able to retire? What about student loans? A list of questions is never-ending. The good news is all the answers are right here. Welcome to the Taming the High Cost of College Podcast. Here is your host, Certified Financial Planner, Brad Baldridge.
Brad Baldridge
Welcome to Taming the High Cost of College. I'm your host, Brad Baldridge. Today's episode is all about scholarships. We're gonna talk about how you find scholarships, how you apply for them, we'll talk about the different types of scholarships. There's a lot of great information that Chuck and I are going to cover. And then after we have the interview with Chuck, we're going to talk a little bit about the Scholarship Guide for Busy Parents, which is a great resource that you can sign up for that will help you find scholarships for your family. It'll help you understand the different types of scholarships and help you build the plan so that you can get all the scholarships that you're entitled to. As always, we have show notes available, if you go to tamingthehighcostofcollege.com/126, there'll be links to all the various items that we've talked about. So you can get all the links and resources at our website. If you know anyone that would benefit from this podcast, please feel free to share it with your friends and family. That would be greatly appreciated. Alright, let's go ahead and jump into the scholarship interview with Chuck.
Brad Baldridge
All right. Welcome back, Chuck.
Chuck Erickson
Thanks, Brad. Glad to be here.
Brad Baldridge
All right. Today, we're gonna talk about scholarships. So this is always an exciting topic. And I think it's also something that gets a lot of people's attention, because who doesn't want free money?
Chuck Erickson
Exactly.
Brad Baldridge
We talked briefly about scholarships as they came up when we did net price, probably four or five episodes ago. So first of all, let's talk about what is a scholarship? What do you think of when we say that?
Chuck Erickson
Well, there's two different thought processes, about scholarships: it's either free money, or it's really a discount, and there are really two groups of scholarship scholarships that come directly from the college and scholarships that are considered "private scholarships" or outside scholarships, or things that are not associated with the college.
Brad Baldridge
Right. And we talked about the net price where there's a lot of colleges out there, especially the private schools where they say we cost $65,000. But we'll give you 25,000 off, because you need it or because you want some scholarship based on your academics or for whatever reason. That would be the example of the discount, right? You can't take that scholarship anywhere except the institution that awarded it to you.
Chuck Erickson
Correct? Yeah. And that's something that families need to understand is if a college offers you a scholarship through the admissions process, that is just for that college, you can't try and haul it to your public state school type institution. It has to stay where the school is. But yeah, it's basically a scholarship that is a form of a discount, because you're awesome, or because you're amazing, or because you apply.
Brad Baldridge
Right, exactly. And depending on various colleges do things differently. But a lot of times, there's many colleges out there that have very publicly said, 'We raised our prices so that we can offer more discounts, especially for the kids that we really want to come.' So it is part of the process now for a lot of colleges were like shopping for jewelry, when you go to the mall, and you go past that jewelry store and it says 50% off almost all the time. Would you buy something in there if didn't have 50% off? On your particular day? Probably not. And that's a part of the process with institutional. So what's the other group of scholarships that non institutional, what would we call those?
Chuck Erickson
Non institutional, private, outside scholarships? I've heard them called a lot of different things. But these are scholarships that come from an entity that is outside of the university. So it could be from a private foundation, it could be from an organization, a not for profit, there's all sorts of scholarships that are out there. The hard part is how do we go about finding them and figuring out if a student is a good fit for that scholarship and could possibly get it?
Brad Baldridge
Absolutely. So we talked about the private scholarships, examples would be like Bill Gates, I mean, the Gates Foundation have offered scholarships that are pretty well known. The Coca Cola Scholarship is a well known scholarship. And then there's 1000s or probably hundreds of 1000s of small scholarships. The local business near your local high school wants to give back so they give $1,000 because they sell a lot of shakes and burgers to those kids for lunch, and they feel like 'Well, we'll put a scholarship out there,' or whatever reason their motivation is.
Chuck Erickson
Yeah, I've seen credit unions give out scholarships because a student has had an account for X number of years, I've seen law firms give out scholarships, because they won some big case, and they want to give money back to the community. I've seen different professional organizations who want to have more students possibly pursue that profession, they'll come up and create a scholarship to encourage students to go into that field. Yeah, there's lots of different scholarship options out there.
Brad Baldridge
Right. So how do we find scholarships that are a good fit? There's the scholarship websites, are they effective? Scholarships.com and fast web and probably 10 or 20 more? On top of that, what's your thoughts? What do you tell people when they asked about those?
Chuck Erickson
The hard part with those is that that is literally like fishing in the ocean, it's really casting a very, very wide net, it's going to grab scholarships that are legitimate that your student might be a fit for. But it's also going to grab some scholarships that might be not so great. It could be scams, it could be other schemes to try and get you to pay money to get scholarship ideas or scholarship information. So I always tell my students look through a national law, there's national databases that you talked about, but I always find that my students have more success when they look closer to home. So most high schools have a scholarship list that they keep in the counseling office, and you can talk to your counselor or look on your high school's website. Also, many areas have community foundations where they keep a list of scholarships, and there are some not for profit organizations that are local, that keep track of local scholarships as well. Google might scare you, if you start googling scholarships, you're gonna get 1000s of hits, and you might be overwhelmed. So try to find something a little closer to home a little something that's in your community that might be a better resource for scholarships that are closer fit for your student.
Brad Baldridge
Okay, let's talk about some of the successes out there. I'll start with the story that I tell often. And it's been probably 10 years ago, now, I was working with a family and they worked hard, and they applied to 41 scholarships, and they won seven. And those seven scholarships added up to $41,000. And I don't remember the exact numbers, but it was something like one award for $10,000, maybe a $5,000 per year, renewable for four years. And then like a 2002, or three $1,000 awards or something like that. So they had a wide variety of scholarships. And that's a success. Most people would look at that and say, 'Well, if I could do that, I'm all in, let's get to work.' But the challenge is, how long would it take to do 41 scholarship applications?
Chuck Erickson
Well, for my students, on average, each scholarship application typically takes one or two hours, depending upon how many essays are needed, and what type of paperwork you have to gather. Sometimes you need recommendations, sometimes they need transcripts. So if you're thinking, one to two hours for each of those applications, that means that your students spent roughly as much as 40 to 80 hours filling out scholarship applications.
Brad Baldridge
Right, exactly. And I was working with the family. So I talked with them and the parents helped. Now hopefully the parents didn't write the essays and all that thing. But what they did do is try and keep things organized and figure out 'Well, this particular scholarship, you have to make three photocopies and mail it in and this one over here is online. And you can, just submit it through this portal. And but then you need a recommendation letter from a teacher.' and just help keep things moving and organized. And they also had the foresight to start early because of the volume of work that they were doing. This isn't something they hammered out one Sunday afternoon. It was many Sunday afternoons starting in junior year, through the senior year where they worked hard. And again, probably worth it, they got a pretty decent payoff, so to speak. And they went to the local state school. So that scholarship pile hovered close to the first two years in its entirety. So it was very worth it in their situation. But it's a lot of work, both learning what to do and then actually doing it.
Chuck Erickson
Yeah, when we see those kids walk across the graduation stage, or they're on award nights, and they're getting all of these scholarship dollars and parents like, 'Wow, they have that kids going up to get another one,' I don't think they understand the amount of work and effort that these kids have put in to get those scholarships. So I always suggest if you're wanting to go for those scholarships, and have all that possibility of getting that those awards, start early and you can start looking for scholarships in 9th and 10th grade and then create a spreadsheet that you build on for yourself. So as you learn about scholarships, create a spreadsheet of deadlines where you found the scholarship, how to get the resources, those types of things, so then when your student does become a junior, you have that ready to go. So I had the student whose goal was to go to college as low cost as possible. So first things first, who started with the merit money, and we looked for colleges that offered significant scholarships or offered that would get them close to the price of in-state tuition for the student. And we also looked at state schools, obviously, for in state tuition. And then once we found those, she also looked for scholarships that are connected to things that she really enjoyed. So she really loved writing. So she found a scholarship that if she wrote a fun story, she could possibly get $1,000. Here, she got another one that her mother at work had a scholarship that she could apply for. But again, she had to fill it out well before the start of her senior year. And so she was on top of it and filled it out and ended up getting that scholarship. The college that she was most interested in gave her the chance of auditioning for a small music scholarship that would give her free lessons and allow her to sing in choir that paid for some additional scholarship money. And so she kept doing these ones that were connected to her interest and her activities. And she's going to go to college this fall for very low cost, because she was very methodical in finding the ones that were local, that fit her interests, and that her academic profile were a good fit, and she had a good shot of getting them.
Brad Baldridge
Right, absolutely. And I think another challenge is the student motivation and willingness to do the hard work. Because I talked to a lot of parents, this little story I tell, which is, when your student was 12, or 13, they said, 'You know that iPhone is cool, I really wish I had one.' And then the next birthday or Christmas, an iPhone showed up. And then they turn 16 or 17. And they start making comments about how difficult it is because there's not enough cars in the family with all these extra drivers. And we should just get another car, and then I could drive it to school and life would be good. And then a car shows, maybe a used car shows up in the driveway, and now they have their own car. Well, they will extend that mentality to college next, which is, college would be great, and I want to go to this expensive school. All I have to do is put the hints out there, 'Gee, Mom, I'd love to go to this school' or 'Hey, Dad, what do you think of that school?' And it should just fall into place and happen, just like the iPhone or just like the car. And again, most students don't understand the difference between a $500 phone $5,000 car and a 50,000 per year education. To them, it's all big numbers that they don't really understand and don't have a frame of reference for at this point in their life.
Chuck Erickson
Yeah, absolutely. I had a young man whose parents had come up with scholarships, if you should apply for it. And he was told by his parents, 'Okay, you're gonna work with Chuck to work on your scholarship applications.' And I said, 'Great, awesome. I said, but I have a rule, it's on you. I'm here to help edit and to look over your applications before you submit them. But you have to do the work.' And so I told him, I said, 'Let's meet every week, and we're going to work on these applications.' And he would delay the appointment or cancel the appointment, why, 'I think I'm gonna go play golf with my buddies, I think I'm gonna do that.' And as you said, the parents are probably still going to pay for him to go to college this fall. But the kid knew that if you just waited and asked, the parents would forget about the scholarships and just pay for college. So, but I had another kid that met with me literally every week and applied for, we work on a scholarship every week. And he ended up getting several scholarships, and was really great about it. So yeah, if your students get in the mindset of, 'Okay, I'm going to put in an hour or two of work every week working on the scholarship,' they're going to end up probably getting a couple and it's going to pay off.
Brad Baldridge
Right, absolutely. And then to compare and contrast some of the stuff that we've been talking about, there are the institutional scholarships, again, that many institutions, all you need to do is apply and have this academic capability, and you get 10,000 or 20,000 off. Or perhaps it's based on need, where all you do is apply. And if your financial aid situation or your income and assets are at this level, you're going to get 20,000 off. And if your income and assets are lower than that, you're going to get 30,000 off.
Chuck Erickson
Yeah, and I was gonna say for many of the public schools, they, people go, 'Well, we don't need scholarships, because it's a low cost.' But many public schools have, or public universities, I should say, have foundations that once the kid submits the application to admissions, they get access to the foundation website where they can search hundreds of donor-created scholarships at that university. And that is the scholarship money that most students don't apply for, because it's an extra application at their particular university. So sometimes just applying to college might not be enough. You might have to fill out a scholarship app at the college or university in order to be considered for some of those scholarships. And it's a step that so many students miss and so many families miss. And I think there are some completely missed scholarship opportunities there as well.
Brad Baldridge
Exactly. So to put a frame around that; there's three levels of scholarships. There are some scholarships, all you do is apply to the college, and they'll put you in the pool. And if you qualify, they'll notify you and say, 'Congratulations, you want a scholarship.' At some colleges, you also have to do financial aid forms, because their scholarships are need based, or at least some of them might be need-based. So if you do the financial aid forms, then they'll consider you for the need-based scholarships as well. And then at many colleges, there's a third batch of scholarships that's going to take something additional, something separate, whether it's a scholarship application, or interviews, or some way for you to say, 'Hey, put me in the ring for these additional scholarships.' And sometimes it's a lot of work, where you're gonna write a separate essay, if you pass the first pass, so to speak, then you have to go to campus for an interview. And if you pass that, then maybe you win the small award, and you could beat them for the grand award, so there's two full rides, there's six more that are $10,000 off, and you're competing with 25 sharp kids to try and figure out who's going to get those scholarships.
Chuck Erickson
Yep.
Brad Baldridge
And to learn more about all of that, is, working hard at a particular college's website. And of course, working with the admissions person just got to understand that, ask a lot of questions or dig into the website and understand what's available at the colleges you're looking at.
Chuck Erickson
And read the emails that they send you. A lot of times colleges will email you about these opportunities, and students and parents just don't read the emails, and it gets lost and they miss the opportunity.
Brad Baldridge
Absolutely, you're right. Yeah, that's a good point, I had my son, got a couple of those emails, 'Congratulations,' this was after he was accepted. And then it's like, 'Congratulations, you have a strong application, we'd like to consider you for these special scholarships, go here and do what you need to do.' So then when he went there, he did have to write a separate essay and do a little bit more. And he didn't win, but at least he was paying attention enough to get the paperwork in. So he had at least had a chance.
Chuck Erickson
Yeah, I had a student who was admitted to a school and they wanted him to attend a virtual presentation about the academic department that he was interested in. And if he attended, they would give him an additional $1,000 scholarship. And so all he had to do is click on a link, sign up for a time to meet with the department and go through a walkthrough and then it came with $1,000. If he hadn't read that email, though, he probably would have completely missed that scholarship, because it was only emailed to kids who were admitted who expressed interest in a particular academic area. So that was it was an easy 1000 bucks. He said the presentation was 15 minutes, and they gave him an extra 1000. So he was like, 'Well, that's great.'
Brad Baldridge
Yes. And I know of, I live in the Waukee area, and Milwaukee School of Engineering offers scholarships for people that show up on campus and participate in some of their engineering camps that are targeted to probably sophomores and juniors, I think is their target, maybe freshmen, sophomores and juniors, were there, again, they want to get the kids on campus. And it's a great opportunity for a potential engineer to learn about engineering. So if nothing else, you learned about engineering, and then when you do that, that puts you on the list where you're going to get an extra scholarship for 1000 or 1500. And you pay for the program. So ideally, you want to do the program, and that scholarship bonus is just gravy, because in the end, you may not attend that school. So but, again, it doesn't hurt to pay attention and take advantage of whatever is offered by the colleges. Another common one is colleges will give coupons to their alumni that say, 'Share this coupon with people you know, and this will give them $2,000 off,' or something like that. And it's not necessarily a paper coupon. But it's just it's the concept that gets the alumni spreading the word about the college because they've got these coupons that they could give away. And it's like, 'Oh, I could give this to my niece or nephew. I don't know if they're interested in my alma mater, but I'll send it over there. And if they are, then great, they can take advantage of it.' So and then of course, niece or nephew says, 'Oh, well, tell me about that college. And now all of a sudden now, they get better applicants, whatever it might be, by spreading the word that way.
Chuck Erickson
Yeah. And so that's not going to be on to just put it out there. That's not going to be Harvard, Yale, Princeton, Stanford, those places aren't going to give out their alumni coupons to encourage other applicants. This is mostly coming from small to medium private schools that are maybe not as well-known. So that would be an encouraging to for alum to spread that word. And it can be an application fee waiver, so you prospective student doesn't have to pay the application fee. It could be also referral. There's a couple colleges that I know of that literally if you can get a referral from an alum, that's an extra 1000 or 2000 that way. So if you're looking at a private school that's less known, you may see if they have an alumni referral program to see if you could get a small alumni scholarship that way. Yeah, there's lots of ones. There's the scholarships for some schools, if for parents who complete the FAFSA early, so if they submit their FAFSA, by November 1st, they might get an extra 500 or 1000 financial aid. So there's lots of little ones out there. The problem is most families focused on the big big ones, the ones that you hear on the news, 'This kid won $100,000 scholarship,' that type of thing. That's great. But keep in mind that many of those very big scholarships have hundreds of 1000s of applications. I always tell my students, it's much easier to get ten $1,000 scholarships, versus one $10,000 scholarship. So that might be a different strategy. For some families, just go find the little ones and just stack them up like pancakes.
Brad Baldridge
Absolutely. And the other thing to realize is that, especially you when you get to the big name scholarships, again, the Coca Cola, the Buick, these big names, the reason they're doing it is for the PR, and the goodwill that it generates, and that kind of stuff. So they have a lot of rules and regulations. And again, when they're giving away millions of dollars, they've got their attorneys involved. And if you go to the website, you can see what past winners look like, and that kind of stuff. So it's a completely different game than when the local rotary passed the hat for a couple months, and now they've got $800 that they're going to give to some local kid.
Chuck Erickson
Right, right.
Brad Baldridge
And they have no rules or regulations, they just want someone to say, 'Hey, I'll take it.' And then a guy that's running the scholarship committee says, 'Oh, good, I'm done now.' I got someone to give it to you as far as the rules and what needs to be on the application and how does it work, you just talk to them. And they'll say, 'Well, this is how it works, you fill out this form, and then if we like you, we vote on it during lunch on next Thursday. And then if it's a yes, we're done. And I will cut a check wherever you want to go.' And
Chuck Erickson
Yeah, and I sit on several of those committees. So because I have an educational background, and I've worked in higher ed for a long time, I sit on several small local committees like that, where it's literally a group of people got together, pooled their money, and they're going to give away 1000 bucks. And I'm surprised every year how few kids apply for them. So there's one that you're, that we do that $2,000. This last year, we had six kids apply. And this was broadcasted across several dozen high schools, and we put it in the paper and everything like that, and six kids applied. So don't forget about those local small scholarships. I think a lot of people forget them. Because there's 500, or 2000, or whatever, like, no, there are very few applicants for some of those small ones, go after the small ones, because you have a good shot of getting them.
Brad Baldridge
Absolutely similar story to that I was giving a presentation at a high school and one of the counselors was in the room. So when we got to this topic of scholarships, I asked the counselor if there was any scholarships available that weren't getting a lot of applications and tell us what's going on and, 'Oh, yeah, we've got all kinds of scholarships we've got on the website. Matter of fact, we had one scholarship last year that was targeted to athletes, and we had four applications for 4 awards.' And it's like, wow, so I mean, they automatically won just by applying, of course, they said that in a room of a couple 100. So now the chances are the next year, it wasn't quite so easy. Because the word got out, those 100 parents shared the word with all the rest of the parents. And now, for the next couple of years, it's probably going to be hard. But eventually they'll get back to that where, again, a lot of times I hears school counselor saying, 'Well, we got this particular award that's narrow, you have to go to this particular college, or you have to be going to a community college instead of four year college.' So it's, it's a little tougher to give away. And we don't have anyone right now. And we're, they start asking around, can we get seven to apply because we really want to award it. We don't want to go on us. But we got to get someone to apply. So those situations and then the other end of that spectrum. Again, we talked about Coca Cola, you can go certainly go to their website, but I think the statistic I remember the last time I looked it was ninety something thousand applications for 25 awards, I think.
Chuck Erickson
I think it's 25. It's either 25 or 50. It's not a ton.
Brad Baldridge
Right, exactly. So your odds are very minimal. And then if you look at the typical applicant and what they did and how they won, I mean, you've got to be a rock star. These are the types of kids that, the most common schools that these kids attend to afterward are all the Ivy League type schools and very challenging high end schools. So they've got great academic profiles and typically, other things that they have to put in the scholarship application. So it's a completely different game than local business that's saying, 'Hey, I'll give a couple thousand dollars back to this high school, maybe they hire a lot of high school labor. And so they want to give back in that regard. Or again, no, or they just feel generous. We got a lot of successful entrepreneurs that cash out, tend to set up scholarships in their alma mater, either their high schools or their colleges or both. So I know, the Bradley family here in the Milwaukee area, and a couple other families got a lot of scholarship opportunities as well.
Chuck Erickson
Yeah, I will just say though, with a lot of these outside scholarships, many of them are still need-based. So I always encourage students and families before you dive into some of these scholarship applications, you need to meet with someone like Brad or find out, what is your need. So what is your need level for college so you, when you look at these applications for scholarships, and they say, 'Student must be in uncertain need category in order to apply,' you are aware, 'Yep, we qualify for that. So we should apply for that scholarship.' So make sure you understand your own financial situation to then you can apply for those need based outside scholarships.
Brad Baldridge
Right, for sure. Because a great example of that would be the Bill Gates Foundation scholarships, where not only do you have to show a need, but you have to show a high enough need to qualify for the Pell Grant, which typically means family incomes under 50, maybe even 40,000 or less. Which means, again, you may show a need at Harvard and Yale, but again, even at $200,000 of income. But that's not the target of that particular scholarship. Again, they're looking for the very high need families. And Coca Cola was on the other end of the spectrum, where at least what they say is they don't know anything about your financial situation, and they don't care about it, it's entirely based on merit. So understanding that part of it as well, but I encourage families to do is to come up with some scholarship plan. And there's two or three examples. One plan might be, 'We're really busy, we just don't have time to deal with scholarships. So other than institutional scholarships from the colleges we're applying to, that's it, that's all we're going to work on, that's our choice.' For other families, it might be, 'Let's find two or three or five that we're a good fit for, and just focus on those.' And then again, some families, that 41 scholarship applications is the right choice. But I think you need to understand what you're getting into and look around and say 'Well, can I even find 40 scholarships that we can qualify for? It's funny to say, I'm going to apply to a whole bunch of scholarships. Once you start getting into it, how do you actually do that?
Chuck Erickson
So I will give one last thought out there is that there are scholarships, also, that are available for students once you are in college. So if you're struggling to find the 40 scholarships to apply for when you're currently in high school, there may be scholarships you can apply for once you are at college as well. So just putting that out there.
Brad Baldridge
Right, exactly. And I think there's a shift potentially, like, as an example, a lot of hospitals give scholarships to various medical professions, as a way to get their name in front of future employees. And or build the database of, well, these are students that are gonna be graduating from nursing soon. And we're desperate for nurses. So now we have some contact information, and we can recruit them when we know they graduate. Because we know when they apply for the scholarship, we get their name and address and phone numbers and when they expect to graduate and all that information. And we do give scholarships as well. But we keep that information and turn around and try and hire these people as well. And I think they see that in a lot of various professions where they're targeting a particular major because that's the major that they care about, for whatever reason whether they want to hire them or, or whatever.
Chuck Erickson
Yeah, you see it in medical, you see it in education, you see it in many of the areas that are more trade based. I'm seeing it now coming up in the business area, because so many kids go off to college with a quote unquote major in business is the largest major that students go off to college for. The problem is, is that a lot of students change their mind during the freshman or sophomore year of college. So I'm seeing business organizations offering scholarships to rising juniors in college or rising seniors in college with just like you said, in the hopes of recruiting new employees. So they're saying, 'Hey, apply for this scholarship.' And as you said, now they have contact information. And now they are connected to these potential top candidates, which could be a scholarship recipient, but they also could be future employees for these visits as well. So the scholarship search doesn't end when you say 'Yep, I'm heading off to college.' You can constantly look for scholarships, not only throughout your high school years, to the summer between high school and college, but then also into college as well. So don't forget about that as well.
Brad Baldridge
Right. And, again, there are scholarships on the other end too. If you have a high school freshman or even a grade school kid. There are contests and that type of thing where the prize is a scholarship, sometimes future, where it's drawing contests or singing contests or, I don't know what, the competitions that they used to be called "beauty pageants" where they've gone to now, I don't remember exactly. But those kinds of competitions where they have talent and that type of thing. A lot of them provide scholarships, that you might win as a freshman in high school or an eighth grader, or whatever. And you just have to hold on to it until college arrives.
Chuck Erickson
Yep.
Brad Baldridge
Alright, another thought is, I spend a lot of time on college related websites, and I see these little ads in the corners and on the banners and that kind of stuff. And it says something like, 'No essay scholarship. Do almost nothing and we'll award you $1,000, no work, just get $1,000.' What do you think of those types of scholarships?
Chuck Erickson
Sure. Are you saying these are just on random websites? Or where do you find these pop up for you?
Brad Baldridge
Right, when you're on Big Future, or you're researching colleges, and you're looking for that list of, you know, you find a list of chemical engineering schools, and then it's on some website you've never heard of, and it's a good list. And then in the column next to it there, obviously, there got to advertising and in that column, it says, 'CollegeXpress website, or CollegeXpress scholarship, or XYZ scholarship, $1,000, no application, no essay just, bang, put your name in the hat, and you could win $1,000.'
Chuck Erickson
Well, I mean, Brad, has anyone ever contacted you about extending your home car warranty, and you wonder where they got your phone number and where your contact information from? Well, you just discovered a source of many of those contacts, those clicks where, 'Just click here, fill out this form, and we'll enter you into a scholarship and you're all good to go.' That's 100% a scam. They're just trying to get your contact information to possibly sell those, some of those are clickbait so that they gather information, then they sell them to companies. And that's when they call you about extending your auto warranty. So be careful of those. If the scholarship seems way too easy to be qualified for, like just, 'Fill out this one form and hit submit, and it will send you a scholarship,' that is probably a scam. Now, there are some colleges that do this. That's why I asked where you were seeing it. Because sometimes colleges will email a form to a student to confirm information that say, 'If you fill out this form to confirm that you're interested in these areas and such, then we'll consider you for a scholarship.' That's something very different. And that's college specific. But if you're seeing it just broadly on a website, or in your, as you're browsing as you're searching for things on the interwebs. And it just says, 'Click here, and we'll have you fill out a form and send you a scholarship,' yeah, that's a scam. Beware, don't do those, they might be trying to get your confidential information. Because so many families are worried about the cost of college, there are companies that are piranhas in this area, and they want to just get your information, scam you, or they'll say, 'Send us 50 bucks, and we'll send you a list of scholarships catered just for your students,' that's a scam, don't do that, you can figure those out yourself. So if it sounds too good to be true, it probably is.
Brad Baldridge
Right. And at a minimum for self defense, what I recommend families do is you set up a separate email address, don't use your work email or your school email, you set up something separate at one of the free sites, a Gmail or whatever, use that for all your scholarship work so that when you're not doing scholarship work, you can just ignore it and know that there's nothing important in there. And certainly, when you're off to college, and you're done all together, you can just shut it down and walk away. If you use your work email, I mean, you're essentially signing up for spam for the rest of your life. Because the more times you fill out forms, and the more times you do things, the more likely you're going to get on these lists. And once you're on, it's nearly impossible to get off.
Chuck Erickson
Great advice. I like that.
Brad Baldridge
All right. I think that's where where going to wrap things up. I appreciate the good information. One of the things that I do offer for families is what I call the Scholarship Guide for Busy Parents. So again, it's a few videos, we try and keep them short to the point that can help families ultimately create a scholarship plan. So you can figure out a scholarship something we should be pursuing. If so, which types and kinds are going to work for us? So again, a way to get your base level knowledge to a level where you can be comfortable and make a decision of how hard are we going to work at this? Are we going to just write it off and skip it? Are we going to work really hard at it? But again, you need to have the base information and understand again, things like the academics of your student make a difference and the financial profile of the family, and the colleges, you're considering. All three of those go into the decision around what types of scholarships and how hard should I work at it. Alright, any other thoughts or comments, Chuck, before we wrap it up?
Chuck Erickson
No, I think we covered a lot of topics and a lot of tips and some great ideas. And just watch out for those scams. Don't go for those.
Brad Baldridge
Right exactly. And just do it, the Nike, you're going to get involved, now's the time and just get out there and get to work. It's not necessarily easy, but it gets easier as you work at it. So, just jump in and see what you can do.
Alright, that was a lot of good information about scholarships. Stay tuned because we're gonna talk about the Scholarship Guide for Busy Parents next. And then of course, we'll have even more information that will help you find scholarships for your family. Again, shownotes are available at tamingthehighcostofcollege.com/126 to get all the resources and links to everything we've discussed today. If you have any other questions, feel free to give us a call. Our phone number and contact information is available at our website as well. Alright, let's go ahead and jump into Brad Recommends.
Presenter
the latest tips, tricks and tools you can use today. This is Brad recommends on taming the high cost of college.
Brad Baldridge
Today I'm recommending a scholarship plan. Scholarships offer a great opportunity for families to save a lot of money when paying for college. Unfortunately, they're very much misunderstood. So there's lots of avenues of scholarships. As you've learned from the discussion with Chuck. There's of course, private schools offer lots of scholarships need-based, sometimes merit-based, sometimes both. Public schools are starting to offer scholarships as well. There's the outside or private scholarships that come from corporations and charities and other avenues. There's the scholarship websites, and even the government no. Many states as an example are offering scholarships and grants. So there's lots of different types and kinds of scholarships. And I think most families need to have a systematic way of exploring what their options are, and a way to organize the scholarship process so that they don't miss out on scholarships that they would qualify for or spend a lot of time pursuing the wrong scholarships. So if you're not going to build a scholarship plan, I have a great resource for you. It's called the Scholarship Guide for Busy Parents. What it is is four quick videos where we teach you the basics on the types of scholarships and how they work. We'll help you understand which types are right for you. And again, our goal is so that you spend your time pursuing the right scholarships, and you stop wasting time on the wrong scholarships. For many families, scholarships are a great opportunity if you pursue it properly. Many families out there, I think, miss the boat when it comes to scholarships. And other families believe that scholarships are going to provide a lot of funding, when in fact they don't provide as much as they'd like. So getting a realistic idea of how scholarships are going to work. And then also having a plan on how to pursue them and win them is all part of the scholarship guide. So you can get the scholarship guide from my website. If you go to tamingthehighcostofcollege.com/126 for the show notes. Right there, you can sign up for the scholarship guide, give us your email, sign up for our newsletter and we will get you involved in the scholarship guide as well. So again, you can get the four videos, you can get some of the support materials, some of the lists and some of the other benefits when it comes to scholarships. Alright, that's all we have for today. Get out there and get to work on your scholarships and we will see you next week.
Presenter
Thank you for listening to the Taming the High Cost of College Podcast. Now, it's time for you to take action. Head to tamingthehighcostofcollege.com for show notes, bonus content, and to leave feedback for Brad. The next step on your college journey starts now.
Brad Baldridge is a registered representative of Cambridge Investment Research and an investment advisor representative of Cambridge Investment Research Advisors, a registered investment advisor. Securities are offered through Cambridge Investment Research Incorporated, our broker dealer and member of FINRA and SIPC. Brad owns two companies: Baldridge Wealth Management and Baldridge College Solutions. The Baldrige companies are not affiliated with Cambridge Investment Research.
Transcribed by https://otter.ai
Sign up to receive email updates
Enter your name and email address below and I'll send you periodic updates about the podcast.