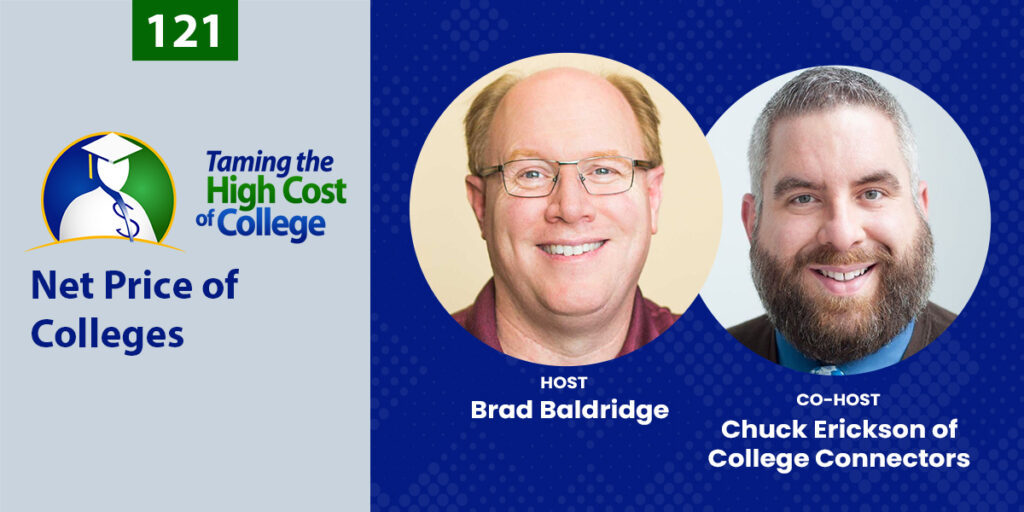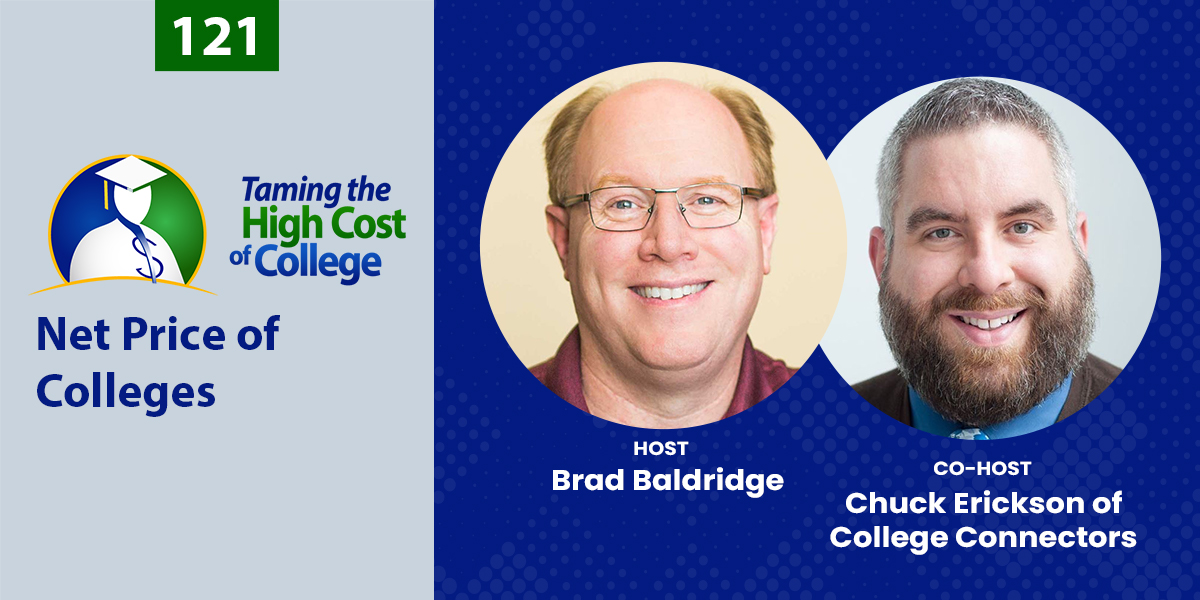 Access This Episode's Free Resource
Find out how much specific colleges really cost for families in your income bracket. Sign up for my free college planning e-newsletter or confirm your subscription to get access to my PDFs with net college costs by family income for individual colleges all 50 U.S. states.
---
Today's Guest:
Chuck Erickson, Independent Educational Consultant from College Connectors
As an independent educational consultant at College Connectors, Chuck has worked in higher education for 15 years, helping students and families with the college admissions and application process. Along the way, he's also learned a lot of great information and tips to help with understanding and paying for college costs. Hang out with Chuck and Brad to get a glimpse of what college actually costs and learn more about some of the best ways to help you pay.
Questions Answered Today:
What is the 'net price' of college?
The net price is what you actually pay for college after any free money that you might get to help you cover your costs.
You may have already seen the big, scary "sticker prices" that some colleges have posted on their websites. The "cost of attendance" that you see includes indirect costs (travel, personal expenses, books, food, etc.) and direct costs (tuition, room and board, etc.).
However, you don't necessarily pay the amount you see there. You need to check your options and learn how the actual cost and the net price you pay could be reduced considerably through "free money."
Your "net price" is actually the cost of attendance minus all the free money you might receive.
How do I get free money for college?
"Free money" for college may be from employee benefits, military benefits, and the like. However, the biggest free money normally comes from scholarships or grants.
Both Brad and Chuck agree on taking advantage of these, as colleges offer these scholarships and grants in exchange for the students' business. After all, colleges are businesses that need clients to operate.
We'll be covering financial aid in much greater detail in an upcoming episode.
What do I need to know about scholarships and grants?
It's the colleges that provide most scholarships to students. In fact, it's one way for them to attract students and do business with them. Occasionally, you'll see schools that offer scholarships to 75-99% of their student population.
Colleges do not award scholarships for nothing. Getting a scholarship means that the college sees something in the student that makes them interesting or would fill a need for that college.
Some of these scholarships are need-based, while most are merit-based. While need-based are based on the parents and students' income and assets, merit-based scholarships could be based on many things. Some requirements include:
GPA, test scores, or classes students took in school
Particular academic interests or a particular major
Talent level in various interests such as athletics, theatre, music, and so on
Competitiveness in playing e-sports (a new, emerging scholarship area)
Volunteerism and students' interest with social justice issues
There are a lot more possible qualifications, so colleges normally list these on their websites. Students either apply for scholarships or are automatically considered for them when they apply.
Grants, on the other hand, typically come from the federal and your state's government. Hence, most of these are need-based and are reserved for low-income families. It's rare to find a college that doesn't honor this type of grant, as almost 100% of colleges are part of the federal financial aid system.
How do I know if I qualify for government grants?
According to Brad, the income requirement for federal grants is $50,000 and below, or $75,000 and below in special circumstances.
State grants would depend on the state you live in. California, for example, has grants even for families with incomes of $150,000.
One of the other grants Chuck talked about is the Wisconsin Tuition Grant, which students can get regardless if they go to a public or private school, as long as they're in Wisconsin.
There are also instances where a university outside your state could match the grant a university in your state offers. They do it for inclusion because most colleges like to brag that they have students from all 50 states.
The bottom line is, every state has different requirements, so make it a point to ask around to see if you can qualify.
How do I make sure that I can get all the financial help I need?
First, never assume anything with financial aid. Just because your son didn't qualify doesn't mean that your daughter won't. Requirements change, and students are different from each other.
Always give it a shot. It is only by applying that you know for sure if your family is qualified for financial aid or not. Don't be discouraged to apply just because you've been disqualified before.
Do not be intimidated with the cost of private colleges, and check as many schools as you can. Check out this scenario:

A private school might cost $75,000 but might also give you $50,000 in financial aid because your student is really bright. On the other hand, a state college might cost you $25,000, and it might not give you any discount. Hence, both would have a net cost for you of $25,000. By figuring out the net price of each college, you get to pick the winning choice.

Be careful in taking out loans. Most of them have high interest rates, so don't take one unless you really need it. There are schools that offer "financial aid" programs that are actually loans. Before signing anything, or once you get an official letter stating a financial aid offer, get help from consultants like Brad to fully understand what you're signing up for.
For most families, college is not going to cost zero. It's better if you know the numbers to beat so you won't go somewhere you can't afford, or somewhere that would cost you hundreds of thousands of dollars in loans.
What are the categories of colleges I can choose from?
Brad and Chuck categorize the six broad colleges you may look into. Looking at these categories should lead you to the school you're looking for. These six are divided into three in the public area and three in the private area.
Here are the first three types of schools in the public category:
In-state schools are public colleges that offer a very reasonable price. For example, a student in Massachusetts can get into a stage college inside the same state.
State public schools that charge the full out-of-state price, also known as the "ESPN flagship schools." They charge the full price because most of their applicants are willing to pay to get in. They have more than enough applicants, as they are highly rated schools. Some examples of these schools are:

UC Berkeley
UCLA
University of Texas at Austin
University of Michigan
University of Wisconsin at Madison
University of Illinois Urbana-Champaign
University of Virginia
Georgia Tech

Out-of-state colleges offer some discounts, scholarships, or reciprocity for their out-of-state price. These reciprocities and discounts are mostly known to locals, as they vary per state. For example, in Wisconsin, they have the "the Midwest Student Exchange" that allows students from Wisconsin to attend colleges in other Midwestern states for in-state or otherwise discounted prices.
The other three in the private school types are:
Elite colleges or Ivy League schools with a 2-3% acceptance rate. They could charge any amount they wanted. However, they're very generous with need-based aid for those who qualify. Harvard and Yale are some of the most famous institutions from this prestigious list.
"Private schools that want you" are schools that want you because you're what they're looking for. You offer something that their school needs. It may be because you play the drums, the tuba, or maybe because you're good at soccer. It may be because you have a strong academic foundation, or because you can pay full price.
"Private schools that will just take you" are those for students that are technically admissible but not truly sought-after. These are the schools that will take you but will not offer much aid.
You can start with looking into these categories to narrow down your options. You may also want to ask yourself the following:
Are elite colleges a consideration, or are they off your list?
Are we interested only in local schools, or are we willing to go out of state?
Will I qualify for need-based aid? Will I qualify for merit-based aid?
How might scholarships, grants, discounts or reciprocity affect my net college cost?
---
Links and Resources
Helpful Resources
---
Brad Recommends:
In case you missed it, the net price is the student's cost of attendance (tuition, room and board, books, fees, food, and such) minus "free money" in the form of federal grants, local, state or public scholarships, or college aid (scholarships or aid provided by the college itself).
However, it's important to remember that the "free money" you'll be granted typically depends on your family's income, hence the "income bracket".
Prestigious schools such as Harvard, MIT, and Williams are supposed to cost around $71,000-$73,000. But because of the huge "free money" these schools offer, the net price could go down to around $14,000-$15,000 depending on your family income.
From the same bracket, Worcester Polytechnic is at $67,000, with a net price of $38,000. Emerson, a performing arts type of school, is at $42,000. Looking at the net prices, these schools provide less aid compared to others.
Now, if you want to get the net price for that college you're eyeing, we've got you covered! The Taming The High Cost of College website offers a chart of net prices of colleges in each state.
The best thing about our chart is it's based on your income. There are 5 income categories:
$0-30,000 income bracket
$30,000-48,000 income bracket
$48,000-75,000 income bracket
$75,000-110,000 income bracket
$110,000-above
The Illinois chart, for example, includes 24 colleges (12 public and 12 private) in Illinois. The California chart includes 61 colleges (9 UC and 23 other public colleges, and 29 private). The Massachusetts charts includes 56 colleges (14 public and 42 private) in that state. You can find the net price of colleges in your state here.
To download and save your own copies of any charts, go to the top of this page and you'll see the podcast player. Right below that is a place where you can enter your email information and download all these charts you can use as reference.
You can also find a video explaining the charts and how to use them, including a lot of what you learned from this episode.
Now, even with our chart, you still have to do your research and visit the college to talk to them about the numbers. Here's why:
Not every college shows up on the chart, but most of the major ones are included.
Our chart is based on averages. Since not everyone is average, some families pay more, while some pay less.

The fees could be higher for specific majors. For instance, science majors could have additional fees for laboratories and the like.

Costs could be different depending on the dorm your student will occupy.

Since college financial aid is typically based on income, some families may get more aid than others.

Very important: If your student chooses an out-of-state college, there may be a price difference for you compared to in-state students. Some schools offer tuition discounts or reciprocity to out-of-state students from neighboring states . But Brad notes that there's not much data collected about price differences for out-of-state-schools.
---
THANKS FOR JOINING US!
We'd like to extend an invitation to our listeners to share their feedback and questions. Contact us to submit a question to our email.
If you find our podcasts helpful, please share us on social media and tell your friends!
The bottom line is that we care what you think and want to help you out, so we'd appreciate you reviewing us on iTunes or on Stitcher. And even better, receive automatic updates by subscribing to the show on iTunes or Stitcher.