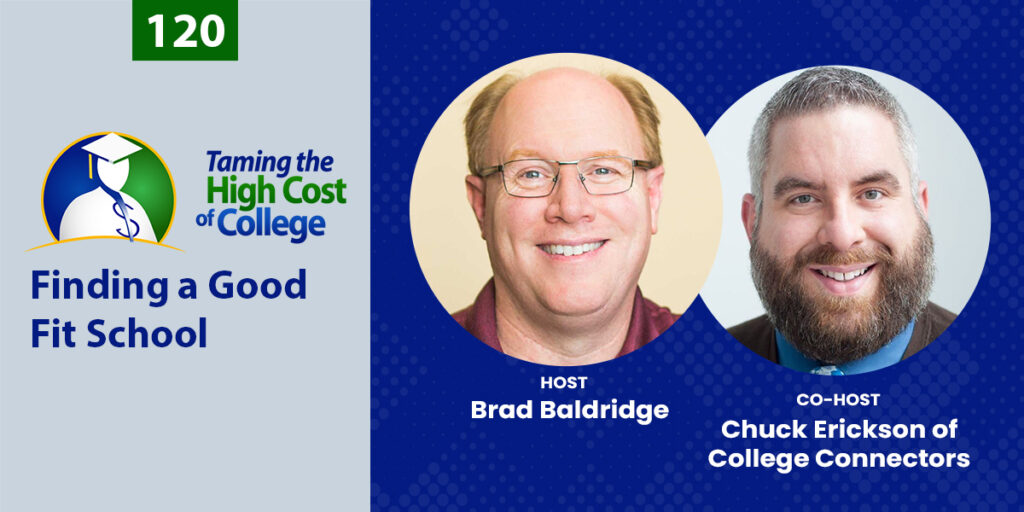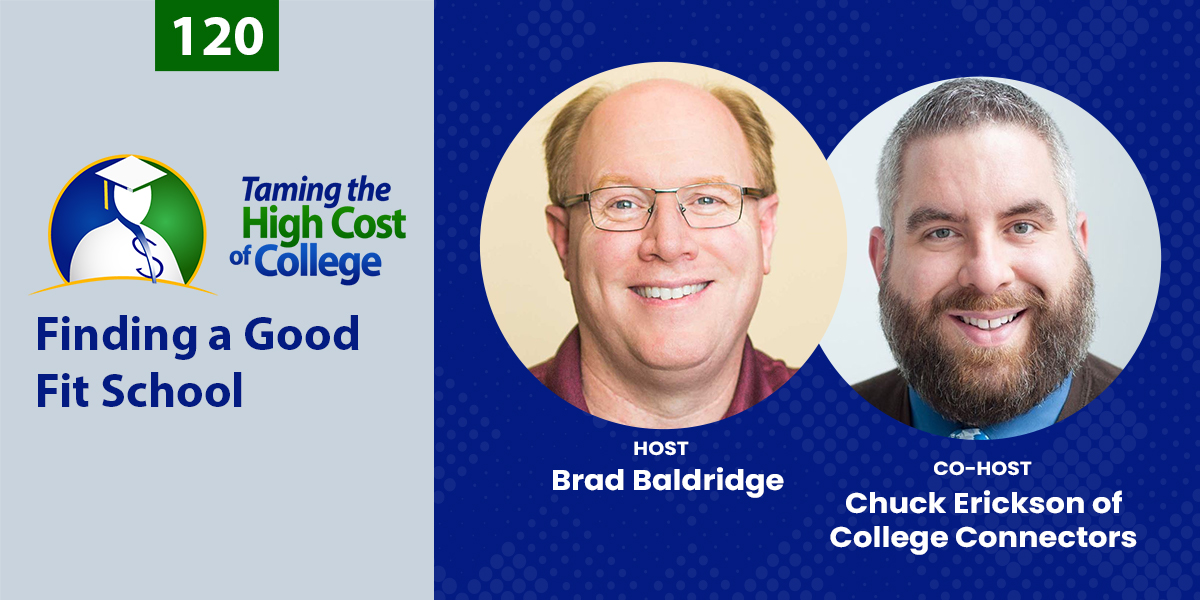 Today's Guest:
Chuck Erickson, Independent Educational Consultant from College Connectors
As an independent educational consultant at College Connectors, Chuck has worked in higher education for 15 years, helping students and families with school selection and the college application process. He has lots of information and tips to help you get started, so listen to this episode to find out how to find the best school for your student!
Questions Answered Today:
What does a 'good fit school' mean?
A good fit school is where a student fits academically, socially, and financially. It's a great school where your student can get a great education, be happy, and maximize their potential. This is also a place that you can confidently afford.
Why do we care about finding a good fit school?
In the U.S., there is a greater than 50% likelihood that a student will transfer or drop out of college in the middle of the school year if the school does not fit their preference. A student that transfers or drops out may end up not getting a degree or may need extra semesters to complete the right courses and graduate after transferring. These boil down to paying more for college but having an unsatisfactory experience. Hence, finding the best school not only benefits your student, but it's better for you as a parent.
There's some really direct impacts on families and students if a student is not finding the best fit for college.
How do we find a good fit school? Is there a process?
Yes. Luckily, there is a process in finding a good fit school. To get started, independent educational consultants (IECs) such as Chuck normally ask you and your student questions like these:
What type of academic experience do you want? Do you want a small classroom or a big classroom?
Do you want something more hands-on, or something more audio-lecture style?
Do you want something that is going to be very academically challenging for you and possibly above your academic level, or do you want something that is a little bit more on your level or even easier?
Socially, do you want to be in an urban or rural setting?
Do you want a larger public university or something more private that offers more one-on-one attention?
Do you want a school that's big on athletics? Or fine arts? What are your priorities?
Here's the good news: it's okay if your student doesn't know the answer to these questions yet. There are online assessments to help gauge what they want. According to Chuck, one that's commonly used is YouScience.
You can also start doing colleges visits where you visit some local colleges and have your students see what the experience is like and see what might fit them.
Here are some things that students often overlook when finding a good fit school:
Can you live on campus, or will you have to commute?
What is the academic challenge level of the school? Does the majority get a 4.0 in high school? Or is there a wide range of academic levels at this college?
Does the school draw students from the local area or a particular state, or does it draw students from many different states, and that might change who goes to the campus?
How's the school in terms of inclusion? Is it a safe space for you to uphold your faith and beliefs?
To put it simply, if you spend a good amount of time making a valuable purchase, you should take time to pick a good school where your student can be happy in the long run.
Are summer camps or workshops at colleges worth the money?
You don't need to spend thousands of dollars for summer camps or workshops because it's uncommon for most colleges to ask about these in the admissions process. However, if your student genuinely likes to engage in these activities, allow them to do it so they can improve their skills.
What about using campus tours to evaluate schools?
We'll be covering campus tours in detail in one of our next episodes, but here are a couple of things to keep in mind when you're planning a college visit:
Most campus tours only last an hour, so you're lucky if your area of interest is what's showcased in the tour. However, that rarely happens, so be proactive and coordinate with the admissions counselor to specifically show you what you'd like to see. Also, you can explore the campus on your own using the college map.
I always tell families, 'Take a look at what they're showing you, and take a look at what they're not showing you. Go check out what they're not showing you to see if it still meets the standards of what you're looking for in a college.'
What else should I know as a parent?
You need to know that one school can't have everything you're looking for. In fact, even experts such as Chuck believe that there is no "perfect" college for a student. Hence, you need to outline your non-negotiables and pick the safest and the best bet. Here are some things to ponder on:
Over 80% of students go to a college that is within an eight-hour drive from home.
Milwaukee and New York City are both urban areas, but their "urban experiences" may be drastically different, so take that into consideration to avoid culture shock.
If sports is very important to you, take time to check if the college you'd like has them. Remember, there are big colleges that don't even have football or any type of common sports students like. Never assume.
How do I make sure my student gets into a suitable college?
Working with independent educational consultants and college funding specialists at this point is critical. You're now working with the experts towards one goal: finding which college will make the student feel at home, challenged, and supported.
Below are some scenarios that would surely help you decide which path to take:
If your student doesn't know what they want yet, you can search for schools with no major in mind. If your student is a senior, help them at least narrow down options. It's also helpful to know that most colleges allow undecided students to attend.
If your student wants something very specific, like learning jazz music or physics, take time to scrutinize the mode and quality of instruction in those areas. Do they have classical-music-trained instructors? Jazz musicians? Do they have functional laboratories?
If your student is an academic achiever, strategize and get the big picture. Would you want them to get into an honors college, or do you want them to get into selective institutions that provide a very specific experience?
If your student has a learning challenge (ADD, ADHD, LD, etc.), get a college that is big on support services. This is one way of making sure that your student's learning process is successful.
If your student prioritizes athletics (D1, D2, D3, NAIA), find a college that offers a wide array of opportunities in sports. Once again, do not assume, as not all colleges have even the most common sports.
If your student has specific goals after college—for example, attending a med school or a graduate school—help them save money. It's also critical that the transfer from one school to another happens seamlessly and timely.
If you're not confident that your student can succeed in college, find a lower academic school that provides support for academically challenged students. You can also work with an independent consultant that can lead your student to a path that's fitting for them.
---
Links and Resources
Helpful Resources
---
Brad's Recommends:
College planning activities held by high schools are normally being communicated to parents through students. However, you must know that you can't completely rely on your student to tell you what's going on in their high school.
Therefore, it's you who must plug in to your student's school. High schools, although many parents do not know, offer various services that help parents in college planning. Make sure to take advantage of those. If you pay enough attention to what your student's high school offers, you may find out about:
Websites or subscriptions you will find extremely helpful with college planning
Classes being offered that are helpful to your student's college planning (e.g. college essay writing classes
"Financial aid" nights to learn about college financial aid
"College planning meetings with other parents and students (possibly held for sophomores and juniors)
"Meetings and presentations
Good to know: Although private schools may offer a lot more services for their students, public schools have these activities, too! So make sure to connect to them and find out for yourself.
You may ask, "How do I connect to the people in charge?" Here's how:
Pay attention to school newsletters
Email your student's school counselor for any important college planning updates
---
THANKS FOR JOINING US!
We'd like to extend an invitation to our listeners to share their feedback and questions. Contact us to submit a question to our email.
If you find our podcasts helpful, please share us on social media and tell your friends!
The bottom line is that we care what you think and want to help you out, so we'd appreciate you reviewing us on iTunes or on Stitcher. And even better, receive automatic updates by subscribing to the show on iTunes or Stitcher.