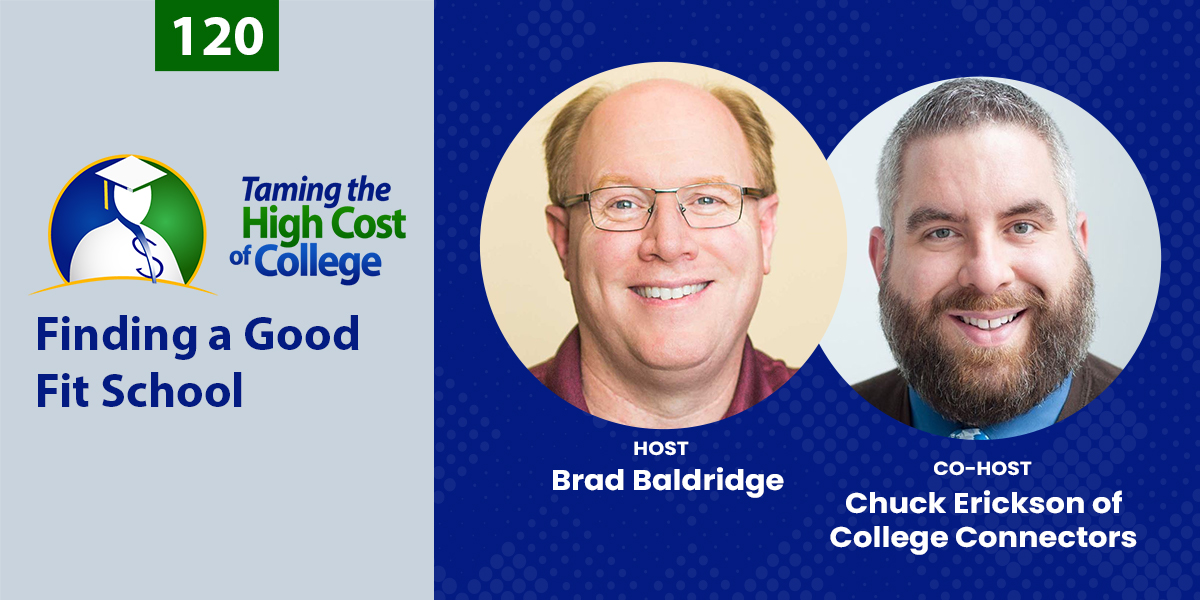 Today's Guest:
Chuck Erickson, Independent Educational Consultant from College Connectors
As an independent educational consultant at College Connectors, Chuck has worked in higher education for 15 years, helping students and families with school selection and the college application process. He has lots of information and tips to help you get started, so listen to this episode to find out how to find the best school for your student!
Questions Answered Today:
What does a 'good fit school' mean?
A good fit school is where a student fits academically, socially, and financially. It's a great school where your student can get a great education, be happy, and maximize their potential. This is also a place that you can confidently afford.
Why do we care about finding a good fit school?
In the U.S., there is a greater than 50% likelihood that a student will transfer or drop out of college in the middle of the school year if the school does not fit their preference. A student that transfers or drops out may end up not getting a degree or may need extra semesters to complete the right courses and graduate after transferring. These boil down to paying more for college but having an unsatisfactory experience. Hence, finding the best school not only benefits your student, but it's better for you as a parent.
There's some really direct impacts on families and students if a student is not finding the best fit for college.
How do we find a good fit school? Is there a process?
Yes. Luckily, there is a process in finding a good fit school. To get started, independent educational consultants (IECs) such as Chuck normally ask you and your student questions like these:
What type of academic experience do you want? Do you want a small classroom or a big classroom?
Do you want something more hands-on, or something more audio-lecture style?
Do you want something that is going to be very academically challenging for you and possibly above your academic level, or do you want something that is a little bit more on your level or even easier?
Socially, do you want to be in an urban or rural setting?
Do you want a larger public university or something more private that offers more one-on-one attention?
Do you want a school that's big on athletics? Or fine arts? What are your priorities?
Here's the good news: it's okay if your student doesn't know the answer to these questions yet. There are online assessments to help gauge what they want. According to Chuck, one that's commonly used is YouScience.
You can also start doing colleges visits where you visit some local colleges and have your students see what the experience is like and see what might fit them.
Here are some things that students often overlook when finding a good fit school:
Can you live on campus, or will you have to commute?
What is the academic challenge level of the school? Does the majority get a 4.0 in high school? Or is there a wide range of academic levels at this college?
Does the school draw students from the local area or a particular state, or does it draw students from many different states, and that might change who goes to the campus?
How's the school in terms of inclusion? Is it a safe space for you to uphold your faith and beliefs?
To put it simply, if you spend a good amount of time making a valuable purchase, you should take time to pick a good school where your student can be happy in the long run.
Are summer camps or workshops at colleges worth the money?
You don't need to spend thousands of dollars for summer camps or workshops because it's uncommon for most colleges to ask about these in the admissions process. However, if your student genuinely likes to engage in these activities, allow them to do it so they can improve their skills.
What about using campus tours to evaluate schools?
We'll be covering campus tours in detail in one of our next episodes, but here are a couple of things to keep in mind when you're planning a college visit:
Most campus tours only last an hour, so you're lucky if your area of interest is what's showcased in the tour. However, that rarely happens, so be proactive and coordinate with the admissions counselor to specifically show you what you'd like to see. Also, you can explore the campus on your own using the college map.
I always tell families, 'Take a look at what they're showing you, and take a look at what they're not showing you. Go check out what they're not showing you to see if it still meets the standards of what you're looking for in a college.'
What else should I know as a parent?
You need to know that one school can't have everything you're looking for. In fact, even experts such as Chuck believe that there is no "perfect" college for a student. Hence, you need to outline your non-negotiables and pick the safest and the best bet. Here are some things to ponder on:
Over 80% of students go to a college that is within an eight-hour drive from home.
Milwaukee and New York City are both urban areas, but their "urban experiences" may be drastically different, so take that into consideration to avoid culture shock.
If sports is very important to you, take time to check if the college you'd like has them. Remember, there are big colleges that don't even have football or any type of common sports students like. Never assume.
How do I make sure my student gets into a suitable college?
Working with independent educational consultants and college funding specialists at this point is critical. You're now working with the experts towards one goal: finding which college will make the student feel at home, challenged, and supported.
Below are some scenarios that would surely help you decide which path to take:
If your student doesn't know what they want yet, you can search for schools with no major in mind. If your student is a senior, help them at least narrow down options. It's also helpful to know that most colleges allow undecided students to attend.
If your student wants something very specific, like learning jazz music or physics, take time to scrutinize the mode and quality of instruction in those areas. Do they have classical-music-trained instructors? Jazz musicians? Do they have functional laboratories?
If your student is an academic achiever, strategize and get the big picture. Would you want them to get into an honors college, or do you want them to get into selective institutions that provide a very specific experience?
If your student has a learning challenge (ADD, ADHD, LD, etc.), get a college that is big on support services. This is one way of making sure that your student's learning process is successful.
If your student prioritizes athletics (D1, D2, D3, NAIA), find a college that offers a wide array of opportunities in sports. Once again, do not assume, as not all colleges have even the most common sports.
If your student has specific goals after college—for example, attending a med school or a graduate school—help them save money. It's also critical that the transfer from one school to another happens seamlessly and timely.
If you're not confident that your student can succeed in college, find a lower academic school that provides support for academically challenged students. You can also work with an independent consultant that can lead your student to a path that's fitting for them.
---
Links and Resources
Helpful Resources
---
Brad's Recommends:
College planning activities held by high schools are normally being communicated to parents through students. However, you must know that you can't completely rely on your student to tell you what's going on in their high school.
Therefore, it's you who must plug in to your student's school. High schools, although many parents do not know, offer various services that help parents in college planning. Make sure to take advantage of those. If you pay enough attention to what your student's high school offers, you may find out about:
Websites or subscriptions you will find extremely helpful with college planning
Classes being offered that are helpful to your student's college planning (e.g. college essay writing classes
"Financial aid" nights to learn about college financial aid
"College planning meetings with other parents and students (possibly held for sophomores and juniors)
"Meetings and presentations
Good to know: Although private schools may offer a lot more services for their students, public schools have these activities, too! So make sure to connect to them and find out for yourself.
You may ask, "How do I connect to the people in charge?" Here's how:
Pay attention to school newsletters
Email your student's school counselor for any important college planning updates
---
THANKS FOR JOINING US!
We'd like to extend an invitation to our listeners to share their feedback and questions. Contact us to submit a question to our email.
If you find our podcasts helpful, please share us on social media and tell your friends!
The bottom line is that we care what you think and want to help you out, so we'd appreciate you reviewing us on Apple Podcasts, Spotify or your preferred podcast platform. Even better, to receive automatic updates, please subscribe to Taming the High Cost of College on Apple Podcasts, Spotify, or wherever you listen to your favorite shows.
Brad Baldridge
Welcome to Taming The High Cost of College. I'm your host Brad Baldridge. This is Episode 120. And this is the second episode in a series that Chuck and I are putting together to help you plan and pay for college. In all, we plan on putting out 10 episodes where we take a deep dive into 10 different important areas of college planning. As mentioned earlier, this episode is about finding a good fit school and future episodes will cover topics like visits, financial aid, scholarships, and how to do college research. Let's go ahead and get into it.
Presenter
You have kids, they grow up. And before you know it, it's time to plan for college. Where do you start? How much is it going to cost? Will you qualify for financial aid? Should you be looking into scholarships? When will you be able to retire? What about student loans? The list of questions is never ending. The good news is all the answers are right here. Welcome to the Taming The High Cost of College Podcast here is your host Certified Financial Planner, Brad Baldridge.
Brad Baldridge
Today on Taming The High Cost of College, we're going to talk about finding good fit schools. Chuck and I cover why it's important to find schools that are a good fit. And then we get into how to find schools that are a good fit, and give you some strategies and criteria that you can use in your search for the right schools. All right, we're here today. And we have Chuck with us again today because today we're going to talk about finding a good fit school. And when it comes to finding good fit school, I think, Chuck because this is his expertise, not mine. So we're going to spend some time talking about how to find a good fit school. Welcome, Chuck.
Chuck Erickson
Thanks, Brad. It's great to be here again.
Brad Baldridge
All right. So, I think the bottom line when it comes to college planning overall, and also good fit school is, most parents would say, bottom line, we want our kids to find a great school, get a great education grow up and be happy. Obviously, that's the highest level, there's a lot of nuances behind it. So let's start with the very basics of... Well, what do we mean when we say a good fit school?
Chuck Erickson
Yeah, I think a really big thing when it comes to good fit school is finding a place where the student fits academically, so their academic profile is a good fit, a place that supports them socially. And it has things that they can do inside and outside of the classroom to keep them busy. And then also that financial fit. So no, should the parents understand what the financial responsibilities are and feel confident they'll be able to afford that. That's really it. It's so academic, social and financial.
Brad Baldridge
Right. And obviously, I work a lot on the financial side. And parents used to say any college, any price will make it work with the prices where they are now. Most families say we need to put some limits on the financial side. And we're going to get a lot into the finances as we dive deeper into the some of the other programmes. So we're not gonna spend as much time other than how it directly impacts what we're talking about today as far as good fit, but we're going to talk a lot about how to plan and pay for college in the next few episodes. All right, so we're looking for a good fit and those three broad criteria. So why do we care about a good fit? Let's talk a little bit about, the train wreck that can happen? What have you seen where a good fit fails us?
Chuck Erickson
Well, as we know, from experience working with students and seeing what happens naturally, if it's not a good fit, there's a likelihood a strong likelihood that the student will transfer or drop out. And that can also be a financial disaster, because if the family has taken out loans, those loans Don't go away if the student drops out, and those loans could even get bigger if a student transfers to a new school, and that could also prolong the graduation period. So there's some really direct impacts on families and students if a student is not finding the best fit for college.
Brad Baldridge
Absolutely, I guess so. Right? The worst case scenario, they drop out, they don't ultimately even get the degree or they transfer, and they end up taking extra semesters or years. And they end up paying more. So what are the statistics? I think I've seen, somewhere in the neighbourhood of a third of students end up changing majors. What is that you have any stats on how often they change schools?
Chuck Erickson
Yeah, we currently know that in the United States, well, over half of students who had off to college this fall, will transfer to another school at some point in time. So it is over 50% right now.
Brad Baldridge
Right. So getting this right is a challenge for most families. And I think it's because they don't really understand the process and they just come up with their own system that isn't necessarily maybe that reliable. Or again, they just throw a dart pick a school and off they go. Okay, so how do we find a good fit school? If we want to take it a little more seriously? Is there a process that you work with or what do you recommend there?
Chuck Erickson
Yeah, so for college connectors, we really start with helping the student understand him or herself. So what type of academic experience do you want? Are you wanting a small classroom or a big classroom? Something more hands on something more audio lecture style? Do you want something that is going to be very academically challenging for you and possibly above your academic level? Or do you want something that is a little bit more on your level or even easier? So we're thinking about the academic experience. And then socially, we're thinking about do they want to be in an urban setting, rural, a big, large public institution or something more private that offers more one on one attention, something that is more athletic in nature, or something that's more fine arts. So there's lots of nuances that we think about socially. So we really start first with understanding the student and then helping them figure out what colleges provide those type of opportunities for them.
Brad Baldridge
Right. So now we come to the challenge of, when he asked a typical student, do you want a big school or a small school? Or do you want, kinesthetic learning? Or do you want hands on? Or do you want a big lecture hall? I think a lot of students maybe can't answer that question. Can you give parents some ideas on how to, I guess, gather that information and get some valuable and useful information out of the process?
Chuck Erickson
Yeah, there, there are a wide variety of assessments that students can use online, there are a couple of different websites out there to help students. One that we use very often is a company called you science, youscience.com. It is a great way to help a student understand what are their strengths, and what are their challenges. But as far as the class size, that's where we encourage families to start doing some college visits, visit your local campuses, find a bigger school or a smaller school, have your student see what those experiences are like, especially if the college is in session. And that can help the students see what might fit them.
Brad Baldridge
Exactly. And I think that's part of the process. And often why I recommend families start earlier is if you can get some visits where the student has an informed comment about, if you say to a student, are you interested in a big school, they may not really understand what big means, because maybe they've been on a big campus, maybe they haven't, but and that's where, again, just getting out there and kicking the tires a little bit, not so much that you're trying to narrow it down at first, but maybe you're just trying to gather some general knowledge and information, like when you do your first test drives of a car, right? Just gonna see if I like it at all. You might get it and say no, this just doesn't work.
Chuck Erickson
We're done. Yeah, there's, there's a lot of similarities between picking a car and picking a college or picking even your favourite pair of shoes and picking a college you've got a, you know, no one, rarely do people just pick up a pair of shoes off the shelf and take them home, they usually try them on walk around the store, put them back, they may even go back to that same pair of shoes and try again. And that's the same way that students and families will experience college, they'll do a first visit, check it out. And maybe they'll come back to that same college six months, eight months later for another visit to see it at a different stage in life and see if it still fits.
Brad Baldridge
Right. Absolutely. And that's the other piece of it, I think is you need to get some actual bounds around what's realistic and what's available. Again, as an example, if you say I want a really small school, I want a school that only has, you know, 300 students? Well, that may be you know, those schools exist, but they may not have the majors you're interested in or something like that, where you can't have everything. So you have to decide which pieces are the more important pieces?
Chuck Erickson
Exactly. It's in that instance, it's almost going to a buffet restaurant, you know, your plate is only so big, can't fit everything from the buffet table on your plates, you have to prioritise and figure out okay, what am I going to absolutely need? And what are things that would be nice if I could fit them, but they aren't going to drastically change my experience.
Brad Baldridge
Right. So what are some of the common I mean, initial search or initial criteria that families might use to narrow down their search? I mean, I can think of a couple like how close is the college to home and the overall size of the college you have other ideas that that differentiator that students can appreciate?
Chuck Erickson
I really believe that you're correct with the distance part. Most families think that students you know, get out of the nest and fly far away for college. The reality is, is most students over 80% of college students go to college within an eight hour drive of home. So you actually don't have to look that far from your own backyard. Things that tend to impact students are really the urban, suburban or rural experience. The hard part is that some students may not understand what a truly urban school feels like. They may be thinking, you know, Milwaukee, but you know, then they say, Well, I like being in downtown Milwaukee, but downtown Milwaukee is very different than say downtown New York City. Both of those are considered urban places. But the urban experience is drastically different. Same thing with rural There's a lot of awesome colleges that are located in smaller towns. And those size of towns can vary from only a couple 1000 people in the town to as many as you know, 50 to 75,000 people in the town, and that can make the experience very different. Another factor that students often comment about is athletics, they want to go to a big football game, or they want to go and cheer on the team. While there's some awesome colleges out there that don't even have football. So you think about it, how important is that for you? Or maybe their big sport is hockey or basketball or baseball? So is it different if the sport is not football? Or maybe another athletic experience might be exciting for the student to attend as well?
Brad Baldridge
Right. Okay, so if we're visiting, we're looking around, we've got some of the basic criteria. What about the colleges? Do the colleges help us? You know, again, if we said, you know, I'm this type of student? Will the colleges say, well, that's the kind of student we do well with? Or what kind of feedback can we get from the colleges themselves?
Chuck Erickson
That's a great question. And that's actually something that I wish more parents would ask me, there's an old mantra that a student has to be well rounded to go to college. So they have to be an athletics and the arts, they have to volunteer, they have to do all these things. And that's actually not true anymore. Most students need to be pointy, they need to be focusing or interested in a certain area, or have a certain style colleges will help a student understand if they're a great fit. And that's a way to reach out to an admissions counsellor, or ask it an admissions presentation and say, Hey, this is me, as a student, I mentioned these types of things, I would really be interested in studying these types of subjects are involved in these activities, is your college of good fit for me, and admissions counsellors can give some feedback and say, 'Yeah, you sound like a candidate that would really thrive here.' Or they would say, 'Oh, we don't have those particular programmes, so maybe this isn't the best fit for you.' So that's where admissions counsellors can be extremely helpful for students and families.
Brad Baldridge
Right? And so where do we get access to these admissions counsellors? Obviously, they're available when we go visit the college, but they also do you know, they're out and about in the community. So where do you recommend students connect with these people?
Chuck Erickson
Yeah, so colleges are currently offering virtual visit sessions, so you can do a virtual visit with the college. Or you can just go to the admissions website of the college that you're interested in. And many of them have a contact us button or a reach out to your admissions counsellor button. Every College has an admissions counsellor that's assigned to a particular area, a particular high school or even a certain state. So you can find what who's the admissions counsellor for your high school or your region or your state and send them an email? Or you can just pick up the phone and call the admissions office and say, Hey, we have a couple of questions about your school, is there someone that could chat with us, they are extremely approachable, whether it is via email or via phone
Brad Baldridge
Right? So you can always just reach out to the school and get the information you need. And that might be a good a good indicator as to whether you like the school or not, depending on how you get treated, right out of the gate, so to speak.
Chuck Erickson
All right, how they even the admissions experience will show you how they treat you as a student if you go there. That's a great point.
Brad Baldridge
All right. So once we start getting out there and gathering some of the basics, right, okay, so now I've discovered I've won a school that's, you know, large and urban. And I'm a sports fanatic. So they need to have some teams that I can cheer on. What are their criteria? If we're going to go a little deeper? What are some things that, you know, maybe the typical family hasn't thought about as far as things to check or compare? When it comes to finding a good fit school?
Chuck Erickson
Great question. Some things that you might want to consider are? Do the majority of students live on campus? And so it doesn't have a residential experience? Or is this a school or ruin jority students live off campus? And it's going to have more of a commuter experience? That could be something that could impact them? What is the academic Challenge Level of the school? So did the vast majority of the students at the school have a 4.0 coming out of high school? Or is there a wide range of academic levels at this college should therefore there's going to be a wide variety of student backgrounds? They could also be asking about where the students from at this college. So does this college primarily have students from the local area or the local home state? Where does this college draw students from a wide variety of states and that might change who goes to the campus? So there's lots of different things to ask. If faith is important to students, they may ask about what the faith life is on. Same thing for students who are interested in finding Performing Arts. Do they have opportunities that they can be engaged with those? There's many different nuances that students can ask about is to figure out what is going to be the fit for them.
Brad Baldridge
Right, absolutely. And one of the questions I tell families when they're out doing their visits is the colleges, especially if you're doing like the group tours, or some of the more events that are geared towards large groups, they tend to show you the stuff that they excel at, and the stuff that's maybe shiny and new. So if they've built a new science building, you can bet that you're going to tour the science building, or if they've got a new stadium, they're going to tour you through the new stadium. But I think families need to catch on to that and say, Okay, but if you're not interested in sports, you don't really care about the stadium, maybe you need to go see the biology labs, or maybe you need to see where the musicians practice their instruments, or what the opportunities are, and what the theatre looks like, as far as how many does it see? And does it seem like it's an important part of campus?
Chuck Erickson
Say, that's an excellent point. The tours are very short, most campus tours are 45 minutes, maybe an hour, and they can't show you every building and every experience, you might see one residence hall, not all 12 that they offer, they will typically show you the academic departments that they are strongest in on that campus. And by strongest typically means that that's where the most students have enrolled and the largest percentage of majors that they graduate from the particular institution, it doesn't mean that the other academic areas are bad, it just means that they're showing off their best and they're great stuff. So you may have to after the tour is over, you may need to either ask an admissions counsellor saying, Hey, we didn't get an opportunity to see my area, can someone bring us over there, or they have a campus map, go see if you can go check it out on your own. I always tell families, take a look at what they're showing you and take a look at what they're not showing you and then go check out what they're not showing you to see if it still reached the standards of what you're looking for in a college.
Brad Baldridge
Yeah, that's a great point of trying to look at, again, some of the things that they're and I wouldn't say hiding, but again, they're not highlighting it. So again, it may be an important criteria for you. And it might be a reason that colleges is picked up one over the other. Let me talk about a couple of the different challenges that I have run across with parents. I have a lot of parents say things like, well, we, my student doesn't know what they want to be when they grow up. Therefore they can't pick a major therefore we can't start working on picking a school because we got to do it in the proper order. And again, you have a sophomore? How would you answer that? And if you have a senior How would you answer that?
Chuck Erickson
I think for a sophomore, I would encourage them to start exploring some different academic areas. have they taken some classes in some other areas? Have they done summer camps or other experiences that that show them what different academic areas are like, but for both is offering the senior you can totally do a college search without having a major in mind. for seniors, I would want them to at least start narrowing it down. So is it humanities? Is it social sciences, sciences, business engineering? Is there a certain category that you would like to be interested in and need more information about that, it may not be a subject that the student has had in high school, or in any academic experience. For example, students might be interested in the video game industry and they haven't taken any courses in that. So maybe you need to find some opportunities to check that out and see if you like it. Most colleges allow for undecided students to attend there. There aren't a tonne of schools that require students to know their major. Absolutely when going in. And as you said at the beginning of this show, a good chunk of students change their major because that is how teenagers operate.
Brad Baldridge
Right? Absolutely. So I've had another situation where a family mentioned something to the effect of I'm interested in this relatively high end expensive school. And they're offering us summer activities at the school. So we think we're going to spend five or six or $7,000 to do the engineering camp or the writing workshop, or the political, un or whatever it is and the school so that we can increase our odds of getting accepted. What are your thoughts on that?
Chuck Erickson
I'm going to completely call that fault. There are almost zero colleges that put an alignment between Have you attended this summer camp that gives you a leg up in the admissions process. It's just not common. Most of those summer camps are now run by outside companies, or they're run by a very particular division within the college that doesn't even talk to the admissions office. So those camps can be great to be able to explore an academic area and to check out that campus and get a feel for that campus. But it is not going to have a direct impact on your admissions experience.
Brad Baldridge
Right. Exactly. So you confirm what my feeling was. I didn't know that for certain. But my recommendation is typically if you want to go to a writing workshop, go ahead and go for the writing workshop, not because it's on a particular campus, I get unless, ma'am, maybe living in a dorm on that campus might give you a marginal benefit. But the idea that I have to go spend a lot of money to make this, again, that's playing to people's fears. And it's sold that way, unfortunately, where a lot of the literature, they make it feel like if you don't do it, you're going to be a match behind your competition, which I think it's patently false.
Chuck Erickson
Yeah, 100% agree with us that those camps make it sound like, Okay, if you want to get a foot in the door for the admissions process here, you should come into this camp. And I will completely negate all of that and say, go for the experience of being on a college campus learning to navigate a dining hall and go to, living in the residence halls, or just wandering around campus, those are great experiences for the summer camps. But that is not going to give you a leg up in the admissions experience. Here's the funny part, it might actually give you a leg up in the admissions experience for another college, because another college may say, Oh, hey, you went to that camp at that other school. That's pretty awesome. We're impressed that you went to that camp at that other school. Now, we're more interested in you, because you have had experience being on a college campus, even though it's not our own. So that's interesting.
Brad Baldridge
Right? So again, if digging into the, I think there's a overwhelm side of college planning, where, some families might, again, let's take another example, say a divorced family, an academic average kid, in other words, they get A's and B's like everybody else, you know, their activities are, participate in some of the sports, maybe they start, maybe they don't, but but again, they're not high academic achiever. They're not high athletic achievement, they're just your average kid, how much you know, time and effort do they need to spend trying to find a good fit, if your gut is saying we're just going to go to the local state school, most likely anyway,
Chuck Erickson
I still think it's worth checking out and going through the visit, and checking to make sure that the college still has all the things that that student wants. And for students who are saying, Oh, well just go to the local state school, just try and go and visit another state school in your same state. So just make sure that it's not just the one that's near you. And sometimes you can confirm that you found the right fit by going to visit another school that's either similar in size or similar in style. And going, Oh, you know what, that first school does it better. So I did pick the right school, because this second school doesn't impress me as much. So that could be a great way to gut check. But yeah, if a student is saying, I just want to go to the local four year school, I want to major in English, and I want to get out as in four years and become a teacher and the standard college has that. Yeah, you don't have to do a super huge search. But always gut check by trying another school and comparing it to your first choice,
Brad Baldridge
right. And then let's look at maybe a larger extreme now, where we do have the high academic achiever tap, not necessarily the number one in class, but maybe in the top five of their high school class, strong test scores. They want to spread their wings, they got ambitions in either astrophysics, or I want to be a doctor, or, again, they have these high dreams, and they, now what is the process look like?
Chuck Erickson
Now, it's going to possibly get a bit more complicated, because there are more students in those pools for a limited amount of college seats. So a limited amount of admission spaces. So that might be someone that wants to have a conversation with someone like me to talk about, what is your strategy, because selective schools have different admissions rounds? Whether it's early decision or early action, regular decision? Some colleges offer scholarships, some do not. So it's thinking even deeper on those criteria as to what you want the experience to be like, are you just trying to find any place that will support this student and offer an honours college at a big public? Or are you wanting one of those smaller, selective institutions that provide a very specific experience?
Brad Baldridge
Right, exactly. So I think it's important that families understand is you can do the basics, and just run with it as if it may be appropriate for family. But I think there is the college bit, discussion and exercises, etc, that can get much more advanced. Again, I tell people, there's, from a financial perspective, there's five or six different types of schools, and they each, all the schools can fall into one of those buckets and of course, then there's all these schools that are the exception and they don't fit into any bucket well, right. But based on once you understand the buckets, That's the first step, then understanding the exceptions to the buckets is the next step. But, I've had, situations with the, the jazz musician that really drills deep into the music department because he wants to learn jazz, from jazz musicians, not jazz from a classical trained instructor. So he's got to dive deep and really figure it out. I have had kids deep into physics that, want to get to a school that's got a big telescope. What What kinds of things have you seen where it is a bigger deal and more challenging?
Chuck Erickson
Yeah, some other categories that have students that have to drill a bit deeper students who are significantly involved in religious life. So I've worked with a lot of Jewish students, and they want to have a campus community that supports them and provides opportunities for them to enrich their faith and support their faith. So that might be something that needs to be examined at a deeper level, it could be a student that is identifies as a particular underrepresented category, and they want to find a community for them that feels at home. Another group of students are students that have learning challenges. So they have ADD, ADHD, LD, another type of learning challenge, that might take some additional steps. Because now we have to find a good fit, as well as support services to make sure that students can be successful at that college. So there are some different nuances there. Of course, the athletes, whether they're wanting to do D1, D2, D3, NAIA, there's lots of different athletic opportunities for students and finding the right fit there. So yeah, if you have a particular nuance, you might need some additional help to be able to make sure you're finding the right fit. And let's be real, I do not believe that there is one perfect college for every student, I believe that there are several colleges that could work for each student. It's finding which one will student will feel home for the next four years challenged and supported.
Brad Baldridge
Absolutely right. I think that stress that one, where again, the student that falls into in love with a particular college, setting themselves up for heartache, and potentially a financial disaster as well. So, parents, my ideal situation, from a financial perspective is, Oh, look, here's 12 schools, we applied to six of them, we were accepted at all six, we love them all equally. Now we can just figure out on the financial side, which one's the best fit financially. In other words, which one's the lowest cost? And we're done. Of course, that's never the reality. The reality is, I like these schools more than those schools, and this is my number one choice. And in an ideal world, your favourite school that has the best fit comes in at the best price and life is good. But it doesn't always work out that way. So you may have to make that tough call is having x worth an extra $15,000 a year to me,
Chuck Erickson
Right.
Brad Baldridge
And or, can I just say, well, this, at this school, it's not quite as good, but it's good enough that I'm willing to not spend the money.
Chuck Erickson
Right. And the other add on to that, and I 100% agree with everything that you said, Brad, I would add on to that is okay, what are your goals after college? So do they want to be in a particular place in the country. And so one college might be better in that place? Or do they want to go on into graduate school or higher learning, and maybe they need to save some money. For example, medical schools don't have a tonne of financial assistance for med students, maybe it would be better for the student to attend a lower cost institution for their undergrad to be able to save up money for med school. So there are some other long range decisions that can play into the factors as to where a student can go for undergrad. Also, we haven't talked about the fact that there's a great opportunity to go to to your campuses, really get some great education for those first two years and then transfer either to a four year public or for your private as a cost saving measure.
Brad Baldridge
Right. And I would agree with that, it's a great way to save money. But you have to be really careful, there's two steps to that process. One is you got to make sure that the stuff that you do at the two year or the lower class school will actually help you once you transfer wherever you're going next. And so you have to understand both schools before you start and that's critical.
Chuck Erickson
Correct. So if I'm working with a student who has that goal of I want to go to a community college first or to your campus first and then transfer to a four year we actually are doing a double search. We're first finding the two year college. And then we're also starting to think about what four year colleges that that community college helps transfer to, because it's just like a baton being passed in a race. It has to happen seamlessly. And it has to happen at the correct time. or someone's going to drop the baton and then everything's going to go down the wrong path. So yeah, you almost have to think, two years ahead of time, if you're thinking about doing a transfer process,
Brad Baldridge
right. And then, again, some of the people that I've run into a lot of times the money that the savings is, 10,000, or $20,000. And for many families, that's significant. And they, they need to save it. But I've seen many families, once they really drill into it and say, Well, maybe we'll just stretch a little. And instead of going to a four year degree or a two year school, and then a four year school, we'll just choose a lower cost for your school in order to, again, get the full college experience. So I think a lot of parents, that's their dream is no, it's my dream, right? I loved college, it was a great opportunity. And I want my kids to have that experience. And I think that's a reality for many families.
Chuck Erickson
Yeah, I've had family start off with me with the plan of 'Okay, our student is going to go to a two year and then transfer to a four year.' But as we go through the process, I think the student and the parents end up falling in love with a four year experience and just say, you know what, we're just going to go the four year route, forget the transfer process. So that's part of why you work with someone to help coach you is to help you reflect and think about those things over a period of time, so that you can reevaluate your decision as you go.
Brad Baldridge
Right? Last concept on the fit is, I've talked to parents quite often that are a little nervous about college success at any level. In other words, they're saying, Well, my manual, my kids, not real strong academically, we think he was going to go to college. But I mean, again, that in front of the student, typically they're saying things like, we're not real sure, he's actually gonna stick with it, I fear that he's gonna go a year, maybe two and then drop out? How does that impact how you choose a college?
Chuck Erickson
Yeah, that can be a very big factor as to how I help students and families Think about it. So there might be advantageous for the student to attend a lower academic school that may not be as academically challenging, and then providing wraparound services at that school to help them navigate that. So what college connectors, we also provide college achievement coaching, so I can follow a student to college and continue to meet with them during their first and second year, typically, every couple of weeks to check in on them and see how they're doing and making sure that they are acclimating well, and several colleges offer these types of services as well. And that might be something that they look to you. Or maybe they say, again, with the transfer idea, let's go to someplace closer to home, where we can check in on you and be supportive of you a little bit more and then either possibly transferring, or going to, if you go through the first four years going to graduate school farther away, or going to a more professional experience farther away. But yeah, it's usually when you're unsure of where to go. That's when being maybe within three hours of home might be important factor to consider as you're looking at colleges.
Brad Baldridge
Right, absolutely. All right. Well, I think we covered the college fit pretty well. We're going to cover other topics. I think the next topic is the net price of schools. So we didn't touch a whole lot on financial fit, because we're going to talk next time about the net price of colleges. And that's where we're going to delve into. It's not just what the sticker price is, but what you gonna actually pay. That's important.
Thank you, Chuck. I will talk to you again in a week or so.
Chuck Erickson
Sounds good. Thanks much, Brad. All right,
Brad Baldridge
I hope you enjoyed that discussion about finding a good fit school. Again, this was Episode 120. So if you're interested in links to the various things that we've talked about, all the show notes are available at tamingthehighcostofcollege.com/120 for Episode 120. Also, I recommend you subscribe on your favourite podcast app if you'd like to continue to get this directly to your phone or another device. And I'd appreciate it if you left us a review in Apple podcasts or Google podcasts or wherever it is that you are actually getting your podcast. So let's get into Brad Recommends.
Presenter
The latest tips, tricks and tools you can use today. This is Brad Recommends on Taming The High Cost of College.
Brad Baldridge
Today in Brad Recommends, I want to recommend plugging into your high school. While the high schools try and provide help around college planning, and some do it better than others. But it's important that families take the time to try and figure out what's available at your high school. You know what services do they offer? Do they have information on the website or do they offer subscriptions to outside websites that will help you with college planning? Sometimes we see things like English class is helping out with essays. So if you take a particular English class, you'll write college essays as part of the curriculum. High schools might offer things like financial aid nights. And then college planning meetings where you might meet with parents and students one on one, perhaps during the sophomore or junior year. If you're at a private high school, it's likely that there's a lot more services than at a public high school. So again, some public high schools do this as well. Now, the reason you'd want to plug in and so that you don't miss whatever is available. Again, they might have presentations or meetings. And the more you know about what's going on, the more likely you are to take advantage of the stuff that they're providing to you. And of course, don't rely on your student. Many students hear about these things, but for whatever reason, they don't bring the information home. And so a lot of times, high schools and counsellors are very frustrated because they put all this effort into these services and programmes etc. And the information never gets to the parents and the parents never know about it, and can't participate. So, try and plug in, pay attention to the newsletter, contact your counsellor, send them an email, and just see what's available at your high school and take advantage of it. Alright, that's all we have for this week. We look forward to talking to you next week.
Presenter
Thank you for listening to the Taming The High Cost of College Podcast. Now it's time for you to take action. Head to tamingthehighcostofcollege.com for show notes, bonus content and to leave feedback for Brad. The next step on your college journey starts now. Brad Baldrige is a registered representative of Cambridge Investment Research and an investment advisor representative of Cambridge Investment Research Advisors, a registered investment advisor. Securities are offered through Cambridge Investment Research Incorporated. A broker dealer and member of FINRA and SIPC. Brad owns two companies: Baldrige Wealth Management and Baldrige College Solutions. The Baldrige companies are not affiliated with Cambridge Investment Research.
Transcribed by https://otter.ai
Sign up to receive email updates
Enter your name and email address below and I'll send you periodic updates about the podcast.