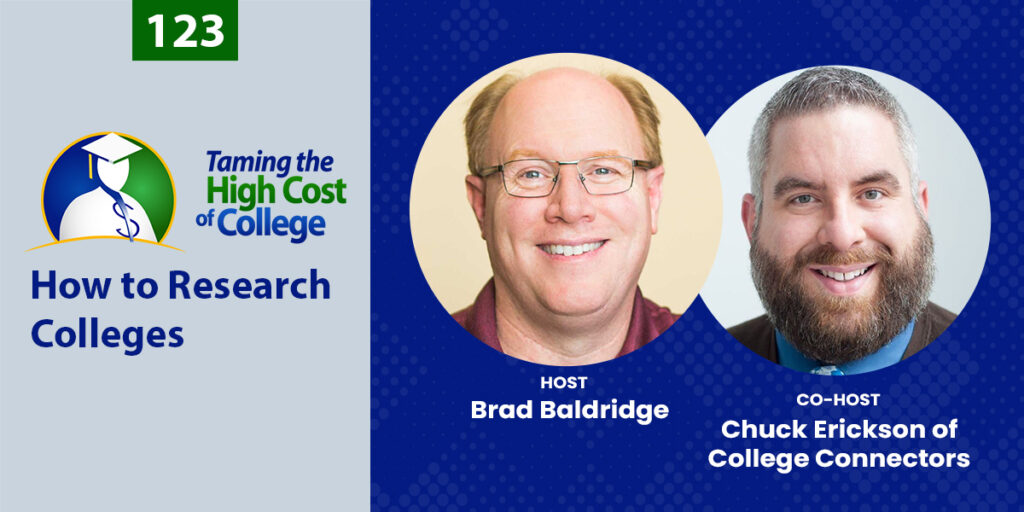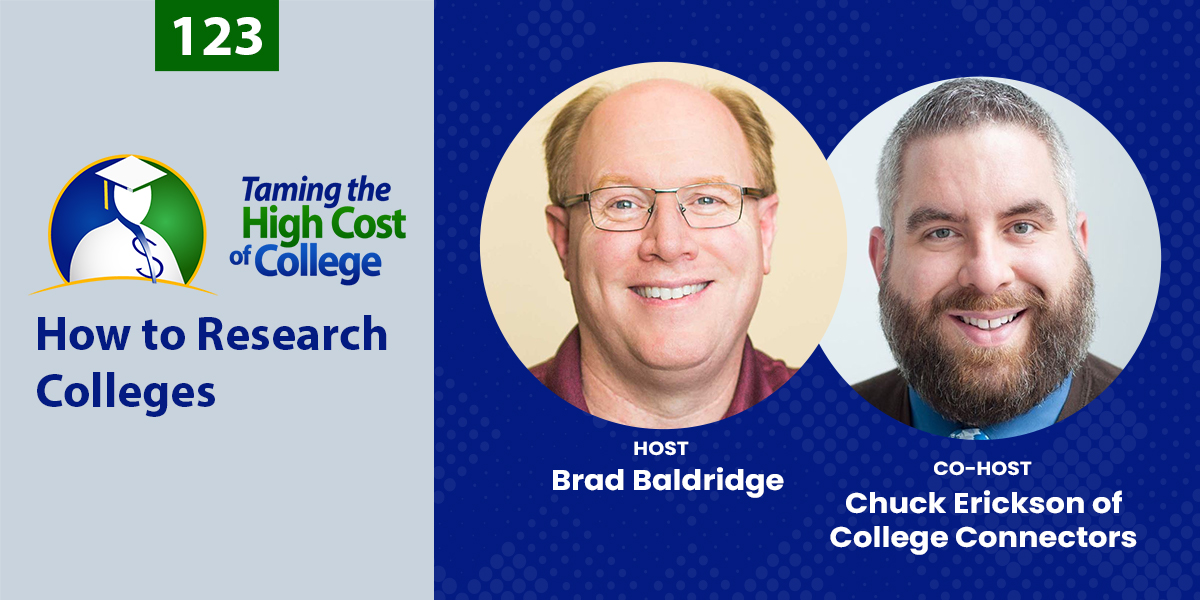 Access This Episode's Free Resources
Subscribe to my free college planning e-newsletter or confirm your subscription to watch or download my helpful tutorial videos on how to use the Big Future and College Navigator websites to find and research colleges.
---
Today's Guest:
Chuck Erickson, Independent Educational Consultant from College Connectors
As an independent educational consultant at College Connectors, Chuck Erickson has worked in higher education for 15 years, helping students and families with college applications, admissions, and career planning. Along the way, he's learned many great tips to help parents and students research schools and find the right college. Join Chuck and Brad to hear their best advice for researching colleges, including how to get started, which resources to use, and whether you should trust college rankings.
Questions Answered Today:
How do I start researching colleges?
There are nearly 3000 colleges in the United States, but you can narrow down the list based on the characteristics and qualities you like in a college.
The first stage in finding a college is to look into the very basics. Try to filter college using the simplest things: location, size, possible majors, and such. Unless you've fully considered the basics, don't look into other deeper aspects to avoid wasting time.
What are the tools I can use in researching colleges?
Databases are the tools you use in researching the best colleges out there.
There are four major databases that are helpful for college research:
College Navigator
Big Future
College Express
Fairtest.org (for filtering colleges based on college testing requirements)
As you start your research, these are just some of the questions that may help you categorize and narrow down your list of schools:
Do I want schools near, or away from home?
Do I want to go to a particular state?
Do I want to be in a rural, urban, or suburban area?
Do I want to be in a public, or a private school?
Do I want a single-sex school, or a co-ed school?
Does this school respect my religious affiliations and my beliefs?
Which college research database should I use?
Each database is special in its own way. Here are some guides that might be helpful for you:
College Navigator is run by the government. It uses data collected from U.S. colleges by the government. Brad recommends this database if you'd like to sort out colleges according to their size.
College Board is a ginormous resource helpful for navigating exams such as the SAT, ACT, and AP tests, but it also provides a lot of information about specific colleges. One of its databases, Big Future, is specific to narrowing the list of colleges you could choose from through the process of elimination. The best part about it is it has a slick and easy interface. Big Future has lots of sorting criteria that you can choose from such as:
Selectivity (e.g. ultra-selective vs. 100% accept rate)
Distance (nearby colleges/colleges within 25-50 miles)
Male-female ratio
Commute and campus-living
Much more
Brad warns that Big Future may not be for people with major privacy concerns as it collects data and sells them to colleges.
College Express is a great website that has lists of colleges readily available.They're posted publicly by experts like school counselors and independent consultants. The lists are free, but the website requires the students to sign in to collect contact information. It's helpful for students with something very specific in mind. The lists could look like these:
Small schools with engineering programs
Colleges great for vegetarians
Colleges that have strong school spirit
Schools with the largest football stadium
Campuses that are located in the beach
Fairtest.org keeps track of which colleges are test optional, and which colleges are test blind.
Test-optional colleges do not require SAT and ACT scores for admission. It depends on the student if they want their scores to be used. According to Chuck, over 50% of the nation's colleges now list themselves as test optional.
Test-blind colleges do not use SAT and ACT scores at all. The schools listed as this type are small but growing.
Test-optional or test-blind colleges could be an option for students who:
Are unable to take the tests
Do not do well in exams
Have learning challenges
Are non-native speakers of English
How do I maximize information form a college's website?
Chuck says that the biggest chunk of valuable information about colleges is through their websites. Pay closer attention to these parts of the website to maximize information value:
The front page gives you the vibe of students from the pictures, the school environment, etc.

Net Price Calculators help families understand how much college is actually going to cost at a school. Make sure to check if the prices and costs are up to date.
The Common Data Set form helps families get the factual numbers about the college. It's information overload, so it's for families who want the statistics specifically. This gives you great information on the college's:

Financial aid eligibility

Average financial aid award

The Admissions tab provides admissions information such as:

Contact information of the admissions representative that's assigned to your city, high school, or state

The Visit info tab allows you to book visitations, tours, meetings, etc.

The Request More Information tab lets you leave your personal information should you wish to be contacted by the school. This also gives you mails and emails about the college.
Should I trust the college rankings I see online?
No, you shouldn't. Here are the reasons why:
Ranking companies need rankings to make money. There is a certain demand for this kind of content, so companies like US News and Forbes do this for profit.

Rankings could be just a way for schools to brag or to make themselves look good.

Some of these rankings are not even reliable, especially when the ranking is done by the participating colleges themselves.
Employers almost never consider college rankings in choosing a candidate suitable for the job.
Instead of rankings, look into colleges' accreditation. Once you choose a major, find out if the colleges on the top of your list are accredited for that major. Since accreditations are standardized, they ensure quality way better than rankings do.
---
Links and Resources
Helpful Resources
---
Brad Recommends:
Today, on Brad Recommends, we will talk about two great databases that can help you and your student in college research: Big Future and College Navigator.
When you log into Big Future, you'll be asked to either "go to a particular college" or "do some college research."
When you choose college research, there will be 6 categories to choose from:
At a glance – shows a quick overview of college's statistics
Deadlines – shows the deadlines for application, financial aid, etc.
Majors or learning environment – shows population of graduate and undergraduate students, majors available, etc.
Campus life – shows housing available, student body, location, etc.
Applying – shows selectivity rate, criteria they look for in applicants, etc.
Paying – shows cost of attendance (tuition, room and board, books, fees, personal expenses, etc.) and financial statistics like need-based aid criteria, average first year financial aid package, and all sorts of scholarship available
Note: Under these 6 major tabs are sub tabs that you can use to dig deeper, especially if you have detailed specifications in mind. It provides the same amount of information for all colleges.
Pro tip: While Big Future provides easier access to college details compared to website-to-website research, you may still want to visit the actual college website to make sure you don't miss any important details posted directly on the college's website.
If you already have a particular college, just type the name of the college, then you'll get the same details (from the 6 categories).
Both Big Future and College Navigator allow searches that begin with a broad search then narrow the search bit by bit. When searching, here are some of the categories you can use:
Distance (e.g. all the colleges within 100 miles)
Size (e.g. all the colleges that are large or small)
Selectivity (e.g. high, medium, low selectivity rate)
Setting (e.g. all colleges that are in rural or urban setting)
You can also mix and match categories to find what exactly you want!
Distance and size (e.g. all the colleges within 100 miles that are large or small)
Selectivity and setting (e.g. all colleges that are highly selective and have an urban setting)
Want a more visual explanation of how to use these databases? Scroll up to the top of this podcast episode page and look for heading: Download This Episode's Free Resource. Click the button and subscribe to my free college planning e-newsletter or confirm your subscription, and I'll end you straight to my videos on how to use Big Future and College Navigator.
---
THANKS FOR JOINING US!
We'd like to extend an invitation to our listeners to share their feedback and questions. Contact us to submit a question to our email.
If you find our podcasts helpful, please share us on social media and tell your friends!
The bottom line is that we care what you think and want to help you out, so we'd appreciate you reviewing us on iTunes or on Stitcher. And even better, receive automatic updates by subscribing to the show on iTunes or Stitcher.