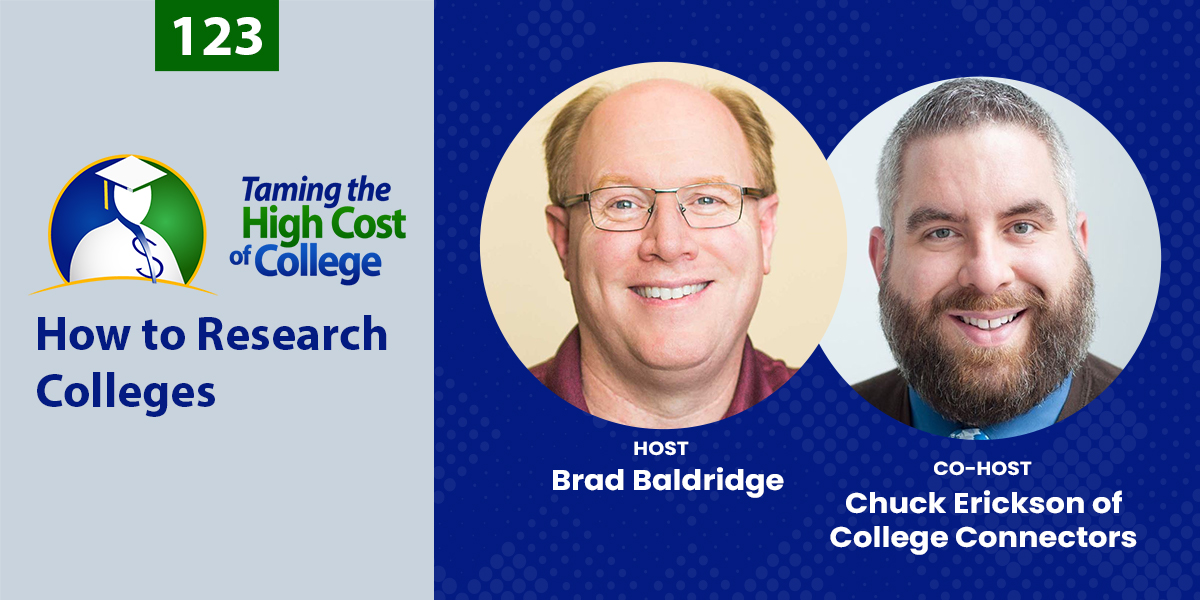 Access This Episode's Free Resources
Subscribe to my free college planning e-newsletter or confirm your subscription to watch or download my helpful tutorial videos on how to use the Big Future and College Navigator websites to find and research colleges.
---
Today's Guest:
Chuck Erickson, Independent Educational Consultant from College Connectors
As an independent educational consultant at College Connectors, Chuck Erickson has worked in higher education for 15 years, helping students and families with college applications, admissions, and career planning. Along the way, he's learned many great tips to help parents and students research schools and find the right college. Join Chuck and Brad to hear their best advice for researching colleges, including how to get started, which resources to use, and whether you should trust college rankings.
Questions Answered Today:
How do I start researching colleges?
There are nearly 3000 colleges in the United States, but you can narrow down the list based on the characteristics and qualities you like in a college.
The first stage in finding a college is to look into the very basics. Try to filter college using the simplest things: location, size, possible majors, and such. Unless you've fully considered the basics, don't look into other deeper aspects to avoid wasting time.
What are the tools I can use in researching colleges?
Databases are the tools you use in researching the best colleges out there.
There are four major databases that are helpful for college research:
College Navigator
Big Future
College Express
Fairtest.org (for filtering colleges based on college testing requirements)
As you start your research, these are just some of the questions that may help you categorize and narrow down your list of schools:
Do I want schools near, or away from home?
Do I want to go to a particular state?
Do I want to be in a rural, urban, or suburban area?
Do I want to be in a public, or a private school?
Do I want a single-sex school, or a co-ed school?
Does this school respect my religious affiliations and my beliefs?
Which college research database should I use?
Each database is special in its own way. Here are some guides that might be helpful for you:
College Navigator is run by the government. It uses data collected from U.S. colleges by the government. Brad recommends this database if you'd like to sort out colleges according to their size.
College Board is a ginormous resource helpful for navigating exams such as the SAT, ACT, and AP tests, but it also provides a lot of information about specific colleges. One of its databases, Big Future, is specific to narrowing the list of colleges you could choose from through the process of elimination. The best part about it is it has a slick and easy interface. Big Future has lots of sorting criteria that you can choose from such as:
Selectivity (e.g. ultra-selective vs. 100% accept rate)
Distance (nearby colleges/colleges within 25-50 miles)
Male-female ratio
Commute and campus-living
Much more
Brad warns that Big Future may not be for people with major privacy concerns as it collects data and sells them to colleges.
College Express is a great website that has lists of colleges readily available.They're posted publicly by experts like school counselors and independent consultants. The lists are free, but the website requires the students to sign in to collect contact information. It's helpful for students with something very specific in mind. The lists could look like these:
Small schools with engineering programs
Colleges great for vegetarians
Colleges that have strong school spirit
Schools with the largest football stadium
Campuses that are located in the beach
Fairtest.org keeps track of which colleges are test optional, and which colleges are test blind.
Test-optional colleges do not require SAT and ACT scores for admission. It depends on the student if they want their scores to be used. According to Chuck, over 50% of the nation's colleges now list themselves as test optional.
Test-blind colleges do not use SAT and ACT scores at all. The schools listed as this type are small but growing.
Test-optional or test-blind colleges could be an option for students who:
Are unable to take the tests
Do not do well in exams
Have learning challenges
Are non-native speakers of English
How do I maximize information form a college's website?
Chuck says that the biggest chunk of valuable information about colleges is through their websites. Pay closer attention to these parts of the website to maximize information value:
The front page gives you the vibe of students from the pictures, the school environment, etc.
Net Price Calculators help families understand how much college is actually going to cost at a school. Make sure to check if the prices and costs are up to date.
The Common Data Set form helps families get the factual numbers about the college. It's information overload, so it's for families who want the statistics specifically. This gives you great information on the college's:

Retention rate
Graduation rate
Financial aid eligibility
Average financial aid award

The Admissions tab provides admissions information such as:

Application deadlines
Required documents
Contact information of the admissions representative that's assigned to your city, high school, or state

The Visit info tab allows you to book visitations, tours, meetings, etc.
The Request More Information tab lets you leave your personal information should you wish to be contacted by the school. This also gives you mails and emails about the college.
Should I trust the college rankings I see online?
No, you shouldn't. Here are the reasons why:
Ranking companies need rankings to make money. There is a certain demand for this kind of content, so companies like US News and Forbes do this for profit.
Rankings could be just a way for schools to brag or to make themselves look good.
Some of these rankings are not even reliable, especially when the ranking is done by the participating colleges themselves.
Employers almost never consider college rankings in choosing a candidate suitable for the job.
Instead of rankings, look into colleges' accreditation. Once you choose a major, find out if the colleges on the top of your list are accredited for that major. Since accreditations are standardized, they ensure quality way better than rankings do.
---
Links and Resources
Helpful Resources
---
Brad Recommends:
Today, on Brad Recommends, we will talk about two great databases that can help you and your student in college research: Big Future and College Navigator.
When you log into Big Future, you'll be asked to either "go to a particular college" or "do some college research."
When you choose college research, there will be 6 categories to choose from:
At a glance – shows a quick overview of college's statistics
Deadlines – shows the deadlines for application, financial aid, etc.
Majors or learning environment – shows population of graduate and undergraduate students, majors available, etc.
Campus life – shows housing available, student body, location, etc.
Applying – shows selectivity rate, criteria they look for in applicants, etc.
Paying – shows cost of attendance (tuition, room and board, books, fees, personal expenses, etc.) and financial statistics like need-based aid criteria, average first year financial aid package, and all sorts of scholarship available
Note: Under these 6 major tabs are sub tabs that you can use to dig deeper, especially if you have detailed specifications in mind. It provides the same amount of information for all colleges.
Pro tip: While Big Future provides easier access to college details compared to website-to-website research, you may still want to visit the actual college website to make sure you don't miss any important details posted directly on the college's website.
If you already have a particular college, just type the name of the college, then you'll get the same details (from the 6 categories).
Both Big Future and College Navigator allow searches that begin with a broad search then narrow the search bit by bit. When searching, here are some of the categories you can use:
Distance (e.g. all the colleges within 100 miles)
Size (e.g. all the colleges that are large or small)
Selectivity (e.g. high, medium, low selectivity rate)
Setting (e.g. all colleges that are in rural or urban setting)
You can also mix and match categories to find what exactly you want!
Distance and size (e.g. all the colleges within 100 miles that are large or small)
Selectivity and setting (e.g. all colleges that are highly selective and have an urban setting)
Want a more visual explanation of how to use these databases? Scroll up to the top of this podcast episode page and look for heading: Download This Episode's Free Resource. Click the button and subscribe to my free college planning e-newsletter or confirm your subscription, and I'll end you straight to my videos on how to use Big Future and College Navigator.
---
THANKS FOR JOINING US!
We'd like to extend an invitation to our listeners to share their feedback and questions. Contact us to submit a question to our email.
If you find our podcasts helpful, please share us on social media and tell your friends!
The bottom line is that we care what you think and want to help you out, so we'd appreciate you reviewing us on Apple Podcasts, Spotify or your preferred podcast platform. Even better, to receive automatic updates, please subscribe to Taming the High Cost of College on Apple Podcasts, Spotify, or wherever you listen to your favorite shows.
Brad Baldridge
Welcome to Taming the High Cost of College. This episode is going to be all about college research. We're gonna have information for those of you that are just starting out. We're also going to talk about how you can dive deep into colleges that you're interested in.
Presenter
You have kids, they grow up, and before you know it, it's time to plan for college. Where do you start? How much is it going to cost? Will you qualify for financial aid? Should you be looking into scholarships? When ill you be able to retire? What about student loans? The list of questions is never-ending. The good news is all the answers are right here. Welcome to the Taming the High Cost of College Podcast. Here is your host, Certified Financial Planner, Brad Baldridge.
Brad Baldridge
All right. Chuck and I are back this week. Welcome to Taming the High Cost of College. I'm your host, Brad Baldridge. And Chuck and I today are going to be talking about college research. So in this episode, we talk a lot about college databases, big future, and college navigator. And we also talk about how to use the colleges website and other great information as well. And then on Brad Recommends, I talk a little bit more about the college databases and give you access to some videos that will help get you started.
Hi, Chuck, welcome back.
Chuck Erickson
Hey, Brad, how you doing?
Brad Baldridge
I'm doing great. We're rolling off a nice long weekend. So like to say I got a lot of rest, but I didn't. I had a lot of fun though.
Chuck Erickson
Yep, same here.
Brad Baldridge
All right. Today we're going to talk about research. And it doesn't need to be that threatening thing like we remember back in college, we need to do a research paper. But this is, how do we learn about colleges and find the ones that might be a good fit for us. So we were talking the other day, and you mentioned something about stages of research. So can you explain a little bit about how a typical family does their research?
Chuck Erickson
Yeah, there's lots of phases to research and stages to research because looking at colleges for different reasons at different times. What we're thinking about right now is just getting started, what do you need to figure out to get started to narrow the list down from the 2700 colleges in the United States that are four-year down to a reasonable amount that you can further investigate into deeper detail. So the real start of the research is figuring out what are the characteristics and qualities that you need to use to narrow that list down to start off with? Could be very simple things like location, size, possible major program, if it's something that's important to you, or other characteristics to whittle this down a little bit. That's the first stage.
Brad Baldridge
Right, exactly. And as you move further into the process, you can start doing deeper dives into things like how the majors work for that particular school, or what dorm life would be like and that type of thing. But really, there's no point in digging deeply into some of those things until you make maybe a first pass and a first cut. Because there's a lot of colleges, you'll eliminate. And you don't really need all that information. Because they were eliminated early on.
Chuck Erickson
Right. I hear parents often worrying too early in the game about, 'Okay, so what are the jobs that this college provides after my kid graduates? I said, 'Woah, what we first have to figure out if the college has things that your student will like before we start seeing if they have a promising career services office. So let's start with a little bit bigger picture. And then let's narrow down into something a little bit more concrete and detailed once we get farther along.'
Brad Baldridge
Right? Yeah. So I think one of the first stages, I spent a lot of time working with families and just teaching them the basics of the college databases. So there's two relatively easy to work with databases out there. One's called Big Future, and one's called College Navigator. Google either one, and it'll get you right there. College Navigator is run by the government, so that's their data. And they put it out there for use, obviously, for free. And then Big Future. That's College Board, which also they do all kinds of education related things like SAT test. And what's the other test they do? Help me me out here.
Chuck Erickson
Well, they were doing their SAT Subject Tests, but those are now a thing of the past. They've also done some of the graduate school exams for various grad programs as well.
Brad Baldridge
Do they also do the AP?
Chuck Erickson
Yep, they also oversee the APs exam. So yeah, so College Board is really ginormous resource for both navigating some of the exams that colleges are looking for. But also understanding all of the database points because they really come up with a slick, easy to use interface that's that I think is fairly intuitive. It might have a couple questions on it. But I think it's fairly straightforward for families to be able to start narrowing that list down. But I also like about the College Board Big Future website is that every time you add a characteristic to your search, you can look to see how many colleges are left that have that characteristic. It's slow process of elimination. It's fun.
Brad Baldridge
Right, exactly. So then the other important thing about Big Future is another revenue source for College Board is collecting your data and selling it to the colleges. So when the colleges say we want to send out a mailer, where do they get their email list or their actual physical address list, well, College Board is a big source of that type of information. So if you have major privacy concerns, which I don't think you need to worry about it personally. But some people are more concerned than others. Just be aware that they are collecting data, especially when you set up an account, which makes your life easier because it saves your work, but then they're also collecting more and more information and starting to collect, connect your student that was a test taker at some point, with their college search at another point, etc, etc.
Chuck Erickson
Yeah, so actually, I have a little tip about that, when you register for things like ACT, SAT, or even these college websites where you're trying to get information, I encourage students to have an email address that's dedicated just to that. So then all of your college stuff goes to one particular college email address, it could be the student's name.college@whatever your server is. But that's the way you can keep all the college stuff located in one email address.
Brad Baldridge
Right. And it's also a way that once college is over, you can shut it down or just ignore it. And you're not going to inundate your work email or other important email addresses with stuff you're no longer interested in.
Chuck Erickson
Yep, exactly. That's exactly what I would recommend.
Brad Baldridge
Yes. So I guess moving on to a little bit more about the databases. What's useful about them is you can, and I get, where you might start as, 'Well, show me all the colleges within 100 miles of my particular zip code,' let's say, and you'd be shocked for most families that how many colleges are near you. And most of the time you if you really sat down and thought about it, you'd come up with 10 or 20, again, depending on where what metro area you might be in or whatever. But when you actually look at the numbers and realize that, 'Oh, yeah, there are a lot of colleges, and there are a lot of them are close by,' and how do we start differentiating? And that's where these databases are useful. You can certainly start with geography near home, away from home, in a particular state, that type of thing. Then what are some of the other criteria that help us narrow the list that we might start at the beginning with?
Chuck Erickson
Sure, one of the common ones is, 'Do you want to be more in a rural area, a suburban area, or an urban area?' Keep in mind that these are defined by the federal government. So your interpretation of what an urban area might not be what the federal government thinks is an urban area. So that's a very common one. Other one would be are you looking more for a public institution or a private institution, I encourage families, as we've talked about in previous episodes, to keep an open mind and see if public and private could be a possibility for you. One that most families don't even think about is that you can, there are also colleges that are either single-sex or co-ed, so that could be a different experience for certain students. We do know that students that attend single-sex institutions end up reporting better satisfaction. So that's something to look out for. There's amazing women's colleges out there. And there are a few all-men's colleges as well. So those are some of the criteria. Another one that's common is religious affiliation. So if you are a particular faith-base, you can sort the colleges based on that as well, if that's something that's important to you. So those are a few things that can help narrow it down.
Brad Baldridge
Right. I think another big one would be size. I know Big Future offers three categories. I guess, they're considered small, medium, and large. And one of the reasons that College Navigator is useful, is they have categories and they're slightly different. So if you think, they're medium-sized, Big Future is something like 3000 to 15,000 or something like that, which encompasses a lot of colleges. So if you're trying to get a little more nuance, you can use College Navigator as a way to maybe change how the buckets are used. That's the one big difference between the two that I tend to use because I don't think Big Future does the size well. I mean, it's certainly a good place to start. But if you say, 'I want between 6000 and 9000,' that's hard to do and Big Future.
Chuck Erickson
Right. And it's also just hard to understand for some families because you're thiking, when you say six to 9000, I assume that you're meeting undergraduate population, but for some colleges that could also be graduate student population. And truth be told, you don't really run into the graduate students as much on a college campus as you would think. So I really encourage families to focus on the undergrad population, because that's really the people that your student will be attending college with.
Brad Baldridge
Right? Yeah, no, I guess I didn't did that clarify that. But yeah, I was talking about number of students that attend, that's typically how I set, how a college is ranked as far as size is concerned. And then I guess there's also, you get a little more demographics, if that's important to you, where you can just look at the data. And or you could sort out as well, like the male-female ratio, whether or not it's more of a commuter school, or if most people live on campus, etc, etc. So there are lots of different as you build, go a little deeper, you can start to narrow things down. Or at least say, 'Hmm, that's interesting.' Whether or not you're going to decide to make that a criteria or not, might be further down the road.
Chuck Erickson
Yeah, there's even one criteria on Big Future that I know about that you can also decide how selective you want your experience to be. So they even have an option that says, 'College accepts 100% of the applicants.' Now, some people may go, 'Oh, well, I don't want to go to a place that accepts everybody.' And I said, 'Well, but keep in mind, that could give you a place that says, 'Yep, you know that you're going to be admitted. And you can also look at a possible cost for that particular place. And it might be actually very affordable.'' So if a college accepts close to 100%, that could be something to look at. But also Big Future goes all the way down. So you can see colleges that accept less than 25%, which is considered a selective institution, or highly deny institution, as I like to call them. So that's another priority. And there's there's different numbers on that scale that you can adjust first activity, I always encourage families is start broad with selectivity. Don't start with the ultra selective ones, because you're just going to get yourself stressed out a bit by seeing that list.
Brad Baldridge
Right? Absolutely. All right. So yeah, I mean, I see the databases being very useful at the very beginning. Show me the colleges that are nearby that's just a memory jogger and say, 'Oh, yeah, I forgot about those colleges in that college. And I've been on that campus, it's right here in town, I just forgot it was here,' especially if you live in a larger metro area where there could be 40 or 50, colleges within 25 or 50 miles. And then from there, you can also use it as you start narrowing things down. Or if I want this, or I don't want that, you can start adding that to the criteria and kick out colleges, or include colleges based on an ever longer list of criteria till you get it down to the 10 or 15, or whatever that might be appropriate for you to really consider.
Chuck Erickson
Right. And speaking of those lists there, there is a great website that already has some lists made up for people. So if you're saying, 'Hey, I really want a small school with engineering,' or, 'Hey, what colleges are great for vegetarians, or what colleges have strong, school spirit?' CollegeXpress, if you google CollegeXpress, it is a website where high school counselor, school counselors, independent educational consultants, have made lists of these things. And I've posted them publicly. And it's free to use, you do have to sign up to get an account with CollegeXpress, of course, they want your contact information. But there is a website that offers different lists out there. So you can already check out and find out what schools have the largest football stadiums or what campuses are located on a beach. So it's it's something that's helpful if you have a specific thing that you're looking for.
Brad Baldridge
Right? Oh, yeah, I've not used that one. So that's a great tip as well. Next, let's talk a little bit about fairtest.org college testing, at this stage is very much under upheaval, and changing almost daily, it seems. So tell us what fairtest.org is about.
Chuck Erickson
Yes, so fairtest.org has been around for a couple of decades now. It is a website that keeps track of which colleges are test optional and which colleges are test blind. Okay, so now we got some terms to define here. So test optional is a process in which you can apply for admission to a college and your scores are optional. They're not required as part of the application process. And you typically have to select the box when you apply that says, 'Please do not use my test scores.' And a lot of students and families are going, 'Yeah, but is that real? Because test scores were used so much decades ago,' and I said, 'No, it's it's completely real. Actually right now, over 50% of the nation's colleges are on Fairtest as a test optional college. So that provides opportunities for students for whom they were either unable to test or maybe they really don't do well on the exams, or maybe English isn't their first language, or they have a learning challenge, looking for colleges that will look at students and not have to look at their test scores. I also mentioned the term test blind test blind is this newest trend that's coming out with college admissions process, which is the college if they decide that they are test blind, they don't want test scores at all for anyone. So you just do not submit your scores, it is not considered the application process or the scholarship process. That list is small, but growing right now there are about 100 colleges on the test blind list, meaning they do not require the test scores for anyone, either for admission or for scholarship consideration. So that's another resource that you can look at. Fairtest has a great list literally, that you can sort by state. So you can see what colleges in your state or in your region are test optional.
Brad Baldridge
Right. And we actually have a podcast scheduled coming out in a few weeks where we're going to dive deeper into testing and talk a lot more about... again, because it has changed a lot. And it has not only has it changed a lot, but it continues to change as things evolve. Obviously, COVID had a big impact on student's ability to test and present score. So a lot of colleges took this opportunity to, I guess, redesign whether or not they want to deal with testing and how they want to deal with testing. And like I said, we'll get into that coming up in a few episodes here. So that's another great source of college information when you're researching a college. And it's relatively obvious, of course, is their actual website. So I encourage families to go to the colleges websites and learn what they can. But let's give a couple quick tips here. As far as once you're there, there's obviously a lot of information there. How do you deal with the overwhelm of well, there's hundreds, maybe even 1000s of pages of information? Where do I start? Or what do I look for?
Chuck Erickson
Yeah, my biggest tip to families is to say that the college website is where the official information of the college is posted. So there's lots of college websites out there that talk about information and rankings and all these things about colleges and their third party sources. But if you want directly from the horse's mouth, you have to go to the college website. Across the top of almost every college website, there are various tabs, it typically these things like the about tab, which will give an overview of the college, admissions, academics, campus life or student life, athletics, research, some big big tabs out there. And those can be very overwhelming. And so I really encourage families to look over the whole website, at least the front page, I mean, and get the vibe, figure out, 'Okay? Do the students look like students that my kid wants to go to college with? Are the topics on the front page of the website interesting and relevant to me? Do I like the colors do I like the pictures?' Remember all the pictures, everyone's going to be happy, everyone's going to be in a great mood. It's almost always going to be sunny and delightful. They never have a raining or a dark stormy picture on their website. But yeah, so once you go over the front page of the website and get a view, there are some things that I encourage families to look for, and you can really use the search box and most colleges in the upper right hand corner have a little search engine spyglass type of thing that you can search for some specific things.
Brad Baldridge
Right. So from my side of it, I often recommend families to look at the 'net price calculator.' We talked about net price in a previous episode. But the net price calculator is a tool that helps families really understand what colleges will cost. The challenge, of course, is not all net price calculators are made equal. Some colleges and again, all colleges will have a net price calculator because the federal government mandated it that if they accept federal money, they have to have a net price calculator, and every college accepts federal money just about so they all have one. Now some did a great job and they keep it current. But occasionally, they go to the net price calculator and it will ask questions like, 'What was your income in 2015?' It's like, okay, there's a sure sign that they haven't updated it in six or seven years. And you probably want to take any answers or any information you get from it with a huge grain of salt. But again, the net price calculator from a financial perspective is one tool that you will use probably further into the process that you're not going to start there. Potentially again, unless price is of paramount importance, but it's something thing you should do as part of the process as you move along. What's areas that you send people too often?
Chuck Erickson
For students and families who are really big numbers geeks and they want the actual factual numbers that tell everything about the college, every college is required is required to complete what's called the 'common data set.' The common data set is a government form, that every college fills in with all of their admissions information, enrollment information, graduation information, it's loads and loads and loads of statistics about the college, it is a bit dense to read and not very fun. So if you're trying to fall asleep at night, great thing is looking at the common data set for college. But it's not always defined. So I use the search function, but every college is supposed to post their information for the common data set. And it's very, very deep numbers. And this is something that I use to research, 'Okay, what is the retention rate of a college? What is the graduation rate of a college? What is their or race or ethnicity? Or even other information about who gets financial aid? And what is the average financial aid package for that college.' So the common data set can be a whole lot of information, but it's a lot of great information. That's one thing I send some students too. And then of course, the big one is looking up admission information. So that admissions tab is going to talk about application deadlines, what documents are required for the admissions process? Who can contact if you have questions, so how to reach your admissions counselor, or the admissions representative that's assigned to your city, high school, or state. So admissions website is something that if you're interested in college, bookmark that page, because you're going to be coming back to it as a reference quite often.
Brad Baldridge
Right? Absolutely. And then another area would be the visit info. Colleges, of course, we'd like you to visit and come kick the tires and there's a process, again, some colleges will have different types of visits available. And so you can certainly get to the visit tab. And again, visits is another topic that we're going to cover in great detail actually is going to be next week. So the next podcast, we're going to talk in detail about visits and how to visit and that type of thing. But just be aware that there is a visit tab on just about every colleges website, where you can learn what types of meetings are available, and when and usually you can sign up there and book your spot. Colleges use it for a couple reasons, one to get the information out, but also to collect registrations and that stuff as an efficiency tool for them, where they want to know who's coming in when and it's just easy for them to put it all in a area of their website for families to use.
Chuck Erickson
Yeah, that leads me to one of my other big tips for families. I have families asked me all the time. 'So how do I get a college to notice me? How do I go to college to recruit me and be interested in me?' Well, right below that the visit tab, which is typically on the admissions page, it's typically right below it, it says 'request more information.' And it is a form that you fill out with your basic demographic information, maybe a little bit more information about your grades or possible subjects you want to study. And that is the best way to demonstrate to a college that you are interested in them. Fill out that form, they will send you mail, they will send you lots of mail, lots of email, but that is a direct way to say, 'Hey, XYZ college, look at me, I'm right here. I would you to send me stuff because I'm interested in you.'
Brad Baldridge
Right? Absolutely. And of course, remember to use that special email, because that is going to put you on a list that will be very hard to get off of. Let's move on to one other big batch of data that's out there around colleges, which is the various college rankings, the common ones, US News, Forbes. I know already what your answer is gonna be. But what are your thoughts on these various ranking agencies?
Chuck Erickson
Yeah, there's Princeton Review. There's Peterson's, there's a ranking out there for just about anything. I haven't seen the left handed frisbee player ranking yet, but I'm sure it's going to be coming out at some point in time. Look for it on a news stand near you. So yeah, my hardcore opinion is that rankings exist because ranking companies need to make money. That's really why rankings exist.
Brad Baldridge
Absolutely.
Chuck Erickson
My short answer.
Brad Baldridge
Yes. I mean, US News and World Reports is the company that launched it all way back when they had an in-print magazine.
Chuck Erickson
Yep. I remember that magazine.
Brad Baldridge
Right. I used to get the US News, that college ranking magazine, that issue was always two or three times thicker than the average magazine. And it was stuffed full of advertising. And it was a huge profit center for us news. So once they got into that business and realized that it made a lot of money, they continued with it and worked really hard. Then, of course, other agencies saw how well and how much money US News was making and then Forbes jumped on the list and the number of other companies decided, 'Well, let's get a piece of that pie.' So that's the history. Of course, how do colleges look at the rankings? And what do they do about rankings?
Chuck Erickson
Well, I mean, truth be told, the rankings haven't changed that much in the last 10, 15 years, if we were to pull the ranking list from 15 years ago, and compare it to the ranking list of last year, not a whole lot has changed. But colleges love talking about them, because they can say, 'Oh, we're number one on this, or we're number two on that.' And I don't know if it's a very American thing. But we'd like talking about the fact that something is number one for anything. And almost every college in the country is number one on somebody's ranking list, you just haven't read it yet. But yeah, that's why colleges love it, because it gives them quick little snippets that they can put out there and say, 'Hey, we are number three in the nation for this, we are number two in the nation for that, or we're number one in the region.' So that's why colleges enjoy it, it gets their name out there.
Brad Baldridge
Right? Absolutely. And lot of talk out there about how because there's formulas that most of these rankings use, some of the colleges are trying to maintain their status or increase their status. So they may try to increase whatever is being ranked. Not necessarily what their customers, what their students want. But now they're trying to make US News happy or make Forbes happy with better test scores, or more generous alumni, or whatever it is that the ranking agencies are putting into their rankings at this given time.
Chuck Erickson
And one of the rankings requires colleges to rank each other. Well, that's like having companies rank each other to say, who's better than who. If I work at a college, I'm not going to rank my competitor higher than me. So that's always an interesting layer to it. I mean, I remember working at a college and the vice president of enrollment would frequently, when it was ranking time and time to fill out that survey, would get things in the mail from colleges that were further down on the rankings list that were trying to raise their profile. And also in a box of chocolates would arrive or a really nice vase of flowers would arrive. And these were colleges that were lower on the rankings that were trying to impress the VP of enrollment at our school, so that they would get voted higher, because the other colleges opinions' played such a large factor into the ranking. I'm just going, 'Why is somebody else's opinion in your same competitive field part of your ranking? That doesn't make sense to me?'
Brad Baldridge
Right, exactly. So in the end, unfortunately, though, a lot of parents are very interested in, what ranking is this school compared to that school? And I mean, how often have you heard, 'Well, this school is better than that school.' Why? 'Well, this one's ranked 10. And that one's ranked 12, or this one's ranked 82. And that one's ranked 97. So it must be better.'
Chuck Erickson
Yeah, but when you talk to employers, the ranking of the college doesn't even fall into the top 30 things that an employer considers as far as what they're looking for a student. When you're, if your goal to go to college is to eventually get a job, which I assume that that's part of the goal of going to college, what are the employers and the job Hunters looking for in a college student? They're not looking for what rank of the school they went to. That's not a factor at all.
Brad Baldridge
Right? So I think rankings, again, the convenience of rankings is, it may give, if you look at the
Chuck Erickson
For sure.
Brad Baldridge
The rankings of engineering schools, well, it's a quick way to get a list of engineering schools. You don't necessarily have to worry about which ones above which one, but at least now you've got the 100 engineering schools that you can start to check out or add to your list or work with, assuming your interest in engineering.
Chuck Erickson
Yeah.
Brad Baldridge
So that there is some uses I think families can use it for, but I think you really want to avoid the, 'Well this school is better than that school' because US News' opinion of what a better school is, really isn't what critical in your decision is what your student and you feel is a better school.
Chuck Erickson
Right? The US News' opinion is someone sitting at a cubicle in an office somewhere who's decided what's better, what's not. But when you're talking about engineering, one thing I do tell families though is if you're looking for a major or a program that is accredited, so engineering colleges have a different accreditation than other schools, look to see if the college is accredited. Business schools have accreditations, nursing schools have accreditations, even music schools have separate accreditations. That can be much more telling than a ranking. So if you're wanting to see if a college is really serious about a particular program or a particular major, find out if it's accredited for that programmer, for that major, that will tell you a lot more than ranking.
Brad Baldridge
Right. And that would be a deep dive into the college's website to get to their accreditation pages, or I think that is available from the accredit agencies themselves, potentially. So that would be another example of a deep dive research. Again, not where you're going to start, you're not going to, first thing is find accreditation, perhaps. But as part of the process, you might say, 'Well, I like these seven schools equally well, as far as I can tell, these four are accredited, and these three are not, well, that might swing you to say, 'Well, these are the four I'm applying to that.''
Chuck Erickson
Absolutely, yeah. I've had families start with the accreditation list and like, 'I want to see what business schools are accredited.' And I was like, 'Well, that's hundreds, hundreds of campuses, that's not going to narrow it down for you very quickly.' Start with the other direction, and then look for accreditation as you move further along in the process.
Brad Baldridge
Right. All right. Any other thoughts as far as research? Otherwise, I think we're coming to a close here.
Chuck Erickson
Yeah, the only other thing that I really encourage my students, and I can't say this enough, is also check out videos. Most colleges now have a YouTube channel where they are posting updated videos about their campus about their experiences, what's going on, how do they handle COVID, all of those types of things. So, students, this generation really needs to see the visual aspect of a college. So once you've checked out the website, and you go, 'Oh, this seems pretty interesting.' Jump over to YouTube, find the college's YouTube channel and see what's going on.
Brad Baldridge
Wow, great advice. That's what I hadn't heard yet. All right. Well, this ends research. Stay tuned. Next week, we will jump into college visits.
Chuck Erickson
Awesome. Looking forward to it.
Brad Baldridge
All right, that was a great discussion. Once again, I'd like to thank Chuck Erickson, he's doing a great job in helping us understand the college process. Before you go away, I just want to remind you that you can go to tamingthehighcostofcollege/123. There you have access to some free videos that will help you with the college databases and how to work with them. So in order to access that, you'll need to sign up right under the podcast player, there'll be a place to provide your email, sign up for our newsletter and get all this great information. As always, we appreciate reviews. So if you're listening through Apple or any other app, if you give us a review, that would be great. It helps other people find our podcast. If you have any comments or questions, feel free to reach out at our website. Let's go ahead now and jump into Brad Recommends where we talk a little bit more about the databases,
Presenter
The latest tips, tricks and tools you can use today. This is Brad Recommends on Taming The High Cost of College.
Brad Baldridge
Today, on Brad Recommends, I'm going to recommend both Big Future and College Navigator. Both of these other databases we talked about earlier in the program, Chuck and I did. These are great databases to help you find colleges and dig a little deeper into all the statistics for each college. Now it's a little hard to talk about these things just on audio. So we are going to provide, for those of you that are interested, a video training that I stole from my course. So stay tuned, I will explain how you can get access to a couple videos that will help walk you through and teach you how to use both Big Future and College Navigator. Let's go ahead and jump in and look a little bit at each of these. So if we look at Big Future, first, when you log into Big Future, there's two options. You can go to a particular college, or you can do some college search. When you log into a college, there's six different categories for the data. There's at a glance, which just like it sounds, it shows you a quick overview of each of the college statistics. There's deadlines for things like financial aid and applications, majors and learning environment, campus life, applying. And then finally paying. Underneath each of those tabs. There's a bunch of sub tabs that you can dig in deeper. But all this information is useful because it's all in the same format for each school. So especially early on, it's much easier to go to Big Future and get the basics by clicking to a particular college and looking at it because the same information is going to be presented the same way in the same area. As you move further into the process, you probably going to want to verify this information or dig deeper by going to the college website itself. Again, but because Big Future, once you understand how it works for one college, it works the same for every college. Whereas going from website to website can get quite frustrating because they all do it differently. Again, there's lots of basic information the stuff that I tend to use and most of the families I work with tend to use are the paying statistics. So they certainly give you the cost of attendance, your tuition, room and board books, fees, personal expenses, all that type of thing. But they also give you some basic information and percent of need met. In other words, how do they award need-based aid, the present of freshmen who showed need and then average first year financial aid package, need-based scholarship, average, merit-based scholarship, average, and a number of other financial statistics. And then, of course, they also have information on things like housing, and student body and location and that type of thing in campus life, so if you're trying to figure out how large the school is, how many undergraduates or graduate students they have, the majors that they have and that type of thing that's available. And then the applying information, how selective are they? What do they find important when it comes to applying to college? Well, that's, of course, one great benefit, right, you can drill into any one particular school and get more information. The other great thing about these databases is you can start with the universe of all the colleges and start narrowing it down, as we mentioned earlier. But now you can actually say, 'Show me all the colleges within 100 miles,' or 'Show me all the colleges within 100 miles that are large or small.' And as you narrow things down, you can start with something like 1900 different schools. And as you narrow things down, it shrinks and shrinks until you say, 'Alright, well, these are the 10 schools that are within 500 miles that are highly selective, and perhaps have an urban setting,' something like that. And then you can drill into each of those 10 colleges. Alright, so if you sign up for the newsletter and provide an email, we will give you access to three videos from our course. So I created some videos that show people how to navigate through both Big Future and College Navigator, and they also demonstrate how you can use the search features. But I think it's a great way for families to just get up to speed very quickly. Each video is between four and six minutes. And with these videos, you'll get up and running and go right to the pro status, and just a few clicks. Alright, that's all we have for today. I appreciate you listening. As always, we appreciate reviews. Feel free to share us out on social media. If you've got friends or family that you feel would benefit from this podcast. Please share it with them. And we look forward to seeing you next week.
Presenter
Thank you for listening to the Taming The High Cost of College Podcast. Now it's time for you to take action. Head to tamingthehighcostofcollege.com for show notes, bonus content, and to leave feedback for Brad. The next step on your college journey starts now.
Brad Baldridge is a registered representative of Cambridge Investment Research and an investment advisor representative of Cambridge Investment Research Advisors, a registered investment advisor. Securities are offered through Cambridge Investment Research Incorporated, a broker dealer, and member of FINRA and SIPC. Brad owns two companies: Baldrige Wealth Management and Baldrige College Solutions. The Baldrige companies are not affiliated with Cambridge Investment Research.
Transcribed by https://otter.ai
Sign up to receive email updates
Enter your name and email address below and I'll send you periodic updates about the podcast.