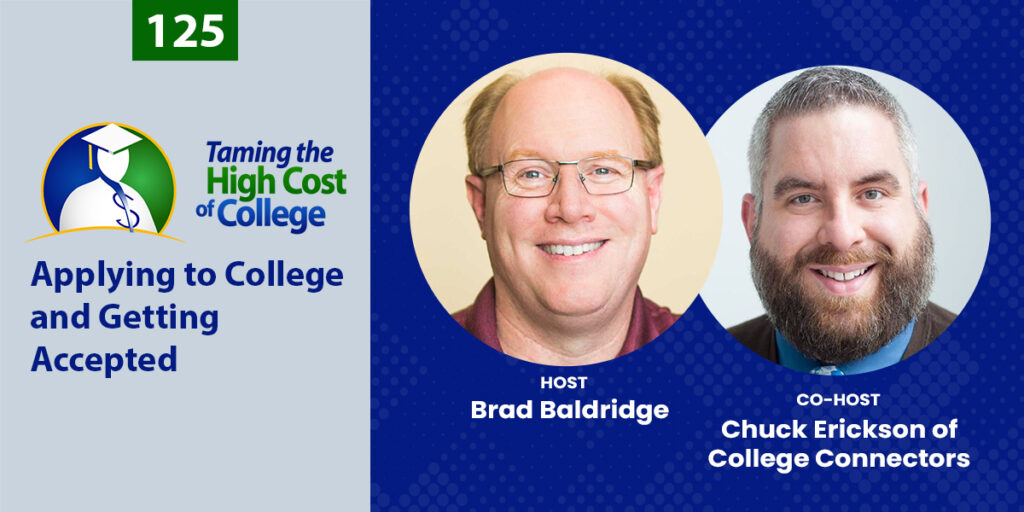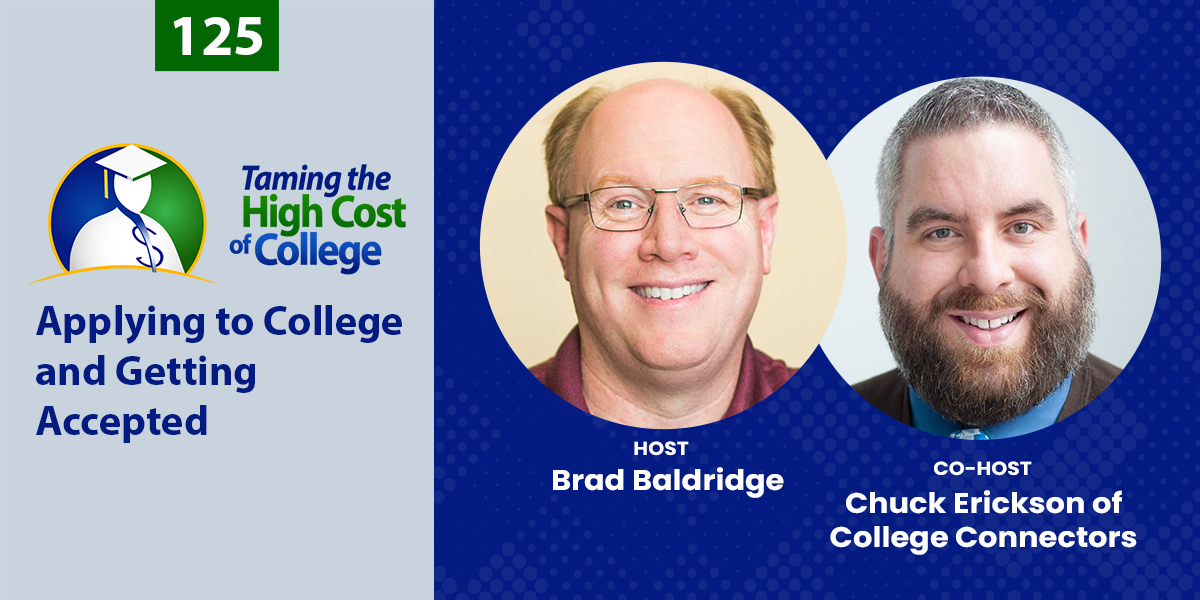 ---
Today's Guest:
Chuck Erickson, Independent Educational Consultant from College Connectors
As an independent educational consultant at College Connectors, Chuck has worked within higher education for 15 years, assisting students and families with the college application process. He has lots of information and tips to help you get started, so listen to this episode if you'd like to get some pro tips that would help you land the perfect college!
Questions Answered Today:
Where do I start with the college selection process?
Students and parents often stress over some colleges that are selective in their admissions, even when it should not be a big deal. Statistically, out of 2,118 colleges, about 260 are "selective," which means that they have limited slots for admission. Typically, these selective colleges would be:
The Ivy League
Some liberal arts colleges on the East Coast and in the Midwest
Popular schools that built their reputations from the movies
Colleges with "institutional priorities"
That still leaves you with about 1,900 out of 2118 colleges that are not selective at all, with a higher acceptance rate than others. Chuck notes that just because a school is not selective doesn't mean that it can't provide a good education. It's a common misconception and stigma that should stop. Here are some reasons why you should also pay attention to schools that are not selective:
It's simply supply and demand, meaning the school just has more slots to fill than others.

The school is not famous or known by a lot of people because of its location. There is an awesome school in Indiana that is academically challenging and with a high job placement rate, but it has a lower selectivity rate. Why? Because not a lot of people know the school.
There are colleges that especially target students with "lower academic profiles," which makes them worth checking out.
It's also important to look into two sides of things: the students' academic and financial capacity. Getting accepted is not everything. You must also be realistic and see if you're admissible financially. Ask these questions before proceeding with an application to make sure everything works out:
Do I have what it takes to get accepted?
Do I have what it takes to get accepted and earn a merit scholarship?
What are the common qualifications colleges are seeking?
These are the categories of common qualifications most colleges consider, although some colleges may place more importance on other things:
Very important
Academic GPA
Rigor of your secondary school
Important
Application essay
Extracurriculars
Volunteer work
Test scores
Considered
Alumni relations (if a family member attended the same college)
Character and personal qualities
Class rank
Racial and ethnic status
Recommendation
Talent and ability
Work experience
How do colleges use these qualifications to recruit students?
Most colleges look for good grades. However, students with a competitive academic GPA, test scores, and rigor are now common among college applicants. There are numerous students who have impressive grades and who took extensive coursework and advanced classes.
However, high-end colleges need more than that. They pick the better candidate by determining who will make a bigger impact if accepted. This is where extracurricular comes in. Colleges are more likely to pick those who:
Have been more involved and engaged in volunteer works
Have the passion and drive to make a change
Have talents that could be assets to the school
Some colleges' high selectivity rate may also be due to what's called "institutional priorities." This means that schools pick candidates not necessarily based on what the candidates can offer, but based on what the schools are missing or what the school needs. They may be looking for qualifications and demographics as specific as these:
First-generation students
International students
Students willing to play for the soccer team
Dance majors
Chemistry majors
students from California/Florida/or somewhere specific
Many colleges communicate with independent consultants and school counselors to find the type of students they're looking for, so it's a perk you can get by hiring independent consultants.
The college I want is highly selective. How do I prepare for it?
Advanced Placement (AP)
This is a curriculum that's way more challenging than the typical high school curriculum. At the end of the AP class, there is an exam where you could score 1 to 5, with 3 being passing score, and 4-5 being exceptional.
Most colleges accept a passing or exceptional test score for college credit. Chuck especially recommends taking AP classes for students applying for selective majors such as Aerospace Engineering due to its prerequisite subjects.
Also, "rigorous colleges" typically expect an equal rigor from their applicants.
While most high schools offer AP classes, there are some that do not. Non-availability of the AP should not be an issue as colleges consider their applicants' high school situation.
However, now may be a great time to take AP classes as they are now available online because of the pandemic.
International Baccalaureate (IB)
This is also a college prep curriculum that the U.S. adapted from Europe. It's an extremely advanced curriculum that offers certificates and diplomas. Research is one part of the program. One limitation of the IB, however, is that there aren't a lot of opportunities to take elective courses. Also, there are not many schools that offer this curriculum.
College Essays
Not many schools require college essays. However, the highly selective colleges do. When required to write one, make sure to take the opportunity to let the colleges know about you. The students, not the parents, should write the essay.
Chuck mentioned the Common App to be a useful tool when submitting essays as it allows the students to submit their essays to multiple schools. Also, students can use the app to submit college applications. He reminds parents to let students submit the application as the students' willingness to do the work matters for admission officers.
What else do I need to know?
Because of the Common App, Chuck warned students about the possibility of submitting too many applications, which will not help in the selection process. He recommends having three "target schools," or schools the student has a fair chance to get into, and two "shoot-for-the-moon schools," or those that would be hard to get in, but would not hurt to add to the list.
Don't overlook the financial side of the application. Make sure to compare prices of those schools that are in the same tier. More importantly, go for those schools where you're okay with the cost. Financial consultants such as Brad can share their expertise in money matters.

It helps if the students "demonstrate interest" by visiting the school, engaging in the admissions process, and participating in school activities. Students who show genuine interest in schools turn out to be more admissible than those who don't care.
---
Links and Resources
Helpful Resources
Brad Recommends:
Today's recommendation is a book called Who Gets In and Why by Jeffrey Selingo. In this book, Jeffrey writes about the interesting journey of applying to high-end colleges such as Harvard and Yale.
Jeffrey did this by following the entire application process of three students, not only from the students' side (from the beginning up until the students decided which college they would attend), but also from the college admissions' side (how they work and how they choose students).
Here are some key takeaways that may help you see the college application process in a much bigger perspective:
Students and families can be put into two categories:

Drivers – those who take charge and really do what it takes to get to the college best fitted for them.

Passengers – those driven by someone (e.g., parents) or something (e.g., doing it because they have to).
Colleges, on the other hand, can be considered either buyers or sellers:

Buyers – those who "sell" their college to students through scholarships, discounts, or other things to attract students

Sellers – those that are considered high-end choose from many aspirants and "build a class"
Hence, most colleges, especially the "top buyers", do not necessarily pick the most competitive student or the student with the nicest portfolio.
Instead, they're focused on building a class—it could be a class of leaders, musicians, athletes, scientists, historians—we don't know. They choose not the best student overall, but more like the student that's the best at something specific, i.e. playing the tuba, etc.
Aside from all that have been mentioned, the book also discusses early decisions and early action, so it should help you strategize, most especially if your student aims for high-end schools. It's quite a great read!
This book is not a magic portal that will automatically help your student get into the high-end college they're aiming for. It's just a guide that will help you understand how the college system works.
Another great book you may want to look at is Where You Go Is Not Who You'll Be. You'll hear about a detailed discussion about this book soon, but generally this book answers questions such as:
Should you be pursuing high-end schools?
Is it that important you get into a particular school?
Will any school do for your student?
The bottom line is that you should not really focus too much on getting into high-end schools because they're so highly selective that we really can't tell who's going to get in.
Always remember: If your student is strong, they can do well even in a non-Ivy League college.
It doesn't have to be a particular school. Don't pressure yourself or your student to get into a specific school—it's absolutely unnecessary. In the end, it's all about finding the best fit school where your student could grow!
---
---
THANKS FOR JOINING US!
We'd like to extend an invitation to our listeners to share their feedback and questions. Contact us to submit a question to our email.
If you find our podcasts helpful, please share us on social media and tell your friends!
The bottom line is that we care what you think and want to help you out, so we'd appreciate you reviewing us on iTunes or on Stitcher. And even better, receive automatic updates by subscribing to the show on iTunes or Stitcher.