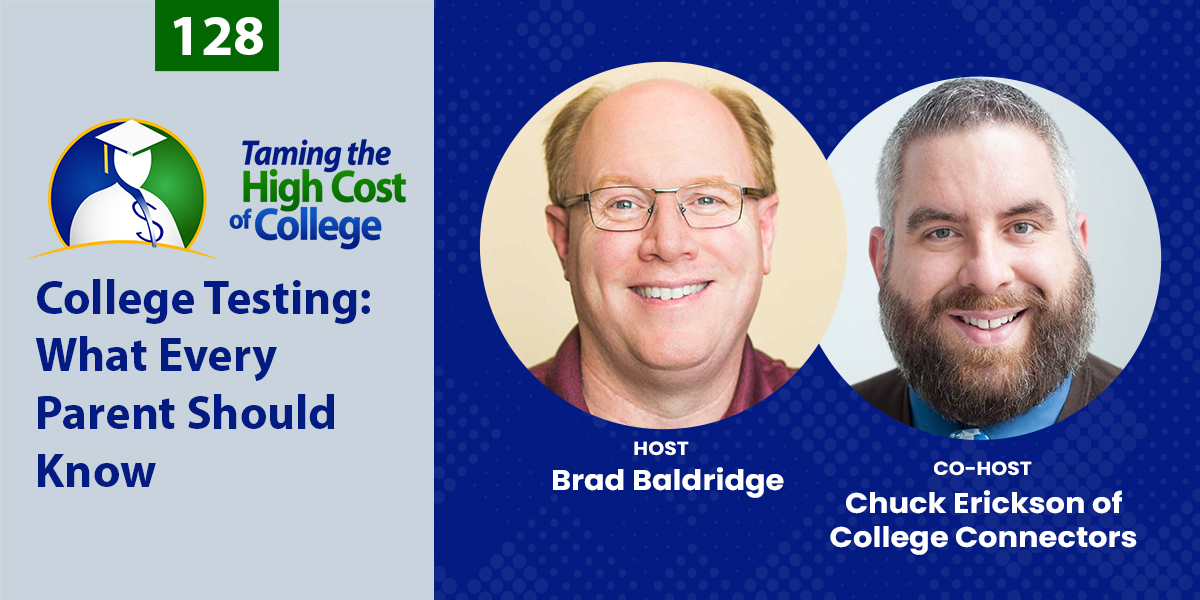 Access This Episode's Free Resource
Download Brad's free Complete Parents' Guide to College Testing, with all the information, links and advice you need about the SAT and ACT test and how to plan and prepare. Use the button below to subscribe to Brad's free college planning e-newsletter or confirm your subscription, and you'll get instant access to the guide!
---
Today's Guest:
Chuck Erickson, Independent Educational Consultant from College Connectors
As an independent educational consultant at College Connectors, Chuck has worked in higher education for 15 years, assisting students and families with the college process. On today's episode, Chuck and Brad provide a quick introduction to college testing, why it matters for college-bound students, and how parents and help them plan and prepare for testing success.
Questions Answered Today:
What are ACTs and SATs for, and why do they matter?
People commonly mistake ACTs and SATs as IQ tests, but they're not. The scores for these tests don't necessarily measure the student's intelligence. What they do, according to Chuck, is "test the student's ability to be tested." These are "academic riddles" that students need to figure out.
Ultimately, the ACT and SAT measure a student's aptitude and preparedness for college-level studies, and hundreds of colleges and universities use them to help evaluate applicants for admissions.
Between the two tests, what do colleges prefer?
In the past, the type of test offered by colleges were location-dependent. The ACT, which was created in Iowa, was preferred by colleges in the Midwest. The SAT, on the other hand, is more common in Coastal areas, since it was created in California.
The U.S. Department of Education mandated that colleges which accept federal aid must treat the ACT and SAT equally, so all colleges that accept federal funds now accept both tests.
Thus, depending on location, there may be 300 SAT testing centers and 25 for ACT.Furthermore, one of the stipulations of the No Child Left Behind Act in the U.S. is for states to provide at least one free testing of either the ACT or SAT for each student.
For example, in Wisconsin, students can take the ACT. Those who want to take the SAT would have to find a testing center of their own accord. Your job as a parent is to find which test is widely offered in your state.
How did the COVID-19 pandemic change college testing?
Because of the pandemic, taking the tests has become almost impossible for many students due to the closure of testing centers and the scarcity of available test locations and slots for students.
From a business perspective, colleges can't just defer accepting students, especially since more than 50% of applicants are unable to present test scores right now. Hence, some colleges completely stopped requiring test scores, while others chose to be "test-optional" or "test-flexible" during the pandemic.
The "test-optional" movement has been going on for a while, although not many colleges participated before the pandemic. In fact, Bowden College in Maine, the college considered the grandfather of this movement, has been using a test-optional policy for 40 years now.
Below are the policies 99% of colleges adopted when the pandemic reached its peak. However, the colleges' policies may once again change once the pandemic is over.
Test-flexible
For this type, colleges still ask for test scores. If the student is unable to present the scores for various reasons (health, no test centers nearby, etc.), they will still accept the application with the condition that the student can present a valid reason for failure to take the test.
Test-optional
Upon application, the student will be asked if they like to include their test scores or not. If the student thinks their scores would help their application, they can submit their test scores. Otherwise, they can choose not to do so.
Note that, if the student chooses not to include their scores, some colleges may ask for additional requirements like an additional essay or letter of recommendation.
Also, a test-optional college may still require scores for select students, majors or scholarships, so make sure to ask questions and clarify.
Test-blind
This is new, and very few colleges practice this policy. Test-blind colleges don't ask for test scores at all—they don't accept them. The University of California and the California State System are both test-blind next year. This is subject to change, but there is still an exciting array of choices that aspiring students can consider.
If there is a wide array of colleges that don't require test scores, why should my student still take a test?
Brad and Chuck think that test scores are still a vital piece of the student's application process. Even in the midst of the pandemic, students should take the ACT/SAT if they can do so safely.
These are some reasons why:
Your student may need the test scores to qualify for scholarships.
If your student wants to be recruited as an athlete and qualify for D1, D2, and D3 for the NCAA or NAIA, the test scores may be a requirement. This may be a way for colleges to make sure that the student applying still gives regard to academics, although Chuck noted that the student doesn't necessarily have to have a high test score.
The National Merit Scholarship, a scholarship created by the College Board, requires students either an ACT or SAT score to qualify. This scholarship, when credited by the right university, could give the qualified students as low as $0 for the tuition fee.
How does early test preparation benefit the student?
These tests take longer than weeks of preparation. While most families start preparing mid to late junior year, parents should start earlier than that.
Khan Academy, under the College Board, is one of the test prep websites you can check out. Starting early lets you see where your student is, and it gives you the chance to better the scores while your student still can.
It gives your student the opportunity to meet the standard of the school they prefer. Some colleges require a specific test score. Doing test prep even before going to school visits allows the student to align their test scores with the colleges' standard. Test prep gives the student a higher chance of doing well on the test. Chuck once had a student that took the SAT every Sunday night, in the course of six months. The student learned the best approach to do it, and got an impressive score on the actual test.
What important things should I know about test scores?
Test scores can't weigh heavier than your GPA in college admissions, which means that it's not wise to focus too much on taking the tests. You don't want to compromise your learning in school or your actual grades.
A test score will not save you if the rest of your application is not great.
Even though a great test score can't necessarily save a student's application, testing does matter! Brad says that we never know exactly which credentials the admissions office will use to accept students, so it doesn't hurt to get great scores too. Different institutions have different institutional priorities for admissions and how they weigh different factors.
Always consult an expert when dealing with tests and test scores. Talk to admissions counselors, your high school counselor, or talk to independent consultants like Chuck for an expert's opinion.
In the end, everything boils down to planning early. The earlier you start preparing, the smoother the college planning becomes.
Once again, it's important to know that everything that's been discussed in this podcast may change. The rules of college testing are ever-evolving, so make sure to always double check with the colleges you're considering.
---
Links and Resources
Helpful Resources
---
Brad Recommends:
Today, I have some very simple advice: build a college testing plan!
Here are the reasons why you should start early and plan ahead so you and your student are ready for college testing:
You need to fully understand how college testing works to get it right.
Your student will have more timeto prepare for the test.

As simple as it sounds, your student's success greatly depends on how prepared they are.

You can decide if your student will go test-optional, test-blind, or whatever is applicable.
You get to save by not rushing and not spending more money and resources on last-minute test preparation.
If you'd like to know how to build a college testing plan, you're in the right place. I have created a special compilation for you. It's the Complete Parents' Guide to College Testing, which you can access toward the top of this page, in the section entitled, Download This Episode's Free Resource.
Click the button there to sign up for my free college planning e-newsletter or confirm your subscription, and I'll give you instant access to download, save and print my Complete Parents Guide to College Testing.
It'll provide you everything you need to know about how college testing works today and what type of test plan is perfect for your student. So make sure to get this free PDF!
---
THANKS FOR JOINING US!
We'd like to extend an invitation to our listeners to share their feedback and questions. Contact us to submit a question.
If you find our podcasts helpful, please share us on social media and tell your friends!
The bottom line is that we care what you think and want to help you out, so we'd appreciate you reviewing us on Apple Podcasts, Spotify or your preferred podcast platform. Even better, to receive automatic updates, please subscribe to Taming the High Cost of College on Apple Podcasts, Spotify, or wherever you listen to your favorite shows.
Brad Baldridge
Welcome to Taming the High Cost of College. This episode is all about college admission testing.
Presenter
You have kids that grow up and before you know it's it's time to plan for college. Where do you start? How much is it going to cost? Will you qualify for financial aid? Should you be looking into scholarships? When will you be able to retire? What about student loans? The list of questions is never ending. The good news is all the answers are right here. Welcome to the Taming the High Cost of College Podcast here is your host, Certified Financial Planner, Brad Baldridge.
Brad Baldridge
Welcome to Taming the High Cost of College. I'm your host Brad Baldridge. Today we have another interview with Chuck Erickson and today we're going to talk all about college testing. We're talking about the ACT, the SAT, and a little bit about the PSAT. Now testing has been changing a lot due to COVID. So the land's got escape has changed quite a bit and continues to change, because the colleges are trying to figure out how testing is going to fit into the new world, where we do things online etc. As always, shownotes are available at tamingthehighcostofcollege/128. You can go there to get all the links and resources as well as contact information for both myself and Chuck. And if you're new to us, this is a series that Chuck and I have put together goes all the way back to episode number 119, where we have the quick introduction. And we have 10 different topics that we cover between episodes 120 through 129. So this is the second to last topic. Next week, we're going to cover need based aid and wrap things up. Alright, let's go ahead and jump into the college testing interview. Alright, Chuck, welcome back.
Chuck Erickson
Thanks, Brad. I'm glad to be back.
Brad Baldridge
Yes, we've got the exciting topic of college testing today. So, dude, I've been watching closely because there's been a lot going on and a lot of changes. And but as my first caveat, I think is anything you hear here could be wrong in the next six months. So you may need to go back and double check because things are very fluid and changing still.
Chuck Erickson
Absolutely, that would be my big advice, too. So whatever we talk about today is good for today. And today only double check resources and information from colleges directly. Every day, another college announces that they're changing their testing. So make sure you are up to date directly from the college.
Brad Baldridge
Right, absolutely. So I guess let's start at the very beginning, then college testing, often referred to as an ACT test or SAT test. What are those tests? And why do we care?
Chuck Erickson
Sure. So these tests have been around for several decades now over 50 years. And they're really meant to give another evaluation point for colleges, scholarship organizations, other places that are trying to evaluate. One thing I will tell you that it is not, is that ACT and SAT are not IQ tests. The point of them is not to test your intelligence, there's no correlation between your test score, and your actual intelligence. These are achievement tests. These are basically games to see if you can figure out the little academic riddles that they have. But that's what they're meant to do. They're meant to really test your ability to be tested. These are offered all across the country. I think the other big thing is that back when we were kids, Brad, I know a lot of times, colleges would prefer an ACT over an SAT or an SAT and over an ACT usually based on where you live. The ACT was very prominent in the Midwest because it was created in Iowa and it's still housed in Iowa. And the SAT was more on the Coast because it was created in California, but or has offices in California and in New York. And that makes sense. What happened was is during different presidential administration, they made a change in the US Department of Education. And they said if a college is receiving federal aid from the government, now colleges have to accept the ACT and SAT equally, they can no longer preface one over the other. So if students and families are wondering, should I take the ACT or the SAT for a certain college? It doesn't matter. They are accepted equally. But we can talk about like what's the difference?
Brad Baldridge
Right. Yeah, I guess one of the big differences that I always tell people is it just might be easier to take one or the other because it's just more prevalent in your state. So some states might have 300 test locations for ACT and 25 for SAT. So it's just potentially harder to get the SAT in because it's going to be our drive because versus, 'Oh the ACT is right here in town at my local high school.'
Chuck Erickson
Correct
Brad Baldridge
So that's one big piece of it for sure.
Chuck Erickson
Yeah, and for those of you who remember that the push of No Child Left Behind in some of the other educational initiatives out there. One thing that did happen, though is that most states purchased a state contract with either ACT or SAT and provide at least one sitting of the exam free for every student in the state who would like to take it. So here in the state of Wisconsin, we have a contract with ACT. So everyone in Wisconsin sits for the ACT. In Illinois, Michigan, and Minnesota, the states that surround us, they are all SAT states. So those students will get a free shot at the SAT. But if they want to take the ACT, they have to go outside and find it on their own.
Brad Baldridge
Right? Absolutely. So and then a lot has changed. So because of COVID, there was a major uproar and a big challenge, I guess it would have been about a year ago now where I began to everything was shut down. So it was nearly impossible to actually take a test. And that's what started the big, earth shattering changing and testing were something like 60% of students just were unable to find a test location and get any testing in whatsoever. And colleges then had to say, 'Well, are we gonna force people to not accept application if they don't have a test?' Of course, that made no sense for colleges, they still need their customers, they still need their students. So there was a slow realization that something has to change. And then some colleges said we don't aren't going to require it anymore. And then more colleges jumped on the bandwagon. And a lot of the testing locations that were offered, and then they were canceled, and they were offered and they were cancelled. And it was just a big mess where some families are like literally having their kid fly to another state, potentially, or drive to another state with the hopes of getting a test in because they felt they absolutely needed to do it. And then cooler heads prevailed. And what 90 plus percent, I think is what you quoted earlier of the college has said, 'Alright, we're going to be at least test optional or flexible for this year.'
Chuck Erickson
Right. And this test optional movement has been going on for a while the longest college that changed the policy. So there are some colleges in the United States that have never required the tests, they have been test not required since their start. Here in the state of Wisconsin, the Milwaukee Institute of Art and Design has never required an ACT score since they started. But there were other schools that wanted to change the landscaping, start giving students the option as to whether they should submit test scores or not. So Bowden College in Maine has been test optional for over 40 years, they are considered the grandfather of this policy, which is where colleges actively change their policy and allow students to decide if they want us to test scores or not. So prior to the pandemic, about a third of nation's colleges, were already in some version of test optional. When the pandemic hit its peak, almost 99% of colleges in the United States, were test optional in some way, shape, or form. Some was just for admission purposes. Others were for scholarship purposes. But really, students had the option of applying to almost 99% of the colleges without a test score during the pandemic.
Brad Baldridge
Right. So now we're starting to hear that the test buzzwords out there. Things like test-required, test-flexible test-optional, test-blind, what do all these things mean? And how does the typical parent deal with, what means what, so to speak?
Chuck Erickson
And the definitions are, it's 'cause this is new language also for the colleges, so the definitions are slowly changing as well. But so the first one is test-flexible. And test flexible are for colleges that they still want the test scores, but they will give you the flexibility that if your student has not been able to take the test for a certain reason, maybe it's the test sites aren't open or not available in your area. Or maybe you have health issues or concerns that you can't go and take a test. Test flexible says you can apply without your test scores, but you need to submit a reason as to why you're not applying without test scores. And you've got to validate why those are not available to you, that's flexible. Test-optional is the most common one in the biggest buzzword out there. Test-optional puts the power into the students hands, there will be a question on the application somewhere that says, 'Would you like us to use your test scores in our evaluation of your application?' And then the student gets to take control and say 'Yes, you can use my test scores. I really like my test scores, I think they're great.' Or a student can say, 'No, please do not consider my test scores and that is taken out of the admissions equation.' For most colleges, that's all they need. Some colleges will ask for an additional essay or additional letter of recommendation if students are choosing to apply test optional. And when I talk about applying, this is for the admissions purposes, not for scholarships, and I'll talk about the scholarship consideration in a minute. After test optional is the newest category which is test blind. Test blind are the colleges that are really trying to make a statement and right now There are less than 100 institutions in the test-blind category. These are colleges that say, 'We are not requiring test scores of anyone.' So test scores are no longer submitted to these institutions basically say, 'Nope, we don't need those, get rid of them.' The biggest systems right now are the University of California and the California State System are both test blind for this next year. So that is a huge, huge amount of schools that you can take a look at. And literally hundreds of thousands of applications that will not require the test scores anymore. So that's the categories test flexibl, test optional, and test blind.
Brad Baldridge
Right. And you alluded to something that I think families really need to pay attention to which is, college announced that their test optional, let's say, and they would say maybe for the 2021, -22 or -23 years, not forever, necessarily, but just we're going to try it for the next one, two, or maybe three years. So a lot of colleges have said, 'We're just gonna test it, see how it goes.' And most of them did more than two, or excuse me, more than one year. But again, I think they're now saying, 'COVID seems to be over maybe, should we reevaluate should be changed again?'
Chuck Erickson
Right.
Brad Baldridge
Again, that's why there's a lot of need to pay attention and understand that things are still changing.
Chuck Erickson
Right, and even a college that says that they are test optional, they may say we are test optional for the majority of our majors. But there are certain majors that still require the test scores. So for example, nursing programs, many of them still require the test scores, education programs, many of them still require test scores. And some even if the business schools and the engineering schools for certain programs, they still require the test scores. So even if a college says they are test optional, you'd want to clarify and say. is that for all majors, all programs and all scholarships? Or is that for only certain students to apply test optional?
Brad Baldridge
Right, for sure. And again, when you talk about scholarships, that's the next thing. I've seen a number of colleges where they used to essentially advertise, we have merit scholarships. If you have this GPA and this test score, then you qualify for a $7,000 scholarship. And if you have this slightly better statistic, you get a $12,000 scholarship. And if you have these fantastic statistics, then you get the top scholarship at 20,000. Something like that. Oftentimes, test score was in that data table where it was part of the mix out of college is done about that if you're not submitting test scores, how do they determine who gets the scholarship?
Chuck Erickson
Sure, so many private schools have said, 'We're just going to evaluate you without the test score, and we're still going to consider you for scholarships.' I've seen public schools have come up with two different charts. So they'll have a chart for students that have test scores and what scholarships to what numbers you need. And then they'll have a chart for students that do not have test scores. Other colleges have said, 'You don't have to use test scores for our lower scholarships. But if you would like to be considered for the top top scholarship, you need to submit test scores.' So as I said, every college is different. And this is what my role is in helping families is figuring out what are the policies of each college and strategizing with students to figure out, 'Okay, as you're applying to schools, do we use test scores or not?' And that decision might be different for each college that the student is applying to?
Brad Baldridge
Absolutely. So another area that testing was applied to was the NCAA used to require some minimum test scores for athletes to be able to participate in their sport. And again, the numbers weren't. He had strong grades, your test scores could be relatively low, but is the NCAA still requiring testing for athletes to be eligible to play?
Chuck Erickson
Yeah, so there's two athletic groups out there. There's the NCAA and then there's the smaller NAIA. For NCAA, it's divided into the three divisions, Division 1, Division 2, Division 3. Right now, as it is I'm hearing is that students will need to submit test scores if they want to be considered as a recruitable athlete for D1, and D2. Many D3 colleges are test optional, and they've been that way for athletes and everyone. So D3 is still a possibility for test optional students. The NAIA has gone back and said, 'Yes, substance testing sites are reopening to be registered as an NAIA student, you need to have a test score as well.' But again, it's a minimal test score, as you said, it doesn't need to be a high test score. It's just you need to register that you have a test score.
Brad Baldridge
And again, I think the goal of that requirement was that you didn't completely ignore the fact that you are not only an athlete, but also a student, and you needed to put up some academic effort in order to consider being a college student who also is participates in sports versus an athlete who maybe turns up to class here and there.
Absolutely.
Alright. So another change that we were just talking about is there's another test out there called the PSAT, which was a test that is stands for the pre-SAT, which was a test that the SAT company College Board, offered for younger kids. So you typically take that as a rising junior, and then many schools would offer to their sophomores as well. That's a practice as a way to see what your SAT might look like into the future. And then National Merit tagged along with that, where you were able to get a finalist rating, if you did well enough on the PSAT. Apparently, National Merit is moved completely away from just a test score. And tell us a little more about that.
Chuck Erickson
Yeah, so National Merit recognized that the testing was going to be an issue for National Merit. So now they've even gone beyond their own product. So National Merit is created by the College Board, which also oversees the SAT. And because in certain states, they were offering the ACT as the state standard, National Merit said, 'Oh, man, we should, we need to make this a little easier for kids to be considered for National Merit.' So now for National Merit, you either have to have an SAT score, or an ACT score. So you can have one or the other and be still considered for National Merit. Also, now National Merit requires students to submit transcripts, a letter of recommendation from the principal, a letter of recommendation from the school counselor, you had to update your transcripts as you keep going through your the rest of your junior and senior year. And that's how you end up becoming a National Merit finalist. So it takes a lot longer. The other thing that's changed is that when when you and I were younger, Brad, we heard a lot about National Merit and scholarships that available that we're enabling students to go to free or very reduced rates at many colleges. That list has scaled back, because testing has taken a little bit of a backseat lately in the last few years, the National Merit scholarships have also been shrinking a little bit. So many colleges offer $1,000 or $2,000 scholarship for National Merit finalist or National Merit commended. But I'm not seeing as many of those full-ride scholarships, they are available, but they're typically for some pretty unusual, mostly highly regional colleges. So there's a school that would only have students from a particular state, and they're trying to get students to come from other states. So they offer a National Merit Scholarship to try and entice those kids to come to their state.
Brad Baldridge
Right? Absolutely. I think a lot of the programs out there are a combination of marketing for the colleges and making the parents and our students feel good. But in the end, a lot of colleges will say, 'We would have given you a $15,000 scholarship. Instead, we gave you a $4,000 National Merit Scholarship and an 11,000 normal scholarship.' So you still get 15,000, they just, and again, because they know you're going to get National Merit ahead of time, they take the other underground, potentially as far as how much money they might give you elsewhere. Of course, on the flip side of that there are colleges out there that will give you essentially zero tuition for National Merit. So if that fits into your life, then maybe National Merit is still a path to take.
Chuck Erickson
Yeah, absolutely, you can go out onto the National Merit website. And you can see what colleges are offering those scholarships. And if those look appealing to you go for and take a look at them, make sure that you're checking the policies, because some of the colleges say you have to either be a state resident or you don't have to be state resident. So there are some nuances to that one. Also make sure that it is open and available to all majors in all programs. So just make sure you're understanding before you put all your eggs in one basket towards a certain college like I'm going to get a free ride here. Usually it is two wishes only, you typically still have to pay for room and board. So you're still gonna have a bill. But these are options for families if the student is not very particular as to where they go to college.
Brad Baldridge
Right, absolutely. So now we've got all this upheaval and a lot of different rules. So what are we supposed to do now? Obviously, there used to be tested or there still is test prep out there, right? So there's many companies out there that tell us
Chuck Erickson
Yep
Brad Baldridge
Out there that we should take their course hire up for the private tutor, just do the free stuff at Khan Academy, or wherever. But somehow, our students should be all stressed out about the test and get to work on learning how to take the test and how to get a better score. Is that all gone away now? Can we just ignore testing? Or what are you recommending for families?
Chuck Erickson
Well, your first question, has it all gone away? No. But test prep companies are scrambling to figuring out new ways to connect with students and offer their programs in a new variety of forms. Specifically, because everything is mostly moved online. I still we encourage students through college connectors that students should sit for the test at least once hopefully twice, if possible. So the ones would be the free exam that you get from your state, so every state offers an opportunity to take one of the tests for free. So sit for that and get your free test. It's in a safe and you feel safe environment. Do that that way, we recommend the second one if and only if that test score is going to be an important part of your application process. So maybe you're looking at academic programs that require a test score, maybe you're looking at colleges that have a scholarship that requires a test score. So the second time would be for students who are going to need that score as part of their application process. But last year, 50% of my seniors applied to all of their colleges without ever using a test score. 100% of my seniors applied to at least one college without using test scores. So it is still a factor and it will still be a factor for a while, but it is not the elephant in the room anymore. It's more like the small dog on the side of the room. So it's playing a different role in this whole process.
Brad Baldridge
Right? Well, I think one of the biggest challenges, though, is it's hard to know what colleges you're interested in, and then an appropriate time to build your testing strategy. So again, many family start their testing, mid to late junior year. I've been encouraging families to really consider starting earlier in the junior year
Chuck Erickson
Yes
Brad Baldridge
As a way to, and again, you don't have to take an official test, you could maybe do a practice test, or again, all the test prep companies that we just talked about, as a way for them to attract students, a lot of them would offer mock tests as a way for you. So you can go to their their location and take a mock ACT and see how well you did. And of course, they immediately show you how they could just part with some money, and they'll be happy to make that number better. But it was helpful that you say, 'Okay, well, now I have an idea of where I stand.'
Chuck Erickson
Yes.
Brad Baldridge
And as I'm starting to look at colleges and visit colleges, I know, 'Well, gee, my ACT at 24, in the school I just visited said their average score is 30. So all I either got to change my schools or change my scores.' Again, that's the way it used to work. Well, now it's, do I have to change my scores or just not submit scores, and then get accepted anyway?
Chuck Erickson
Right.
Brad Baldridge
So I think it puts an extra layer of complexity and therefore a little more thought and effort into what you do your junior year.
Chuck Erickson
Right? So your question about test prep. Tes prep is just like preparing for an athletic competition or a musical event or something. It takes practice. And I think, too many students and families go, 'Well, I'll just take this one quick test prep course. And it's two sessions or three sessions, and now, I've prepared for the test.' The students who I've worked with who've scored significantly towards the top of the ACT or the SAT, they have literally practiced the tests more than they would practice their piano lessons. You know, I have one student who was taking a practice ACT, every Sunday evening. So he literally, that was part of his routine is that every Sunday evening, he would take a practice test. And then either his parent or the test prep tutor that he was working with would score it, so could see what the mistakes he was making and the corrections for the next week. But he did that for almost six months. So in the course of six months, he took a practice ACT over 20 times. That's why he did really well in the ACTs, because he practiced and he learned how to do it, and he got faster, and he was able to improve a score that way. So if you're going to do test prep, you need to actually like do test prep, not just take one class and be like, 'Yeah, I prepared.' So that takes a process. As far as thinking about the college list, a lot of students come to me already having completed their tests. So they're like, 'Hey, I have this GPA in this test score,' then I can help them find colleges that meet those particular parameters. So maybe we'll look at test optional colleges that are higher up services, the student has a higher GPA and a lower test score. Or maybe we'll look at more public institutions, or it really depends on what the student is looking for. But yeah, you may have to adjust your college list once you get your test score.
Brad Baldridge
Right. Absolutely. I think other concerns, like if you live in a state where your flagship state school has, as a stronger school, and you're saying, 'Okay, I want to get into that school.' Well, that's a great example of well, you know where the bar is, or at least you can figure it out and start striving for that bar. In the junior year, even freshmen, right? Again, depending on your state, right, if you're in California and your top school is, I don't know what they consider their flagship, I guess they have a couple, right? They have UCLA
Chuck Erickson
UCLA, UC Berkeley
Brad Baldridge
Berkeley, that are both extremely competitive, that's your goal. Well, then, you know you got to really buckle down and hit it out of the park in every category. If you're in Florida. It's also relatively competitive. But if you're in
Chuck Erickson
Yep
Brad Baldridge
I don't know, Maine, or Oklahoma, I mean, there's not a world renowned they're not as strong as some of the other states. But again, for a lot of families. Our goal is, 'I want to get into that flagship school, because that's the prestige that I'm looking for.' And if not, maybe I could also go to a private school. But now you know what you're up against and getting a head start makes sense for many families.
Chuck Erickson
So we need to take a step back and understand that there's a couple things that have not changed during this whole pandemic, is that colleges are still looking at the academic transcript and what the student's academic work is over the course of their four years as the fundamental base of what they are evaluating in their application. So even if you score really high, let's say you score perfectly on the ACT or the SAT, if your grades and your GPA are in the basement, that test scores probably not going to save you. So I don't want people to put a whole bunch of energy on the test and then take the energy away from doing well in school, because the fundamental thing is doing well in school will get you farther than doing better in a test.
Brad Baldridge
Right? Absolutely. And, and that's where, again, sometimes families believed, I don't know how accurate this was, but, 'Well, my kid didn't have such great grades, but gonna make up for that by having phenomenal test scores.' And I think sometimes maybe you could get away with that at some schools. But now, if you're going to be doing that, well, then you got to understand the whole plan and understand that colleges, even if it was the way it used to work, it may not be the way it works now with all the changes.
Chuck Erickson
Right. So let's play that example out. If I had an applicant, when I was in the office of admissions, if I had an applicant who had not so great GPA, wasn't very involved, the essay was not well-written, it didn't look like the student put a whole lot of effort into their application, but they had a perfect ACT score, that student is still going to get denied. Because that test scored, doesn't, you know, that's the one bright shiny green light in their application. But the rest of the application is full of red flags and orange lights and things that I'm just like, 'I don't know what the rest of this app is like.' So a test score will not save you if the rest of your application is not great. That just doesn't work.
Brad Baldridge
For sure, but it could be a tiebreaker where, 'Okay, well, both, we've got 10 spots last these 20 kids, they're all slightly above average on most of the things that we value the most. But now we've got a time, pick our 10.' It could be the test scores that they look at, it could be some of the other stuff we've talked about over this series, like demonstrating interest or other things that they might say, 'Well, we'll accept this kid because he's likely to come or we'll accept this kid because he can pay the bill or will accept this kid, because he has a better test score.' And we'll never know from our side of the fence what the tiebreaker was. So it's always one of those things where if someone said, should I work on getting a better test score? Well, in a vacuum, the answer is yes. A better test score is always better. It may or may not make a difference, but you don't know. And because you don't know if you could say, 'Well, I get to choose between a 27 ACT or 30?' Well, I'll take the 30. Because you don't know if that'll cross a line somewhere or not. Once you expand it to, should I get better test scores or better GPA, or fill out some scholarship applications or visit more schools? Well, now all of a sudden, it's, now, it's, again, allocation of student resources, primarily their time and effort. And sometimes testing is the right decision. Sometimes it's not, sometimes you are going to make a decision. And you'll never know if you made the right decision.
Chuck Erickson
Yeah. And as I said, there are people like me independent educational consultants that families can call and ask questions and get a consultation. And that's what we're here for. We're here to help families answer these questions, because we deal with education everyday all day long. So if you're worried about this scenario, and you're just like, who do I ask? Give me a call, I'm happy to talk through and see what schools are looking at and figure out if you're on the right path or not, that that's, that's a great conversation to be had. I also want to make sure that, that families understand that things like so when I was in admissions, demonstrated interests for me, at my institution weighed way heavier than a test score. You know, I would rather see a student who's been coming to visit and who interviewed with me and those types of things because they're, they're learning about my institution. And they're using great use of their time. Rather than trying in my mind's going to fix their test score, which I was like, I didn't care when I was in my admissions role. So different institutions have different institutional priorities. So are they are they more focused on the test scores as an institution are they not focused on the test scores in an institution and again, you can also talk to your admissions counselor if you're applying to a college and you're unsure if you should apply test optional are not call your admissions counselor or email your admissions counselor. They are allowed to say, 'You know, in your scenario, you may want to consider applying test option.' Or they may say. 'Oh, I can't give you advice. But other students in this scenario have done this.' So they may hint that advice without directly saying it. But yeah, talk to your admissions counselor, talk to an independent educational consultant, talk to your college counselor at high school, don't make this decision on your own as to if you need to take the tests again, get some outside advice?
Brad Baldridge
Absolutely. I think there are, if you look back, and what people do, I think there's some obvious wrong answers like, 'Well, you really shouldn't have done that that was obviously wrong.' But then there's also perhaps many right answers. Well, yeah, that is a path that and this path is also, it's hard to know which of these paths are going to be... They're all good, I don't know for certain which one will result in the best result? And we'll never know, because we're going to pick one, and we don't know the results of the other. But occasionally, I've, we've all seen, as we work with families, 'Well, that was a bad decision.' Right? That, 'that didn't make sense, no matter what college you were applying to, you shouldn't have done that.' Whether it's something financial or something around testing, or whatever it might be. But I think I want to stress that you don't have to wait till the middle or end of your junior year to start understanding testing, especially if you have a more mature student who wants to get involved in it a little bit earlier. I think if you can spread it out, and not save everything to the end of the junior year, whether it's testing visits are the some of the other preliminary things, school research, all the things on the financial side of, how much can we save? What's our budget? Are we gonna qualify for aid? All that stuff can be started, even sophomore year, but at a minimum, in my opinion, early junior year.
Chuck Erickson
Yeah, I, I 100%. Agree. I say the earlier you start, the less stress and the more time you have to plan and make great decisions. So yeah, don't, please don't wait till the end of your junior year, then then the trains already starting to leave the station.
Brad Baldridge
Right? Absolutely. And sometimes you might put a plan together that says, 'Well, there's not much to do, we're going to wait till the end of the junior year.' But at least you did it knowing that that was the right thing to do versus getting to the end of the junior year and realizing you messed up. And, again, there's a lot of things that could be done and started earlier that can have a, changed the course a little bit, or sometimes a lot. Alright, so that covers testing, we're gonna have... excuse me. Alright, so that covers testing. We've got one more episode coming up, we're going to talk about financial aid, specifically need based aid and how that all works. So we're gonna talk a little bit about the FAFSA and how it's, how it's calculated, and how all that stuff works. So stay tuned. And we'll see you next week.
All right, that was a great discussion about college testing. Of course, we probably created more questions and answers. So stick around for Brad Recommends, where we talk about building a college plan
Presenter
The latest tips, tricks, and tools you can use today. This is Brad Recommends on Taming the High Cost of College.
Brad Baldridge
Today I'm recommending building a college testing plan. What does that mean? Well, I think all families need to have a good understanding of how the testing works, and come up with some sort of plan in order to determine if they're going to take the test many times, if they're going to spend money on test prep, or perhaps they're going to go completely test-optional. So if you have an older student, say a high school senior or junior, you're right in the thick of it, where you may have some test scores, you may be signing up for testing, etc, etc, where you really need to work on it quickly and make some decisions. If you have a sophomore or less, it's still time to think about it a little bit at least. Again, for some families testing is going to be a big deal. For some families, testing is not an issue. But you need to figure that out, so you can put the amount the right amount of time and resources into that plan. So as an example, my son took the ACT four times I believe, and in the end, he did well and he was happy with the score. But in order to get four tests in, he needed to start relatively early. And my second son is likely to go test optional. So that's how drastically different things could be. So if you're trying to figure out how to put a plan together, I've created a PDF called the Complete Parents Guide to College Testing. Now this guide will give you some of the basics on how the testing is working, at least as it stands today. And it also give you some questions that you can ask to help understand what type of test plan may be appropriate for you. Now you can get this PDF by going to tamingthehighcostofcollege/128 and there's a sign up right at the top of that page where you can sign up for our newsletter and get access to the PDF. As always, we appreciate reviews. So if you can give us a review on Apple or iTunes or wherever it is, you get your podcasts it's greatly appreciated. Feel free to reach out to Chuck or myself if you have any questions we can be reached through the website as well. That's all we have for today. Stay tuned for next week.
Presenter
Thank you for listening to the Taming the High Cost of College podcast. Now it's time for you to take action. Head to tamingthehighcostofcollegecom for show notes, bonus content, and to leave feedback for Brad. The next step on your college journey starts now.
Brad Baldridge is a registered representative of Cambridge Investment Research and an investment advisor representative of Cambridge Investment Research Advisors, our registered investment advisor. Securities are offered through Cambridge Investment Research Incorporated, our broker dealer and member of FINRA and SIPC. Brad owns two companies: Baldridge Wealth Management and Baldridge College Solutions. The Baldrige companies are not affiliated with Cambridge Investment Research.
Transcribed by https://otter.ai
Sign up to receive email updates
Enter your name and email address below and I'll send you periodic updates about the podcast.