Access This Episode's Free Resource
Download Brad's free Complete Parents' Guide to College Testing, with all the information, links and advice you need about the SAT and ACT test and how to plan and prepare. Use the button below to subscribe to Brad's free college planning e-newsletter or confirm your subscription, and you'll get instant access to the guide!
---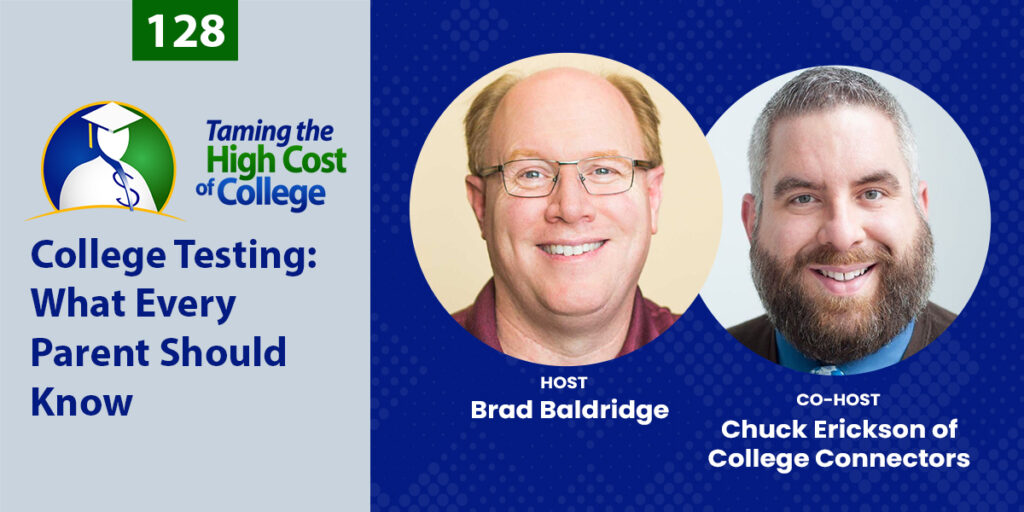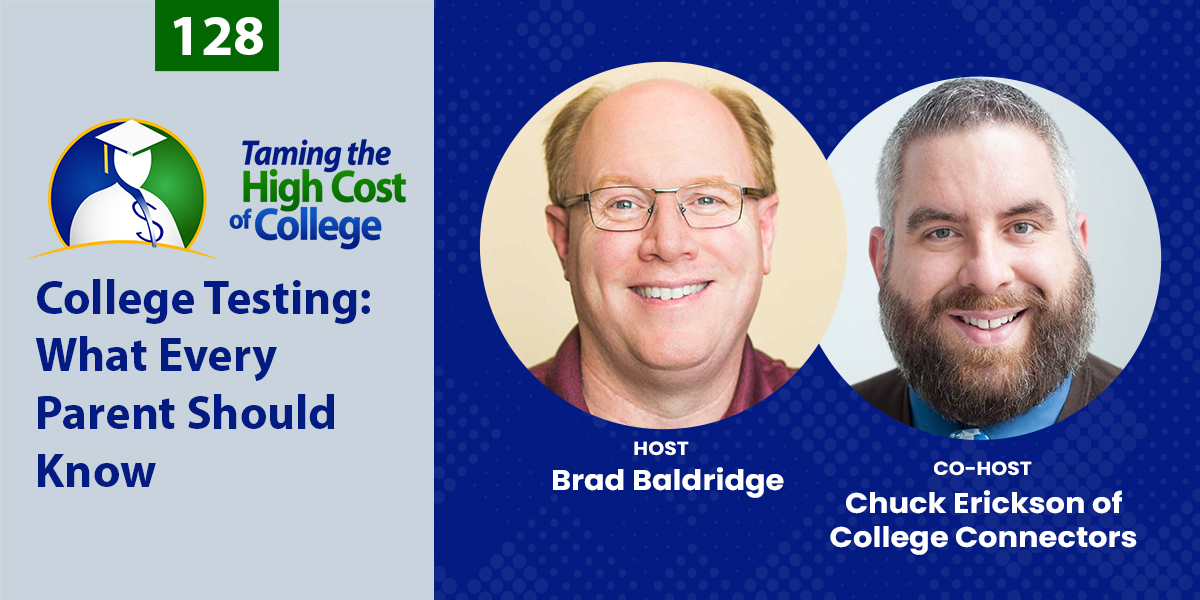 Today's Guest:
Chuck Erickson, Independent Educational Consultant from College Connectors
As an independent educational consultant at College Connectors, Chuck has worked in higher education for 15 years, assisting students and families with the college process. On today's episode, Chuck and Brad provide a quick introduction to college testing, why it matters for college-bound students, and how parents and help them plan and prepare for testing success.
Questions Answered Today:
What are ACTs and SATs for, and why do they matter?
People commonly mistake ACTs and SATs as IQ tests, but they're not. The scores for these tests don't necessarily measure the student's intelligence. What they do, according to Chuck, is "test the student's ability to be tested." These are "academic riddles" that students need to figure out.
Ultimately, the ACT and SAT measure a student's aptitude and preparedness for college-level studies, and hundreds of colleges and universities use them to help evaluate applicants for admissions.
Between the two tests, what do colleges prefer?
In the past, the type of test offered by colleges were location-dependent. The ACT, which was created in Iowa, was preferred by colleges in the Midwest. The SAT, on the other hand, is more common in Coastal areas, since it was created in California.
The U.S. Department of Education mandated that colleges which accept federal aid must treat the ACT and SAT equally, so all colleges that accept federal funds now accept both tests.
Thus, depending on location, there may be 300 SAT testing centers and 25 for ACT.Furthermore, one of the stipulations of the No Child Left Behind Act in the U.S. is for states to provide at least one free testing of either the ACT or SAT for each student.
For example, in Wisconsin, students can take the ACT. Those who want to take the SAT would have to find a testing center of their own accord. Your job as a parent is to find which test is widely offered in your state.
How did the COVID-19 pandemic change college testing?
Because of the pandemic, taking the tests has become almost impossible for many students due to the closure of testing centers and the scarcity of available test locations and slots for students.
From a business perspective, colleges can't just defer accepting students, especially since more than 50% of applicants are unable to present test scores right now. Hence, some colleges completely stopped requiring test scores, while others chose to be "test-optional" or "test-flexible" during the pandemic.
The "test-optional" movement has been going on for a while, although not many colleges participated before the pandemic. In fact, Bowden College in Maine, the college considered the grandfather of this movement, has been using a test-optional policy for 40 years now.
Below are the policies 99% of colleges adopted when the pandemic reached its peak. However, the colleges' policies may once again change once the pandemic is over.
Test-flexible
For this type, colleges still ask for test scores. If the student is unable to present the scores for various reasons (health, no test centers nearby, etc.), they will still accept the application with the condition that the student can present a valid reason for failure to take the test.
Test-optional
Upon application, the student will be asked if they like to include their test scores or not. If the student thinks their scores would help their application, they can submit their test scores. Otherwise, they can choose not to do so.
Note that, if the student chooses not to include their scores, some colleges may ask for additional requirements like an additional essay or letter of recommendation.
Also, a test-optional college may still require scores for select students, majors or scholarships, so make sure to ask questions and clarify.
Test-blind
This is new, and very few colleges practice this policy. Test-blind colleges don't ask for test scores at all—they don't accept them. The University of California and the California State System are both test-blind next year. This is subject to change, but there is still an exciting array of choices that aspiring students can consider.
If there is a wide array of colleges that don't require test scores, why should my student still take a test?
Brad and Chuck think that test scores are still a vital piece of the student's application process. Even in the midst of the pandemic, students should take the ACT/SAT if they can do so safely.
These are some reasons why:
Your student may need the test scores to qualify for scholarships.
If your student wants to be recruited as an athlete and qualify for D1, D2, and D3 for the NCAA or NAIA, the test scores may be a requirement. This may be a way for colleges to make sure that the student applying still gives regard to academics, although Chuck noted that the student doesn't necessarily have to have a high test score.
The National Merit Scholarship, a scholarship created by the College Board, requires students either an ACT or SAT score to qualify. This scholarship, when credited by the right university, could give the qualified students as low as $0 for the tuition fee.
How does early test preparation benefit the student?
These tests take longer than weeks of preparation. While most families start preparing mid to late junior year, parents should start earlier than that.
Khan Academy, under the College Board, is one of the test prep websites you can check out. Starting early lets you see where your student is, and it gives you the chance to better the scores while your student still can.
It gives your student the opportunity to meet the standard of the school they prefer. Some colleges require a specific test score. Doing test prep even before going to school visits allows the student to align their test scores with the colleges' standard. Test prep gives the student a higher chance of doing well on the test. Chuck once had a student that took the SAT every Sunday night, in the course of six months. The student learned the best approach to do it, and got an impressive score on the actual test.
What important things should I know about test scores?
Test scores can't weigh heavier than your GPA in college admissions, which means that it's not wise to focus too much on taking the tests. You don't want to compromise your learning in school or your actual grades.
A test score will not save you if the rest of your application is not great.
Even though a great test score can't necessarily save a student's application, testing does matter! Brad says that we never know exactly which credentials the admissions office will use to accept students, so it doesn't hurt to get great scores too. Different institutions have different institutional priorities for admissions and how they weigh different factors.
Always consult an expert when dealing with tests and test scores. Talk to admissions counselors, your high school counselor, or talk to independent consultants like Chuck for an expert's opinion.
In the end, everything boils down to planning early. The earlier you start preparing, the smoother the college planning becomes.
Once again, it's important to know that everything that's been discussed in this podcast may change. The rules of college testing are ever-evolving, so make sure to always double check with the colleges you're considering.
---
Links and Resources
Helpful Resources
---
Brad Recommends:
Today, I have some very simple advice: build a college testing plan!
Here are the reasons why you should start early and plan ahead so you and your student are ready for college testing:
You need to fully understand how college testing works to get it right.
Your student will have more time to prepare for the test.

As simple as it sounds, your student's success greatly depends on how prepared they are.

You can decide if your student will go test-optional, test-blind, or whatever is applicable.
You get to save by not rushing and not spending more money and resources on last-minute test preparation.
If you'd like to know how to build a college testing plan, you're in the right place. I have created a special compilation for you. It's the Complete Parents' Guide to College Testing, which you can access toward the top of this page, in the section entitled, Download This Episode's Free Resource.
Click the button there to sign up for my free college planning e-newsletter or confirm your subscription, and I'll give you instant access to download, save and print my Complete Parents Guide to College Testing.
It'll provide you everything you need to know about how college testing works today and what type of test plan is perfect for your student. So make sure to get this free PDF!
---
THANKS FOR JOINING US!
We'd like to extend an invitation to our listeners to share their feedback and questions. Contact us to submit a question.
If you find our podcasts helpful, please share us on social media and tell your friends!
The bottom line is that we care what you think and want to help you out, so we'd appreciate you reviewing us on iTunes or on Stitcher. And even better, receive automatic updates by subscribing to the show on iTunes or Stitcher.