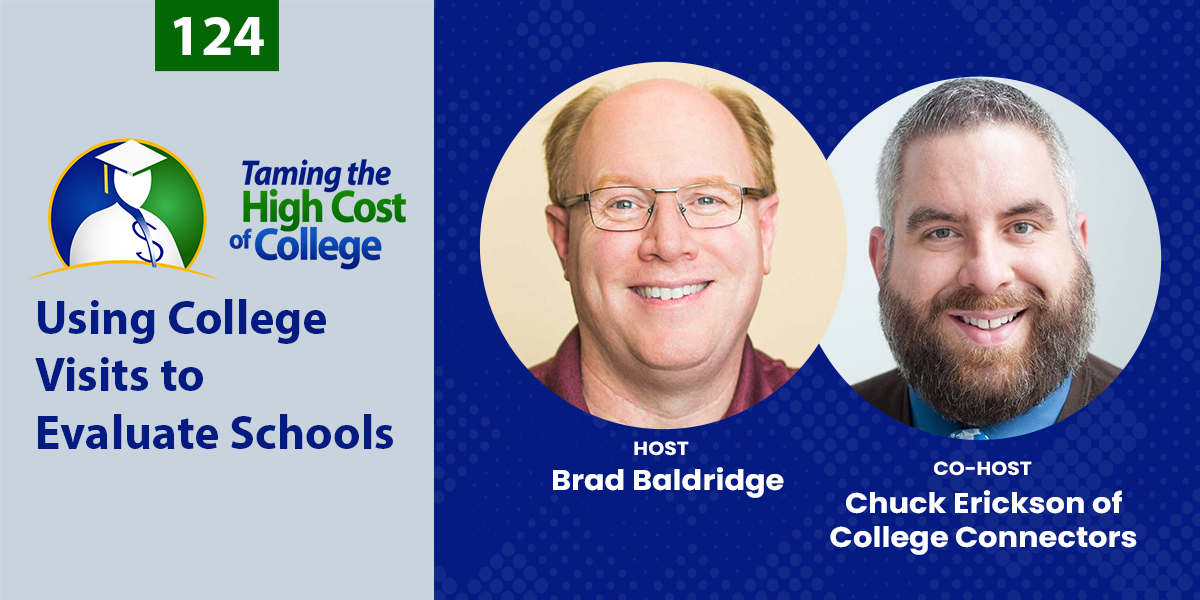 Access This Episode's Free Resources
Subscribe to my free college planning e-newsletter or confirm your subscription to download my complete article on the 5 Types of College Visits as well as my College Visits Questionnaire and Checklist, to help you prepare all the right questions to ask during your campus visit.
---
Today's Guest:
Chuck Erickson, Independent Educational Consultant from College Connectors
As an independent educational consultant at College Connectors, Chuck has worked in higher education for 15 years, helping students and families with the college application and college search process. Along the way, he has learned hundreds of useful tips and has developed expert advice to help you find the right school, apply and get accepted. Listen to this episode to hear Chuck and Brad's advice on how to use college visits to evaluate schools, the different types of visits you can make, and how to get the most out of each experience.
Questions Answered Today:
Why are college visits important, and what types are there?
Parents often overlook college visits as they seem less important than scholarships or loans. However, both Brad and Chuck agree that visits are an underutilized part of the college search process.
They are one of the best ways to get to know a school, the campus environment, and what your student can expect. Certain visits also allow you to speak to students, faculty, and advisors in both admissions and financial aid to get answers to your pressing questions and get the real story about that college.
Brad and Chuck believe that maximizing school visits makes a difference not only for students but also for the families. Here are the major types of school visits that families should know:
Stealth visits
Formal visits
Campus days (also called open house)
Athletic visits
Senior visits
What's the difference between a stealth and a formal visit?
A stealth visit is the shallowest type of visit. You don't have to call the school to schedule anything. You just drop by, look at the buildings to see what the school looks like, and you're done. Its purpose is to get the vibe of the school and see if it makes it to your official college list or not.
You can do stealth visits as early as your student's seventh grade school year, especially if your student doesn't have a specific preference yet. It's a good way to informally start looking into schools.
The best thing about stealth visits is that you can do them anytime. But Chuck recommends doing stealth visits during road trips or vacations since these visits normally take only an hour or two.
Formal visits, on the other hand, are initiated by colleges by schedule and appointment. Colleges typically announce their formal visit schedules through their websites. Unlike stealth visits, you need to schedule formal visits at least a week in advance.
What may be a challenge for formal visits is that they're often scheduled on weekdays. However, it showcases the schools on a deeper level because these visits include an information session followed by a campus tour.
What's special about campus days?
Campus days cater to a larger group of families and students that want to know the school deeper than the surface level. With campus days, you can find out more about majors, programs, departments, and other details because their staff and faculty are ready to answer your inquiries.
Here's the best thing: campus days are typically held during weekends. However, because of the recent COVID-19 pandemic, campus days now work according to schedules to regulate visitors. Make sure to set an appointment ahead of time, as campus days only happen 6-8 times per year.
Some campus days also present an "Open House Day" where they showcase specific departments such as the College of Healthcare Services, the College of Business, or the College of Engineering.
Chuck says that these tours are a great way for students to identify differences in majors, such as the difference between physical therapy and occupational therapy, finance vs. accounting, marketing vs. management, etc.
Campus days and related tours are extremely valuable as your student looks at different college options.
What about athletic visits? How are they different?
College sports programs, and especially the high-end ones, always look for the best athletes. They have a complicated recruitment process, and visits are also part of the equation, and there are different arrangements they might make and things student athletes and their parents may need to keep in mind. Here are some of them:
Colleges can bring student athletes to their campuses and even pay for the students' (sometimes even the parents') plane ticket and other expenses.
D1 type athletes can get quite a bit of visit support from colleges, but D2, D3, and NAIA athletes will probably be dealing with schools that have much tighter recruiting budgets.
Students and families should reach out to the NCAA to learn all the related rules for recruiting and visits.
If you're very interested in the campus but don't have funds to cover the expenses of visiting, you can try to reach out to the campus to see if they can help you out.
Some colleges will make arrangements for coaches to come visit and meet the students and their families at their homes.
If your student has potential in athletics, don't hesitate to call and ask the admissions office to check for visit options, so your student doesn't miss an opportunity.
What are senior visits? How do they differ from the rest?
The senior visit is the type of visit that "closes the deal." Typically, this is for high school seniors that the school wants to admit, but the student can't decide yet if they'll say "yes."
As this kind of visit is essentially for students that are almost admitted, the senior visit is much more meaningful and in-depth compared to others. Here, they already talk about how the majors work, what are the school's processes and the like, which are all helpful for the student deciding.
Senior visits could sometimes be longer than any type of visits as this could be an overnight event where the potential student could interact with sophomores and juniors, attend classes, participate in sports and other school activities, and more. It's designed so the student could really decide if the school is fit or not.
Sometimes these visits are labeled as an "Admitted Student Day," where the visiting student might also meet other students who could be their future classmates. This is a scheduled event as well, so make sure to check the college's website for the dates.
---
Links and Resources
Helpful Resources
---
---
THANKS FOR JOINING US!
We'd like to extend an invitation to our listeners to share their feedback and questions. Contact us to submit a question to our email.
If you find our podcasts helpful, please share us on social media and tell your friends!
The bottom line is that we care what you think and want to help you out, so we'd appreciate you reviewing us on Apple Podcasts, Spotify or your preferred podcast platform. Even better, to receive automatic updates, please subscribe to Taming the High Cost of College on Apple Podcasts, Spotify, or wherever you listen to your favorite shows.
Brad Baldridge
Welcome to Taming The High Cost of College. This episode is going to be all about college visits, how to do them, and why they're important.
Presenter
If you have kids, they grow up. And before you know it, it's time to plan for college. Where do you start? How much is it going to cost? Will you qualify for financial aid? Should you be looking into scholarships? When will you be able to retire? What about student loans? A list of questions is never-ending. The good news is all the answers are right here. Welcome to the Taming The High Cost of College Podcast. Here is your host Certified Financial Planner, Brad Baldridge.
Brad Baldridge
We are back today with Episode 124. But here on Taming The High Cost of College, we're going to be talking about visits. So I work with Chuck, we have lots of great information where we talk about college visits, why they're important, how to go about doing them, and lots of great tips and tricks for families. We're just starting out on the visit process. As always show notes are available, you can go to tamingthehighcostofcollege/124. To get all the show notes, which would include the links that we talked about, you'd be able to download today's resources, you can get the PDFs of a couple different documents. Alright, let's go ahead and jump into the discussion. Alright, good morning, Chuck. Welcome back.
Chuck Erickson
Thank you, Brad. Great to be here again.
Brad Baldridge
All right. Are you ready to talk visits today?
Chuck Erickson
I am so excited to talk about visits. This is one of my favorite topics.
Brad Baldridge
All right. So I guess visits is an interesting topic. And I find a lot of families, when it's not real popular on the internet, so to speak, everybody looks for scholarships and loans and all that kind of stuff. It doesn't seem to be a lot of traffic around how to do a proper visit or that type of thing. And I think it's an area that families really make a difference in their overall college process. I think visits are important, and for a lot of families can really make a difference.
Chuck Erickson
Yeah, I completely agree with you. I think that it is an underutilized part of the college search process because so many families just shuffle in and out of doing the campus tours sitting through the information session, then they just go back in their car, and they leave. And there really is more that could be happening during the visit experience.
Brad Baldridge
Absolutely. So to start things off, I wrote an article a while ago about the five types of visits. So I took the types of visits, put them into five major buckets. And then of course, in talking with you, you're going to correct me and come up with six, seven, and eight or whatever it might be. But the main categories that I have discovered is the stealth visit, formal visit, campus day, athletic visit, and then the senior visit. So we'll spend just a couple minutes on each one. And then we'll talk about some of the extras that are new and exciting and go from there. So the first one, the stealth visit, stealth visit is when a family decides to visit a college, but they don't even tell the college they're coming. So a typical stealth visit is you drive on campus, you get out of the car, look at a bunch of old buildings, you get back in the car and you drive away. There's nothing wrong with that type of visit. It's quick and dirty and that type of thing. But it certainly is a missed opportunity compared to the other types of visits where you can actually talk with faculty or staff or admissions people and learn a lot more about the college. But again, sometimes it's appropriate, we happen to be driving through Miami, so we... vacation. So we drive through a campus and we spend 15-20 minutes looking around and then we get out of there because we're really on vacation, we're not really doing a college visit. But we've seen enough to know we're not interested or maybe we've seen enough to know we are interested in maybe we'll have to come back someday. Any thoughts on the stealth visit from your end?
Chuck Erickson
Yeah, I agree that they are quick and fast. It's a great time also if your kids are in seventh grade, eighth grade, ninth grade, and they really don't know what type of college they want. So if they want a bigger a small and urban or rural, a stealth visit is a great way just to walk around and check something out really quickly. And as you said, it's a great thing to add on during a vacation. I encourage my families that while you're on vacation, take a couple hours or an hour and find a campus nearby your vacation site and just go walk through the campus. They're usually beautiful. They're usually amazing places to just wander around and do that while you're on vacation. Just takes an hour.
Brad Baldridge
Right? And especially if again, there's also, if you're road tripping and there are stops along the way or something and you're just looking for an excuse to get out of the car and stretch your legs then
Chuck Erickson
Yeah.
Brad Baldridge
That might be a good thing as well. So moving on to the formal visit. So the formal visit is a visit that's created by the college where they invite people on campus. And colleges do formal visits in many different ways. The best way to learn about visits, by the way, is the website. So you just go to any college website, and there's going to be a visit button somewhere easy to find, typically, that'll take you to the visit area, and then you can learn about it. But like a college might say, 'We welcome anybody on campus, 10 o'clock, weekdays, just sign up here, and you're welcome to come at 10 o'clock.' Of course, 10 o'clock is never gonna work for you, you might be able to talk with them and find an exception or a different time. But the bottom line is they love families to come and tour their campuses. That's one of their goals. Any thoughts on how to do a formal visit or how to work with the colleges there?
Chuck Erickson
Sure, yeah, a few things is because this is something that you're signing up for, I really encourage families to sign up at least a week in advance. Appointments do fill up, especially right now as we're ending pandemic, we're seeing a lot of families wanting to go out and do a bunch of visits. And so colleges only have limited space, especially for certain regulations and size capacity. So sign up a week in advance, most colleges offer a morning tour and an afternoon tour, and some offer even a tour every hour, depending on how big the school is. But yeah, check up on those, sign up for them, make sure you are listing how many people are coming because they do like to know and fill out the card and or fill out the information form online and yeah, go and enjoy the visit, it's a great time to do it. That formal visit typically is an information session followed by a campus tour. That's typically what they have for a formal visit for our campus.
Brad Baldridge
Right. So the formal visit, again, is the bread and butter. And the challenge, unfortunately, with a lot of formal visits for many families is they tend to be weekdays. I mean, there are exceptions, of course. But a lot of times you're spending your limited resources when you start doing the formal visit. But another great option is what we would call a 'campus day.' And again, a campus day is defined by the college as well, they might call it a campus day, or they have different names for them. A lot of times it's named after their mascot, or whatever it might be. But a campus day in general is the college is put in some preparation where they can essentially offer visits to large groups, maybe 100, or 200, or 500, or 1000, just depending on the size of the college and how much visits they need to actually get done. And they'll have a lot of faculty and staff available to answer questions and give tours and all kinds of information sessions potentially on the majors they offer. And they try and make a big day of it. And this often is on a weekend, not always, sometimes they'll do these on a weekday as well, or both. Typical college might have six or eight of these types of days in a year. So they're, unlike a formal visit which is almost any weekday, these event days are much more limited. But it's also a great opportunity, especially early on to be part of the masses and see a lot very quickly and potentially do it on a Saturday or Sunday.
Chuck Erickson
Yeah, I completely agreed. This is when the colleges throw open their doors and say, 'Here are all the things that we offer for your student, you can check out everything that is on the campus in a single day.' And most families actually can cover it in about a half day. But yeah, there are presentations, there are tours, and there could be even more detailed tours. So if you're wanting to really see a particular department or area, they're going to be offering those open house times tours. So they're typically called a 'open house day' or a 'visit day.' So there's usually a spring one, several in the summer and a few in the fall. There's also ones for certain populations as well. Also, a lot of colleges cluster them together. We're now seeing things like Wisconsin Private College Week versus they'll cluster certain groups together like Chicago Land College Visit Days. And so that means several colleges in the area are going to be open at the same time. So then you could actually see multiple campuses over the course of a day or two if you are really trying to see a certain part of the country. But yeah, these are great opportunities to try. Also, there's usually free lunch and free meals while you're doing these big visit days. So that's a great time to try the campus food,
Brad Baldridge
Right? And they may give you a ticket that will allow you to get into food service that a typical student would use. And other times of course they just cater at some fashion, so... And you touched on something that I think is important as well. Sometimes colleges will have a day that's specific to a certain category. Already, like Healthcare Day where they might really focus in on healthcare and have all the nursing faculty and all the physical therapy faculty all available to answer questions. And it's really a great way to learn a little more in depth about those particular majors, as well as an opportunity to learn about how it's taught at that particular school. But what I tell families is you could go to a Healthcare Day or an Engineering Day or a Business Day. At a local college, even if you have no intention of going to that college. Just go and learn about the majors and
Chuck Erickson
Right.
Brad Baldridge
Again, a lot of teenagers are gonna say, 'Well, yeah, that college is way too convenient. There's no way I'm going to that college. But I guess I can go learn about what the difference between physical therapy and occupational therapy is by going to that day and learning about the majors, and then take that knowledge and go apply elsewhere.'
Chuck Erickson
Yeah, I agree. I mean, up to 20% of the nation's students go off to college, saying that they're going to do something in business. And literally, they say something in business, going to a visit day that's closer to home, where you can see where they have all of their business opportunities available in their college of businesses is available for tours, you can learn the difference between a finance and accounting and marketing and management-type programs, and do that right close to home. Then when you're ready to apply to the big name business school, on the other side of the country, or in a different state, you are able to articulate why you are interested in that type of major or that type of program, even though it's from a different school.
Brad Baldridge
Right? Absolutely. Alright, so the three visits we've just talked about: the stealth visit, the formal visit, and the campus day or open house. Those are the bread and butter that most families are going to work with. But we've got some additional specialty visits that we're going to talk briefly about as well. First, we have the athletic visit. The athletic departments of many schools, especially the high end sports schools now, so that's your D1 school that's really strong in basketball or football, obviously, they are recruiting students, and they're trying to get the best athletes they can. And they have a very complicated rule system around how they can recruit, they could even bring athletes on campus and pay for the plane ticket, pay for the sporting events, pay for this, pay for that. And then of course, there's very strict rules. And then these are the things they're not allowed to pay for and whether they can pay for a parent or not. And so it's very complicated. But if you are interested in athletics, you need to understand, especially if you're at the D1 level where there's a lot of more recruiting money flying around and that type of thing, you really need to understand how that system works. So you need to get involved with the NCAA and understand the rules. In general, the students can't break the rules, but the coaches could. So a student can call the college and ask questions, they're not going to get in trouble. But a coach in general has rules about when and how they can contact students. So again, the coaches may have to be silent and not reaching out to you. But again, the athletic process needs to be understood if that's something in your repertoire that you might be pursuing.
Chuck Erickson
Yeah, and what Brad's talking about are what called 'blackout dates', is when coaches are not allowed to contact and it's a whole broad rules across the entire sport. So every softball coach has blackout dates, that they cannot contact people and every basketball coach. But as far as visiting, yeah, the D1s have a great budget, but also D2, D3, NAIA, they all have athletic recruiting budgets. So if you're a student who's really interested in playing sports, and you really want to visit a college farther away, especially if you've been admitted, there may be opportunities that the coach can help either partially fund your ticket or help pay for your gas or maybe they provide more meals when you're on campus. But don't hesitate to reach out to a coach and say, 'Hey, I'm really interested in your school' and when you're seriously interested in school, and say, 'I'd love to come and visit but I just can't make it work with my budget,' and see if they can help or not. You can also find if the coaches are coming to your area coaches are going to be traveling again this year and they might be coming to your area and be able to meet with you and your family either at your home or go out for a meal as well. So yeah, don't forget to talk to the coaches no matter if you're D1, D2, D3, or NAIA.
Brad Baldridge
Alright, next we have the senior visit. So a senior visit or accepted senior visit is a visit that's out there where colleges will actually, often it's going to be a second or third visit for a family. But it's very late in the process where, typically late senior year is when you have to make a decision on which college you're going to attend, and just prior to those deadlines, a lot of colleges will bring in students that are on the fence, and have them come and do a visit, and learn more about the college, realizing that if they can get you on campus and show you the best of their college, they're likely to get you to actually decide to come. So they're trying to essentially close the deal. What's good about these visits, at least many things are good about it. But one interesting thing is they're not going to give you the same spiel that they did early on, because you've already applied, you've already been accepted. They don't talk a lot about all that process anymore. Now, they're really talking about what it would be like to be a student there, how do the majors work? They go much more in depth, not the introductory level, but in depth into the next level that would be relevant to someone that's already been accepted.
Chuck Erickson
Yeah, these are the visits where they really show you quote, unquote, how the sausage is made, they pull back the curtain, they throw up in the doors and say, 'All right, what do you need to know to help convince you to enroll at our college?' So they're typically, they're labeled as Admitted Student Day or Accepted Student Day, typically happening in March and April, because most students decide by May 1st. So these are great times, they can be smaller programs as well. So they could be focused on a certain department and say, the Admitted Students in Engineering Day. And so now, you're going to be seeing not only who else is admitted, but also who's admitted in your particular area. And now you can start meeting your future classmates and future friends. So yeah, I highly, highly recommend blockout some time, either during March or April for when the admitted student days happen and go to them if you are down to the wire between one or two colleges, they're really helpful. They're very informative.
Brad Baldridge
Right. And oftentimes, these are longer, they might even be an overnight where you get, your student gets paired with a sophomore or junior on campus, and they stay in the dorm overnight, and they go to a class or two, maybe they go to a sporting event, they go to information sessions. So there's a lot of activity. And again, they're trying to close the deal and demonstrate why they're a good fit for your student. And, of course, colleges also appreciate if you say, 'Wait a minute, now that I've been here, I realized that's not a good fit.' Well, that's a good result, too, for everybody involved. If they're not going to be a good fit, they would rather you go elsewhere, at least most of them. And I've had situations where I've had a student essentially line up two visits. 'These are my top two schools, I'm having a tough time deciding. So this Thursday, Friday, I'm going here, and on that Thursday, Friday, I'm going there. And that'll help me decide, hopefully.'
Chuck Erickson
Yeah, that's a great plan. I think that's a great plan for students to do.
Brad Baldridge
Right. And again, all of the stuff we've been talking about, you need to get it scheduled, you need to go to the website and learn more, the accepted visit program may or may not be front and center on the website. Sometimes it's by invite only where it's a little harder to find out about it, you may not be able to see it on the website. But if you go into the portal where you will have your where your applications are, and that type of thing, they might have information. And if you have any questions about what visits are available, or how it works, feel free to contact the college there. That's their job, there's a whole staff there that runs these visits, it's their job to encourage people to get to the visits and answer questions about the visits, they appreciate if you read the website ahead of time and do your best to get the basics. But then if you want to learn some details, or maybe you want to go off the beaten path a little bit and you maybe you need permission to talk to a faculty member or something while you're there, you can call and ask and if they may accommodate you. And of course, they may say no, just depending on how it fits in with their schedules and their requirements as well.
Chuck Erickson
Yeah, correct. The key to, if you're wanting a very detailed visit, where you want to sit and meet with a faculty person, or maybe you want to take a lesson with a music professor, or maybe you want to sit in on a science lab, the more detailed your visit that you want to accomplish, the farther out in advance you probably should schedule. So if you want an overnight, you should probably contact them at least two weeks in advance, because it's going to take the time to set that up and find a host. If you're wanting to meet individually with certain professors or certain staff on campus, you should contact them at least two weeks in advance because those meetings do take time to set up. So that's just common courtesy. If you're calling the day before and saying, 'Hey, I want to meet with five people tomorrow,' you're probably going to get a very angry person on the phone or someone who's not going to be very helpful for you. So the more detailed information you want, the more advanced you should plan your visit.
Brad Baldridge
Right, exactly. And what we're talking about here is what I would call 'advanced visit planning.' In other words, you can just do the formal visit and do it just the way the college designed it. And they say, 'You show up here at 10 o'clock, we do this from 10 to 11. We do that from 11 to 12. At noon, we send you somewhere for lunch. And at 12:30, we have a quick finish up meeting, and then we send you on your way. And that's the way we do it.' And you say, 'Okay, well, who might argue? I've never done this before, we'll trust you.' After you've done a few visits, and you realize, 'Well, I don't really need to go see a big stadium, I want to go see a biology lab instead.' That's when you might say, 'Alright, I want to specifically request information that's relevant to me.' And when you do that, you need to plan a little more in advance. But again, you can get information that normally isn't available. So let's talk a little more about advanced planning. What else would you do to maybe take your visit to the next level?
Chuck Erickson
Oh, wow, well, there's a few things that you might do. If you're wanting to be a final performance arts person. So if you're theater, art, music, dance, those types of areas, let's say you want to be meeting with a faculty person, or even take a sample lesson or sit in on a rehearsal, that could be something that you could add on. Typically, this is done for seniors, maybe for some juniors as well, but that would be something that you would do in advance to set up and those should be scheduled through admissions. Admissions can really help make those contacts around the campus. So if you're wanting to meet with someone in disability services, or maybe in health services, or maybe your kid has food allergies, and you need to talk to someone in the dining area to learn about food allergies, contact the admissions office and let them reach out to the appropriate people on campus to set up those meetings for you. So you're not having to call 20 offices on a particular campus that you have no idea who you're calling, start with admissions. Admissions will help guide you through and connect you with those direct meetings.
Brad Baldridge
Absolutely. Another tip that I give to a lot of families is spend time on the website. If let's say you're thinking about scholarship, if you, which a lot of people are because they're like, 'Oh, man, how am I going to pay for this?' Well go to the website and read everything you can about scholarships and take some notes, and then write down the questions you have that can't be answered by what you're reading there on the website. Because I think a challenge for a lot of, especially at the campus days, but even in the formal visits, if you're a brand new visit, a lot of times, they don't want to spend a lot of time with you answering the basic questions that are already on the website, 'Do you offer scholarships?' 'Yes, we do, it's on the website?' 'Do you have this major?' Yes, we do, it's on the website.' They'll a little bit tired of that, they would really love to hear, 'I've read the website all about scholarships, and you have this scholarship and that scholarship. And I don't quite understand if which one would apply to our situation, let me tell you a little bit about what we're doing. And then you can maybe give us some feedback.' And now all of a sudden, you're getting information that's not even on the website, because you've already digested all of that. So now you're getting the next level of information. And the only way to do that is to be prepared, because otherwise, they're just gonna send you to the website for the basics. So get the basics done before you go.
Chuck Erickson
Yeah, you'll sound way more impressive to an admissions counselor or to any person that you're talking to. If you do that, that research ahead of time, and you're not asking things that are already on the website. Another fun fact about visiting colleges is that many colleges have connections to local hotels. So if you're looking for a hotel discount, as you're traveling and visiting colleges, contact the admissions office to set up your visit and ask about any local hotel connections. And that might be something that you utilize in order to save a few bucks as you're going to visit these places. So that's something that a lot of people have no clue is out there.
Brad Baldridge
Right.
Chuck Erickson
That's a great way to get a visit in that way. Other things to look up early on the website is make sure that you are learning about the actual process of visiting and where are you supposed to go. I've seen families literally on the phone calling admissions like, 'Hey, we're trying to find where we're supposed to go,' and admissions has a ton of stuff on their website saying, where you're supposed to park, what time you're supposed to arrive. We're supposed to do that. And they will also send you email confirmations. There's lots of families that forget to read those email confirmations. Sometimes they do end up in the junk box, I get that. But make sure you're reading those because they're going to give you instructions as to how to best arrive and start your day that way. So make sure you're looking at the website about where to park and you're checking the email confirmations that are coming.
Brad Baldridge
All right now what about post visit? Let's say we've just had a fantastic visit. What should we do either on our way home or once we've gotten home or the next few weeks, what types of things might take us to the next level there?
Chuck Erickson
I'll tell you, one thing not to do is that I see a lot of parents and kids jump back in the car, and the parent quickly turns to the kid and says, 'So what did you think?' And for most teenagers, they need to process they need to sit with it for a bit. So maybe you need to go drive, get an ice cream somewhere, get a coffee together, let a good 30 minutes pass, and then say, 'What are your thoughts on today?' or 'What did you really like from the visit?' or 'What did you not so much enjoy from the visit?' Help your teenagers process what happened. They aren't going to be like, 'Yeah, I like this building.' And this help them pocket through. So that's why I encourage families to take some notes after the visit, what struck you, what hit you amazingly? And what were you shocked by that you were not ready for? What additional questions do you have, if you really want to be impressive, if you or your student met with an admissions counselor while you were on the visit, get their business cards and find out who your admissions contact is. And then after the visit, send them an email with your additional questions. So say, 'Hey, we really enjoyed our visit,' and the student should be sending the email, not the parent, have the students send an email saying, 'Hey, I really enjoyed my visit, I had a few additional questions that I was unable to answer during my experience, or these questions came up during our car ride home.' But yeah, so take some time, get some ice cream, reflect on what you liked, what you didn't like, come up with questions that you need to keep asking and then reach back out to admissions and say, 'Hey, here are some questions. But I really enjoyed my visit.'
Brad Baldridge
Right. Another discussion, I think you can have, not necessarily immediately after, but sometime relatively close to the visit is, 'What did this visit, or this college have, that other colleges don't have or at least didn't tell us they have? So why do I need to go back to my other colleges and ask about?' Because as you go into a visit, and they might show you or really highlight their, I don't know, artificial intelligence lab in their computer science. And be like, 'Oh, that's cool. I really like that. I wonder if there's artificial intelligence labs that my other schools.' You may not have noticed, they may have said it and you didn't notice? Or maybe they don't have it? Or maybe it's coming. So they're not they don't put it in their tour. It's not there yet, but it will be soon. So again, compare and contrast. And what did I like about this school? What did I not like about the school? And how does it compare to the three other schools I've already visited? And well, what do I need to learn more about, not just at the school I was just at, but does this prompt any questions for the previous schools, so that we can do an apples to apples comparison?
Chuck Erickson
Yeah, when I used to work in admissions, that happened very often. A student will have visited the campus that I worked at, went to another campus. And then I would get an email a couple days later saying, 'Hey, we visited this other school,' and they never named the school, but I could always figure it out. They have this particular program or wondering if your school has that particular program or something like that. So that's a totally reasonable question. And families should be doing that, especially if it's something that you're really interested in. So it often came up with study abroad, they would go visit another college or college would say, be the study abroad to XYZ country. And they wanted to know if our campus had a similar study abroad experience to that country as well. So that's a common one.
Brad Baldridge
Right, absolutely. So 'bout how many visits you think a typical family, first of all, should make, and then follow up to that, actually make, how many visits do families actually make?
Chuck Erickson
I really say for the colleges that you're truly interested in, you're number one in your number two, you should be visiting at least twice, possibly, as much as three or four times. I was the odd duck. When I was visiting colleges, my number one choice in the place that I attended, I ultimately visited seven times. Now that was over the course of freshmen, sophomore, junior and senior year. And I was also a recruited musician. So I had visits stickler to that as well. So I probably visited way more than most people did. But that was my experience. So definitely, absolutely, one for sure. Two would be the best case scenario. And then beyond that is gravy on the mashed potatoes.
Brad Baldridge
Absolutely. So that's one of the things that, as I'm starting to work with families, we talked about that. You may visit 5 to 10 colleges, which that's five to 10 Saturdays or five to 10 week days. So all of a sudden, it's a challenge. So, a quick tip there would be, especially if you're a sophomore, junior, or your student's, a sophomore, junior, is pull out the academic calendar and the work calendar. If you have an athlete, the sports calendars, and lay that out and say, 'Where are the spots where visits would work out well, and then block them off. I've had a lot of families where, 'Oh, I scheduled an important work, meeting on the same Friday that my student has off. Why? Well, because I didn't know. I mean, I could have picked any Friday, I happen to pick the one where my students that has a teacher in-service day. And had I known, I picked a different one and then we all would have that Friday off and we could use that Friday for a visit. But because I scheduled an important work meeting on that day, I can't change it. So now I missed the opportunity.'
Chuck Erickson
Yeah, that's an excellent tip, Brad. And I see that happen way too often where parents go, 'Oh, man, I can't visit because I have work obligation or another social function that I need to be at. But yeah, especially by the end of sophomore year, when you get to starting junior year, start lining up those calendars. A Google family calendar is helpful as well, so that you can see stuff as it changes. But yeah, mark those days off or dedicate days. Say that, 'Okay, your child has a spring break. Okay, parents, I'm going to take some PTO, and we're going to take at least a day or two of that spring break. And we're going to go visit colleges and just claim them.'
Brad Baldridge
Right?
Chuck Erickson
'Okay, that's when we're visiting colleges, do no one schedule anything, mark it on the calendar, write it on the wall, whatever you need to do, but block out that time.'
Brad Baldridge
Right, exactly. So spring break, President's Day, the days around Easter, there's all kinds of days that are notoriously days off of school. And if you can keep them sacred. Again, a lot of colleges know this too. So President's Day, and some of those days are very busy at colleges, that a lot of them will offer visits on those days, because they know that a lot of students might have that day off from school. And it's not an important enough holiday that they let their staff off, they make them work on President's Day so that they can have a nice visit on that day. Of course, if you're not going to be able to visit, maybe the day after Thanksgiving, or between the holidays, between Christmas and New Year is a really tough game. And most colleges are just completely shut down, a matter of fact, to the point where they turn the heat off at a lot of the colleges. That's how shut down there. So those types aren't going to work.
Chuck Erickson
I will beg families to please do not visit a campus on the Friday after Thanksgiving or between, the holiday break between December and January. Because those two times are when admissions counselors are actually heavily reading applications. So that is a big thing that the admissions offices are focused on, especially during that December break. And they love listening to students and meeting with students. But that time is really read the applications. And that is your time as students to be away from high school and enjoy time with your family. So take that time, that's truly family time. Don't try and jam a visit into a college because you were flying to Florida. And the University of Florida is right down the road and you want to visit it on December 27. No, not a good idea. Don't do that. Please keep your vacation time as vacation time for Thanksgiving and for the Christmas season.
Brad Baldridge
Right. All right. So let's say you're in a situation. And let's say you're interested in colleges all over the country. So it's like, 'Well, I live in Atlanta, but I'm considering California and Texas and Boston and a number of other locations. I don't think I can realistically visit all those places. That'd be a crazy budget with plane tickets, etc. So what are some alternatives to the visit now?'
Chuck Erickson
I think one of the greatest things that happened from the COVID pandemic is the virtual visit. Now colleges offer a wide variety of opportunities to do a virtual visit right from your home. These are either pre-loaded, so they've already been pre-recorded, and they're available on YouTube, and anyone can access them. Or it really is also you can sign up to have a tour guide, show you around live, and do a virtual visit that way. So it really doesn't matter which one you want to do. And it's fine if you want a live tour guide that you can ask questions to or if you want to watch something that is pre recorded, but the virtual visits are a great way to check out a college from your living room in your pajamas. It's also a great time to get the whole family around the TV and have everyone watch the videos. Typically they're fairly short, a tour is usually no more than about 30 to 45 minutes, if it's online. In person, it typically takes closer to an hour. But there are also some shorter tours that you can register for online as well and do the, they'll have the drone tour that will be just a quick flyover of the campus that is going to be much shorter. But yeah, virtual visits, virtual tours, great way to check out campuses that are far away and you don't have to book a plane ticket together.
Brad Baldridge
Right. I would also encourage families that that's great, but to help a student put it in perspective, do some local visits as well. So they can say, 'Oh, this school is an urban school. It's right downtown. There's lots of, there's no green space. There's lots of concrete, high rises and that stuff. Oh, it's like that other place that I went to where I did see it.' So they have a frame of reference. Because I think that's the challenge with the typical 17 year old watching videos and all that type of thing is, it does give you a good sense, but it isn't the same as being there. So they're either a good first step where it's like, 'Well, I'm gonna do all the virtual stuff before I fly to Boston, because if I do the virtual stuff, and I've already decided Boston's not for me, then we don't have to fly there. But if I do the virtual stuff, and I like it, then I'm going to go visit.' Or frame of reference, that school in Boston looked a whole lot like the school I did visit in Chicago, let's say. They both were very urban, they both had this, they both had that. So I think I can link them together, as far as... So doing some visits, doing the ones you can in person, especially the local ones, would give some context and help you understand a little bit more about what you're seeing. When you do the virtual visits for the faraway schools.
Chuck Erickson
Yeah, and you'll also start to notice what is the same with every campus. So almost on every college campus, when you take a tour, you walk into the library, they will say something like, 'Alright, on this floor is the talking floor, you can talk to anyone you want. This is great for group projects...' And then as you go up or down, depending on how the library is constructed, the floors get quieter and quieter to even hear a pin drop. Almost every tour guide is going to say a phrase similar like that on every campus. So you can start reading out the common things on campuses and start noticing what's different, especially if you start looking at a local one. And then looking farther away that helps you with the compare and contrast.
Brad Baldridge
Absolutely. My personal experience, I did some visits with my son, he was interested in engineering. And the first college we went to, they showed us the Baja Buggy that they build to compete. They showed us the concrete canoe that they built to compete. They showed us the solar vehicle that they built to compete. And then we wanted the next engineering school. And they showed us the Baja Buggy they built to compete and they showed us this solar vehicle they built to compete and they showed us the concrete canoe that they use to compete. And although it was very exciting and cool the first two or three times we started to realize that that's not a differentiator, that's just cool. Because just about every engineering school competes with a Baja Buggy and or a solar vehicle and builds a concrete canoe.
Chuck Erickson
Absolutely.
Brad Baldridge
So and again, that gets you excited about engineering. But it's not really a differentiator. So now what you have to dig in and start saying, 'Well, what, what is the same and what is different.' So again, another important thing around is most colleges will show you what's new and shiny, and fantastic. And they will very much steer you away from anything that maybe isn't something that's going to sell the college. So you may want to delve into what's important to you, even if it wasn't on the tour, as an example, a lot of places will take you into their new, fantastic football stadium. If you're not interested in football, ultimately do you care? You may want to say, 'Show me where the musicians practice or show me where the biology labs are, or the chemistry labs or whatever it is that you're going to be studying.' Because that's where you're going to spend your time. And that's part of the advanced visit concept of the first few visits, just go where you're told and do it the way they tell you to do it until you realize what's important to you and where you want to go instead as a part of the process.
Chuck Erickson
Yeah, those are great tips. I really like those.
Brad Baldridge
All right. Well, I think we've talked enough about visits for one day. I appreciate you spending time with us, Chuck, and we will leave it here, I guess.
Chuck Erickson
Sounds good. Thanks so much Brad, I enjoy chatting with you as well.
Brad Baldridge
Let's go ahead and wrap things up. That was probably more than you ever needed to know about college visits. But hopefully, you've got some great tips out of that. Early in the discussion, Chuck and I mentioned the five types of college visits, that we have that available as a PDF where I explain those five types again. I'm also offering our college visit questionnaire where we have about 50 questions that you might use when you go on a visit. So it'll help you get organized and perhaps plan ahead a little bit in order to come up with good questions for college visits. Both of those resources are available for download right below the podcast player. Again, you go to the podcast page at tamingthehighcostofcollege/124. And right below the podcast player there, there's a place for you to enter your email and we can email the PDFs to you. If you have any other questions, feel free to reach out, send us a message through the website, send us an email. We look forward to hearing from you. And as always, we appreciate reviews on iTunes or anywhere else that you might be downloading this podcast. And please share it with your friends and family if you feel they could benefit. That's all for today. We'll see you next week.
Presenter
Thank you for listening to the Taming the High Cost of College Podcast. Now, it's time for you to take action. Head to tamingthehighcostofcollege.com for show notes, bonus content, and to leave feedback for Brad. The next step on your college journey starts now.
Brad Baldrige is a registered representative of Cambridge Investment Research and an investment advisor representative of Cambridge Investment Research Advisors, a registered investment advisor. Securities are offered through Cambridge Investment Research Incorporated, a broker dealer and member of FINRA and SIPC. Brad owns two companies: Baldrige Wealth Management and Baldrige College Solutions. The Baldrige companies are not affiliated with Cambridge Investment Research.
Transcribed by https://otter.ai
Sign up to receive email updates
Enter your name and email address below and I'll send you periodic updates about the podcast.