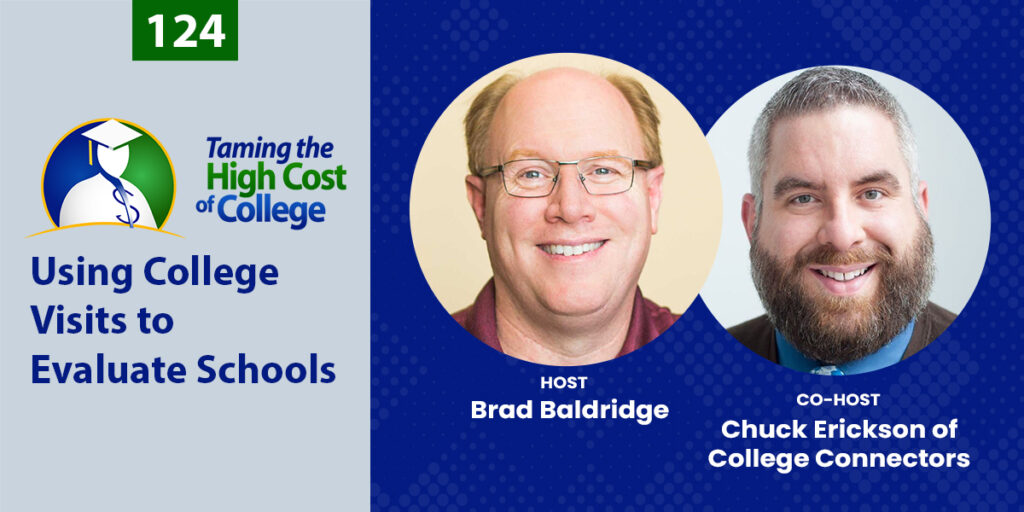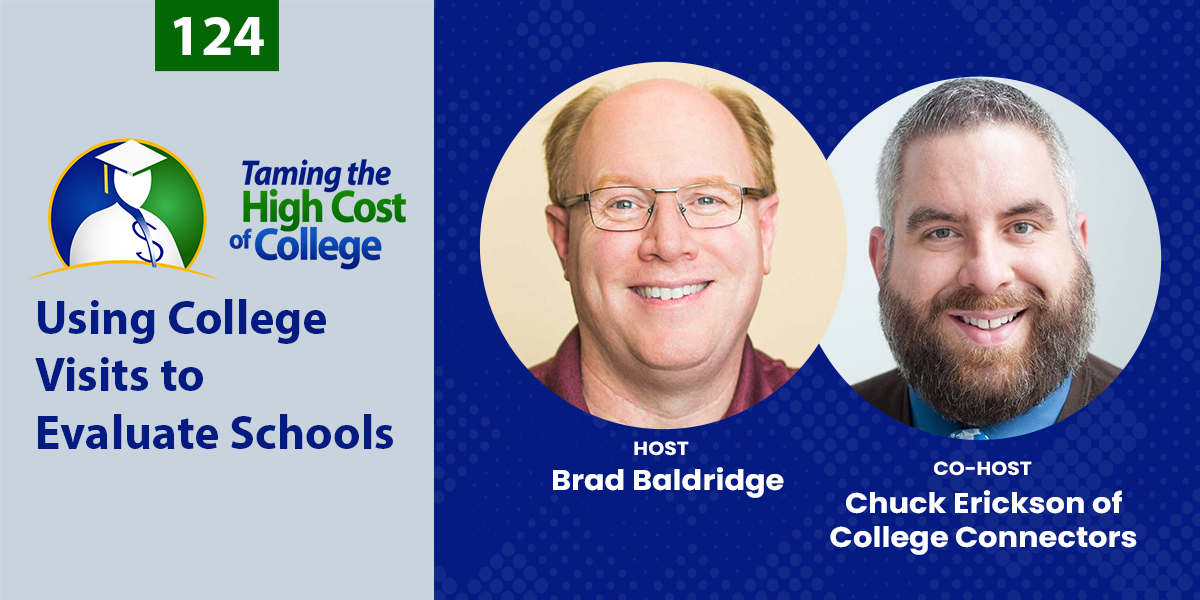 Access This Episode's Free Resources
Subscribe to my free college planning e-newsletter or confirm your subscription to download my complete article on the 5 Types of College Visits as well as my College Visits Questionnaire and Checklist, to help you prepare all the right questions to ask during your campus visit.
---
Today's Guest:
Chuck Erickson, Independent Educational Consultant from College Connectors
As an independent educational consultant at College Connectors, Chuck has worked in higher education for 15 years, helping students and families with the college application and college search process. Along the way, he has learned hundreds of useful tips and has developed expert advice to help you find the right school, apply and get accepted. Listen to this episode to hear Chuck and Brad's advice on how to use college visits to evaluate schools, the different types of visits you can make, and how to get the most out of each experience.
Questions Answered Today:
Why are college visits important, and what types are there?
Parents often overlook college visits as they seem less important than scholarships or loans. However, both Brad and Chuck agree that visits are an underutilized part of the college search process.
They are one of the best ways to get to know a school, the campus environment, and what your student can expect. Certain visits also allow you to speak to students, faculty, and advisors in both admissions and financial aid to get answers to your pressing questions and get the real story about that college.
Brad and Chuck believe that maximizing school visits makes a difference not only for students but also for the families. Here are the major types of school visits that families should know:
Stealth visits
Formal visits
Campus days (also called open house)
Athletic visits
Senior visits
What's the difference between a stealth and a formal visit?
A stealth visit is the shallowest type of visit. You don't have to call the school to schedule anything. You just drop by, look at the buildings to see what the school looks like, and you're done. Its purpose is to get the vibe of the school and see if it makes it to your official college list or not.
You can do stealth visits as early as your student's seventh grade school year, especially if your student doesn't have a specific preference yet. It's a good way to informally start looking into schools.
The best thing about stealth visits is that you can do them anytime. But Chuck recommends doing stealth visits during road trips or vacations since these visits normally take only an hour or two.
Formal visits, on the other hand, are initiated by colleges by schedule and appointment. Colleges typically announce their formal visit schedules through their websites. Unlike stealth visits, you need to schedule formal visits at least a week in advance.
What may be a challenge for formal visits is that they're often scheduled on weekdays. However, it showcases the schools on a deeper level because these visits include an information session followed by a campus tour.
What's special about campus days?
Campus days cater to a larger group of families and students that want to know the school deeper than the surface level. With campus days, you can find out more about majors, programs, departments, and other details because their staff and faculty are ready to answer your inquiries.
Here's the best thing: campus days are typically held during weekends. However, because of the recent COVID-19 pandemic, campus days now work according to schedules to regulate visitors. Make sure to set an appointment ahead of time, as campus days only happen 6-8 times per year.
Some campus days also present an "Open House Day" where they showcase specific departments such as the College of Healthcare Services, the College of Business, or the College of Engineering.
Chuck says that these tours are a great way for students to identify differences in majors, such as the difference between physical therapy and occupational therapy, finance vs. accounting, marketing vs. management, etc.
Campus days and related tours are extremely valuable as your student looks at different college options.
What about athletic visits? How are they different?
College sports programs, and especially the high-end ones, always look for the best athletes. They have a complicated recruitment process, and visits are also part of the equation, and there are different arrangements they might make and things student athletes and their parents may need to keep in mind. Here are some of them:
Colleges can bring student athletes to their campuses and even pay for the students' (sometimes even the parents') plane ticket and other expenses.

D1 type athletes can get quite a bit of visit support from colleges, but D2, D3, and NAIA athletes will probably be dealing with schools that have much tighter recruiting budgets.

Students and families should reach out to the NCAA to learn all the related rules for recruiting and visits.
If you're very interested in the campus but don't have funds to cover the expenses of visiting, you can try to reach out to the campus to see if they can help you out.

Some colleges will make arrangements for coaches to come visit and meet the students and their families at their homes.
If your student has potential in athletics, don't hesitate to call and ask the admissions office to check for visit options, so your student doesn't miss an opportunity.
What are senior visits? How do they differ from the rest?
The senior visit is the type of visit that "closes the deal." Typically, this is for high school seniors that the school wants to admit, but the student can't decide yet if they'll say "yes."
As this kind of visit is essentially for students that are almost admitted, the senior visit is much more meaningful and in-depth compared to others. Here, they already talk about how the majors work, what are the school's processes and the like, which are all helpful for the student deciding.
Senior visits could sometimes be longer than any type of visits as this could be an overnight event where the potential student could interact with sophomores and juniors, attend classes, participate in sports and other school activities, and more. It's designed so the student could really decide if the school is fit or not.
Sometimes these visits are labeled as an "Admitted Student Day," where the visiting student might also meet other students who could be their future classmates. This is a scheduled event as well, so make sure to check the college's website for the dates.
---
Links and Resources
Helpful Resources
---
---
THANKS FOR JOINING US!
We'd like to extend an invitation to our listeners to share their feedback and questions. Contact us to submit a question to our email.
If you find our podcasts helpful, please share us on social media and tell your friends!
The bottom line is that we care what you think and want to help you out, so we'd appreciate you reviewing us on iTunes or on Stitcher. And even better, receive automatic updates by subscribing to the show on iTunes or Stitcher.