Access This Episode's Free Resource
Get a free personalized College Money Report for your family, including an estimate of how much your family will be expected to pay for college and how
much federal financial aid you'll receive.
---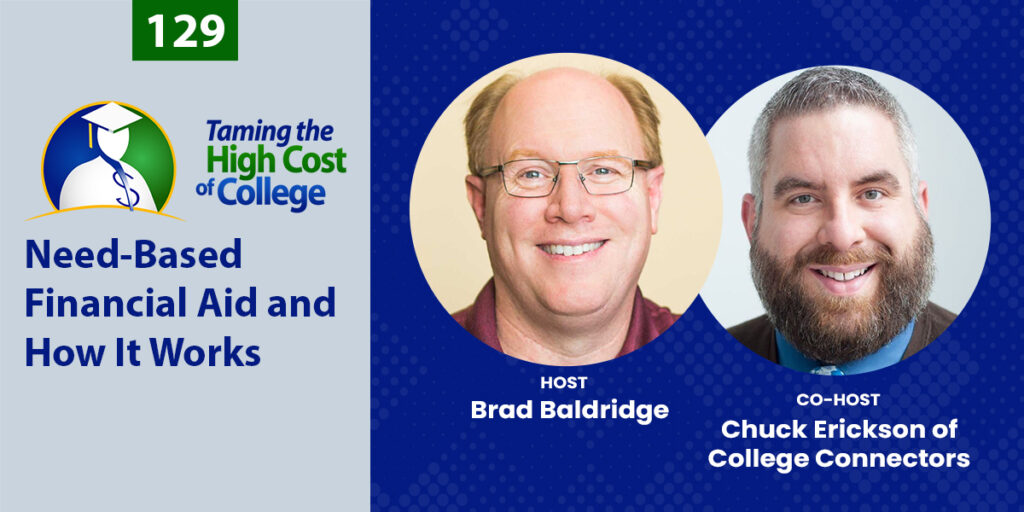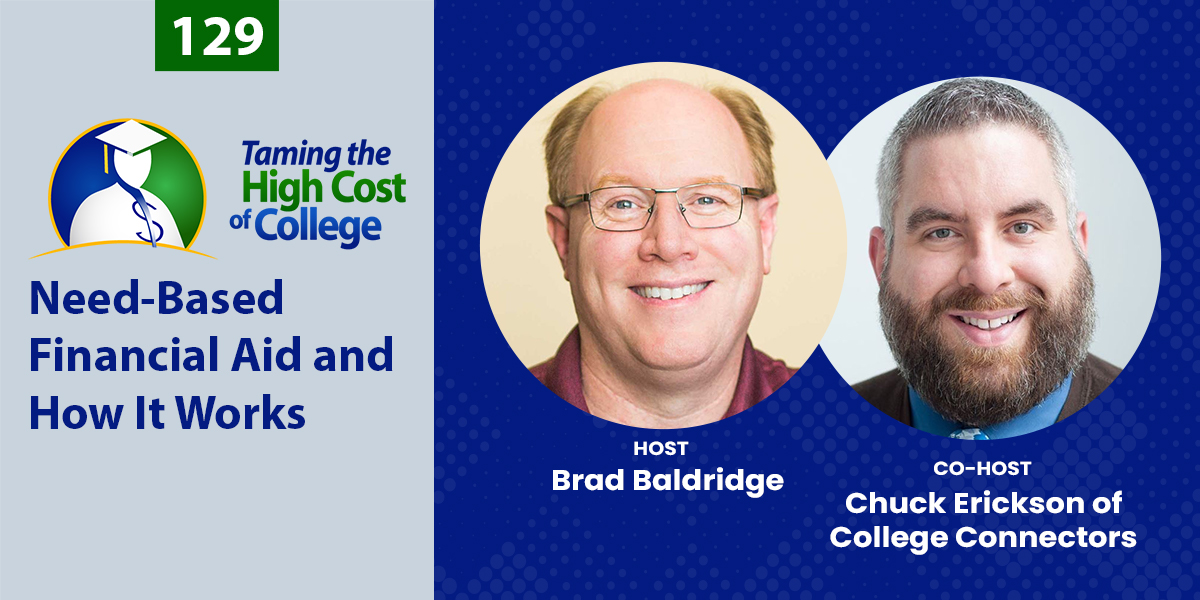 Today's Guest:
Chuck Erickson, Independent Educational Consultant from College Connectors
As an independent educational consultant at College Connectors, Chuck has worked in higher education for 15 years, assisting students and families with the college process. On today's episode, Chuck and Brad give parents and families a quick introduction to need-based financial aid for college, how it works, how to apply, and how you can potentially maximize your award.
Questions Answered Today:
What is need-based financial aid?
Need-based financial aid is a program initiated by the government to make sure all college students and especially the marginalized get equal access to a quality education. To make sure that the program helps out those who truly and honestly need assistance, there are many considerations in order to qualify.
How much money do I need to make in order to qualify?
Obviously, if your family earns millions of dollars monthly, you won't qualify. If your family earns less than that, here's what you need to remember: you can't automatically assume your family doesn't qualify.
The formula for your "need" is:
Cost of attendance – EFC = need
Cost of attendance is usually found on the colleges' websites. By definition, which may vary per university, it is the total cost of college with the inclusion of:
Important: Again, this varies per university. Make sure to check what exactly is included at each school, so you can make a comparison.
Expected family contribution (EFC) is computed using the data from your family's financial aid form. If you're to ask who exactly computes your EFC, it's the elected officials. The EFC is how much you're expected to shell out for your student's college, based on:
Parents' income
Student's income
Parents' assets
Student's assets
The number of students the parents support
If the preferred college for your student costs $25,000 and your EFC is $50,000, you have zero need. You automatically won't qualify for need-based aid, as the cost of college is less than what your family can pay for. However, if your student's cost of attendance is $80,000, and your EFC is $50,000, then you can apply for need-based aid for the $30,000 excess, since that's the amount you need.
Should we try to manipulate our income and assets to qualify for more aid?
Brad's answer to this is a resounding "maybe."
Brad and Chuck have worked with families that asked if they should reduce their earnings to qualify for more aid. That is almost never a wise thing to do, especially when the amount of aid won't compensate for the earnings lost. One good example would be giving up $10,000 in job income for $1,000 aid.
The rule of thumb is to make sure that whatever you're giving up, your gain should be higher than the loss. Here are some of the ways you can "control" your taxable income for EFC assessment:
Charitable donations
Slow down your invoicing, so whatever's meant to be filed this year can be filed next year
Slow down your income filing, so whatever's meant to be filed this year can be filed next year
You can make these changes all you want (although there may be some consequences), but remember that your effort to qualify for need-based aid will be in vain if your ending EFC is still higher than the cost of attendance. Always go back to the initial formula before making decisions.
Chuck also noted that the student's income and assets don't have much of an impact (almost zero), especially when the student's earnings are very low. However this is on a case-to-case basis.
It's a completely different situation if the student's assets could add up to tens of thousands. Chuck had a student client who got stocks from their grandfather that totaled $75,000. An amount that big mattered and would have negatively impacted the EFC calculation had they failed to plan ahead of time. So make sure to always consult someone and plan way ahead.
What strategies can I use to plan my application for need-based aid?
Here are some tips Brad and Chuck shared. These are all based on the families they've worked with in the past:
If ever you plan to "move things around" to qualify, keep in mind the taxes, fees, and the trouble you'll go through. Ask yourself if it's really worth it. While sometimes you could be really lucky and get more aid than what you sacrificed, it very rarely happens.
Need-based aid is just one of the many things that make up the financial side of college. Make sure to not compromise the other equally important things such as saving, investing, loans, etc.
Planning matters. If you'd like to apply for financial aid, you need to submit your tax information from two years prior. Hence, if you plan to alter your EFC, plan long-term to make sure that it impacts your application.
Your student's academic profile matters, as colleges often grant need-based aid to those who are desirable enough to be a part of the campus. Chuck has worked in a college admissions office before, so he knows that, if a student is "barely admissible," they might not get a huge amount of aid.
Aside from need-based aid, merit aid is also an option. Brad recommends parents and students learn about both systems. Hire experts to see which one works better or if it's possible to combine the two, to get the most out of them.
How do I apply for need-based financial aid?
1. Fill out the Free Application for Federal Student Aid (FAFSA). Some websites may ask for payment, but don't get fooled. It's absolutely free.
2. The application goes to the U.S. Department of Education.
3. The Department of Education will assess your EFC.
4. After assessment, your FAFSA goes to the colleges you included in the application.
5. Each college's financial aid office determines how to give you the aid—it could be federal, state, or university money.
6. The financial aid office comes up with the student's "financial aid award."
7. The student, not the parents, receives notification of the award. It could be an email or a message from the university portal.
Important: For follow-ups, don't approach the federal government offices. Call the colleges' financial offices instead.
Now, aside from FAFSA, there is also a much more detailed form that you can fill out. It's called the CSS Profile. Unlike FAFSA, you need to pay to access this form.
The CSS Profile provides a broader perspective of your family's financial situation. Only the most prestigious universities require this form, as they're the ones that can provide a huge amount of aid. They ask for deeper details to make sure that the families who get money are not manipulating their assets.
Do we really have to fill out the FAFSA?
You don't have to submit the FAFSA, but according to Brad and Chuck, unless you're a multimillionaire, you should. Check out why:
It's free and easy! It takes an hour and a half at most.
Some colleges require the FAFSA for work study or campus employment.
Some scholarships require the FAFSA for a financial situation check.
You can be absolutely sure if you qualify or not, so don't assume anything!
Note: You may have failed to receive aid from an application for your first child, but having multiple kids in college may change that. Fill out a FAFSA for each of your students to reassess your EFC.
Also, don't forget that there are experts like Brad and Chuck that are well-versed in the nooks and crannies of this program, so make sure to contact them for wiser decisions.
---
Links and Resources
Helpful Resources
Chuck Erickson's contact info:
---
Brad Recommends:
Today, I recommend my College Money Report, where you can get a free and complete estimate of how much your family will be expected to pay for college and how much financial aid you'll receive.
To get started, you'll need to answer about 20 questions such as:
What are your income and assets?
What's the academic profile of your student?
How many children are in your family?
What's in it for you? By answering the questions, I'll give you a report with estimates on:
Your expected family contribution (EFC)
How much need-based and merit aid you'll qualify to receive
How much college will likely cost at the schools you're considering
Since they're based on actual college cost data at individual schools (tuition, room and board, books, personal and travel expenses), these computations will also be based on the colleges your student prefer. In essence, you'll be getting a smart estimation of what you'll pay at these colleges.
How do I use this information? There are two ways, depending on how far along you are with your college search:
If you're just getting started, get the report on all colleges you have in mind, and then compare.
If you're already visiting colleges, bring the report to verify if the figures from the report match with what the colleges are telling you.
As always, the report is absolutey free!
Just scroll up to the top of this page and use the button under Download This Episode's Free Resource.
Disclaimer: All estimations are based on the statistics you provide, so your report may differ from someone else's. Also, make sure you still consult with the colleges on your list to verify the actual costs.
---
THANKS FOR JOINING US!
We'd like to extend an invitation to our listeners to share their feedback and questions. Contact us to submit a question.
If you find our podcasts helpful, please share us on social media and tell your friends!
The bottom line is that we care what you think and want to help you out, so we'd appreciate you reviewing us on iTunes or on Stitcher. And even better, receive automatic updates by subscribing to the show on iTunes or Stitcher.