Access This Episode's Free Resource
Download Brad's free Student Loans Guide for Busy Parents, loaded with information, advice, and everything you need to know about college loans. All you need to do is use the button below to subscribe to Brad's free college planning e-newsletter or confirm your subscription, and you'll get instant access to the guide!
---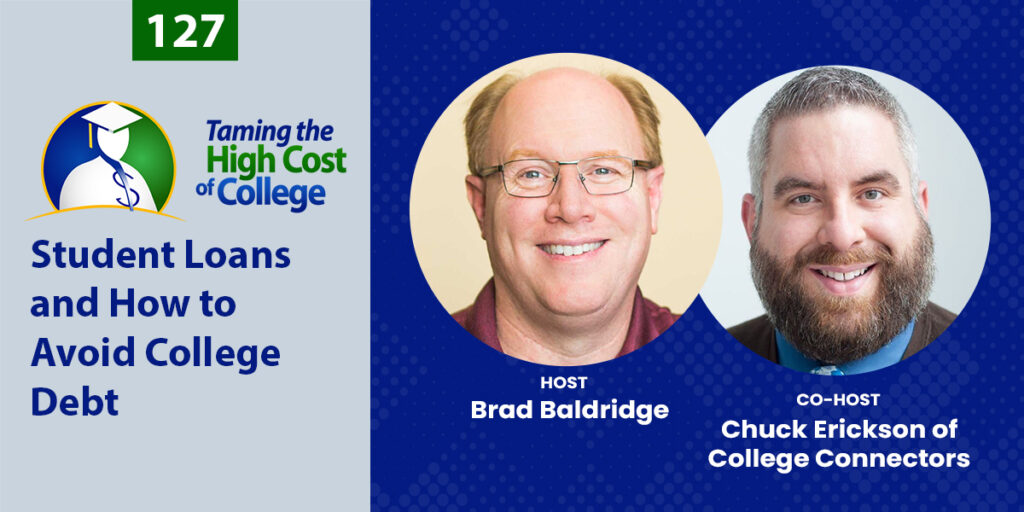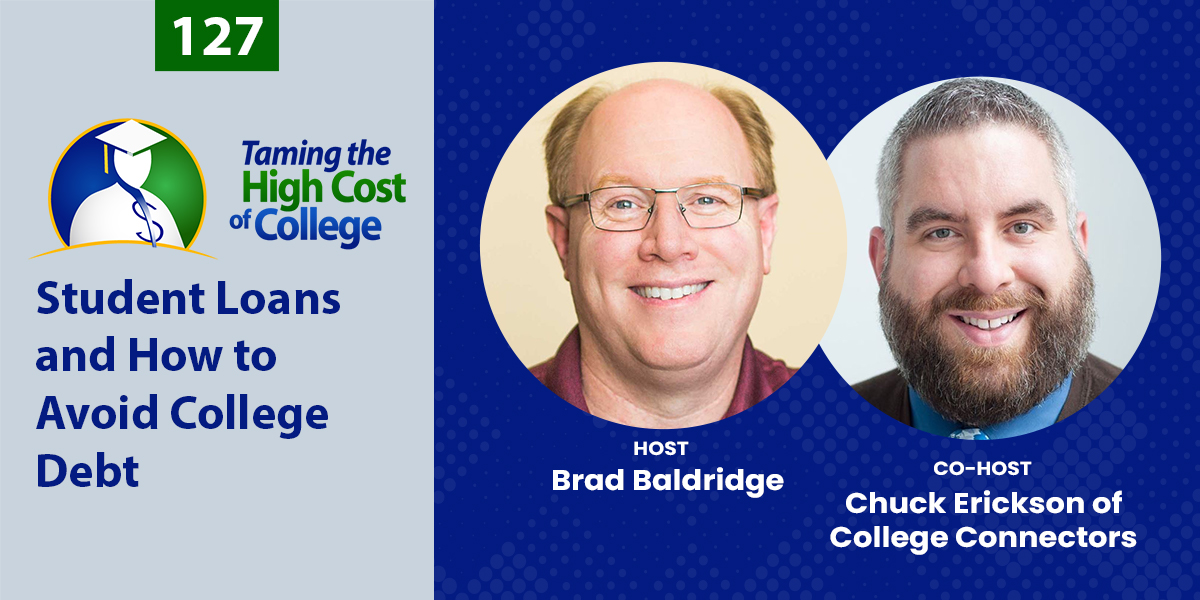 Today's Guest:
Chuck Erickson, Independent Educational Consultant from College Connectors
As an independent educational consultant at College Connectors, Chuck has worked in higher education for 15 years, assisting students and families with the college process. On today's episode, Chuck and Brad will discuss everything you need to know about student loans, how they work, how to borrow at the lowest cost, and how to graduate from college with the least debt possible.
Questions Answered Today:
What do I need to know about college loans?
There are many misconceptions about how college loans work and that's exactly where the problem begins. For example, you may have heard claims that students could borrow as much as $100,000, but that's not true. In reality, with federal loan programs, a student can only borrow a total of $27,000 over their four years of getting an undergraduate degree.
If the money needed for college goes beyond that, which often happens, that's when you, as a parent, can step up and either take out a loan under your name or co-sign a loan with your daughter/son.
While the student can choose not to pay back their $27,000 while they're still in school, deferring payment means interest will accumulate. With subsidized federal loans, interest doesn't accrue while you're enrolled in college, but it begins after graduation. With unsubsidized federal loans, interest accrues all along, even while you're enrolled in school.
A student typically has 10 years to pay off the loan, so the repayment plan usually becomes around $300 a month.
Where do I get this $27,000 and additional money if needed?
Chuck warns parents that a debt beyond $27,000 may be too much for a family and worrisome. Hence, before signing up for any additional loans, he recommends that students try to earn some money by looking for campus jobs, summer employment, etc.
However, if the family needs additional funds for school (and if the student can't get scholarships), parents can opt for other forms of loans. Here's a list of loans you can check out, including those for students as well as parents:
Federal Student Loans
Federal Direct Student Loans (for students)

All students can potentially qualify for federal Direct Loans

Only some students will qualify for subsidized loans where interest doesn't accrue while you're enrolled in college

The Direct Loan borrowing limit over four years of college is $27,000.

The Parent PLUS Loan (for parents)
The Pros
Parents can borrow the entire cost of college attendance. So if your student needs $80,000 per year for four years, you can borrow a total of as much as $320,000.

This type of loan is fairly easy to get approved compared to other loans.They don't look at your assets. They only need to verify you're not in the middle of bankruptcy, and you only need to pass a basic credit check.
The Cons
It has a higher interest rate.

Important: this loan can't be discharged in bankruptcy.
Private Student Loans
The most reputable private student loans are available from:
The Pros of Private Student Loans

They qualify for tax breaks.

If you're a candidate with good credit, you could get great interest rates

The student can be the primary borrower, and the parents just need to co-sign. Therefore, it's not an added loan in the parents' name, but to the student alone.
The Cons of Private Student Loans:
These loans cannot be discharged in bankruptcy.
If you're a candidate with a not-so-good credit standing, interest rates could go as high as 12%.
The bottom line is, no matter what you choose, you're taking out a loan that reduces your net worth. Brad compares this process to wanting a car that's beyond your budget: ask yourself, do you really need it?
Are there any other ways to borrow college money?
Other options you may not have considered include a home equity line of credit and retirement funds.
A home equity line of credit may be one of the best ways for you to borrow money, as the interest rates could go as low as 3%, in comparison to other loans, which would typically be 6% and above. However, to get good interest rates, keep in mind that you need to have a home, equity, and a decent credit rating.
Retirement funds, on the other hand, are generally hard to withdraw to use for something else. However, you can choose to slow down your contributions, meaning, if you normally put 15% of your earnings to retirement, you can temporarily make it 5% or 10% while your student is in college so you can have additional cash to use.
If I take out a loan under my name, how do I ensure my student will pay me back?
Brad has encountered many parents struggling with having their kids pay back loans. This is normally because some students still don't understand how enormous the money they need for college is. Here are some recommendations that may be helpful for you:
Make an agreement in writing, so you have proof that there has been an agreement.
Talk about the agreement often, to make sure your student gets reminded and doesn't forget.
Hold an annual family meeting about the agreement and create some rules such as: no new car unless the loan is paid, etc.
Are there any other things I should consider?
Most parents don't realize that college is way more expensive now than it was before. What cost $7,000 before now costs $20,000. However, what college students earn with their summer jobs is not that much different from what it has always been, which is the reason why so many struggle. Here are some tips that would greatly impact your family's financial situation:
Plan everything. Guide your student with how they want to get through their finances.

Does it make more sense to study and work part-time? This option allows the student to pay debts faster, but can the student handle the stress and exhaustion?

Does it make more sense to study full-time, and work later? This would take longer to repay debts, but the student's productivity is ensured.
Remember that a prestigious school does not equate to better job opportunities. There were students who failed to land prestigious jobs despite their degree from a prestigious university.

Does your student really have to go to that prestigious college, although it's beyond what the family can pay for?
If your student can't give up a specific school, there's always the option to go for a cheaper option for undergraduate studies, then transfer to a prestigious school afterwards. Chuck sees this as a great option because aside from the fact that there are many famous figures who did this, America typically looks at where the student finished the most recent degree, rather than where the student started.
Think of how much you're willing to spend, so your student knows how much they will shoulder.
Instead of getting a loan, you can think of something you can give up for your student's college. It could be a lake house, a new car, etc.
If you'd like to get through college with the least debt, get the help of experts like Brad and Chuck to help you plan. Planning matters, and you can't imagine its impact on your finances until you actually do it!
---
Links and Resources
Helpful Resources
---
Brad Recommends:
Scholarships help your family save, so be sure to plan to get the most out of them. Strategize so your family doesn't waste time and effort chasing the wrong scholarships, and you can hopefully get the ones where you have a high chance of qualifying.
You'd be surprised with the number of opportunities for scholarships that are out there. Some can be found in places you don't even expect. These are just few of the avenues worth checking:
From the colleges themselves, regardless if they're private or public
Corporations
Charities
Government
Important: Most but not all scholarships are need-based, so be sure to talk to an expert to see if your family qualifies.
The best way to explore scholarships and build a plan is through my free videos series, The Scholarship Guide for Busy Parents. These are four quick videos that will tell you everything you need to know about scholarships and how to get them.
Just click the link above, sign up for my free college planning e-newsletter, and I'll help you get started!
---
THANKS FOR JOINING US!
We'd like to extend an invitation to our listeners to share their feedback and questions. Contact us to submit a question.
If you find our podcasts helpful, please share us on social media and tell your friends!
The bottom line is that we care what you think and want to help you out, so we'd appreciate you reviewing us on iTunes or on Stitcher. And even better, receive automatic updates by subscribing to the show on iTunes or Stitcher.