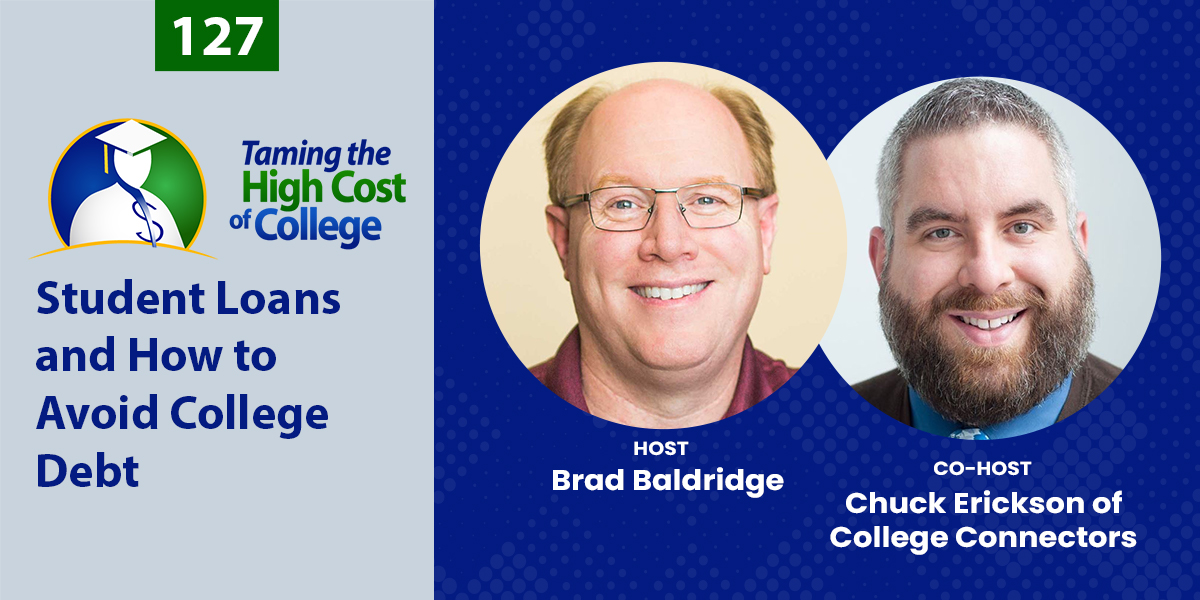 Access This Episode's Free Resource
Download Brad's free Student Loans Guide for Busy Parents, loaded with information, advice, and everything you need to know about college loans. All you need to do is use the button below to subscribe to Brad's free college planning e-newsletter or confirm your subscription, and you'll get instant access to the guide!
---
Today's Guest:
Chuck Erickson, Independent Educational Consultant from College Connectors
As an independent educational consultant at College Connectors, Chuck has worked in higher education for 15 years, assisting students and families with the college process. On today's episode, Chuck and Brad will discuss everything you need to know about student loans, how they work, how to borrow at the lowest cost, and how to graduate from college with the least debt possible.
Questions Answered Today:
What do I need to know about college loans?
There are many misconceptions about how college loans work and that's exactly where the problem begins. For example, you may have heard claims that students could borrow as much as $100,000, but that's not true. In reality, with federal loan programs, a student can only borrow a total of $27,000 over their four years of getting an undergraduate degree.
If the money needed for college goes beyond that, which often happens, that's when you, as a parent, can step up and either take out a loan under your name or co-sign a loan with your daughter/son.
While the student can choose not to pay back their $27,000 while they're still in school, deferring payment means interest will accumulate. With subsidized federal loans, interest doesn't accrue while you're enrolled in college, but it begins after graduation. With unsubsidized federal loans, interest accrues all along, even while you're enrolled in school.
A student typically has 10 years to pay off the loan, so the repayment plan usually becomes around $300 a month.
Where do I get this $27,000 and additional money if needed?
Chuck warns parents that a debt beyond $27,000 may be too much for a family and worrisome. Hence, before signing up for any additional loans, he recommends that students try to earn some money by looking for campus jobs, summer employment, etc.
However, if the family needs additional funds for school (and if the student can't get scholarships), parents can opt for other forms of loans. Here's a list of loans you can check out, including those for students as well as parents:
Federal Student Loans
Federal Direct Student Loans (for students)

All students can potentially qualify for federal Direct Loans
Only some students will qualify for subsidized loans where interest doesn't accrue while you're enrolled in college
The Direct Loan borrowing limit over four years of college is $27,000.

The Parent PLUS Loan (for parents)
The Pros
Parents can borrow the entire cost of college attendance. So if your student needs $80,000 per year for four years, you can borrow a total of as much as $320,000.

This type of loan is fairly easy to get approved compared to other loans.They don't look at your assets. They only need to verify you're not in the middle of bankruptcy, and you only need to pass a basic credit check.
The Cons
It has a higher interest rate.

Important: this loan can't be discharged in bankruptcy.
Private Student Loans
The most reputable private student loans are available from:

Old Guard
Wells Fargo
Discover Student Loans
Sallie Mae
The Pros of Private Student Loans

They qualify for tax breaks.
If you're a candidate with good credit, you could get great interest rates
The student can be the primary borrower, and the parents just need to co-sign. Therefore, it's not an added loan in the parents' name, but to the student alone.
The Cons of Private Student Loans:
These loans cannot be discharged in bankruptcy.
If you're a candidate with a not-so-good credit standing, interest rates could go as high as 12%.
The bottom line is, no matter what you choose, you're taking out a loan that reduces your net worth. Brad compares this process to wanting a car that's beyond your budget: ask yourself, do you really need it?
Are there any other ways to borrow college money?
Other options you may not have considered include a home equity line of credit and retirement funds.
A home equity line of credit may be one of the best ways for you to borrow money, as the interest rates could go as low as 3%, in comparison to other loans, which would typically be 6% and above. However, to get good interest rates, keep in mind that you need to have a home, equity, and a decent credit rating.
Retirement funds, on the other hand, are generally hard to withdraw to use for something else. However, you can choose to slow down your contributions, meaning, if you normally put 15% of your earnings to retirement, you can temporarily make it 5% or 10% while your student is in college so you can have additional cash to use.
If I take out a loan under my name, how do I ensure my student will pay me back?
Brad has encountered many parents struggling with having their kids pay back loans. This is normally because some students still don't understand how enormous the money they need for college is. Here are some recommendations that may be helpful for you:
Make an agreement in writing, so you have proof that there has been an agreement.
Talk about the agreement often, to make sure your student gets reminded and doesn't forget.
Hold an annual family meeting about the agreement and create some rules such as: no new car unless the loan is paid, etc.
Are there any other things I should consider?
Most parents don't realize that college is way more expensive now than it was before. What cost $7,000 before now costs $20,000. However, what college students earn with their summer jobs is not that much different from what it has always been, which is the reason why so many struggle. Here are some tips that would greatly impact your family's financial situation:
Plan everything. Guide your student with how they want to get through their finances.

Does it make more sense to study and work part-time? This option allows the student to pay debts faster, but can the student handle the stress and exhaustion?
Does it make more sense to study full-time, and work later? This would take longer to repay debts, but the student's productivity is ensured.

Remember that a prestigious school does not equate to better job opportunities. There were students who failed to land prestigious jobs despite their degree from a prestigious university.

Does your student really have to go to that prestigious college, although it's beyond what the family can pay for?

If your student can't give up a specific school, there's always the option to go for a cheaper option for undergraduate studies, then transfer to a prestigious school afterwards. Chuck sees this as a great option because aside from the fact that there are many famous figures who did this, America typically looks at where the student finished the most recent degree, rather than where the student started.
Think of how much you're willing to spend, so your student knows how much they will shoulder.
Instead of getting a loan, you can think of something you can give up for your student's college. It could be a lake house, a new car, etc.
If you'd like to get through college with the least debt, get the help of experts like Brad and Chuck to help you plan. Planning matters, and you can't imagine its impact on your finances until you actually do it!
---
Links and Resources
Helpful Resources
---
Brad Recommends:
Scholarships help your family save, so be sure to plan to get the most out of them. Strategize so your family doesn't waste time and effort chasing the wrong scholarships, and you can hopefully get the ones where you have a high chance of qualifying.
You'd be surprised with the number of opportunities for scholarships that are out there. Some can be found in places you don't even expect. These are just few of the avenues worth checking:
From the colleges themselves, regardless if they're private or public
Corporations
Charities
Government
Important: Most but not all scholarships are need-based, so be sure to talk to an expert to see if your family qualifies.
The best way to explore scholarships and build a plan is through my free videos series, The Scholarship Guide for Busy Parents. These are four quick videos that will tell you everything you need to know about scholarships and how to get them.
Just click the link above, sign up for my free college planning e-newsletter, and I'll help you get started!
---
THANKS FOR JOINING US!
We'd like to extend an invitation to our listeners to share their feedback and questions. Contact us to submit a question.
If you find our podcasts helpful, please share us on social media and tell your friends!
The bottom line is that we care what you think and want to help you out, so we'd appreciate you reviewing us on Apple Podcasts, Spotify or your preferred podcast platform. Even better, to receive automatic updates, please subscribe to Taming the High Cost of College on Apple Podcasts, Spotify, or wherever you listen to your favorite shows.
Brad Baldridge
Welcome to Taming the High Cost of College. This episode is going to be all about student loans.
Presenter
You have kids, they grow up, and before you know it, it's time to plan for college. Where do you start? How much is it going to cost? Will you qualify for financial aid? Should you be looking into scholarships? Will you be able to retire? What about student loans? A list of questions is never-ending. The good news is all the answers are right here. Welcome to the Taming the High Cost of College Podcast here is your host Certified Financial Planner, Brad Baldridge.
Brad Baldridge
Hello, welcome to Taming the High Cost of College. I'm your host, Brad Baldridge. Today is another interview with Chuck and I haven't mentioned it recently, but Chuck is a College Admissions Professional. He helps families understand colleges, he works with students on essays and choosing a major and choosing a career. And he works a lot with students. So he's a great complement for me where I tend to work with parents and talk a lot about the financial side of college. Today, we're going to talk a lot about loans. But we have a bunch of previous episodes. Again, we've done a 10-episode series, this is number 8. We've also talked about things like scholarships, and need based aid and merit aid and all kinds of different ways to pay for college, as well as choosing majors and other topics as well. I encourage you to go back and listen to the previous episodes, if you haven't. And of course, there's a couple more coming up as well. So today, we're going to talk all about loans. So this episode, we talk about how to choose a loan, the pros and cons of loans. And not only do we talk about how the loans work, but we're going to talk a little bit about whether you should use loans or not. There's a lot of politics and a lot of concern around loans. Many families are worried about having their student have too much debt. Of course, on the flip side, many families are going to have to use student loans in order to make college a reality. So how do you find that balance? So that's the type of things we're going to talk about. As always, show notes are available at tamingthehighcostofcollege/127. And that's where you have access to all the links that we talk about. This week's download is the Student Loan Guide for Busy Parents. So you can go to the website and download the student loan guide, which will give you all the specifics. Again, Chuck and I talk and obviously, an audio, we don't have a lot of specifics, but you can also get some charts that will help compare etc, etc. And we talk more about that and Brad recommends. Alright, let's go ahead and jump into the interview.
All right, Chuck, welcome back.
Chuck Erickson
Thanks, Brad. Glad to be here.
Brad Baldridge
Today we have the exciting topic of loans. So we get to jump right in, I think?
Chuck Erickson
Absolutely.
Brad Baldridge
You get a lot of questions around loans when people are talking to you as far as how they work, or I mean, what comes up from your side of the fence?
Chuck Erickson
I mean, everything really comes up because there's so much media about this, that students are going to automatically graduate with tons of debt. They've heard it from this new source and that new source and so parents are just going, 'Okay, what are the loans? What do they do? And how do I avoid having myself or my kid graduate with a mountain of debt?' There's a lot of misunderstanding around this. I'm really curious as to what people ask you as a financial person about things like how much can they borrow or what should they even borrow because they don't even know what these loans are?
Brad Baldridge
Absolutely, yeah. And I think there's two questions, and we'll cover both of them right now. But one question is, how much can I borrow? And then the next question is, how much should I borrow? And those are obviously different questions a little bit. But let's start with the how much can I borrow? Now, you mentioned that the rumors out there of kids graduating with hundreds of 1000s in debt, or even 100,000. And I would call that a myth, in that a typical undergraduate student cannot borrow hundreds of 1000s all by themselves. They're going to either need a cosigner or parents can borrow. But there's no way for a student all by themselves to borrow more than 27,000 for most families. So typical, incoming freshmen can borrow 5500. After that, Mom and Dad need to get involved and make them borrow more or they could cosign on loans to borrow more. But the most of student borrows 5500. And then from there, the student can borrow more each year. So it goes up to 6500. And then 7500 for a couple years, for a total of 27,000 for the whole college career for an undergrad. But I think there's a lot of students out there that go on for some form of masters. And once you become a master's student, in other words, you have an undergraduate degree. Now you're considered independent and the whole structure of financial aid changes. A lot of graduate students can borrow large amounts of money. So the typical doctor and dentist, we've all understand that they borrow a lot. But you couldn't get similar money for an MBA, or a master's in nursing or whatever degree beyond the typical undergrad. So I think that's the one big myth that people need to understand is to get into that mess. You either are already a college grad, so theoretically, maybe you should know better, or there's somebody that has good credit and is co signing. And theoretically, maybe they should know better. And if not, well, I guess that gets into politics. Maybe we'll skip that direction.
Chuck Erickson
Yeah, I'm glad you really walk through all of that. Because, again, I don't know where these rumors come from, and I think the news stories love to jump on these cases of families that say, 'You know, my student graduated with $100,000 in debt.' But as you mentioned, that is physically impossible for a student to do without someone willingly assisting them to do it. So it's not like the student can just walk up to a college and say, 'Hey, I want to go to this very expensive school. And I would like to take it all out as a loan,' and the college goes great. Yeah, no, that doesn't happen at all. There has to be someone else that helps with that process to help a student get into that much debt. And I really tell my families, too, is that my goal for my family is that students graduate at or below the federal cap, which you said is 27,000, for the Stafford Program. And I really think that if you are going to take out loans, that isn't, that is a solid option for students, especially because they have so many options to pay it back now. But you're the financial guy, you may have some other strategies as to how to get better loan options out there, as well. So yeah, and what are these different types?
Brad Baldridge
Yeah, and before we go to there, let's put this in context. So if the student borrows the full 27,000, no student has to make payments while they're in school. So they could defer it, you're going to get some interest rate, some interest that will accrue even though you're not paying. And then once you get all the way to the end, a student might owe 28, or 29,000. And a typical payment is a little over $300 a month. So it is, that's a 10 year repayment. So it is a reasonable option. Again, especially if the college degree, it does in fact lead to better employment outcome. The challenge, I think, for a lot of students are the students that don't make it so they drop out, and they still have the student loan debt that they have to repay, but they don't have the degree. Or again, sometimes it's students that borrow money to get into a degree that's ultimately not a good fit for their career, or they don't use their degree, or whatever it might be, and they find themselves underemployed. Alright, so let's talk about how much I should borrow. I get parents often with that conundrum of... Alright, well, it makes sense for the student aviral, that first 27,000. But that's not going to get us there. We're thinking about borrowing even more than that. How should we do it? Should we borrow another 10, 20, 50, 100? whatever that number might be? And I don't know what your thoughts on that are. But, again, if it's the only way to get it done, I think that's a different question, than 'I want to borrow all this extra money, because there's a particular school that's really expensive. And that's the one I want to pick. I've got lower cost options. But my dream school happens to be very expensive.' Do you families struggling with that?
Chuck Erickson
Yeah, a lot. I have a lot of families that are saying that they want to figure out... So there's that one scenario, it's like, they want to go to the dream school, which is very expensive, and they're trying to figure out how to make that work financially. And I always tell families, our goal is to find it fit academically, socially, and financially. And sometimes we may have to say no to college, if the financial thing is going to be way out of whack. So I always warn families, 'That's taking on a lot of debt,' and anything beyond the 27, in my opinion, is taking out a lot of debt. So I always think about what are alternative ways of also making this work. So encouraging students to have an on-campus job or doing summer employment, or other ways that can help bring in some money to make it more affordable. But once you go beyond that, 27,000 for the Stafford, I think parents are very confused as to where to look and what, what is a good loan beyond that? What is a bad loan? Or who should I talk to, who should I not talk to, and that's literally where I go, you have hit a point where I have no idea how to help you, I am sending you to Brad?
Brad Baldridge
Yes. Yeah, exactly. And then typically, we'll go through the loan options. So there are essentially three ways that you can borrow for college. One is the federal programs, which would be the Direct Loan, also called the Stafford Loan. Sometimes Federal Direct Student Loan, Subsidized Direct Student loan, Unsubsidized Direct Student Loan, it's all the same program. And then there's the PLUS Loan, which is a loan to the parents. Now, the limits, we've talked about the 27,000, that applies to the Direct Loan. And that's what the student can borrow. A PLUS Loan is a loan to the parents. And the parents can literally borrow the entire cost of attendance. So if your student were accepted at University of Chicago, which costs $80,000, theoretically, a parent could sign for $80,000 per year in PLUS Loans. And what's really interesting about the PLUS Loan is they don't ask how you're going to pay it back, like a typical mortgage company, or other loan where they would look at your income, your assets and your likelihood of paying it back, before you give the money. The Federal PLUS Loan Program, they verify that you're not in the middle of bankruptcy, or have a recent bankruptcy or have something very wrong with your credit. But if you pass that basic credit check of, they don't really look at your income. And you can borrow large amounts of money. Again, it's the parent borrowing the money, though. So the parent can always fill the gap, because they could borrow that 80,000 per year, for four years to go to one of the most expensive schools, even if you've got no aid whatsoever.
Chuck Erickson
That's a little frightening to me that the Parent PLUS Loan just throws money out as long as you pass that very minimal test. And that's probably I'm going to guess, where we're hearing some of these new stories of they say, 'Oh, my,' quote, unquote, 'my student had to borrow 100,000 to go to college,' where that's probably not the truth, that's probably the parents have utilized the Parent PLUS Loan, and then have borrowed up to the cost of college. And yeah, U Chicago, that's gonna be $320,000 for four years. Oh, my word. That's a lot of debt. Wow.
Brad Baldridge
Right. Exactly. And there's just a new story. And they come out about every, every couple of months, there's a new story. And this particular situation was a 60 year old, 65 year old, about two retired family, husband and wife, and they had three or four kids, and they borrowed quite a bit in order to pay for college. And then they went through some unemployment and other challenges. So they didn't, I don't remember the exact numbers, but it's like they borrowed 250,000, and then deferred and aren't able to pay for many years. And now they're owing a little over 400,000. And they're looking to retire and they've got these huge debts, and they're just struggling. And of course, I mean, that's the downside of borrowing too much money on the PLUS Loan is, and it's very hard to discharge a bankruptcy as an example too, so it is a safety valve where parents can fill the gap. But the question of whether the parents should fill the gap is a different question. And I think it really boils down to do we have lower cost options? Or is this just, again, to get the dream school? I look at it like similar to a car purchase, right? I can afford a Chevy, but I really want a Mercedes. Well, then you need to have enough assets and income and the ability to pay for a Mercedes and still be able to do everything else you want to do. Well, I don't. Well, then maybe you can't have a Mercedes. That's, that's the way it works everywhere else except for college and healthcare, where they've got these weird incentives around loans and different ways that things get paid. Alright, so that's the federal programs.
Chuck Erickson
Right, what are some options beyond federal? Because I'm familiar enough with the federal programs that I can give parents that direction, 'Okay, here's the Stafford Program, which is fairly straightforward. Here's the Parent PLUS Program, which is a higher interest rate.' But it is also, as you said, fairly straightforward. And not a whole lot of bumps. What are other options that parents should be considering to think about loans?
Brad Baldridge
Right? Well, next, we have the private student loans. Oh, there's the old guard, your Wells Fargo, Discover student loans, a number of big banks offer student loans, Sallie Mae has another big name out there. And they've been providing student loans for years. But they're not the federal program. They are an arrangement between typically a parent and maybe a student as well, and the institution, but it does get the label 'student loans, so it does qualify for things like the tax breaks. And it also means it's very hard to discharge in bankruptcy, again. That's been the trade off for student loans, is if we're going to give student loans to families that perhaps can't afford to pay it back, well, then we can't allow them to discharge it in bankruptcy, and still give good interest rates. So that's been the compromise. So, private loans are also like that, where you can't discharge them because they've got the student loan label, so to speak. And then the private loans are like negotiating for a credit card or a boat loan or a mortgage where the interest rate could be very, very good for very strong candidates and very, very bad for poorer candidates. I mean, I've seen private student loans come in at 10, 11, 12%. And it falls almost in that predatory lending area. Not quite that bad. But again, you need to understand, and then they also offer, sometimes variable rates where they were good for a while, but then rates went up. So some of those problems. The one advantage to a private loan is you could make the student the primary borrower, and the parents can just co-sign. In the end, they underwrite it, based on the parents information, because they know the student has no credit has no income has no history. So they look at the parent. And again, the parents gonna have to step in if the student should not pay. And that's, so that's really the only person they can look at, to figure out what the interest rate should be, and that type of thing. But again, if you're saying I absolutely want to borrow more money, and I absolutely need it in my student's name, well, the private loan is a way to do that. The PLUS Loan, where the interest rate is reasonable, has to be in the parents name. So the private loan allows you to put additional loans in a student's name. And I see that occasionally, where parents say, 'Well, this is how much we were allowed to borrow, or that much we're willing to put towards college, you're gonna have to borrow the rest,' they use the student loan, Direct Loan, and then some additional privates, perhaps to get all the money that they need in order to make school work, knowing that the private loan might have a higher interest rate. But from a parent perspective, it's a higher interest rate, but the students paying it. So in the end, it saves them money, because they're not responsible theoretically. And then, often we'll have a discussion. And parents will say something, 'Why would I borrow money at 8%, or 6%, or whatever the interest rates are, when I can go get a home equity line of credit for 3%?' And my typical answer to that is, well, maybe you wouldn't maybe that 3% is the best way for you to borrow. It doesn't work for everyone, of course, because you need to have a home and you need to have equity. And if you don't have both of those things
Chuck Erickson
Right
Brad Baldridge
And also a decent credit rating. So if you have all three of those things, yeah, that might be the lowest cost money. And it may make sense for your family to use that method where and again, it could be a home equity line of credit, or it could be a complete first mortgage refinance, and you pull some cash out. There's different strategies around that. But again, debt is debt. Ultimately, if you borrow $20,000, your net worth goes down by $20,000, whether you borrowed against the house, use a student loan, the student signs, and you co-sign about how you slice it, there's $20,000 negative on your net worth now. The question becomes, well, if I default, they could take my house, if I use my house to back it, if it's a student loan, there's not much they can do. But we can't discharge in bankruptcy. So there's different pros and cons around how the loans work. And I think you need to understand and read the fine print of, of all the choices that are out there.
Chuck Erickson
Yeah, and that's, and that's why I said when we start crossing some of these questions in my family conversations, I just I tell them, 'You know what, these are awesome questions. And Brad can answer them for you.' So I have one for you is that I get often. So I'm thinking of a family who did really well at the young part of their their life, their early marriage, they had a business and they had a bunch of money, and they stuck it into a retirement accounts. And then later kids came along, getting ready for college, but they had this big nest egg for retirement. And I've had families ask, 'So can we take out money from our retirement in order to pay for college?' Because the family believes they'll be able to hopefully earn it back over the years that the kid is in college? So they're wondering, can they use retirement funds to help pay for college?
Brad Baldridge
Yeah, that's a great question. And generally, my answer is no. And sometimes from a technical perspective, it's hard to do. But also from a should-you-do-it perspective, the answer could be no. Again, unless you're doing some relatively advanced planning. So if the family you just talked about, if we sat down and said, 'Okay, well, we're well on track for retirement. A matter of fact, we do have quite a bit of extra money in the retirement, then we could potentially take a loan against it for a few years to fill the gaps for college.' Or another common strategy is you just slow down your contributions to retirement. I've always put in 15% from the time I've been very young, when I started working, but now that I've got college on the horizon, I'm going to drop that to 5% because that's what the company matches. And now I have 10% more cash flow coming in. And I can use that to pay for college or refinance the house. Again, now we're looking at overall broad financial planning of how do we pay for college. And then typically for most families, how do we pay for college, then we've got a little bit of a runway, and then we're going to retire. And for some families that we've got, college is done, and we've got five years to prep for retirement. other families I work with, it's like, 'Well, we're actually gonna be retiring while our youngest is still in college.' And so there's a lot of moving parts there. But the reality of it is, if you do good financial planning, overall, it allows you to get more retirement and more college from the same bucket of assets and income, right, just being as efficient as you can be. And that's, I think what it takes for a lot of families is just you got to be efficient, so that you can get get it all squeezed in so to speak.
Chuck Erickson
I guess. And yeah, I think that's very helpful to help families think about their overall, what's going on with their investments in their retirement in their plan that way, because, yeah, as you said, sometimes it might be just reducing a payment that helps you then have more money that's available for college. That's, that's, that's good idea. Another scenario is that parents will say, 'I really want my student to be responsible for college financially.' They often say, 'Well, I paid for my way for college many years ago. So I want my student to be responsible for it.' But then they also say to me, but the interest rates for student type programs are much higher than what I can get from my bank, because maybe I've been doing a lot of banking in my life. And I've done a lot of investing. And so they tell me, 'But the bank will give me a loan and not my kid alone.' So how do you help a family that's struggling between they want their kid to pay for it, but those interest rates might be higher, whereas a parent could take out a loan, but the interest rates might be lower, but then it's not the student's name?
Brad Baldridge
Yes. Well, and again, I think that those are competing goals where we want to finance college at the lowest cost. Often, that is the home equity, or the Parent PLUS Loan, or if the student, parents have really strong credit, they might go to that private market, and get, a 3 or 4, 5%, relatively good loan. But it's always down the parents to get the good loan, because they have the strong credit and the income, that verifiable income and everything else. So in a lot of cases, you really can't do it, other than perhaps you could be the bank. In other words, the student should be the parent borrows the money, at the low cost option, whatever that is, and turns around and says, alright, little Johnny or Susie, or whoever it is that they're working with, we borrow this money in our own name, but we expect you to pay us back when you can. The challenge there again, is a lot of students don't really know what borrowing another 20,000, on top of the 27, they've already borrowed means, as far as payments, and that stuff. So I often recommend, if you're gonna go down that road, think about doing something in writing, and make sure you talk about it often. So it's not like, well, we talked about it when they were a freshman, and now they've graduated and the working world three years, and they're not paying mom and dad back, and you're trying to collect and they're like, 'I don't remember saying any of that kind of stuff.' So it's one of those things where you might have an annual meeting about it, but make some rules. And again, if it were, if I were trying to enforce my student paying me back, I would make rules like, 'Well, you can't buy a new car, until you've paid me back. You can, we can talk about you buying a used car, or a reasonable version of a car's, because you're gonna need it to run your life. But if someone's gonna buy a new car, I'm not sacrificing new cars to get you through college. And then have you go out and buy a new car, and where I've never had a new car issue. And maybe you can't live without a roommate until all the money's paid back. And again, roommate might be, well, if you get married, now you've got a roommate.' So you can make it as, as strict as you want to be. But you got to put those ideas in the head ahead of time that the student is sacrificing, and they have to know about it. And they need to hear about it quite a bit. Because otherwise a typical graduate, right, they need new furniture, they need a new car, they need a nice apartment, they need they need they need and all of a sudden they've figured out how to spend every penny they make. And it's just mom and dad. So do I really need to pay him back? Maybe I'll pay him back. I'll start paying him next year or maybe the year after that. Or maybe they'll forget about it, and then I won't have to pay them. And that's again, very typical, a typical 12 to 15 year old, 'Hey, Mom, can I borrow $20? I want to go to go to the movies or something.' Well, they're not borrowing $20 they just want $20, that they have no intention of paying it back, but borrow sign sounds better than, 'Hey, give me 20.' So I think that's the reality. That it is a challenge. And college has gotten a lot more expensive, where it's, I occasionally, and I don't know if you've heard this, but I've had some parents say, 'Well, I worked my way through college, we're not paying.'
Chuck Erickson
Yeah. All the time. That is probably the most common phrase parents will tell me when we're talking about financing college,
Brad Baldridge
Right. And I worked my way through college, but when I earned three or four thousand dollars, in a summer, that in the whole cost of college for the year was $7,000. And I was able to borrow some money, etc, etc, it actually was relatively easy to make it work out. It just doesn't work that way anymore, when a typical college might be, a low, typical low cost college might be $20,000. It's really hard for a typical student to work through high school, work through college and come up with $80,000
Chuck Erickson
Right, right.
Brad Baldridge
In order to cover the typical college now, so it's a, it is great that you work your way through school, but it is not a realistic ask, I think, for most young people.
Chuck Erickson
Well, and I think there's also, we're seeing some lifestyle choices that have switched between generations as well. We saw more people years ago, living at home and going to college. Well, that saves money as well. And I'm not seeing as much of that with this generation, or summer jobs still, you said you earned about three to 5000, over the summer, when you were in college, that's about what my students are now, too. So that hasn't gone up. So if, if students can earn 20,000, over the summer finding some amazing job, then the conversation might shift. But it's really hard for families to think about what is the actual out of pocket costs, and how much that is increase in just the cost of living has increased for multiple things, whether that's written or having a cell phone or things that we've just didn't have 20 years ago?
Brad Baldridge
Right? Absolutely. So I think, yeah, so again, the game has changed, and the rules have changed. So sticking with the old idea that a kid can take care of themselves is a bit of a challenge. And the reality of it is you perhaps can do it once you're 25 or older, because now you're independent. And now the fact that mom and dad have income and assets doesn't blow you out of the water for some of the types of aid that you may not get when you have to report parents. So that's the challenge too is because mom and dad look like they can afford to help. Typically colleges are going to ask mom and dad to help. And if they say no, college is not going to just say, 'Oh, well, that case, we'll put more money out there.' They don't do that. So that's part of the puzzle.
Chuck Erickson
Yep, absolutely. So what about these families that they really want their, the kid really wants to go to a very very expensive school, but the parents don't want to bury their kid in that debt, even if it is the 27,000 Stafford Loan. But there's really no other option. So the parents don't have another way to get an alternative loan or to get something else. So the students gonna have to take out a bunch of loans, like, what do you do? What do you tell the families that say, 'Oh, my gosh, my students gonna have to take out a bunch of debt in order to make this happen. But I don't want them to take out debt to make this happen.' Like, well, how do you help that family?
Brad Baldridge
Oh, yeah, that's another common Catch 22 of, again, we're going to have to borrow to make college happen. Again, there's two different scenarios here. One is we're going to have to borrow to make college happen at all. And that situation, especially for kids that are going to earn degrees that quote, unquote, 'pay well,' right, if you're gonna go off and get your accounting degree, and then CPA, or a nursing degree, even a teaching degree or engineering, are there lots of degrees that lead directly to a decent paying job. And if you're, if that's the path and you look at the, again, that degree and you say, 'Well, I could live at home once I graduate and work for a year or two, or I could live like the poor college student after I graduate, I should have some extra money that will help me pay down these loans.' And I think that's one important thing to think about. It may make sense to get the degree, a typical nurse starts at 50 or 60,000, which is 25 plus per hour. Does it make sense to work your minimum wage job and struggle for eight years going part time to ultimately get your nursing degree? Or does it make more sense to just borrow the money, get the degree done, go or in the good money and pay the loans back?
Chuck Erickson
Yeah.
Brad Baldridge
I've said, say any student that's going to be obviously successful, you're pretty sure that they've got the skills to get through college and get it done in four or five. I think that just makes sense to just go get it done. And yes, the now the students got quite a lot of debt to deal with. And again, nursing, I always talk about, well, they could work some swing shifts on a Saturday, potentially, or do something extra. And if you're, if it's overtime, and the Saturday and at $40 an hour, that's a much better use of your time, I think, than working minimum wage at the care facility, when all you have is a CNA or something, and you're making $12 an hour or even minimum wage, and it's just a struggle for year after year after year to make it all fit.
Chuck Erickson
Right. And the federal government really views going to college as a quote, unquote, 'job.' So if you're doing your studies and spending all those hours, you're spending 20 to 30 hours, whether it's in class or doing homework and stuff, and now you're trying to balance a job on top of that, for some students, that is a rough balance, and that is going to cause stress and mental health challenge, things like that. So I agree with you that for some students, the best scenario might be to just take on the debt and get through the degree and then go back to living and having a job and only having one or the other. So you either have college or you have worked not both simultaneously.
Brad Baldridge
And you might, again, I don't, there's been studies out there that up to eight or 10 hours a week of work for a typical college student has no impact on grades.
Chuck Erickson
Right.
Brad Baldridge
It probably has an impact on their social life slightly, or their time wasting, how quickly do you get through the shower and get going, if you've got three hours of work today, you get up get going instead of asleep again, till 10 some of those things, but I think there is a very much a difference around that. The other scenario, yeah.
Chuck Erickson
Yeah.
Brad Baldridge
Where, 'Okay, I'd really like to go to this school. And this school is, 20,000 a year more than three other really good options. But this one's my dream school.' Now, to borrow money to do that, and have the student do it, I think you really, if you're, again, if the parents are saying, 'Well, if you think you ought to do it, we'll facilitate it, we'll co-sign or whatever it is,' obviously, the parents are taking some risk. That's another great example of where I would require that we have a yearly meeting to talk about, 'Hey, I'm on the hook with you. So, because of that, these are some of the rules that we're going to put in place.' Now, if a parent says, again, we were talking earlier, I think sometimes parents also want to pick a typical school or more expensive school, sometimes they were buying a name, they get the show up at the watercooler at work and say, 'My kid's going to x and x is prestigious, are more prestigious than average.' And if that's the case, it's probably not worth it. In the long run.
Chuck Erickson
Yeah, well, even the one where you said that the student would have to take on the extra debt to go to the prestigious school, I go back to the concern that does a 17 or 18 year old understand how that that is going to play out over the course of their life? I think there's a lot of weight put on the name of the college for families when they're making these decisions. And there aren't a ton of colleges that if you just go there, your ad can't even think of any, that if you go to XYZ college, you're gonna automatically have a successful life for the rest of your life. I've had students, I've seen students go to very, very prestigious institutions and still end up working an hourly position, because they just didn't know how to network, they didn't know how to apply themselves, and stuff like that. Just going to prestigious school does not guarantee that your life is going to be perfect. And sometimes I'll bring up also the scenario of why don't you go to a cheaper option for undergrad, and then go to prestigious XYZ school for graduate school, because in America, most people pay attention to where your most recent degree is from, not where you started at college. So there's some very great examples of some famous people out there that no one understands that they started off at a community college eventually transferred to a four year public and then went to big name prestigious school for their graduate degree or their MBA. So that's the other factor that we have to think about here is that important in some parts of the country, it is and families are willing to put themselves into a huge debt load to be able to accomplish that. But for many, many students and families, the cheaper option is actually going to do just as well as the prestigious, more expensive option.
Brad Baldridge
Right then there's also families who truly can't afford I mean, I had a family and dad essentially said the budget per student is 125,000. From me, anything beyond that, then the student is going to have to figure out and he was willing to cosign and do other things potentially in the right situation, but we were able to work it out, one student actually came in under that line. And then the other student had to borrow a little bit on the Direct Loan, I think it was like 12,000. So in order to fill the final gaps as far as beyond what dad was willing to spend. And dad had a decent income, and dad valued education, so dad gave up something else, in order to have that kind of money for college. So he didn't have the lake home, or he didn't buy the expensive cars or, and again, because there's always one more thing you can add to the family budget, that makes college less than less affordable. And I get, we see that a lot where the whole idea that if I earn X, then college should be affordable. Well, that X is a really big number, because a typical family, earning 150,000, and earning 70,000 and earning 250,000, they all struggle with college. It's a different type of struggle, potentially where, again, at the lower incomes, maybe you're struggling how to make even the lowest cost state schoolwork. And then as you climb the income ladder, now you're making decisions around, well, should we spend more for a private school? Not that private schools are always going to be more expensive? Sometimes they're less. But should we spend more on the dream school, whatever that means? Or
Chuck Erickson
Right
Brad Baldridge
And again, there's no right or wrong answer. But if you're going to use large amounts of debt to make it happen, I think that should give you pause.
Chuck Erickson
Yeah, and if you're looking for more affordable options in college, someone like me can help you find different options or different pathways to get to that option that are significantly more affordable.
Brad Baldridge
Absolutely, I think that's where planning comes in where working with Chuck to find the lower cost options and working with myself to lay out an efficient plan. Again, you can potentially really work it out to where there's a lot more opportunity. And it's also a lot more work where ultimately you're going to have to understand how pricing works at different types of schools. And you're gonna have to understand how transfer strategies work and understand scholarships and all the different avenues, which is a little more legwork. But it's well worth it. And we can avoid loans, essentially, by using some of our time, whether what you're getting whether it's working with a professional or you're taking a course or reading some books, or just jumping in and working with the colleges themselves. There's lots of ways to do it, but it's going to take some effort. All right, I think that covers what we need to cover on loans. We are going to come back next week and talk about college testings. So we're gonna talk about the ACT, SAT, and we'll talk to them.
Alright, that was a great interview with Chuck. Again, if you're interested in contacting Chuck, you can get information here on our website at tamingthehighcostofcollege.com/127. And you can get contact information both myself and for Chuck. Don't go away, we're going to talk a little bit more about the Student Loan Guide for Busy Parents.
Presenter
The latest tips, tricks, and tools you can use today. This is Brad Recommends on Taming the High Cost of College.
Brad Baldridge
Today, I'm recommending my Student Loan Guide for Busy Parents. Now the student loan guide is a document that I put together as a PDF that you can download, just by going to tamingthehighcostofcollege/127. That's where the show notes are, and you can then grab the download. But this student loan guide is written for parents. And it has all the very specifics on the loans that parents might consider. So I took all the information on the Direct Loan, the PLUS Loan and private loans and compiled it. There's a chart in there that gives you a quick reference where you can quickly compare some of the options. And then in addition, we've got some of the facts and figures and how the interest rates are calculated. So that's everything you're ever going to need to know about student loans. And there's two ways you can use this. The first is early in the process. So as you're starting to think about college, and maybe you got freshmen, sophomore junior, you need to understand at least the basics of how loans work so that you don't make assumptions about loans and then discover later on that maybe you can't have the loan you thought you could. I see that quite often where families are saying. 'Well show me the loans that will do this.' And unfortunately, I have to tell them those types of loans don't exist. So the first part is really understanding the Direct Loan and the PLUS Loan, and private loans so that you can pick the ones that are right for you and bake them into your plan as you're visiting colleges and that type of thing. And then later in the process when it's finally time to raise the funds and come up with the money, you can use the student loan guide again to refamiliarize yourself with all the different loans and then learn some of the basics on the process. Now, the goal of the student loan guide is not to be this exhaustive long book that families need to read. But I've tried to keep it concise and to the point so that you can get through it in 20 minutes or half an hour, and not have to spend hours and hours trying to figure out how loans are going to work for your situation. So again, it's a combination of some cheat sheets and some quick summaries, so that families like us can cut to the chase and really understand loans. And I recommend all families at least understand the basics of loans. So that you can decide if loans are going to be right for your situation. And again, for many families, loans are just going to be part of the reality where you're going to need to use sub loans to make it happen. And for other families, you might be taking loans to upgrading and get to that more expensive school that you feel is worth it. Alright, that's all we have on the student loan guide. I appreciate you guys coming out and listening. As always, show notes available at tamingthehighcostofcollege/127. And then in addition to that, please leave us a review where you can. If you're listening through Apple or Google, there's always reviews available there. Alright, that's all we have and we'll see you next week.
Presenter
Thank you for listening to the Taming the High Cost of College Podcast. Now, it's time for you to take action. Head to tamingthehighcostofcollegecom for show notes, bonus content and to leave feedback for Brad. The next step on your college journey starts now.
Brad Baldridge is a registered representative of Cambridge Investment Research and an investment advisor representative of Cambridge Investment Research Advisors, a registered investment advisor. Securities are offered through Cambridge investment Research Incorporated, a broker dealer and member of FINRA and SIPC. Brad owns two companies Baldrige Wealth Management and Baldrige College Solutions. The Baldrige companies are not affiliated with Cambridge Investment Research.
Transcribed by https://otter.ai
Sign up to receive email updates
Enter your name and email address below and I'll send you periodic updates about the podcast.