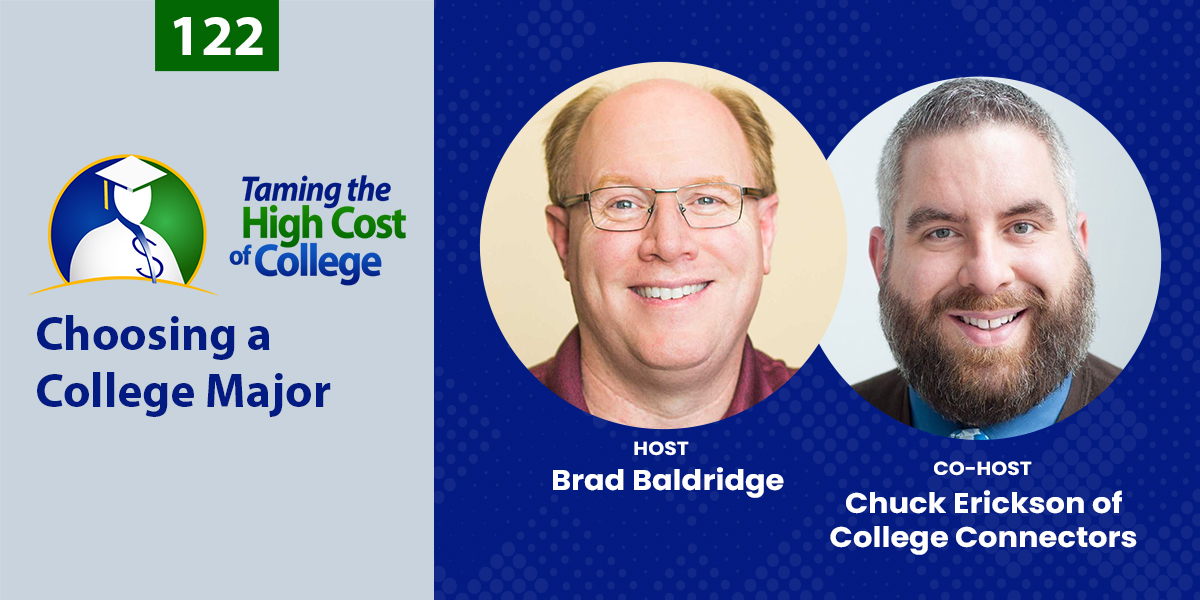 Access This Episode's Free Resource
Download my list of top recommended links and free resources to help your student learn about and choose a college major. Subscribe to my free college planning e-newsletter or confirm your subscription to get the free PDF now.
---
Today's Guest:
Chuck Erickson, Independent Educational Consultant from College Connectors
As an independent educational consultant at College Connectors, Chuck has worked in higher education for 15 years, helping students and families with the college admissions, applications, and career planning process. Along the way, he's learned many great tips to help parents and students evaluate potential majors and careers, including the key questions you should ask and what to do if you're undecided. Listen to Chuck and Brad to hear all the great advice on how to choose a college major.
Questions Answered Today:
Is going to college "undecided" a bad thing?
No. Going off to college undecided isn't the end of the world.
According to Chuck, while 66% of the students he has worked with have an idea of what they would like to major in, 33% are very open to exploring all the possibilities that college can offer.
Being undecided doesn't have to be a problem because there are some colleges that work really well with undecided students. Besides, most colleges do not require students to declare a major until the end of their sophomore year, giving them plenty of time to figure out what they want to do.
If your student is undecided, your goal becomes finding a college that specializes in guiding undecided students toward the right path.
What can I do to help my undecided student?
As an adult, you know that your major does not necessarily become your career.
Your major is not necessarily a lifelong commitment or restriction. A particular major may not have a direct job, but there are numerous jobs that may be suitable.
For example, English majors may not have a specific job they can truly own, but wherever there's publishing, writing, editing, or other English-related careers, they can fit.
"Sometimes there are many majors for a particular career, and sometimes there are many careers for a particular major. Sometimes it's a one-to-one relationship." – Brad Baldridge
Students should know that they can study nursing and become something else other than a nurse, the same way that they study accounting and become something else other than an accountant or a CPA.
For students to maximize their potential, you have to help them realize all the possible career opportunities available.
What if my student prefers a talent-based major?
Obviously, majors such as Dance, Arts, Music, Theatre, and the like require years of practice and preparation. It pays to know that, for these kinds of students, colleges are looking for two things: talent and teachability. It would help to ask these questions:
Am I willing to be coached, molded, and pushed to the next level?
Do I have an audition/portfolio prepared, aside from my academics-related requirements?
Do I want to focus on Dance/Arts/Music/Theatre only? Do I want to pair it with something else?
Chuck says that talent-based programs don't have to be your major. They can work alongside your actual major. In fact, engaging in these talent-based programs that genuinely interest you can make you an interesting candidate for whatever you're majoring in. Take a look at this scenario:
There's a student who both loved Biology and playing the flute. She was able to play in the college symphony while preparing for med school. She ended up becoming a formidable candidate for med school because she could talk about the connection between the body and music in her med school application.
What about those careers that require graduate degrees?
There are schools that do not require their graduate students to come directly from their undergraduate program. In fact, most medical schools across the country, including Harvard Medical School, accept students who finished their undergraduate studies at other colleges. However, there are med schools who favor their undergrads.
There are schools that do not require their graduate students to come directly from their undergraduate program. In fact, most medical schools across the country, including Harvard Medical School, accept students who finished their undergraduate studies at other colleges. However, there are med schools who favor their undergrads.
A "direct entry program" is a win-win for the student and the school. For example:
Physical therapy education can take just three years for undergrad and three years for graduate school in a direct entry program. That's two years fewer than normal, which is two years reduced from college expenses, and a two-year head start in the workforce.
The school saves money as well because it doesn't have to find suitable candidates for graduate school, as they are readily available from the heap of undergrads.
In case you missed it, direct entry programs requires hardcore commitment, especially from a 17 year-old that is just beginning to explore the outside world. Hence, it takes a lot of consideration and grit to pursue this type of admission.
What can I do to help my kids learn about the path they may want to pursue?
There are tons of things you can do to guide your student:
Even in high school, career guidance software programs such as Xello and Career Cruiser are available for students, alongside counsellors. Peterson's, Princeton Review, and College Board all offer assistance in picking a major through their websites.
For those who are clueless but curious, Chuck recommends YouScience.com. The YouScience website gives details of possible majors and careers after a two-hour assessment. It also provides recommendations on how to better the student's learning styles. It's a great resource that is reliable, affordable, and easily accessible.
Provide them with an actual experience of what a major feels like. Go to nearby schools that are having a "Nursing Day," or any kind of open house, culminating activity, summer camps, workshops, or seminars. These may open their eyes and help them narrow down their options.
Chuck also encourages parents to not overwhelm students with words such as 'major' or 'minor.' They might not even know what they truly mean. Instead, gauge what they want by asking these questions they may have answers to:
What do you want your possible job to feel like?

What challenge do you want to face in the world? What challenge do you want to work on?
Do you want your job to be outside, do you want it to be in an office?
Do you want to work eight to five? Or do you want to be running around on your feet all day and working a third shift?

Show them your actual job. Afterwards, you may introduce them to some professional friends and perhaps send them to their offices just so they can see other jobs in action.
Work with professionals like Chuck. We want your student to be in a career they'll be happy with, and we want your money to be well-spent.
In the end, college may have different purposes for everyone. What's important is that, as a parent, you understand that college is a place for your son/daughter to explore new things, interact, communicate, take risks, and learn the most valuable skills they'll need once they step into the real world.
---
Links and Resources
Helpful Resources
---
Brad Recommends:
If you're looking for help in getting started with college planning, you don't need to look far. More often than not, high schools are a great provider of career and college resources.
You'd be surprised with what high schools have:
There are high schools that invite college representatives to campus. Your student gets the chance to talk with representatives from different colleges, allowing them to get to know some colleges and sometimes those on their list .
Many high schools hold events such as "information sessions" or "info nights" that provide more details about various colleges. The sessions include, but are not limited to:

"Financial aid night"
"Choosing a major night"

High school websites may also have a section reserved for college resources. There, you can find information like scholarships that are available specifically for students at your high school.
High schools have school counselors. School counselors can provide the initial resources you need to get started by sending out newsletters,so make sure to find out how those are being sent out. If your student got really lucky, their high school may even have a dedicated college counselor.
Remember that you can only take advantage of what you know is available. So, right after you're done with the podcast, make sure to plug into your student's high school by:
Visiting the high school's website
Connecting to the school counselor through an email, phone call, or meeting
Finally, here's pro tip that works for all:
You'll take so much load off your shoulders if you can work with professionals (e.g. independent educational consultants, financial aid consultants, etc.) that can help with you and your student with planning (i.e. finding a good fit school, choosing a major, etc.).
---
THANKS FOR JOINING US!
We'd like to extend an invitation to our listeners to share their feedback and questions. Contact us to submit a question to our email.
If you find our podcasts helpful, please share us on social media and tell your friends!
The bottom line is that we care what you think and want to help you out, so we'd appreciate you reviewing us on Apple Podcasts, Spotify or your preferred podcast platform. Even better, to receive automatic updates, please subscribe to Taming the High Cost of College on Apple Podcasts, Spotify, or wherever you listen to your favorite shows.
Brad Baldridge
Welcome to Taming the High Cost of College. This episode is going to be all about helping your student choose a major and career.
Presenter
You have kids, they grow up and before you know it, it's time to plan for college. Where do you start? How much is it going to cost? Will you qualify for financial aid? Should you be looking into scholarships? When will you be able to retire? What about student loans? A list of questions is never-ending. The good news is all the answers are right here. Welcome to the Taming the High Cost of College Podcast here is your host, Certified Financial Planner, Brad Baldridge.
Brad Baldridge
Hello, and welcome to Taming the High Cost of College. I'm your host Brad Baldridge. As mentioned, today is all about choosing majors. Now, many families struggle with choosing majors, sometimes "undecided" is where we end up, sometimes we have a clear path, and sometimes we don't. So in this podcast, Chuck and I are going to get deeply involved in how to choose a major what to do if you can't decide on a major, and how that impacts the overall college process. We have a lot of great information. Let's go ahead and jump into the discussion. All right, we're back. This time, we're gonna be talking about how to choose a major. And of course, we're on the line here with Chuck. Welcome back, Chuck.
Chuck Erickson
Thanks, Brad. It's always great to chat with you.
Brad Baldridge
All right, today, we want to talk about how to choose a majors or career. And again, working with a student, I think is very much in your wheelhouse and not as much in mind. So I think we're going to rely a lot on your wisdom, when it comes to choosing a major. I see the impact of trying to choose a major and how it potentially impacts the overall college planning and the finances and some of that, but I'll comment on that as well. But let's start with some of the very basics, I think, how many students do you think out there go off to college with a good solid 'This is my major' and how many of them go off with a, 'Well, maybe this, maybe that, I can't quite figure it out?' Can you give us some statistics?
Chuck Erickson
I would probably say with the students that I've worked with, in my time working both in admissions, and in higher education, I'd say a third of students are dead set on a major, they're like, 'This is what I'm gonna do, this is my reasoning. I've been doing these types of preparations to go into this programme...' So there's about a third that are locked and ready to go. There's about a third that probably are down to a couple majors. So maybe they're between one, two or three things, but they have a direction, they have an idea, they have a sense as to which way they're going. And then the third is completely, I wouldn't say clueless, but I would say they're very open to explore what possibilities await them at a college.
Brad Baldridge
Right. And I would say the same thing. I wouldn't say something like 50-50, where choosing a college or a career path because they got a major or... It might be broad, might be like Healthcare, but they're not sure which exactly which Healthcare, but so they're looking for that type of college. And then we've got the other half where parents are saying, 'Well, my student is really undecided and struggling and not coming up with a hard and fast rule.' An interesting observation I have around that is some parents are very lenient and are fine with the idea that their student is undecided. And other parents are very unhappy about that. Or they're stressed about it. And they're pushing the student to make some decisions. And I think it really boils down in some cases as to how the parent did it. So a parent that struggled and was undecided. It'd be pretty forgiving, I think, but a parent that locked in when they were a sophomore and said, 'I'm going to be an engineer when I grow up or a doctor when I grew up,' and they've always known their direction. I think they have a hard time, emoting and dealing with a student. You're one of their children saying, 'I don't really know what I want to do.' It's like, 'Well just pick something and go. I mean, how hard can it be?' I see a lot of restoration around that. And I guess first of all, what's your opinion about going to college undecided? Is that okay?
Chuck Erickson
Well, I didn't say to your point of parents being frustrated, I am usually the one that people call. When the parents say to me, 'I already knew what I wanted. So when I was in high school, I was going to be a nurse, I went off I got my nursing degree. I'm currently a nurse, I love it. My child has no idea what they're doing, and I'm frustrated because I can't help them.' So those are the families that end up calling me because they don't know how to help their kid that way. But as far as going off to college undecided there are some great schools out there that work really well with undecided students, and they help students explore various majors and programmes. And this really works because for many colleges, a student doesn't have to officially declare their major until the end of the sophomore year for many programmes. There are some programmes you have to declare at the end of freshman year. But for a large amount of colleges, you don't have to write down, hardcore sign your name to a major until the end of the sophomore year, and even then there are times that you can change. So no, going off to college undecided isn't the end of the world. For many of these students, they're still young, they're still trying to figure out who they are, what's important to them, what are their values? What are their passions, and that may take a year or a year and a half of college for them to go, 'Aha, I think I have an idea of what I would like to do.'
Brad Baldridge
Right. And I think you alluded to a key ingredient there, though, is, if they're going to be undecided, you want to potentially favour colleges that have undecided as a skill of theirs or a specialty of there's some colleges, I think, because they are familiar with undecided, and that's the thing they do, they work hard to make sure that you're not taking a bunch of credits your freshman year that ultimately will be lost if you change majors. And I think other colleges, when you change majors and move around too much, you are going to pay that penalty because that's not their thing.
Chuck Erickson
Right. And of course, we right now are talking about a broad, undecided students. So in other words, all the cards are available to them. But there are also undecided within certain categories. So you could have a student who knows they're interested in engineering, but they don't know what type of engineering, so they could go undecided into a college of engineering, and that is still a pathway as well. Or if they're thinking of business, but they don't know what sub area of business they would like to focus in. They can go undecided to a business college and then take their first year to explore the various programmes within the business college. But what we were originally talking about is a kid who's complete blank slate, doesn't know what the heck they're doing.
Brad Baldridge
Right, for sure. And we've got some of the... I have a, one of my children is undecided still, and he's a junior. And that's okay so far. But he changes pretty frequently. Like I'm leaning towards this. And now I'm leaning towards that. And so it's like, we don't take great credence in anything he says, because we're pretty sure maybe by next week, or the following, it might be something different.
Chuck Erickson
Well, I mean, Brad, did you know, at age 18, that you were going to be doing what you are doing now?
Brad Baldridge
No, for sure, I didn't know, and we'll talk about that idea in a second, which is career changes and that type of thing. But no, I had no idea I was gonna do this, there is no major to do this. I actually have an engineering degree. And worked in the corporate world for a few years and said, 'I have had enough of this,' and have changed gears and went into financial planning. So yeah, there was no, no, I did not follow the grand plan that a typical engineering major would follow. For sure.
Chuck Erickson
While on there's definitely no perfect undergraduate major for what I do as a college counsellor. So I fell into this after working in admissions and going a different route. And I'm planning to originally work in the administration side of colleges and decided that I really liked being student focused, and helping parents and especially with all the craziness of figuring out higher education, I said, 'Oh, I could become a college counsellor, and I could help students navigate this.' So it fell into my lap. This was not my planned career path at all.
Brad Baldridge
Right? For sure. And I think, as seasoned adults, we realise that lots of people change careers, or they move into fields that maybe tangential, or maybe a complete 180. So your major isn't necessarily your career. And that's let's separate that. One of the interesting observations I've recently narrowed it on is that the idea that there's certain majors and certain careers that go together, and they're in lockstep, I mean, pretty much the only way you can become a nurse is to get a nursing degree. And pretty much the only thing you can do with a nursing degree is become a nurse, at least to start and obviously you can change careers and stuff still, but they really work hand in glove, so to speak, they're going to all fit together. Whereas let's say you wanted to sell real estate. Most of the people that sell real estate may or may not have a related degree. They come from all over my profession, financial planning, financial planners come from all over, because there was no financial planning degree until 5-10 years ago, at best, is where it started. Yeah, so that leads me to another interesting thing that I've been focusing on recently. And that's how a particular major may lead to a very specific career. And or a specific career needs a particular major. So things like nursing, right? If you study nursing, you're going to become a nurse. And there may be a few jobs that require a nursing degree or might take a nursing degree. But the vast majority of nursing majors go on to be nurses, at least to start and then they might change careers or move into management and other things like that. But there's certainly a lot of elementary education, nursing, engineering, accounting, lots of those types of majors where to be a CPA, you have to have an accounting degree. If you have an accounting degree, there's lots of other business and management that you ultimately might move into. So there's sometimes there's many majors for a particular career, and sometimes there's many careers for a particular major. And sometimes it's a one on one relationship. And I think most students don't understand that. I think as parents we probably do, because we've been in the world, but I think students think they understand the 'study nursing, become a nurse and study engineering become an engineer,' they don't really understand 'study, general finance and become a financial planner, or a real estate broker, or a property manager, or an advisor of some sort.'
Chuck Erickson
Or just an accountant for a big firm or all sorts of other people, or all sorts of other things that are out there.
Brad Baldridge
Exactly. Or entrepreneurship are now... There's a
Chuck Erickson
Right.
Brad Baldridge
Wide open areas that you could go to.
Chuck Erickson
Yeah, it's the same thing I hear about, 'My kid loves to, to read and write, but what the heck can you do with an English major?' And I say, 'Well, basically anywhere where there is written or spoken word, an English major can help with that. So whether it's doing publishing, or writing or editing, or all sorts of different careers that are connected to English.' But I don't think in America, we've done a great job of helping students and families understand, 'Okay, if you do this particular major that may not have a direct job, what are the possible jobs that can come from majoring in that particular subject?' So that's hard for students and parents to understand. And that's one of the things that I help students and parents do is figure out, 'Okay, what to do with a history major,' and help them realise all the potential career opportunities that are out there?
Brad Baldridge
Right, absolutely. So let's change gears a little bit and talk a little bit about some of the majors out there that are talent-based majors. Things like Music, and Art and those types of things? What makes them different than the typical majors from a parent that has a high school junior that's talking about these types of things?
Chuck Erickson
Yeah. So when you're talking about the talent-based majors, Music, Art, Theatre, Dance, those particular areas, those aren't really things that students can just instantly start when they go to college. So it's not like the kid can wake up senior year and say, 'Well, I think I'm going to be a dance major.' This is something that takes years of practice and preparation, they do not have to be perfect, performance-ready when they graduate high school because colleges are really looking for two things. They're looking for that talent that interest that skill base that students have started, but they're also looking for teachability. Are these students willing to be taught willing to be coached willing to be moulded and pushed to the next level? The twist is, though, is that when you're searching for colleges, you now add this extra layer of, 'I don't only have to find a great college, but I have to find a college that will serve my talent, and help me better my talent in a certain way.' So not every college has a dance programme or an art programme. So maybe, are you going to a specific dance college or a specific art school that would push you in those directions? Or do you want to pair it with something else. So you need to go to a college that has both a great art programme, as well as geology if you wanted to do something outdoors, ever. So the talent base majors take a bit more preparation. Also, most of them require either an audition or a portfolio or an interview, something where you're not only being assessed for your academics, like every other kid applying to college, but you are being assessed on your talent as well. So that can add an extra layer of sophistication to the college search.
Brad Baldridge
Right? Absolutely. So you're going to have to demonstrate basic skills and your instrument if you're a musician, or you're going to show up for some audition and do some dance in front of, I would judge that typically faculty, probably?
Chuck Erickson
Typically. Yeah, so for some colleges, there's a preliminary type screen that may be done by faculty and or someone in the admissions office. But the final audition is almost always done by faculty because they are the ones that are going to be teaching the student and so they want to see, 'Okay, is this someone that I think I can work with?'
Brad Baldridge
Yes. So another anecdotal story. I had a family where the student was a trumpet player, and he really wanted to learn jazz trumpet. So one of his search criteria and choosing a major and the college was, 'I need to find the college that will support jazz trumpet.' He didn't really want to study jazz trumpet under a classically trained instructor. So he wanted something that was in the community and perhaps has enjoyed jazz enough that that maybe that instructor was already on the jazz scene on Friday night and could introduce him around and get him involved into that community.
Chuck Erickson
Yeah, and that's what's great also about the talent-based programmes, is that you don't have to do a full major. IIf engineering is your passion and want to keep playing in jazz band, there are plenty of colleges out there that allow students to do that. So you can have your cake and eat it too. One of my favourite students of all time was a person who was biology and flute performance. So she really loved playing the flute, but she also loved biology. And she's now a doctor, but uses actually some of the music training that she's had in her work as a doctor. So she was able to continue playing in the symphony in college and taking flute lessons while preparing to go to med school. And that made her an interesting med school candidate because she could talk about the connection between the body and music in her med school application.
Brad Baldridge
Right, I guess speaking of med school, we do have those careers that require the grad degrees. So let's talk a little bit about that. I think a lot of people say, 'I'm going to go to this college because they have a great physician assistance programme. So I'm going to go there for my undergrad.' And I think people are surprised to understand that you're not necessarily going to get into the physician assistant programme by attending their undergrad, it might give you a little bit of a boost. But it's not an automatic, again, unless you understand the direct admits system. But it's another challenge that families need to deal with.
Chuck Erickson
Yeah, absolutely. There is the direct programme where you are applying as a high schooler essentially to say, 'I'm interested in your undergraduate programme and your grad programme simultaneously.' So it's basically holding a spot for you in the grad programme. These can be very intense in their admissions criteria, and extremely selective. But there are also some assured admittance programmes where if you get through the freshman year at college, they will hold a spot for you in grad school, and those are a little bit less intense. But I'll give you one favourite fact of mine. The Harvard Medical School, very few of their students actually come directly from Harvard undergrad. They typically have students from well over 100 different colleges, that they accept into their medical school every year. So you do not have to go to Harvard for undergrad in order to get a spot in their med school. And that's true for all the medical colleges across the country. They are recruiting students far and wide for their medical programmes, they are not just looking at their undergrad.
Brad Baldridge
Right? Absolutely. And the flip side of that is, especially some of the smaller colleges out there that have some grad programmes, where they very much favour their own undergrads, where they have a direct admit system, I think, a popular direct admit, what might be, physical therapy as an example where
Chuck Erickson
Yes.
Brad Baldridge
You go to that school as an undergrad, you do three or four years as an undergrad, two, or three or four years as a grad level student, and you graduate with a Master's or PhD in Physical Therapy, and then you're off to work.
Chuck Erickson
Yeah, physical therapy now has moved to a doctorate degree that is recent, within the last few years here. And we are now seeing these colleges promote a three plus three. So it's three years of undergrad, three years of graduate school, and you graduate with your Doctor of Physical Therapy, and you're off and running. And that is a great for students who are dedicated and committed and ready to go that direction, because you typically save a year or two of schoolwork, which allows you to get into the job force earlier, which allows you to earn money earlier. So for a student who's really driven in those directions, they are great programmes for students to consider. But they are intense. And as you said, like nursing, if you graduate with a physical therapy degree, you're going to be a physical therapist. So there's not a whole lot of other career opportunities that spin off of physical therapy.
Brad Baldridge
Right, exactly. And again, if it's your chosen career path, there's a couple of benefits from a financial side of things. One is, if you meet all the rules, you don't have a second layer of, 'Now I have to apply to grad school and maybe I'll get in maybe I won't,' you know your exact path and achieves a year or two off sometimes. And why do colleges do this? Well, if you've got a successful grad programme, a good way to leverage that grad programme is to get students that also come for undergrad. So if you have like a great grad level programme that does PT, you can leverage that and say, 'Well, we're only going to take our take a majority of the students from our undergrad programmes. That way, not only do they pay us for the grad programmes, but they pay us for the undergrad programmes.' And the colleges can be pretty selective in those programmes because there is a benefit. So a lot of times the average student in those programmes is a stronger student than their average student across the board. And
Chuck Erickson
Yep,
Brad Baldridge
Again, because they may get hundreds of applicants for 25 spots or something, where they can be selective. Whereas they might only get 100 applicants for 100 history major spots, which means they're going to take just about everyone.
Chuck Erickson
Right?
Brad Baldridge
So it's a win win situation; it's great for the student and the family where it's a good fit, especially. And it's great for the college because they get six years of a strong student and good pay, etc, etc. And everybody wins.
Chuck Erickson
Well, and it also it saves them money, because they don't have to recruit new students to fill their grad programme, because they already have a crop of undergrads ready to fill those spots to the college actually saves money with not having to go and find students to fill that grad programme because they can fill them in with their own students. So yeah, like, as I mentioned before, it is a hardcore commit. And for some 17 year olds, for them to dedicate the next six years of their life to something is momentous. I mean, keep in mind, most teenagers can't pick what they're going to have for breakfast tomorrow. So for them to lock in the next six years of their life can be very daunting for some of them.
Brad Baldridge
Yes, for sure. And that's where you want to see what happens if you want to bail out so to speak, and stop at undergrad or change majors or various schools will have various opportunities, just looking at the plan B just so you know what's available, I think makes sense for most families. Alright, so let's go back to the student that's trying to figure out what they want to be when they grow up. I know, prior to hitting record, we talked a little bit about there's resources out there one obvious resources to work with your school, your school counsellor often works with students and they have, and again, depending on the state you're in, and their requirements, a lot of high schools now have requirements that are trying to make, here in Wisconsin, they call it 'college and career ready.' And they're supposed to be teaching students, some of the basics around career and college and alternatives to college and all the different paths that they could take as part of the high school curriculum. So can you speak to a little bit about what software or tests or what can students do if they wanted to learn more about what their talents or paths might be?
Chuck Erickson
Yeah, sure, as you said, always start with the high school a lot of schools offer online type programmes through their systems that they have available to students. So it's either called Xello, or Career Cruiser. Those are available right through school websites, and counsellors hopefully are promoting those with students as well. Almost all of the major college search guides that are out there. So Peterson, Princeton, College Board, all have tools on their websites on how to pick a major. So those are typically free. So students can go on there and it will ask them questions about what type of things to they like to do inside outside of the classroom, what type of subject areas have they enjoyed, what type of what they want their future career to look like those types of things. For students who are really undecided or for students who want to do a deep dive and really analyse themselves a little bit, one that I use with students is called YouScience y-o-u-s-c-i-e-n-c-e.com, so youscience.com. It is extensive, it takes about two hours for a student to complete the evaluation. But once that evaluation is complete, the student and family are given a plethora of options for possible majors possible careers, skill based things, it also gives them ideas as to how the student can improve their learning styles within school. So it's a really great resource and it's very affordable for parents to get on the website. So that's youscience.com. And but also, I always encourage students and families to think about... stop thinking about the word major because students don't understand what the word major or minor is. I would even say ask a student, 'What challenge do you want to face in the world or what challenge you want to work on or problem do you want to work on in your world or in your society? Or help them think about what do you want your possible job to feel like? Do you want to be outside you want to be in an office? Do you got to work eight to five? Or do you want to be running around on your feet all day and working third shift?' So help the student understand parents can really help by introducing their kids to their other fellow professionals. Go shadow someone at job over the summer, go check out, visit your... Parents, bring your kids to visit your best buddy who does something, an interesting career and have your kid shadow them for a couple hours. It doesn't have to be much but kids only know their parents' jobs and not much else. So help get them some exposure as well.
Brad Baldridge
Right, absolutely. I think there's another resource would be the colleges themselves as you're getting involved in Healthcare. I think a classic example's Healthcare. Most students understand nurse, they understand doctor and then if they've used Healthcare a lot, they might have been familiar with PT, because they've gone to a PT because of a sports injury or something. But a lot of students don't understand the plethora of all the different texts and masters level and grad level medical professions out there, and they're inventing new ones all the time because here, systems are growing, and we need more personnel and that everybody can be a doctor. So they need to have some other professions and the new sciences are on genetics and new scanning technology. I mean, there's just a plethora of stuff out there and you can learn more about it by plugging into colleges that offer some of the majors.
Chuck Erickson
Yeah.
Brad Baldridge
If you're not interested in college, right, you could go to that college, because they're having a 'Nursing Day,' and you're gonna learn about nursing. And even if the college is ultimately going to be on your list, if you can visit in person, because it's geographically convenient, it's down the street. And very typical student would say, I'm not willing to go to a college that's right down the street, no matter how good it is, because I want to go somewhere else.'
Chuck Erickson
Yep.
Brad Baldridge
So but you can take advantage of that school down the street, and learn about a major. And if you then like the major, you can say, 'Now let's go find a school that's far away that has that major.'
Chuck Erickson
Yeah. Another great way is a lot of colleges are offering online summer workshops, or summer seminar type things, where students can log on and explore a particular major. And so there may not be a college near you, that has a programme, but if you search for college summer camps, there are a plethora of opportunities online where a student can experience, 'Okay, what does a computer programmer do? What does someone who works as a professional author or writer do? What does someone who's a research scientists do?' And summer camps can also give students are a way to dip their toes in and see what it is like. And many colleges on their websites, they will say, with a major, what careers have their alumni gone into. So you can pull up a certain major and then take a look at, 'Oh, you can go into a wide variety of careers with this major.' So part of it is just getting the kids to explore, and some of them I know are reluctant. But that's when parents can do it with them. And parents can also explore different careers, and maybe you'll find a career new one for yourself. So that's a great way to help students just open their eyes and see what all is out there.
Brad Baldridge
Right. And then finally, of course, families can hire Chuck, or someone like Chuck, who can... This is something they've done before. So it's not, you don't have to learn as they go, they've done it over and over over again. They're the expert, they can help. And again, if it helps you pick a better path and you avoid losing credits, or you can shave a year off your college career, then it's obviously money well-spent. And even if it just leads to a happy, productive student, sometime in your future, it's probably worthwhile. It's like everything else, the science and the around it, as well as the specialty of it has grown and 25 years ago, and you and I went to college if you stumbled around and had four majors and it took seven years, almost no harm, no foul, because college wasn't that expensive. And you probably could recover from that pretty quickly. Completely different story today where that's not the ideal path for anybody. What are your thoughts?
Chuck Erickson
Yeah, I can name some friends who I would call 'professional students,' who spent a lot of time in various majors and ultimately graduated, but something just to get them out the door. But yeah, I encouraged students to think about majors. But I also remind students that you can change. So maybe you start with something broader in undergrad and you go into something a bit more focused in graduate school as a way of honing what you would like to do. I just don't want students to freak out and think that at the age of 17, they need to know what their absolute career is, because that's a lot of pressure on some of these kids. And so I just want them to understand that... We haven't even talked about this, but some students take a gap year after high school, and they spend a year trying to explore careers and figure out what they want to do before they go to college. And that is something that I'm seeing increased frequency with. So there isn't a correct path that everyone has to go on. If you're unsure of a major, there are programmes out there that can help you. If you're absolutely sure of a major, there are definitely colleges that will fit you and can get you rocking and rolling on that career. And all of those paths are quite perfect.
Brad Baldridge
Absolutely. And then to broaden the picture, maybe a little bit of self evaluation for the parents to try and figure out what it is that they think college is providing. And does it match with what the student is thinking about? Because
Chuck Erickson
Yes.
Brad Baldridge
College means different things to different people. I know a number of parents that get quote unquote, frustrated with, 'Well, that major doesn't lead to a good career. Why would they study that?' or because they believe college is training for your future job. Which in many jobs it is, and many majors, it is, but other majors, maybe not so much. And other families are really interested in the halfway between living at home and being full-fledged adult, you get this for years to get out of the nest, but have some support. And you can go to college. And most parents are saying, 'I want my kid to have that college experience.' And what does that mean? And what are you willing to pay for it? So I think there's a couple of different thoughts around what are your goals that impact, are impacted by major and career choice and some of those things?
Chuck Erickson
Yeah, absolutely. I can't agree with you more. That part of college is learning how to be independent, and learning how to be a self initiator, a self starter, an explorer, a navigator. So part of the job of college is to help our kids grow up. It may not be perfectly to get a, 'Here's your six-figure job right out of college,' that might not be the purpose for everyone. For some, it is literally giving the students the opportunity to spread their wings, explore new things, maybe you live in a different part of the country, maybe try a new sport, or try a new activity, but really helps them interact with new people learn how to learn and unlearn and learn how to do new projects with new types of students that they've never interacted with before. So those are some things that are valuable skills. When you talk to employers, they want students who can communicate, who can interact, who can work with wide variety of people, who are not afraid to jump in and try something new. And those are some just basic skills that are learned at college no matter where you go.
Brad Baldridge
Right. Absolutely. So again, I think we could talk about this for another hour or two, but we need to wrap things up. So I guess one of the things that you and I will do, and we talked about this earlier is we're going to put a PDF together where we're going to put some of the links to the software books, other resources around choosing a major that build a cheat sheet for parents that might need some help. If you just come to our website, you should be able to download the PDF and sign up for our newsletter. And a way to give you a jumpstart on what resources you might want or need to help with this particular situation. Any final thoughts, Chuck, before we wrap it up?
Chuck Erickson
No. Good luck in finding a major and hopefully finding a career that works in the long run.
Brad Baldridge
Yes. Sounds great. All right. So let's wrap things up. The next podcast is going to be about college research. So we're going to talk a little bit about databases and how to research colleges and what types of things you'd want to try and figure out when you are researching a college. So stay tuned, and that will be available next week.
All right, that was a great discussion about choosing a major. Don't go away, we still have Brad Recommends coming up. But before we jump into that, I just want to remind you that you can get the resource by going to tamingthehighcostofcollege.com/122. And today's resource is a list of websites that help families choose majors. So if you go to the website, right below the podcast player, you can enter an email. And we'll send you a PDF with links to five or six different websites that are useful if you're struggling with choosing majors, or you otherwise need some help. Also on the website, of course is all the notes and a transcript. So if you want more information about any of the links that we've talked about, you can go to tamingthehighcostofcollege.com/122. If you ever have questions, please feel to reach out, send us an email, contact us through the website. So let's go ahead and jump into Brad Recommends
Presenter
The latest tips, tricks, and tools you can use today. This is Brad Recommends on Taming The High Cost of College.
Brad Baldridge
Today on Brad Recommends, I'm going to recommend your high school as a great college resource. Now, I don't know much about your particular high school, but I know many high schools out there are proud of the fact that they send some of their students off to college and they provide college and career resources. One obvious benefit would be the school counsellor and in some high schools, you may have a dedicated college counsellor as well. But again, there's people there that are going to help your student plan and prepare, figure out what they want to be when they grow up and just be a resource available to your family. In addition, many high schools invite college reps to come on campus so your high school student may be able to meet with reps from various colleges to learn more about a particular college. There's info nights at many high schools where they will do a 'financial aid night' or a 'choosing a major night', or all kinds of different information sessions that may be available. Usually there's a college section on the website for the high school where the resources may be housed. Often there are scholarships available that are very specific to your high school. So that would be available on the high school website. Or perhaps there's still a drawer in the counsellor's office. And of course allow for these counsellors will send out a newsletter, with information on what's coming up, and you want to make sure that you're aware of where that newsletter is. So you can plug in and stay informed. So, right after you get done with this podcast, you need to go to the website of your high school and see what's available and get yourself plugged in. Maybe pop a quick email to your school counsellor, just to see what resources are available and maybe schedule a quick phone call or meeting. So again, plugging into your high school is a great way for families to get information and offering one on one help with the college process. You just need to be aware of what's available and take advantage of it. All right, that's all we have for today. I appreciate you listening. Again, we love to get reviews. So if you've enjoyed these episodes, please give us a honest rating and review in Apple or wherever it is that you're getting your podcasts from. They help us get found by other people that are looking for information on college. That's all we have. And we'll see you next week.
Presenter
Thank you for listening to the Taming The High Cost of College Podcast. Now it's time for you to take action. Head to tamingthehighcostofcollege.com for show notes, bonus content, and to leave feedback for Brad. The next step on your college journey starts now. Brad Baldridge is a registered representative of Cambridge Investment Research and an investment advisor representative of Cambridge Investment Research Advisors, a registered investment advisor. Securities are offered through Cambridge Investment Research Incorporated, a broker dealer and member of FINRA and SIPC. Brad owns two companies: Baldridge Wealth Management and Baldridge College Solutions. The Baldridge companies are not affiliated with Cambridge Investment Research.
Transcribed by https://otter.ai
Sign up to receive email updates
Enter your name and email address below and I'll send you periodic updates about the podcast.