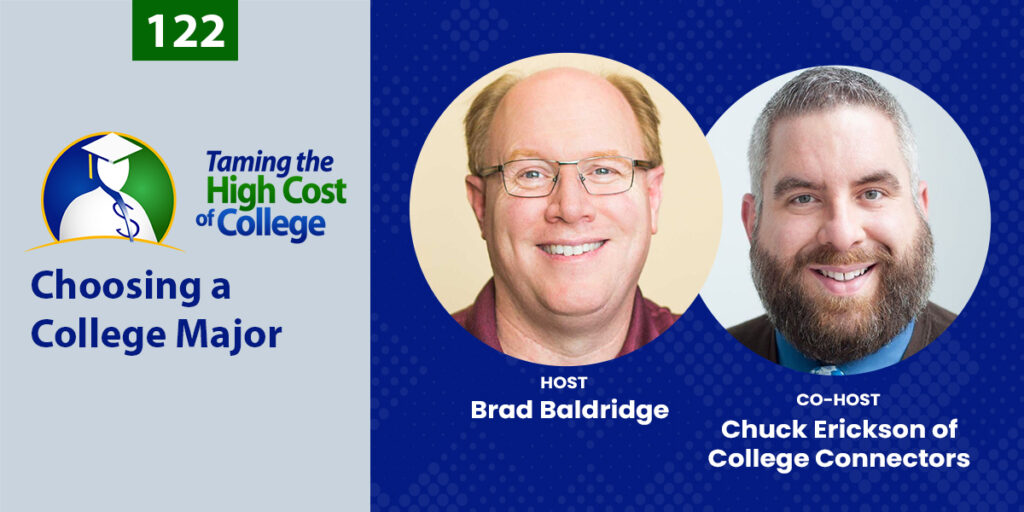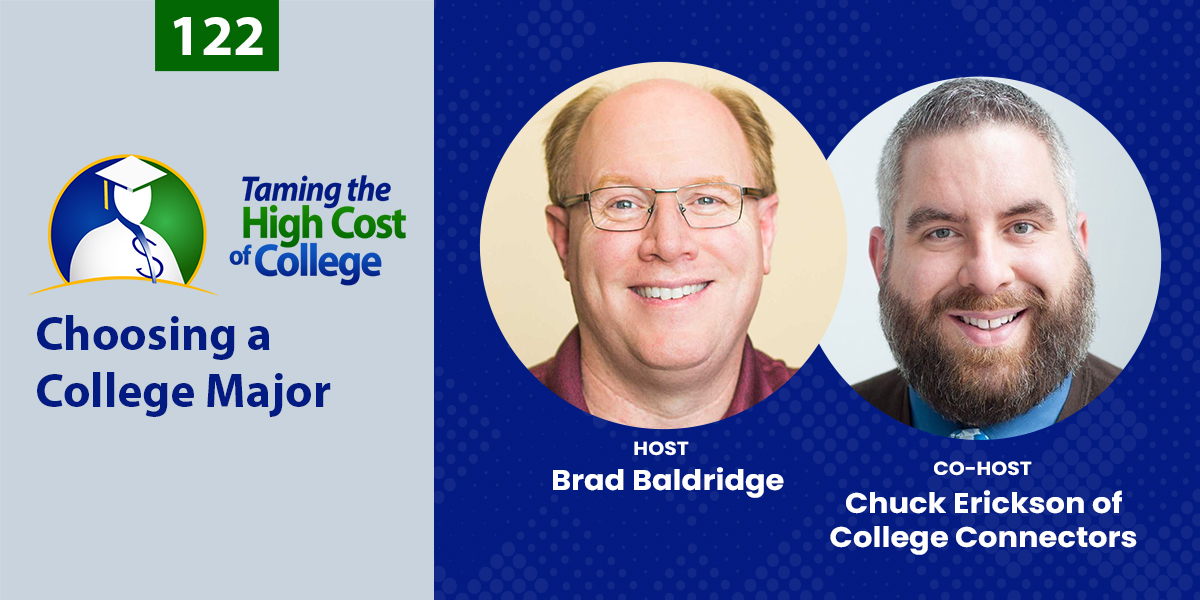 Access This Episode's Free Resource
Download my list of top recommended links and free resources to help your student learn about and choose a college major. Subscribe to my free college planning e-newsletter or confirm your subscription to get the free PDF now.
---
Today's Guest:
Chuck Erickson, Independent Educational Consultant from College Connectors
As an independent educational consultant at College Connectors, Chuck has worked in higher education for 15 years, helping students and families with the college admissions, applications, and career planning process. Along the way, he's learned many great tips to help parents and students evaluate potential majors and careers, including the key questions you should ask and what to do if you're undecided. Listen to Chuck and Brad to hear all the great advice on how to choose a college major.
Questions Answered Today:
Is going to college "undecided" a bad thing?
No. Going off to college undecided isn't the end of the world.
According to Chuck, while 66% of the students he has worked with have an idea of what they would like to major in, 33% are very open to exploring all the possibilities that college can offer.
Being undecided doesn't have to be a problem because there are some colleges that work really well with undecided students. Besides, most colleges do not require students to declare a major until the end of their sophomore year, giving them plenty of time to figure out what they want to do.
If your student is undecided, your goal becomes finding a college that specializes in guiding undecided students toward the right path.
What can I do to help my undecided student?
As an adult, you know that your major does not necessarily become your career.
Your major is not necessarily a lifelong commitment or restriction. A particular major may not have a direct job, but there are numerous jobs that may be suitable.
For example, English majors may not have a specific job they can truly own, but wherever there's publishing, writing, editing, or other English-related careers, they can fit.
"Sometimes there are many majors for a particular career, and sometimes there are many careers for a particular major. Sometimes it's a one-to-one relationship." – Brad Baldridge
Students should know that they can study nursing and become something else other than a nurse, the same way that they study accounting and become something else other than an accountant or a CPA.
For students to maximize their potential, you have to help them realize all the possible career opportunities available.
What if my student prefers a talent-based major?
Obviously, majors such as Dance, Arts, Music, Theatre, and the like require years of practice and preparation. It pays to know that, for these kinds of students, colleges are looking for two things: talent and teachability. It would help to ask these questions:
Am I willing to be coached, molded, and pushed to the next level?
Do I have an audition/portfolio prepared, aside from my academics-related requirements?
Do I want to focus on Dance/Arts/Music/Theatre only? Do I want to pair it with something else?
Chuck says that talent-based programs don't have to be your major. They can work alongside your actual major. In fact, engaging in these talent-based programs that genuinely interest you can make you an interesting candidate for whatever you're majoring in. Take a look at this scenario:
There's a student who both loved Biology and playing the flute. She was able to play in the college symphony while preparing for med school. She ended up becoming a formidable candidate for med school because she could talk about the connection between the body and music in her med school application.
What about those careers that require graduate degrees?
There are schools that do not require their graduate students to come directly from their undergraduate program. In fact, most medical schools across the country, including Harvard Medical School, accept students who finished their undergraduate studies at other colleges. However, there are med schools who favor their undergrads.
There are schools that do not require their graduate students to come directly from their undergraduate program. In fact, most medical schools across the country, including Harvard Medical School, accept students who finished their undergraduate studies at other colleges. However, there are med schools who favor their undergrads.
A "direct entry program" is a win-win for the student and the school. For example:
Physical therapy education can take just three years for undergrad and three years for graduate school in a direct entry program. That's two years fewer than normal, which is two years reduced from college expenses, and a two-year head start in the workforce.
The school saves money as well because it doesn't have to find suitable candidates for graduate school, as they are readily available from the heap of undergrads.
In case you missed it, direct entry programs requires hardcore commitment, especially from a 17 year-old that is just beginning to explore the outside world. Hence, it takes a lot of consideration and grit to pursue this type of admission.
What can I do to help my kids learn about the path they may want to pursue?
There are tons of things you can do to guide your student:
Even in high school, career guidance software programs such as Xello and Career Cruiser are available for students, alongside counsellors. Peterson's, Princeton Review, and College Board all offer assistance in picking a major through their websites.
For those who are clueless but curious, Chuck recommends YouScience.com. The YouScience website gives details of possible majors and careers after a two-hour assessment. It also provides recommendations on how to better the student's learning styles. It's a great resource that is reliable, affordable, and easily accessible.
Provide them with an actual experience of what a major feels like. Go to nearby schools that are having a "Nursing Day," or any kind of open house, culminating activity, summer camps, workshops, or seminars. These may open their eyes and help them narrow down their options.
Chuck also encourages parents to not overwhelm students with words such as 'major' or 'minor.' They might not even know what they truly mean. Instead, gauge what they want by asking these questions they may have answers to:
What do you want your possible job to feel like?

What challenge do you want to face in the world? What challenge do you want to work on?

Do you want your job to be outside, do you want it to be in an office?

Do you want to work eight to five? Or do you want to be running around on your feet all day and working a third shift?
Show them your actual job. Afterwards, you may introduce them to some professional friends and perhaps send them to their offices just so they can see other jobs in action.
Work with professionals like Chuck. We want your student to be in a career they'll be happy with, and we want your money to be well-spent.
In the end, college may have different purposes for everyone. What's important is that, as a parent, you understand that college is a place for your son/daughter to explore new things, interact, communicate, take risks, and learn the most valuable skills they'll need once they step into the real world.
---
Links and Resources
Helpful Resources
---
Brad Recommends:
If you're looking for help in getting started with college planning, you don't need to look far. More often than not, high schools are a great provider of career and college resources.
You'd be surprised with what high schools have:
There are high schools that invite college representatives to campus. Your student gets the chance to talk with representatives from different colleges, allowing them to get to know some colleges and sometimes those on their list .
Many high schools hold events such as "information sessions" or "info nights" that provide more details about various colleges. The sessions include, but are not limited to:

"Financial aid night"
"Choosing a major night"

High school websites may also have a section reserved for college resources. There, you can find information like scholarships that are available specifically for students at your high school.
High schools have school counselors. School counselors can provide the initial resources you need to get started by sending out newsletters,so make sure to find out how those are being sent out. If your student got really lucky, their high school may even have a dedicated college counselor.
Remember that you can only take advantage of what you know is available. So, right after you're done with the podcast, make sure to plug into your student's high school by:
Visiting the high school's website
Connecting to the school counselor through an email, phone call, or meeting
Finally, here's pro tip that works for all:
You'll take so much load off your shoulders if you can work with professionals (e.g. independent educational consultants, financial aid consultants, etc.) that can help with you and your student with planning (i.e. finding a good fit school, choosing a major, etc.).
---
THANKS FOR JOINING US!
We'd like to extend an invitation to our listeners to share their feedback and questions. Contact us to submit a question to our email.
If you find our podcasts helpful, please share us on social media and tell your friends!
The bottom line is that we care what you think and want to help you out, so we'd appreciate you reviewing us on iTunes or on Stitcher. And even better, receive automatic updates by subscribing to the show on iTunes or Stitcher.