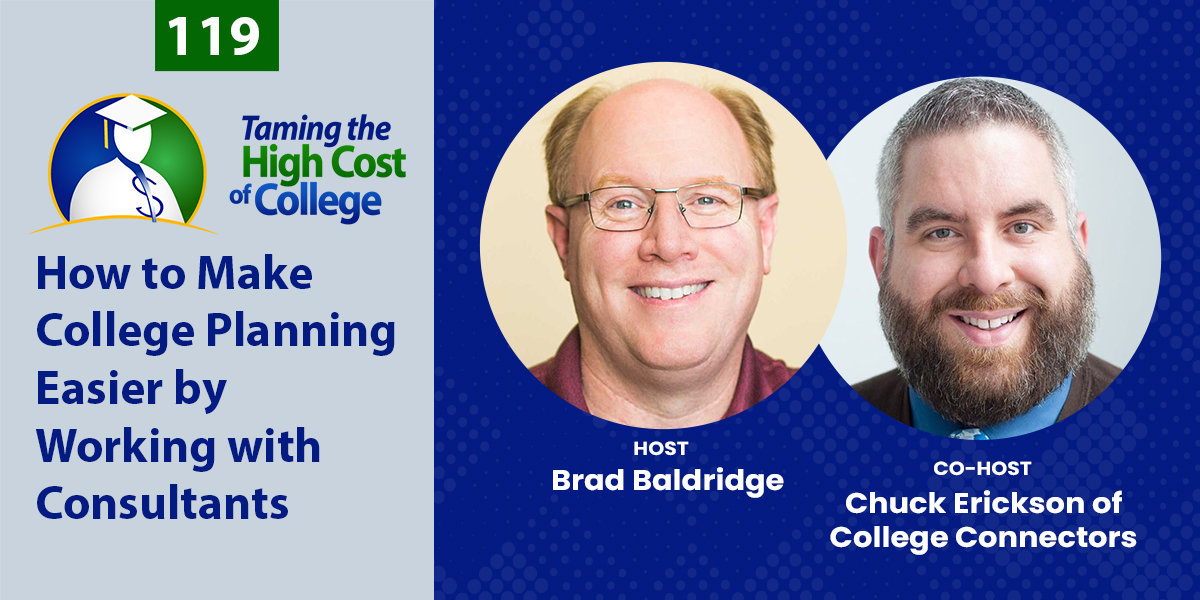 Today's Guest:
Chuck Erickson, Independent Educational Consultant from College Connectors
According to Chuck, independent educational consultants are "professionals that have experience and knowledge about the college admissions and application process, but are not directly connected to a specific high school or college."
As an independent educational consultant at College Connectors, Chuck has worked within higher education for 15 years, assisting students and families with the college application process. He has lots of information and tips to help you get started, so listen to this episode if you'd like your college planning to be easy and seamless!
Questions Answered Today:
How much time do I need for the application process?
You may think there's plenty of time, but most students and parents quickly discover that there is very little time for the whole college application process, which takes about 16 months. The entire process competes with exams, projects, deadlines, and everything senior students need to accomplish before graduation. You need to move quickly and stay on top of all deadlines. Otherwise, the next thing you know, your son or daughter will lose his or her chance to enroll in his/her preferred college or university.
It's also important that parents realize you can separate what parents need to do and what students need to do with college planning. Parents can do some of the things whether their student is ready or not.
Why do I need independent educational consultants?
When planning for college, it's a must that you and your son/daughter work hand-in-hand with high school counselors and preferably with independent educational consultants. Chuck, an independent educational consultant (IEC), elaborated the differences between a consultant and a high school counselor and why you should opt for an IEC to guide your child one-on-one.
High school counselors are readily available at school, but their time availability is limited to an hour per student, and the ratio of one counselor per 100 students doesn't seem like they can give intensive focus to your child. Counselors can be relied on for the following services:
Sending students' transcripts to colleges
Navigating letters of recommendation
Sending the high school's profile to the college
Other similar services
Independent educational consultants, on the other hand, are not affiliated with any high school and typically have much more time available to help your student. They don't have access to the school documents that high school counselors handle, but you can count on them for:
Helping you get started on college planning at the time of your convenience
Introducing your student to hundreds of colleges they know very well
Assisting your student with the entire application process
Assessing your student's preferred academic and social environment, among other things
I always want to find out: what are the goals of the students and what are the goals of the parents?
Knowing the right people to work with takes some load off your shoulders!
Who else should I work closely with?
You can also work with college financial planners such as our host, Brad. Brad says that you can opt for early-stage college financial planning for newborn or two year-olds, or for late-stage planning for high schoolers as early as their freshman year.
He gauges the parents' readiness for college costs and asks questions such as:
Are you considering state public schools or private schools?
Are you willing to co-sign a loan in case an issue with getting a student loan comes up?
If you have multiple children, how do you plan to divide the costs?
Ultimately, the earlier you ask for help from experts like Brad, the more financially ready you become.
The reality is most people don't have all the money they're ever going to need for college. It's still a work in progress, so we're trying to figure out how to use your money efficiently.
It's your hard-earned money. Protect it by spending it wisely!
Why should I plan early?
In case you missed it, the college application and recruitment process takes about 16 months. Tedious essays, several recommendation letters, application forms, and financial aid forms are just some of the requirements they ask for, and there are nearly 3,000 college opportunities in the United States alone.
Sounds tight? Here's another thing you might not know: colleges are big on deadlines.
Both Brad and Chuck agree that when it comes to preparing for college, you can be late and miss a lot of opportunities for your student, but you can never be "too early." Which route would you want to take?
My biggest caution around the timeline is: I've never ever had anyone tell me, 'We started this too early.' I've had a whole lot of people tell me, 'We started this too late.'
Ask for the help of the experts as soon as possible, so your student can get the best advice and start planning early.
What do I lose by not planning early?
You should start college planning way before getting your student's SAT scores, GPA, and school rankings. Why so early? Here's a scenario from Chuck:
Your son wants to take Engineering in college. However, for him to get in, he needs to take Calculus as a prerequisite. If you're unaware of this, your son may have to double up on math, at the last minute, just to catch up.
This can go differently if you start planning as early as the freshman and sophomore year. There are a lot of things to consider when planning: the student's testing skills, interests, preferences, and more. Just remember that planning doesn't have to be hectic. Reach out to consultations early, and help yourself by getting your student into college as smoothly as possible.
What else should I know as a parent?
Trust the experts when they tell you to start college planning as early as possible. You may not realize this, but as a parent, in your own simple ways, you can give your student a glimpse of what it actually feels like to be in college. It doesn't have to take too much of your time. Here are some recommendations:
On your day off, make quick and informal visits to local flagship state schools or local private schools.
If you're visiting a relative or a friend, take time to visit some nearby colleges.
Making campus visits allows you and your student to see how colleges operate, which can help a lot in the selection process.
Most importantly, make sure that your student's options are not limited, so when the time comes, your student and family can make a decision that benefits everyone in the long run.
---
Links and Resources
Helpful Resources
---
Brad's Recommends:
Visit our website Taming The High Cost of College for additional helpful resources. Here are the most important ones parents would find helpful:
The College Planning Jumpstart is a complete video course that teaches you everything you need to know about how to plan and pay for college, how to maximize financial aid, how to prepare for testing, apply for scholarships, get low-cost student loans, and choose the right school.
The Expected Family Contribution (EFC) Calculator asks for your income and assets to determine your financial eligibility to contribute to college costs.
Net Costs of College by State are also available, showing you how much one year of college at specific schools will potentially cost your family, based on your income. You can view the average net costs by income bracket for colleges in all 50 U.S. states. Net cost is the total cost of attendance for one year, minus government grants and institutional scholarships, and my website shows the latest available data from the U.S. Department of Education.
Sign up for my free e-newsletter that's loaded with college planning tips, advice and secrets that will help you save time, save stress and save money.
The Scholarship Guide for Busy Parents is a free video series that will help you understand need-based and merit-based scholarships, what opportunities there might be for your student, and whether to apply.
The Taming the High Cost of College Podcast features well over 100 episodes of college planning tips, advice and interviews with leading experts on an array of important topics. Check out our complete list of episodes and make sure to read the show notes to find out which ones are most relevant to you.
---
THANKS FOR JOINING US!
We'd like to extend an invitation to our listeners to share their feedback and questions. Contact us to submit a question to our email.
If you find our podcasts helpful, please share us on social media and tell your friends!
The bottom line is that we care what you think and want to help you out, so we'd appreciate you reviewing us on Apple Podcasts, Spotify or your preferred podcast platform. Even better, to receive automatic updates, please subscribe to Taming the High Cost of College on Apple Podcasts, Spotify, or wherever you listen to your favorite shows.
Brad Baldridge
Welcome to Taming the High Cost of College. This is Episode 119. In this episode, Chuck and I are going to talk about college planning at the highest level and introduce you to the many areas that go into a good college plan. So if you're the parent of a high school student, and you're working on college, or even just starting to think about college, you're in the right place.
Presenter
You have kids, they grow up. And before you know it, it's time to plan for college. Where do you start? How much is it going to cost? you qualify for financial aid? Should you be looking into scholarships? Will you be able to retire? What about student loans? The list of questions is never-ending. The good news is all the answers are right here. Welcome to the Taming the High Cost of College Podcast here is your host Certified Financial Planner, Brad Baldridge.
Brad Baldridge
All right, welcome back to Taming the High Cost of College. I'm your host, Brad Baldridge, you've been following us for a while, you'll notice that the podcast took a very long hiatus. But we are back, we are going to start creating more podcast episodes. So stay tuned. Matter of fact, I'm working with Chuck into build about 11 episodes. So we have this intro episode where we talk about the overall college planning and some very general terms around college planning. And then we have 10 more episodes where we're gonna dive a little deeper into 10 different topics. So this should be a great series debt for most families to understand how college planning works, and maybe get the basics in many different areas as a great way to jumpstart your college planning. As always, we have show notes available and shownotes have all the links and additional information so that if you're driving or exercising, you can just go to the website at taming the high cost of college.com slash 119, which stands for Episode 119. You go to the show notes. Again, you'll have all the links and all the various information that we discussed in this. So you don't have to try and write things down while you're listening. You can always just go to the website and download information. Or sometimes there'll be links and other resources right there on that page. Alright, without any further ado, let's go ahead and jump into the first podcast in a long time where we have a discussion about the introduction to podcasting with Chuck. Here we go. Hi, and welcome to taming the high cost of college. We're gonna be doing things a little differently for the next 10 or 11 episodes. So I invited Chuck to be my co-host. So welcome, Chuck.
Chuck Erickson
Hey, Brad, thanks for inviting me.
Brad Baldridge
Yes, so Chuck is committed to helping me out on the next, as I said 10 or 11 episodes, and we're going to talk about a number of different college planning topics. And this is going to be relaunching the podcast. So if you go back and look, you'll see that we've got some some gaps in our episodes where we have had a couple of years off, but we're back, we're strong. And we're going to be posting these next 11 episodes in a timely fashion and taking it from there. So jack is going to help me and Jackson expert. He's an independent education consultant. So let's take a minute and talk with jack and learn a little bit more about what he does and how he does it. So jack, tell me a little bit about your business and how you help families.
Chuck Erickson
Right. So as you mentioned, I'm an Independent Educational Consultant with College Connectors. We are a small private educational firm that helps students and families navigate the college search and the application process. Before this, I've been doing this now for about seven years. And before this, I actually worked in college admissions for nearly 15 years, I worked in both public and private institutions. And I've spent my entire life really working with teenagers and helping them navigate the admissions scholarship and financial aid process from inside the university world. Now I'm on the outside of the university world and helping families this way. Right.
Brad Baldridge
So you typically work with high school kids then?
Chuck Erickson
Yeah, most of my clients are high schoolers. And obviously I'm hired by their parents, but most of my clients are high schoolers, typically sophomores, juniors, or seniors, although I started as early as eighth grade for some for certain types of students.
Brad Baldridge
Right. Okay. And obviously I do something very similar in that I work with high school families as well. But I come from the financial planning world and I focus primarily on what the parents are doing around saving and investing and figuring out financial aid and all that type. The thing, and you and I actually worked with the same families often because you tend to do with all the things I don't know much about. So what do you say the difference between what you do and what I do is?
Chuck Erickson
Well, most of my time is actually spent with the student, I have a couple meetings with the parents. But most of my time is spent with the student, I'm helping them understand themselves, helping them figure out what types of colleges might fit them best. And then once we figure out where they would like to apply, helping them figure out and fill in all of their applications, essays, letters of recommendation, all of those pieces. So I always tell families, there are two things that I do not work on. Number one is I am not a test prep person. So I don't help with test preparation, although I can give you advice as to how to, to figure out the tests. And that's in a later episode. And then number two is I don't do anything fiduciary financial. So that is when I send them over to you, Brad.
Brad Baldridge
Absolutely. And I'm just the opposite. I tend to work with parents and almost never with students. So I occasionally will meet the students I'm working with, and maybe we'll have one meeting. But I would say that maybe half the time, the other half of the time I'm working exclusively with the parents, and coaching them. And occasionally we'll, I'll help the student through the parent, I'll give the parent some ideas on what they might do to solve a problem. And oftentimes, it might be, you find someone like Chuck that can really get into it with the students. Because, again, I always make a joke, you do not want me looking at an essay, you do not want me trying to figure out what your student should be when they grow up. It's just not my area of expertise, I make things worse, probably than better. So to check in I work can work well together when needed. Alright, let's jump into college planning. So Jackie, and I both help families do their college planning. And obviously, we just come from two different angles. But so let's talk about what is college planning for you check what is what does that typically mean? When you're working with families?
Chuck Erickson
When I'm working with families, I'm really trying to help students figure out what type of experience they want for college. So are they looking for two year four year public private, near to home far away, really helping them plan also, I work with course selection in high school and help them figuring out their activities. So really, it's all of the pieces of figuring out what do I want in my post high school experience. So I've even helped students figure out gap year programmes and even enrolling in the military as well. So I'm really focused on the student and helping them get on track to make sure that they meet all of the deadlines that happened during the college search and application process.
Brad Baldridge
Right. And I look at college planning from a, again, parent and family perspective, and what are all the tasks that need to get done? and saving and investing? And how are we going to pay for college? And how do we make it perhaps more affordable? And what kind of impact will spending X on college have on retirement or other financial goals? Many times we have those tough discussions about well, is this college worth it? This one's 10,000 more than that one is that worth 10,000 more, or 20 or 30, or whatever the differences might be, and how much can a family afford and all the different pieces around that. So again, and it's a big undertaking for for most families, again, because they're either two different pieces. So let's talk a little bit about what's coming up as far as podcasts. So again, we've got 10 podcasts coming up the titles, finding a good fit school, figuring out the net price of schools, choosing a major and career, how to do college research and college visits, what it takes to get accepted at certain schools, scholarships, and and their multiple forms, loans, college testing, and then finally need based aid. So we're going to cover a wide gamut of college planning. And that's great. There is a good intro the to understand that college planning is very broad, and that all those topics are all under the umbrella of college planning. So what is your thoughts as far as when a family should start all this?
Chuck Erickson
I wish I had $1 for every family that told me Oh, I wish we would have started with you sooner. So basically, there's this old myth of while we don't start thinking about college until my kid is a rising senior and in my world and what's going on with the application process and the essay process at colleges, that's almost too late. So you really need to start earlier, most students start with me at the end of their sophomore year or the very beginning of their junior year. But really, when a student starts worrying about college and asking about college, then that's the time to seek me out so I can help and make this pathway a little bit smoother.
Brad Baldridge
Absolutely. And I would say something similar in that. We definitely need to start thinking about the financial side of college. And again, we can start with that with even young kids. Just this transition where we switch over from what I would call early stage to late stage, so early stages, we think we have students that are ultimately going to go to college. That's one of our goals. And maybe you start saving and investing and building some college fund in order to have some money for college. And that's about all you can do. It's really hard to pick majors are talking about what school is appropriate for your four year old. But then we move into what I would call late stage planning, which again, is where we start doing all the heavy lifting, junior senior year for sure. But both Chuck and I feel like we would if we could really push into the sophomore year with some of this, it would make everybody's life a lot easier. And again, there's not all students I think are mature enough to necessarily get out there and do hardcore, let's visit colleges and that stuff. But there's lots of other stuff you can get out of the way, while your student grows up if that's an issue. And as Chuck mentioned, sometimes the students already I mean, what what do you see as far as when students are ready to really dive into it?
Chuck Erickson
Yeah, I think I think the light bulb gets turned on once students start sitting down for those AC T's and those FA T's, which typically happens in the junior year for some kids, they'll take the PSAT earlier or, or the pre a CT. But when the tests start being talked about, that's when students go Mom, Dad, I think I need to think about college. But, as you said, there's stuff that I can be helping with earlier. So one critical part is course planning and figuring out what courses students should be taking in high school to prepare them for college level work. And sometimes students don't think about that, like what you take in freshman year determines what you take sophomore, junior and senior year in high school. And so I can also have those conversations, getting involved in school out of school and just starting the whole process, as you said, it might not be ready to go to a college visit. But maybe that could be a piece of puzzle as you're going on your family vacation. And we'll talk about that in a later episode.
Brad Baldridge
Right? Absolutely. So I think the biggest benefit of starting early is it prevents the the mad scramble, where there's a lot of stress. And
Chuck Erickson
Yeah, yeah.
Brad Baldridge
From a financial perspective, I think a lot of times, we get to the situation where we're essentially doing damage control instead of planning and laying it out and doing it the best way we can. We're now in this mode of, what do we have absolutely have to get done so that this doesn't totally blow up. And then a lot of times, we might cut out things like Well, we're not going to spend time on scholarships, because we just don't have the time. We didn't start early enough is what it really boils down to.
Chuck Erickson
Yeah, that's true with applications of a student has contacted me in the middle of their senior year about helping with their applications, I'm going to tell them that about 50% of the application deadlines have already passed, you've already missed most of the early application deadlines, if you're contacting me around Thanksgiving of your senior year. So then I'm also doing damage control and figuring out what colleges are still available and where they could possibly apply and trying to get all that ready and done in time. So yeah, the earlier, the better, less stress more organised and a better overall experience.
Brad Baldridge
Absolutely. So we've talked about this being a relatively large project, and it's going to take parents and students to coordinate and that type of thing. Chuck, and I tend to work with families where they need some help. So what are the options as far as doing your college planning? What did what areas have you seen and what makes sense for some families?
Chuck Erickson
Well, as far as some of them, many students don't actually need me. So if you're applying to your local public school, public institution, that is not that difficult to and, it's a one page application, you don't need me, but if students have other things going on, so if they want to be a varsity athlete and play division, 123, or NAIA sports, that's going to be another factor in the college search process, if they want to be in the Fine and Performing Arts, so music, dance, theatre, art, and fields that are related to those that is going to take an additional process, if the student is wanting to apply to a highly rejection institution. So a school that rejects borrow more than they admit, that's going to take some more work. And then last and certainly not least, and my favourite, if students have various learning challenges that might impact the process, so maybe it takes them longer to read or longer to write an essay, or they have accommodations that we need to consider as we're looking for colleges, which is many of my students. That group should also start earlier because there's more things going on. But yeah, if if you're just Johnny or Susie wanting to apply to the local four year public institution, you should probably be okay on your own unless you're very, very confused.
Brad Baldridge
Absolutely. But I think there's also a lot of families that are saying, 'Our goal is the local state school because that's all we can afford.' And the reality is, from the financial side, there's often ways that you can go to a private school, and again, not necessarily for free, or maybe not even the same as a state school, but at least cost competitive, maybe just a few 1000. More. So again, I think a lot of people, once they learn the process, they might realise that there's a lot more opportunity out there, versus just limiting it and saying, well, we're only going to consider the local state school, because that's all we can afford. And again, sometimes that's absolutely true, where in the end, that is going to be the most affordable option by far. And it's the best path. When sometimes, there's other paths that are available. And I think a lot of parents want to do the best they can for their kids. And sometimes the large, crowded local state schools not the right answer, sometimes the right answer is finding that specialty school that has something to offer that a lot of state schools don't offer, whether it's small class sizes, or particular majors or career paths or internships, or I mean, there's all kinds of reasons you would consider both your local state schools and schools across the country and private schools and all the other options.
Chuck Erickson
Yeah, absolutely. Over 50% of my students have gone to a school that they had not heard of prior to working with me. So that's the other fun part is, sometimes you don't know what you don't know. And by working with one of us, or both of us, we can help you understand things that you have not thought about or considered when you are thinking about this process, because the process has changed. This is not the same way of wise when you applied to college 2030 years ago, and it's much more complex, many more nuances that are happening going on things and factors to consider. So even just getting a consultation with us can help families understand, oh, we haven't thought about that, or Oh, we didn't think about this, and that can be helpful to them.
Brad Baldridge
Absolutely. And of course, we've got this whole podcast. So you can do it yourself. And, again, plug into things like the podcast and learn all the things that you need to do and that type of thing. And there's, I'm building some courses, and there's books out there, there's all kinds of information on my website, and Chuck's website, and many other websites. So there's all kinds of information. So I think you really have three options, you can do it yourself, you can do it yourself with help of some courses and books where you jump started. And then ultimately, if you need to, or want to, you could hire an expert, or even multiple experts. And again, sometimes you're looking for an expert around test prep, or the finances or helping your student, and it might be three different people that you might consider for different pieces of the puzzle. So I think, again, it's become a much bigger challenge, because the price of school, and the downside of not doing it well is much bigger deal if you end up changing schools or changing majors. And you need to tack on an extra semester or year to make up for something you didn't do quite right. That can be 10s of 1000s of dollars. And all of a sudden doing it right the first time makes a lot of sense.
Chuck Erickson
Right. And I'm wondering for you, Brad, are there certain types of families that you would want to work with earlier? So certain situations that they may want to consider starting with you maybe before senior year?
Brad Baldridge
Oh, for sure. Yeah. And again, for me, senior year is almost too late. I think everybody should be working on this and working at it hard by the middle of the junior year. And some, it would be great if they could start middle of sophomore year. And things that make things more complicated. When I'm working with families, there's multiple children, again, because maybe you can stretch and pay that big bill if you only have one kid, but that big bill times three kids or four kids, and all of a sudden it just the math doesn't work. So you really need to understand. And before you commit to spending all your money on the first kid, because again, sometimes then it's 'Well, sorry, Susie, we spent all the money on Johnny. So you're out of luck.' This doesn't fly in most families. So that's where we see disasters where now the family is feeling obligated to take on major loans or do things that they probably shouldn't have done and they know it in the back of their head. But because they helped one family or one student, they're going to help the others to an equal level, even at the detriment to their financial future.
Chuck Erickson
Uh-huh.
Brad Baldridge
Other areas where there's more complexity. And again, complexity means there's more opportunities to plan and there might be more opportunities to make things come out differently. But divorce in blended families is another complicated area when we start looking at need based aid and who's on the financial aid forms and who's going to pay and who's going to save, and who should have the investments in their name versus the other parent. Business owners and rental property owners are also have some additional work to do because of the financial aid forms. Some of them include the businesses and rental property, some of them don't, and how you value it is a challenge. But on top of that, having a business or rental property means you might have cash flow to help pay for college, as well. So that is just how do we do it efficiently? How do we get money out of the rental property or out of the business, and efficiently directed to college without getting hammered in taxes or other issues. So again, those types of things tend to make things more complicated. And there's more opportunities to save. And we also need to start much earlier if we can, again, most people don't know that we exist. So they don't know to look for us until they're well into the process sometimes. And we can do damage control at any point. But occasionally, we look back and say, 'You came to us as a senior, if you'd come to us as a sophomore, we could have fixed that, and that and that and that. And we didn't be in a much better position than where we are now.' But again, sometimes it's water over the bridge, we just have to pick up the pieces we have, and move forward.
Chuck Erickson
Yeah, yep. I've run into that as well.
Brad Baldridge
Exactly. So another thing to get our head around is how we might organise college planning. So we talked about the 10 different topics. So that's one way to look at it right is I need to learn how to do college research. And now I need to learn how financial aid works. And now we've got to figure out how we're going to choose a major. And now we're going to go work on our high school curriculum to make sure it matches with the colleges. But it's important to realise that all these topics interact with each other. So yes, results you get from your very first college test may create some choices. If the test scores are phenomenally good, you might say, Oh, well, maybe we can consider the more challenging schools. And if they're average or poor, and then you might be well, do I test again? Do I do some test prep? Do I change the colleges I'm interested in? And that could be set in this similar story around all the different topics?
Chuck Erickson
Yep. Or you call me and I tell you, oh, by the way, there are colleges that don't require ACT and SAT that your student would be a great fit for. And then that blows your mind. Like, oh, wait there options serve me, even if I have a bad test score? Yes. So yeah, each of these topics, the hard part of that I think, I don't know families understand is that all of these topics are essentially happening simultaneously. So it's like the old circus acts where the guy is trying to spin plates on pins, and all the plates have to keep spinning at the same rate, or plates start falling and going crashing. And what's great about working with one of us is that we can help keep all those plates spinning and help students understand the timeline and the process and families. So yeah, so you can order them organise them by project. But then the other one is that timeline is figuring out what starts first what starts second. And that's where we can really help because we understand what the deadlines are for the institutions. And for all the paperwork that has to get done around that area,
Brad Baldridge
right, you need to start this plan with the end in mind and understand how it all fits together. And it's a bit of a learning curve. I think many families, I think, learn this the hard way where the first kid is really, they really struggle. And they do the best they can, they realise they didn't do it very well. And then by the second kid, now they get to practice, they've had one practice run, now they get a little better. And then by the third kid, it's like we've got this all figured out, we now understand at the end of the process, we can fill out the loan applications. But at the beginning of the process, we have to decide if loans are appropriate or not, we don't want to get to the end and say, my only solution right now is loans because we didn't plan well. And now we're forced to loans because we have no choice. It's either don't go to college or take on some loans. Because we didn't plan well. You do that once or twice with the older kids and all of a sudden now you get better at it, you understand the whole process. And that I think is the biggest advantage of working, finding someone with some experience, or reading the books or whatever it is so that you really understand all the different pieces so that what you're doing your junior year is the right things so that when you get to your senior year, the doors aren't closed where you say we'll get to the senior year say well, we did the wrong things junior year, or we didn't do enough of the right things or whatever it might be. All right. Another way to organise the the timeline is by who does what, and I think that's where, even Chuck and I can do that you can say that right? That's Chuck's job. I don't get involved in that and check all say the same thing. But in the family realm, I think there's things that parents do. And they're what I work a lot on. So I can speak to those. But the parents are going to do the saving and investing. Parents are responsible to understand how financial aid is going to work for the family. The parents need to decide how much they can afford to spend, some families, education is export is very important. I had a dad not too long ago that he said, Well, my budget is 125,000 per student. That's all I'm spending. And most people would say, 'Oh, man, I wish I had that kind of budget, that would make our life so much easier.' But again, so it's it, every family needs to figure out how they want to do it, and what makes sense. But then I think the other important thing for parents to figure out is, is this realistic? Now you can say things like, well, we can't afford to pay for college, so they're just going to have to go get a bunch of scholarships. But is that realistic? Is your student in a position where they could get scholarships, even if they work hard at it? And right, of course, the second step is, how are you going to get into work hard at it? So I think the parents can start on a lot of the financial stuff, whether the students ready or not, I mean, how many children do we have? What kind of work can we afford per student? What makes sense? Where should we, if we can save and invest now, where should we put the money? If we can't save and invest? Are we willing to take loans? What is the process that is going to successfully pay for school? And then jack, I'll let you talk a little bit about what students need to do and how they do it.
Chuck Erickson
Yeah, this is another great example, as you said, it's a multi year process. And if, if I could make it work my way, I would have families check in with me even in eighth grade, because the high school classes so much impacted the college application processes in a lot of families think, well, freshman year doesn't really matter in high school. And and that's completely incorrect. Freshman year absolutely matters, the moment you step into high school, everything that you're doing in high school is going to be put on your college application. So I would love to start earlier with families just to have checking meetings and unders to help them understand the process. There are things that the student needs to be doing, which is focusing on grades and getting the best grades possible. They don't have to be 4.0s. But students need to put forth their best effort and the best, the more effort they put in, and the better grades they get, the more college opportunities are going to be available for them. parents do need to start thinking about, 'Okay, we need to show our kids college. So what the kids need to understand college and they need to understand jobs. But a lot of parents go, why doesn't my kid pick a major? Well, they don't know what the jobs are that are out there. So introduce your kids to your friends and what majors they do. But students and families can start doing colleges as they want. So there are things that each side needs to do. I talk a lot about parents about the finance thing as well. And up to my limitations of Okay, this is what you need to do to prepare for the finances. But I mostly am talking to students about everything matters. And I'm not trying to stress them out. I'm trying to help them understand that homework matters, grade matters, involvement matters, volunteering matters, work matters, biting matters, weeding matters, all those things matter because I think students don't understand the lengthy process that happens to be able to figure out what type of colleges and experiences are best for them. So, I always tell them, let's let's get started early and have those conversations and really help the student. I'm not trying to replace High School counsellors High School counsellors just have way too many students and not enough time to work with with students individually, I'm really an additional support for students who just aren't getting enough support that they need from their high schools or their high school counsellors.
Brad Baldridge
Absolutely. And I think what happens, another way to think about it is, inadvertently, I think sometimes doors closed, because we didn't do what needed to be done. So now, it's just not an opportunity anymore. And a lot of times, that's fine, right? You could do the planning and say, Well, these are the doors that are going to close because this is what we're going to do. And you would say, that's fine. We're not interested in those opportunities anyway. So we can go ahead and let those doors close. I think where people get frustrated is when you get to the end and look back and say, Oh, we did these things, and they closed all these doors that I wish were still open, but I just didn't know at the time that I I should have done that or I could have done that. Or I could have prepared this or whatever it is.
Chuck Erickson
Right. A perfect example is I've had students come to me as seniors in high school and they want to apply to certain colleges that require a Fine and Performing arts class to be taken in high school that some colleges require a year of find a performing arts. We get to see a year and I'm like, 'Well, you can't apply to those schools because you don't have that.' And they said, 'Well, our high school doesn't require it.' I said, Yeah, 'Well, your high school doesn't require it, but the colleges might.' So I help families and students understand what do your high schools need you to do? And what did the colleges need you to do? Because those are completely different checklists.
Brad Baldridge
Absolutely, yes, then high school is what you need to graduate is not the only list you're looking at. It's also what the colleges need. And also, I think what the student needs, as far as being prepared for whatever it is, they're, they're going on next may not be required anywhere. But the whole idea of I've had enough math, so I'm going to stop taking math my sophomore year, is, I don't know, whatever that is, but I think most of the time, you're gonna need to stay up on some of your core topics and subjects or in English and writing and that kind of the same thing of, I don't like it, so I'm never gonna do it again, kind of attitude can be very limiting.
Chuck Erickson
Yep.
Brad Baldridge
All right. Well, I think that covers our topic for today. Again, we've got 10 more episodes coming out over the next 10 weeks, covering all the various topics we just talked about. So we will hit each of them in much deeper detail. I thank you, Chuck for agreeing to record all these episodes, and I look forward to getting them all out there.
Chuck Erickson
Yeah, sounds great, Brad. Thanks for having me. And I'm looking forward to this journey.
Brad Baldridge
Alright, I hope you enjoyed that quick overview of college planning. We've got 10 more episodes coming up where Chuck and I talked about all the individual topics as mentioned, and again, show notes at taming the high cost of college slash 119, or 119. Let's go ahead and jump into Brad Recommends and then we'll wrap things up
Presenter
The latest tips, tricks and tools you can use today. This is Brad Recommends on Taming the High Cost of College.
Brad Baldridge
Today on Brad Recommends, I want to talk about our website. tamingthehighcostofcollege.com is our website where we host the podcast, where we've added a lot of additional resources. I've mentioned a little bit earlier that we took a hiatus from the podcast, but we'd have more time to work on the website. And again, our work is never done. The website is always a work in progress, we now have some great resources available at the website. So if you haven't been there in a while, you need to go check it out. For example, we've got an EFC calculator there, where you can input about 15 different fields about your income and assets and that type of thing. And it'll help you calculate what your EFC or expected family contribution. If you don't know what EFC is, well, then we're going to cover that in a future podcast. So stay tuned. There's also great articles about visiting colleges and planning and need-based aid, merit aid and all the different things that you need to understand. So again, great resources to be reading there, we have our Net Cost of College by State. So if you, for example, live in Arizona, you can go to the Arizona page and see all the colleges in Arizona, and what they cost based on your particular income. So again, there's four or five different prices for each college based on income. So you can look up your income and see, 'Oh, in University of Arizona, my income should be somewhere around this price.' Of course, there's a word of caution, as I always say that, the way it works out for you may be substantially different than the way it works out for others. So you want to always understand and apply this information specifically to your situation. And have a good understanding to know when the rules apply and and when they don't. But again, net price of college by state, there's a 50 minute lecture, there's probably one for DC as well. So there's 51 different state charts there where you can look up your state in state colleges and your private colleges. and gather again some preliminary data about what college actually costs these days. You can sign up for our newsletter at our website where we will send out this type of information on an ongoing basis as we create new material. You know, we put it out there as part of our newsletter. Another great resource is the Scholarship Guide for Busy Parents. So this is a quick video series that will help parents understand scholarships and how to apply for them and what scholarships really means. I find there's a lot of confusion around scholarships, and it's my way to hopefully clear things up a little bit and give parents a quick overview so they know where to go next. And of course the podcast is there. So we've got the all 119 episodes and growing that are available there, you can check each of them out, and the show notes are there. So if you don't want to listen to the entire podcast, you can just read through the show notes quickly, and then decide if it's worth listening to. Obviously, not all 100 episodes 100 plus episodes are appropriate for everybody. So you can look through the list and come up with the ones that make sense for you to listen to. So again, that's a little bit of information about our website. It's always a work in progress. We're always working to improve things. But our goal, again, is to help parents really understand how college works, how to build a good college plan, so that it's not so overwhelming, you can save some money in the process. Again, there's a lot of great free resources. And we're starting to build some courses and other resources as well. So, go to the website, come back off and see what's new. And that's all we have for today. I look forward to hearing more from you guys. Feel free to reach out to us. Let us know how we're doing. Give us some comments. Or if you have questions or concerns. Again, we're always here, you can reach out to us via email, or call our office. You can also reach out to Chuck if you need to go we're always here and available to help you however we can. That's all for this week. We'll see you next week.
Presenter
Brad Baldrige is a registered representative of Cambridge Investment Research and an Investment Advisor Representative of Cambridge Investment Research Advisors, our registered investment advisor. Securities are offered through Cambridge Investment Research Incorporated, our broker dealer and member of FIA, NRA and SIPC, Brad owns two companies: Baldrige Wealth Management and Baldrige College Solutions. The Baldrige companies are not affiliated with Cambridge Investment Research.
Transcribed by https://otter.ai
Sign up to receive email updates
Enter your name and email address below and I'll send you periodic updates about the podcast.