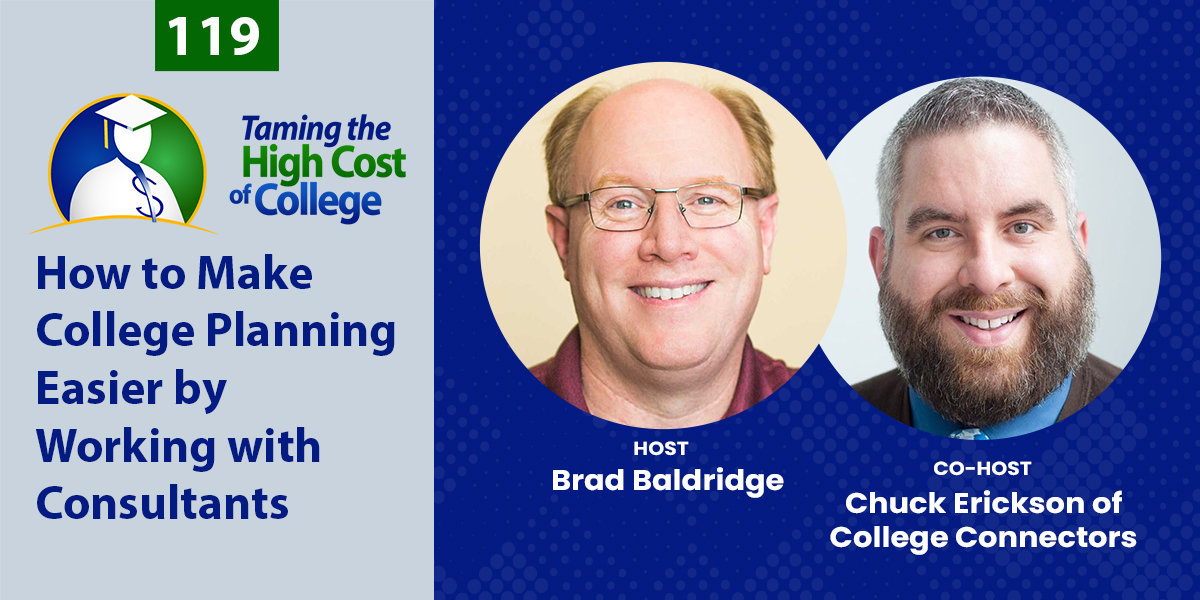 Today's Guest:
Chuck Erickson, Independent Educational Consultant from College Connectors
According to Chuck, independent educational consultants are "professionals that have experience and knowledge about the college admissions and application process, but are not directly connected to a specific high school or college."
As an independent educational consultant at College Connectors, Chuck has worked within higher education for 15 years, assisting students and families with the college application process. He has lots of information and tips to help you get started, so listen to this episode if you'd like your college planning to be easy and seamless!
Questions Answered Today:
How much time do I need for the application process?
You may think there's plenty of time, but most students and parents quickly discover that there is very little time for the whole college application process, which takes about 16 months. The entire process competes with exams, projects, deadlines, and everything senior students need to accomplish before graduation. You need to move quickly and stay on top of all deadlines. Otherwise, the next thing you know, your son or daughter will lose his or her chance to enroll in his/her preferred college or university.
It's also important that parents realize you can separate what parents need to do and what students need to do with college planning. Parents can do some of the things whether their student is ready or not.
Why do I need independent educational consultants?
When planning for college, it's a must that you and your son/daughter work hand-in-hand with high school counselors and preferably with independent educational consultants. Chuck, an independent educational consultant (IEC), elaborated the differences between a consultant and a high school counselor and why you should opt for an IEC to guide your child one-on-one.
High school counselors are readily available at school, but their time availability is limited to an hour per student, and the ratio of one counselor per 100 students doesn't seem like they can give intensive focus to your child. Counselors can be relied on for the following services:
Sending students' transcripts to colleges
Navigating letters of recommendation
Sending the high school's profile to the college
Other similar services
Independent educational consultants, on the other hand, are not affiliated with any high school and typically have much more time available to help your student. They don't have access to the school documents that high school counselors handle, but you can count on them for:
Helping you get started on college planning at the time of your convenience
Introducing your student to hundreds of colleges they know very well
Assisting your student with the entire application process
Assessing your student's preferred academic and social environment, among other things
I always want to find out: what are the goals of the students and what are the goals of the parents?
Knowing the right people to work with takes some load off your shoulders!
Who else should I work closely with?
You can also work with college financial planners such as our host, Brad. Brad says that you can opt for early-stage college financial planning for newborn or two year-olds, or for late-stage planning for high schoolers as early as their freshman year.
He gauges the parents' readiness for college costs and asks questions such as:
Are you considering state public schools or private schools?
Are you willing to co-sign a loan in case an issue with getting a student loan comes up?
If you have multiple children, how do you plan to divide the costs?
Ultimately, the earlier you ask for help from experts like Brad, the more financially ready you become.
The reality is most people don't have all the money they're ever going to need for college. It's still a work in progress, so we're trying to figure out how to use your money efficiently.
It's your hard-earned money. Protect it by spending it wisely!
Why should I plan early?
In case you missed it, the college application and recruitment process takes about 16 months. Tedious essays, several recommendation letters, application forms, and financial aid forms are just some of the requirements they ask for, and there are nearly 3,000 college opportunities in the United States alone.
Sounds tight? Here's another thing you might not know: colleges are big on deadlines.
Both Brad and Chuck agree that when it comes to preparing for college, you can be late and miss a lot of opportunities for your student, but you can never be "too early." Which route would you want to take?
My biggest caution around the timeline is: I've never ever had anyone tell me, 'We started this too early.' I've had a whole lot of people tell me, 'We started this too late.'
Ask for the help of the experts as soon as possible, so your student can get the best advice and start planning early.
What do I lose by not planning early?
You should start college planning way before getting your student's SAT scores, GPA, and school rankings. Why so early? Here's a scenario from Chuck:
Your son wants to take Engineering in college. However, for him to get in, he needs to take Calculus as a prerequisite. If you're unaware of this, your son may have to double up on math, at the last minute, just to catch up.
This can go differently if you start planning as early as the freshman and sophomore year. There are a lot of things to consider when planning: the student's testing skills, interests, preferences, and more. Just remember that planning doesn't have to be hectic. Reach out to consultations early, and help yourself by getting your student into college as smoothly as possible.
What else should I know as a parent?
Trust the experts when they tell you to start college planning as early as possible. You may not realize this, but as a parent, in your own simple ways, you can give your student a glimpse of what it actually feels like to be in college. It doesn't have to take too much of your time. Here are some recommendations:
On your day off, make quick and informal visits to local flagship state schools or local private schools.
If you're visiting a relative or a friend, take time to visit some nearby colleges.
Making campus visits allows you and your student to see how colleges operate, which can help a lot in the selection process.
Most importantly, make sure that your student's options are not limited, so when the time comes, your student and family can make a decision that benefits everyone in the long run.
---
Links and Resources
Helpful Resources
---
Brad's Recommends:
Visit our website Taming The High Cost of College for additional helpful resources. Here are the most important ones parents would find helpful:
The College Planning Jumpstart is a complete video course that teaches you everything you need to know about how to plan and pay for college, how to maximize financial aid, how to prepare for testing, apply for scholarships, get low-cost student loans, and choose the right school.
The Expected Family Contribution (EFC) Calculator asks for your income and assets to determine your financial eligibility to contribute to college costs.
Net Costs of College by State are also available, showing you how much one year of college at specific schools will potentially cost your family, based on your income. You can view the average net costs by income bracket for colleges in all 50 U.S. states. Net cost is the total cost of attendance for one year, minus government grants and institutional scholarships, and my website shows the latest available data from the U.S. Department of Education.
Sign up for my free e-newsletter that's loaded with college planning tips, advice and secrets that will help you save time, save stress and save money.
The Scholarship Guide for Busy Parents is a free video series that will help you understand need-based and merit-based scholarships, what opportunities there might be for your student, and whether to apply.
The Taming the High Cost of College Podcast features well over 100 episodes of college planning tips, advice and interviews with leading experts on an array of important topics. Check out our complete list of episodes and make sure to read the show notes to find out which ones are most relevant to you.
---
THANKS FOR JOINING US!
We'd like to extend an invitation to our listeners to share their feedback and questions. Contact us to submit a question to our email.
If you find our podcasts helpful, please share us on social media and tell your friends!
The bottom line is that we care what you think and want to help you out, so we'd appreciate you reviewing us on iTunes or on Stitcher. And even better, receive automatic updates by subscribing to the show on iTunes or Stitcher.