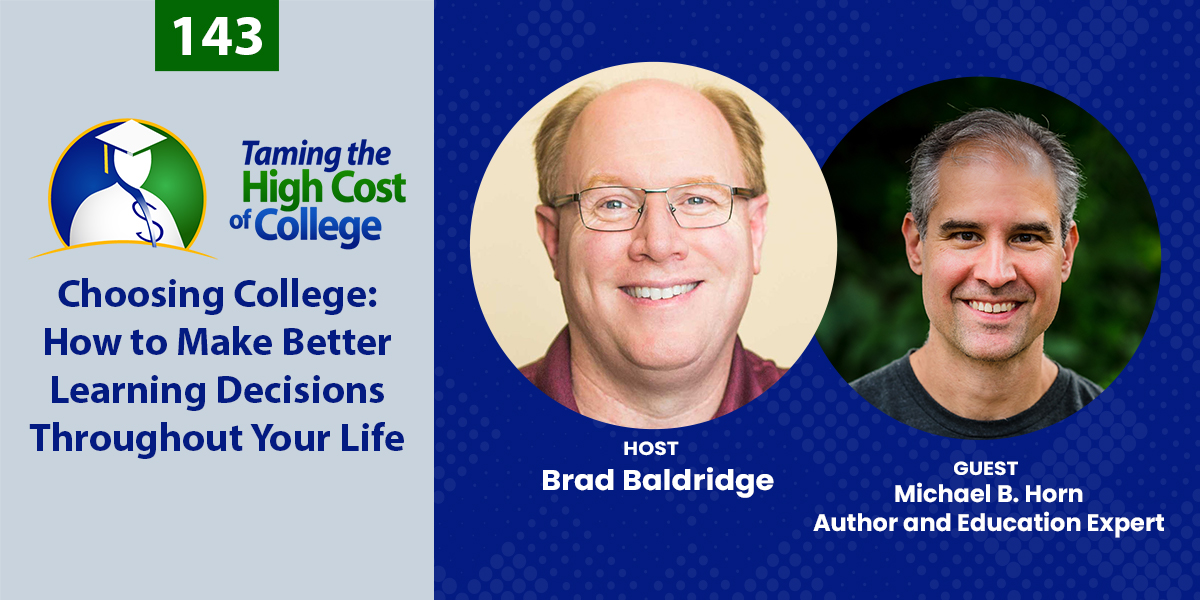 ---
Today's Guest:
Michael B. Horn, author of Choosing College: How to Make Better Learning Decisions Throughout Your Life
Michael speaks and writes about the future of education and works with a portfolio of education organizations to help create a world in which all individuals can build their passions and fulfill their potential. He is the author and co-author of many books and is a senior strategist at Guild Education, which partners with leading employers and organizations to help offer education and upskilling opportunities to America's workforce.
Michael's book, Choosing College: How to Make Better Learning Decisions Throughout Your Life, which he co-wrote with Bob Moesta, provides research-based information on students' motivation to pursue education.
Michael strongly believes that knowing the "why" drives students' decision to go to college, to not go to college, or other options that are the best for them.
Questions Answered Today:
What are the aspects of college planning that need careful consideration?
Acquiring experts' services (e.g. college consultants, financial experts). As these professionals' services cost money, it is important that families carefully consider these options. This way, they don't end up wasting money but maximize the services instead. According to Michael, asking questions such as the following helps:
What do we want to achieve?
What progress do we want to make?
What option is going to cost us less money?
How do we structure our income?
Which college makes the best sense?
Parents should not think of these experts' services as a shortcut toward their student's best career path. While experts may be of great help, students may still fail. Remember that the application process requires great effort as well from the families and, most importantly, from the student.
Dealing with the student's decision making. Keep in mind that the students who are making such an important decision are teenagers who mostly don't have much experience in life. Students need to realize that college is not only what they will do during the next few years. It's the start of their career, which they may be doing all their life. To help them start, you can ask questions such as:
What are you good at? What are you not good at?
What gives you energy? What drains your energy?
What you want … is that a career you can have?
It's also important that the student meet someone in the profession they're considering, so they can see what the job is like on a daily basis. This experience helps them decide if what they have in mind is something they actually see themselves doing for a living.
What are the most common types of students who go to college?
Michael's research categorizes them into five groups.
Those who go due to others' expectations. This group is not motivated by excitement, but they go anyway because someone else is pushing them to do so.
Those who just want to get away. This group is likely to become overwhelmed because college isn't what they planned at all. For this kind of student, it's important that parents help them get away, but at the same time help them figure out what to do afterward, or which path they want to pursue.
Those who want to go to schools they perceive to be the best. This is the group who opts to have the classic prestigious college experience, without really digging deeper into why they want to go to that school. Simply put, they want certain colleges because they've always had the vision that those schools are the best colleges.
Those that want to "step things up." This is a common reason for those from low-income communities. Their reason for going to college is to improve the quality of their life. This may also be those people who are going back to school to learn skills or earn certifications and degrees for a certain job.
Those that want to "extend themselves" are the ones with genuine love for learning. Michael notes that not many teenagers fall under this category.
If my student is in the groups listed above, what should I do?
If the student falls under the first two groups, those who are pressured by others and those who simply want to go away, forcing them to attend a four-year college may not be the best decision. Why? Because it's highly likely that the student will either drop out or transfer, which will ultimately be a financial investment with no return. The best thing to do is to lead the student into building an intrinsic desire to go school by taking a gap year.
Taking a gap year opens up the student's doors to numerous possibilities. Michael notes that this should not be an indefinite gap year, and that there should be some serious bonds to make sure that the student would take it seriously and maximize the experience. Here are some of the things students can do:
Take a series of jobs to find which they liked best.
Take classes from a local school.
Take online classes or other online activities they find interesting.
Do some volunteer work.
The bottom line is, after having experienced the "real world," it becomes easier for students to take the next step and lessen the feeling of being overwhelmed.
If the student falls under the last three groups, you probably don't have to worry too much. According to the data Michael has, this group has a 70% success rate. Michael has some tips for the parents of students from these groups though:
Don't settle for "safety schools." Students may end up losing their excitement and being forced to attend because they have no other options.
Don't pressure your student to do well because that only brings them unnecessary pressure.
Pick a school your student genuinely wants as it will keep them motivated, which may produce good results.
How do I deal with average, high-achieving, and undecided students?
For students who are somewhere in the middle (B's or C's), one of the most important things to do is find a college where they can excel. Note that this doesn't necessarily have to be a small school. Michael notes that building social networks during this time is necessary, so make sure to meet mentors, professors, and alumni who could help you get job opportunities later.
High-achieving students are extremely motivated and talented, so they are likely to go over and beyond, and that's the danger to it. It's important that they don't bite off more than they can chew, as this will cause problems. One good example is a student who excelled both in athletics and academics. Because she couldn't give up one, she pursued both. In the end, she got completely overwhelmed and had to drop out.
For those who are undecided, want to pursue many careers, and want to experiment, it's ideal to find schools that are not overly strict in choosing majors. Look for schools that permit students to decide on a major in their junior year. This allows students to have more time to explore and learn about what they truly want.
What resources does Michael have that are helpful for parents?
Michael's book, Choosing College: How to Make Better Learning Decisions Throughout Your Life, is a good resource for parents who want to understand the importance of asking why students want to go to college.
Michael also has a newsletter, The Future of Education, which parents often find valuable as well. Visit Michael's website to learn more.
Brad Recommends
Today, I recommend some past episodes that are closely related to what Michal and I discussed today. They should refresh your memory about topics we referred in our conversation, such as 'gap year' and 'choosing a career path.'
Episode 131 – Gap Years and Gap Time with Holly Bull of Center for Interim Programs
Episode 130 – College Flight Plan: A Road to Self-Discovery with Greg and Beth Langston
Episode 140 – Choosing a Career Path with Kristin Clark of Kristin Clark Coaching
These episodes provide excellent discussions about these topics. All the links for my guest's resources, services, and websites are linked from the episodes as well. Feel free to check them out!
---
Links and Resources
Helpful Articles and Resources
---
---
THANKS FOR JOINING US!
We'd like to extend an invitation to our listeners to share their feedback and questions. Contact us to submit a question.
If you find our podcasts helpful, please share us on social media and tell your friends!
The bottom line is that we care what you think and want to help you out, so we'd appreciate you reviewing us on your favorite podcast platform. Even better, receive automatic updates by subscribing to the show through your preferred podcast service.
Brad Baldridge
Today we have a discussion with Michael Horn. He's the author of Choosing College: How to Make Better Learning Decisions Throughout Your Life.
Presenter
You have kids, they grow up. And before you know it, it's time to plan for college. Where do you start? How much is it going to cost? Will you qualify for financial aid? Should you be looking into scholarships? When will you be able to retire? What about student loans? The list of questions is never-ending. The good news is all the answers are right here. Welcome to the Taming the High Cost of College Podcast. Here is your host, certified financial planner, Brad Baldridge.
Brad Baldridge
Hello, welcome to Taming the High Cost of College. I'm your host, Brad Baldridge. And this episode, we've got a great interview with Michael Horn. Again, he's the author of Choosing College: How to Make Better Learning Decisions Throughout Your Life. In this episode, we talked with Michael, he does a lot of research and a lot of great information about choosing majors and choosing careers and the statistics around why people don't finish college and what happens when they don't. So he's got a wealth of information to help families that are struggling a little bit perhaps around why college and should we do college, and what kind of questions should we consider as we've worked this out. Then stay tuned for Brad Recommends, I'm going to recommend a couple podcasts that fit well with what you learn, talk about gap years and other resources that might further you along on the process of choosing a major or choosing a college. Alright, let's go ahead and jump into the interview with Michael.
Today I'm talking with Michael Horn. He's the author of Choosing College. Welcome, Michael.
Michael Horn
Hey, thanks so much for having me. It's pleasure to be with you.
Brad Baldridge
Yeah, it's great to have you. You do a lot of research and writing and all kinds of interesting things around education, broad education, anything from K through 12, all the way through college. So to give a lot of insight and been reading some of your stuff. And a lot of it rings true with what I see as well. So it's like, you have the hardcore research to prove it. And I have the anecdotal evidence that goes along with it.
Michael Horn
It turns out individual stories often tell you something that's actually happening on the ground more than the data does. So it's, don't discount what you're saying.
Brad Baldridge
Right. So obviously, you have a book out there called Choosing College. And I think a lot of families that I'm working with are in the high school age, and they're struggling with choosing college. And I think that means different things too, it's like choosing which college, choosing to go to college at all, and comparing it to alternative paths. And so tell us a little bit about the basics of the book and what it's about and why we would want to read it.
Michael Horn
Yeah, so in the book, we basically tried to break down both of those decisions and say, we created 200, plus mini documentaries of students making the choice of whether and where to go to school, and then did a bunch of analysis on it to come up with these five basically core sets of reasons that people choose to attend college and help inform where they will go. And out of that we try to give parents and students a way to find themselves which job in mind, so to speak, and why am I hiring college, if you will, and to make better decisions accordingly. Because some reasons to go to college are very likely to result in great success and make a heck of a lot of sense. And maybe some of that debt that you're scared about taking an investing in could be a really good investment. And some of the reasons we can predict ahead of time are far more likely to result in suboptimal outcomes, you know, dropping out, transferring, things like that were perhaps some of that debt that you might have taken on, or that time you might have invested could have been better spent in some other pathways. And we tried to give some ideas of what those pathways might be. And frankly, they might end up back in college at some point, but it might not be the right next step right away out of high school depending on where you are.
Brad Baldridge
Right, exactly. So that anecdotal evidence of people that drop out and actually I in one of the articles I was reading, I actually grabbed this quote where it says, 'Students who enroll in college because they felt it was expected of them ended up dropping out or transferring 74% of the time.' You did, then as our research revealed, so obviously you study that and came up with a really high number.
Michael Horn
Yeah, it was stunning. And just in brief, it was basically that was one of the clusters. There's a whole set of students who are very apathetic about whether they really want to go to college. They're just doing it because they feel like, 'Society expects me to do it. My parents expect me to do it, my peers, my teachers, my counselors, whatever it is.' And they go in there kind of listless and so as you said, 74% of the students dropped out or transferred well over half that it was a complete waste of time and money. And then we were able to do larger surveys over 1000s of people tracking them and seeing this pattern just repeatedly play out where they weren't really invested or convinced by the result. And the reality is In this country, roughly 55 to 60% of students will graduate four-year college in six years. So that's 40 plus percent who are not going to graduate a four-year college in six-year time. And we know from the data also speaking, a lot of this conversation about student debt can be overwrought, because sometimes it's a great investment. But if you don't graduate, and you have student debt, that's where you see a lot of the students not able to repay and a lot of the crippling stories that you read about in the paper.
Brad Baldridge
Right, absolutely. And I guess, just to clarify, again, another quote that fits right into this, as you say, essentially, college is high stakes, we've always had the problem of choosing college and that kind of stuff. But our generation, and I'm quite a bit older than you, but I certainly remember being able to work in the summer, and earn enough and a small loan covered college. So I could literally in 10-12 weeks earn enough to cover a big chunk of college. So that's the high stakes, I guess his students are not earning 20, 40, 60 thousand dollars in a summer anymore.
Michael Horn
Exactly right. Never, never were in college just greatly outpaced any cost of living increases that we've seen inflation, wage increases for median family in this country. And so, this conversation might not be that important. If we were talking a generation ago, where college was significantly less expensive, but it has become significantly more expensive. That's reality eats up a much bigger share of family's net wealth, family's net income from a given year. And as a result of that, it's a much higher stakes decision. So in the academia side and colleges and universities, you'll hear a lot of professors or administrators complain, they'll say, 'Why do parents, why are they so interested on, "Will my kid get a good job on the other side of this?"' And you're like, 'Well, if it didn't cost so much, then perhaps they wouldn't be as worried about it. But you do.' So there's a practical reality to that as a result.
Brad Baldridge
Absolutely, yes. And again, that's why college is so expensive. There's many cases where it's worth it, and therefore people will buy it. And the short answer of why college is so expensive is because they raise the prices and you still came. And then they raised them again. Right? So why not raise prices? Now, it's much more complicated than that with the aid and all that kind of stuff. But, so that's the reality we live in. So we get college is expensive. So before we dive in more into the book, let me talk a little bit more about that side of it now. So because college is so much more expensive, is it worth it to spend more time, effort, and even money at the front end? Because I see these businesses popping up? And like totally, I think for the right situations, I think they all have something quote unquote, to sell. But if they're selling something you need, go ahead and buy it. The question is, do you need it, I guess. But as an example of consultants that will help you figure out what you want to be when you grow up? Is it
Michael Horn
Yeah,
Brad Baldridge
...worth $1,000 or $10,000? Or $50 an hour?
Michael Horn
Yeah, I think you got to be really careful with these services, and really thoughtful about what are you trying to get out of like, what's the progress you're trying to make and what benefits it like, you know, if you're focusing on the financial side, you can get a service that's going to help you save a lot of money, see a lot of ways to structure your own income and holdings, and, frankly, negotiations with schools that are going to make a heck of a lot of sense. If you're trying to figure out exactly what you want to do through a very simple and simplistic process for a 17 or 18 year old that doesn't quite frankly, have that much conviction or life experience to make that sort of a decision. Maybe that doesn't make sense, right? And you should start to view not only the next few months and years, but also college is a set of series of experiments, where your child is going to get experiences in a variety of fields intentionally to like learn more about themselves and figure out what am I good at? What am I not good at? What gives me energy? What drains me of energy? Oh, gee, is this actually a career I can have? And how do I interview people who maybe do this on a daily basis to see what their life like? Is that something I could actually see myself doing? That's really important work. And I think high schools, frankly, should be helping students invest way more time in it. But don't just buy a service because you feel like, 'Oh, my kids got to have the major that clearly pays off in the job market and have absolute certainty.' I'd be wary of rushing into that thinking there's going to be a silver bullet way of shedding light on whether this is the right fit for you.
Brad Baldridge
Right? Absolutely. I would say it's probably not a silver bullet. But statistically, if it increases your odds, it could be worth it.
Michael Horn
Yep.
Brad Baldridge
Understanding again, that increasing your odds doesn't mean it's not gonna fail. It just means it's less likely to fail. And I think that's the biggest challenge is most, I wouldn't, maybe not most, I don't know if there's any studies around this, but I think there's a lot of people in their lives that has a sharp left turn in their career path, as I'd like to say. And there's just no way to predict that. And, but most people when you talk to them, say, but I needed to do what I did, to realize I needed to make a sharp left turn, or, you know, what I learned is applicable, it's just a different way of looking at it, or whatever it is. So most people don't regret it. It just doesn't seem to make a lot of sense in some cases.
Michael Horn
Yeah, I agree. And look, there are some kids who know that they want to do X and great, right power to them, let them go for it. But it turns out to your point, there actually are some academic studies on this, that David Epstein in the book Range, and Todd Rose in the book, Dark Horse right about where they show that the people we think of as being the most successful, tend to have this zigzagging behavior where they start out in something, or meander for a while trying out a bunch of different hats on, if you will, until they find themselves. And they absolutely believe that earlier life experience is important to who they become. But it's something that you have to have the reps and you have to have the experience a lot of times for a lot of students. And so look, I'm a firm believer that we could prototype and get those experiences earlier in people's lives and help them make better decisions quicker. But it's not going to be a shortcut through it to find my path that's sort of ironclad. I think, as we live life, especially in today's society, we increasingly realize this isn't a race to a specific destination. It's an ambling pathway that each of us is going to carve out for ourselves.
Brad Baldridge
Right, absolutely. So if we're talking about the book again, so you mentioned the five jobs to be done. So essentially, what you're saying is if we're hiring college to do a job for us, in other words, if we're going to spend money on college, and time and effort and all that other, that stress, etc, we're doing it because we expect an outcome, not because it sounds like something fun to do, so to speak. So what are the five outcomes, I think I've wrote them down here. I don't quite understand them. And we'll go through them here in a minute. But so it's getting into their best school, do what is expected of them, get away, step it up and extend themselves. So can you expand a little bit on some of those and what they're about?
Michael Horn
Absolutely, I'll try to give the cliff note version for each of them, we can rip through them. So that helped me get into my best school. If that sounds a little bit recursive or redundant on itself, it's because it is, it's a lot of high school students typically who are saying, it's all about getting into the best school for me, as I define it, they have a sense that they want the classic college experience, the beautiful brick and mortar school, maybe the prestige, as they define it, and the trappings of it. But there's much less sense of like, why, what will I do when I actually get there, which to be clear is okay, like 75% of something like that have declared science and engineering majors who go into college switch out of science and engineering, right? Then there's a lot of people who don't stay with what they think they'll do. Totally okay. But the point is that they're all about optimizing for the best for them as they sort of perceived the best in that moment. And they succeed, 83% or something like that, if my memory is correct, from the book, have great outcomes. And that helped me do it's expected to me, we covered sort of the flip side, they also feel like it's the logical next step. But it's because someone else is pushing them. It's not because they're excited about it. The third one, get away. So these are students who really desperately want to get away from something right now. It's their hometown, their family life, maybe they've taken a job, they graduated high school, they took a job for a year, and they're like, 'This is miserable, I got to get out of here.' But their time horizon is super short, it's all about escaping, and college becomes this thing that they can say that is safe from a social perspective with their friends, right? It's safe, they can say, 'Oh, I'm going to college.' And people say, 'Oh, isn't that great?' But they're all about just getting away. In the moment they get away, they often realize and we tell some stories in the book from some of these people, they arrive and they're immediately overwhelmed, because like they didn't want four years, and all the expense and all the things that they'll have to do to graduate. They were looking for just like something that got them away. And so part of the book is talking about, if that's where your child is, how do you help them take a half step to get away and then figure out what's the bigger next step? The fourth one, help me step it up. Honestly, we heard this a lot in like more low income communities and places where people were depending on them to sort of change the lives of them and their family trees in many cases, or older students who are going back to college. They were running away from something for sure. But it was more to lift people up and with like a high degree of certainty around the skills and the certifications and degree that they wanted to get that job.
Brad Baldridge
Right.
Michael Horn
Super deep understanding and then the last group, to help me extend myself, honestly, not a lot of 18 year olds fall into this group. This is more adult learners who sort of ver for the love of learning and the challenge of the experience and things of that nature for something that they've always yearned to want to do. But it's a pretty low risk decision for these people. And so it's not super applicable. I can think of a couple exceptions of studies I've, or people I've talked to, but for the most part, this isn't an 18 year old job.
Brad Baldridge
Right. Alright. So obviously, we mentioned that getting away. So using college as a way to get away tends to not be a good reason, because it ends in a lot of angst and failure. Is that true of some of these others? Are the others a little more appropriate? And how do we kind of figure that out? Am I doing the right thing? Or am I doing something that's just asking for trouble?
Michael Horn
Yeah, so my statement is twofold. If you're looking to do what's expected of you, or to get away, going to a four year school that's going to cost a lot of money doesn't make a heck of a lot of sense, you should do something else, take a gap year, take a job, something that's going to get you some experience, build some intrinsic desire to go to school and move into one of the other three jobs, get into my best school, step it up or extend myself, where those three have really good outcomes, well over 70% success rates for all three of them in our research. And I'll tell you one other thing. Some students, they started to help me get into my best school, they apply to that dream school, maybe for some of your listeners, this just happened. And they didn't get in early, say, right. And then they apply to a whole laundry list of safety schools, and a bunch of them, they're actually not really excited about attending. And they get into those and they end up enrolling, to really do what's expected of them now sort of a fall into the 'do what's expected of me.' And so one of the big pieces of advice is don't rack up a bunch of safety schools for their own sake, like pick safety schools, or pick colleges that your child is genuinely excited about enrolling into, don't do what my mom did to me when she sort of threatened you know, if you don't get in early to your school, I'm going to lock you in the room, you can't see your girlfriend, and you're going to do applications to these 20 schools, because I said you're going to do these applications to these 20 schools, half of which I had never been to had never visited didn't know anyone there, right. Like, that's not the right attitude out of this. Pick schools that you're genuinely excited about.
Brad Baldridge
Right. And I think another important fact, that's really missed in the soundbite world and quick lists on our phone, and that type of thing is college and education is such a broad topic that one of the key pieces of the puzzle, I think, is who we're talking about to begin with, right? If you've got that top notch student, that's gonna be that's always been inquisitive, always landed on their feet, could do anything, you know, put their mind to anything and just do it. I mean, they're going to be fine, no matter what they do not
Michael Horn
They're gonna be fine.
Brad Baldridge
Exactly, not much to worry about as they pick the wrong major, pick the wrong school, right? They'll figure it out, go back and get a second degree or a master's or whatever. It's just you know they're gonna be fine. I'm the flip side, I think there's that group at the bottom, who are going to struggle no matter what they do. And I think realistically, it's finding that group in the middle of, is it worth it to go to, and again, I'm not to denigrate, but is it worth it to go to the third tier school to get African Studies? And then what right, I mean, again, and that's, there's all kinds of jokes about that right of, again, the hard core scientists and stuff laugh at the other artists, then a lot of artists tease the hardcore scientists. And I mean, there's certainly room for everybody. But I think that dose of reality that parents are dealing with of, you need to find a career path, and that type of thing.
Michael Horn
Yeah.
Brad Baldridge
Is there any studies? Or what's your opinions on that struggling middle group of, 'I'm not going to go do excel at the top college, I'm going to get solid B's and C's at a second or third tier school?' Is that a good idea? Just
Michael Horn
Yeah, for those students, I think where's possible, if you can pick a place where you're going to be a bigger fish in a smaller pond? There's benefit to that, right? Like, you want to be at the place where you can maximally excel, if you will, and even distinguished yourself because so much what we see over and over again, of this sort of college into career chase is who you know, it's building a social network and social capital of people that are going to get you opportunities to land that first job and so forth, rather than what you know if that makes sense. And how do you meet those people, you stand out, some way, whether it's through your extracurriculars, whether it's through getting a great mentor, that's someone you meet at an internship at a college or professor, whatever it is, an alum. So pick a place where you can sort of be a big fish in a metaphorically if you have a small pond, that doesn't necessarily mean a small college, but a place where you can stand out, I think is more important at that point than anything else. Because what we consistently see is like there are high, there are people who do great from all sorts of schools and all sorts of majors. But it's not uniform, right? The people at the top end of the spectrum. So what you do during school will matter if you're in that middle bunch and making the right connections and so forth. And so I would put personally a lot of focus on how do I get in the networks and the groups where I can meet people who are going to expose me to jobs, I wouldn't have otherwise known and helped me land that first job. And there's that whole wrestling, you mentioned about the science, engineering business versus sort of liberal arts and humanities. And it's interesting, the data sort of suggests that, in the first few years, after graduating, the scientists and the engineers, they do a heck of a lot better. And then they sort of plateau a little bit, because to start with your field
Brad Baldridge
The liberal artists become their boss
Michael Horn
Right, exactly. You sort of have to keep studying and staying up and getting new skills, and some of them go back to get business, you know, MBA right degrees, because they realize that they need to manage people if they want to excel
Brad Baldridge
Right.
Michael Horn
Whereas to your point, the liberal arts folks come out first few years often don't look that great, they take that sort of lower and lower salary job, but their skills are more durable. Typically, if they make the right relationships and connections, then you start to see the growth. And so there's trade offs in both of these decisions. My advice to the parents is really think about where your situation is, and don't read into any of these studies or statistics with sort of a one size fits all lens, because it's going to be highly specific to your condition. And the people, frankly, some of these families, like they know a lot of interesting people to introduce their kids to too, which can compensate for some of these questions.
Brad Baldridge
Absolutely. Right. And I think that's one of the documented advantages to the well-connected family compared to the
Michael Horn
Totally
Brad Baldridge
...the struggling families where just those connections alone are not, it's hard to measure them and so forth, but there's an obvious benefit to them.
Michael Horn
Yep, I think that's right. And look if and I'll just add one cautionary note on the really high achieving student, which is, in the book, we talk, we give sort of a flavor of the, 'what color's your parachute,' a seven petal diagram to help you think through what is best for you and optimising on and just making sure you don't bite off more than you can chew. We tell the story of a student who she was a great ice hockey player, and she got into the Honors College in her state, state flagship university. And she did both. And like it was just totally overwhelming and like living two parallel identities that she didn't want to sort of have meet in the middle. And it became too much she dropped out and she did fine, is the other end of story, she transferred to another school and did great, some of those little things. If you figure out what's really driving you can help you just optimize that search a little bit more on the front end. It's not overly scientific, it just takes a little bit of time upfront.
Brad Baldridge
Right? Absolutely. So is this a book that parents should be reading or students should be reading? Or how does that challenge? I mean, can you speak to that challenge? A little bit of I shouldn't pick my students major? Heresy I can't pick it. But no, maybe I shouldn't pick it. Is the right way to pick? because I think a lot of parents might pick their student failure. Can you speak to that a little bit?
Michael Horn
Totally, 100%, I think this is a book where I expect that parents will definitely get something out of it. I would love it if students read it, but I'm not naive, is what I would say. And there, there are cartoons in the back to sort of do role playing for parents about some of the conversations they might have about these very topics with their kids. And one of them is very much where the parent is trying to say, 'I know what's best for you, you should do this school or this major,' and talking about how to resist that urge and really coax your child to make those decisions or, or perhaps have conversations with a neighbor or trusted other parent that's in your network. Because we also talk about what's known as the 'parent discount' that what you say to your teenager is likely to be discounted in many cases, or they're going to feel some sort of pressure that's not healthy and cause them to do something suboptimal.
Brad Baldridge
Right. Absolutely. So I think spending the time and effort upfront can increase your odds of avoiding dropping out or changing schools or changing majors. Certainly no guarantee and some people are just going to have to do it anyway. But I guess how would you recommend families think through that as far as when do we start and how do we do it and how much effort do we put into this? Let's put it in context. Let's say we have a really sharp kid that says 'I'm good at everything', or could be good at anything right? I'm, I'm my first chair trumpet. I love math. I love science, but it's also seems a little limiting. I also like philosophy and stuff. So I know I could be the engineer and make the good money if I wanted, but might get bored with that and because philosophy's kind of fun, too. And I read a lot. And but I like music too. I mean, those types of kids, where do we start there? Any thoughts?
Michael Horn
Yeah, from my perspective, you want them to go to a school where they can find themselves, right? That's not going to artificially limit the opportunities before they've had the opportunity to dip their toe in the water and find out who's your crew, right. And so I would say, going to a school where they're going to make you declare that major on the application and be super restrictive about your possibility of switching, because they view it as a totally different school, that's probably not the right fit. That's not where this child is, like, they're clearly, the kids clearly saying, 'I'm not sure I have a lot of different interests, I like a lot of different things, I want to experiment a little bit, have a little bit of fun and learn about myself.' So go to a school that allows them to have that experimentation, maybe one that allows you to declare your major after your sophomore year, for example, that might be something you even search on and rule out schools that are going to force that very quick choice so that they have some opportunities to experiment and dance around a little bit and sort of learn who's their tribe, if you will.
Brad Baldridge
Right? Alright, so the next example would be the student that's the strong B+ student good academically, that type of thing. And maybe we're in the situation of: Mom and dad really want me to choose accounting or engineering or, but my passion is psychology, I think. And I'm not going to get into a top school, and I certainly don't think I want to go on for more than four years, I'm not chasing a PhD, for sure. At least, that's what I feel now as a 17 year old.
Michael Horn
Right
Brad Baldridge
Do I go get the training that gives me the job? If I go do elementary ed, I know where I'm going next. If I go do accounting, I know where I'm going next. But if I go do sociology, or psychology or something
Michael Horn
No clue
Brad Baldridge
As a student, as a typical seventh year, I have no idea what the next stop is.
Michael Horn
Yeah, no, I mean, it's, it's interesting. I love pointing out to people, McKinsey, the world renowned consulting firm, hires a disproportionate amount of philosophy majors which I suspect when they turned declare their majors philosophy, they weren't thinking of McKinsey on the front end. So you just never know on these things. But for that student, I would resist strongly getting on a track, that's not their passion. Because if they're listless and not inspired by it, you see a lot of times where that goes, or it's something that like, they might wake up as an accountant five years from now, and have this miserable experience where to your point earlier, let's get them some reps of some different career pathways and opportunities, so that they can start to have some zigging and zagging earlier, frankly, in their lives and figure out, is this something I want to do or not right? And so, in my mind, there, you're picking a school, perhaps staying in state, one that has maybe more support around students, really values, that undergrad experience, is some good career counseling upfront, to really help that student be thinking, 'As I'm picking classes, what am I trying to learn about myself self at each step of the way? And what jobs might I try out during the summer?' I mean, the other piece, by the way, you didn't say but is implicit in something you said earlier, which is not only are students not making 20, 40, 60 thousand dollars in the summers, but we have the lowest teenage participation rate in the workforce as temporary jobs or full time jobs in our nation's history right now. So a lot of teenagers don't even get work experience while they're in high school or their early years of college. I think that's a mistake, like get people in the workforce holding jobs. So they can start to learn, like what do they like and not like about it and gain some experience around that. And so there are colleges that are actually pretty good at doing that. I'll give one example. If you're in the state of Maryland, University of Maryland, Baltimore County, that's not the flagship campus, right College Park is, but Baltimore County, really good at helping create opportunities for students as young as freshmen to get into the labs with the researchers get internships with Northrop gunman, with the NSA with places like that, to start figuring out what do I like and not like, and the graduation rate there is like, just gone straight up through the roof, even though their students are not like the top right scholars in Maryland, it's the next group of people that do really well because it's a supportive environment.
Brad Baldridge
Right. Exactly. And I think that's getting out there and getting out some experience and just trying things. And then if we get down to the the last thing that I occasionally run into parents, and usually it's because they have multiple kids, and they have this dichotomy problem of, 'One of my kids is you know, a go getter and going to go off to college and do great and, but my next one I just like, doesn't seem like it's the right path. I'm a little worried that maybe they're not going to stick with it. I'm afraid they're going to be maybe as soon as freshman, first semester they might be home in six weeks. They might be home in six months, or they might, you know, might take them two or three years and they may still bail just don't have a lot of confidence that college is going to be successful for them.' How do we deal with that type of situation.
Michael Horn
And we spent a lot of time on this in the book. And for that student, this is your gap year student, right? And put some serious bounds on the experience. This isn't like backpacking in Europe for 12 months, like have them get a series of jobs, have them have a set of maybe volunteer experiences, maybe they're taking some classes at the local college or online or something like that. It's interesting right now, because undergraduate experience coming out of pandemic, increasingly, there are colleges that offer more online options, but more just like as a way for them to build a deeper sense of like, who are they, what excites them, and then they can go to college in a year or two. And again, down the experience, this shouldn't be financed by mom and dad, indefinitely, but they'll sort of build some intrinsic motivation, like some desires of like, 'I want to go do X.' And then oftentimes, what we see is, well, if you want to go do X, it turns out, you got to have your bachelor's degree in such a subject or you got to get certified or pass this particular certification or licensure right to be able to do that. And so it'll create a much deeper sense of what do they need to do to get to a goal that they can start to identify, basically get them out in the real world, and actually having some real experiences and turn a lot of different ways to do that. Now there are gap year programs that are curated and help you have those experiences themselves, that are really informative, and a heck of a lot of fun. You can piece it together yourself, but spend a little bit of time and don't push college if that doesn't feel like it's the right next step. Because it doesn't mean it won't ever be the right next step for that student.
Brad Baldridge
Right. Exactly. I actually had a student this past year, she was a very strong student, she got accepted to some pretty high end schools and so forth. But because of COVID, and so forth, she just decided a gap year was a better choice for her and she literally pieced it together herself and she during COVID, she actually found paid work and she was at in some of the state or STB national parks, paid, helped me a building trails and doing some physical labor and other types of programs. And a lot of it was an eight-week stint here and a 12-week stint there were and obviously there's, the go getter types of kids out there that are going to figure it out and set that up. Sometimes maybe parents will have to help in order to be
Michael Horn
Yeah. That's right
Brad Baldridge
...successful, where they'd be happy to take whatever opportunities are found. But they're not likely to go look for them without the parents coaching them, or maybe doing all the hard work and saying, 'Hey, look at this.'
Michael Horn
It's a teachable moment is what I would say right? And you put some boundaries, put some clear guidelines of what you will and won't allow and figure out the right level of coaching that you need to make sure your kid find some productive opportunities. But what you described, I think is exactly right, like 8-12 weeks sprints, right? Like where you're getting some experiences making some money, which feels good, start to take on some a little bit more responsibility over the course of that, and then make some decisions at the end and evaluate what's right for you for the next step.
Brad Baldridge
Right. So all right, well, this has been very informative. I know you've, you've worked hard to get another book coming. And obviously, just to reiterate, so the book we're just been talking about is called Choosing College. And we'll put all that information in the show notes, links to Amazon, etc. So you can get to the book, and this is Episode 143 for the show notes. But what else do you have coming down the pipe here?
Michael Horn
Yeah, I appreciate it. So writing a new book called From Reopen to Reinvent. So it's what should K-12 schools look like as we come out of the pandemic and not just rushed back to the, I would say flawed beforehand, but even more imperfect for the current moment system that we had, and what should they really look like? That's a big push. That'll come out in July.
Brad Baldridge
Right? Well, great. I really appreciate your time and all this great information. If people want to reach out. Is there any other, you have newsletters? I think there's something on a website, I saw where you can take a survey. Can you tell us more about that?
Michael Horn
Yeah, absolutely. So if people want to figure out what job are they in, they can go to choosing.college. There's a free survey tool there. You can find me at michaelbhorn.com or my substack newsletter, The Future of Education, Michael B. Horn, and I'm on Twitter @MichaelBHorn. So lot of Michael B. Horn there, typically will end up with me.
Brad Baldridge
Alright, great. Well, I appreciate it. And we'll stay in touch.
Michael Horn
Hey, Brad, thanks so much.
Brad Baldridge
That was a great interview. Hopefully you learned a ton stick around. We're gonna do Brad Recommends next where we're going to talk a little bit more about gap years and other tools we can use to solve some of the problems that Michael and I have just been talking about. Before we jump into that, would like to let you know that show notes are available, as always at tamingthehighcostofcollege.com/143. And on that webpage will be all the links and so forth that we just talked about, that can help you get to where you need to go. So if you're driving or whatever and you weren't able to write things down, you certainly can go to the webpage there and get more information. Alright, let's go ahead and jump into Brad Recommends.
Presenter
The latest tips, tricks and tools you can use today. This is Brad Recommends on Taming the High Cost of College.
Brad Baldridge
Today, I'm recommending that you go back and listen to some prior episodes. In this episode, we talked a lot about gap years and how to find your path in college and whether or not college is even a good fit. If you go back in some of our previous episodes, Episode 131 as an example, gap years with Holly Bull. That episode we obviously talked about gap years and how to schedule one and how to put it together. We also talked about a gap semester or even a gap summer where you can do things that aren't necessarily an entire year long. And then episodes 130 and 140 are both about finding a career path that fits well with your student. So the first one 130, we've got College Flight Plan with Greg and Beth Langston and 140, we have Kristin Clark. And both of these episodes, again are all about choosing a path. And both of these companies offer some great courses and also have one on one consulting. So if you're interested in learning more about the process, you can check both of those podcasts out and then ultimately go to their websites as well. Alright, that's all we have for today. I appreciate you listening. As always, we appreciate reviews at Apple or Spotify or Spotify or wherever else you might be getting this podcast. We'll see you next week.
Presenter
Thank you for listening to the Taming the High Cost of College Podcast. Now it's time for you to take action. Head to tamingthehighcostofcollege.com for show notes, bonus content and to leave feedback for Brad. The next step on your college journey starts now. Brad Baldridge is a registered representative of Cambridge Investment Research and an investment advisor representative of Cambridge Investment Research Advisors, a registered investment advisor. Securities are offered through Cambridge Investment Research Incorporated, a broker dealer and member of FINRA and SIPC. Brad owns two companies: Baldridge Wealth Management and Baldridge College Solutions. The Baldridge companies are not affiliated with Cambridge Investment Research.
Transcribed by https://otter.ai
Sign up to receive email updates
Enter your name and email address below and I'll send you periodic updates about the podcast.