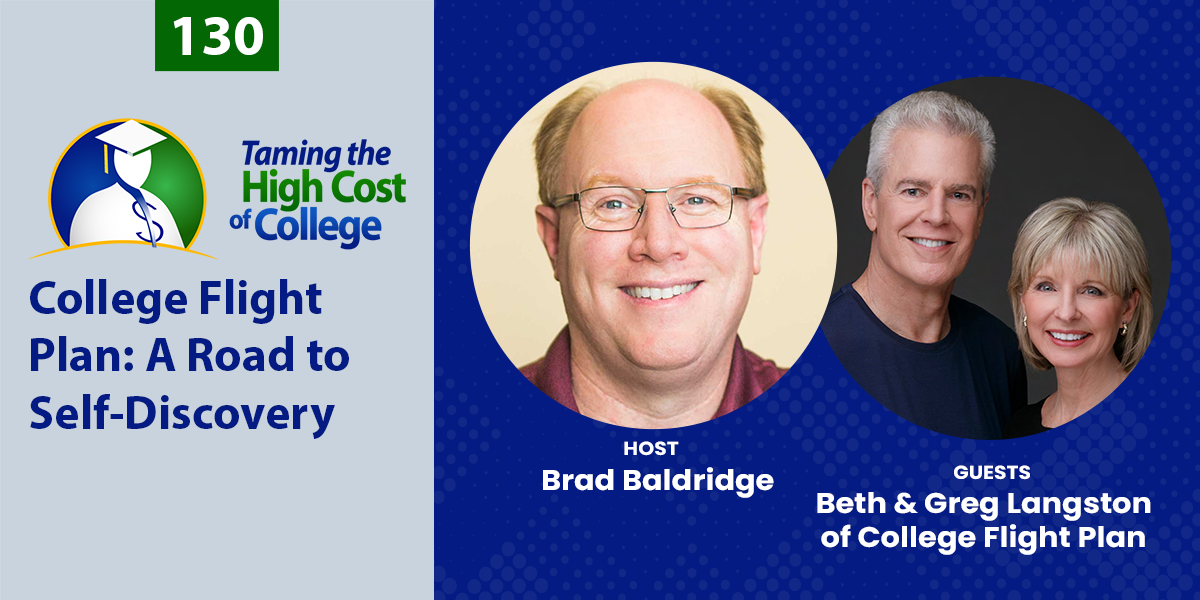 ---
Today's Guests:
Greg and Beth Langston, Founders of College Flight Plan
The goal of College Flight Plan, according to Greg and Beth, is to help students fly out towards a successful future rather than to "fly back to their basements."
The College Flight Plan website offers courses, resources, and consultation services that are highly effective for all students, regardless of their motivation levels. They have eight trusted advisors that provide students feedback and guidance along the way.
Ultimately, their goal is to lead students towards paths where they would grow and become successful.
Questions Answered Today:
What do you recommend for students who are undecided on a college major and career?
There are two types of undecided students:
Those with too many talents/interests that they don't know which to focus on.
Those who just haven't figured out what they want.
Hence, it is very important that they have someone to guide them along the entire process of not only looking for college but also looking for a college career path that would allow them to maximize their potential and become happy in the long run.
For students to be a step closer towards the right path, here are some recommendations:
Whenever possible, have your student shadow a professional. Seeing an actual job in action will surely help them figure out if they could live with that job or not.

Scenario: Beth's son had always wanted to become a surgeon, so, one summer, he interned into an operating room. After the experience, he deemed the profession not fit for him.
Take it slow. Having to decide for their future can be scary for teenagers. Give your student enough time to explore. This allows them to slowly get rid of their fears and gain more confidence in their strengths and uniqueness. These questions may help:

Should I really go to college right away?
Is it better if I take a gap year?
What are the areas I may be interested in?
Do I have to take a four-year course?
Allow them to go through a self-discovery process. College Flight Plan offers courses that take your student through the process of self-discovery, an approach proven effective by many so far.
What happens if the student chooses a path that's not right for them?
By statistics, only 40% of students graduate in four years, and 60% graduate in six years. Among the 60% who graduate in six years, 60% changed majors at least three times. All of these can be attributed to students failing to explore their options before choosing their career paths.
When students choose the wrong path, two things can happen:
Students end up dropping out, which results in having debt but having no degree and no means to pay off the debt.

Scenario: A student went to an expensive college but decided to drop out after three years. The student got into a career unrelated to his studies, and he ended up with $75,000 dollars in debt he's still struggling to pay.
They end up shifting majors, which can lead to wasting money and an entire year or two.

Scenario: A student went from nursing to engineering after three years. From the 80 credits she took, only 22 were transferable for engineering. In the end, she was almost back to square one despite her three years in nursing school.
How can College Flight Plan help me?
To avoid the scenarios previously mentioned, in College Flight Plan, students undergo what they call "comprehensive self-discovery," a 12-hour program that allows students to do self-reflection. This self-discovery program begins with a two-and-a-half-minute video, which is good even for short-attention-spanned students.
The program allows students to introspect. It asks students straightforward questions such as:
What are my values, and why are they important to me?
What are my strengths?
What are my weaknesses?
How do I add value to other people?
When I am 65, what are my goals in the areas of:

Health
Wealth
Wisdom
Relationships

What are my yearly goals in support of my long-term goals?
How do I instinctively solve problems?
What are the things I can do really well?

Questions like this helps students figure out which they organizations to volunteer in or what activities they should join.

What are some things I'm doing now that will not benefit my future?
These questions, answered by students to their parents, eventually lead students to figure out at least a top three things they could possibly major in. Also, students come up with a one-minute speech explaining why they should go to college and why they are an asset to the college that will accept them.
Beth and Greg strongly believe that knowing their values, purpose, strengths, weakness, and purpose allow students to see which path they should take and which career they'll have a future in.
What good does it do to have an "accountability partner?"
One more good thing about the College Flight Plan is their promotion of "accountability partners." These are individuals the student trusts or people who are expected to continuously monitor the student and oversee their applications. Accountability partners hold students accountable for finishing the application process.
Statistically, the probability of the student succeeding with applications goes up to 95% when they have accountability partners. Typically, students choose the following people as their accountability partners:
Accountability partners are a requirement for any of the courses offered by College Flight Plan.
When is the best time to start thinking about exposing your students to possible career options?
According to Beth, "We always say the earlier the better. Even with little kids, you can start."
The truth is, you can never be too early. One good way for you to practice this could be as simple as changing the way you talk to your student. Instead of the common questions such as:
How was school?
What did you have for lunch?
Who did you sit by at lunch?
You can ask more meaningful, probing questions such as:
How did you use your strengths today?
How did you show kindness today in class?
This way, even at a young age, your student is already familiar with concepts like 'strengths' and 'interests' which would surely serve its purpose when the right time comes. This also helps students distinguish the activities that truly matter to them.
Remember that, when they start high school, they get caught up with so many academic and extracurricular activities going on. Exposing them early should give them the power to choose what's best for them and deselect the least important ones despite their many options.
In terms of how early you should consult with professionals (e.g. College Flight Plan or Brad), it's the same answer: the earlier the better. Although Beth says that most students who reach out to them range from freshman to senior.
College Flight Plan is available internationally as well, in the form of a 12-week weekly call.
---
Links and Resources
Helpful Resources
---
Brad Recommends:
Today's recommendation is MyinTuition, which is a website that offers a financial aid calculator for about 75 schools, including top private schools, universities and large colleges, public schools (UMass, UVA), liberal arts colleges (Williams, Boston College, Boston University) and even Ivy League (Harvard).
The website provides an estimate of the selected college's cost. As you may already know from previous episodes, college cost is the cost of attendance (travel, personal expenses, books, food, tuition, room and board, etc.) minus free money (financial aid, scholarships, etc.).
To get an estimate, you may be asked about:
The citizenship of your student
Family income
Home equity
Cash
Retirement plans
Investments
The number of students attending college
From the information filled in, MyinTuition provides three types of financial aid estimates:
NOTE: 90% of families land somewhere between low and high.
The estimate is broken down into four components:
Loan
Work
Scholarship
Contribution from parents/students
Again, the website only covers about 75 of around 2,000 colleges in the U.S. But if one of those schools is on your list, it's a resource worth checking out. It's easy to use, and it's fairly intuitive.
Important: These colleges shave their own website, so, as always, visit them and verify.
---
THANKS FOR JOINING US!
We'd like to extend an invitation to our listeners to share their feedback and questions. Contact us to submit a question.
If you find our podcasts helpful, please share us on social media and tell your friends!
The bottom line is that we care what you think and want to help you out, so we'd appreciate you reviewing us on Apple Podcasts, Spotify or your preferred podcast platform. Even better, to receive automatic updates, please subscribe to Taming the High Cost of College on Apple Podcasts, Spotify, or wherever you listen to your favorite shows.
Brad Baldridge
Welcome to Taming the High Cost of College. Today we have a great interview with Beth and Greg Langston. They have a great website that helps families choose majors. They've got a lot of information and some great products, and also a great free resource. So if your student is struggling with picking a major, you need to stay tuned.
Presenter
You have kids, they grow up and before you know it, it's time to plan for college. Where do you start? How much is it going to cost? Will you qualify for financial aid? Should you be looking into scholarships? When will you be able to retire? What about student loans? The list of questions is never ending. The good news is all the answers are right here. Welcome to the Taming the High Cost of College Podcast. Here is your host, Certified Financial Planner, Brad Baldridge.
Brad Baldridge
Welcome to Taming the High Cost of College. I'm your host Brad Baldridge. In this episode, we've got a great interview with Beth and Greg Langston. We have a great discussion about how to choose a major and some roadblocks that many families have when it comes to picking a major. And some of the costs and problems if we struggle with changing majors too much in college. Beth and Greg are also offering some free resources. So I'd encourage you to go to their website at collegeflightplan.com. When you sign up for their newsletter, they will send you some great information on how to choose a major, some tools that you can use if you're struggling with it. And other information as well. As always show notes are available at tamingthehighcostofcollege/130, which will have all the links and resources that Beth Greg and I talk about so you can get all the information there. Let's go ahead and jump into the interview.
Today we're welcoming Beth and Greg Langston. They have a website and make some great materials at collegeflightplan.com. And they do a lot around self discovery. So welcome Beth and Greg.
Beth Langston
Thank you. We're glad to be here.
Greg Langston
Absolutely. Brad. Good afternoon.
Brad Baldridge
All right. So tell us a little bit about College Flight Plan. It implies that you're, what, teaching people how to fly, or teaching students how to fly or what. What, what's that about?
Greg Langston
Well, what we're doing in a nutshell, is we help students figure out what their strengths and weaknesses are, what they're passionate about, and naturally gifted to do. So they can choose a major that allows them to graduate in four years and have a fulfilling career and actually fly out of the home into a successful future. That's what we do. Yeah.
Beth Langston
And not fly back into their basement.
Greg Langston
And not fly back into the basement, exactly.
Brad Baldridge
Very good. Yes, of course. So we're trying to get our kids launched, or the old analogy of spread their wings and fly?
Greg Langston
Absolutely.
Beth Langston
Yeah.
Brad Baldridge
So I work a lot with families, of course, and I run into this a lot where kids have this undecided challenge where I think there's really two types of undecided. So let's talk about each one a little bit and get your opinions and ideas here. But the first undecided is the super achieving type student who's qualified in a lot of things, they're really strong and music, but they also love math, and they don't really want to go into a career that's math-related because they still love history, and they're good at English. And they love to write, and they've got many talents. And I think sometimes maybe they're afraid to pick one and run with it. Or they don't really know because they're capable of doing so many different things. Maybe they're afraid of getting bored. How do you deal with that? And what's your opinion on that scenario?
Greg Langston
Well, first of all, any listeners out there that have a child like that, you're very fortunate. What typically comes with a very self directed individual who's very capable, they also come with a, they set a very high bar to themselves, and they don't want to be wrong. And so when you say pick a major, it freaks them out, because it's like, but I like to do this. And I like to do that. And so through the self discovery process, we help the student to figure out, 'Hey listen. Determine what are your core majors. In other words, what's your primary major, and you can have a minor, and maybe a secondary minor, that takes some of that pressure off of saying, "it's only can be one, it has to be one."' And so we found that that takes some of the pressure off. But those families that have a student like that are very fortunate, but their students still has to determine what is their focus because they can't do everything as much as they'd like to. In college, they're not going to be able to do everything.
Beth Langston
And we also, Brad, recommend that they take the time to explore those areas that they think they're interested in as professions, like by doing internships or riding along with somebody that does that job that they think they like. Our son is a great example his whole life. He thought he wanted to study medicine. And as he got older, he said, 'Oh, I think I want to be a surgeon. That'd be great.' And so he had the opportunity to intern well go into the operating rooms with a neurosurgeon and a cardiovascular surgeon. And during one of the summers in high school, and after he went along with them and saw what they did, he said, 'That is not at all what I want to do. It's not what I imagined it to be.' And so he ended up going into the financial world. So go figure, he didn't waste money going to all those years of med school time and money. Can you imagine?
Greg Langston
A decade of his life that would have been something he wasn't passionate about?
Beth Langston
Yeah, and what...
Brad Baldridge
Right, absolutely. I think that's a big challenge. To go along with that, though, I think we also need to be careful, because I've talked with families who, my son went and shadowed an engineer. And he decided he doesn't like it because that engineer just sat behind the computer all day and worked in CAD drawing. It's like...
Beth Langston
Yeah
Brad Baldridge
Yeah, I can understand, so he's not interested in doing CAD drawing. But engineering is a much broader field, you have an engineering degree, doesn't mean that you're going to be niched into sitting behind a computer and making drawings, that couldn't be what you do. But you could be in sales, you could be in consulting, you could be on a shop floor, you could, just all kinds of different paths. So I think, again, understanding, if you get Elementary Ed teaching degree, it's pretty clear where you're going. You get an engineering degree, or you get a liberal arts degree, it's not so clear where you're going. And that's just another challenge that we have to do with.
Beth Langston
Very true.
Brad Baldridge
Alright, so let's talk about the other type of undecided student, which would be the more typical student that either just doesn't have a good feel for what they're good at, or they're just maybe they're a late bloomer, and they just either don't want to think about it, or haven't thought much about it, or when they do think about it, it's not perfectly obvious. But I think we see a lot of this and especially the average students that are just trying to say, 'Well, I'm going to go to college, I'm going to get a job of some sort, I could be a teacher, or maybe I could also work in business, or oh, maybe some sort of liberal arts degree, maybe I should study Spanish,' and they just bounce around because they don't seem to have any direction.
Greg Langston
Yeah, we see that a lot. And basically, what you're talking about is a student whose procrastinating because inside, he or she is really concerned about what the heck am I going to do with the rest of my life? And when a parent approaches that, it's like the third rail in the subway system. There's just stress, 'I don't want to talk about it mom, I got things to do, I got homework, I got three sports didn't, get out of my room, leave me alone.' Obviously, I'm exaggerating a little bit. But what we find is, once a student begins the process of self discovering, and they find out that, listen, this is all about you. It's not about your parents, it's not about your friends, it's all about you, and we find you where you are. And then it's like painting by numbers, it's very sequentially developed. So that we identify some accomplishments that they've had, then we identify some additional things that are of interest to them. And what happens is the onion gets peeled off layer by layer, and they start saying, 'Oh, this is kind of cool. I'm really finding out about myself that you know what, I'm really good at doing this,' because they get feedback from third parties, we have eight trusted advisors that give them a 360 review, in addition to an accountability partner, who helps them go through the process to say, 'Come on, you can do this.' And they get information relative to their strengths, their weaknesses, how they add value to others, and a confirmation of from eight different people. This is what profession that you should pursue based upon how I know you, and I've seen you over the years, or this is the major that you should study. And that's really transformative, and it gives the kid a lot of confidence.
Beth Langston
Plus, when they're looking to these years of college, it's looking to the unknown, and it's very scary sometimes. And so this as they get to know and feel confident and clear in who they are what makes them unique, it takes away those layers of fear as we were talking about, and they're more equipped to decide what they want to do a lot of times, I mean, sometimes it is not the right choice to go to college right away, either take that gap year, though, explore areas that you think might be interesting to you, or find a profession that doesn't require four years or more of college. There's a lot of pressure for these kids to go into college, when that's not really the answer for some of them.
Greg Langston
As you're describing that it brings to mind, we went to a Grand Canyon, and you look at the VISTAs and you see how beautiful it is, and you start walking towards the edge. And if you didn't have a guardrail, you could go over the edge, but the way the guardrails are put in the transitions and the steps that take you through these VISTAs, you can go through it safely and successfully. And that's basically what we do with the guiding process that we take the students through to be able to in a sequential way, get to the other side, see the views, see the horizon, enjoy the experience without the risk of falling over the side.
Brad Baldridge
Right, absolutely. So I actually went to your website at, you have some great free resources, I signed up to get your newsletter, and you sent me this great report, where you have some free assessments, ideas in there. I think a lot of high schools will also have some sort of Career Cruising and different Xello, I think is another one. But they have resources where the student can answer 50 questions, and it'll spit out, 'Here's your top three choices.' I know my son came back, and I can't remember exactly what it was, but it was like waste management or something. And he's like, 'Oh, I can be a garbage man.' And he just thought that was hilarious.
Beth Langston
That's what I was. Alright, the same thing for me. Okay. But the good news is, we always need garbage collectors. So no matter how the economy's going, we still make a lot of trash.
Brad Baldridge
Right, for sure.
Greg Langston
But unfortunately, a lot of schools, a lot of schools default to that and say, 'We're using Naviance, we're using another tool, and just take this assessment, and it'll tell you everything you need to know about what you want to do for your future.' And that depends upon how you feel one day, how you answer the multiple choices that one day. And we personally don't think that's enough.
Brad Baldridge
Right, and they would agree that it's probably not enough. It may be a place to start. Because I think, again, then the end decided rail, we just mentioned that. I guess the other thing that I see, and I don't know, I'm sure what you see is probably a whole lot of undecided kids because they gravitate towards you. But what I see in the general population is there is a batch of kids, maybe a third to a half that are very focused, they know what they want to be. They say, 'I'm going to school, become a teacher,' they made that decision, right or wrong. And again, I think a lot of times they make the decision, they pursue it, and they end up changing careers or majors anyway, but at least they feel like they've got a path.
Beth Langston
Exactly. Right. They feel like it and, but it may not be the right one if they haven't done the work to explore
Brad Baldridge
Right
Beth Langston
What gifts, and their interests and their talents are.
Brad Baldridge
Right. So again, if we can pick a path, it makes our life easier. I think sometimes parents might pressure a little bit around just being you need to pick something. So sometimes students might be a little bit flippant, it's not the right word, but they don't know how to do it, so they just pick something so that the pressure is off. It's like, 'What do you want to be? Firefighter?'
Beth Langston
It happens a lot
Brad Baldridge
Right? That's what I picked when I was four, I'm going to stick with it. Because then you can, then people every time people asked me that question of what are you gonna do when you grow up, and or where do you want to go to school, I've got an answer. And then we can just move on, and doesn't have to be the right answer. It just has to be an answer.
Greg Langston
And that answer turns into the statistics, which are that 40% of college graduates today, only 40%, graduate four years, a full 60% graduate in six years, and 60% of them change majors at least three times. And that's why it's taking the six years. And the thing is, if you look at average cost of college, on the low end is 30,000. On the high end, it's 80,000. And you have an extra two years that 60 to $160,000 of additional debt, or expense that somebody's got to pay for.
Beth Langston
And some of them dropped out after two years with that debt, two years of debt and no job.
Greg Langston
And haven't figured out, they haven't figured out what they want to do.
Brad Baldridge
Exactly. I mean, I remember going back to my high school reunion and bumping into a casual friend I had in high school. We hadn't reconnected after 10 or 15 years since the last reunion that we were both that and yeah, he had said that he went to a relatively expensive private school for three years and essentially dropped out and moved on and had a career unrelated to what he was studying. But in talking to him a little bit, he had like $75,000 of student loan debt still and he was struggling to pay that off. And of course, he got no benefit from that becand ause he ended up changing directions. So we certainly want to avoid that.
Beth Langston
Right.
Brad Baldridge
Another example that comes to mind when we talk about changing majors is I had a young lady that had about three years into nursing school, and she was switching to engineering. And she had her 80 credits. And when she actually transferred engineering, only like 22 or something like that actually transferred. So she had three years of college under her belt. When she transferred, it amounted to a little less than a year towards engineering. So obviously
Beth Langston
Because she hadn't had the opportunity
Brad Baldridge
Yes.
Beth Langston
She hadn't had the opportunity to explore.
Brad Baldridge
If we can avoid that, that would be great, but the challenge is how do we avoid that? And I think that it's the key for what you guys are providing. So let's talk a little bit more, I think inside your courses, you've got a 'self discovery course' is what you call it. And there's a full on and maybe a self discovery light. And what are the names again, as far as
Greg Langston
There's the 'comprehensive self-discovery,' which is a 12-hour program, not in one sitting, all the videos in the training is an average of two and a half minutes. Because we know that young people, in fact, their parents, as well have a very short attention span. And so all the information is transmitted in two and a half minutes or less, on average. And it's all mobile optimized and with interactive workbooks, and so they can work through that if they're aggressive. And they spend time they can do that in in a week or two weeks, they can get through all that information. There's also an essential one that six hours, that takes obviously half the time. And then we also offer it for some, since it's mobile optimized, we offer some families, in fact, internationally around the world, Albania, Colombia and other places, parents say, 'Listen, I want you to take my student through this process, and I want you to handhold them, and mentor them.' So we offer up to a 12-week weekly call to make sure that the student gets through the process. And then one of the unique features of our self discovery is that the student has to present their whole process to their parents in their accountability partner.
Brad Baldridge
Yeah, it just you mentioned the 'accountability partner.' Let's talk about that. Because I think that's a unique thing that I haven't heard or seen anywhere. And I've been involved in this for 15 years now, what is an accountability partner, and how does that fit into whether they use your courses or not, explain a little more about that.
Greg Langston
Sure. An accountability partner is someone who's going to hold the student accountable to finish the process, just like you, as a financial planner, are holding families that you're working with in their managing their wealth strategies and our retirement strategy, you say, 'Hey, Greg, it's time to sit down, we got to make these decisions relative to X, Y, and Z, you got to do that.' And the statistics show that if you just say, 'I'm going to do something,' the probability is single digit, if you share with your friends and family, the probability of success is 65%. If you have an accountability partner, it goes up to 95%. And so what we do is we have the student pick an accountability partner, and most people on the air right now are thinking, 'Well, that's going to be one of their buddies, one of their friends.' And typically, it's very unusual that they do that, they typically pick a friend, a relative, or a mentor.
Brad Baldridge
Right, exactly. So I know when my son was working on his college essay, first of all, essays are not my thing. I'm much in the financial side, so I'm not really qualified to, to get involved. But he chose to work with a close family friend who, and again, once it's not mom, and dad, I think that's one step in the right direction for a lot of reasons, one being their attempt to become independent as they're going through their teenage years makes it a little challenging for them to work with mom and dad. So I think you can use an accountability partner for the entire college process or part of this, getting through the course now use the accountability partner as part of the self directed courses that you're offering, are they, is that part of the narrative as well?
Beth Langston
Right
Greg Langston
All courses, they have to pick an accountability partner.
Beth Langston
After each step, they share their results with their accountability partner to keep them on task.
Brad Baldridge
Right. So I, yeah, so I see that a lot or recommend that a lot. Where in talking with parents, I hear a lot of, 'We're really struggling with getting the applications done, we're really struggling with picking schools or moving this process along.' And I often recommend, 'Well, can you, as parents, get out of the process a little bit, and maybe there's a aunt or uncle, or a good family friend, or someone else that could step in?' Because your student will treat them with a lot more respect, perhaps give them a little more time to talk. I mean, again, students hear mom talking or dad talking, they jumped to conclusions before you've said five words that you're being negative or critical sometimes, or whatever it might be. So I love that idea of an accountability partner.
Beth Langston
And we also, when we mentor the students, we get the parents saying, 'Could you tell them this because they're not listening to me?' We're like, 'Sure, we'll try.'
Brad Baldridge
Right, exactly. And I think that's a challenge that many families have and I think the idea of an accountability partner is great. So another thing that this 'parent starter kit' again, let's so let's talk about that. How do you get the parent starter kit again, we already go to your website and?
Greg Langston
They go to collegeflightplan.com/guide.
Brad Baldridge
Okay.
Greg Langston
collegeflightplan.com/guide, and they'll get a 33-page document that has the five key things you should help your student do to start the college process, some important statistics that every parent should know, in terms of how a student, how they do in college, how much it costs. The fact that, in surprisingly enough, 87% of people that are a 16-29 say they have no purpose or meaning, which just underscores the fact that they don't do this self discovery in this review prior to going to college. And so that's why they, they are changing majors and doing these other things. But in addition, they have free assessments that we recommend some ACT, SAT prep, we don't do that, but we have some resources that we can recommend. And then one of the things that goes unnoticed and this is right in your wheelhouse, is the opportunity to reduce costs and scholarships, that if you do it properly, you can get scholarships that you'd be surprised how many are out there. And Brad, this is your wheelhouse, you know exactly how to do that, right? And so we've identified some locations where they can find information, but surely they can go and talk with you.
Brad Baldridge
Absolutely, yeah, we've got many podcasts on the concept of scholarships, need-based merit-based, so go back in our catalog.
Beth Langston
That's so great
Brad Baldridge
We'll put that in our show notes as well.
Beth Langston
Brad, do you find that some of them go unrewarded because people don't know they're, there, available?
Brad Baldridge
Absolutely.
Beth Langston
Yeah.
Brad Baldridge
I gave a presentation at a high school a couple years ago, and as part of that presentation, we often talk about scholarships. The school counselor was in the room, so I asked her what's going on with scholarships. And she essentially said, 'Well, we've got one scholarship, we give out four awards per year, we only had four applicants. And this scholarship is targeted to the student athletes.'
Beth Langston
Oh, wow.
Brad Baldridge
Nice, well, that's interesting. Of course, there was 100 people in the room that heard that, and that 'Oh, my god!' kind of thing was going on. So I'm sure they got a lot more applicants the next year. But after a few years, I'm pretty sure that things are quiet down, and it'll be right back to the way it was. So yes, there are certainly a lot of scholarships out there. And I think there's a pecking order as far as how much time and effort you put into that. And I think that's another challenge with families is, you've got a great course here on self discovery and personal growth and picking majors and what, where are you going with your life and that type of thing. The challenge is, it's competing with test prep, and competing with other AP courses, and competing with all their college applications and their essays. So where does this fit in? When do you recommend students start trying to figure out majors and career paths and that type of thing.
Beth Langston
We always say the earlier the better. Even with little kids, you can start. There are books about what to ask a kid when they come home from school, like 'How did you use your strengths today?' So when they're little, they start realizing, 'Oh, these are my strengths, these are my interest.' 'How did you show kindness today in your class?' instead of 'How was school? Who did you sit by at lunch?' Ask more probing questions of them. But for our course, we like to get freshman through senior, I do believe the earlier, the better, because then they realize that they need to start pursuing activities that speak to their strengths, so they can verify what they've found in their course. But starting early is key. And
Greg Langston
One of the things that we find that when a student goes through self discovery, they interrupt the pattern that typically happens in high school is you start as a freshman, you're figuring out what high school is like. And then you start adding more and more and more and more activities, because they're there. And all of a sudden, you're in three sports, you're doing all this extra stuff you're doing, you're making the essays, and so on and so forth. And you're overwhelmed. And everybody's running around with their hair on fire, families, students alike. By going through that self discovery process, and the students saying, 'You know what, I'm interested in this, I love my sports. But do I really need to be in three sports? That takes a lot of time, why don't I just do one of them, if that's what I want to do, and deselect some things, to allow myself to focus on an internship or some AP courses or doing the essays. And I have a little more time to do that.' And so it's very beneficial for the student to actually deselect doing some things that comes as a result of going through that self discovery.
Brad Baldridge
Absolutely. All right. Well, as we're working through here, another thing that I noticed is there's a couple of free resources. So I want to emphasize that that I think with everything else, right, there's, you can do it a little bit, you can do it a lot. And I think some families maybe just plugging into the free resources at the high school and plugging into the free resources that you're offering on this, this handout is great. And then from there, you can escalate as you need to get involved in the course that you're offering or whatever it might be
Beth Langston
Definitely, and for the free resources and even test prep, that gets expensive too for the ACT SAT prep classes, but you can get a book online like the Princeton Review, that has a test in it and just start taking, start practicing. And it practice makes perfect. That's what we recommend for that. And that costs a lot less than a class, but you have to be a motivated student to want to do the practice.
Brad Baldridge
Right? And that's a great question, too. So do you think the stuff that you're providing is appropriate for that less than motivated kid? I've had situations where parents say things like, 'Well, they think they want to go to college, but they're not acting like they're not looking at schools, they're not doing any sort of research. This is going to happen, I'm going to have to do most of the work, I'm going to have to pick some schools and do some visits.' So if we have a student that's a little less motivated, is this a good path? And where would it fit? And how would you present it to the student to get them to actually participate?
Greg Langston
Well, what we've done, we've had a number of students that are like, 'Oh, my gosh, this is something else my mom and dad are making me do. I'm not sure what I want to do,' and they start the first video. And the first video is two and a half minutes. And it's all interactive videos, with airplanes, and so on, and so forth, saying, 'Listen, this is all about you. It's not about your parents, not about anybody else. It's about you framing your future life. And we're going to come alongside you and help you discover your story, your unique story, because we believe that every single human being can create their own unique story.' And so we meet them where they are. And then we layer, we build that information on the process, just as I was taught these things, when I was an executive in the large companies, they layered the learnings to me is I was running a million-dollar business, a 10-million dollar business, 500 million, and then a billion-dollar business, they had to layer that learning onto me. And so we do the same thing with our discovery process, so that at the end of the process, the student will come out, even the one who is unmotivated part of the part and parcel of the process, the student will say 'Mom and dad,' because they have to report out, they say, 'These are my values. And this is why they're important. These are my strengths. And these are my weaknesses. And these are, how this is how I add value to other people. These are my goals for when I'm 65 in the areas of health, wealth, wisdom, and relationships, these are my five-year goals in support of those my one year goals and supportive these. This is how I instinctively solve problems based upon an assessment I took. And this is my distinct natural ability,' which is a paragraph that they frame that says, 'Based upon my discovery, I can do this really well. This is my wheelhouse, so I can volunteer in school or at work or in other activities, knowing that I can do this distinct natural ability.' Then armed with that, they say, 'With all that that's positive, what are two things that I'm doing now, that's currently incorrect?' And what they do is they say two habits. They invariably say too much social media, and not enough sleep. And this is coming from the kids telling their parents, then what you do is you say, 'Armed with that these are my core majors. This is what I should study. These are the three.' And let me give you my elevator speech, which is a memorized one minute speech that says, it's 150 words, 'This is who I am, these are my strengths. This is what makes me unique. And this is why I need to go to your college. And this is why I need to go speak to somebody else in admissions because I want to contribute to your school.' And the parents listened to that. And they're like, 'Oh my gosh.'
Beth Langston
So for those unmotivated students, it's so fun to see how suddenly after the first tool they go through, it's like, 'Oh, my gosh, this is great. That is me. Now I understand.' As they keep progressing along, it's like the light goes off, or goes on. And they are, it's amazing to see the transformation and to see the parents appreciation for their transformation, because they have more clarity and knowing their values and strengths, weakness, purpose, major or career they're going to pursue. They have this greater confidence and clearly understanding and articulating what makes them unique. And they can use that in their application process in their interview process. And they've all feel like they have a little bit more control over their futures, because now they have actionable plans and goals. It's really cool.
Brad Baldridge
All right, well, yeah, that sounds great. And, again, I've seen a lot of transformation happen. I was just looking through some of the materials. And I noticed there's things like the Kolbe assessment in here and your DNA. So you guys are using some of the top science and this has been an area that has been studied for maybe the last 20 or 30 or 40 years pretty aggressively as far as well, how do we get to the next level? Just like if you wanted to be an Olympic gymnast, there's things you do when you're seven, so that you there's things you can do when you're nine, so that there's things you can do when you're 12. so that when you're 15, you're on your way to the Olympics. It seems like there's a lot of assessments and other tools that you're using, and applying it. So I think there's many people out there that either through their, through their work, because they're at a corporation or larger employer, where they're doing trying to do assessments and trying to optimize the team, that they're using things like Kolbe and other things. So some parents may be familiar with some of that. And
Beth Langston
Yes
Greg Langston
Absolutely, and, and that's where we built it from plus, many schools now are very focused on SEL, social emotional learning, which in itself is very positive. But what we found that is lacking is that, that understanding of self, of your values, how you feel, how you're treating others, therefore needs to be put into action, what are you going to do next? How are you going to use that information going forward, and that's a disconnect that currently exists in SEL. And we presented this recently to one of the leaders of the local school district, and he said, 'In my 38 years of teaching, I've never seen a program this comprehensive, that takes into account the social emotional learning, together with the individual, the student and the teacher.' And so we're on path to put in a pilot process into the number one school system here in San Diego.
Brad Baldridge
Wow, that sounds great.
Greg Langston
Yeah.
Brad Baldridge
All right. So
Beth Langston
It's our hope that this would be in all the high schools in America or something like it, we don't understand why, Greg doesn't understand why he had to wait 20 years after college to get some of these assessments that helped him be a good leader and a good team player. And it's so beneficial to young people to get this early.
Brad Baldridge
Yes, absolutely. I think another big challenge is people don't know what they don't know.
Beth Langston
Exactly.
Brad Baldridge
So that's where I think coaching and that type of thing, just in general, I mean, the whole world is starting to provide a lot more coaching. I mean, if you want to become a better baseball player, you can do it or golfer, that's where coaching is obvious, right? But now there's coaching around getting into college, getting through college, picking your major, all the things around test prep, and essays, and all that kind of stuff, that's becoming more common, and people are more aware of it. But it's becoming more ubiquitous. Because in the end, if you identify something that you want to strengthen or get better at, whatever it is, if you can find some way to get some coaching or help, for a lot of times, I think, that can make a huge difference. And I think it has a concept that you've mentioned much earlier, of course, it has a built in accountability partner, where if you have a coach that says, 'Well, you need to spend time in the batting cage and come back a week later, and how much betting time did you have,' and you say, 'Zero' with the coach, depending on the type of coach, may motivate you a number of different ways. But I think back to my, some of my coaches and sports, they were pretty hard on you if you didn't show up and practice. And you certainly didn't get the point when they learned those types of things.
Beth Langston
Right, so true. And I think a lot of parents assume that the high school counselor is going to be the person that holds their student accountable for going through this college application process. But high school counselors are spread too thin, they do a great job with the students that are squeaky wheels, but they're the average, the ratio is 424 students to every one college counselor in America. Here in California, we have 900 students per one college counselor. The recommended amount is around 200. So they can't help every student that needs help. They can't hold them accountable, that they're going through the process in a timely fashion. That's where, you have to get outside cooching, as you say.
Brad Baldridge
Absolutely. And I agree with that. And not only are they... Again, if you're spending money and you're at a private high school, a lot of times there is what's called a 'dedicated college counselor' where their job is to work with the juniors and seniors and help them with the college process, picking schools, writing essays, all that kind of stuff.
Beth Langston
Right.
Brad Baldridge
But especially at their public schools. The school counselors are not college counselors, they're school counselors, they're dealing with teen pregnancy, they're dealing with truant students, they're dealing with all kinds of issues. And on top of that, they're also trying to facilitate college for the half or the quarter or the three quarters that bet are going to go on to college, and they are spread thin in many ways. I agree with that. And I think the bottom line here is starting early.
Greg Langston
Absolutely.
Brad Baldridge
As you mentioned, maybe these assessments are appropriate for as early as freshman year.
Greg Langston
Yep
Beth Langston
Yes.
Brad Baldridge
What I find around the college processes is whenever the students mature enough, is when you start, so sometimes it's a freshman or sophomore year. But if they're not mature by junior year, then you have to go without, I mean, you have to say it's time to mature, it's time to get involved in this, and and get to work.
Beth Langston
And this process might help them.
Brad Baldridge
Yeah, what are we going to do junior year? If we're struggling with majors and that kind of stuff, maybe we need to do this assessment junior year, so that we don't get end of junior year and find ourselves in the exact same spot of, we still don't know anything. And now we only have three months to figure it out. Whereas a year ago, we didn't know anything, but we at least we had a year and three months to figure it out.
Beth Langston
Right.
Greg Langston
Right.
Brad Baldridge
Again, so I really like your stuff. Again, well, your website, collegeflightplan.com, and I'm sure we're going to be talking some more and in future podcasts as well.
Greg Langston
Absolutely, Brad. We thought it would be a pleasure.
Brad Baldridge
All right, that was a great interview with Beth and Greg. Hopefully you've learned a ton, I encourage you to go visit their website at collegeflightplan.com if you want to learn more. Now don't go away. Our next segment, we're going to talk about My Intuition, a great website that helps families understand how need-based aid works at some of these more expensive private schools. Let's go ahead and jump into it.
Presenter
The latest tips, tricks and tools you can use today. This is Brad Recommends on Taming the High Cost of College.
Brad Baldridge
Today I'm recommending myintuition.com. So this is a website where you can get an additional financial aid calculator for about 75 schools. Now typically, these schools are the top private schools, both universities and large colleges. There's just a couple of public schools on the list. They have calculators for UMass and UVA. These calculators are simplified. And they work really well as far as getting a quick estimate of what college may cost. They only ask about seven questions, they ask about the citizenship of the student, family income, home equity if you have any cash that the parents may have, retirement plans and investments. Although this information is not used in the calculation, they ask about it to help you think about it so that you don't add it to the other areas, which would be the non-retirement investments. And then finally, they ask if there's multiple kids in college at the same time. Once you've entered this information, they will give you a low best and high estimate of how financial aid may work out as far as need-based aid. So as an example, I'm looking at an estimate here where it says the low estimate is 7800, the best estimate is 13,000, and the high is 18,000. And that's the ultimate student and parent contribution for college. So in this example, they have 3500 for a student loan, 1000 per student work 58,000 dollars scholarship and a 13,000 dollar contribution from the student and or the parent for a total cost of the college of 75,000. And again, they also have a low estimate and a high estimate. If you look into the fine print, what they're telling us is that the best estimate is about the median, for families with these statistics, but anywhere between the low and the high estimate is where most people are going to land, something like 90% of families will land between the low or the high, somewhere in between. So what I really like about these calculators is that they're pretty simple to work with. And they're pretty clear as far as what the output is telling you. Again, they break it into four categories, loan, work, scholarship from the college, and contribution from the student and/or the parent. Now these calculators are typically for the high-end private schools that tend to offer a lot of aid. So it's going to have colleges like the Ivy League and Stanford and as well as the liberal arts colleges like Williams, Boston College, Boston University, so there's a lot of different colleges, but there's only about 75. And of course, there's over 2000 colleges, so it's a pretty small segment. But if the colleges you're considering fall on this list, I think it's a great place to look and just do a quick calculation for a couple of the schools. So again, that's myintuition.com is where you can go and look up the 75 schools. Now of course, each of these colleges will also have a link on their website. To what I've seen is that if you go to their need-based aid calculators, or their net price calculator on the page, they'll have two choices. One is you can do this my intuition calculation, or you can do the full on net price calculator. So again, if you're looking at some of these high end schools, I highly recommend you check it out. As always, we appreciate reviews. So if you can leave us a review in iTunes or wherever you are getting your podcasts, that would help other people find us. And please share our information with whoever else you might feel would benefit from it, especially perhaps your school counselor or college counselor. And let them know that we've got a great podcast out there that they should be listening to. And of course, go to our website at tamingthehighcostofcollege.com. We've got lots of resources, and lots of links to outside resources as well. That's all we have for today. We'll see you next week.
Presenter
Thank you for listening to the Taming the High Cost of College Podcast. Now, it's time for you to take action. Head to tamingthehighcostofcollege.com for show notes, bonus content, and to leave feedback for Brad. The next step on your college journey starts now.
Brad Baldrige is a registered representative of Cambridge Investment Research and an investment advisor representative of Cambridge Investment Research Advisors, a registered investment advisor. Securities are offered through Cambridge Investment Research Incorporated, our broker dealer and member of FINRA and SIPC. Brad owns two companies: Baldridge Wealth Management and Baldridge College Solutions. The Baldrige companies are not affiliated with Cambridge Investment Research.
Transcribed by https://otter.ai
Sign up to receive email updates
Enter your name and email address below and I'll send you periodic updates about the podcast.