---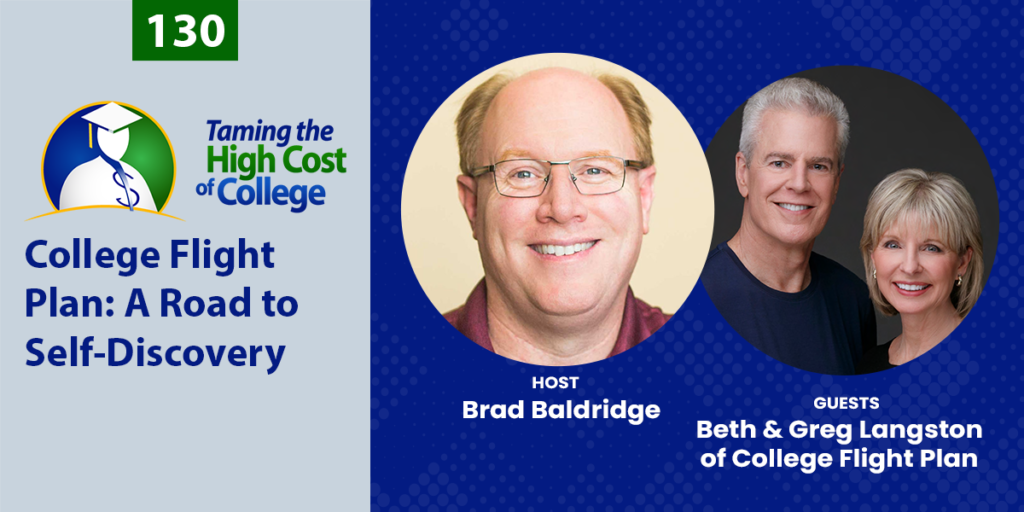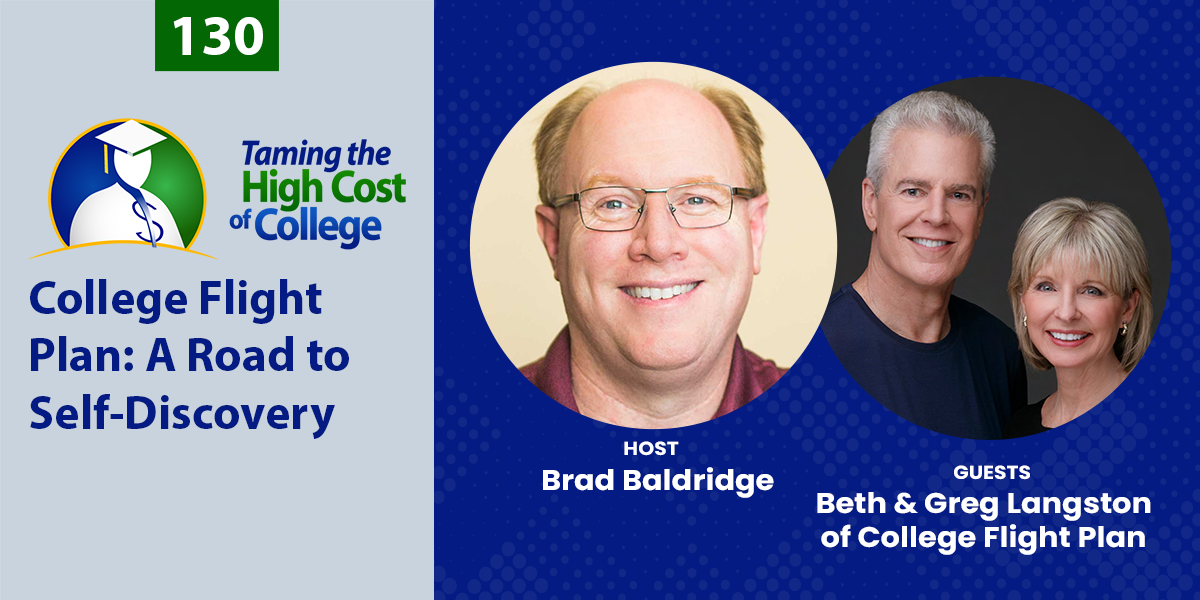 Today's Guests:
Greg and Beth Langston, Founders of College Flight Plan
The goal of College Flight Plan, according to Greg and Beth, is to help students fly out towards a successful future rather than to "fly back to their basements."
The College Flight Plan website offers courses, resources, and consultation services that are highly effective for all students, regardless of their motivation levels. They have eight trusted advisors that provide students feedback and guidance along the way.
Ultimately, their goal is to lead students towards paths where they would grow and become successful.
Questions Answered Today:
What do you recommend for students who are undecided on a college major and career?
There are two types of undecided students:
Those with too many talents/interests that they don't know which to focus on.
Those who just haven't figured out what they want.
Hence, it is very important that they have someone to guide them along the entire process of not only looking for college but also looking for a college career path that would allow them to maximize their potential and become happy in the long run.
For students to be a step closer towards the right path, here are some recommendations:
Whenever possible, have your student shadow a professional. Seeing an actual job in action will surely help them figure out if they could live with that job or not.

Scenario: Beth's son had always wanted to become a surgeon, so, one summer, he interned into an operating room. After the experience, he deemed the profession not fit for him.
Take it slow. Having to decide for their future can be scary for teenagers. Give your student enough time to explore. This allows them to slowly get rid of their fears and gain more confidence in their strengths and uniqueness. These questions may help:

Should I really go to college right away?
Is it better if I take a gap year?
What are the areas I may be interested in?
Do I have to take a four-year course?
Allow them to go through a self-discovery process. College Flight Plan offers courses that take your student through the process of self-discovery, an approach proven effective by many so far.
What happens if the student chooses a path that's not right for them?
By statistics, only 40% of students graduate in four years, and 60% graduate in six years. Among the 60% who graduate in six years, 60% changed majors at least three times. All of these can be attributed to students failing to explore their options before choosing their career paths.
When students choose the wrong path, two things can happen:
Students end up dropping out, which results in having debt but having no degree and no means to pay off the debt.

Scenario: A student went to an expensive college but decided to drop out after three years. The student got into a career unrelated to his studies, and he ended up with $75,000 dollars in debt he's still struggling to pay.
They end up shifting majors, which can lead to wasting money and an entire year or two.

Scenario: A student went from nursing to engineering after three years. From the 80 credits she took, only 22 were transferable for engineering. In the end, she was almost back to square one despite her three years in nursing school.
How can College Flight Plan help me?
To avoid the scenarios previously mentioned, in College Flight Plan, students undergo what they call "comprehensive self-discovery," a 12-hour program that allows students to do self-reflection. This self-discovery program begins with a two-and-a-half-minute video, which is good even for short-attention-spanned students.
The program allows students to introspect. It asks students straightforward questions such as:
What are my values, and why are they important to me?
What are my strengths?
What are my weaknesses?
How do I add value to other people?
When I am 65, what are my goals in the areas of:

Health
Wealth
Wisdom
Relationships

What are my yearly goals in support of my long-term goals?
How do I instinctively solve problems?
What are the things I can do really well?

Questions like this helps students figure out which they organizations to volunteer in or what activities they should join.

What are some things I'm doing now that will not benefit my future?
These questions, answered by students to their parents, eventually lead students to figure out at least a top three things they could possibly major in. Also, students come up with a one-minute speech explaining why they should go to college and why they are an asset to the college that will accept them.
Beth and Greg strongly believe that knowing their values, purpose, strengths, weakness, and purpose allow students to see which path they should take and which career they'll have a future in.
What good does it do to have an "accountability partner?"
One more good thing about the College Flight Plan is their promotion of "accountability partners." These are individuals the student trusts or people who are expected to continuously monitor the student and oversee their applications. Accountability partners hold students accountable for finishing the application process.
Statistically, the probability of the student succeeding with applications goes up to 95% when they have accountability partners. Typically, students choose the following people as their accountability partners:
Accountability partners are a requirement for any of the courses offered by College Flight Plan.
When is the best time to start thinking about exposing your students to possible career options?
According to Beth, "We always say the earlier the better. Even with little kids, you can start."
The truth is, you can never be too early. One good way for you to practice this could be as simple as changing the way you talk to your student. Instead of the common questions such as:
How was school?
What did you have for lunch?
Who did you sit by at lunch?
You can ask more meaningful, probing questions such as:
How did you use your strengths today?
How did you show kindness today in class?
This way, even at a young age, your student is already familiar with concepts like 'strengths' and 'interests' which would surely serve its purpose when the right time comes. This also helps students distinguish the activities that truly matter to them.
Remember that, when they start high school, they get caught up with so many academic and extracurricular activities going on. Exposing them early should give them the power to choose what's best for them and deselect the least important ones despite their many options.
In terms of how early you should consult with professionals (e.g. College Flight Plan or Brad), it's the same answer: the earlier the better. Although Beth says that most students who reach out to them range from freshman to senior.
College Flight Plan is available internationally as well, in the form of a 12-week weekly call.
---
Links and Resources
Helpful Resources
---
Brad Recommends:
Today's recommendation is MyinTuition, which is a website that offers a financial aid calculator for about 75 schools, including top private schools, universities and large colleges, public schools (UMass, UVA), liberal arts colleges (Williams, Boston College, Boston University) and even Ivy League (Harvard).
The website provides an estimate of the selected college's cost. As you may already know from previous episodes, college cost is the cost of attendance (travel, personal expenses, books, food, tuition, room and board, etc.) minus free money (financial aid, scholarships, etc.).
To get an estimate, you may be asked about:
The citizenship of your student
Family income
Home equity
Cash
Retirement plans
Investments
The number of students attending college
From the information filled in, MyinTuition provides three types of financial aid estimates:
NOTE: 90% of families land somewhere between low and high.
The estimate is broken down into four components:
Loan
Work
Scholarship
Contribution from parents/students
Again, the website only covers about 75 of around 2,000 colleges in the U.S. But if one of those schools is on your list, it's a resource worth checking out. It's easy to use, and it's fairly intuitive.
Important: These colleges shave their own website, so, as always, visit them and verify.
---
THANKS FOR JOINING US!
We'd like to extend an invitation to our listeners to share their feedback and questions. Contact us to submit a question.
If you find our podcasts helpful, please share us on social media and tell your friends!
The bottom line is that we care what you think and want to help you out, so we'd appreciate you reviewing us on iTunes or on Stitcher. And even better, receive automatic updates by subscribing to the show on iTunes or Stitcher.