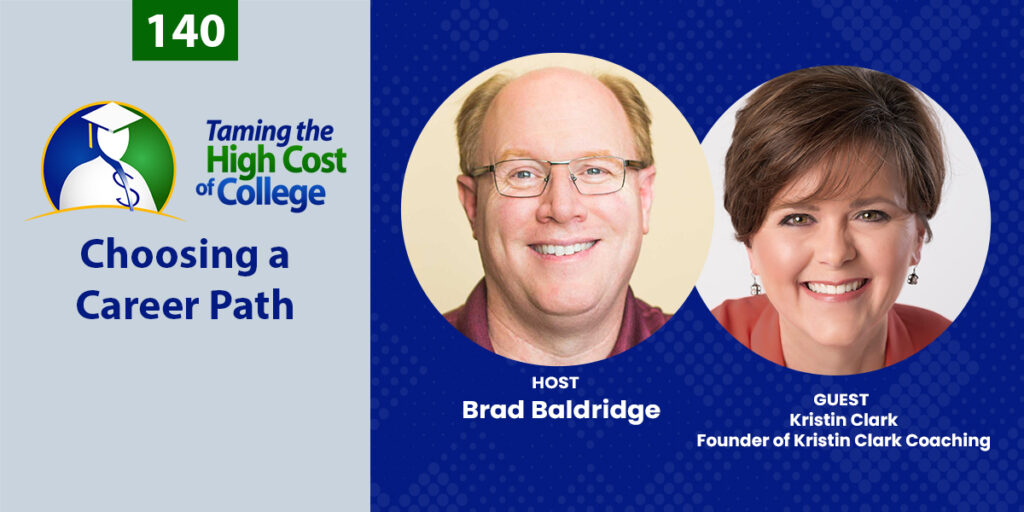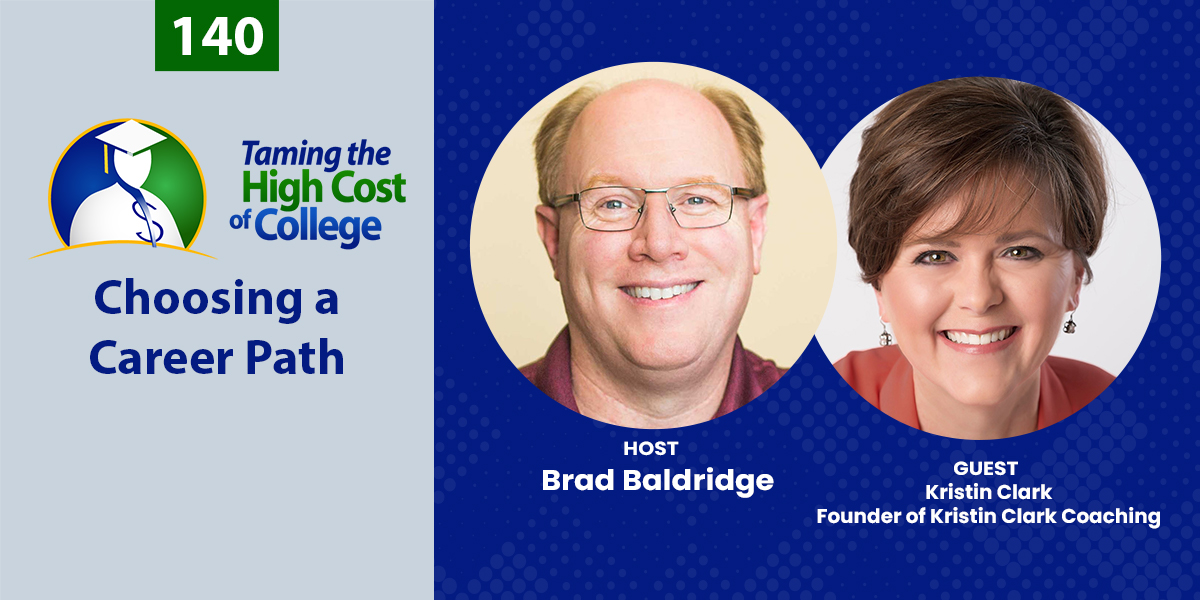 ---
Today's Guest:
Kristin Clark, founder of Kristin Clark Coaching
Kristin founded Kristin Clark Coaching with the goal of mentoring undecided students into choosing a career path based on their skills and, more importantly, their interests. Kristin believes that students should be given the opportunity to find a career that will make them happy for a long time. With the use of Clifton Strengths in her coaching classes, Kristin leads students to first become motivated to start, then choose a career path, and then ultimately choose a college major that fits them best.
Questions Answered Today:
What can I do to help my undecided student move forward?
There are three types of undecided students:
Those that feel that they're not good at anything
Those that excel at everything they're not sure which way to go
Those that want to go college, but are not sure if they're good enough.
For all cases, these students are not confident that they will do well if they choose a path. Here are some things parents can do:
The best thing to do for these students is to make them realize that what they are making is a lifelong choice, and whatever they choose to do is what they will be doing possibly for the rest of their lives.
Take advantage of the help that their high school offers. High schools have counselors students can talk to about their career options. Some schools also offer tools such as Naviance to help students prepare for choosing a major. The key, really, is to find out what resources are available and take advantage of them.
Of course, it is also a great help if students have an expert (i.e. a coach) that can guide them in starting to think about their career and narrow down the options.
Start as early as possible! The more time students spend thinking about what they really want to do, the better the results.
Kristin notes that about 75% of kids that say they have no idea what to do actually have an idea what they want. They're just afraid to say it out loud because they're worried about what their parents will say. Hence, it's important for parents to be careful with what they say when their students open up about their career options.
What are the common mistakes parents make when helping students choose a career path?
Imposing their own choices on the student. Parents should avoid the "You should be a lawyer, doctor, engineer" talk. This is almost never helpful to students. Students with these kinds of parents often choose what their parents want but end up shifting to a different course, which only adds to college costs.
Not challenging what the student wants. There are students who are already absolutely sure of what they want to do. While parents should never discourage their student, they should still ask questions to ensure that the student is not committing a mistake. Parents can ask questions such as:
Why do you like that or think that is the right career?
What do you think the good outcome will be for you?
Comparing the student to other students. Brad emphasizes that everyone has different strengths and weaknesses. Some students are certain with what they want to become, and some are not.
At this time in the student's life, it's very important for parents to not impose and have a healthy opinion of what their student thinks. Instead of telling the student what to do, Kristin recommends that parents act as a consultant that guides the student towards the best path.
How do I get my student motivated to choose a career path?
Kristin believes that students referring to the Book of Majors only puts them in a box and limits their options. Instead, parents can start asking questions that fit the student's strengths and interests. Help them think more deeply by asking the following:
What is your end goal?
What skills do you have?
What do you enjoy doing in school?
Can you make money with what you want? Is money important?
These questions may lead to a broad answer, but the point is these are starting points that lead to something interesting for the student.
Take a look at this scenario:
A student consulted a coach with absolutely no idea of what the student wanted to do. Upon probing, it was discovered that the student is good with sports, although not the best. But they also found out that the student is people-oriented. In the end, the student got into Sports Psychology.
It's important that students choose what interests them as this will keep them motivated. It will be their key towards finding a career they'll be happy with in the long run. Looking at the process of choosing a major from other perspectives will only produce unwise decisions with unfavourable results. Here's another scenario:
A student went to college just because she felt that it was the right, natural thing to do. She hated her courses but finished her degree anyway. She ended up getting a hairdresser license, which is totally unrelated to her degree. Right now, she's getting a decent earning from hairdressing, and she absolutely loves what she does.
If that student had been led to the right career path, she would not have ended up spending thousands of dollars getting a degree she won't even use.
Finally, it helps if students can be exposed to other students who are also in the process of figuring out a career path. It helps the student narrow down their options as they would hear of career/professions that may be or may not be for them.
How does getting a professional coach like Kristin increase the chances of my student's success?
There are many reasons why hiring an expert is advantageous. Here are some of them:
There are things students will tell other people but won't tell their parents—Brad and Kristin know for sure. It may be because they're pressured or something else. Working with experts helps the student be more open to help, and this helps them in getting started.
While counselors in high schools can help, they have limited time. With the number of students they have to deal with, counselors can only allocate 15 minutes per student. This is helpful if students at least know where to start. However, if the student is completely clueless, 15 minutes may not be that much help.
Coaches offer courses that normally last for weeks. This means that students will gradually be fed everything they know in a span of reasonable time. This helps them slowly but surely get started. In Kristin's case, she offers a six-week course.
Coaches use time and psychology-tested programs that allow them to help students in the most professional way possible. Kristin uses CliftonStrengths, a special program that's heavily based on students' strengths and interests.
Kristin offers a college planning timeline. Text 'Timeline' to 71441 to get started!
How does Kristin use CliftonStrengths to help choose my student's career path?
CliftonStrengths is an assessment tool that has 34 themes of talent, and the themes are recognizable to students. It doesn't yield technical results that are unfamiliar to students. They're easy to understand, so it's easy to find things that are related to how your personality is built. Some of these include:
High activator – always wanting to move forward rather than being stagnant.
High ideation – thinks differently than others, produces ideas in ways others can't
Through CliftonStrengths, students can get their top five signature strengths that make them energized and happy, and they can start career planning from there.
Brad Recommends
Today, I recommend a special podcast called Against the Rules by Michael Lewis. I specifically recommend a series of episodes, which is linked below.
The series is quite a helpful resource for coaching, types of coaching, and its impact on professionals and non-professionals. The series explores coaching for broad areas such as:
Sports
Career
Test preparation
Essay writing
Choosing a major and career path
Work-life balance
It offers topics for students and parents, such as:
Parental coaching around college planning
Paying for college
Budgeting
Retirement.
Ultimately, it's a podcast you'll appreciate if you need coaching towards a certain path you want to take, so be sure to check it out!
---
Links and Resources
Helpful Articles and Resources
---
---
THANKS FOR JOINING US!
We'd like to extend an invitation to our listeners to share their feedback and questions. Contact us to submit a question.
If you find our podcasts helpful, please share us on social media and tell your friends!
The bottom line is that we care what you think and want to help you out, so we'd appreciate you reviewing us on your favorite podcast platform. Even better, receive automatic updates by subscribing to the show through your preferred podcast service.