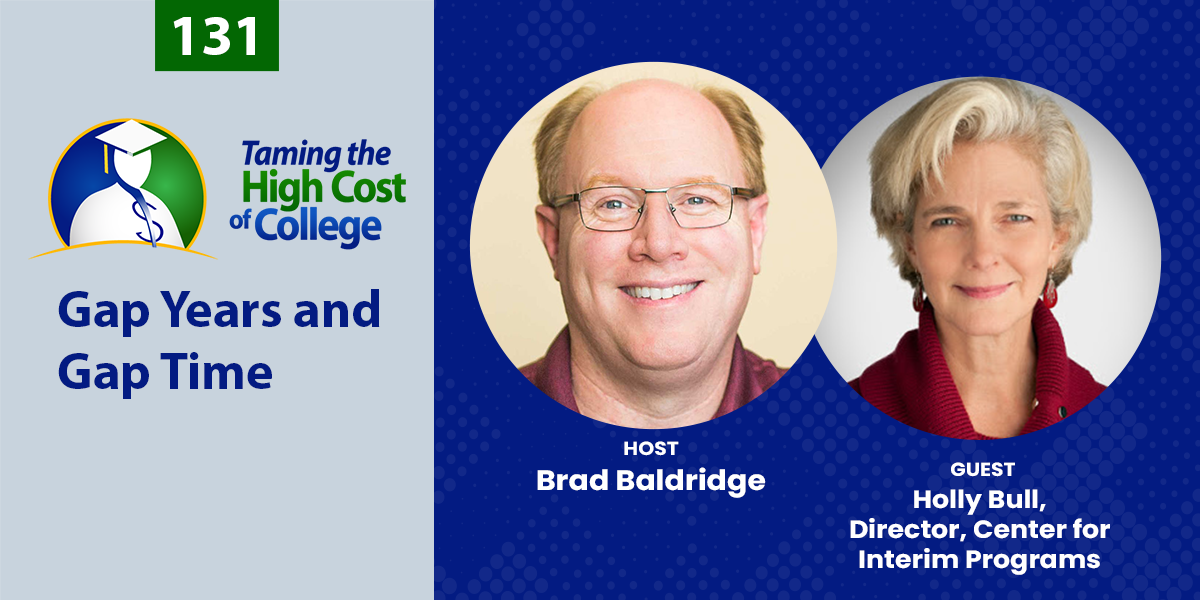 ---
Today's Guests:
Holly Bull, Director of the Center for Interim Programs
Holly Bull is director of the Center for Interim Programs, the first and longest-running gap year consulting service in the United States. Its team has over 50 combined years in experiential and international education, and Interim has worked with over 8,000 families and 6,600 programs worldwide.
The idea of taking a gap year emerged in the 1980's and, ever since then, Holly has been promoting gap time as a means to gain skills that will be valuable in college, workplace, and later in life.
Questions Answered Today:
What is a gap year?
Popularly known as a "gap year," gap time is time-off for people to intentionally explore areas of interest. It could be a year, two years, a semester, or however long the person deems necessary and appropriate.
You may have heard about the gap year for an undecided and incoming college student. However, according to Holly, it could be for many other types of people. Some of these people include:
Students who want to take time to explore between high school and college
Students taking a break from college
Students who are getting the post-college blues
A professional adult who wants to take a mid-career break
"If somebody is really not sure what they're doing and not inspired in the classroom, taking a semester or a full year to explore is not likely to derail you from finishing college." – Holly Bull
Why should I consider taking a gap year?
For Holly, most kids don't get to choose their courses and college. It has become something they're put into right after they finish high school. Without having the time to start processing the journey to college, these kids end up being swamped right after graduation.
Gap time gives students the time to tune in and take charge of their own journey. This saves the student from ending up spending six years in college trying to figure things out (that's the average!). And that also helps their family's financial situation since they won't be spending extra money on college.
Instead of the student figuring out their passion while they're in college, attending classes when they don't even know what they're studying for, why not take some time off and do the thinking while making some valuable contributions to the community? Or while learning a new skill that they can use in college or in the workplace?
Ultimately, gap time allows students to:
"Own their life" as early as their teenage years, which is a life-long power
Explore their interests, which helps students figure out what they actually want
Learn life skills they could later use in college, work, or in life
What's the process of taking gap time?
Holly recommends going through the gap time planning process during your senior year in high school. Here's what she suggests:
1. Get into the college of your choice.
2. Once you're in, ask for a deferral. Note: Most colleges will give you a deferred year, but some won't (e.g. California public colleges and universities).
3. Present your plans (i.e. what you're planning to do) for your gap year when asking for deferral. This assures the college that the break is with a purpose and that the student doesn't plan to be a 'couch potato' while on break.
4. Know the rules of your college in allowing gap years. Some rules may include:
No garnering of college credit
Forfeit of scholarships or financial aid
What gap year or gap time programs there are?
Holly has identified four types of gap year or gap time programs.
1. Facilitated gap year group programs where the student, with other gappers, travels in the U.S. or abroad for activities such as:
Cultural study
Service work
Homestays
Sightseeing
Learning about interest-specific subjects (i.e. art history, studio art, marine-related programs, etc.)
Outdoor adventure
Duration: From 3 months to a year
2. Skill-based intensives where students can develop specific workplace-related skills and undergo intensive training such as:
Wilderness EMT training
Medical certification
Teaching skiing, snowboarding, yoga, etc.
Running a recording studio
Filmmaking
Cooking
Writing
Duration: From 1-4 weeks
3. Internships where students go to countries such as Ireland, Spain, South Africa, New Zealand, or Australia.
Scenario: Samantha did an internship in Ireland when she was 19, and she got to work in the different departments of a startup company. Right after college, she got a job at IBM and she was told that the biggest reason why she got in was the internship she had during her gap year.
4. Volunteer options where the student volunteers for many types of activities either in the U.S. or abroad. The activities could be:
Disaster relief work
Clearing trails
Working with children
Working with animals
Conservation projects
Duration: Depends on the program
Holly notes that, in these programs, on top of all the work-related skills students will acquire, they would be learning life skills such as living alone, cooking for themselves, interacting with others, etc.
Also, Holly mentioned that, even with the COVID-19 pandemic, programs have made it work and can still offer amazing and safe opportunities (domestic and abroad) for students wanting to take gap time.
Important: The Center for Interim Programs is only responsible for connecting students with gap program staff. They don't fill out forms or arrange travel for students. But get this—their fee is open-ended, which means that once you're in their program, you can get a lifetime of consultations and recommendations whenever you need to take gap times.
Who belongs in this program, and who doesn't?
Taking gap time is most ideal for:
High-powered students who want to take their time
Students who just want to explore
Students that have learning differences
Students who are interested
Students who understand what gap time is for
On the other hand, taking gap time may not be for:
Students who don't want do it
Students who were forced by parents
Students who are set on going to college immediately
The most important thing about taking gap time is the student's willingness to choose and own it. If they fully commit, they can maximize their learning once they realize what wonders gap time could bring to their college and professional journey.
What are the common misconceptions about gap years and gap time?
High-quality students take gap time. Student leaders, students with high GPAs, and students with no behavioral issues can take gap time if they feel it will help them. Taking a gap year should not have any negative connotation.
A gap year is not "goof off" time. It's not a year off. It's time set aside for students to earn valuable experiences.
It's not a one-time thing. You can take gap time as needed.
Taking gap time does not have to be expensive. The Center for Interim Programs can make some arrangements to set up activities that are affordable. Besides, the goal of gap time is to make sure the student doesn't take too long in college, so you save in the long run. The Center for Interim Program offers a free 90-minute consultation for those interested.
It should not be a choice between gap time or college. It should be gap time and college. Sometimes, gap time even becomes a door where opportunities come knocking.
Scenario: Andrew didn't want to go to college, but he trained in recording arts through one of the gap year programs of the Center for Interim Program. In the end, he got to a recording studio.
---
Links and Resources
Helpful Resources
Center for Interim Programs Contact Info
---
---
THANKS FOR JOINING US!
We'd like to extend an invitation to our listeners to share their feedback and questions. Contact us to submit a question.
If you find our podcasts helpful, please share us on social media and tell your friends!
The bottom line is that we care what you think and want to help you out, so we'd appreciate you reviewing us on Apple Podcasts, Spotify or your preferred podcast platform. Even better, to receive automatic updates, please subscribe to Taming the High Cost of College on Apple Podcasts, Spotify, or wherever you listen to your favorite shows.
Brad Baldridge
Welcome to Taming the High Cost of College. Today's interview is all about the gap year. We talk about the pros and cons of the gap year, and how to set up a gap year for your student.
Presenter
You have kids, they grow up and before you know it, it's time to plan for college. Where do you start? How much is it going to cost? Will you qualify for financial aid? Should you be looking into scholarships? When will you be able to retire? What about student loans? The list of questions is never-ending. The good news is all the answers are right here. Welcome to the Taming the High Cost of College Podcast here is your host Certified Financial Planner, Brad Baldridge.
Brad Baldridge
Welcome to Taming the High Cost of College. I'm your host Brad Baldridge. Today we have a great interview with Holly Bull. She is the director of the Centre for Interim Programmes. And this is an organisation that helps families plan a gap year. She has a lot of great information about a gap year. And of course, doesn't have to be a gap year, which is something we've talked about. It could be a gap semester or a gap summer or a gap break of some sort. We talk a lot about the pros and cons of a gap year or some sort of time off where a student can get out and learn different things, and be involved in different ways and maybe take a break from academics. And again, get a chance to refocus, get a chance to figure out what they want to be when they grow up. There's all kinds of benefits for the gap year. As you may know, gap years are popular in some foreign countries. And they're starting to become more popular here in the States as well. This is Episode 131. So show notes are available at our website. Let's go ahead and jump into the interview.
All right, today we're talking with Holly Bull. She's with the Centre for Interim Programmes. Welcome, Holly.
Holly Bull
Thank you, Brad. Nice to be back after a brief hiatus or a long hiatus it was.
Brad Baldridge
Yes, exactly. So we did an interview quite a while ago, I think it's back in 2007. And I think the world has changed a lot since then. So I thought we'd do an update and talk a little bit more about the gap year. I think that's your, obviously your specialty. At the Centre for Interim Programmes. You work with gap years all the time. So first of all, what is a gap year, and why do we care?
Holly Bull
I watched the gap year field pretty much since its inception, I would say. I mean, people took gap time before the '80s. I think it really began to unfold in the 1980s. And the way that I define a gap year is it's a period of time where you're with intentionality, where you're actually going to explore areas of interest. So this is not goof off time. This is not a year off. It's really time on where you're either taking a semester or a year. It doesn't have to be a year. It's called gap years, it should be called gap time. It really is for all ages.
So sometimes people think 'Oh, it's just for students between high school and college.' That's the first wave of students, people who take gap time. Then the next wave are students in between high school. I mean, taking a break from college, or even post-college. I just started working with a woman who's 55, who's doing a mid-career gap period of time. That could be a year for her or two years. It just depends on what she wants to do.
Brad Baldridge
Right. So I think, the common thought of a gap year is when students take a year off between their senior year of high school and their freshman year of college. That's the most common but I guess it does apply. I was reading something on your website about a young man that struggled at his first college so he chose to change colleges and took a gap year in between to get refocused and figure out what he wanted to do and how he wanted to do it. So think the gap year can be used in many different areas.
Holly Bull
A lot of people don't realise, I think a lot of high schools are so intent on getting their graduates into college; they're not always following up to see if they're staying there. And a lot of people aren't, because a lot of students they've done all these years of schooling, and then they hit freshman year and 'It's okay, I've got in. Now what am I interested in?' Where, 'I'm still in classes,' like, and the classes aren't that inspiring when you've been doing it for so long. If they're going to be more inspiring, potentially, if you can take a break and go and explore some things, and then bring all of that in the world experience back into the into the college classroom.
I mean, I took a gap year before college, which is the typical time and I took a gap year after my sophomore year in college. If you have to choose between the two, which I would rather not do because I love both of my gap years, the year between high school and college obviously is more natural break, and then you're not breaking up your college social life and years. I think it's a little easier.
Brad Baldridge
Right.
Holly Bull
However, if somebody is really not sure what they're doing and not inspired in the classroom, taking a semester or a full year to explore, it's not likely to derail you from finishing college. Often, it's really getting people to focus more profoundly about their classes. They do really well, especially more of a sense of what they want to get at. That's the missing piece. So many of the students are going to college because it's the next step. And I'm not trying to knock formal academics, I have done a lot of formal academics. But I think the hands on learning in conjunction with formal academics is ideal. And so many students don't know what they want to get at. And you're, you go through classes, and you're cramming all this information into your head, but there's not a sense of relevance, necessarily, about this material to the world around you.
Brad Baldridge
Right? I would agree with that. I mean, as adults, we often denigrate that, that generation, where were they, they don't have any world experience of the things they say just sound naive.
Holly Bull
Right.
Brad Baldridge
And that's true, I mean, that we were all there at one point where we knew more than our parents, and, etc, etc.
Holly Bull
Yeah, and I think for me, the core of this work and why I love it, I've been doing it over 30 years now. All I do is gap your counselling network with, at this point, it's over 3000 students. I actually thought the last time I chatted with you was 2017. So I'm shocked I forgot it was 2007. So a lot has changed. But the process is the same. And the core process for me is it, this is often the first time in a student's life, young person's life, where they get to choose and own what they're up to. Because there's a real difference when you have kids or put in school or five or six, typically, we're expected to go to college, and we're put on this track this academic track. And there's a lot of, 'I have to do this,' 'I'm supposed to do that.' 'What will people think?' 'This is due,' but they haven't really chosen it. It's something that they're put into.
Brad Baldridge
Right
Holly Bull
I'm not trying to get negative, I'm just trying to give you the psychology of it, when a student steps back from that track, and has a period of time where they're leading from the core, rather than from the outside in. And they're just like, 'Okay, here's core, John, pivot or core, Brad pivot, let me go check out media, or let me go check out something in teaching, or maybe I want to do the business or I want to get fluency in this language.' Then they're owning the process. So basically, you have students for a year, but they're taking a gap year before college, where they're practising what it feels like to tune in, to choose and own their life, and take responsibility for what they're up to.
Brad Baldridge
Right
Holly Bull
That is, that's personal power, you learn that it's 17, 18, 19, how to choose and own your life, it's going to stand you in such good stead no matter how, how you step into college, or the work world beyond. And that's the missing piece that I see with so many of these students, it means that more efficient students, so if you're talking about the high cost of college, you don't want to spend five or six years on average, which is the average getting through college, where you're trying to figure out where your passions are through more classes
Brad Baldridge
Right, I agree.
Holly Bull
You want to take a focus period of time to explore those interests, so that when you land in college, you're a gap your student who's going to take four years or fewer to finish college. And that's the research out there now. These gap year students are really efficient students.
Brad Baldridge
Right, absolutely. Now, we're talking a lot about obviously taking a break just before college. So I think a lot of people don't know much about gap year. So what do colleges think of the gap year? I mean, do you get accepted to a college and then say, 'Oh, by the way, I'm deferring for a year?' Or do you just delay the whole process? Or?
Holly Bull
No, that's
Brad Baldridge
What's the process and what are the colleges think about? Am I get myself in trouble and lose my opportunities if I take a gap year?
Holly Bull
Yeah, no, that's a great question that when I work with students, unless they absolutely do not want to apply to college, I'm always encouraging them to go through the process in their senior year in the fall, get the help of their counsellors, apply to college, and get in, and then ask for a deferral. And most colleges will give you a deferred year, some don't, some of the universities like the California State Schools don't, Wake Forest doesn't, but most of them do. And the reality, and this is what's interesting about this field, because it's still a relatively new field in the US, the gap your field, but now higher ed is looking at the quality of students showing up, their GPAs are higher, these are, they're leaders on campus, they don't have the behavioural issues and dramas, freshman year, like roommate issues, don't derail them. Basically, you're getting a student who on every level is a better student for the college. And so it's not a guarantee. And it can help you get into college. So if you apply, you don't get in where you want to go, some students are reapplying halfway through their gap year and able to speak from at least part of that experience. The college also will see their full senior year, so you didn't interview what your grades you want to keep a level or up you don't want to tank if you're applying to college because right now the colleges don't see much of the senior year at all, as far as I can tell. So I think, and I have a daughter by the way right now who's on a gap year, so she just went through this past pretty horrific year, finishing up her senior year. And went through the whole college application process in the fall. I said, 'We're not even talking about the gap year until you're done with that.' And then January of senior year that's when people can start to think about gap year plans. Because it's, there's so much going on for seniors in the fall. It's better probably to let them be before they before they have to think about gap year.
Brad Baldridge
Right? Okay.
Holly Bull
And then the thing about colleges, by the way, will say, well, often they'll say, 'Fine, take your gap year,' they wanted to have some kind of a plan. So it can help to, this is something I show to people often just to map out a scenario for your year, it doesn't have to be set in stone, but you can present this to a college and say, 'Here's what I'm planning for my gap year,' when you're asking for the deferral. And this really helps give them a sense, you're not just gonna be a couch potato for the year,
Brad Baldridge
Right? So what we're looking at is essentially some sort of calendar, right? So this is what I did for this three months, this is what I did for those three months.
Holly Bull
And here's what I'm planning to do.
Brad Baldridge
And here's what I'm planning to do, again, depending on where you are in the application process and how it all fits in, so I guess that's... So what kind of documentation do you need? That was actually my next question of, do you need a whole bunch of well, 'I need to prove it' kind of stuff, kind of where for high school, you have to have a transcript, right? For gap year, is there a gap year transcript, or you just write it up, however you see fit, or don't even bother with that?
Holly Bull
For the colleges normally, they just want to have a some sense of what you're doing. They might also say, 'Fine, take your gap year, but don't try and garner credit, college credit, during your gap year. We want you to come in as a freshman, so you have to be careful about that. And that's college by college. Some allow some credit during a gap year, some say no credit at all. So pay attention to that. The other thing you want to watch out for too is if you have scholarship or financial aid, sometimes that can't be deferred. And because they may have to disperse it in that academic year. So you want to ask about that. And again, that's college by college.
Brad Baldridge
Right?
Holly Bull
Yeah, if they really want
Brad Baldridge
To speak to that, I had a girl that this past year who got really stuck because of COVID. And she decided to take that gap year. And essentially what happens is they have you reapply for financial aid, and they go through the process all over again, based on an updated financial aid form. So whatever you earn, because financial aid is based year over year, the first offer of financial aid was no longer valid, because they they wanted to update the tax year that was applicable and that kind of thing. Now for this young lady, it was a fantastic situation because her sister who was one year behind was an additional student. So her financial aid got substantially better because the family going from one in college to two in college.
Holly Bull
Right.
Brad Baldridge
So it worked out really well that now the two of them are going to be on a parallel track where all four years there's going to be two in college.
Holly Bull
Right, and
Brad Baldridge
So again, there's lots of different scenarios there.
Holly Bull
And you don't have to spend a lot on the gap year either. I mean, I think there's a misperception that people have to do all these group programmes. And there's 15-17,000 a semester and that's what a gap year has to be, and that's not so. If you're on a tight budget, you can do room and board placements, things that give you housing and food in exchange for labour, like disaster relief work, or clearing trails, and national parks, or working with kids or animals. And you still have a community built in social life, which a lot of students like and support, but you're doing something service-oriented. And some students do that for a full year. Or some people might have one splurge, 'Okay, I'm going to pay for this training, and then I'm doing the rest, volunteer.' So the cost can be minimal, and you're still getting the same kind of benefits that other students are getting from more expensive programmes. So it doesn't sound like you have to pay a lot of money to get the marvellous benefits of the gap year that I've been talking about that for stuff that I've been talking about
Brad Baldridge
Right. Now, with the modern social media, Instagram and that type of thing. I think some families that have talked, 'been thinking about it, and they start searching, you run across that person that put on their backpack and travel the world.
Holly Bull
Right
Brad Baldridge
But I think that's, that's the rare person that's gonna say 'I'm gonna buy a plane ticket to the far east or buy a plane ticket to Europe and just see how it goes.'
Holly Bull
Yeah, that's more to take on and you can, people can do it in Provo, if they are up for it, want to do it.
Brad Baldridge
But that's not what we're talking about here.
Holly Bull
Years ago, years ago, people were trying to follow the Grateful Dead as part of their gap here
Brad Baldridge
Right
Holly Bull
Or finish
Brad Baldridge
Right
Holly Bull
And now, now what I find, especially I think 'cause parents are a little bit more nervous, is start the student off in the fall with something with a little more structure and support. And then invariably, the students themselves want to step into more independent placements. And that's a natural progression into taking on more and more independence
Brad Baldridge
Right? So when you say a placement, what are you actually saying, I mean, there's companies or people or what? Get into the details a little bit about what they are
Holly Bull
When I talk about programmes, I separate them into four main categories. So you've got facilitated gap year group programmes, where you're guaranteed a peer group with fellow students, fellow gappers and leaders, and you could be in the US or abroad engaged in cultural study activities, service work, homestays, sightseeing, or it could be, 'Hey, I want to go learn about art history in Europe, or studio art or a marine related programme. Or maybe I just want to do outdoor adventure stuff.' That's what my daughter Leah is doing right now three months and just hiking and backpacking and canyoneering and canoeing and so forth, so outdoor skills and those are the ones that give you the most structure and support. And they can run one to three months or some up to a full year. And those you're paying all these for, the next category are skill based intensives. So these are shorter one to four weeks, it's like, Hey, I'm going to go get my wilderness EMT training, medical certification. So that's a one month or residential, with fellow students range of ages getting a medical training, or it could be, 'I want to learn how to teach skiing, or snowboarding or yoga.' Or maybe 'I want to learn how to run a recording studio or do filmmaking or cooking intensives or writing intensives.' So because these are short, you can tuck them into a gap year, I have that here. Sometimes people are pulling them into the January-May timeframe, after maybe doing one thing that fills the fall
Brad Baldridge
Right.
Holly Bull
And then the next category would be the internships. And these are particular because it's hard to find internship placements in the US for gap year students. Like where do I live with if I want to be away from home, what's my social life like? Can I get a substantive internship when companies say, 'Hey, we have to give you money, your college credit, and you're a gap year student in this grey zone, you can't get the credit because you're not matriculated yet.' And they'd rather not pay you. So we end up sending students out of country to do internships in Ireland, Spain, South Africa, and New Zealand, Australia, hopefully they'll open up again. And those are incredibly useful. I mean, I always tell people in the best sense, I don't care what you do, my job is to lay out an array of things that match your interests. However, if you're interested in an internship placement, I'm going to nudge hard, because those are incredibly practical. So I stepped out or did one of these in Ireland, three months in the spring of her gap year helping a little startup company in Dublin, and they were promoting this low co-op promoting Irish designers, high end hats, bags, jewellery, and so forth. And they rotated her through all the different departments of that co-op. And she comes away saying, 'You know what, he told me I could run this place, I'm good at business. Not sure I want to work with artists, it was really hard to organise them.' And I said, 'All of that's really useful information for future work.' And she said, later on, she said, 'I'm pretty sure I got my job at IBM right out of college based on that internship I did at 19 in Ireland.' She said, that's all we talked about during the interview, and they pretty much told her, 'Samantha, you got this job because of your gap year.'
Brad Baldridge
Right
Holly Bull
So all these skills that you're front loading in a gap year, and especially work at like a half step into the work world, in independent living skills, living in an apartment, cooking for yourself, you're having fellow interns around for company, but you're pretty independent, that is a great experience to have with a little more support before heading to college, and maybe saying, 'Okay, not business or for me, it's not marine biology, because I did that during my gap here, really good to know that this is something maybe I don't want to do.' And then the last category are all the volunteer options. So these are all over the world, all different lengths of time, much more low costs tend to be more rural than urban. And these can be things like the disaster relief work or clearing trails, or working with children or animals, or conservation projects on board, tall ships. And you can do these, for US or abroad, and some will give you the housing and food in exchange for labour, you're paying a minimal cost for housing and food. So there's a whirlwind tour of programmes.
Brad Baldridge
Right, exactly.
Holly Bull
Some people work for part of a gap year and for all of the gap here. The thing about that is if you're home, working locally, you're home. So I think we tend to regress when we're home. And so it's great for part of a gap year maybe to get away from home in the familiar to do something away. But working locally, that can also be really great learning experience. Be aware that friends are gone, I just chatted with a young man who's friends and all taken off, because he has a January admit to college. And he's puttering around feeling pretty lonely, because friends are gone, and he doesn't have anything going on this fall. And I told his parents, it almost doesn't matter what he does, let's just get him out the door engaged in something with fellow students.
Brad Baldridge
Right? So then, I mean, I guess, the way to look at this would be for some students, it gives them a chance to grow up and get out on their own and spread their wings, build a resume, learn what it's like to live outside of home, and be responsible for themselves.
Holly Bull
Right? A lot of students are hitting that in senior year in college, it's, 'Oh my God, I have to get a job. This major that I have, maybe I'm not sure I even want to do this work or I try a job in it. And I realised this is not something I'm that interested in.' I mean, if you can head off a lot of that through a really focused gap year before college or maybe during college. The transition from college to the work world is a whole lot easier for you.
Brad Baldridge
Right, absolutely. So let's talk a little bit about COVID, because obviously COVID came along, it made college challenging for a lot of students and high school. And now, again, I've heard of many study abroad programmes, that kind of stuff where students were in the middle of their study abroad and had a tough time getting home or, more likely, a lot of it just collapsed and cancelled.
Holly Bull
Yeah, it did. And what was interesting about cooks, we had no idea how it was going to be last year. And we had students, when COVID hit in that March, they were coming home early from programmes. Luckily, they'd had most of their gap year experiences. And it was easier for them to come home and do online options, and then head to college. And those students who went to college after their gap year, were able to handle I think better, the fact that they had to do online options, they didn't have this expectation of a college should be like or has to be like, they learned how to roll with change, those are all skills, and they were able to apply those last fall. That, what happened with our students who then stepped into a gap year in the midst of the pandemic, because what we saw is there's a students who didn't want to sit in online classes in their freshman year of college, and can you blame them? So one girl said to me, 'I don't care what I do, I just want to get out of my house. And I'll do anything as long as I'm the people.' She said, 'Don't mind what I'm doing.' And so the expectation level, I think, was also lower, just let me do something hands on. So we had over 160 students last year, most every one of them did not do anything online, unless they wanted to. The group programmes created a lot of domestic options, Mainland US and Hawaii, which allowed them to quarantine a small group like 10 or 12. Students and leaders, that's so much easier to deal with, than, like the small city size of a freshman group of students in college. So the gap, your options are very nimble, and they could change itineraries really quickly if they needed to. And it actually worked amazingly well. So most of the students were doing hands on things in the US. And somewhere abroad. Israel, Ireland, still, Iceland, Italy, I think I said that. No, I didn't and Croatia and then later in the year, last year, people were going to Costa Rica, they were going to South Africa. I mean, I had a number of students who are doing internships in South Africa in the spring. And again, it worked amazingly well. This year, it's been an interesting shift, because I think college seems to be more of a certainty to be doing classes onsite, not online. And the world still feels a little uncertain. So I think we got such a huge wave of people last year, not wanting to go to college, who'd normally have gone to college. And this year, it's more evened out, but we're still really busy. I think people are, they're still interested to take gap time and they can,
Brad Baldridge
Right, now, if you have a high school, junior, let's say, and which would be, typical of my audience, and they're saying, 'Oh, this gap year idea sounds good.' What does your crystal ball say for, 2022 2023? Are these programmes learning how to deal with COVID?
Holly Bull
Oh, yeah
Brad Baldridge
They are, they're less likely to be suddenly shut down. And they've got contingency plans and that kind of stuff.
Holly Bull
This past year, I can't think of any programmes that shut down. They just shifted itineraries as needed, they were really prepared. So it was quite impressive. To see how they handled it, people's plans changed. And our whole sort of strategy was you have your ideal plan. And then you have a backup plan. And then it was backup plan was everything online. But luckily, people only had to use either their ideal or the backup plan. So if you can't go abroad here, you do something over here, and you make sure you've got that in place. And that worked really well. We haven't had to do that this year, as much, because the programmes are pretty savvy, now they've gone through it. And it's pretty clear where the programmes that are solid are running, some programmes are not running, they just can't.
Brad Baldridge
Right.
Holly Bull
And because we can't get into those countries, so, so and if you can't get in, 'Okay, if I can't go to Canada, and do my ski instructor course here, I'm going to do it over here.' And that's the way that we've been working with students works really well. And don't forget in your gap year, you're not doing one thing for this whole time typically. You're doing combinations of things, which gives you a lot of flexibility, as you move through this year, to change your plans, which is normal anyway,
Brad Baldridge
Right
Holly Bull
Because people are changing. So you want to tinker with your plans as we go.
Brad Baldridge
Okay. So if I have a parent of junior, or senior or whatever, and we're, maybe as a parent, I say, 'Oh, this gap, your idea? I think I like it. I'm going to introduce it to my student.' How do we know if it's a good idea or not? I mean, deserve any indications
Holly Bull
For the student?
Brad Baldridge
Right. In other words is this for everybody? Or is this for self motivated? Is this for the, who belongs in these programmes and who doesn't?
Holly Bull
I think the type of person who takes gap time runs the gamut. I mean, they're really high powered students who take up time their students or these students just want to go and explore, those students who have learning differences. There are lots of reasons why people take out time, the most important thing is, it has to be something to my mind that a student is interested in. And I've had parents drag their child into my office or on a Zoom call with me, and I'll tell them really bluntly that this only works if you want to do it. What I often find is a student doesn't realise what this is. And so once they realise 'Wow, this is what I could do. Okay, got it. This sounds really interesting.' If at the end of the conversation, they say, 'Holly, sounds really interesting, I really rather go to college,' then I'm definitely telling the parents, I, this person should go to college, if that's okay with you. Even if you want them to take gap time, they're going to own it because of their choosing college. For me, it's all about choosing and owning, whether it's college or choosing gap time, I mean, I'm biased toward gap options, but only if somebody wants to do it. And I can tell pretty quickly, students are really not not into it. And it's like, there's no point, it belies the whole power of choosing if you're forcing this on someone. I do believe, though, that people don't understand what this is often, parents and students. And part of our mission is just to educate people about it, so we always offer a free brainstorming session that just covers a lot of what I'm talking about today, but also gives the student here ideas that match or options that match your interests. 'This is what a year could look like for you.' And that really helps.
Brad Baldridge
Right?
Holly Bull
So I think Virginia's coming up to my mind, this just should be one of the other options, not just like, 'Oh, it's a, a gap years for people who have problems.' That's another misperception. It's no, this is a possibility that's there with college. And it's not gap year or college. It's gap and college typically, unless you don't want to go to college, and then you have an avenue toward work. I had a young man who had no interest in college, he got trained in the recording arts field through programmes which we told him about. And he got a job and as an intern in one of the recording studios in Philadelphia, and then they hired him on because he had the training. And he was he got his foot in the door.
Brad Baldridge
Right. So let's talk a little bit about your services. Because I think it's important, because I think in the world, paying for college and the world of choosing college, and then the world of now now working and gap year, you certainly can do it yourself. Again, if you've got that motivated student that's going to throw the backpack on and get on a plane to Europe and then come home in the year great research. Yeah, or do their own research or put their own programme together and are very self motivate great. But again, not all kids are that self motivated, where they could use a little help. And or parents need the maybe the reassurance that what's going on is aboveboard, and there's some legitimacy to the process where getting going off to some foreign country, and then we'll never hear from you, worries in the back of their mind. So how do you help and you mentioned, you offer a free you know, so tell me a little about that.
Holly Bull
Yeah, we've always offered a free, great I go to brainstorming session, and usually one or both parents or guardian is on with the student, unless the students over 21, so that everybody understands how it works. And so it's an hour and a half of saying, 'Hey, here's what a gap year is, here are the benefits, here are the things to watch out for, here are the types of options out there, and here ones that might suit you based on your interests, and here's what a year could look like for you. So by the end of an hour and a half, that family walks away knowing a whole lot more about the gap year and they're not obligated to work with us. Not everybody signs on and expect them to I know, as I said, part of our mission is really to explain how this works and what it is, and to inspire people to think about it. If they decide they want to go ahead, the value of what we're offering is, this is all we do, we've been doing it longer than anyone we started 1980. So it's four years now, with over 8000 alumni, we've done gap time. And we're like a huge clearinghouse of vetted programme options. So we're saving a student and parents a lot of time and concern because we've already vetted options, and we're saying these are ones that are good in this combination, is a great combination. And then it also takes the onus off parents because it's somebody with an apparent saying to the child, 'Hey, you need to move on this or what about this?' None of these students, I don't have any history with them, I just speaking in the realm of possibility, and that's a lot easier for them, and for the parents to just step back, right, because it's such a crucial time when students are, they really want to be independent. And yet, it's that first step off in a way off and if they're going to take a gap year between high school and college
Brad Baldridge
Right
Holly Bull
So that's our service, we just charge a fact. And so people want to go ahead, flat fee 2800. We have scholarships for our fee, we always will help people if they need help. And we can also set up a really inexpensive year. So in a sense, you can easily defray the cost of our fee through a whole year of vetted Roman board that low cost options for a student. And that, like I said before, you don't have to spend a lot of money to have a great gap here. The other thing that people and I said this before is I don't think people realise how much time students are spending in college. So if the reality is, and this research that's out there, that gap your students finish college in four years or fewer, look at the college tuition that you're saving, because every time you change a major or change a school, you're adding a semester or a year, and that gets really pricey given the cost of college right now
Brad Baldridge
Right? Absolutely.
Holly Bull
You want that student to be as efficient and focused as possible to my mind just on a practical level before they step into college and to get the most out of college,
Brad Baldridge
Right? Absolutely. So then let's assume that we do decide to work with you. And so you build an itinerary, but do you and obviously you work with the student and parents to get it all worked out. But then when it comes to some of the details, like do you help them make sure they get their deposits in or their visas or go through all like, it was a probably a long laundry list of this is what you have to do, and here's some deadlines and if you're going to go to Africa, you need to have these kind of shots. And if you're, you need to have a passport you need to put a deposit in here or buy a plane ticket there.
Holly Bull
Yeah
Brad Baldridge
Do you get involved in that stuff as well or you just?
Holly Bull
Here's what we cover so and by the way, our fee is open ended, people have us for life, whether they want us or not, we charge one fee, and it's an open ended service, they can go do gap time, come back for a break during college, post college midlife crisis, we've worked with all of that with, with one alone all the way through. But the only thing we don't do is we don't fill out application forms for students and we don't set up their travel, what we are doing is connecting the student with the programme staff. And then the programme is walking them through the parents all the details. So we have also a huge welcome aboard packet that has lots of advice on travel and passports and that sort of thing. And we're staying with the students. So they take a year, we're checking in periodically all the way along. Right now we have a number of students who are on programme, and we're just saying 'How you doing,' or if things are going sideways, I have a young man who's just had a hard landing in the language programme parents really concerned and I said, 'You know what, it takes seven to 10 days, typically, for people to get used to a new placement, just tell him to hang in there, and now he's fine.' So he's gotten settled in, and all the anxiety has subsided. So it's like, I'm not trained as a counsellor, and I am a counsellor. So, it's like, 'Don't worry, parents, don't worry, hear the student go, go, you're fine.' And then just helping them as they go along. Because usually after the fall, students have changed, and that they should be. So the plans they have for January through May may not be what suits them anymore. And you just have to roll with that, that's part of the process. And they're picking it up for STEAM, they tend to be get really proactive, like, 'Hey, Holly, I don't want to do this. I want to do that now. And what was that thing you told me about?' And that's really what you want to hear that proactive voice coming through?
Brad Baldridge
Absolutely.
Holly Bull
That was a long winded answer
Brad Baldridge
Right? Okay. So essentially, if the student then gets to work with you for life, so obviously, if they do something and they love it and say I want to do more of this, then you can help them reconfigure. Or if they do something and say, 'This has made it very obvious that I'm not interested in anything like this, so I'm probably not gonna like the next thing on my list. So I want to change.'
Holly Bull
Right?
Brad Baldridge
You're there for him to help him figure that out.
Holly Bull
Yeah, we just got a call from a woman we worked with 20 years ago, and she's calling on behalf of her brother who's working with the residents during the day as a young man he's working with and she said do you have any ideas for him? So I'm so grateful, even if we can't find something for this young, young man, because he's 15, so it's harder for us to find something like that. She's, 'I'm just so grateful that I could just call in and get information.' And it's great for us because it's really interesting to work with people over time. Then the other thing too, is to what I see is the teens and 20s, you're not tied to much. So you can take a gap year before college and get all that information before you hit college. If you feel like you want to do a junior semester abroad or study abroad, sometimes people are doing that. But during winter break or spring break or summer, you could keep picking off your interest very systematically, one by one through service work, through internships, still based intensives. And even post college or maybe between college and graduate school. a steady young man who checked in he wants to do, taking med school. Before you go to med school, you want to be really sure that this is something you're excited about. So like go do more hands on work in that area when you can
Brad Baldridge
Right
Holly Bull
Just you can come all the way along and it can be shorter, long. I had a young man who sasid, 'I have 10 days between two jobs. They describe what he want. I said, 'Here go work on this Costa Rica chocolate farm.' He loved it.
Brad Baldridge
Wow. Oh, great. Alright, so obviously, if they want more information, they can go to your website, again that's Centre for Interim Programmes. And there's a phone number there, I noticed and all that stuff. So you welcome calls, or however they want to connect?
Holly Bull
Yeah, the website is interimprogrammes.com.
Brad Baldridge
Okay
Holly Bull
And there's a lot of information on the site. And you can, just set up an interview we just asked you to send in an interest sheet, the student, and then we set up a day in a time to usually in Zoom calls right now. But you absolutely can call us we're in Princeton, New Jersey, but we work with students across the US and internationally as well.
Brad Baldridge
Right. And this is Episode 131. And we will have all the links to all your website and all this information, right in the show notes as well. But I really appreciate you giving us an update. Holly any last thoughts as far as what families need to know or?
Holly Bull
Yeah, well thank you again for having me on and also just supporting this option for you. your listeners, it's great to just keep educating people about it. As I said, it's still a new field. And I think everyone should just be aware of it, whether they do it or not, I would say, I mean, I think it's interesting parents often once they hear what's possible, they want to go. And that, that's really important to think about is that you don't get to take this kind of time in your life as easily once you're in jobs, and you have mortgages and children and obligations. And that's I said about teens and 20s, you're not tied to much those are the wandering years where you can really wander pretty creatively and explore as widely as possible. People go from job to job, so you might as well grab that time when you have it. And I think often people worry about getting behind. And it's so wrong, because you're so far ahead in the sense not that this is a competition, but you really are front loading so many skills that are going to be useful for you all your life. And so I think, don't worry about taking extra time. It's so worth it for what you're getting, and what how you're going to draw on it. And for parents just don't look through the parent lens, and don't make fear-based decisions. We all are so run by fear and pick time where you're making decisions where you're going towards something, because you're nervous about something. I think that's great to practice as well.
Brad Baldridge
Right? And I'm guessing the feedback you get from most students is phenomenal. They're most of the time are so glad they did it. And because I know I did a few things I did study abroad, and it was it was life changing. And I don't regret it to this day that I stretched a little and got up and did something.
Holly Bull
I think that's more than norm. I mean, it's not always easy. You're pushing your comfort zone. And not everything works out well. But generally, I find that people are really, really happy about taking the time, having a time my daughter just said to me, 'I'm so glad I'm not sitting in college right now in classes.' And she's worried about being older because she's already 19. But she's so glad she's doing the gap. I didn't force it on her. I'd love for you to take this time, but it's your decision.
Brad Baldridge
Right?
Holly Bull
So yeah, I think there's very little downside to taking gap time you just want to make sure you put some thought into it and you don't have too much time at home twiddling your thumbs, you need to be engaged in something, that's important.
Brad Baldridge
Absolutely.
Holly Bull
Okay.
Brad Baldridge
All right. Well, we'll end it here. I appreciate all the good information. And hopefully people will be giving you a call and reaching out soon.
Holly Bull
Thanks again, Brad. Take care.
Brad Baldridge
All right, that was a great interview. Thanks again, Holly, for all the great information. If you want to learn more about Holly or the Centre for Interim Programmes, we're going to have show notes and we'll have links to all her website information at tamingthehighcostofcollege.com/131. And again, there's a lot of great information on our website. Certainly feel free to reach out to Holly directly if you're interested. As always, we appreciate any sort of reviews that you can give us. So if you're enjoying the show, please share it with a friend or give us a review wherever you get your podcasts. That's all for this week. We'll see you next week.
Presenter
Thank you for listening to the Taming the High Cost of College Podcast. Now it's time for you to take action. Head to tamingthehighcostofcollege.com for show notes, bonus content and to leave feedback for Brad. The next step on your college journey starts now.
Brad Baldrige is a registered representative of Cambridge Investment Research and an investment advisor representative of Cambridge Investment Research Advisors, our registered investment advisor. Securities are offered through Cambridge Investment Research Incorporated, our broker dealer and member of FINRA and SIPC. Brad owns two companies: Baldridge Wealth Management and Baldridge College Solutions. The Baldridge companies are not affiliated with Cambridge Investment Research.
Transcribed by https://otter.ai
Sign up to receive email updates
Enter your name and email address below and I'll send you periodic updates about the podcast.