---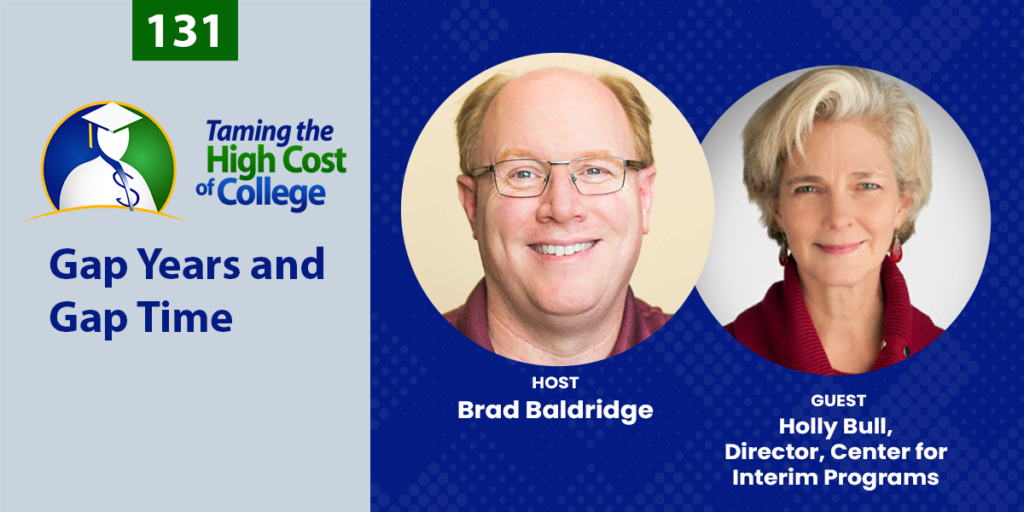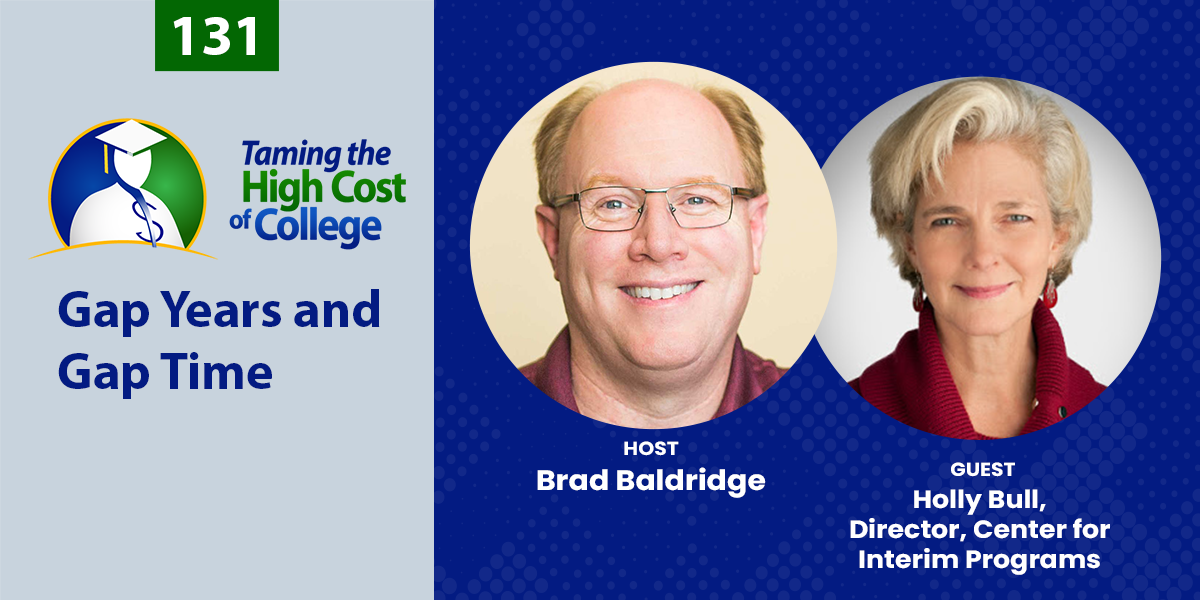 Today's Guests:
Holly Bull, Director of the Center for Interim Programs
Holly Bull is director of the Center for Interim Programs, the first and longest-running gap year consulting service in the United States. Its team has over 50 combined years in experiential and international education, and Interim has worked with over 8,000 families and 6,600 programs worldwide.
The idea of taking a gap year emerged in the 1980's and, ever since then, Holly has been promoting gap time as a means to gain skills that will be valuable in college, workplace, and later in life.
Questions Answered Today:
What is a gap year?
Popularly known as a "gap year," gap time is time-off for people to intentionally explore areas of interest. It could be a year, two years, a semester, or however long the person deems necessary and appropriate.
You may have heard about the gap year for an undecided and incoming college student. However, according to Holly, it could be for many other types of people. Some of these people include:
Students who want to take time to explore between high school and college
Students taking a break from college
Students who are getting the post-college blues
A professional adult who wants to take a mid-career break
"If somebody is really not sure what they're doing and not inspired in the classroom, taking a semester or a full year to explore is not likely to derail you from finishing college." – Holly Bull
Why should I consider taking a gap year?
For Holly, most kids don't get to choose their courses and college. It has become something they're put into right after they finish high school. Without having the time to start processing the journey to college, these kids end up being swamped right after graduation.
Gap time gives students the time to tune in and take charge of their own journey. This saves the student from ending up spending six years in college trying to figure things out (that's the average!). And that also helps their family's financial situation since they won't be spending extra money on college.
Instead of the student figuring out their passion while they're in college, attending classes when they don't even know what they're studying for, why not take some time off and do the thinking while making some valuable contributions to the community? Or while learning a new skill that they can use in college or in the workplace?
Ultimately, gap time allows students to:
"Own their life" as early as their teenage years, which is a life-long power
Explore their interests, which helps students figure out what they actually want
Learn life skills they could later use in college, work, or in life
What's the process of taking gap time?
Holly recommends going through the gap time planning process during your senior year in high school. Here's what she suggests:
1. Get into the college of your choice.
2. Once you're in, ask for a deferral. Note: Most colleges will give you a deferred year, but some won't (e.g. California public colleges and universities).
3. Present your plans (i.e. what you're planning to do) for your gap year when asking for deferral. This assures the college that the break is with a purpose and that the student doesn't plan to be a 'couch potato' while on break.
4. Know the rules of your college in allowing gap years. Some rules may include:
No garnering of college credit
Forfeit of scholarships or financial aid
What gap year or gap time programs there are?
Holly has identified four types of gap year or gap time programs.
1. Facilitated gap year group programs where the student, with other gappers, travels in the U.S. or abroad for activities such as:
Cultural study
Service work
Homestays
Sightseeing
Learning about interest-specific subjects (i.e. art history, studio art, marine-related programs, etc.)
Outdoor adventure
Duration: From 3 months to a year
2. Skill-based intensives where students can develop specific workplace-related skills and undergo intensive training such as:
Wilderness EMT training
Medical certification
Teaching skiing, snowboarding, yoga, etc.
Running a recording studio
Filmmaking
Cooking
Writing
Duration: From 1-4 weeks
3. Internships where students go to countries such as Ireland, Spain, South Africa, New Zealand, or Australia.
Scenario: Samantha did an internship in Ireland when she was 19, and she got to work in the different departments of a startup company. Right after college, she got a job at IBM and she was told that the biggest reason why she got in was the internship she had during her gap year.
4. Volunteer options where the student volunteers for many types of activities either in the U.S. or abroad. The activities could be:
Disaster relief work
Clearing trails
Working with children
Working with animals
Conservation projects
Duration: Depends on the program
Holly notes that, in these programs, on top of all the work-related skills students will acquire, they would be learning life skills such as living alone, cooking for themselves, interacting with others, etc.
Also, Holly mentioned that, even with the COVID-19 pandemic, programs have made it work and can still offer amazing and safe opportunities (domestic and abroad) for students wanting to take gap time.
Important: The Center for Interim Programs is only responsible for connecting students with gap program staff. They don't fill out forms or arrange travel for students. But get this—their fee is open-ended, which means that once you're in their program, you can get a lifetime of consultations and recommendations whenever you need to take gap times.
Who belongs in this program, and who doesn't?
Taking gap time is most ideal for:
High-powered students who want to take their time
Students who just want to explore
Students that have learning differences
Students who are interested
Students who understand what gap time is for
On the other hand, taking gap time may not be for:
Students who don't want do it
Students who were forced by parents
Students who are set on going to college immediately
The most important thing about taking gap time is the student's willingness to choose and own it. If they fully commit, they can maximize their learning once they realize what wonders gap time could bring to their college and professional journey.
What are the common misconceptions about gap years and gap time?
High-quality students take gap time. Student leaders, students with high GPAs, and students with no behavioral issues can take gap time if they feel it will help them. Taking a gap year should not have any negative connotation.
A gap year is not "goof off" time. It's not a year off. It's time set aside for students to earn valuable experiences.
It's not a one-time thing. You can take gap time as needed.
Taking gap time does not have to be expensive. The Center for Interim Programs can make some arrangements to set up activities that are affordable. Besides, the goal of gap time is to make sure the student doesn't take too long in college, so you save in the long run. The Center for Interim Program offers a free 90-minute consultation for those interested.
It should not be a choice between gap time or college. It should be gap time and college. Sometimes, gap time even becomes a door where opportunities come knocking.
Scenario: Andrew didn't want to go to college, but he trained in recording arts through one of the gap year programs of the Center for Interim Program. In the end, he got to a recording studio.
---
Links and Resources
Helpful Resources
Center for Interim Programs Contact Info
---
---
THANKS FOR JOINING US!
We'd like to extend an invitation to our listeners to share their feedback and questions. Contact us to submit a question.
If you find our podcasts helpful, please share us on social media and tell your friends!
The bottom line is that we care what you think and want to help you out, so we'd appreciate you reviewing us on iTunes or on Stitcher. And even better, receive automatic updates by subscribing to the show on iTunes or Stitcher.