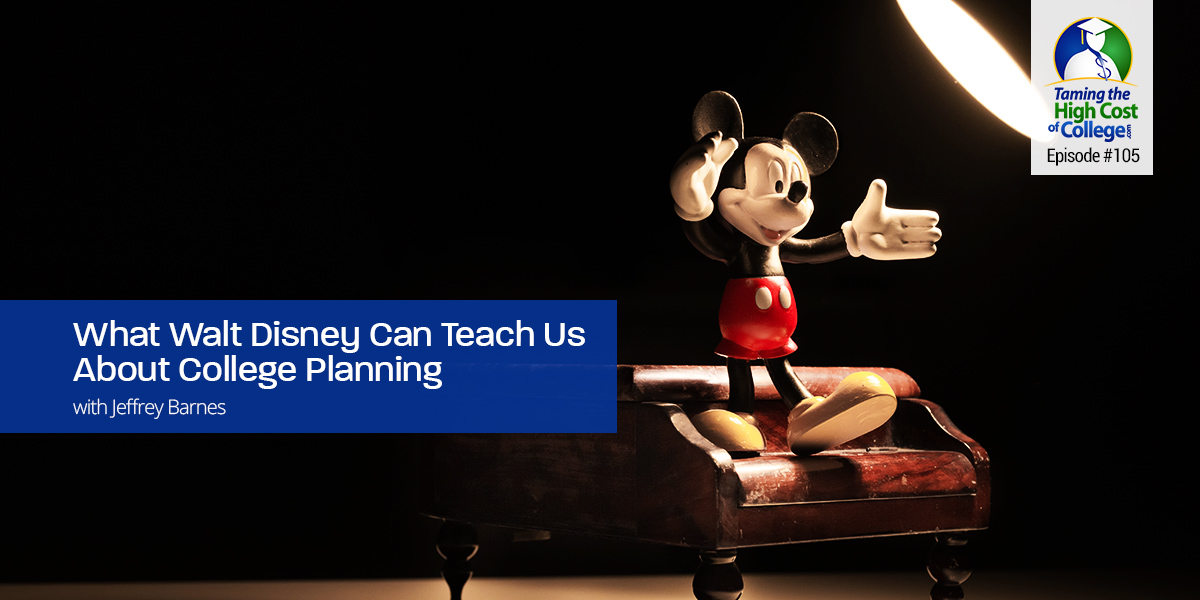 "Every great story has conflict," says author, public speaker, professor, and our guest today Dr. Jeff Barnes. He has created a unique class "The History of Disneyland" at California Baptist University in Riverside, California. Once he studied the history of Walt Disney, he discovered a multitude of life lessons and leadership skills that you could use yourself!
Questions Answered Today:
What can I learn from Walt about college?
The first lesson is to take a really deep breath. "We usually want it all figured out yesterday!" states Barnes. Walt Disney dropped out of school and never got past 9th grade. He tried lots of different jobs and careers before discovering what he truly loved.
"At some level we are all living our life undeclared," describes Barnes, because we are learning to adapt and be flexible with change.
70% of college students end up changing their major at least once, if not more than once, before graduating.
Barnes notes that students have a little bit more time than you might think because there are so many core classes that have to be completed before they have to get into their major coursework.
"Use that time valuably not to just get those general education courses out of the way, but to explore where they are genuinely gifted," explains Barnes. When you take those classes, pay attention to what sparks your curiosity or confidence and then start asking questions to find out what that might be like as a career path.
Barnes shares one of his favorite quotes to help those parents that have a very focused and driven student: "It is easier to tame a zealot than it is to pump life into a cadaver."
That deep dedication needs to be protected and is very rare!
There will be difficulties and obstacles, but it is important to learn how to use them instead of giving up or no longer pushing forward. "Every great story has conflict," notes Barnes.
What do parents do once kids leave the nest?
The key to this leap to college will be balance. The first semester will be all about transitioning. "When you check in with your student," warns Barnes, "it is all about the details." If your student is struggling, they will probably give bland and undescriptive details.
If you discover your child is struggling with something at school, be it personal or academic, Barnes encourages parents to find out the resources available on campus to help. Struggling could be any definition. Every college will have a resource center or other help readily available on campus.
For example, if you know math will be a problem, then set up a tutor before classes even begins.
"Get the help that is needed and the help that will help them succeed," reveals Barnes.
You should also find someone on campus directly that you can reach out to who can help check in on your son or daughter, if you feel they are beginning to have difficulty with something.
If your child is interested in studying abroad or doing an internship, Barnes recommends Disney World in Florida as a wonderful place to apply to. Having "Disney Cast Member" on your resume is also quite impressive to future employers.
LINKS AND RESOURCES:
BRAD RECOMMENDS:
Core Area #2 College Research
Research is key to determining what college will be the right fit for you and your family. There are lots of ways you can do this such as visiting web sites, buying books, etc.
Brad has some ways to help you here!
Sign up for our newsletter and get the top 10 college web sites
Episode 18: Virtual Campus Tours, Real Benefits!
Episode 90: The Untapped Gold Mine of College Fairs
Optional Area- Gap Year
Can be at the beginning of college for a full year or could be in the middle as just a semester, summer, or other break of some kind. This might be done for religious activities, work experience, a chance to travel, or whatever might be best for your family.
Episode 28: Taking a Gap Year
Episode 37: My Daughter's Gap Year
THANKS FOR JOINING US!
We'd like to extend an invitation to our listeners to share their feedback and questions. Contact us to submit a question to our email.
If you find our podcasts helpful, please share us on social media and tell your friends!
The bottom line is that we care what you think and want to help you out, so we'd appreciate you reviewing us on iTunes or on Spotify. And even better, receive automatic updates by subscribing to the show on iTunes or Spotify.