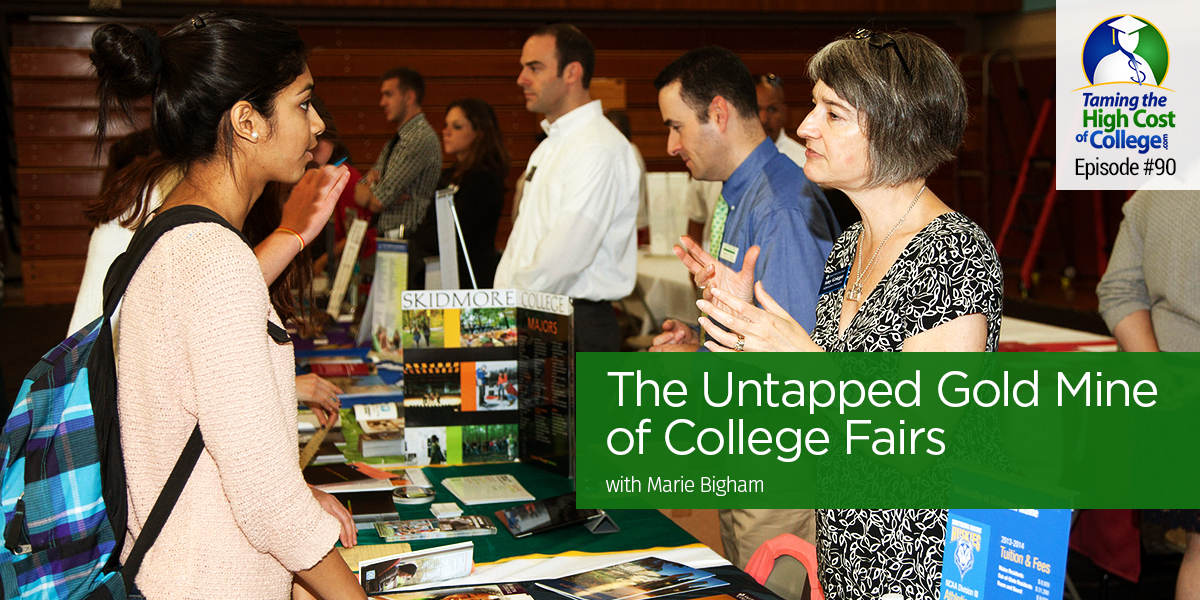 If you are interested in learning more about college (and who isn't?!), then you need to listen to this episode with Marie Bigham. She shares all the amazing details you need to know about college fairs.
High school is a singular experience that lets students find their authentic self. Parents should enjoy this time of growth with their child. When done right, planning for college is a tremendous personal development opportunity where students can think about their skills, talents, and goals for the future.
You can't miss these FREE opportunities with your student! Find your local college fair and put it on your calendar today.
Questions Answered Today:
What is a college fair?
NACAC (National Association of College Admission Counseling) sponsors college fairs all over the country and in Canada. Bigham defines the goal of a college fair as, "To share as much one on one information with college bound people about the opportunities in this country."
These can be big and slightly overwhelming, but definitely worth it. You can and should attend these starting your freshman year of high school.
What to expect at a college fair:
Around 300 colleges from around the world

Informational sessions in more than one language

Advice on paying for college

How to apply

Essay writing tips

Student athlete information

Counseling services

Scholarship sponsors

GI Bill information for veterans
These are usually held in metropolitan areas, but not always, and cost nothing (aside from potential parking fees).
How do we prepare for a college fair?
Step one is to find a fair near you. These can easily be found in the newspaper, through a high school counselor, or on the NACAC website.
Online is where students will pre-register, find a list of colleges presenting at the fair, and a map of the event. Don't forget about the presentations! Be sure to check some of those out for more great information on specific topics.
"For every college you go see that you know of already, go see two more you have never heard of," suggests Bigham. She also recommends to split up with family members to get as much information as possible from as many colleges as you can.
Do some research on the colleges you are most interested in and prepare a list of quality questions to ask. The person at the table is usually involved in admissions in some way, so introduce yourself and have one or two of those questions ready to go.
Also, check out what campuses are nearby the event and take a college tour- even if you aren't interested in that particular college, just go for the experience.
What kind of college fairs are there?
In addition to a standard college fair, there are specialized fairs for visual and performing arts. These provide amazing opportunities for people in the arts to have their portfolios looked at and to get more details about auditions.
If your student is even a little bit interested in visual or performing arts, be sure to check out this specialized fair early during the freshman or sophomore year to get the appropriate timeline for applications to college. It is different from a regular college.
STEM fairs are just starting to roll out. They will include tables of professionals that will share how these opportunities extend into careers in addition to all the other great things to expect at a standard college fair.
What other resources does NACAC have?
Some other resources that are available on the NACAC website includes information:
Broken down by age and topic

For transferring

Undocumented students

Financial aid

Born abroad

How to utilize college rankings

Look at rankings and find what is useful for a specific individual
Parents absolutely need to have an honest financial conversation with their child including what they expect their child to contribute to college costs.
"The biggest mistake parents and families make in this process is not being open and honest and realistic about cost and affordability," warns Bigham.
LINKS AND RESOURCES:
NACAC College Fair Finder
BRAD RECOMMENDS:
All NACAC Resources
Episode 74: How to Get Started In College Planning
https://tamingthehighcostofcollege.com/how-to-get-started-in-college-planning/
Episode 66: Tips On How Undecided Students Can Choose a Major
https://tamingthehighcostofcollege.com/tips-on-how-undecided-students-can-choose-a-major/
Episode 30: Joe Saul-Sehy, College Planner, College Parent
https://tamingthehighcostofcollege.com/30/
Episode 19: Surviving the College Application Process
https://tamingthehighcostofcollege.com/19/
THANKS FOR JOINING US!
We'd like to extend an invitation to our listeners to share their feedback and questions. Contact us to submit a question to our email.
If you find our podcasts helpful, please share us on social media and tell your friends!
The bottom line is that we care what you think and want to help you out, so we'd appreciate you reviewing us on iTunes or on Spotify. And even better, receive automatic updates by subscribing to the show on iTunes or Spotify.
Brad is not affiliated with NACAC.