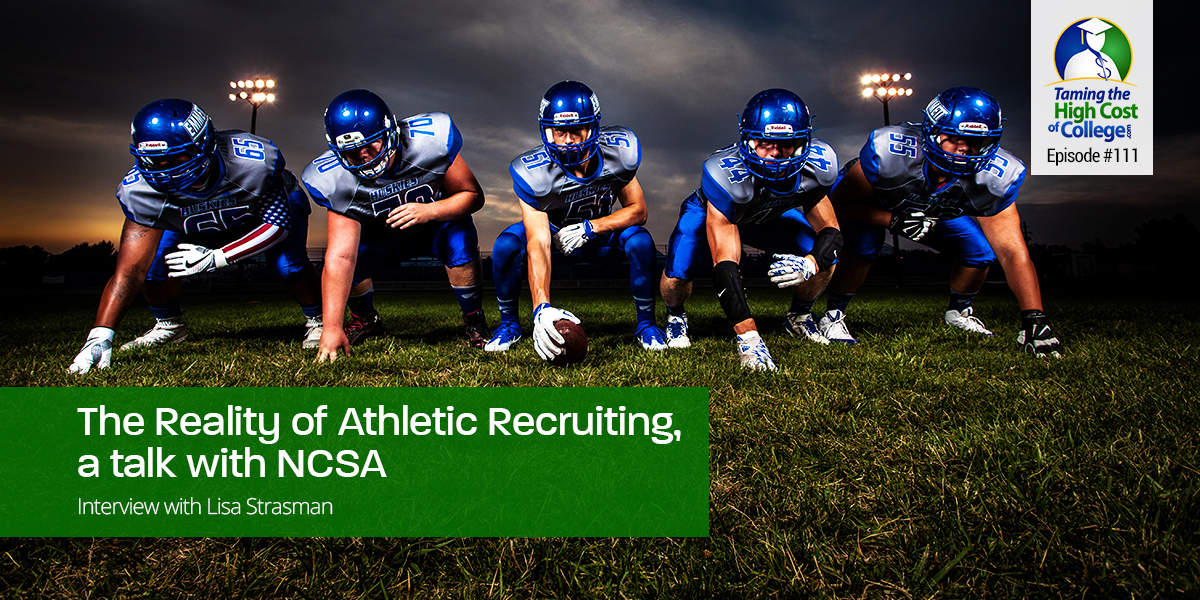 Meet Lisa Strasman, the President of the premier college athletics recruiting organization Next College Student Athlete. She is here on our show today to give you the secrets needed to be recruited for college sports at any level. These days, coaches are going to games to look only at specific players. "Of course there are examples of coaches finding kids, but it is really not the norm," says Strasman. How do you get onto a coach's list? Tune in here to find out what you can do to separate your student from the pack and get recruited for athletics!
Questions Answered Today:
How does NCSA help families?
"Our goal is to help student athletes play the sport they love at the college of their dreams," describes Strasman.
NCSA has a team of over 550 former college athletes, coaches, and professional athletes to help student athletes find the right fit.
They help students create an athletic resume, edit videos, and provide specific advice tailored to each college program so students can be aware of where they have the highest likelihood of being accepted.
They also support students and parents through each key milestone of the recruiting journey for 31 different sports across men and women divisions.
"We work with most NCAA sanctioned sports, but there a few smaller or emerging sports we don't have a big enough volume in," notes Strasman. They help to place students at all levels, not just Division 1.
What steps does a student need to take to play their sport in college?
The first step is to take action! "When you have that realization that your student athlete is serious about playing their sport at the next level, don't wait! Start putting together your game plan," warns Strasman.
Freshman year is the time to start because sooner is better.
What you need to do includes:
Create your recruiting profile and plan.

You can do it right on the NCSA website and get a third party evaluation to help you find the perfect program out there for you

Reach out and communicate with college coaches to build those relationships
Go to different camps as they are available for skill development and to get noticed
Create a highlight reel

You can use your phone to put together clips
There are guidelines available at the NCSA website and the experts there can help to break it down into the 3-5 minutes a coach will want
It does NOT have to be fancy- the coach just wants to see what the athlete can do
Update it as you progress through high school

Take academics seriously; if you don't meet the minimums to make it into the school, you can't get in on athletics alone

Standardized tests are important just like for anyone else going to college
Athletic budgets are very tight for college coaches, but they might be able to give you some academic merit aid based on your grades

Research schools to think about what type of school you are interested in (geographic location, rural or urban, best scholarship money, highest academics, etc.)
Visit campuses and decide what level you want to play at
Find an expert to help you think through all these key questions
"Leveraging athletics might help you get into a school you might not get admitted to based only on your academics or even earn more money through financial aid," shares Strasman. If your child is passionate, then athletics need to be part of your game plan early.
Athletics should not be an afterthought, so start communicating with college coaches early on to make it part of the process.
"Everything should be rooted in what your kid wants to do," reminds Strasman. Sometimes travel teams and camps are important, but it doesn't guarantee you a scholarship or roster spot.
LINKS AND RESOURCES:
BRAD RECOMMENDS:
Core Area: Parents vs. Student Responsibilities
The reality for most families is that mom and dad are very involved and the student is just along for the ride. Every family needs to come up with who is responsible for what pieces.
It needs to be clear who is in charge of important college areas such as:
Research
Funding
Communication

Whose email do they have? Who is staying on top of the programs and opportunities the college is offering?

Visits
Scholarships

Most parents delegate this one to students, but students usually need some guidance. Trust, but verify.

Applications/Essays

Parents might need to help by being on top of deadlines and the overall process
Have a monthly meeting where everyone can check in on how things stand.
Optional Area- Transfer Programs
This is where you attend a particular school and then transfer to a different school to finish your degree.
3 reasons you might be interested in a transfer program include:
Admissions

If the school is really tough to get into, you can transfer which might be easier

Cost savings

Get your basic classes done to save on tuition, then transfer to the program you really want to finish your degree in

Stepping stones

Not quite ready to go away to a big university, so you get a year or two under your belt and work your way up
It is important to understand there are some formal programs where two colleges have gotten together and have a set list of classes that will 100% transfer to a different university. Otherwise you won't know for sure the courses you are taking will allow you to transfer and you might have to start over or take similar classes again.
THANKS FOR JOINING US!
We'd like to extend an invitation to our listeners to share their feedback and questions. Contact us to submit a question to our email.
If you find our podcasts helpful, please share us on social media and tell your friends!
The bottom line is that we care what you think and want to help you out, so we'd appreciate you reviewing us on iTunes or on Stitcher. And even better, receive automatic updates by subscribing to the show on iTunes or Stitcher.