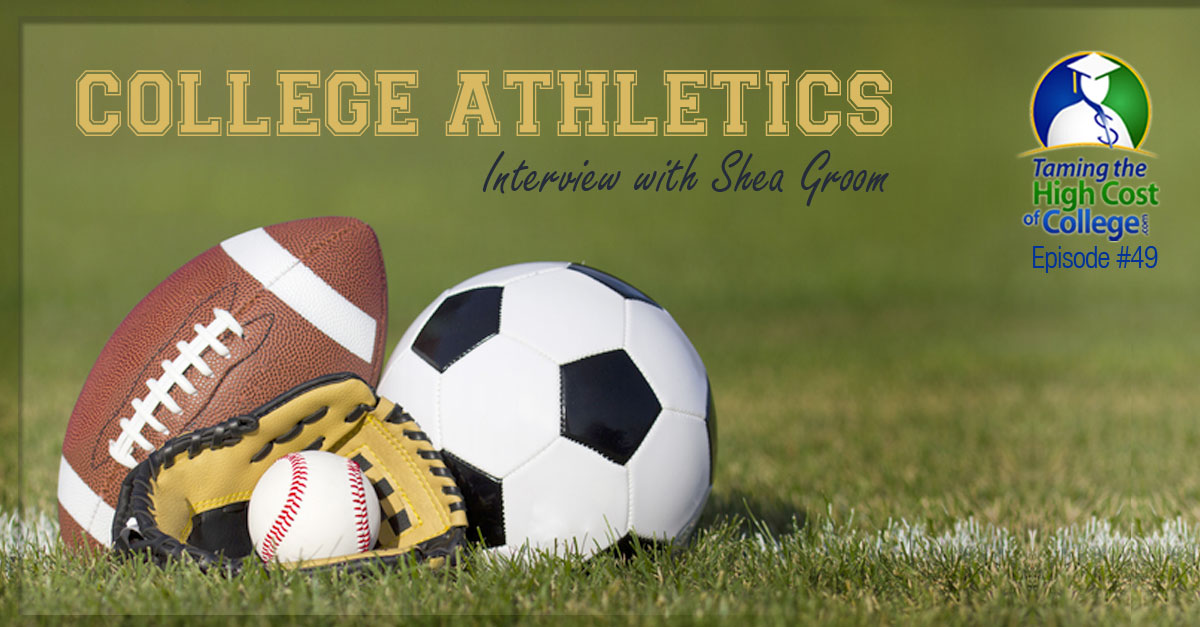 In this episode, Shea Groom shares her experience playing sports through college and becoming a professional soccer player:
Born and raised in Kansas City.
Played many sports while growing up and discovered in high school her preference for soccer.
Joined an elite traveling club team.
Attended Texas A&M University after 10 college visits.
Transitioning into College
"The transition from high school to college is quite a big jump. Definitely physically with the athletic side, but also academically the mental game becomes a lot bigger issue," emphasizes Groom. The routine of being a student athlete at the Division 1 level is challenging, but there is a great network available with lots of resources to support the transition. Groom earned a scholarship, but there were many levels of scholarships available at her college.
Some different types of scholarships available:
Full scholarship- Everything is paid for, including books.

Usually available only to high prospects, which is a very small percentage of high school players.

Partial scholarship- Pays for partial college expenditures.

Covers the cost of tuition only or books only, for example.

No scholarship.

Usually aren't recruited out of high school.
Support in College for Athletes
Groom was afforded an entire building, or student center, that was dedicated exclusively to the student athletes. As a freshman, Groom was particularly given extra assistance to ensure success academically. "They made it kind of easy to succeed," promises Groom.
Some things that can be provided to student athletes to help them be successful:
2 study hall hours every night.
A learning assistant that helps schedule academic time and prepares you to have good learning habits.
The summer before the semester begins, students participate in athletics, but are also given time management courses in preparation for the fall semester.
Tutors and study rooms are also available.
Student athletes have a difficult time juggling everything and benefit greatly from these supports to be a good student as well as a good athlete.
The Difference between In Season and Off Season
Academics are important during all seasons. "In season we are practicing everyday and training and having games on the weekend, so you're kind of locked in," explains Groom, "I think honestly the off-season is where most of the work and most of your time commitment is to getting better and developing."
Not as many games, so more time is available to take more classes.
Can spend more time training in the weight room.
Still not a lot of free time as a student athlete.
It is important to still have time to relax and unwind. Practice can run anywhere from an hour and a half to two hours. It's about a total of 3-4 hours a day dedicated to just athletics.
Balancing Traveling and College Life
A typical weekend trip would be to leave on Thursday to play on Friday, and then fly out on Saturday in order to play on Sunday. Groom recalls, "When it was an "away" weekend it was quite an adjustment to be traveling all weekend and playing games, then to get home and start the week all over again. It can be pretty taxing on you mentally and physically."
There are some resources different colleges might provide to traveling teams:
Student could Skype a tutor.
Have an academic advisor on the trip to help or proctor an exam.
If you don't take the initiative to communicate with teachers about your schedule, it can be problematic. Groom stresses to communicate well with teachers ahead of time about what you need and who you are before a trip.
Transitioning from High School to College
Women's college soccer players start getting recruited around their freshman or sophomore year of high school.
Groom began going on college visits the summer after her Sophomore year of high school. Her parents helped pay for some of these unofficial visits so she could see everything and be fully prepared to make her decision of where to go. Groom found it important to keep a journal on her visits and to make notes about everything- not just athletics.
A Typical College Visit
Groom spent 1-2 days on a campus and would do the following:
Meet with coaches or assistant coaches.
Take a tour and see all the facilities available.
See what was specifically available to student athletes.
Visit as many schools as you can so you can get as much information as possible. "At such a young age, it is tough to make a decision about what you will do 2 years later with your life and hopefully it is still the same fit for you," mentions Groom. She was also very glad that both her parents attended these visits with her.
"You can't predict what is going to happen. If an injury happens, you have got to still love the school you are at," reminds Groom." "Don't pick a school just because it will athletically put you in a great spot. Be sure you can love the school if the athletic piece isn't there."
Choosing a college is one of the toughest decisions you ever make.
Student Athletes and Peers
Try outs were a part of every year. "A lot of girls I played with went on to play Division 1 soccer as well," Groom notes. The other players had similar goals and were very driven just like her. It is a small network that many people, even coaches, stay in. It is a great support system.
Advice for Families with Athletes
Groom recommends for people just getting started with college athletics:
Get exposure. Groom advises, "As much as you can get in front of college coaches so they can watch you play, that's going to give you the best opportunity to get recruited."
If you live in a place that doesn't have a lot of great teams, video tape yourself and send that out to college coaches.
Communicate with colleges and get your name out there.
Get on a good team that will help you develop and grow as a player.
"The best benefit of being a student athlete is the network you build as you're going through the process of it. Also, the skills that you develop. It's pretty hard to find a different situation that's going to give your more discipline, more time management skills; that's going to make you mentally stronger, or physically stronger than being a student athlete," concludes Groom.
Some final quick tips for parents or athletes to make the process smoother:
Communicate with college coaches.
Dream big! Never let someone tell you, "No." If you want to do it, do it!
Invest in your craft.
LINKS AND RESOURCES:
BRAD RECOMMENDS
POCKETCAST For beginning podcasters out there that want to learn how to podcast more or better. Download this app onto your Android or IOS smart phone and you can subscribe to podcasts. Every week when the new episode comes out, for example "The High Cost of College" is released every Thursday, it will go directly to your phone automatically. You can listen when you want to, where you want to, and make your downtime a little more productive.
THANKS FOR JOINING US!
We are starting a new video series called, "The Scholarship Guide for Busy Parents." It is going to be 4 videos that are 12 minutes or less complete with cheat sheets and other resources to help you find and win scholarships. If you are interested in learning more about scholarships please visit:
tamingthehighcostofcollege.com/scholarships
We'd like to extend an invitation to our listeners to share their feedback and questions. Our website offers a couple of ways for you to share your questions with us, and we'd love to hear from you.
Contact Us to submit a question to our email
Leave us a voicemail message on the computer! (We use questions for future shows because it's likely other people have the same question.)
If you find our podcasts helpful, please share us on social media and tell your friends.
The bottom line is that we care what you think and want to help you out, so we'd appreciate you reviewing us on iTunes or on Spotify. And even better, receive automatic updates by subscribing to the show on iTunes or Spotify.
Brad is not affiliated with FC Kansas City or Pocketcast.