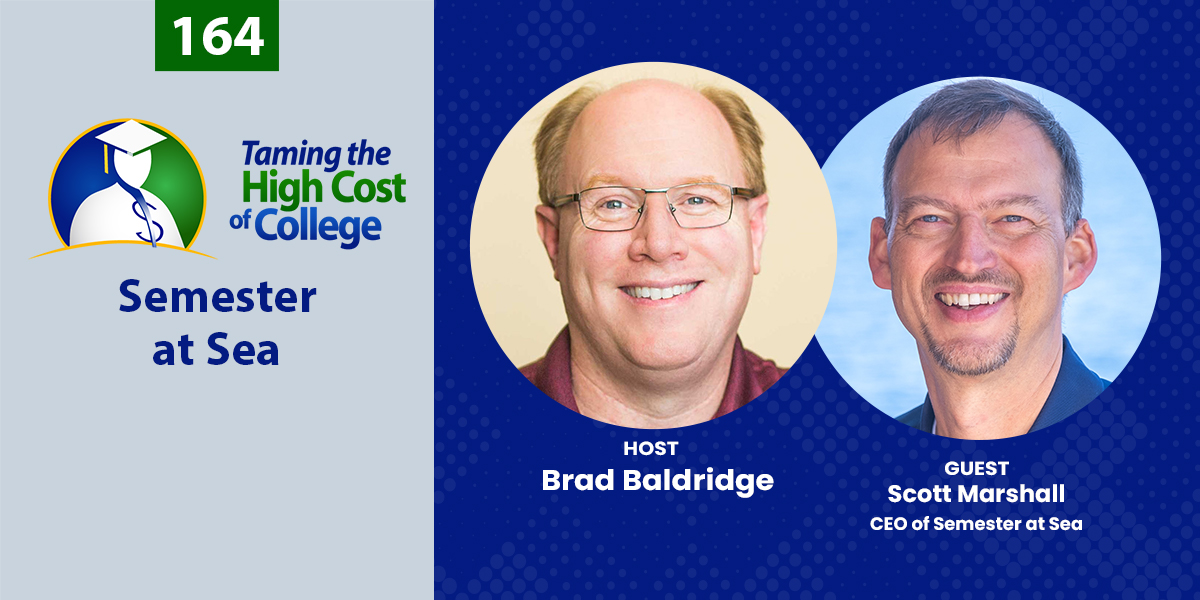 ---
Today's Guest:
Scott Marshall, CEO of Semester at Sea
In Scott's role as the President and CEO, he is responsible for the overall strategic direction and financial well-being of the Institute for Shipboard Education and the Semester at Sea program. He works to advance the mission of Semester at Sea and ensure sustainable revenue in partnership with the Senior Leadership Team (Advancement, Academics, Finance & Accounting, Human Resources, Marketing & Communications and Operations & Risk Management), the over 70,000 Semester at Sea alumni and the ISE Board of Trustees.
Scott collaborates closely with Colorado State University, the Academic Partner to Semester at Sea, and stewards strong support for the philanthropic community.
Prior to his position as President and CEO, Scott served as Vice President of Academic Affairs at ISE/Semester at Sea and various leadership roles at Portland State University, including Vice Provost for Academic and Fiscal Planning and Interim Dean and Associate Dean of Graduate Programs in the School of Business.
Questions Answered Today:
What is Semester at Sea and what does it do?
Semester at Sea has been operating for decades. It's a study-abroad program that takes place on a ship, MV World Odyssey, taking college students to 8 to 10 countries in a span of 100 to 105 days. They spend about half of those days on the ship and half on land.
Semester at Sea, which embarks in two voyages yearly (Spring and Fall), consists of:
500 to 600 students
25 faculty members
30 staff
Students who are enrolled in the program spend about four to six days in each country. While en route to their destination countries, they spend time doing various activities, such as:
Taking classes
Doing community events
Getting to know people with diverse backgrounds (about 85% of participants are U.S. passport holders, while 15% are international passport holders)
Note: College students from freshmen to senior can enroll, although most enrollees are in their junior year.
MV World Odyssey is quite comfortable for students, offering many amenities such as:
Swimming pools
A fitness center
Evening activities
A library
Areas to play board games with peers
Summer spa service (with extra pay)
Pedicure and manicure (with extra pay)
And more!
What does the students' mode of learning look like at Semester at Sea?
Semester at Sea's official partner institution is Colorado State University, making it part of an accredited system. This means that the transcript of records for the semester spent at Semester at Sea comes from Colorado State University.
Scott describes learning at Semester at Sea using three words: comparative, experiential, and international where students learn both in classroom and in real life and are given the opportunity to reflect on everything they've been learning.
Students learn in and out of the ship. Semester at Sea offers:
More than 70 course sections, which include:
100-level courses for students in their gap year
200- and 300-level courses
400- level courses for students who are trying to complete their major.
They have a small class size, averaging 24 students per class.
The Global Studies Course. It's a large, special class with about 250 students, where students gather in a huge classroom and discuss specific content. All students are required to take this course.
Field Classes (on land). There is one required field class per course, specifically for experiential learning. During a field class, the teacher-in-charge brings the students someplace where they can see the concepts that they've studied in action (e.g., a day at a contract shoe manufacturer to understand the supply chain for shoes).
Field Programs (on land). These are special programs where students can stroll and enjoy each place and perhaps do something adventurous, with the guidance of local tour operators that are partners with Semester at Sea.
To maintain the academic rigor that's necessary for a college experience, students still have to pass tests, submit writing assignments, and complete presentations and such, in order to complete their course requirements.
As Internet connection is limited, students and teachers rely on their intranet-powered learning management system called Moodle. Teachers use Moodle for assignments, attendance, grading, and distribution of learning materials.
In the event that a student is not able to be physically present in class, the classes are live-streamed and recorded so they can watch live while in their cabin or watch the video later.
How are the students' health and safety ensured?
Managing hundreds of students is not easy, but Scott ensures that Semester at Sea puts their students' health and safety above everything, in and out of the ship.
Semester at Sea ensures their students health and safety through their:
Fitness center
Mental health counselors
Medical staff
Travel insurance
Each student needs to go through their scanner on their way in and out the ship, ensuring that everybody is off and on-board.
Once out, the students have a set of rules to follow, which results in penalties if broken. Scott shared some of these strict rules, some of which include:
Prohibition of renting motor vehicles. This is mainly because motor-vehicle mishaps are not covered by students' standard travel insurance. If an accident happens, it's the student's liability.
Compliance with on-ship time. Semester at Sea is obligated to never leave anyone behind. Students who break this rule and are not on ship on time are penalized and will have less time to explore the next destination country.
In a rare incident that a student needs to be left behind (e.g. a student lost their passport and won't be allowed to enter the next country), a staff member from the ship gets off with the student and assists the student until they're able to rejoin the voyage.
Students' accommodation while in the port
The ship serves as the students' home while they're on land, so they can come back at any time and stay on the ship if they prefer to do so.
During the time they're not in field classes or field programs, students can design their own plan and program (e.g. get an Airbnb and simply relax), as long as they strictly follow Semester at Sea's rules.
How much does it cost to participate in Semester at Sea?
Without any financial aid or scholarships, the base price ranges from $26,874 to $32,874. This excludes:
Cost of airfare to get to the port where the voyage begins
Fees for getting visas or anything similar
Field programs
Extra tours in port
Some special services on the ship (e.g., spa, manicure, pedicure)
The cost depends on the type of cabin and number of roommates.
Type of cabin:
Interior – doesn't have an ocean view
Exterior – has an ocean view
Cabins can be occupied by four, three, or two students. The room pricing rules are pretty straightforward. Like room and board in college, the better the arrangement (e.g., exterior cabin with only 1 roommate), the higher the cost. For example:
An interior cabin with 1 roommate can cost roughly $27,000
An exterior cabin with 1 roommate can cost roughly $33,000
It's worth noting that these prices vary. Scott recommends that parents and students use Semester at Sea's Cost Calculator for an estimate. Financial aid or scholarships are available, so those can significantly lower your costs.
Can costs be covered by financial aid or scholarships?
YES. Since Semester at Sea is a program that's part of an accredited college, students who want to join can get federal financial aid such as:
Pell grants
Supplemental grants
Work-study loans
Student Direct Loans
Parent PLUS Loans
Semester at Sea's Cost Calculator can also help with fees calculation with the consideration of financial aid.
Other source of funding honored by Semester at Sea include:
Donor-funded scholarships
Semester-at-Sea-funded scholarships, which could be merit-based or need-based
Private scholarships (e.g., Coca Cola)
Visit their website for more information about scholarships at Semester at Sea.
Scott also mentioned student assistantships, where they hire 15 to 20 students to help in various roles across the ship. This could be a potential source of income to help fund the voyage.
Is sending my kids to study abroad worth the cost?
"Overall, across the United States, what we find is kids who studied abroad are more likely to be retained in college and complete their studies."

— Scott Marshall
Absolutely! It may be intimidating, but it's a great experience to build your student's confidence. It's a great opportunity to:
Learn about other cultures
Meet different people
Find life-long friends
See the world in a global lens, which can be helpful for career-building later (like Scott's experience)
Realize what it means to 'make a difference'
Still, it's not for everyone. In this regard, parents should greatly consider their student's inclination toward this kind of experience.
Brad Recommends:
Today, I'd like to make sure you have access to great resources I offer on my website. If you're mapping out how you want to pay for college, then these are for you. Access them with no cost.
1. Scholarship Guide for Busy Parents. Four video series that tell you everything you need to know when applying for scholarships and strategies for winning them.
2. Cost of Colleges by State and Income. A chart for each state that provides estimates of how much college will at each school, depending on your family's income.
3. College Money Report. If you're shopping around and want an accurate estimate of much college will cost at the schools on your list, plus how much in financial aid and scholarships you might qualify to receive, then this resource is for you.
To get the report, just enter some basic information:
When your student is graduating and starting college
The top few colleges your student is interested in
Some basic academic and financial information
The Free College Money Report then generates a report that shows you
How much the schools on your list think you can afford
How much you might receive in financial aid and scholarships
How much you might be expected to pay out of pocket
Estimated costs for each college you've specified
To access these tools, visit my website's Resources in the main menu.
---
Links and Resources
Helpful Articles and Resources
Scott Marshall's Contact Info:
---
---
THANKS FOR JOINING US!
We'd like to extend an invitation to our listeners to share their feedback and questions. Contact us to submit a question.
If you find our podcasts helpful, please share us on social media and tell your friends!
The bottom line is that we care what you think and want to help you out, so we'd appreciate you reviewing us on your favorite podcast platform. Even better, receive automatic updates by subscribing to the show through your preferred podcast service.
Brad Baldridge 0:00
Taking college courses while traveling the world. Learn more about Semester at Sea.
Presenter 0:05
You have kids, they grow up, and before you know it, it's time to plan for college. Where do you start? How much is it going to cost? Will you qualify for financial aid? Should you be looking into scholarships? When will you be able to retire? What about student loans? A list of questions is never ending. The good news is all the answers are right here. Welcome to the Taming the High Cost of College podcast. Here is your host certified financial planner, Brad Baldridge.
Brad Baldridge 0:35
Hello, and welcome to Taming the High Cost of College. I'm your host Brad Baldridge. Today, we have a great interview with Scott Marshall. He's the CEO of Semester at Sea. He operates a company that provides study abroad programs that are actually based on a ship. And the study abroad programs sail from port to port, and you have the opportunity to study in many countries and learn a lot doing something maybe in the South Pacific or Asia or even the Mediterranean. But there's lots of great opportunities. This interview went a little bit longer than usual because I found it so fascinating. I personally did a semester in London when I was a college student. And I highly recommend any sort of study abroad program that students might be interested in. I think it's a great experience. And I think this program that Scott is talking about is something that some families should consider. Let's go ahead and jump into the interview and learn more about Semester at Sea. Today I'm talking with Scott Marshall. He is the CEO of Semester at Sea. Welcome, Scott.
Scott Marshall 1:45
Thank you, Brad. It's a pleasure to be with you today.
Brad Baldridge 1:47
All right, so are a unique interview. Now this is something I haven't seen much about or learned much about. So we're going to learn together. But what is Semester at Sea? What is it that you guys do?
Scott Marshall 2:02
That's a great place to start. So Semester at Sea, as a study abroad program, has been around since 1963. So it has a very long history. It started at Chapman University, actually inside the university as world class and float. But now it has, for many years has been called Semester at Sea, we are a study abroad program that charters a ship and takes college students for three and a half months to 8 to 10 different countries. And those students spend anywhere between four to six days in each country. They are taking courses on board the ship. Those courses are actually Colorado State University courses in which, so Colorado State University is our academic partner, which makes sure that the courses actually are something that can transcript back to a student voyager's home institution. So we take between 500 and 600 college students, another 25 faculty, 30 staff on two voyages this year. All voyage in a springboard. What's interesting, Brad, if I could just add one more thing, we basically put up a college campus twice a year. That is that we have brand new students, brand new faculty brand new staff every year, every twice a year.
Brad Baldridge 3:28
Okay, right. So I'm guessing, you get some staff that is relatively permanent, but you have some faculty that come and go as... So if I'm a faculty, if I'm a parent, that's a faculty if I want to take a sabbatical and then come work for you. Is that kind of thing that happens?
Scott Marshall 3:47
Of course, of course. So again, we hired 25 faculty twice a year. And those faculty come from all over the US and around the world. They are not single source, they wonderful diversity. We teach business classes, but we also teach art, history, and political science and psychology and sociology. So it's a tremendously rich environment for learning. And of course, for faculty members who want almost like a mini-liberal arts experience for three and a half months. Faculty are oftentimes on sabbatical, or they've taken leave or in their transition between one institution and another. So there's obviously a variety of ways a faculty member could find themselves eligible to to apply and participate in a voyage.
Brad Baldridge 4:37
Right. So then the mechanics from the academic and college side is you're essentially an institution. Do you have like a federal ID number and an accredited college kind of thing, or?
Scott Marshall 4:52
Yeah, excellent question, Brad. So that's why we partner with an institution like Colorado State University. They are the accredited institution and they are the ones who provision the courses. So every course we offer is in the course catalog, has gone through their faculty governance process, and therefore are part of an accredited system. And the transcripts actually come from Colorado State once a student finishes.
Brad Baldridge 5:18
Okay.
Scott Marshall 5:19
So if you if you had a child who was at University of Illinois, and they came at Semester at Sea, they would basically have been a visiting student at Colorado State University for that semester, those courses would be transcribed back to University of Illinois.
Brad Baldridge 5:34
Right? Okay, so it's just like many other study abroad programs where sometimes your home institution is running the program and their credits flow through them. But sometimes, you're going to get involved in a program that happens to use a different university as the core university, and you transfer that university for the semester or the year, or however long it's going to be, and then you transfer back to wherever you came from.
Scott Marshall 6:01
Exactly. That's exactly it is.
Brad Baldridge 6:03
When I did my study abroad. Long ago, I went to England. And that's the way it worked, where there's about five or six of us from the home university that we're going, I happened to be going to the home university, but there was 100 in the program, or 150, from the Wisconsin area, and they all transferred to my university in order to go and then they transferred back from wherever they came from, when they returned.
Scott Marshall 6:25
Right. So it's a common model, and it's a long standing model.
Brad Baldridge 6:29
Right? It's not unusual. So the courses you're taking, then are they applicable to where we're traveling? Or are they more well, Business 101 and Math 101. And, or, you know, that type of thing where it's not really any different than what you would have gotten at home, it's just during your off time, you get to do all kinds of exciting things.
Scott Marshall 6:54
Yes, so we offer up to 72, 73, 74 course sections, so different courses. And there's quite a diversity. Obviously, we don't offer nearly as many as a large institution does. Nonetheless, there's quite diversity, right communications, or marketing, or our history, or sociology. And they're also offered at 100, 200 trainer foreign level, we try to match our course offerings to interests of students. So there's more students to study abroad in their sophomore junior year. So we try to offer more 200 and 300 level courses. Some students travel as gap year students, and so 100 level courses would make sense for them. And yes, we do offer some 400 level courses for people who are trying to complete their major. So we have that diversity.
Brad Baldridge 7:58
Okay.
Scott Marshall 7:58
And then to your other, I think, where you started this question is, how does that map on to a voyage where we're seeing each 10 countries. So the faculty who are hired for a particular voyage, take the standard syllabus of Psych 101, or Marketing 350. And they map the itinerary in there by making sure that their course experience is concurred. So you really dive into these topics within a syllabus, based on where you're going. And that can be that is, in fact, part of the true richness of this experience that it becomes comparative, where you're not just standardized syllabus, but you're saying how does marketing apply across these different environments? Or how does art history come alive in these various different countries?
Brad Baldridge 8:58
Yeah, I mean, I can see that there's courses that have lend themselves like art history, or I took a course when I was in London, I wasn't actually in London, it was in a suburb of London, but on theatre, so a lot of our homework was to go to the West End and other places and watch shows, which was fantastic, right? And the shows were great having to write a paper about it, not so great, but you know, that's you take the good with the bad when you're doing study abroad, that way you can get some credit. So is that the type of thing that would be like similar to that where you know...
Scott Marshall 9:34
You got it, you got it. Yeah. And that's what you talked about in terms of going to the West End. That's the experiential piece. So I like to use three simple words to describe the Semester at See experience, which is comparative, experiential, international. Comparative, experiential, international. So I describe the comparative piece and then experiential one, which is talk about is you take the classroom experience on a ship, and then you take it into a port, and you experience and then you come back on the ship, and you do more reflection on what you've just experienced. You do more coursework, and then you go experience it again. So you see that compare to experience are part of it.
Brad Baldridge 10:22
Right. Okay. So I was looking at, I don't even know, I think it was maybe 2023. Somewhere in there where you're starting somewhere and East Asia, Hong Kong or something. And then you go, okay, Tokyo. Yeah, you already started in Tokyo, and you ended up in Europe somewhere.
Scott Marshall 10:42
Yeah, that would be a spring voyage, for sure. Our fall voyages start in Europe.
Brad Baldridge 10:49
Okay.
Scott Marshall 10:50
And generally head East. And then our spring voyages, start East and head West and end up in Europe. That's right.
Brad Baldridge 10:58
Okay. So how long is that journey?
Scott Marshall 11:03
So we usually go 100 or 105 days, so three and a half months? Mirrors closely a semester, would start sometime in relatively early September, usually the second week and within the third week of December. Right before the holiday season comes?
Brad Baldridge 11:26
Right. So you do similar to the college semester that most colleges are on? So, I mean, it seems like a lot of miles do so how much time do you spend in port compared to? I mean, I don't know how long it takes to go from point A to point B is it going to be a few days or a week? Or how does that work?
Scott Marshall 11:44
Oh, just a side note, right. So I grew up in higher ed than the faculty system and was in administration. And then I came in and started working for Semester at Sea, and I have learned so much about how ships operate nautical miles, ports, you know, pilot boats so much. It's been amazing. So in the first part of your question about how much time on land and how much time on the ship, it's roughly half and half, you know, 55 to 56 days on the ship and about 50 days on land. And the on-land time again, is split between the 8 to 10 countries we visit. So there's four to six days in each country. And again, the time on the ship, you're in classes, you're dining together, you're going to a fitness center, you're doing community events, and so on.
Brad Baldridge 12:39
Right. So if we're on the ship and doing classes that I guess that makes sense. So you have like a typical college schedule. You're I mean, is this a boat full of classrooms? Or how does that work?
Scott Marshall 12:52
So first of all, we got to call it a ship, because...
Brad Baldridge 12:55
Is it a ship or a boats
Scott Marshall 12:56
Yeah. Ships carry boats, and so on the ship, it is in many ways of traditional looking cruise ship, but we've modified it to make sure it has these classrooms. So there is a screen there's a laptop, there's a podium there's chairs for students to sit in. Right. So in that sense it is it's modified for university set things that are unlikely college campus because it's on the ship, you're not going to have great internet access ships just simply don't unless they are equipped with millions of dollars with the satellite technology, which certainly military do some rescue operation ships do. But most standard cruise ships do not.
Brad Baldridge 13:47
Right.
Scott Marshall 13:48
That's why it's outrageously expensive when you go on a standard cruise to get internet and it's even then not very good. So that would be something that's different, but also quite refreshing. Because it's so community-based. So in many ways it is like a college campus. Imagine a very large floating dorm. You have five or six students residing on three or four different decks. You got faculty of dining halls, so you know there is this comparability to a college campus.
Brad Baldridge 14:22
So how many hot tubs and waterslides and ice skating rinks and bowling alleys do you have?
Scott Marshall 14:31
None. We have some pools, some swimming pools, although when the weather is cold, they're not heated so that's a little bit tougher to go in the water. We have a fitness center. But unlike any of the sort of fancy cruise ships, this is an academic program. And as such, we don't have any water slides. There are no hot tubs We do have a summer spa service. So people who want to go get a massage, they have to pay extra for these things. So pedicure manicure that you know they can go get that done. So we do have some of that available for students and faculty and staff. Okay, indulge a bit.
Brad Baldridge 15:19
Oh, okay. So when you're on the ship, you have class at 8 and 10 and 11. And just study in between, and then what are the kids doing? Or kids is probably not a fair term. But you know what I mean, the what are they doing for entertainment? If they don't have access to the internet? I mean, I can't imagine what my daughter would do if she didn't have access to TikTok. I mean, that fills her day. So what
Scott Marshall 15:47
So it's not that there's no internet access, it's just not great. So
Brad Baldridge 15:50
Alright, so they can get email and stuff. But they're not watching video after video. TikTok or that kind of stuff, right?
Scott Marshall 15:57
Yeah, there's no streaming, you can't stream and just not enough bandwidth to stream. So there is a bit of a shock for people a little what's wrong. What we have seen time and time again, and I tell you, you almost get tired of it. But then you don't, is alumni come off this program. Like that was the most amazing experience of my college life. Because the community that formed was unlike anything that experienced part of that, not all a part of it is you start to do things that maybe you did more often as a younger person, your card games, board games, there's skits, there's evening activities, there's affinity groups, you dine breakfast, lunch, and dinner with faculty and staff and other peers. You go to the fitness center, you decide because you are, I am not, but maybe a young adult is certified in Bar, one of these fitness programs, and they decide, hey, I'm going to run a Bar session twice a week when we're on the ship. And so they do that. And every time I go talk to alumni, they say, that was the best experience of my life, best friends come out of this, that last a lifetime. And it's because not just again, not just because the internet access is limited, but I think that's part of it. Because it's a closed community, which is so unusual. So powerful.
Brad Baldridge 17:34
Right, now I can see a lot of that where, you know, people around the world made a lot of good friends in college, and then, or the military, or those types of situations where you are in close quarters, you can't help but make friends or enemies as the case may be. But hopefully you gravitate towards friends and then right, and especially at that age where you're out there looking for people to connect with so. So it sounds like there's movie nights and activities and stuff going on that people can participate in. So that there's 500-ish students, what's a typical class size? Or I can't imagine that there's the 100 student lecture hall, that sounds like there's too much diversity, where classes are going to be smaller.
Scott Marshall 18:33
There's one course called Global Studies, which is required for all students. And it's really a gathering point for a common discussion and content. That one has two sections held in a fairly large union, what we call 'the union.' And it is it can be as large as 250.
Brad Baldridge 18:56
Okay.
Scott Marshall 18:58
Beyond that, we don't have large classrooms. Beyond that, the largest classrooms are 35. And the average class size is 24. All right, there's actually smaller classes, you know, that can be 18, 19. So we do try to match the class size.
Brad Baldridge 19:20
Right. Okay. And then the classes are very, well, I mean, while you're on the ship, at least, they're very similar to a college course, where there's some combination of lectures and writing and labs and tests and quizzes and panels. It's not dramatically different in that regard.
Scott Marshall 19:42
Yeah, you got, we have, we have to get a nice syllabus for a course that's offered. Our voyage has to be approved by the relevant department chair at Colorado State University, which means they hold us to a high standard which we should be, which means just as you said, there's got to be tests and writing assignments and presentations and so forth. But it maintains all that rigor that's essential for a college experience. Right?
Brad Baldridge 20:13
So then how does IT work on the ship? That's always a, something that happens a lot on college campuses, right? You have access to a printer, you don't you need to bring a laptop, you need to what are you recommending for, for students there?
Scott Marshall 20:28
Oh, for sure, I have a laptop, we have a learning management system. We use Moodle, which is an open source learning management system. And it resides within the intranet on the ship. So faculty use this as an assignment tool, attendance tool, a grading tool, and provisioning of all course materials. So that learning mentioned system works within the ship environment. That's a really important aspect. The other investment we made recently in terms of the academic programming, and it is a live stream technology. So that, particularly for Global Studies, in the large union, if someone is seasick, or otherwise not able to attend something, they can livestream into the cabin so that they can get that they can also watch videos later, which, of course, is a key piece, we've learned through the pandemic, that the ability to go back and review is key. And so we've put this kind of technology in, we have other sort of communication tools on the ship, that allow people to communicate, obviously, it's not a huge campus, so you can find people in person relatively easily. But there's also an internal communication system, WMET.
Brad Baldridge 21:55
Okay. Let's talk a little bit about the accommodations then. I've not been on a cruise myself. So I don't even have a frame of reference here. So if you're a student on the ship, you have a roommate and a portholes and like a bunk bed, there's something in this little little room like you see in the military, or how does that work?
Scott Marshall 22:19
Actually, this ship, the MV World Odyssey is quite comfortable. There, well maintained, well designed cabins, you can have, you can have a cabin by yourself. But of course, that's more expensive, just like it would be on a cruise ship, just like it would be on a college campus. If you're living on your own, you're gonna pay more, you can have a double. So you know that, and then you can have a triple and in some cases, there's actually what we call quads, which is four. Obviously, the more people in your cabin, the less someone pays, it's simple logic in the world we live in, right. There's also what we call interior cabins that do not have a view to the ocean and exterior cabins, which do. Okay, so that's, you know, yeah, cruise ship would have a similar model, but so does life.
Brad Baldridge 23:18
Yeah.
Scott Marshall 23:18
This is the reality, which kind of mirrors reality that the more people you're residing with, the less you pay, the more you get a view to the outside and natural light in terms of your living situation, the more someone will pay. So that's, that's the general way of describing. Okay, so there's tiered pricing according to the combination.
Brad Baldridge 23:40
And then if 2, 3, 4 people in a small cabin gets a little overwhelming is there, you go to the library like you would on a campus or go to the Student Center, or go to some other places where there might be a desk where you can sit quietly and study because you've got to cram and your roommate wants to sleep, but that kind of stuff?
Scott Marshall 24:00
Absolutely, there is lots of space for people to move around, find space on their own, find space to meet as teams from a class. And that's key, what we find is students probably at the front end, and parents even at the front end have decided to go on a Semester at Sea voyage place so much importance on a cabin choice, when in fact, during the voyage itself. The student voyager does not spend that much time when they can't. They're out on the deck. They're going to the fitness center. They're at the dining hall. They're in the main union hall, right? They're finding other places to be right. And I sailed as a faculty member with my wife and two boys and we were all in one cabin. And cabin both was a retreat for us to sort of find our own space, but also we found out all kinds of space outside of our cabin to do our own thing.
Brad Baldridge 25:05
Right? Yeah, I mean, I guess I see that as well that, you know, even in my home today, my one son that has his computer elsewhere, only sleeps in his bedroom, that's about the only reason he would go in there. Because his computer set up in the rec room, and he does stuff with friends and everything else. And you know, he blows in and out a lot.
Scott Marshall 25:27
How old is your son?
Brad Baldridge 25:28
He's a senior in college now, appears to be a senior in high school going to be going off to college. So, yeah, I mean, I can see that where again, it's we I go in there and I sleep. And maybe I lay on my bed read here and there. But if I need to study I could there's a desk there. But I might get in the habit of studying at the library or on deck somewhere where I can? Or who knows, right? I guess I know, that makes sense. So let's talk about that. You know what everybody's wondering, because we've it's come up now as well, what does it actually cost to get involved in this? Can you give us some ideas of pricing?
Scott Marshall 26:07
Absolutely. So the first thing I would say is, before we go into because it's on our website, there's no secrets here, is if you're a parent thinking about where you're sending your kid to college, which you and you've clearly given some thought to because your child's heading off here soon. And your child or you as a parent, our thinking, well study abroad would be cool. As a parent, one thing I would keep in mind is the retention rates that is and completion rates for college students who have studied abroad is typically higher, notably higher than those who didn't. So if you're making an investment in your kid to go to college, it actually, now, of course, there's diversity among groups. But overall, across the United States, what we find is kids who studied abroad are more likely to be retained in college and complete. So just keep that in mind. All your listeners keep that in mind that in terms of making an investment in study abroad, it actually leads to kids completing their college degree at a higher rate.
Brad Baldridge 27:22
Right.
Scott Marshall 27:22
So for many, it is actually a very worthy industry.
Brad Baldridge 27:26
Yes, for sure.
Scott Marshall 27:28
For sure, right. The second thing is, of course, you know, we'll go into the pricing and our financial aid and so forth, is, as you know well, because of your podcast and your real awareness of higher ed, there's a huge gap between low cost higher ed and high cost higher ed, massive, right?
Brad Baldridge 27:49
Exactly. You know, and we talked about that all the time that a year of college is, low end is 25,000, all in 20,000. In some states, a few very low cost states will even do better than 20. But that's, you know, that's Wyoming and other very low-cost locations. But a lot of states will have higher costs where they're typically paying 25, 28, 30, 32 all in for one year of college. And that's just the low cost option. And in that state, it goes up from there all the way to Harvard, and Yale and etc. The most expensive at 85-ish all in.
Scott Marshall 28:30
Yeah, exactly. Exactly.
Brad Baldridge 28:31
Actually it's 90, because it goes up three 4000 a year, so
Scott Marshall 28:37
So you nailed it, you've got the prices, massive, massive bearing. So for us, when we state our price, it includes tuition, room and board and all the programming on the ship, right. So a basic double inside cabin is about 26, almost $27,000. Right?
Brad Baldridge 29:05
Okay
Scott Marshall 29:05
That's without any financial aid and scholarships so far, that's the base price. Now, this does not include the cost of airfare to get to the ports, does not include any visas someone would need to apply for if it's required based on their passport to get into certain countries along their voyage. It does not include in country expenses. So if someone wants to travel when they get into the country, that would be an addition. So, that is the price to complete our voyage, right? It goes all the way up to almost almost 33,000 for an outside double. So this is your only got one roommate and you get a view of the ocean.
Brad Baldridge 29:48
Okay
Scott Marshall 29:48
So this basically from 26,874 for the lowest price to 32,874. So you get a sense of that variance. Again, there's a lot that goes into it. And we actually have a cost calculator, which is pretty common now. So students, and it's very popular tool for our prospective voyagers to go in and do this cost calculator. How much financial aid is the receiving. So these are folks that have submitted their FAFSA, put their Pell Grant in, and we match Pell Grants so that immediately some tracks cost and so forth. So that's a really important tool.
Brad Baldridge 30:28
Right. And just to be clear, you are an accredited college that is part of the federal system. So they can use their, they can do the fast, they can be awarded federal financial aid, which would be Pell Grants, supplemental grants, work-study loans
Do you guys do work-study?
Scott Marshall 30:47
We do some work-study. That's right. And that would be obviously an internal funded effort. So it varies bit by voyage. But we have somewhere between 15 and 20, student assistants who really are important for us, they help in it to help them a library, they help in various roles across the ship. And people apply for those student assistantships, which certainly can help raise money today.
Brad Baldridge 31:14
And then right to go back to the list. And the two things I haven't mentioned yet would be the Direct Loan to the student and the Parent PLUS loan. So all you know, all those things would be available. So I guess certainly with the loans, you can make it happen almost for sure. Because the Parent PLUS loan will cover the full cost. And that's now and that'll get you get you going. Now, whether or not you should borrow that much money is a good thing. Kind of a different question. Of course, of course. So and let's, but you also mentioned a little bit that there is some merit aid and some scholarships
Scott Marshall 31:53
Yeah. So we have obviously donor-funded scholarships, which are shown on our website. And we also have scholarships that we fund for certain groups. Some are merit based and some are need based. And they're all outlined on our website, in terms of what was going on before. The other thing we do, and this is something I'm guessing you really recommend to parents and students is don't just look at the institution and the federal government. There's this third large group of funding opportunities. Where else are our organizations are providing scholarships for students to do higher ed, which would include study abroad. So we actually, our Director of Financial Aid, she's amazing. She's really mapped out, here's what we provide, here's what you get federally. And here's the other set where we encourage you to look for other opportunities as well.
Brad Baldridge 32:58
Right? Yeah, so exactly the outside scholarship piece, private scholarships, different names, but so you can go to Coca Cola and win a scholarship or you can go to various places, wins, scholarships, your local rotary, you know, the corporation down the street, etcetera, etcetera, that offers scholarships. And generally, those scholarships, you can spend them at any institution. So you're this qualifies as one of the institutions you could use it at for that. So as an example, I won a four-year scholarship locally from a manufacturing company in my little hometown. And it was $1,000 a year for four years. And the year I studied abroad it I could have, again, I just mixed in with everything else doesn't matter what, where it actually applied. But theoretically, it could have been used on that semester. Because, so that general scholarship and of course, you win scholarships, it kind of comes out in the wash as well, where even if you couldn't use it on that semester of, well, you use it on your other semesters then, and you reduce their costs, and I have more money available to pay. Right. So yeah, this isn't necessarily going to be a low-cost endeavor. Just like when I studied abroad, it was my most expensive semester by far. But well worth it. And
Scott Marshall 34:18
I studied abroad as well. And I exactly the same, what you're saying is that it was my most expensive and it was the most fun. I can attribute my almost my entire career to having derived from the impact of that experience. I studied abroad in Japan. And I didn't know it a ton, of course, but my entire career has been focused on global and Global Education, global experiences, full teaching. So yeah.
Brad Baldridge 34:54
if we look at a typical I don't know what you call it class or cohort, or whatever? Is it mostly US students? Is it mostly, you know, college juniors? Is it? What can you give us some demographics of is it mostly, you know, equally split men and women or what? You know, what does that look like?
Scott Marshall 35:17
Let's start with the US International. So, generally about 85%, US based US passport holders, we would say, and 15% international passport holders. And we distinguish that because we always have to look at passports to see what the visa entry requirements are for our voices. Right. So about 85%, US based 15% international base. And then in terms of class, we have, it's pretty spread across your traditional four year distinctions. That is that we have freshman, sophomore, junior senior, however, certainly students are more likely, and we mare them more likely to study by my sophomore and junior years, juniors is most popular with freshman and senior, not representatives as much. So it's roughly 30% junior 25% senior, maybe 30-30. And then the freshman and the senior and our gap year and our post-grad make up the other portions of that. In terms of gender, we look a lot like all other study abroad. And if you look at the historical trends and study abroad, it has not changed for decades. And that is that two thirds of study abroad students are female.
Brad Baldridge 36:51
Really?
Scott Marshall 36:53
Yes. A third are men. And we actually have tipped at times above that in terms of the female-male representation. And if you can find out the answer, we'd love to know, because we'd like to go against that trend, just because the balance probably is better for our voyage environment. You know, it's still a amazing experience. And interesting enough, just a little anecdote, my older son three years ago, and seventh grade, went on a study abroad for a week and the and the proportion was exactly the same. There's something I think that starts very early. That sets this up. And I've got a lot of hypotheses. I don't have any answers.
Brad Baldridge 37:41
Yes, exactly. Okay, so when I studied abroad, back in the good old days, my method of communication was to call home with an international calling card from a payphone on the street, somewhere in the middle of the night, because I wanted to call while people were awake, I was in Europe. So the best time to call was midnight, because then it was six o'clock, and my parents were home. You know, it was after work at home, I could do that was a good time to call and I was student often up at midnight, and often on the street at midnight. So it wasn't that big a deal to, you know, pop into a phone booth, which, that's a public phone, for those of you that are really young that you know that you put money in to make calls home because there's not one in your pocket. But anyway, so the, how does that work? How do students and families stay in contact? If you know, in this day and age? I'm sure technology has something to do with it.
Scott Marshall 38:47
Oh, you bet. You bet. So internet based messaging services, like WhatsApp were relatively well, there certainly are moments when the ship is moving, and satellite connectivity. So internet connectivity may not be stable. So that wouldn't work. But from most voyages, most of the time, a messaging service like that will be functioning.
Brad Baldridge 39:16
So that a text message or like a recorded video, or...
Scott Marshall 39:21
Video will be very difficult. So just a message, you know, yeah, text-based message would generally work. Most of the time, not all the time, but most of the time. Anytime you're trying to upload through that system, like a video, that's going to be really hard anytime you're trying to live stream that's going to absorb tons of bandwidth. Right, but for sure, something like WhatsApp, which is still in an app based of course, but it's all but the text portion of it would genuinely work.
Brad Baldridge 39:54
Okay. Now so would a student have a cell phone with them that would work in ports and stuff, or is that it just not? You know, I guess, because the international cellphone concept, I think has kind of been kind of solved, perhaps at this point where your iPhone may work wherever you turn up. Is that true?
Scott Marshall 40:18
Yeah. So there's, yeah, yeah, there's a lot of different ways to do this, some will actually have phones, dual SIM card phones, which, so they go into a country, they get a local SIM card, they slide that into the second slot, and then they're using a local number. That's one way. Second way you can, within your current service provider, get an international plan. I used to do AT&T, and it has a certain fee that I pay when I traveled, right? I use Google FI, which has only one cost per month, no matter where I'm at. And so that works, that has worked well for me. And so there's a variety of ways you can do it. Right? You can have a dual SIM, or you can have a single SIM and just take out your SIM card usually loose and switch it, right or a dual SIM. So you could do the SIM card mechanism. You could do the international plan mechanism, or Google FI or other. Maybe there's other types of providers that have a similar approach. So yeah, when young adults get into an international country, they're, they've got it figured out much quicker than I ever.
Brad Baldridge 41:32
Yes, for sure. All right.
Scott Marshall 41:35
They're suddenly TikToking and Snapchatting and doing things that I don't do.
Brad Baldridge 41:41
Right. Yeah. So I think that covers most of my credit, I guess what I didn't cover yet is, what is it like when you're in port, then? So you pull into, I don't know, pick a big, Shanghai, or some big city that happens to be on the itinerary? Or, and they say, 'Alright, well, we're going to be important for the next six days.' Is it get off the boat and good luck? Is it, 'Well, here's your exact itinerary, you're gonna go here for this class, and you're gonna do this for this class? And then you're gonna do this for...' What is it?
Scott Marshall 42:15
Yeah. So there's three things that can occur. When you pull into a country. One is, as a faculty member, you will have one field class per course you teach. And so a student in the class knows that the 8 to 10 countries, and the 3 or 4 classes they're taking each of those classes will have one day in one country in which they are with a faculty member and their fellow students in that class. Give an illustration, when I was a faculty member, I taught three courses. One of those courses within, was international business. And so when we went to Vietnam, for one day, all the students and I went to a contract shoe manufacturer, to really understand the supply chain for shoes, right? A great international business. That's an example of a field class. The second option, our field programs, which are designed in partnership with local tour operators, which you can pay extra for. Those could be all the way from a half day, orient with the city to a three day two night homestead situation, right. So there's that right. And the third one is just as you described, which is you don't have a field class, decided to not do a field program. So you're going to explore with three or four of your fellow student voyagers and you get to design your program. Like there's there's just an independence. And I will, you spend time in London during study abroad. Right? That independence is intimidating and extraordinarily confidence-building.
Brad Baldridge 44:16
Yes
Scott Marshall 44:18
You get a student who has never traveled before, and the first time they step off the ship in a port they've never been and they have to explore. It can be overwhelming, intimidating, exciting, just by halfway through the voyage. These young adults have gotten such presence, such confidence to go into a brand new environment and find their way it is phenomenal transformation that occurs.
Brad Baldridge 44:47
Yes, I would agree with that. I mean, just in my own experience, and you know, when backpacking through Europe after I was done in London, I don't know what it was a loving, beloved 12 countries in 14 days or something. And yeah, and it was interesting too, because you run into people that are doing the same thing. And you make friends and I ran into people I studied with in London, randomly in Switzerland and that type of stuff. So it is an interesting community in general. So, you mentioned then if, when we pull in the port, maybe we've got to participate in a class for one day, if we chose to take a lot of classes that have that component? Would it be well, Tuesday with this professor Wednesday with that professor? Or would there be conflict? Where you probably couldn't do that?
Scott Marshall 45:41
Yeah, we address that upfront, because absolutely, that potentially exists, but we work directly with the student to ensure that it doesn't, that is, they've kind of chosen, I want these three or four classes. And we say, actually, these two classes, or courses, these two courses have a conflict on field class. So what else can we suggest? What can we sub one for? So we do that work way ahead of time with the student to ensure that that conflict doesn't exist? I was very savvy. And you Brad to think about that possibility.
Brad Baldridge 46:20
Right. Exactly. Okay. And then you mentioned, so when you're in port, do this, students have access to the ship? And they can they sleep on the ship, essentially, so they're not trying to find accommodations? And but they could theoretically, I guess, what is the rules around how you keep track of 500 young adults? How often does a student miss departure? Because they, you're supposed to be here at six o'clock, and we wait to anchor at eight o'clock and we set sail and now you've got to, we'll meet you in the next port. Good luck. Yeah. Or do you, is that your problem? Or is that their problem? How do you know? What's the...
Scott Marshall 47:04
Yeah, there's a lot in your question. The first thing I would say is, to start this off, is health and safety is our top priority at all times. I mean, these are young adults, we want to care for them every way possible. So the ship stays in port, the gangway is down, they can come to the ship, anytime it can hotel on the ship, right, this is their home, they come back home at any point in time, we have mental health counselors, we have medical staff, we have everybody there to support them all the time. That never leaves, right. And so that's really important. If a student twist an ankle, we have an on-call system so that that person can call the ship. And we can either provide the service on the ship for that twisted ankle, or if for any reason. In a terrible case, maybe they've broken an ankle. And we make sure that we already have assessed where the best medical care is, and how do we get enough care within that port. So those services are always available. 24/7 while we're in port. The second question is is more more interesting, kind of funny at time. So there's do we ever leave anybody behind? So our obligation is to never leave anybody behind. Right, right. Again, of health and safety is our priority, we would never leave behind. We are very strict with on-ship time. If it's five days in Shanghai, there'll be an on ship time, that last day, if you do not make that on ship time, you will be penalized in what we call 'deck time.' On the next port, you will have to stay on the ship for a certain number of hours, as a consequence of being late for the previous point. Now, has anybody been left in a country in the past? Very, very infrequently. We had a case many years ago where two students lost their passport, their passports. And they had to go visit the consulate in that country to get those renewed.
Brad Baldridge 49:17
Right
Scott Marshall 49:17
They couldn't get back on the ship and continue the next country without their passports. So we actually have different swing positions. They're not permanent, full time employees on the ship, but swing positions called into action in those cases. So that individual from the ship will get off with those students and make sure that they are taken care of and they get a passport and then they will have to wait and fly to the next country that the ship's going to in order to rejoin the experience. So it has happened but again, our obligation is to ensure that everybody is on board.
Brad Baldridge 49:56
Right but you're well aware of who's not showing up, so it's not like a typical, I don't know train or something where they say we're closing the doors and leaving. And if you're not on it not my problem.
Scott Marshall 50:07
That's exactly right. We have in our own parlance, we have what we call, swipe on, swipe off, swipe up. We have a ship ID. When you come on board, it's scanned. So we know. And so, on ship time. We have a full and sort of enrollment. Like who's here. Looks like everybody's here. Good, closes doors, pull up gangway. We're gonna go set sail. So if someone gets off, they scan, we recorded it, they're off the ship. So we track that all the time.
Brad Baldridge 50:42
Right. Okay. So then, let's talk a little bit about, again, if I don't if I have a class, where alright, Tuesday's booked, because I have to do what the professor's scheduled for us. But then Wednesday, Thursday, Friday, I'm on my own time. Do you? Is it like a cruise ship that might say, 'Here's your tours and different things you can pick?' And? Or do they just want? Do it on their own? Or some combination thereof? Can they say, 'Well, I'm gonna get in a, where it happened to be in Africa, I want to go to a Safari. So I'm going to get in this jeep with this random stranger and go off in the savanna and look at lions.' I mean, is that allowed or?
Scott Marshall 51:24
It's a combination of all that? So? I would say, first of all, yes, they can choose what we call it field program after they finished that requirement. Right. So they can buy another program from us and beyond that program. And for all the parents out there, this is something we that we designed in partnership with a tour operator, right? So it can feel better to a parent to send their to insist that their young adults participate in those. And yes, if they opt out of doing a field program, they can design their own activity. There are some constraints on it, there are what we call prohibited activities, right? There are things that we say you are not allowed to do this example, they are not allowed to go, they're not allowed to rent motor vehicles. That's prohibited. Okay, simple, simple story there is there is no insurance coverage. We are we have standard insurance, travel insurance that students purchase, but it's not covered. So if a student decides against our prohibition, to rent a moped, and they get in an accident, guess what, that's not the parent, that's on the student. There's no company. So we are very clear on those prohibited activities. Beyond that, they do design our own experience. And that's part of the power of this, of study abroad. We want students to be able to do this more independent confidence building activity. Because at the end of that, they do come away as transformed individuals with a whole nother level of confidence in themselves to be able to navigate uncertain situations. Right, life's full of uncertainty.
Brad Baldridge 53:18
Absolutely. And I think that, you know, and again, as a parent, letting go and letting them know, take charge is a challenge for many parents. But if you remember back when you know, you were 18, or 19, or 20, and you were just ready to go do it, and you didn't have quite the concerns that most parents do. And of course, parents are saying, exactly, that's why we have to, and it's like, no, you don't, most of the time, things will turn out just fine. Or they'll learn something or both. Alright, so then what kind of budget would be reasonable to think about, as far as you know, if we're going into ports and buying extra tours and that kind of stuff? You know, is that a couple $100 here and there or is that 1000s of dollars?
Scott Marshall 54:13
True, truly does vary widely on how people want to approach it and their own resources. So we've had people spend as you know, $1,000, outside of the program to because they they don't have the resources or they like to be frugal and have minimalist approaches, they have six friends and they hire a driver together and they keep it low. And we've had those with more resources by all the field programs, all overnight, and I've spent many, many 1000s of dollars on this. So it really does depend on how someone wants to approach it.
Brad Baldridge 55:01
Right? So it sounds like maybe you put a little effort into having a couple of reasonable cost options on the list where it might only be a few $100 instead of every choice is $1,500 times 10 ports. You know, that's another 15,000, where...
Scott Marshall 55:17
Exactly, you've nailed it, Brad. So people can do a couple, there's always a couple programs that are less than $100. They're fairly simplistic, they get you into a city, they get you into the cuisine, or dance or something, right, just six hours, kind of immerse yourself in this environment, get familiar with it, explore something kind of cool about the city, all the way to much more expensive. Like you said, if we're selling safaris, and these overnight experiences, when we visit India, people will go on a multi-day experience and includes the Taj Mahal and other major sites, and that could be 1000s of dollars, or I can't remember I should be careful $1,500 or something for that, for that experience. So it will really vary. And people will have choice, right, we want to make sure they have choice. Sometimes people are like, you know, 'For this port. I'm just gonna stay in the city and get an Airbnb with some people and relax.' Right. And actually, the family when we sailed in spring of '17, we did that in a couple of ports. We're like, you know, 'We just want to show up. We'll explore the area by foot or by taxi, but we're going to keep it really simple.' Other places, we did major field programs and other places we really adventurous. So you have that ability, right to make a choice.
Brad Baldridge 56:48
All right. Well, great. Well, it's been a great learning experience for me. I've had obviously, I had a lot of questions, and I can see the value in it. Can you speak to a little bit more you mentioned, you studied abroad, I studied abroad, we found it to be a great experience. You mentioned a lot of alumni come out of it saying it's it was a great experience. Is there, do you think it was certain people gravitate to this type of thing? And therefore they're likely to enjoy it? Or is it kind of the other way around? Where anybody that's just gets over the fear of it is going to benefit from it?
Scott Marshall 57:26
It's a great question. And I don't know if I know the answer perfectly. So if I could give you example of two alum.
Brad Baldridge 57:35
Alright? Yeah. Well, let me let me tell you why I'm asking the question, right. As a parent, if my student says, I don't think I'm interested, are we done? Should we just say, well, if they're not interested, we're not going to, you know, we're not going to push them into it? Or, you know, how do I engage if it's a good fit? You know, again, because there is times when you push your student into something, you know, gymnastics, or baseball or whatever, when they were seven or 10, or 12. And you realize that that was a disaster. Maybe I wanted to do it a lot more than they wanted to do it. And that's very clear, and it ended poorly. Yeah, what, you know, where have you seen things end poorly? I mean, I don't know this for certain, but I'm guessing occasionally a student flies home. And, you know, we're done now. And whether it's medical emergencies or family emergencies at home, or, you know, how do we avoid the...
Scott Marshall 58:36
Yeah, that can happen that stuff, for sure. And it's gonna happen, semesters, even happen and study abroad. It can also happen on an average campus. All right. It happens every week. Like, oh, that was mistake. They just spent a semester studying two courses that were worthless to them. And yet, right, so and this is like, where we make choices. We're like, 'Huh, that wasn't the right one.' So that happens, what I would... So I have two kids as well. And what I would say to them is, you at some point in your life, will reflect on this and know how important to you, whether it's in the moment, or six months, or two years or five years later, you will reflect back on that experience and say, that really was important to me, that was really important experience whether it changed my major, or it changed how I think about the world. Or I found great new friends that are dear and will be friends for life, whatever it could be. It could be all of those things. Because it's such a step out of normal life. It has the greatest potential to impact people in really important ways. It's only when we step out of normal life and take a small risk. And it's a relatively small risk, actually.
Brad Baldridge 1:00:04
Yes. Right, right. Yeah, that's right. I mean, that's defined risk. Are we talking about, you know, something terrible happens that we regret it? Or we tried it, and we didn't like it. Those are two completely different risks, right? Just like taking your summer job, right? I don't think I'm gonna like this job. I'll take it anyway, and see how it goes. Oh, I was right. I didn't like it. That's one thing versus 'Well, I ended up in prison because I took this job. That's a different type of risk.' Right? So
Scott Marshall 1:00:34
Oh, yeah, exactly. Deciding to, I'm gonna go up Mount Everest, where, what is it? Like, a third of the people die?
Brad Baldridge 1:00:42
Right, exactly.
Scott Marshall 1:00:43
That's like a known risk, like, wow. But going on a study abroad, the known risk is this is going to be uncomfortable, I'm going to meet new people, I'm going to be challenged in my comfort zone. Right? Those are the real risks that are known. And those are really important risks to take in life, to launch someone into true adulthood into their career into the personal life. In my view, now, I'm biased because I study abroad, you studied abroad, but for those who didn't study abroad, I would, I think they probably had enough experience now in life to not yes, actually taking a small risk like this will be tremendously valuable to my kids, they will not look back on that and regret it.
Brad Baldridge 1:01:29
Right. But getting back to the, you know, another analogy, right? Boarding school of some sort, right, where my kid is running with the wrong crowd and doing the wrong things. And he's about to fail out of college, and he just needs a change of venue. So I'm gonna force him to go on your ship, as a 'Get straight now kid and get away from your friends and go make new friends.' And, you know, that would be the extreme, of course, but you understand what I'm saying is, there's different reasons, you're not necessarily equipped to be the bootcamp kind of place. So. So they have to want to do it to some level, where if they, you know, decide that well, I'm just not getting off the ship. I'll show him.
Scott Marshall 1:02:15
Yeah. You know, going back to one of the early questions was what motivates people to do something like this? Is it because they're inclined ahead of time? Or is it? This was just a big step. And they decided, what the heck, right? I mean, what, what is that initial inclination, I would go straight two alongs, who are almost polar opposite of the next. One works in Seattle, works at the Bill and Melinda Gates Foundation at the Gates Foundation. And she was a first gen student. So clearly her not only did her parents not stay abroad, they didn't go to higher ed. And she just said, 'I have to do something different. I want to step out, I want to see something.' And when Semester at Sea was somehow presented to her, she didn't know anybody. She hadn't traveled internationally. She took the job. And I met with her about a year and a half ago. And she says, to this day, after 20 years, Semester at Sea experience convinced her that she needed to be involved in something that she believed everyday she was making a difference. Like, that's right. So her pre-inclination was not, oh, 'I gotta study abroad.' It was just, I want to do something different. I gotta step out. And this was what was presented to her and she took the job. And I, again, I talked to a lot of alumni. And I talked to someone not too long ago, she sailed about five years ago, and her aunt and her mother sailed. And so it was just this thing for her that she'd grown up, knowing she was going to do
Brad Baldridge 1:04:11
Right. Yeah. Right, exactly.
Scott Marshall 1:04:13
Very different, very different environments. And we have all of that, like, what pre-inclines someone to do something like this.
Brad Baldridge 1:04:21
Right? Yeah, exactly. And that's good, again, that these questions arise from, where I consult with a lot of families and will have that situation where, you know, one student is, you know, very outgoing and out of their shell and looking for adventure and the next student is 'No, no, I really want to kind of study close to home' and sometimes parents are like, 'Well, you know, you got to push them out of the nest a little somehow, and get them to get out in the world and who knows, they might actually like it if they're willing to try it,' but for whatever reason, we can't you know, get that going and if that was me a little bit around study abroad where I was a little bit quiet and got the chance to go out and go to London where nobody knew me. And then because nobody knew me, I could be whoever I wanted, and just kind of restart, so to speak, make friends.
Scott Marshall 1:05:16
And what a valuable experience. That's tremendous for young adult. Right, absolutely tremendous.
Brad Baldridge 1:05:22
Now, do you see a lot of people that you mentioned, like an aunt and that so you got a lot of repeat customers and generational customers and that kind of stuff. But you also see people that, a lot of people obviously are taking a leap, and they're coming all by themselves, so to speak, whether it's, they knew someone that did it, but they're not there. Now, they got a great recommendation two years ago, or whatever. But do people show up in pairs? And, you know, friends and that kind of stuff? Where say, 'Hey, let's do this together?' Maybe they're college buddies or whatever?
Scott Marshall 1:05:56
Yeah, we see that quite a fair amount. Absolutely. You know, best friends get on the share tab. And we see both we see people who don't know a soul when they get on board. And we see people who come with their college roommate or their best friend from high school. We see all that.
Brad Baldridge 1:06:14
Okay. Yeah. Well, good. I think we've talked quite a long time here. So this is probably one of my longer podcasts. But again, it's something I found interesting. So I have lots of questions. I really appreciate you spending all this time. If people want to learn more, I can you tell us, you know what the process would be of, obviously, we can go to your website, if we wanted to talk with somebody, how does this process work?
Scott Marshall 1:06:39
We're super easy to find semesteratsea.org. Super easy, right Semester at Sea, you enter it in, you'll find this. And we also have what we call regional directors. So we basically have recruiters who operate within regions, and you can find this on your website, depending on where young adult is going to school, can find the regional recruiter and immediately contact him say, 'Hey, I'm thinking about this,' that regional recruiter will be back in touch, whatever questions you might have timing when this makes sense, of course, is the voyage iteneraries, all kinds of advice. And then, again, just like universities, the application process is really straightforward, and so forth. So we have that all set up to make sure it's a relatively easy process for you to get engaged.
Brad Baldridge 1:07:32
Right. So it's currently may this may not go live till say July? I'm not exactly sure when but sometime in the future? What is the timeframe for making the decision? Like, if I'm gonna get on a reasonable timeframe? And if I wanted to do this, in 2023, is it? You know, when should I be working hard now to get it, try be working six months in advance to when we depart, or a year and a half and advance to when we depart?
Scott Marshall 1:08:01
Yeah, so there's still is a possibility, right? Contact us talk to us. You know, there's a lot of there's work to do to get it done. But it's been done within that small range. But then really look at Spring '23 and Fall '23. You know, plan out. For sure. Again, July, you know the months, then you got August and September before we start that voyage, so it's pretty limited. But again, we've done it. Beyond that, start looking to the January voyage, Spring 2023. And then Fall 2023 and beyond. Those voyages are up on our website, you can see iteneraries. All of them are super, super cool. I wish I could just retire and go on these voyages. I have an office job.
Brad Baldridge 1:08:52
Yes, exactly. All right. Well, I do appreciate it. And we're gonna put all this information in the show notes as well. And you know, let's stay in touch.
Scott Marshall 1:09:01
Thanks, Brad. I really appreciate it. Have a good one!
Brad Baldridge 1:09:04
All right. That was a great interview with Scott. I learned a ton about Semester at Sea. And I wish I was young again. So I had the opportunity to look into something like this again. I really did enjoy my London trip when I did that many moons ago. Next we have a Brad Recommends I'm going to talk a little bit about some of our free resources. So stick around.
Presenter 1:09:25
The latest tips, tricks, and tools you can use today. This is Brad Recommends on Taming the High Cost of College.
Brad Baldridge 1:09:34
Today I'm recommending some of the free resources we have on our website. If you go to tamingthehighcostofcollege.com We've got a number of free resources that families can use as you're planning and trying to understand how to pay for college. We've got the Scholarship Guide for Busy Parents. This is a program it's a four video series that helps families understand how scholarships work again, we'll get into those scholarships from the colleges themselves as well as outside scholarships. For some families, scholarships is a great strategy. And for other families, some of the scholarships may be a complete waste of time because you're not going to win. Well, The Scholarship Guide helps get you up to speed to figure out what strategy is going to work well for your family. Whether it's working really hard at scholarships, or just taking the scholarships at the college you're attending, or something in between. The second item there is what I call the Cost of Colleges by Income. We have a state chart for each state that shows each of the colleges and what they cost based on a family's income. Again, this is average cost for a particular group. So let's say the average cost is $35,000 at a $65,000 school, for a certain income. Of course, what does that mean? Well, that helps you understand that there are scholarships and other free money available, because this chart shows what the net cost after scholarships and other free money is out there. So it's useful if you're just starting the process, because it can give you an idea of what college might actually cost, because the sticker price isn't necessarily that indicative of what it really costs. If you're further in the process, then you can kind of compare your results with the chart and see if you're in the ballpark of what other people have seen. That's a great resource. And then finally, if you want to delve a little deeper into your specific situation, we've got the Free College Money Report. If you sign up for this, you can essentially put in some of your information when your students are graduating and starting college, and the colleges you're interested in and some of your academic and financial information. And it will help figure out what scholarships are available and give you a estimate of the cost for each college. Again, based more specifically on your specific family situation. So that's also a great resource for people that are starting to shop for colleges and trying to figure out what the real cost might be based on scholarships and other resources. Again, all of these are at tamingthehighcostofcollege.com. And you can click on the 'Resources' tab or if you go to Scholarship Guide it would be at tamingthehighcostofcollege.com/scholarships. Alright, that's all we have for today. I really appreciate you listening. We'll continue to put out new episodes. So we'll see you again next week. I would appreciate it if you wanted to reach out or if you had any questions you can send us an email, but also give us some ratings and reviews wherever you're getting your podcast. It helps us get found by other parents. That's all we have for today. We'll see you next week.
Presenter 1:12:45
Thank you for listening to the Taming the High Cost of College podcast. Now it's time for you to take action. Head to tamingthehighcostofcollege.com for show notes, bonus content, and to leave feedback for Brad. The next step on your college journey starts now. Brad Baldridge is a registered representative of Cambridge investment research and an investment advisor representative of Cambridge Investment Research Advisors, a registered investment advisor. Securities are offered through Cambridge Investment Research Incorporated, a broker dealer and member of FINRA and SIPC, Brad owns two companies, Baldridge Wealth Management and Baldridge College Solutions. The Baldridge companies are not affiliated with Cambridge Investment Research.
Transcribed by https://otter.ai
Sign up to receive email updates
Enter your name and email address below and I'll send you periodic updates about the podcast.