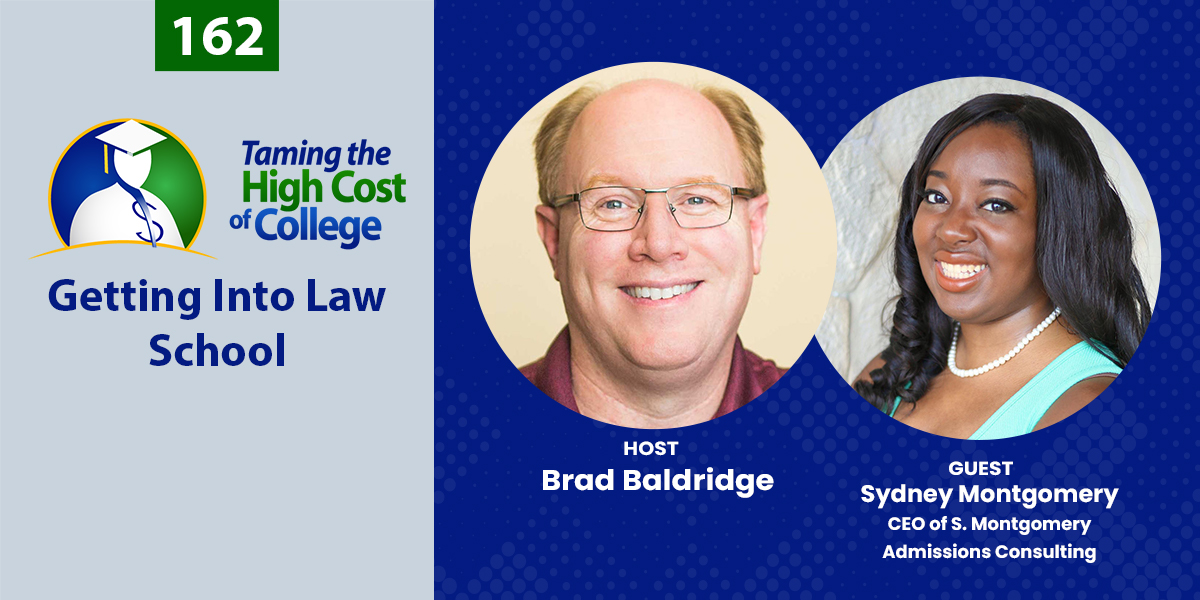 ---
Today's Guest:
Sydney Montgomery, CEO of S. Montgomery Admissions Consulting
Sydney Montgomery, CEO of S. Montgomery Admissions Consulting, specializes in helping first-generation and minority college and law school applicants. S. Montgomery Admissions Consulting produces two YouTube channels, two podcasts, and hosts a free Barrier Breakers® Facebook group.
A graduate of Princeton and Harvard Law, Sydney works to dismantle systemic racism in education, pushing counselors and universities to be culturally competent through published articles, speaking engagements, and the College Equity Index™.
Sydney also empowers women, especially women of faith, to be ambitious in their pursuits of higher education and entrepreneurship that benefit social good. She began consulting in 2012 and left practicing law in 2020 to grow her business full-time.
Sydney has been awarded the Making a Difference Award (IECA), was named a 2021 Counselor of the Year (PCACAC), named to Kappa Alpha Theta's 35 Under 35, and was named as one of the 21 Leaders for the 21st Century by Women's eNews.
Questions Answered Today:
Do I need to get into a great college for undergrad in order to get into law school?
Not necessarily. The truth is, the name of the school only helps if you perform well academically. Take this scenario as an example:
Student A who went to a flagship university got a 4.0 GPA. Student B, who goes to an Ivy League school, got a 2.9. If both of them got a 4.0 GPA, it would've worked well in favor of Student B. But since student B is not performing well despite being in a 'good school', the name of the school doesn't help at all.
Another reason Sydney shared is that pursuing a law degree may cost a lot. If you're not careful, you might incur too much debt in undergrad resulting in serious financial problems in law school.
Decide wisely. But if you know you can get good grades in a great college and you can afford it at the same time, why not?
"High GPA is really important for law school. You want to go to a school where you're going to succeed."

— Sydney Montgomery
If there's 'pre-med,' in college, is 'pre-law' also a thing?
Absolutely not! If you want to pursue law, Sydney recommends that you find something you're passionate about. This is mainly because there are so many different areas/expertise of law to choose from. Studying law is tedious, but picking a subject that you'd have fun exploring will make the experience more meaningful. Look at these examples:
Sydney has a friend who had a successful dance career for 18 years. She worked for celebrities such as Britney Spears and Beyoncé. Hence, when she decided to pursue law, she picked entertainment law.
Student A was inclined in the sciences, but he ultimately wanted to become a practicing lawyer. In undergrad, he majored in molecular biology. When he got into law school, he chose to focus on working on scientific patents, and his background in molecular biology helped him a lot.
Now, while there are no specific recommended majors, Sydney puts huge emphasis on the importance of honing the following skills:
Research
Writing
Critical thinking
Analytical thinking
Hence, you have to be on the lookout for opportunities to sharpen and put these skills to frequent use. Here are some examples:
Attending a literature class
Attending a class that requires writing and research
If you're a dance major, write a paper on the history of dance, or something similar.
The idea is to have something on your transcript that translates these critical skills.
Picking a college for an undergraduate degree seems critical. Are there recommendations on what to look for?
Although there's no such thing as 'pre-law,' you can still gain an advantage and pick a better college by asking the right questions:
How many of your students actually get into law school?
Which law schools have your students gone to?
Do law schools come and visit and do info sessions here?
Do you provide application sessions?
What support do you have for alumni (helpful especially if you're not pursuing law school right away and you're taking a break)?
How do you help you pick law schools? What support do you give those who declare that they're going to law schools?
What schools do you have relationships with?
How much help do they offer on the application essays and meetings?
What are the requirements for law school applications?
Earlier, we emphasized how important your GPA is, so look to follow these requirements:
GPA. Try to get at least a 3.5 to 4.0 GPA
Recommendation letters. Forming great working relationships with your professors will allow you to secure these letters of recommendation, which will only be possible if you perform well academically.
Law School Admission Test (LSAT) or General Grad School Exam (GRE) scores. Most law schools prefer the LSAT, although there are schools that accept both. In order to do well, you must give yourself at least 6 months to prepare.
Tip: In your senior or junior year in college, take a diagnostic test to measure the probability of passing the LSAT. This helps you identify the help that you need in order to succeed (e.g. signing up for a test prep program for strategies on how to take the test). LSAT Demon is a great resource to check out.
Essays. This is probably one of the most important parts of application. Your ability to write critical essays dictates how well you present your narrative as well as how good your research and reasoning abilities are. These are all important skills if you're pursuing a law degree.
Personal and diversity statement. How authentic are you, and what makes you different? Note that very few law schools do interviews, so it's important that you get to tell your story, tell who you are, by writing these statements.
School interviews. Not many law schools do this, so make sure not to waste your chances. There are experts (such as Sydney and her team) who specialize in helping students ace applications and interviews.
Resumé. Internships and experiences greatly matter in law school. This allows you to show the impact you made and the impact you'll make on the kind of law you aspire to practice.
Resumé especially matters if you're a returning student and it's been a while since you've been in school.
Another thing to remember is that most law schools have rolling admissions. This means that the earlier you apply, the more likely you are to secure a spot. The application starts in September and ends in March.
Once I get into law school, what do I need to know?
Duration
Full-time programs take three years
Part-time programs take about four years.
Types of Law Schools
National law schools – Graduating from these schools allow you to practice law anywhere you want (e.g. Harvard Law graduates can practice outside Massachusetts).
Regional law schools – Graduates can only practice in specific regions.
Does this mean that regional law schools are worse than national law schools?
Absolutely not! These questions may help in deciding:
Where do I want to practice law?
What are some geographic areas that I would be okay living in?
Does this law school cater to my academic needs? Which school has organizations, clinics, and other facilities that would help me maximize my stay?
Which would help me get a job and a network that would give me a good head start?
Can this school give me scholarship money? Is this affordable for me?
The Bar Exam
The bar exam is a two- to three-day (depending on state) extensive exam that law graduates need to pass in order to get a license. The exam's components usually include:
Multiple choice (includes questions from courses taken in your first year in law school)
Essay and other written response-type
Practical (e.g. writing a memo)
State-specific subject (e.g. Maryland has commercial papers and securities)
The bar exam can be state-by-state or uniform.
State-by-state would allow you to practice in one state.
The uniform bar exam, which has been adopted by some states, would allow you to practice in multiple states depending on how much you've scored.
Therefore, in order to get 'multi-barred' or licensed to practice in multiple states, you may need to take the state-specific bar exam more than once. The bar exam is usually administered in February and July.
Sydney also mentioned the bar loan, which is basically financial support that test takers can get while preparing for the bar exam.
The Cost of Law Schools
The sticker price for most law schools ranges from $50,000 to $90,000 per year. The more expensive ones usually brag about having high passage rates and a more competitive median salary.
There are some ways to lower the sticker price:
About 95% of law schools give merit-based aid, which means that you have to perform excellently in order to qualify (e.g. high GPA, high LSAT)
About 80% of law schools grant need-based aid, which depends on your income.
Scholarships. Scholarships may be open for negotiation, so make sure to explore what options you may have. Remember that these schools continually aim to increase their rankings. If you have a high GPA and high LSATs, you can use that to your advantage.
In-state discounts. The cost to pay may be lower if you reside in the state the law school is in.
Federal loans (e.g. Grad PLUS Loan) and private loans (e.g. Sallie Mae or Discover).
Loan Repayment Assistance Programs (LRAPs) after Law School
There are law schools that have LRAPs in order to help their students pursue what they originally came to law school to do.
In Harvard, they have an LRAP that would allow graduates to pay off their debt in 10 years, which greatly reduces the interest. They take your status into consideration, like whether or not you have children or a spouse. Other law schools may also have corresponding programs.
If LRAPs are not available, you may want to check out the government-initiated Public Service Loan Forgiveness, which can potentially forgive your loans granting that you've worked in the public sector for 10 years and made 120 qualifying payments.
For Graduates of Law Schools Outside U.S.
If you're a lawyer from a foreign country and you want to practice in the United States, you need to get a Master of Laws (LLM) degree, which takes about a year. You can also get a Juris Doctorate (JD), which takes two years.
Do you offer any resources for students who want to pursue a law degree?
The Law School Admission Council (LSAC) has law school forums and is a good resource to tune in for law school-related events, especially if you're a returning student.
Sydney also has her own company, S Montgomery Consulting. She works with a trustworthy team of associate law school consultants. They help undergraduate, graduate, and law school students.
Working with over 200 students, 78% of their students have gotten into top-30 law schools while over 56% of their students have gotten at least a half-tuition scholarship.
They help students mainly in:
Preparing for the LSAT
Writing essays and personal and diversity statements
Getting scholarships
Preparing for interviews
They also gave really great resources for students:
Free student and alumni platforms to help everyone connect with a mentor
Mental health and wellness resources
Bootcamps
Unlimited email and text support
Check these free resources:
---
Links and Resources
Helpful Articles and Resources
---
---
THANKS FOR JOINING US!
We'd like to extend an invitation to our listeners to share their feedback and questions. Contact us to submit a question.
If you find our podcasts helpful, please share us on social media and tell your friends!
The bottom line is that we care what you think and want to help you out, so we'd appreciate you reviewing us on your favorite podcast platform. Even better, receive automatic updates by subscribing to the show through your preferred podcast service.
Brad Baldridge 0:00
Getting your law degree. Everything you need to understand to go from high school all the way to a practicing attorney.
Presenter 0:06
You have kids, they grow up and before you know it, it's time to plan for college. Where do you start? How much is it going to cost? Will you qualify for financial aid? Should you be looking into scholarships? When will you be able to retire? What about student loans? The list of questions is never ending. The good news is all the answers are right here. Welcome to the Taming the High Cost of College podcast. Here is your host, certified financial planner, Brad Baldridge.
Brad Baldridge 0:37
Hello, and welcome to Taming the High Cost of College. I'm your host Brad Baldridge. Today, we have a great interview with Sydney Montgomery. She's a lawyer and she also specializes in helping students become lawyers. She understands the process that you need to go through in order to get your law degree and pass the bar. She also understands the undergrad process. As far as getting accepted to a law school. There's a lot of great information in this program. If you have a student that's considering attorney or lawyer as their education goal, this is a lot of great information. It'll help both parents and students understand what it really takes to get all the way to a lawyer. You know, it's been my experience that most students don't really understand the process, especially if they're still in high school. And of course, there's many steps. And if you're not an attorney yourself, it can be challenging to understand the whole process. So go ahead and plug in and listen, this is a great episode. As always, show notes are available at our website at tamingthehighcostofcollege.com. That's all for now, let's jump in to the interview.
Today I'm talking with Sidney Montgomery, she's the CEO of S. Montgomery admissions consulting. Welcome, Sidney.
Sydney Montgomery 1:53
Thank you, Brad. Thank you, I'm excited to be here.
Brad Baldridge 1:56
Right. So and I'm really excited to talk to you because you've got some expertise that I'm looking forward to learning more about. But so let's talk a little bit about that one of the things that you work around or work in is not just undergrad admissions, but also law school admissions. And can you tell us a little bit more about, how you got involved in these various admissions consulting roles, and a little bit of your history?
Sydney Montgomery 2:23
Absolutely. So I was the first student from my high school to go to Princeton. And I have always had a background in educational organizations and touring and writing, writing is a very large part of what I believe spurs upward mobility. And when I got into Princeton, I learned that there were so many misconceptions about the admissions process, and about affordability, especially Princeton was the most affordable school that I got into, they were very generous with their financial aid. And people always said, 'Oh, you won't be able to afford to go,' but I could afford to go anywhere else, sorry. And so I started giving back to my local church, to my school to dance studios in the area, a phenomenal pre law advising at Princeton. But unfortunately, the Princeton pre law advisor left my first year of law school. And there were a number of Christian and black and brown students who didn't have any guidance even if you go to a top school, it doesn't necessarily mean you have that cultural, institutional capital and knowledge to advance yourself to the next stage. So I ended up helping students in the law school process, realize the privilege that I was in, the circumstances that I had, and how it kind of changed my life and my ability to create generational wealth. I clerked for a judge, I practice family law, but ultimately decided to pivot to educational consulting. And we really do focus on law school admissions. We help all kinds of students, but especially non-traditional students, first gen and minority students. But we have a ton of students that are in college as well, really focusing on helping make sure they make a good investment, helping make sure that they are choosing a school that is going to help them thrive and their career and their future, but also that they are not creating a source of debt for themselves. Because unfortunately, while we hear that lawyers make a ton of money, there are a lot of people who are in a worse financial position because they went to law school. And so it is my job to make sure that not only are you happy, you're going to become a great lawyer, you're going to impact your community. You're going to tell your story authentically through your essays, but you're going to be in a great financial position when you're done.
Brad Baldridge 4:28
Right? Absolutely. I think the rules change when you go from undergrad to graduate school. And a lot of our listeners are just starting to maybe understand the undergrad rules and then to throw a law school on top is a big ask in some cases. So let's kind of start at the beginning then. So I understand the very basics of I want to be a lawyer, the basic steps, you get accepted to an undergrad, you do well, you get accepted to a law school. you do well. And then you go pass a bar, which I'm not exactly sure what that means. But let's talk about each step and drill into it a little bit. Because I think for a lot of students out there that say, 'I want to be a lawyer when I grew up.' First of all, they, they're not really sure what that means, potentially, because their exposure to law is law and order on TV or whatever it might be. And they think that they're gonna go get involved in the dramatic lawyering in some important case, and spend their life arguing with judges and counsel and that kind of stuff. Whereas, a lot of lawyers do other things. So why don't we start there? So you start with undergrad and do well, what does 'do well' mean? And undergrad? Does it matter what college you pick? How do you quote unquote, ;do well?'
Sydney Montgomery 5:47
Yeah, no, I love that question. Because people ask all of the time, like, 'Oh, my God, what do I need to major in to go to law school? Or what school do I need to go to to go to law school?' It is not like medical school in the sense where pre med means something and it's important. While many schools do have pre law programs, it's not required. I mean, you have to know how to write and to read. And you can study and do whatever you want. And really, as long as you have good reading and writing skills, I always say one of my close classmates in law school who I love dearly. She danced for Britney Spears, and Beyonce, before she came to law school, she's fantastic as a human. But she went to study entertainment law, right, she had a very, very successful dance career for 18 years, and then came to law school, you can do a number of things and go to law school, because it, there are so many different areas of law, and so many different expertise that will inform that. So I tell students, and we work with college, you know, undergraduate applicants and law school applicants, go to school, it's gonna make you happy, that's gonna be a good fit, right? You probably have heard other people say, the fit in school is really important. And it is because your GPA is very important. You want to go to the school where you're going to be able to form relationships with professors who are going to write those top letters of recommendation for you, you want to go to a school where you're going to be able to have 3.5, 3.7, 3.9 GPA, and where you're going to be passionate and interested. So most most lawyers actually aren't trial lawyers or litigators. It's not like everyone's out here. In courtrooms, it's a very small percentage of lawyers that are actually trial attorneys. There are a lot of different areas of law. And so the first thing I always tell kids or even adults, if they're thinking about going to law school is have a couple conversations with some lawyers. Like that's probably step one, make sure it sounds like you actually like the type of work that they're doing. And then really just focus on being a great college student, you figure out if you want to major in molecular biology, major in molecular biology, that's fine. Right? Maybe you want to work on scientific patents for law school, that's pretty cool. That background would be really helpful, I would be useless, I'm allergic to science, I can't go into that kind of law, they would not understand anything anyone brought me ever. So you know, just go to college, choose a good fit school, choose whatever majors are going to excite you. Because if you're in a school environment that you love, and you're studying something you're passionate about, you're going to get better grades. And that high GPA is really important for law school. You want to go to school where you're going to succeed.
Brad Baldridge 8:21
Righ. Now does it matter if as far as the undergrad school, if I go to my, say, flagship state school, University of Illinois, University of Wisconsin, University of Virginia, or do I need to go to Yale in order to get into Harvard? What are the kinds of pecking orders, is that as critical as some people think, or?
Sydney Montgomery 8:44
No, it's really not. I mean, I know I'm biased because I went to Princeton for undergrad. But at Harvard, there is a wide variety of schools. I mean, honestly, I feel like most students at Harvard Law did not come from an Ivy League. I feel like most students, most of my classmates came from state schools or smaller liberal arts colleges or women's colleges. And like I said, people tend to take more time off with law school. So you will see some people took one or two years off, some people took 20 years off before they went to law school. And I think that reasoning, there's a lot of priority, put on work experience. If you're applying straight from college, it's okay. But you want to make sure you have good internship experience. But it's the experiences themselves that are more important than necessarily the name of where you went. Now, yes, if you were able to get a 4.0 at Yale versus a 4.0 at your sunnyside university safety school, and you were able to get those top letters of recommendation from Yale then I mean, yeah, probably at Harvard and Yale, let's say 'Wow she can really handle that high academic rigor,' but I think a lot of schools would rather that 4.0 from sunnyside state university than that 2.9 from Yale because he went to Yale and it was really hard and you didn't thrive right? Because at that point, the Yale name is not helping you so much, because that 2.9 is really hurting you.
Brad Baldridge 10:03
Right? Yeah. So grades matter. Okay. So then the next step is you need to get accepted to and go to law school. So what is, how long is law school? And tell us more about that as far as...
Sydney Montgomery 10:19
Yeah, absolutely. I wanted to add one other thing in that whole like Yale-Sunnyside university thing. If you have to pay full sticker for Yale and your family is going to take out $100,000-$200,000 in debt for undergrad, that's like not a great idea if you're then gonna go to law school because you're most likely going to have loans. So it's probably better to try to minimize your undergrad debt if you know you're going to try to go to law school. But if we're talking about, 'Okay, so I did, I did great. What are those next steps?' Your law school application composes of your GPA, which we've discussed your letters of recommendation from your professors, your LSAT, or GRE score. So that's the law school admission tests or the GRE is the general grad school exam. Most law schools still prefer the LSAT, although more and more schools are accepting both exams, you're going to want to study for that usually, probably the summer before your senior year, some students need as much as 6, 9 or 12 months to study for the LSAT exam. It's unlike any other exam you've ever taken. There's it's not knowledge base, it's really like you have to learn how to take this test. And so I usually say students in their junior or senior year of college would be great to take a diagnostic, you know, sign up for a test prep program, you're gonna need to give yourself at least six months really. And then you're gonna have essays, you're gonna have your personal statement, you might have a diversity statement, you might have some optional supplemental essays, only a handful of schools interview, you'll have your resume, you can have a two page resume, you really want to make sure that you're showcasing the impact that you've done, the internships, the experiences, that's really important for law school. And it should relate ideally, to what kind of law you want to practice. And then any agenda or explanation statements that you might need. That's, that's your law school application process. And so you want to make a plan for your LSAT exam, you want to get good test prep for that. And then you want to make a plan for your essays. Your essays are actually really important. Some people will say, 'Oh, your essays don't matter. It's only your GPA and your LSAT score.' That's not true. We work with a number of students that have lower LSAT scores, your GPA is especially, you know, if you're a non traditional student, if you're going back to law school, like you might not have done super well in undergrad, but now you're a different person, you've grown and you've matured. So your essays are really important to help tell your narrative.
Brad Baldridge 12:36
Right? So when you're shopping for law school, so to speak, either substantial differences between programs, as far as I mean, I don't know how long law school is, as an example, are they all just a two or three year program? Or is there differences from one to the other.
Sydney Montgomery 12:54
Most law schools are three years if they're full time programs, a lot of part time programs are four years. If you're coming abroad from another country. Let's say you are a lawyer in another country, you can get a one year LLM, which is a Master of Laws which will allow you to practice in the US. Or sometimes you can get an accelerated two year JD for international attorneys. If you want a full JD, but you're already an attorney, foreign, foreign trained, most people listening, your kids are going to get a three year law degree. In terms of programs, the top maybe 30 schools, according to like US News and World Report, those would be national law schools. What that means is that you can go to that school and you can go practice law anywhere you want. Employers will come from around the country to job fairs, it's very easy. You know, most students that go to Harvard, they don't stay in Massachusetts. But then most law schools, right, but 163 other law schools are usually regional law schools, because you're taking the bar exam. I mean, granted, they have the uniform bar exam now. So it gives you more flexibility. And that bar exam is like a test. It's like the tests of practice. You know, you can graduate from law school or not pass the bar, and then you can never practice and that's my fate. So we want to make sure one of those things that you're shopping around is you want to look at the law schools bar passage rates, you don't want to go to a law school that only has a 30% bar passage rate because you then you're never gonna be able to practice law and you're just gonna be stuck with these loans. But you know, most of those law schools are regional law schools, and that doesn't mean that they're worse, right? They could have incredible connections and employer relations just in that state or in that area. And you want to think about, well, where do I want to practice law? What are some geographic areas that I would be okay living in. Even if you are putting national schools on your list, you always want a couple of regional schools just in case they could give good scholarship money. And then if you're really interested in a certain area, if you're interested in domestic violence or animal rights, you want to see if they have like a clinic or or journal? You know, what are the clubs and organizations that they have at that law school that really speak to your ability to get experience during law school, which will help you get a job and also their ability to help you network to get a job?
Brad Baldridge 15:12
Right. Okay, so typical is a three year degree. So you do the three years. And then you just mentioned the bar, which I guess is the last step. So what is the bar exam? And is it, I think it's state by state, but can you expound on that a little?
Sydney Montgomery 15:27
Right? Yeah, so the bar exam, I'm not a huge fan of I mean, I didn't pass the bar. But I think that as a concept, it doesn't make sense, really. But basically, it is a two or a three-day exam, depending on what state you're in, California has the hardest parts, three days, some states have adopted the uniform bar exam, which means you take one exam, and depending on your score, you can practice in certain states. But traditionally, it's been a state by state exam, you usually study for about three months, two to three months after you graduated law school, so a lot of students will take either a bar loan as it's called, so that they can live or if they have parents who can help them support them for those three months, you will take the, you will study for the bar, like maybe easily May through July, you'll take the bar exam in July, you'll usually start your job in August, September pending bar results, and you'll get your results in November. And then it's kind of up to your employer. What happens if you don't pass the bar? It can go either way. A lot of employers will extend your grace to take it again in February, and then you don't have to worry again, sometimes you will not have a job anymore. But it is there's a multi-state exam, which is the multiple choice portion of it. And it covers all of the classes that you take in your first year of law school, everyone in law school takes the same classes their first year. So it's torts, it's contracts, it's constitutional law, it's maybe some legislation or regulation. You know, it's civil procedure, all of those kinds of fundamental classes. And then depending on the state, there may be some additional, like Maryland had commercial papers and securities, Maryland had family law, there might be a couple of different other subjects that are state by state. So there's the multiple choice portion which everyone takes. And then there are these written responses, a professional type exam, like so essay answers, and then maybe even like a practical kind of write a memo based on this information, it's, it's long, it's like eight hours. It's, it's a very like, it's two to three days. It's grueling, but it's necessary to then be a barred, licensed attorney.
Brad Baldridge 17:41
Right? So you mentioned you mind sharing what state you you did your bar exam in?
Sydney Montgomery 17:46
Yeah, yeah, I took the bar in Maryland, I knew I was gonna come back home to Maryland. So I'm a Maryland barred attorney, Maryland didn't have the uniform bar exam, the year that I took it, they now do. So unfortunately, I'm only barred in Maryland, although there are, if I wanted to practice law in a different state, after certain number of years, and I think I'm at this point, I could take an attorney's exam at another state. If I, if I wanted to practice law in a different state, but I'm only barred in the state of Maryland. I can't practice law in DC. I can't practice law in Virginia, I can only practice law in Maryland.
Brad Baldridge 18:17
Okay. So, in essence, you can't work in other states, so to speak, or do lawyers that do multi state thing? It was it? I mean, his their lawyers that might say, well, I need to be? 12 states, so they go through this process 12 times or...
Sydney Montgomery 18:37
No, that's not, that's not likely. With the uniform bar exam. Like I said, it did make it a little easier, because you have more states, if you get a high enough score, there are more states that you can kind of wave into. There are some attorneys that are multi-barred. When I was at my family law practice, we were on the border between Maryland and DC. So a lot of lawyers in our group, were also barred in DC, that's pretty common, or maybe also barred in Virginia, because we're in the DC, Maryland, Virginia area, you will often see, sometimes a lawyer might be barred in New York, and California, the bar exam is given at the same time. So before the uniform bar exam, it's like impossible, right? You can't take Maryland and California at the same time, because they're the same days, right? So you would have to take Maryland, maybe in July, and then you take California in February, or something like that. A lot of employers will also pay for your bar prep, which is helpful. Like I said, if you're barred in one state getting barred in the second state is easier than just the first time you could get barred because depending on your level and your experience, you can take an attorney's exam, which is a much shorter exam, just on the new state. And you don't have to go through all of the like that first section again, but no, most firms just have people who are barred in multiple states. But they don't necessary, one lawyer is not usually barred in like 10 or 12 states, that would be an exorbitant amount of money. And time.
Brad Baldridge 18:37
Right. All right. So then once you're, you pass the bar in a state, then you can practice in that state, you know. So what happens in, like, for corporations that have locations across the country or whatever, and they're trying to deal with issues that pop up all over the place? How does the world deal with, let's say, a retail store that has to deal with slip and fall and all 50 states? Because they're a Walmart and they have locations in all 50 states? Do they have lawyers or I mean...
Sydney Montgomery 20:38
So there are some things that you need to be barred on, like to do research and write a memo, like I don't necessarily need to be barred, right. But to represent you in court, if you're being sued, like Walmart wouldn't ever get sued in all 50 states. So if someone like had a slip and fall case, they would usually probably, Walmart would probably have some venue, preferences, but it would go to one state. So most of the big like the top law firms, we talked about lawyers make a kind of money at those top law firms where they're making over $200,000, those firms have locations in every major city, and even on some non-major city. They're everywhere, right there internationally. So if, you know, if you're working with the scattering office in New York, I don't actually know, I think they have a DC office, and something happened in DC, then, okay, then someone from DC would pick it up, right. So they just employ enough people and enough states where if they have a big client that has multistate issues, someone will be able to serve you.
Brad Baldridge 21:38
Okay, that's how it works. So they did, a lot of the bigger firms have multiple locations, or probably relationships in the states that they don't necessarily have locations and whatever. So that leads you to the concept, I guess, of the national law firm versus the regional law firm. is, yeah, that's part of it. Okay. All right. So a lot of parents out there, I deal a lot with families in the kind of the undergrad, the the sophomore, junior, seniors in high school that say, 'I'd like to be a lawyer someday.'
Sydney Montgomery 22:10
Right, right.
Brad Baldridge 22:12
They're trying to figure out well, what do I do in undergrad in order to make law school work? And you mentioned, any major will work and that type of thing? Is there any sort of prerequisites or anything I know, unlike medical school, you got to take a physics sometimes, and you got to take a certain amount of lab sciences and biology, you can be a dance major, but you still have to have some lab sciences, and that type of stuff. Is there something similar in law where you have to have a certain course not really classes?
Sydney Montgomery 22:43
No, not really. I mean, they will want to see that you can write I mean, obviously, you'll be writing your application, but research and writing and critical thinking and analytical thinking those are what law schools really prioritize. So while there is no prerequisites, I would say that, you know, sometimes students ask me, 'Well, you know, I have an option to do a thesis and my junior or senior year, but like, is that really worth it?' And I would say, like, yeah, for law school, it is because it shows that you can do a substantial amount of research and write high quality academic paper, if you're a dance major, or a science major, like that's fine. Maybe at least those one literature class or one class where you had to do research or write, even if it's research on dance, you know, like a dance research seminar, and you've produced a 20 page paper on the history of dance or something like that would suffice. But something in your transcript has to have reading or writing or research in order for them to feel super confident with that GPA, right? If you have a 4.0. But it's literally all in movement. I was a dancer, right? So if you had a conservatory and you're doing ballet and jazz, and whatever you're talking, you have a 4.0. But at no point, have you done any writing research that 4.0 is basically worthless.
Brad Baldridge 23:59
Right? Okay, so you want to do some academic version of things. So then, is there colleges that offer more support or help or, when I pick a particular undergrad school because of their, quote unquote, pre law?
Sydney Montgomery 24:18
I don't think it should be the driving. Yeah, I don't think it should be the driving factor in your undergraduate college search. There are some schools like for example, we have a partnership with Dillard University. It's an HBCU, Historically Black College and University in Louisiana. And if you were a first gen underrepresented student in that area that really wanted to go to law school, Dillard would actually be a really good choice because they have grants for things like LSAT tutors for their students and admissions help for their essays, right. So the school is providing a lot of in kind resources that maybe you wouldn't be able to, maybe you don't have the family background are there circumstances where you can pay for test prep. But if your school is going to offer it, that would be really helpful for you. So I would say that there are some times if you're a first gen or minority student, or just even an under resourced student, regardless of background, where a strong pre law program that provides some of those supports that prep that you don't have to pay for that could be helpful. But if you are, and test prep usually runs you, I would say somewhere between 1000 or 2000 dollars, just so listeners kind of understand what I'm talking about. So like the thought of, at some point, I'm gonna have to spend up to $2,000. And applications are expensive to write. So if that they feel like, 'Man, I really don't know how I'm gonna afford to apply to law school, it's like to $3,000 a whole application process, I don't know how I'm gonna do that.' Maybe you do want to look at some schools that are going to cut down on that cost for you, because they're providing it to their students. But if you're listening, and you're like, 'You know what, four or five years from now Johnny wants to be a lawyer, it's gonna be $3,000 the process, maybe we're going to pay for admissions consulting, that's another couple 1000s, we got that.' Then I would not prioritize the pre law support as much, because you will be able to do it on your own. I think that there are there are some fantastic pre law advisors, but also pre law advisors change. And I think that's kind of my caution with choosing a school for their pre law program. Because at Princeton, I loved my fellow advisor, Ryan Jobs, he was amazing. Then there were a couple of years where there was no pre law advisor. And they like it goes like that, you know, they just had another pre law advisor was amazing. But then she went on maternity leave. Right? So it just really depends. And I can't tell you five years from now, what the pre laws gonna look like at Princeton like yes, this Princeton upgrade pre law sometimes when they have a great pre law advisor.
Brad Baldridge 26:57
Right, exactly. So, at least at Princeton, it sounds like it was a one-person office, essentially.
Sydney Montgomery 27:03
Most schools have one pre law advisor, it will be housed within Career Services. Now, some schools do have maybe a pre law director and a pre law advisor or pre law department. So that could be helpful. But the majority of schools, it is one person, some schools don't have any pre law advisors. And that can be that can be really hard because they are supposed to help you figure out your applications and that stuff. The other reason why I try to tell parents not to prioritize that too much is that most students take time off. Most students work between undergrad and law school. And so your pre law adviser, your undergrad is not necessarily going to be that helpful to you after you've graduated or a couple years down the line, so it's not always the thing that I would hinge that decision on. Right.
Brad Baldridge 27:55
But I just like it, I'm just trying to figure out if there's things we should be looking for that. So what about...
Sydney Montgomery 28:01
I would ask if you're if you're going to, if they have a pre law department, I would ask where have your students gotten in? That's a great question, right? Where are your students going to law school? How many of your students actually get into law school? Or how many students start pre law and actually apply to law school, I think is also a really good question. Because there are a lot of students that come in pre law, and then for whatever reason, they don't do it. Now, there are some schools that have three plus three programs, which would be three years of like, you could get your undergrad in your law school degree in six years. And they would sometimes waive that if you let go, you will go to the same school for undergrad and law school. And if that's a law school that you would want to go to that might be also a good option. But sometimes it's too premature to make that decision, because you could end up with more choices, right? Like, Harvard doesn't have a three plus three program. So maybe you want to apply to Harvard, who knows, right? But I would say, you know, a strong Writing Center is probably going to be the other thing to look at, because those are going to be the people that will help you with your essays as an undergrad. So you want to make sure that they have strong writing center support.
Brad Baldridge 29:06
Okay. So then again, so pre law is not really a major, per se, you're going to pick an actual major, and then you kind of but you are potentially declaring yourself in pre law in some way to get involved in things at that college.
Sydney Montgomery 29:21
It depends on the school.
Brad Baldridge 29:23
Okay. So, right. So I guess that's something that maybe you can compare a little bit as parents and students that are just getting involved in.
Sydney Montgomery 29:34
Yeah, they should ask more. They should have more than just like you've said, your pre law because like, that doesn't mean anything. Like if you're looking at pre law programs at colleges, ask them, do you provide tutoring? Do you provide essay support? Do you provide application sessions? Like, what do I get besides just saying that my kid is pre law? If it's just like, 'Oh, we have a mock trial program and all of our students want to go to law school.' And then like, that's basically nothing. But if it's like, yes, like your junior year, we spoke with these tutoring sessions and you meet every month with the pre law advisor to help pick your law schools and we have all these information sessions. I think that was probably the most helpful thing about Princeton is that so many law schools came to Princeton, like to do info sessions, I didn't have to go places like the admissions officers came to me. And I loved that they were usually very small, I can meet the admissions, I could talk to them, I can ask me questions, forming relationships with admissions is really important. So I would say like, that was really, really helpful. So as like, 'Do schools come and visit and do info sessions here?' What support do you have for alumni is also a really good question as well, because not all schools give continuing support to alumni. But those are the things that would make a strong pre law program, if they're giving support to alumni, it's called a lot of schools are coming to visit and interact with your students if there's any kind of tutoring, or how much help do they do on the application essays and meetings? And how do they help you pick law schools? Like what is the actual support they're giving you?
Brad Baldridge 31:09
Right? Okay. So if I reached out to a law school, say in my region, or whatever that I think might be a good target? Would they share with me where they send their reps and that kind of stuff, kind of like where they tend to recruit? You know, obviously, some law schools went, decided to actually go to Yale and recruit, they probably don't go to every college in the nation, they have the top 10 or 20, or 50, or 100? Or I don't know, can you give us a little insight into that?
Sydney Montgomery 31:41
Yeah, so I think it's probably easier for you to ask the colleges, what schools come than to ask the law schools, especially with COVID, that answer is probably a little bit more in flux. They may say, they they may not say, but I think it's probably a better question directed to the colleges. Look what schools do you have relationships with that come and talk versus asking the law schools themselves?
Brad Baldridge 32:07
Right. Now, what about like information sessions, do law schools do information sessions like they do in undergrad where...
Sydney Montgomery 32:14
Yes, they do
Brad Baldridge 32:15
You know, a law school says, 'Well, I'm gonna be in the Chicago area,' you know, they might do something on campus at two colleges in the area. But then they also say, 'But we also have an open session for anybody in the Greater Chicago area that wants to talk to us, you know, we're available.'
Sydney Montgomery 32:29
Law schools will have, there's a centralized place it's called. So if you go on the Law School Admission Council, LSAC, that is kind of your first stop, because the LSAC will have law school forums. So they're like college fairs but for law schools, there'll be digital ones. And there'll be in person ones based on area. Again, I mentioned that most students do not go straight from undergrad to law school. So the these forums help capture working professionals, right, there might be in Atlanta, one in New York, one in DC, one in LA one. And then some digital ones, as well, in some schools will do smaller ones. So LSAC has a calendar of all these events. So it's kind of nice, because it's set, it's like one place where you can go and find all of the places where law schools are least open, like the open places where law schools are traveling and doing these info sessions. A lot of the law schools also have info sessions on their on campus. And also they have virtual info sessions. So there's a lot of information sessions, but those forums through LSAC. Again, that's the Law School Admission Council, you can go under Events, you'll be able to find all the places that law schools are traveling and open forums.
Brad Baldridge 33:36
Right. Okay, well, great, we'll put a link to that information in our show notes, so that people that didn't get a chance to write it down, you can always hit the show notes and get all this information. But so let's talk about something that I talk a lot about, which is what does it cost? I mean, that's another, I guess, elephant in the room of, I'm aware, but a lot of people are not aware that there's a big shift between undergrad in the way the financing works to graduate school, law school being a version of graduate school. So can you talk more about what it costs? What are we typically seeing for prices these days?
Sydney Montgomery 34:15
Yeah, so the sticker price for most law schools ranges from $50,000 to $90,000 a year.
Brad Baldridge 34:22
And what you that include?
Sydney Montgomery 34:22
And that so that would, that would be the total cost. I think Harvard is probably around 92 or 93,000 for the total cost. That will be tuition, and what you will see when you are looking at law schools, you're not gonna see room and board, but you will see a personal allowance. And that personal allowance is to cover getting an apartment and remember living your life, right? Like you have to be a person. And so depending on the cost of living, like Cambridge was very expensive. My apartment was very expensive, even though I lived in university housing, so I borrowed the max of that personal amount and then, they just give it to you and you as an adult, because you're an adult, when you go to law school, you budget your money, figure out, 'Okay, this is my rent or I want to like get a roommate, or I'm gonna eat out every day, or I'm gonna cook.' Right? Like, you get to figure out how you're going to spend your personal allowance. I'm gonna get my nails done all the time, whatever. And sometimes they will have a separate books fee as well. But again, they're they're giving you the money and you figure out what kind of books you want to get. It's definitely a shift from undergrad and we've started managing most of that right be like mostly they're just taking tuition, and then you do the rest. I think that there is a there's a there's a very big difference between how financial aid works on an undergrad and law school side. So most families would may be saying, well, college is expensive, we do financial planning, we might not qualify for aid. Most, there's a lot of need based aid and merit based aid for undergrad, but you're not for them. A lot of people feel like financial aid is not something that they would get and that sort of thing. For law schools, most law schools do not give need based aid. Harvard, Yale, only kids need based aid. So that's a caveat, right? They only give me based aid, they do not get merit-based aid. But the majority 95% of law schools mostly give merit aid with I would say probably 80% of law schools, not giving any need based aid, like exclusively giving merit based aid. And that merit aid is directly correlated to your GPA and your LSAT exam. So even if you are a millionaire, or super wealthy, pay cash for college, right? Your child could still get a full ride if they do very well on the LSAT and the GPA, right it's there's a really great scholarship estimator, and I'll send the link on LSAT, demon LSAT, space demon has a scholarship estimator, you literally put in your GPA and LSAT and I mean, take it with a grain of salt, it's not mean 100% accurate, but it will basically break down, okay, you're likely to get 30%, you're likely 50%, you're likely to get full tuition, you're likely to get more than full, there is also a level of scholarship negotiation that happens with law school admissions that doesn't really exist in the undergrad world. And which, you know, they're kind of expecting you to negotiate your scholarship to some degree, if you get into a school, ranked 50, and they give you $30,000 a year, and you get into a school raked 52 and they give you $20,000 a year. You can you know, you can basically say, 'Well, hey, this school, that's pretty similarly in rank to you gave me this, can you can you come up and match it?' Right? That is a thing that happens if you're if you kind of are strategic, in where you apply, you want to make sure that you have schools where you can get that scholarship money. You almost should never pay full sticker for law school unless you don't qualify for need based aid and you're paying full sticker for Harvard. But for most students, there's really no reason why you should be paying full sticker for law school, you should be able to get some kind of merit money. You know, unless you're really searching for a school that is high on the rankings list. Right?
Brad Baldridge 34:48
So is that relevant as well similar to undergrad where the top notch schools that have the strongest students tend to offer aid to you to just really the top notch at that school? So it depends on the school, if you're above average at a particular school versus across the board?
Sydney Montgomery 38:45
Yeah, I would say that they are going to be looking at, so law school admissions is holistic and comparative. Right. So and it's unrolling admissions, which is really important to understand. So basically, with rolling admissions, it is easier to get in in September than it is in February, even though the deadline might say March so items and there are many schools that give scholarship money out on a rolling basis. Like I've spoken to schools who have said, you know, we literally have no money left in January like you could be salary but we've given all our money out doesn't matter. But so they're looking at schools are trying to raise their median LSAT scores, they're trying to raise their median GPA they want to raise in the rankings rankings play a much larger role in law school admissions than they do an undergraduate admissions and so schools are trying to get higher up in rankings. And so they are giving scholarship money out to students who will help them have higher medians. And there are some fellowships and there are some scholarships based on public interest are based on being first gen, but majority of merit based scholarships are going because you are going to help them raise in the rankings. And they know they might take a student that says this is a kid that's probably going to get into Georgetown. Sure, but if we give them a full ride, maybe he will turn down Georgetown to come, see American, because we have given them full ride and his parents like take the free. You know, and there are tons of students who would take the free over going to Georgetown, for example, that helps American out they've gotten this stellar kid with a 172. Never, never would have easily picked American. And they were able to lure them away from the you know, fine Enos of Georgetown.
Brad Baldridge 40:24
Right. So, okay, yeah, so that's interesting that now, is there a big difference between public and private law schools as far as price or any other? You mentioned, a kind of a wide range? I think you said somewhere between 60 and 90.
Sydney Montgomery 40:41
Yeah, I would say public schools do tend to be priced a little bit lower. The like pricing also, translates correlates to rankings and a lot of ways, right, the lower rank schools are generally priced less. But it's, again, like law school, there are some numbers that you can look up, right employment score, bar passes, score, median salary, there are some law schools where the median salary is $55,000 a year and their bar passage rates like 50%. Like they're just not charging $90,000 a year, because that will make no sense. Right? And then there are some law schools where the median salary is $200,000 a year, like the median salary. Okay, like, if the median salary is 180, or $20,000 a year, your passage rate is 90%, then it's like, yeah, it's worth that money. Right? It's all relative. And so what people feel like, they're going to pay to get that return on investment.
Brad Baldridge 41:37
Right. Okay. And then, is there such thing as in state and not a state rates for law school?
Sydney Montgomery 41:46
Yes. Some public schools do have in state and out of state rates for sure.
Brad Baldridge 41:50
Okay. And then obviously, if you're in state, that would typically be the lower cost versus... Okay, so then that's a, you know, again, if we're hypothetically. So a typical pattern might be the school we chose, let's say is kind of in the middle of 75,000. And we got to kind of it in the middle scholarship. What, what that might be they say, 15,000, 20,000?
Sydney Montgomery 42:16
Yeah, 20,000 is very, very high per year.
Brad Baldridge 42:19
So it started at 75. We got 20 off, we're down to 55. Then what have, where does all that money come from? Then we get federal loans?
Sydney Montgomery 42:30
We get loans.
Brad Baldridge 42:31
You get loans. Okay.
Sydney Montgomery 42:33
Then we get loans. Yeah, it's very exciting answer. Yeah. So most students would probably get you you have options, right? You can get a grad plus loan, a federal grad plus loan, you know, you can your parents can take out a loan, you can get sometimes loans directly from the school, or like, that's what we're looking at maybe like Sallie Mae, or Discover or all of those kinds of private loans. But, most, I mean, I graduated Harvard with like, 200, and something thousand in debt, like I had, I had a little bit from Princeton, but it was mostly from Harvard.
Brad Baldridge 43:09
Right. Okay. So then you take out the loans, and obviously, you got to then pay them back. I guess. I've seen situations where doctors that don't want to be doctors anymore, and lawyers that don't want to be lawyers anymore feel trapped because of those huge loan payments that, 'Well, I can't really change careers. I need a high paying career to cover this debt.' Anything happening as well?
Sydney Montgomery 43:37
I mean, I'm one of those lawyers who don't practice law anymore. Listen, I think that schools have tried to do a lot to help with that pressure. So a lot of the top schools will have loan repayment assistance programs, which I was in when I practice law, actually, you don't even have to practice a lot to qualify, it's based on income. And there are certain job qualifications, but and those loan repayment assistance programs, I think there's probably 20 really good ones in the country. They will actually based on your income, give you a check twice a year to help you cover your loans, right. So the year that I clerked, I clerked for a judge locally, Harvard sent me a check it covered all of my loans that year. When I started practicing family law, I wasn't really rolling in it, and Harvard still covered like 90% of my loans, right? So based on your income, you pay a little bit, Harvard pays the rest. And there are a number of loan repayment system programs like that the goal of those programs is to give you the freedom or the feeling that you have the freedom to choose maybe the job that you really came into law school to do, if you wanted to be a public defender, right? If you wanted to work with asylum seekers or refugees, or whatever it is that you have flexibility in your career options and your loans aren't like strangling you. They are giving you those it's different from the Public Service Loan Forgiveness Program, because in the Public Service Loan Forgiveness Program. First off, you have to work in public service, which, as a family attorney with private divorce and custody that does not count. So it's a limited a smaller subset of jobs. And you have to stay in it for 10 years, as opposed to, like, I know, at least Harvard's program, and Yale's and Stanford, some others opt in or opt out. So I'm not in it right now. But I still have seven years of credit, if I wanted to go back and do that, right? It doesn't have to be 10 continuous. But with a lot of the Public Service Loan Forgiveness, it's 10 continuous, you have to make 120, qualifying payments, and then they will forgive the rest, which is different from your loans, being on a 10-year term with the school sending you a check to help you cover your loans. Right, those are very different things. So there are
Brad Baldridge 45:45
Do the guarantees that you mentioned that am that Harvard, or whatever school is providing, and the forgiveness work together, if you by chance, meet all those rules where my income is low? So Harvard is giving me money to help pay, and therefore I'm qualifying for 10 years of repayment, because I'm paying but I'm just using Harvard's money?
Sydney Montgomery 46:07
Theoretically, yes, you would qualify. But I know that at least for Harvard's well, that program, they do put your lives on a 10 year payment. So the theory is that at that 10 year part, you can, you will be done with your loan. So there's nothing left to forgive. But like actually COVID has presented an interesting situation, because just because of the way that loans were paused and that kind of thing, there will be a cut, I think there will be some people for whom, at that 10 year mark, they might still have a balance because they weren't paying during COVID. And then they can get it forgiven. So theoretically, yes, but most of those LRAP programs are going to, I think it's in your best interest right there, they're going to help you aggressively pay your loans off in 10 years, because it's an aggressive payment schedule. To minimize the amount of interest rate, if they're giving you a check, they would rather most of it go to principal and not interest, so that you are debt free, ideally, in those 10 years. And I will say that some programs like Harvard rolled in my undergrad debt for which I'm very grateful. And sometimes they cover part time work as they take into consideration if you have a child, there's different ways that they handle having a spouse 10 years is a long time a lot of life happens between the ages of like 25 and 40. So you know, there are different things there. But that if you're going to a school that doesn't have a Loan Repayment Assistance Program, and the only thing that you have is Public Service Loan Forgiveness. I mean, I don't really trust the government as much as probably I could. So like you can roll those dice and hope that 10 years from now, they will actually forgive your loans. But there are a lot of people who do feel like they have to work a corporate job, they have to get a high paying job because of the loans. They're not in a position to get things forgiven or or it's just too much, right. They have other family responsibilities. So unfortunately, that is the reality is that a lot of people do feel trapped in their in their legal job.
Brad Baldridge 47:55
Okay. So you mentioned the government gives the loans or you can go to the private sector, what kind of interest rates? Are they, you know, like credit cards at 18%? Are they capped? Or how do those work typically?
Sydney Montgomery 48:10
The Grad PLUS loans, I believe, are I think there's somewhere between I think they're about 6%, they somewhere between five and seven, but I think there are about 6.6%, that depending on your credit and your situation, you might be able to get a lower interest rate from like Sallie Mae or Wells Fargo, but you equally could be at a higher rate. So, you know, I know that there are a lot of people that refinance their student loans. Of course, you know, we had that 0% and the interest pause with the federal loans that didn't necessarily apply to your private loans. So I think that COVID has shown that sometimes there can be benefits to having most of your loans be federal, just because when they do things like pausing loans for national crises, or that 0% interest rate, most of the private loan companies did not follow that, they do not care, right, like most of your loans were held federally, then you did actually feel that relief. So I had some friends that had most of their loans privately, and it was definitely like a conversation during COVID, where they were feeling more than they would have if they had taken the loans out in a private loan.
Brad Baldridge 49:18
Right. Okay, is there? Let's talk a little bit about what you do them and how people can learn more about you. Because obviously, this is, for many, a challenging process. And you tell us a little bit more about your services around, I guess, would be a college student that's looking to look into going on to law school. I mean, when would you like to work with them? Or how do you work with them? Is it freshman year in college? Is it senior year in college? What types of things do you help with that type of thing?
Sydney Montgomery 49:50
Yeah, absolutely. So yeah, we do both undergrad and grad and law school consulting. You know, so for my like little kiddos, who are in high school, maybe we're helping them find local internships, so that sort of thing. But for the most of our law school students, I would say junior year, we have worked with students, sophomore second semester, if you they were really, really early, but most students are just fine in junior year like either in the fall or the spring. We want applications to be submitted in September. So I think part of it is a conversation between you and your child about their time management skills. Because, you know, as I mentioned, you're going to need at least three to six months to study for the LSAT exam. And the essay so we really come in with the essays I have worked with over 200 students, 78% of our students have gotten into our top 30 law school, over 56% of our students have gotten at least a half tuition scholarship. You know, we're very big, like I said on scholarships and reducing debt. And the essays are a large part of that. So we have a proprietary brainstorming method and a patent pending writing software, actually, which is pretty cool, that we use to help you brainstorm your ideas, figure out what pieces of your story authentically are gonna go in which essays, really maximizing all of your optional statements, diversity statements, even if you are like a white Anglo Saxon male. Usually there are kind of diversities broadly defined, especially in the law school context, they're really looking for diversity of experiences. And we want to show as much as we can for law schools because so few of them interview. And so we will help you with a strategy of choosing your schools, building your list, of course, writing your essays, brainstorming, helping you with scholarships, and fellowships and outside scholarships as well. Because I should mention like you can apply to outside scholarships law school, just like you would for undergrad and there are sometimes outside scholarships for graduate school generally, which can be used for law school. So we help you find some of those scholarships, if maybe your LSAT or your GPA, I'm not gonna get you that high merit dollars. And then we help with interview prep, should you get an interview scholarship negotiation, which I mentioned, it's kind of a larger thing and law school waitlist, help because waitlist move and are more active than they are in undergrad. So writing those letters of continued interest helping you form those relationships with admissions, so much of law school admissions is strategy and timing, and just making like smart decisions throughout the process. And so we, we have some private packages, we also have small group boot camps and quickstart essay plans if you just want hourly essay help. But if you want comprehensive guidance, those small group boot camps or those private consulting packages, I really meaningful and then we have unlimited email and text communication, one of the things I'm really proud of is that we have free student and alumni platforms. So we connect our high school, college, law school, lawyers, we keep them connected in a platform. And so it's really great for our high school students, because we're able to give them a mentor. So if they think I want to be a lawyer one day, we can give them a mentor to speak to, we give all of our first year law school students, a mentor who's in the field practicing as well. So that or just an older law school students so that they have guidance and support as they go through. We have a job board, we have mental health and wellness resources and events. We have a directory. And so we try to do a lot. And this is something that students don't have to pay for. It's just they have it for the rest of their life. And the parents do as well. So that they feel connected. And they feel like they have a place where they can ask questions. They have a community that is believing them and supporting them, because we have found that that is really related to success, and that we can help you get your first job after law school so that you can be successful, and do the thing that you set out to do.
Brad Baldridge 53:38
Right. And then I know you've also got some free resources like podcast and others. Can you tell us about those things?
Sydney Montgomery 53:45
Yes. Absolutely. So we do have our free Facebook group, Barrier Breakers Law School Edition. For all of those looking for support and law school process. We have two podcasts. I go live every Friday for the Break Into Law School Show. It's live on YouTube, LinkedIn, and Facebook. And then it's also spun into the Break Into Law School Podcast, which you can find on Spotify, Apple podcasts, Google, Audible wherever you get your podcasts. We also have the podcast mindful prayers for students. I'm Christian, although our students of every faith and have no faith but we do you know believe in infusing mindfulness and calming techniques into the process. And so the prayer podcast is there if you want I should mention I have a team. I also work with an assist other associate law school consultants who are former assistant directors of law school at large schools, and we even have a former admissions officer from Harvard Law School on our team as well. We have free guides we have like a 50 something page essential guide like 'How to Apply to Law School,' which you can download on our website, we have a guide to brainstorming your personal statement, your diversity statement, we try to put out as much free content as possible and we have a very active YouTube channel where we're posting one to two videos a week.
Brad Baldridge 54:57
Wow. Sounds like you keep busy!
Sydney Montgomery 55:02
I do stay busy.
Brad Baldridge 55:03
All right, so and then all that stuff is accessible at your main website, which would be what?
Sydney Montgomery 55:10
Yes. So if you go to smontgomeryconsulting.com. S for Sidney. So smontgomeryconsulting.com, you just click on 'law school,' you'll be able to see all of those resources, you can even go to breakintolawschool.com. That is the name of our podcast Break Into Law School. So we actually have a free two-day conference next month, June 25 to 26th, you can register for that conference, right on that break into law school website. We're gonna have sessions on how to apply to law school financing your legal education, equity and law school admissions, but also like becoming a law professor climbing the corporate ladder, getting on the bench so that you can see different legal paths. So that's a free conference. And like those with the podcast Break Into Law School, right.
Brad Baldridge 55:55
Is that conference going to happen again in the future?
Sydney Montgomery 55:58
Yes, it's an annual conference.
Brad Baldridge 56:00
Annual conference. Okay.
Sydney Montgomery 56:01
So that's June 25 through 26th. It's completely free. So we have some good sponsors. We're really proud of that.
Brad Baldridge 56:09
Unfortunately, this podcast won't be live before that date is probably not going to go live till June or July.
Sydney Montgomery 56:16
They can watch the replays.
Brad Baldridge 56:18
Oh, okay, great.
Sydney Montgomery 56:20
Yeah, we'll have it available. So you can watch the replays as well.
Brad Baldridge 56:24
So it's a virtual conference?
Sydney Montgomery 56:26
It's a virtual conference.
Brad Baldridge 56:27
Oh, okay. Okay, well, then there you go. You can get out there and, and watch the live.
Sydney Montgomery 56:32
And I would also say that people can also submit questions to bit.ly/breakintolawschool, we answer any and every question live on our podcast about law school admissions. So if you just have questions, and you want to ask me, I will answer them for you.
Brad Baldridge 56:46
Right. So yeah, again, sounds like you're putting a lot of stuff out there free. You've got a lot of consultants and help. And, of course, you've given us a lot of great information here for the last almost an hour now. So I really do appreciate it. And we will stay in touch. Thanks for spending time with us.
Sydney Montgomery 57:06
Of course. Thanks so much. And one more thing, definitely follow us at S Montgomery Consulting on Instagram and Tiktok if you haven't already.
Brad Baldridge 57:13
Okay, sounds good.
Sydney Montgomery 57:15
Awesome. Thanks so much.
Brad Baldridge 57:16
Thank you. Bye bye.
Sydney Montgomery 57:18
Bye.
Brad Baldridge 57:19
All right. That was a great interview. I know I learned a ton. If you want to look up Sydney and learn more about her, all the information is available in the show notes at tamingthehighcostofcollege.com. We appreciate you listening. If you're enjoying what you're hearing, we'd appreciate a review wherever you get your podcasts, especially if you can go to iTunes, or Spotify and leave us a review that helps us get found by other parents that are looking to help with their kids to college. That's all we have for today. I appreciate you listening. We'll see you next week.
Presenter 57:55
Thank you for listening to the Taming the High Cost of College podcast. Now it's time for you to take action head to tamingthehighcostofcollege.com for show notes, bonus content, and to leave feedback for Brad. The next step on your college journey starts now.
Brad Baldrigde is a registered representative of Cambridge Investment Research and an investment advisor representative of Cambridge Investment Research Advisors, a registered investment advisor. Securities are offered through Cambridge Investment Research Incorporated, a broker dealer and member of FINRA and SIPC. Brad owns two companies, Baldridge Wealth Management and Baldridge College Solutions. The Baldridge companies are not affiliated with Cambridge Investment Research.
Transcribed by https://otter.ai
Sign up to receive email updates
Enter your name and email address below and I'll send you periodic updates about the podcast.