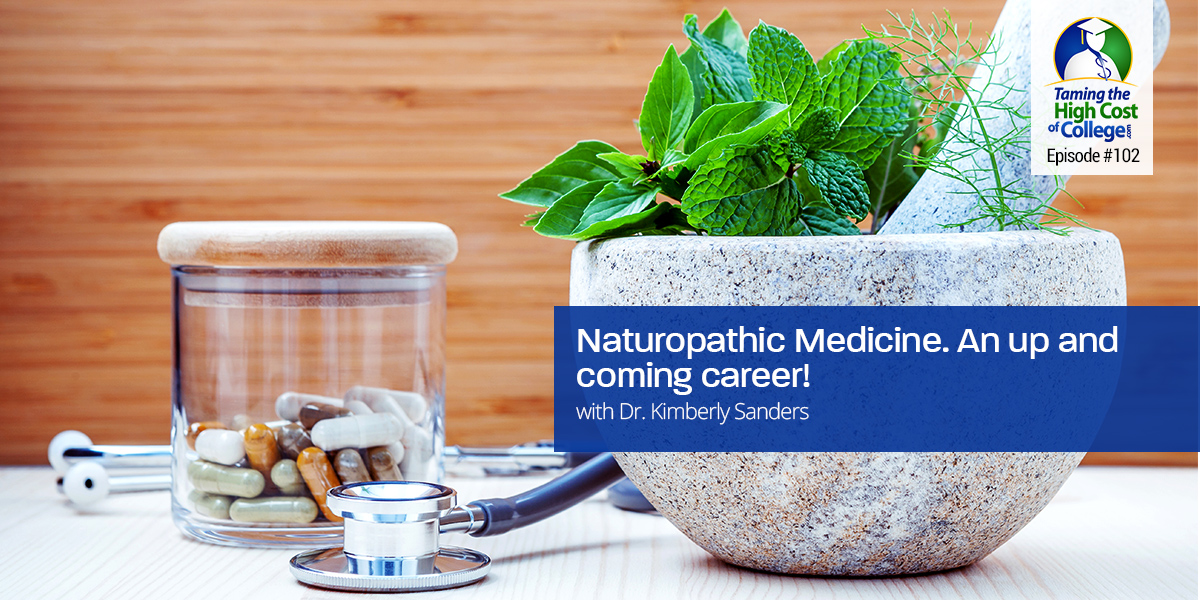 Pssst. Have you heard of naturopathic medicine? Dr. Kimberly Sanders is on the show to share how she decided to follow her dream and become this specific kind of primary care doctor. Natural solutions are very popular, but people are searching for experts in the field. "Just because something is natural doesn't make it safe," notes Dr. Sanders. Today you will learn about this little known medical profession that might be the right path for you!
Questions Answered Today:
What is naturopathic medicine?
These doctors are primary care physicians with a strong focus on prevention and treating the underlying causes of disease. They can write prescriptions in most states, but try to use mostly natural medicine to address a condition.
Students still follow the path of medicine through undergraduate studies, such as pre-med, and this is a specific focus in medical school.
There are a number of paths that naturopathic doctors can take. This is a very exciting time to be in this field with lots of opportunities out there.
Options for what you can do after graduating include:
Private practice as a primary care doctor (open your own or join one)
Teaching opportunities
Consult at laboratories
Research
Develop natural products
Lecturing>
Writing
This type of medicine is covered in many states by insurance and is considered primary care. Other states consider it a specialty. Be sure to check where you live.
How do you become a naturopathic physician?
"The training is mostly the same," says Dr. Sanders. Most of the incoming students have completed a bachelor's degree in some kind of science, pre-med, or have otherwise met the prerequisites to get accepted to a naturopathic medical school.
Some examples of classes that are required as an undergraduate are:
2 Biology classes
4 Chemistry classes

2 of general chemistry and organic chemistry

1 Physics class
1 Psychology type class

Counseling, introduction to psychology, or similar

Variations on what is needed in Humanities, English, and Writing depend on which particular college you are applying to
Students go through the application and interview process to one of 8 naturopathic colleges that is very similar to going to any other medical school. Admissions look strongly at GPA, extracurricular activities, and essays.
Financial aid is available and naturopathic doctors are eligible for income-based loan repayment. This means you pay no more than 10-15% of your income back towards your loans, which makes it easier to start a practice or get into a residency.
There is NO requirement for the MCAT or GRE at the time of this episode.
It is a 4 year program with the first 2 years heavy in basic sciences and the last 2 years focused on the specialty.
Naturopathic doctors are not required to complete a residency, but there are some available. After 4 years of undergraduate studies and 4 years of medical school you will be ready to open a practice and begin your career.
There is also the opportunity for a sub-specialty post-graduate to specialize in pediatrics, cancer, diabetes, or something else.
The starting salary is usually $80,000. "A lot of that salary is in your own control," states Dr. Sanders. It will depend on usual factors that every doctor faces such as opening your own practice, joining a hospital, or what field you pursue. Naturopathic medicine is a growing specialty where doctors are found on staff in most practices and hospitals.
LINKS AND RESOURCES:
BRAD RECOMMENDS:
Episode 17: College 100: Helping the Undecided Find a Career
Episode 44: How To Reduce Stress During the College Process
Episode 52: Successful Planning for Pre-Med and Medical School Students
Episode 58: Interview with Roger Dooley, Co-Founder of CollegeConfidential.com
Episode 86: I Think My Student Likes the Sciences, Now What?
THANKS FOR JOINING US!
We'd like to extend an invitation to our listeners to share their feedback and questions. Contact us to submit a question to our email.
If you find our podcasts helpful, please share us on social media and tell your friends!
The bottom line is that we care what you think and want to help you out, so we'd appreciate you reviewing us on iTunes or on Spotify. And even better, receive automatic updates by subscribing to the show on iTunes or Spotify.