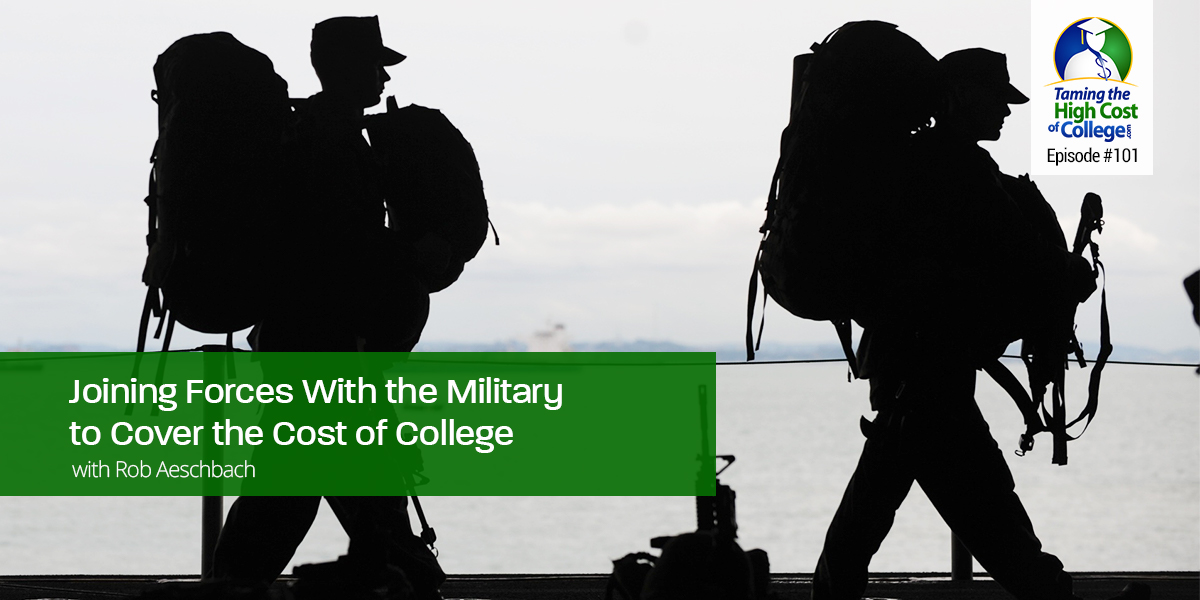 Looking for another college option? Rob Aeschbach swings by our show to share his personal military experience and how that impacts financial planning and paying for college. "Although it is a dangerous job in a lot of ways, it isn't like that all the time," notes Aeschbach. His father was in the Navy, and that inspired him to pursue attending a military academy after high school. By enlisting after graduation, he was able to attend a prestigious college with a fantastic education FOR FREE!
Questions Answered Today:
How can the military help pay for college?
Most officers are going to be college graduates. There are some military academies that only service members can attend. You will graduate with no tuition bill or any student loans, but have a commitment to serve in the military for five more years. These are very competitive to get into and will usually require a nomination from your congressman or senator.
Another way to pay for college is toearn ROTC scholarships. You can join the college group and then serve in the military for 5 years after graduation.
Additionally, students can enlist in the military right out of high school and serve 4 years, then be eligible for the G.I. Bill to go to college for free.
"I definitely would not say to join the military just to have college paid for," states Aeschbach. Make sure to ask advice from people you know and trust that have experience with the military. It is also critical to consider what it is you would like to get out of this experience and what branch of the military might suit you the best. What is it that attracts you to it? How does the military lifestyle fit you?
How do you work on getting into a military academy?
This is the same timeframe as applying to any other college and should begin in the junior year of high school. It requires good test scores and everything else needed in order to apply to college.
Senators and congressmen usually advertise when they are accepting applications for recommendations to these academies. They will then take and refer the top 10 or so applicants to the academies and the academies themselves decide from there.
The military is usually looking for:
Good test scores/grades
Physically fit people
Leadership experiences

Team captains, group leaders, etc.
You can leave during the first two years of the military academy WITHOUT a commitment to serving later.
ROTC scholarships are generally very competitive.
What is the difference between an officer and being enlisted?
"The leadership, for the most part, are the officers that are coming in after college and are trained in a particular skill (like a pilot)," describes Aeschbach.
Enlisted ranks are usually very young and are on their first tour. The average age is under 25.
Most service members are in their 20's or early 30's and aren't used to having a steady paycheck yet. This impacts saving for retirement and big ticket items like buying a car or house. Once you are commissioned as an officer, you get a pay increase. Be sure to visit Rob Aeschbach's web site and the links to get advice on military member finances if you are considering joining the military.
LINKS AND RESOURCES:
Listen to podcasts on the go with your smartphone!
BRAD RECOMMENDS:
Episode 42: ROTC Scholarships and Careers
Episode 46: Benefits of the GI Bill to Pay for College
Episode 90: The Untapped Goldmine of College Fairs
Episode 95: How to be More Successful in College
THANKS FOR JOINING US!
We'd like to extend an invitation to our listeners to share their feedback and questions. Contact us to submit a question to our email.
If you find our podcasts helpful, please share us on social media and tell your friends!
The bottom line is that we care what you think and want to help you out, so we'd appreciate you reviewing us on iTunes or on Spotify. And even better, receive automatic updates by subscribing to the show on iTunes or Spotify.