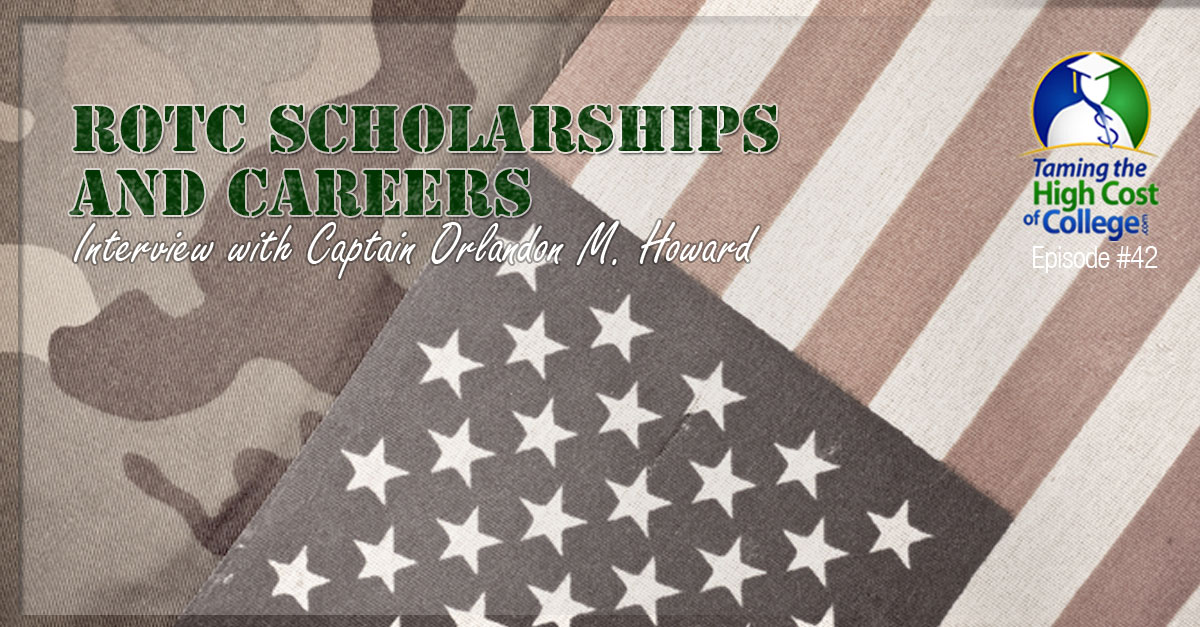 Captain Howard is a public affairs officer who works for the U.S. Army Cadet Command, which includes:
Junior ROTC for high school students
Senior ROTC for college students
Senior program is available at more than 1,000 colleges
However, Howard did not go through the ROTC program. "I wasn't aware of the program when I went to college," Howard said. So he had a lot of loan debt from college.
Then, he applied to become an Army officer because he wanted more responsibility and wanted to lead at a higher level. He now works to make people aware of what the ROTC program is all about and how students can benefit from ROTC.
What is ROTC?
ROTC is a leadership development program in the country. It is the equivalent of taking one lab and one elective per semester. The education focuses on leadership training:
Tactics
Military theory
Applications
Management
Decision making techniques
Cultural awareness
Problem-solving skills
"All of those things contribute to developing and educating a competent leader that can perform as an Army officer but also as a viable civilian leader," said Howard.
You can still have the normal college life, yet you have this opportunity as well!
Commitment & Benefits:
Initially, there is no commitment when in the ROTC program. However, students will incur a service obligation after completing the ROTC program and graduating college. The time period for service depends on various factors.
"There is a possibility of all service members at some point being called to a particular mission," Howard said. However, this is viewed as an opportunity to serve and make a substantial contribution to your country.
Benefits to participating in the program include:
Become an Army officer
Scholarships awarded
Scholarships are available by participating in the ROTC program. Students who want to participate in the program and possibly receive a scholarship should:
Have a good academic background
Want to lead
Scholarship Process:
To find information about ROTC scholarships, contact local ROTC offices or visit www.armyrotc.com. The site includes:
Testimonials
List of participating colleges
Applications
And much more!
What kind of students are right for ROTC?
The ROTC program is open to all majors. "It is really important that it be open to all majors because we like a broad range of perspectives," said Howard.
However, students with a science, technology, engineering and mathematics (STEM) background are encouraged. Also, ROTC seeks scholar athlete leader (SAL) students:
Study and learn things quickly
Have a good work ethic
Have athletic ability to build resilience
Want to lead
"That's what we are looking for when it comes to those students," said Howard.
Physical Requirements:
All students interested in the ROTC program have to undergo a medical review and physical assessment.
Once in the program, students will go through cadet initial training to provide a baseline for all ROTC cadets to learn fundamental skills such as:
Rifle training
Land navigation
Then, they will go through a cadet leader course, which reinforces and further trains cadets in a complex environment.
Career in the Military
Once students complete the ROTC program, they can go on to have a part-time or full-time career in the military if they prefer.
"You can serve as long as you please, as long as you remain qualified and competitive," said Howard.
<h3
Currently, there are about 35,000 cadets enrolled in the ROTC program. About 13,000 of those have an Army ROTC scholarship. The scholarships are primarily awarded based on:
ROTC is available at other military branches, including the U.S. Air Force. However, there is a wider range and budget with the Army ROTC. "We're the largest scholarship awarding organization in the country," said Howard. "The Army ROTC has a leg up."
Career Fields Available:
Students have substantial influence when it comes to what field or career they end up in with the Army. "A student really can decide right up front whether or not they want to go active duty or reserve," said Howard.
For those who want a career in the Army, first choice is given based on:
GPA
Performance at training camps
Individual performance
"The field is really wide," Howard said, about the different career focuses and opportunities. "They really are a wide range, and they really are accessible to the students."
Impact on civilian career and life:
Whether they pursue a military career or not, ROTC training sets cadets apart from their peers. The skill sets they gain in ROTC are highly recognized across the nation. These skills include:
Leadership
Decision making
Management
Complex problem solving
"They get an opportunity to apply the things they've learned," said Howard. "We've seen a lot of people achieve significant success after completing the Army ROTC program."
Quick Tips:
Parents and students' questions about ROTC can be answered by going to: www.armyrotc.com (financial incentives, what to expect with the program, career opportunities beyond college, etc.).
Also, contact your local ROTC representative!
UPDATE: Student Loan Interest Rates
The U.S. Government recently declared interest rates for student loans:
4.29 percent for direct loans
6.84 percent for parent/plus loans
For more information about loans, listen to Podcast Episode 3 Need Based FINANCIAL AID – PART 2.
LINKS AND RESOURCES
THANKS FOR JOINING US!
We'd like to extend an invitation to our listeners to share their feedback and questions. Our website offers a couple of ways for you to share your questions with us, and we'd love to hear from you.
Contact Us to submit a question to our email
Leave us a voicemail message on the computer! (We use questions for future shows because it's likely other people have the same question.)
If you find our podcasts helpful, please share us on social media and tell your friends.
The bottom line is that we care what you think and want to help you out, so we'd appreciate you reviewing us on iTunes or on Spotify. And even better, receive automatic updates by subscribing to the show on iTunes or Spotify.
Brad is not affiliated with Captain Orlandon Howard, the U.S. Army, or its ROTC programs.
Sign Up for our Newsletter and receive our FREE reports!
Get more need-based aid
Find Scholarships
Find a Great College at a Great Price
Connect with other Parents and Students
</h3