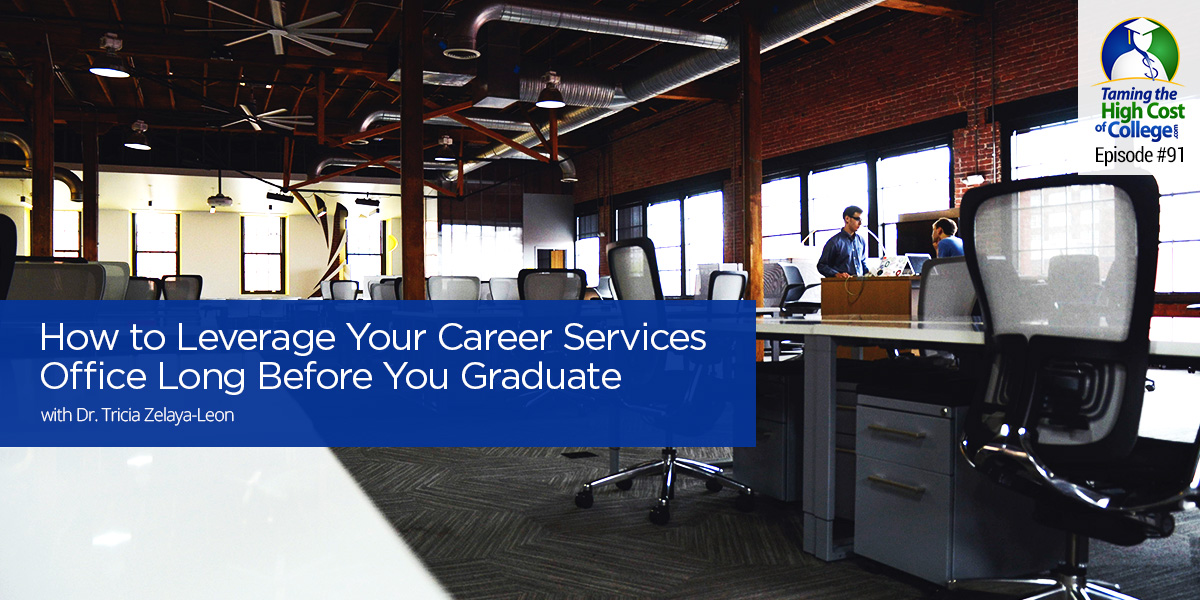 Every college has a career office, but what do you do with it? Take a listen to Dr. Tricia Zelaya-Leon as she explains who is there and how it works. So many students are missing out on this free resource! Is your student one of them?
Still in high school? Be sure to use this information on your college visits so you can have some great questions ready. Already in college? This is great information just for you because most families aren't taking full advantage of this superb resource!
The career services at your college will do so much for you! It is so much more than just help building a resume. As Dr. Zelaya-Leon notes, "It's about exploration and finding what fits."
Questions Answered Today:
What is typically provided by career services?
Some things that every career services department will generally offer:
Put together a resume

Creating cover letters

Mock interviews

Information about jobs and internships

Network with alumni
These are just the basics that are usually offered. Dr. Zelaya-Leon explains how she can help students, even before they declare a major, to find where their place might be in the world after college.
Students should be visiting the career services department at their college during their first year to better plan their college track of courses.
There are also multiple inventories/assessments that can be taken to help a student better understand themselves and what they might enjoy doing professionally. It is important to then discuss these results with your career counselor to figure out the next steps BEFORE your senior year.
Services are still available to alumni as well.
Do we have to declare a major right away?
"I wish every student would come into our institution undecided," states Zelaya-Leon.
Courses in the first and second year are designed to help expose students to different disciplines and expand their breadth of knowledge. Nationally, over 40% of students that enter college with a decided major will change that major by the end of their first year. Even more students change majors after that with changing up to 6 times.
In different majors, there are different courses. By changing your major, you will probably delay graduation.
How can parents help?
First and second year students don't often take advantage of career services, but really need to.
"The transition from high school to college is not easy," warns Zelaya-Leon.
There are a few issues that arise with being in college now that students have the freedom of no curfew and being away from home. It is easy to get off-track.
Be sure to discuss with your student what you expect of them now that they are more on their own, but allow them to make mistakes and to learn from them.
Also, ensure your student can do basic things for themselves before they leave for college such as washing and drying laundry, making a bed, and managing their schedule.
It is helpful to have your child participate in some community service activities in high school with a focus on the experience as opposed to the number of hours completed. This can help them practice public speaking and communication skills, both of which are critical to the modern workplace.
LINKS AND RESOURCES:
BRAD RECOMMENDS:
Use this information to create an action step for your family! How will you take advantage of these services?
Episode 90: The Untapped Gold Mine of College Fairs
https://tamingthehighcostofcollege.com/college-fairs/
Episode 66: Tips on How Undecided Students Can Choose A Major
https://tamingthehighcostofcollege.com/tips-on-how-undecided-students-can-choose-a-major/
Episode 47: Habits of "A" Students and Preparing For College
https://tamingthehighcostofcollege.com/habits-of-a-students-and-preparing-for-college/
Episode 41: Finding the Right Roommate! Textbooks: Buy or Rent?
https://tamingthehighcostofcollege.com/finding-the-right-roommate/
Episode 8: Helping Students With Learning Disabilities Prepare for College
https://tamingthehighcostofcollege.com/008/
THANKS FOR JOINING US!
We'd like to extend an invitation to our listeners to share their feedback and questions. Contact us to submit a question to our email.
If you find our podcasts helpful, please share us on social media and tell your friends!
The bottom line is that we care what you think and want to help you out, so we'd appreciate you reviewing us on iTunes or on Spotify. And even better, receive automatic updates by subscribing to the show on iTunes or Spotify.
Brad is not affiliated with Rollins College.