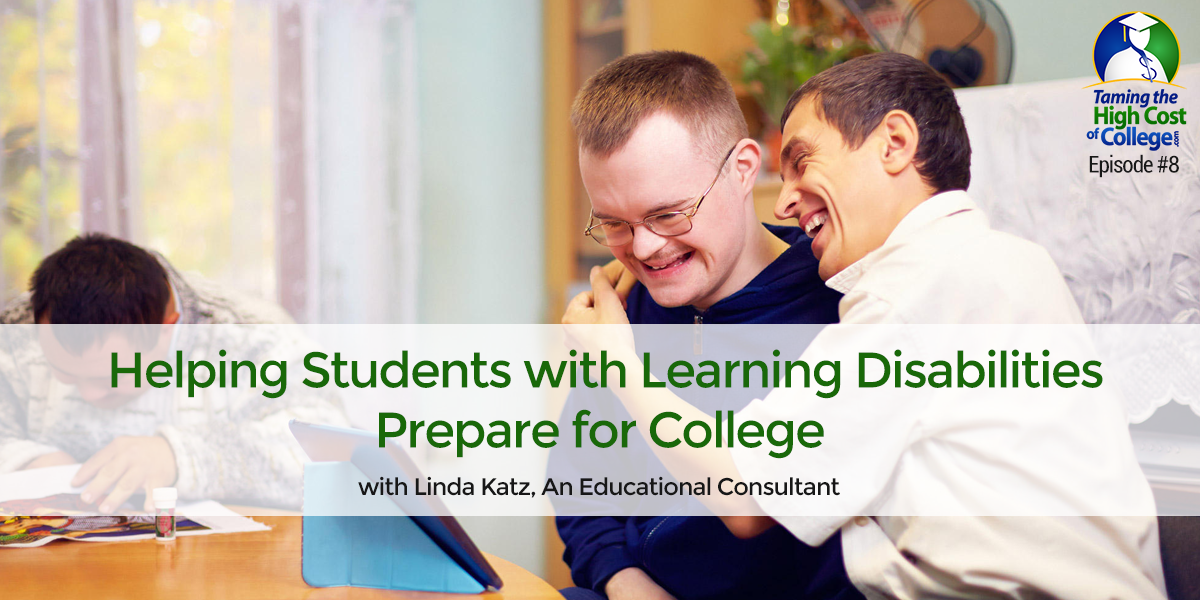 QUESTIONS
From John in California:
What is the "net price calculator" that I find on most college websites?
From workshop attendee:
Do I have to complete the financial aid forms and FAFSA if I know we won't qualify for need-based aid?
Linda helps students with learning disabilities, such as Attention Deficit Hyperactivity Disorder (ADHD), prepare for college while still in high school and how to be successful in college.
Before founding Right Fit College Coaching, she worked as an occupational therapist assisting kids in early intervention that had sensory or motor difficulties.
Statistics on learning disabilities:
2.4 million students are diagnosed with learning disabilities and receive services. Visit the National Center for Learning Disabilities website www.ncld.org for more information.
The first thing that struggling students should do is to get an evaluation done at their high school from the special education department or consider having private neurophysiologic testing to target the specific disability.
Students should do the following while in high school:
Take challenging courses/college prep courses that they can handle
Seek support or tutoring
Determine what their strengths are
Decide what kind of learner they are
Explore interests
Volunteer to increase independence
Advocate for themselves by asking for help and feel comfortable doing it
If you are in trouble or struggling in a class, get help….don't wait!
Things to know
Graduation rates:
37% of kids with learning disabilities graduate from college.
National Center for Education Statistics
www.nces.ed.gov
Check the website for more information.
Check into special accommodations for college testing (more test time, break the test down over a few days, etc)
Some schools are test optional meaning you are not required to send them test scores
Find a list of the schools at www.fairtest.org
The 3 levels of support available to students:
Accommodations: Extra time on a test or a quite testing room, help with note taking, etc.
Services: Meet with someone to help with time management, prioritizing your schedule, etc.
Comprehensive program: Help from an outside professional. Will involve a fee.
These services could range from $3000 – $7000 per year, however, this is a better option than flunking out and not finishing college once tuition has already been paid.
Some schools may consider this fee as part of the financial aid package.
Consider hiring an Academic Coach:
An academic coach may be appropriate for your student. They might meet in person or via Skype to help keep the student on track.
To find a coach:
Google "executive function coach" or "ADHD coach"
The Edge foundation https://edgefoundation.org helps students with ADHD
Ask the disabilities services department at the college
Things students should do to help them succeed at college:
Take advantage of tutoring or math and writing centers.
Attend informational workshops at college, for example, "How to write an essay"
Surround themselves with kids that are there to get an education, not just to party!
Before they choose a college, they should make an appointment with the Special Services department to get the details on what services are available to them as this could influence the decision on which school the student may ultimately attend.
Paying for college
There are some scholarships for kids with learning disabilities.
The Edge Foundation offers ADHD scholarships.
Other national organizations may have special scholarships.
Locally, check with your high school's special education department.
More about Linda Katz and Right Fit Coaching
Linda works with high school students that think they want to go to college and helps:
Determine if college is the right choice for them
Navigate the college planning process
Decide if the student should attend college right after high school or delay it for a year. Some students will go through the process as a senior, get accepted and then defer college for a year. In the meantime, they can work, intern or volunteer and mature!
Linda's timeline when working with students:
Sophomores: Teach them how to integrate strategies over the high school years.
Juniors: Determine a testing plan, test prep, college visits, support available, majors.
Early Winter: narrow down the school lists and plan Spring college visits
July: Work on essays
August: Work on the common application
Seniors: Determine final school list, prepare for interviews, determine revisits
Communications will be done in person, via Skype, email and phone.
Visit Linda's website: www.rightfitcoaching.com for:
Resources
Information on students with learning differences
Book resource page
Sign up for her complimentary electronic newsletter
BRAD RECOMMENDS
The book: Been There Should've Done That …… 995 tips for making the most of college
By: Suzette Tyler
This is a great book for high school juniors and seniors and freshman and sophomores in college. There is a number of quick tips on each page that provide insight on academics, social issues, college settings, partying and much more!!