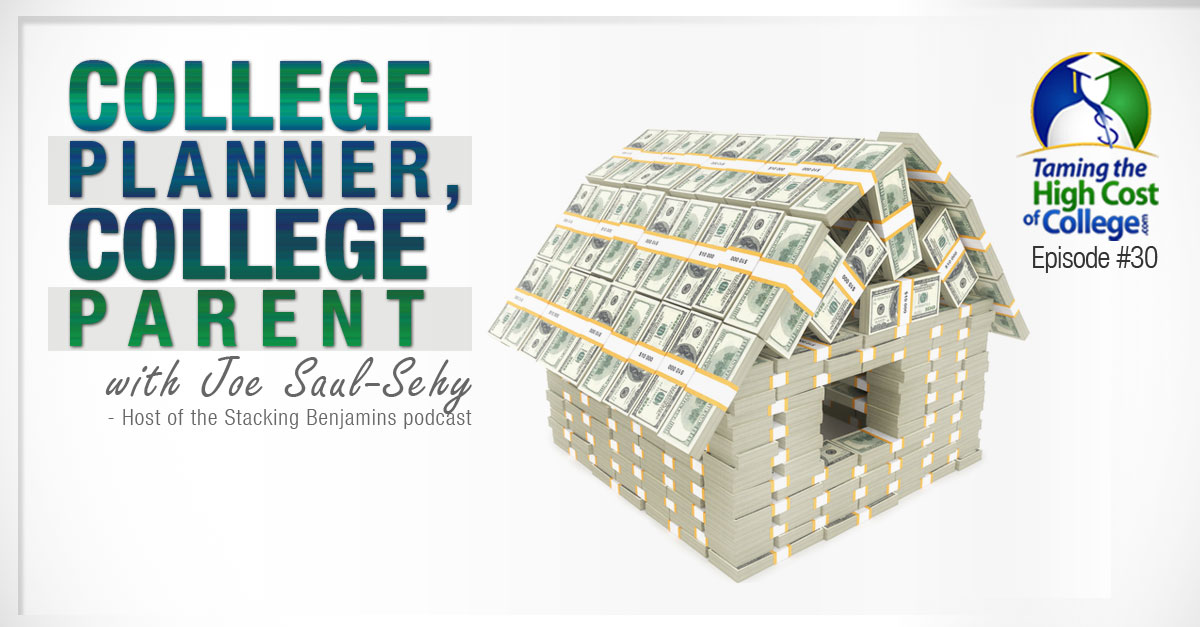 As as financial planner, many families have turned to me to help them plan for their child's college funding, but today we're going to combine those roles as we welcome Joe Saul-Sehy, a financial planner and a father of twins who are in college.
Joe will share his experience with us, as co-founder of the financially-focused podcast, "Stack-ing Benjamins", financial planner as well as a parent. As someone in this unique position, we hope you can benefit from his expertise as he's been in the trenches, too.
Then we tackle a question I get often about when to file your taxes and whether it matters when it comes to providing that information for financial aid forms (the FAFSA).
Applying a talent to a passion
Joe had been a financial planner for 16 years, and has worked with about 175 families to help them plan for college and other aspects of their lives. About 14 years into the business, a coworker announced he was leaving the company because he wasn't sure that working 16 hours a day left him much time to evaluate what he wanted out of life. He subsequently climbed Mt. Everest and some of the highest peaks around the world, and started a travel business.
Call it a reality check, but Joe soon realized that he liked what he did for a living, but didn't love it, so he too started his own adventure, moving across the country, taking classes to become a teacher. He realized the part he loved about his work with Ameriprise Financial was talking with the media and writing. So he started to develop a column, which led to the formation of "Stack-ing Benjamins" with a partner to produce podcasts.
Planner to Parent
It's not a given that being a planner for people's finances will necessarily make you more pre-pared for your own situations, and Joe laughs when he says that no one is ever ready.
However, being a planner did give him an idea of what to expect and he says he knew he had savings in various accounts. So far, with twins – a son at the University of Texas and a daughter at the University of Arkansas – in sophomore year, despite hitting a few walls, he feels he's go-ing to survive the process.
Lucky for Joe, he lives in Texarkana, TX which views both schools as in-state, saving his family the cost that could be charged for out-of-state students.
Get Started Saving: As much as you can, as early as you can
Joe remembers the moment he realized he was going to be the father of twins early in his ca-reer, his planner side saw 18 years into the future and the costs that would go with it. The goal was to save as much as they could, as soon as they could.
Initially, he started saving into a variable universal life policy, which worked OK, and isn't something he'd recommend now. However, he realizes that for some this is a good option.
Later on, they added in 529 plans, which are tax-advantaged to encourage saving for tuition, and were an even better device.
Ultimately, Joe says that it's not the product you use to save money that is good or bad, but how you use it.
Get the Conversation Started Early
Joe and his family always had some expectation that the twins would have some after-high school ambitions, whether vocational or otherwise. So the college conversation started sooner than perhaps most.
In middle school, Joe and his wife shared stories about their alma mater, Michigan State. Not a heavy discussion, but they explained what classes they took and how the college experience worked.
The twins also took the PSAT in middle school, and in eighth grade, his son took a version of the ACT to get students used to the type of testing they could expect in their junior year. Both took their first ACT in sophomore year.
Between sophomore and junior year, the family started taking their first college tours, with a summer vacation spent out east visiting nine schools
Even though none of the schools were chosen by Joe's children, he felt the process was valuable in that he could start to compare the school's "sales pitches"and develop the right questions to ask. Some schools omit things that aren't their strengths, so it was helpful to hear what they weren't saying
Smart Shopping, Smart Spending
A visit to MIT, which Joe felt would have been a perfect fit for his son, a self-admitted geek, re-vealed that his son was bored there. So these trips are as much about what schools to omit as they are about what schools to include.
Reviewing colleges and costs were also a part of the process. Stanford and Berkeley are ad-mittedly excellent schools, but Joe said when compared to the much lower costs of the schools his twins ultimately chose, they realized they weren't worth double the cost.
This helped to establish cost as a factor in his children's minds as well as their parents, and for some families, having the cost conversation earlier can save a lot of trouble later.
Joe's situation is somewhat uncommon in that he and his wife can afford to pay the full cost of tuition and board. However, he explains that beyond that, they pay for little else – the twins are responsible for any other expenses.
Any graduate school costs will be on his children as well. However, I remind everyone that scholarships and other aid can help defray these costs.
Joe also had done a cost-benefit analysis when it came to the careers his kids were look-ing to enter. Was the salary expected worth the cost of additional college after their bachelor's degree?
Some parents may feel they need to support their kids' dreams no matter what, but it's not smart to pour money into a black hole of education for a career that has no prospects. Kids should be aware of the cause and effect sooner than later, for their own benefit.
That said, it's not about making your kids pick the highest-paying career. Joe's daughter initially entered school in pre-med, but switched to journalism. While the pay scales don't com-pare, she is entering a profession that she enjoys and can still earn a decent income with. She going for an internship as well to help her prospects after college.
Were scholarships a part of the mix?
Joe's son received a scholarship offer with Carnegie-Mellon, and his daughter had a scholarship offer at a smaller school in the area that she was not interested. However, the costs for Uni-versity of Texas ended up to be lower without a scholarship.
His daughter on the other had qualified for the honors college at Arkansas, but did not receive any scholarships, because the competition was extremely high that year. However, she did re-ceive a few scholarships through community organizations that helped offset costs.
Like many families, Joe's twins applied for more than 15 scholarships, using online sites like Fastweb and Scholarships.com to help facilitate their search.
College planning is a family affair
Joe says that all along, even though the first four years of college are paid for by him and his wife, the financials have been open to his children.
"Our kids are a member of the plan. They know what the plan is, and they know where they fit," he said of the college planning process. "You don't want to scare your kids, but I see too many families where they shelter their kid completely from the plan."
How your family plans is dependent upon your situation and the attitude of your kids, and Joe outlines some creative options he's heard from families. All of these work if students are also given the support and the tools to help themselves make it happen:
Tell kids they are responsible for the first year in school as early as you can (while they have the ability to earn money), and help them offset their costs by assisting in scholarship searches
Reimbursement for good grades – Joe has seen families pay for various years after their children post As and Bs on their report card
Room and board at home – some families have banked the costs paid to them by their kids for living at home and provided it back to their students after college, or after each year of college.
Any regrets?
If there was anything Joe would've done differently, it would have been to do more searching at local colleges.
In addition, he points out that people – his family included – overlook the fact that the longer your child is in school, the greater the opportunity there is for scholarships. While stu-dents are proving how well they're doing, less students actually apply.
Companies also are more interested in junior and seniors rather than incoming freshmen. So, don't give up the search once your student is in college.
Despite his initial steps, Joe still feels he could've started saving earlier, and using automatic ways to save.
He also would've tightened up his college search to more local schools, knowing where his kids ended up. Even though he found the process helpful in making a decision, there were other schools located closer to home that he could've included instead.
Car on campus – this is a conversation most families forget about, but can make a big differ-ence in costs. For most situations, students who live on campus don't need a car, and if they do have one, parking is expensive and the car is rarely used.
Joe's 3 Quick Tips
College is something to survive – the goal is to get through it to get to the other things in life
Look at the price tag AHEAD of time to base your decision and control your costs
Don't come up with your plan solely as a parent – use the opportunity to make teachable moments; students should be invested in this process, and your role is to be open about the finances.
Contact
Stacking Benjamins – Joe jokes that the goal is "not to never teach anybody anything, ever." Calling it a "Car Talk" for financial planning, he explains the podcasts are set up in 6-7 segments within an hour-long format that covers 'all things money.'
For topics related to those featured on Taming the High Cost of College, visit StackingBenja-mins.com/taming
TODAY'S QUESTION – Do I Really Need to Get My Taxes Done for the FAFSA?
In short, the answer is yes. However, if you won't have your taxes filed in time for the FAFSA deadlines, you can get started using an estimate of your taxes.
The FAFSA asks questions like, "What is your Adjusted Gross Income?" "How much did you contribute to your retirement, how much did you pay?"
If you have your taxes done, it's simple, but for those who don't they may not get them in time to meet your deadlines, you'll need to file the FAFSA using an estimate, perhaps pulling from last year's taxes.
If you have little that's changed, the numbers should remain fairly constant. However, if you've gotten a raise – or suffered a demotion – you will have to adjust those numbers as best as you can.
"Close" is generally good enough to start. You can always go back and resubmit using the actuals when you have them.
In January then, use the estimates to complete the FAFSA. In fact the FAFSA will ask you if you are submitting estimated numbers or actuals. Then whenever you have your taxes complet-ed and filed, you can return to the FAFSA to enter what is on your actual tax forms. This is then sent to the colleges for review.
Some colleges will recalculate your aid based on the new numbers, even if the adjustment is slight.
The key take away is to ALWAYS submit your FAFSA within the deadline, and adjust later.
LINKS AND RESOURCES
Stacking Benjamins website (podcast and blog)
Find information on Joe's website related to college planning
Search for scholarships and other aid on Scholarships.com and Fastweb
FAFSA FAQs
THANKS FOR JOINING US!
We'd like to extend an invitation to our listeners to share their feedback and questions. Our website offers a couple of ways for you to share your questions with us, and we'd love to hear from you.
Contact Us to submit a question to our email
Leave us a voicemail message on the computer! (We use questions for future shows because it's likely other people have the same question.)
If you find our podcasts helpful, please share us on social media and tell your friends.
The bottom line is that we care what you think and want to help you out, so we'd appreciate you reviewing us on iTunes or on Spotify. And even better, receive automatic updates by subscribing to the show on iTunes or Spotify.
"Brad is not affiliated with Joe Saul-Sehy and the Stacking Benjamins podcast."
Sign Up for our Newsletter and receive our FREE reports!
Get more need-based aid
Find Scholarships
Find a Great College at a Great Price
Connect with other Parents and Students