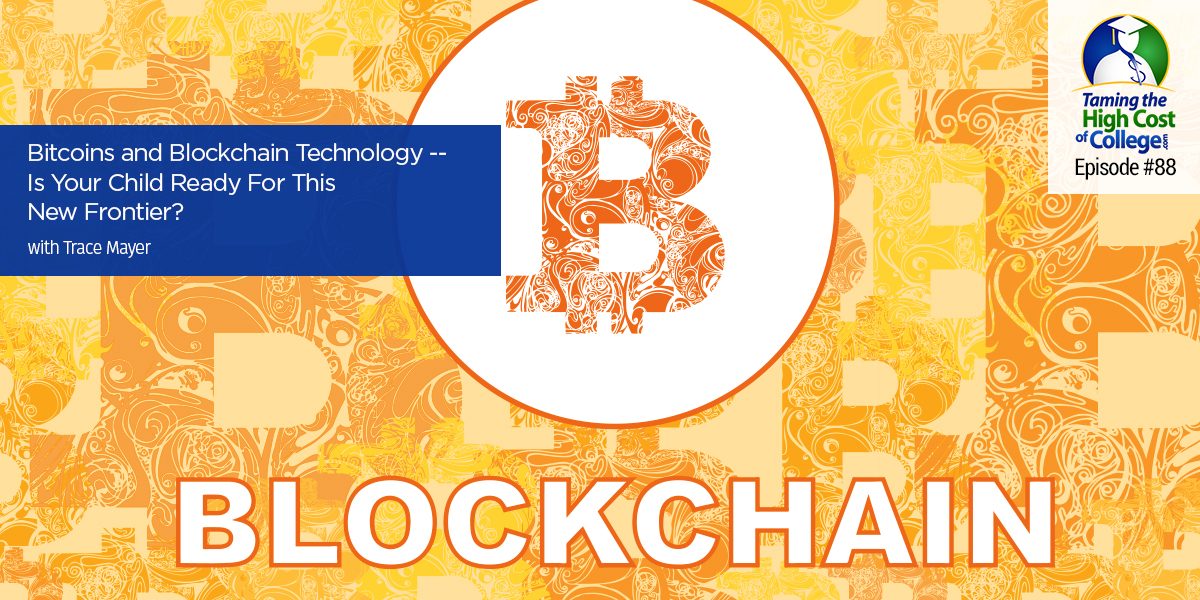 Imagine being one of the first people to create the internet. Can you picture it? Right now your child could be working on the new digital frontier that is trending up. It is so new, there are hardly even any classes available. Tweens and teenagers all over the world are earning revenue through the internet this way. What is it? Super smart Trace Mayer shares today how the hottest new technology is impacting the world and what it means for the future.
"It's important for parents to understand what their kids are involved in," notes Mayer.
It's also important to encourage entrepreneurialism with kids. In today's world that is happening almost exclusively on the internet. Don't miss this easy opportunity to get a leg up on some high-paying jobs. Listen to Trace and get the scoop before anyone else!
Questions Answered Today:
What is bitcoin and blockchain technology?
"The easiest way to understand it is that we can send money over the internet," defines Mayer. Bitcoin is one application of blockchain technology where you can use money (or value) around the world via the internet. There is an international exchange called Kraken, and even wallet software to protect your bitcoins from hackers.
Blockchain technology is like metal, and bitcoin is like gold.
This establishes trust that is mathematically provable with cryptography. Mayer describes it as being like a ledger that cannot be erased or tampered with because it must be proven through math. It will bring increased transparency and other forms of stability to the financial systems, supply chains, health care services, and other areas.
It is so new there aren't very many college courses or any degrees available on it yet.
Is there a future in this technology?
Yes! Some current and future uses of this technology include:
Anywhere you need to establish trust.

For example, your bank account.

Payment for work around the world.

Remittances.

Robotics and artificial intelligence.

Settling stock trades.

Managing health records.

Smart contracts.
Many of the jobs that use this technology have not been created yet, similar to when cell phones first came out there weren't the jobs of creating apps or designing smartphone software.
How and why would kids use bitcoin?
The world economy is changing so much, and in this day and age you almost have to use bitcoin to be an entrepreneur on the internet. Credit cards require a merchant account, but bitcoins can be used by just about anyone anywhere.
"Some of the really cool innovations in the bitcoin space have been done by kids," says Mayer. Even as young as 9 years old.
If a major company is looking to hire someone with blockchain technology experience, nobody really has any. "It means if your kid has been tinkering around on bitcoin for a couple years, they will have a leg up on a lot of these jobs," shares Mayer. These will most likely be 6 figure income jobs with prestigious companies.
How do I introduce Bitcoin to my child?
There are some great websites dedicated to teaching the fundamentals of Bitcoin linked in the resources below. The best way is to try it! Go get comfortable with the technology by doing it. Mayer suggests getting $5 of Bitcoins and try trading them around.
LINKS AND RESOURCES:
Podcast: The Bitcoin Knowledge Podcast
BRAD RECOMMENDS
Episode 72 with Michael Vawter on the Robot Academy
https://tamingthehighcostofcollege.com/science-competitions-and-robotics-scholarships/
Episode 25 with Nile Nickel on LinkedIn
https://tamingthehighcostofcollege.com/25/
LINKEDIN TUTORIAL
https://tamingthehighcostofcollege.com/blog/
THANKS FOR JOINING US!
We are starting a new video series called, "The Scholarship Guide for Busy Parents." It is going to be 4 videos that are 12 minutes or less complete with cheat sheets and other resources to help you find and win scholarships. If you are interested in learning more about scholarships please visit:
tamingthehighcostofcollege.com/scholarships
We'd like to extend an invitation to our listeners to share their feedback and questions. Our website offers a couple of ways for you to share your questions with us, and we'd love to hear from you.
Contact Us to submit a question to our email.
If you find our podcasts helpful, please share us on social media and tell your friends.
The bottom line is that we care what you think and want to help you out, so we'd appreciate you reviewing us on iTunes or on Spotify. And even better, receive automatic updates by subscribing to the show on iTunes or Spotify.
Brad is not affiliated with bitcoins or Trace Mayer.