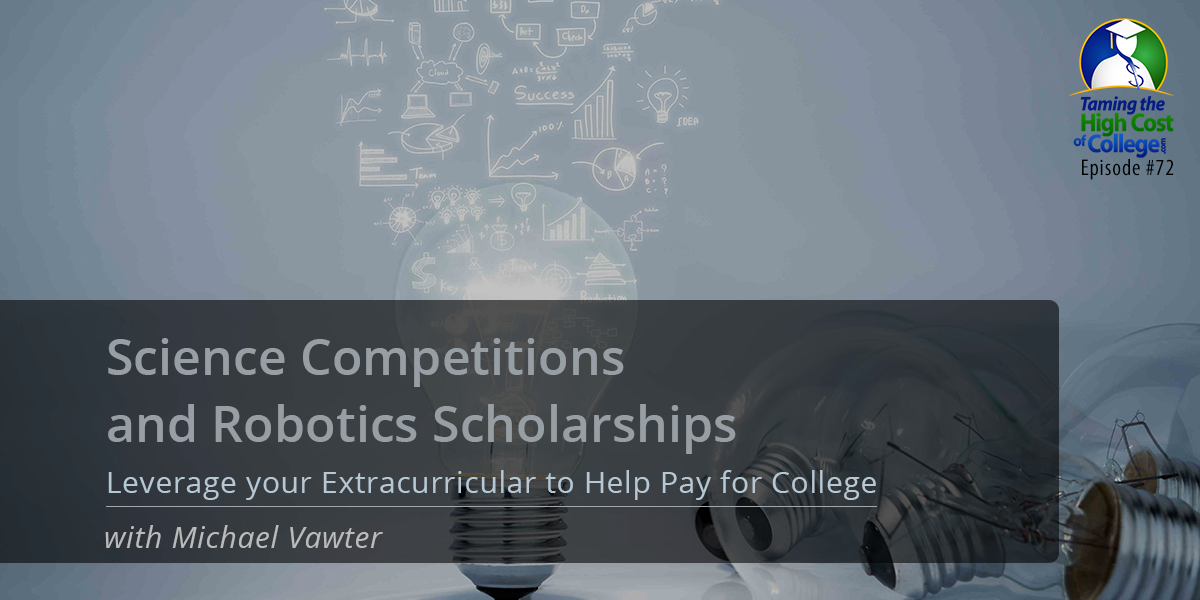 Does your child have a passion? Can that passion help with college? Robotics expert Michael Vawter shares in this episode about his background with robotics, getting started with science competitions, and what impact extracurricular activities can have on scholarships and applying to college.
About Michael Vawter
Michael was home schooled all through high school and began competing in robotics competitions in middle school. This led to other extracurricular activities and scholarships.
"If your kid is into building with Legos, you have a kid that is very mechanically oriented and has a future in engineering and design," notes Vawter.
"You have to stimulate productivity in that realm," warns Vawter, "It's one thing to just build with Legos, and it's another thing to build with Legos in a structured setting and solve specific challenges."
How Parents Can Be Involved
"The first thing I would do is Google and search for 'Science Competitions', because it changes now and then," recommends Vawter.
Some competitions are easy enough for parents to coach. Vawter suggests some ways parents can help:
Make sure materials are created correctly.
Time management.
Moral support.
Don't have to be very into science themselves.

Pursue excellence, don't worry about what place you get.
This is to gain experience, not just to win.

Be engaged and help.

The kid is the one that has to do the technology.

Provide resources.

Check the internet.
Help solve problems if difficulties arise.

Talk to the school and get a club started.
"If the parent is too into robotics and already knows the technology, it can be tempting for the parent to have more of an active role than is actually helpful in terms of building," says Vawter.
Vawter stresses that extracurriculars are very important for high school students.
Impact on College
Vawter earned over a half million dollars in scholarships and had many choices when it came to college.
"The better story you are able to paint, as far as your background and your competencies, the more money you end up getting," describes Vawter. He had a resume, essays, and documentation from his competitions for his college applications.
Vawter created the Robotic Academy in high school. This now has a summer camp program, school curriculum available throughout the country, and is franchising. "The goal of the academy is to help kids learn about science technology and turn it into something fun," states Vawter.
The prime value from this activity is, "There has to be a solution, how do we do it, and then you figure it out," concludes Vawter.
LINKS AND RESOURCES:
THANKS FOR JOINING US!
We are starting a new video series called, "The Scholarship Guide for Busy Par-ents." It is going to be 4 videos that are 12 minutes or less complete with cheat sheets and other resources to help you find and win scholarships. If you are inter-ested in learning more about scholarships please visit:
tamingthehighcostofcollege.com/scholarships
We'd like to extend an invitation to our listeners to share their feedback and questions. Our website offers a couple of ways for you to share your questions with us, and we'd love to hear from you.
Contact Us to submit a question to our email.
If you find our podcasts helpful, please share us on social media and tell your friends.
The bottom line is that we care what you think and want to help you out, so we'd appreciate you reviewing us on iTunes or on Spotify. And even better, receive automatic updates by subscribing to the show on iTunes or Spotify.
Brad is not affiliated with Robot Academy.