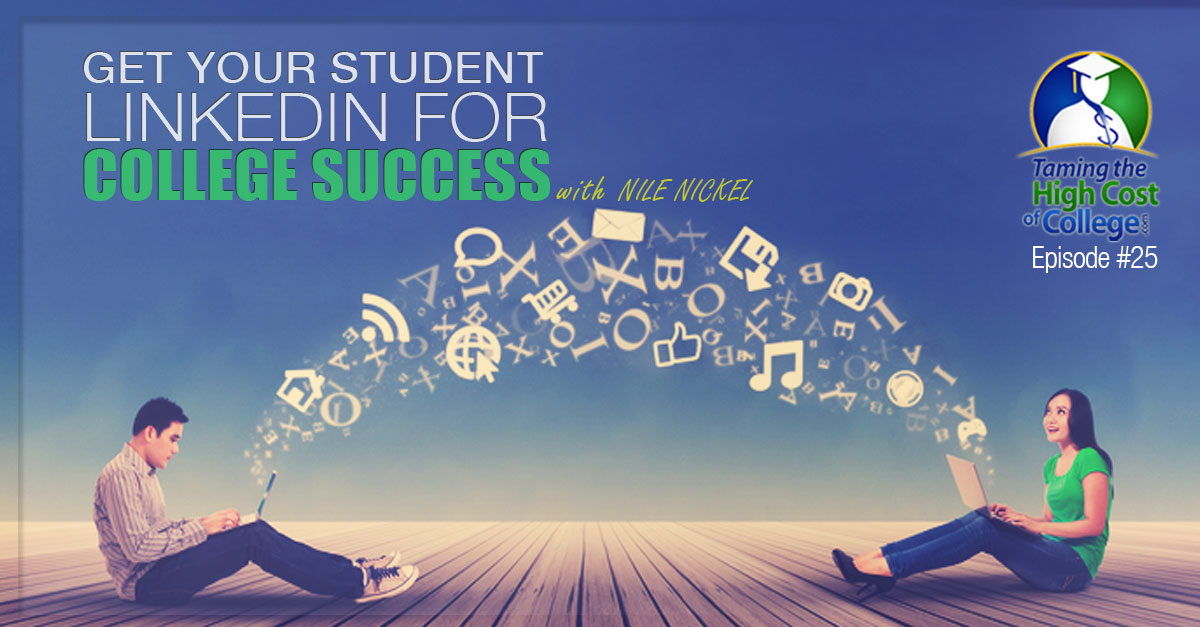 It's possible parents are on LinkedIn for their professional contacts, but the social media site for business building is also becoming a must-have tool for students, even those as young as 14.
Nile Nickel, founder of LinkedIn Focus and moderator of the Social Media Business Hour podcast, joins our podcast to discuss how students can develop their own profiles to set themselves apart from other college applicants, and eventually other candidates for careers once they graduate.
Later, I'll also be recommending six great tools parents can use to plug in to their college planning process, so let's get started.
From IT to LinkedIn Expert
Nile Nickel calls his recent success in becoming a LinkedIn resource an accidental one. He has always been interested in the technical side of computers, and with the advent of the internet, and then social media, he was only mildly interested. However, as he developed high level professional contacts he realized he'd need a way to stay engaged with them.
However, as many of those contacts were growing "old and cold," he looked on line for tools to manage his Rolodex, and LinkedIn seemed to be the place to do it. Still, Nile saw that much of the 'how-to' advice from LinkedIn and experts wasn't working very well, and he started to test other strategies using his tech background.
As his success helped others, he built his online Rolodex on LinkedIn, and many of the people he coaches now include parents and students.
How does LinkedIn differ from other social media, how can it be used by students?
LinkedIn is a social media site, but it differs in that its focus is on professional networking. You won't see vacation photos or long comment strings on celebrity news. What you will see are discussions on industry-related news or events, and a search tool that will help professionals find jobs, clients and allied professional groups.
For students, it can be used to find connections at the colleges they'd like to attend (if they're in high school), or for internships or jobs as they go through college.
Nile says it's the social media site that should be a tool in every student's college planning, and parents should note it can help save money on college.
He tells families with students in high school:
Get started as early as freshman year
Post important projects, achievements or accomplishments in high school in the student's profile
Understand that colleges will look for these types of things to get to know their applicants
Include AP and honors courses, but include key papers, guest speakers or trips associated with the course and explain how it was important and what you got out of the experience
Build connections: teachers, counselors, alums from target schools, relatives that have connections that are relevant to your interests.
The more you include in a student profile on LinkedIn, the more you stand out in the minds of admissions counselors and other professionals.
LinkedIn by the numbers
95 percent of Fortune 500 Companies use LinkedIn to find and recruit employees
85 percent of professional recruiters are using LinkedIn exclusively to find candidates for jobs
3-4 years ago about 30 percent of college recruiters were looking at LinkedIn to view applicants
In 2014, that number rose to 50 percent
If a student points out their LinkedIn profile to recruiters, 90 percent will view it
Some colleges are now allowing students to apply via LinkedIn as of 2014
So let's use an example to illustrate LinkedIn's role for college bound students…
A junior in high school is impressed by a guest speaker he hears in a class.
He talks with the speaker in person to introduce himself
He mentions the class and their meeting, as well as his interest in college when he finds the speaker on LinkedIn, and requests to connect with the speaker
When they are connected, the speaker can view the student's profile, and as the student builds his profile on LinkedIn, he sets himself apart with that person; this can be important when the student seeks internships or eventually a first job out of college, and beyond.
Setting up a strong student profile on LinkedIn
Get a good profile picture – 80 percent of the time someone spends on your LinkedIn page is spent looking at your profile photo. This is no time for selfies; have your headshot taken (or use a nice shot from your senior portraits)
Summary – this is where you need to tell your story, not list your skills. WHY are you passionate about what your goals are? If people are engaged by the story, they will be far more likely to remember you.
Be specific in listing projects – what did you learn, who led the project, who else did you work with
Recommendations – ask teachers, bosses, coaches and others to post recommendations on LinkedIn; the more there are, the better others who are reviewing your profile can get a picture of who you are
As students enter college and get closer to graduation:
The profile should be updated to be more targeted
Include research projects or teams you've been a part of
Intensify your recommendations
Again, the more recommendations you have, the richer and deeper a look prospective employers can get of you
Use the search function
To find colleges and possible contacts at your desired school
To find connections who are in your field of interest
To find connections at prospective employers for internships or careers
Nile's 3 Quick Tips
Set up a profile – the earlier in high school, the better
Get a good head shot
Write a good headline – this is your current position, and it should state more than "student". More impactful is something like "college bound student seeking a degree in marketing"
(BONUS TIP) Record relevant information of your experiences: academic, job-related, volunteer, etc.
Visit Nile's website, LinkedIn Focus for more information.
BRAD RECOMMENDS: 6 Ways You Can Plug Into the College Planning Process
As college gets more expensive, families need to get more involved and work harder to learn the best way to initiate their college planning process.
Books – everything from athletic scholarships to financial aid, college testing and more are available
Websites/Blogs – search for your interests on a host of topics that keep you up to date on the latest news and information related to college planning, campus tours, financial aid, scholarships and saving money
Webinars/Online Courses/Videos – these make it easy to learn from experts and some offer a chance to ask your own questions.
College Visits – these can be anything from dropping into a local college to get your feet wet and get preliminary information on the process, to a weekend stay by your high school junior or senior to get a feel for the campus experience
College Fairs – instead of visiting colleges, the colleges come to you. Attend to meet dozens of representatives from schools, and take the opportunity to gather information and ask questions.
In-person workshops – often featured as college nights by your high school, these are great opportunities to meet experts on planning, financial aid, and testing in person; parents should stay aware of what's happening at high school just in case the kids forget to tell you.
LINKS AND RESOURCES
Nile Nickel's website, LinkedIn Focus
Check out Nile's podcast, The Social Media Business Hour
Visit tamingthehighcostofcollege.com to see our Top Ten Websites Every Parent Should Know About.

THANKS FOR JOINING US!
We'd like to extend an invitation to our listeners to share their feedback and questions. Our website offers a couple of ways for you to share your questions with us, and we'd love to hear from you.
Contact Us to submit a question to our email
Leave us a voicemail message on the computer! (We use questions for future shows because it's likely other people have the same question.)
If you find our podcasts helpful, please share us on social media and tell your friends.
The bottom line is that we care what you think and want to help you out, so we'd appreciate you reviewing us on iTunes or on Spotify. And even better, receive automatic updates by subscribing to the show on iTunes or Spotify.
Sign Up for our Newsletter and receive our FREE reports!
Get more need-based aid
Find Scholarships
Find a Great College at a Great Price
Connect with other Parents and Students