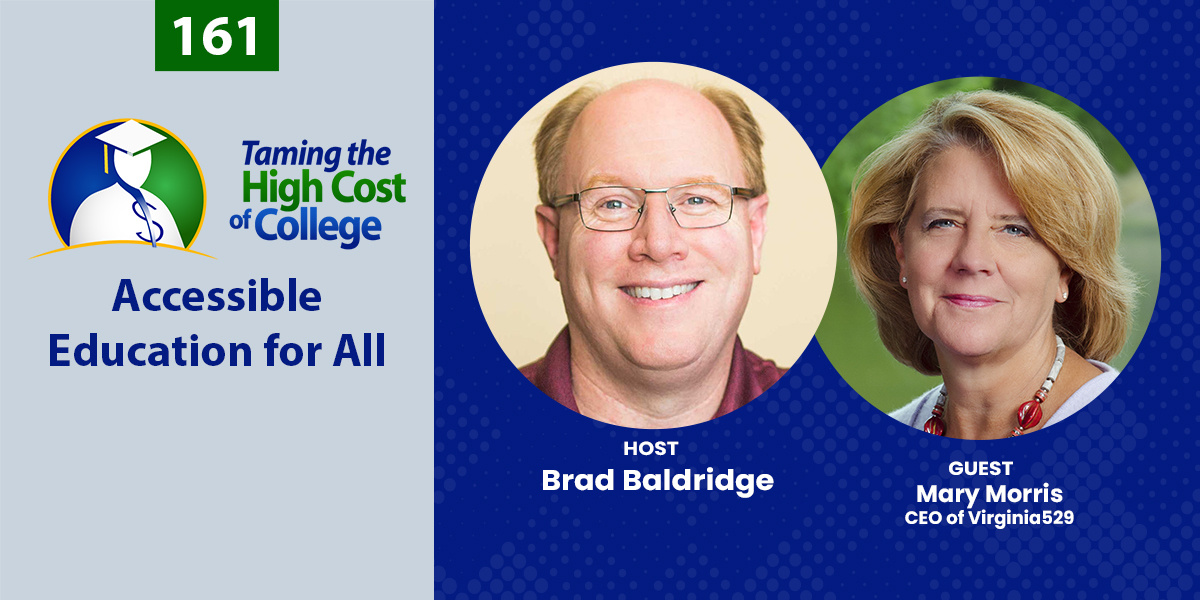 ---
Today's Guest:
Mary Morris, CEO of Virginia529
Mary Morris, CEO of Virginia529, brings more than three decades of financial and tax services experience to her role as an industry authority. She possesses expertise in some of the timeliest issues of the day, including higher education access, education savings, student loan debt, disability savings, financial literacy and more.
As a knowledgeable and trusted voice, Mary is regularly featured by the most respected national and local media outlets for her honest, direct and unbiased insights about topics that matter most to consumers today. Her experience as the CEO of the nation's largest 529 plan, as a private lawyer in a national law firm, and as a public servant (having served as the Treasurer of Virginia and Virginia Senior Assistant Attorney General for Tax and Finance), uniquely qualifies Mary as an exceptional resource for financial, taxation, social and legal matters.
Questions Answered Today:
What does the government's new loan forgiveness program entail?
There is about $1.7 trillion in student loan debt in the U.S., and about 90% of that is federal loans. To address this issue, in August, President Biden announced that the government will be forgiving some of these student loans under certain qualifications. This plan entails forgiving:
Up to $10,000 in federal student loan debt
As much as $20,000 for those who receive Federal Pell Grants (families with lowest household incomes.
Here are some details on who qualifies, how to apply, and more about what may happen with this program:
Income Thresholds (the income you need in order to qualify):
For individuals – $125,000
For those who married – $250,000 ($125,000 apiece)
How do I apply?
To check if you're qualified, visit studentaid.gov.
There should be an application form that you need to fill out.
Wait for updates.
You can submit an application until December 31st of 2023.
What else do I need to know about this new loan forgiveness program?
If you have been doing an income-based repayment with studentaid.gov before, they may already have your information. But, just to be sure, make sure to fill out the application form again.
There are organizations out there who are fighting for this forgiveness program to be abolished. Hence, there's no telling what happens—there's no certainty if these loan forgiveness applications will actually be granted.
The loan/s to be forgiven may or may not be subjected to tax (depending on the state)
Disclaimer: The rules for the new loan forgiveness program are subject to change, so make sure to always tune in for updates.
Does the government offer other loan forgiveness programs that we might know that much about?
They do! They have tricky qualifications, but loan forgiveness is not a new concept. It's been available for years. There's the Public Student Loan Forgiveness (PSLF), which is granted to those who have been serving the public for more than 10 years. Some of its qualifications include:
Working in the public sector (e.g. first responders, teachers, nurses, etc.) for 10 years and paying for your loans diligently during those years.
Paying for your loans on time.
Etc.
As mentioned, in order to be successful in getting your loans forgiven, it's important to learn the nooks and crannies of these tricky programs. Some of the problems people have encountered were that their years of service were not credited and thinking that they're enrolled when they weren't, which ultimately led to denial of their applications.
While there have been efforts to improve these programs and make them as transparent as possible, it's your responsibility to know everything you need to know—especially when these rules continually change.
What's a way to pay for education and not end up in too much debt?
"We just want people to succeed. We believe in the power of education, a very broad definition of education, and that everyone should have access to it."

— Mary Morris
Mary is a believer in lifelong learning. She believes that there are many ways to earn enough for your family, and college is only one of them. College may not be for everyone, but education is.
Mary offers some ways that you could pay for education without breaking the bank. More importantly, these ways promote getting education in ways that fit the student's learning styles and needs.
For parents of students who want a four-year degree, consider this important advice:
Save. Mary runs Virginia529, one of the biggest 529 college savings programs in the U.S., but 529 plans are available nationwide. 529 programs are ways to save for qualified educational expenses tax-free. While 529 programs are mostly used to save and invest for college, coverage has expanded through the years to K-12 educational expenses in some states. 529 programs are a good and popular way to save for college without getting taxed.
The rule of thirds. Talk to your family and plan how you want to pay for college. One great idea Mary shared is to split college costs into three parts and pay for each through:
Your current income
Your savings
Debt
That way, even if you incur some debt, since you're also using current income and savings as part of your plan, you won't end up with as much debt.
Ask for help. A lot of families may be missing out on opportunities to help them pay for college because they have no idea that help is available. This happens to families that don't usually talk about college and sometimes with those who didn't have anyone that had a college degree. Here are some places you can go to and people you can ask:
Local colleges' financial aid offices
Community colleges' financial aid offices
High school counselors
Family friends
Etc.
The Free Application for Federal Student Aid (FAFSA) may be intimidating to fill out, but you'll reap enormous benefits if you're qualified. So make sure to seek help!
For those who want to take a different route than college:
Some kids may feel that they're ready to take on the world after graduating from high school, but that's hardly the case. Mary thinks that, in order to get a decent-paying job and a lifelong enjoyable career, students must still pursue post-secondary education.
Mary shares some vehicles to get to these jobs and careers:
1.Training programs. These programs are often offered through community colleges. These often last from 8 to 10 weeks, usually with a job waiting at the end of the certification because community colleges partner with local employers. Students who pass the certifications can get jobs in:
Commercial driving
Information security
Cybersecurity
Data management
Etc.
The pay range of these jobs is from $50,000 to $70,000. Some may want to make these jobs their lifelong career, while some may not. But that shouldn't be a problem as they can get as many certifications as they want while acquiring different skills.
2. Virginia programs. These programs are exclusive to Virginia residents, but that doesn't mean other states don't have corresponding programs. Look for similar programs in your state:
G3 – for high-needs skills programs. The tuition is either free, or two-thirds of it is shouldered by the state, and a third is paid by the student.
Fast Forward – for adults. This is for workforce development and offers training and educational for certain types of skills. Tuition is free.
I can't say this enough: Help is available. You just have to look around!
What's the best thing parents can do to help their kids get the best education?
1. Talk to each other. Talk to your kids about money and financial goals. Don't be embarrassed about not having enough money or having too much money.
2. Know what's important to them. Talk to your kids about what's important to them because this helps you make your case as to why post-secondary education is a must.
3. Do your calculations. Most parents forget this! Remember that college costs aren't the way they used to be. They're way more expensive, and forgetting this often results in too much debt.
4. Support their passion. Some parents push their kids into STEM because that's where the "most money" is. You don't want them to end up miserable pursuing something they don't want.
Do you have any recommended resources that could help with college finances?
Mary shares the following resources:
Virginia529.com – for those in Virginia. They also have a mailing list that regularly sends out new information. Virginia529 also offers the state's ABLE Disability Savings Programs and in 2023, they will open up a state-facilitated retirement program.
SavingForCollege.com – a guide to 529 plans, college savings, student loans, etc.
College Savings Plans Network – a guide to 529 plans for all states.
---
Links and Resources
Helpful Articles and Resources
Mary Morris' Contact Info:
---
---
THANKS FOR JOINING US!
We'd like to extend an invitation to our listeners to share their feedback and questions. Contact us to submit a question.
If you find our podcasts helpful, please share us on social media and tell your friends!
The bottom line is that we care what you think and want to help you out, so we'd appreciate you reviewing us on your favorite podcast platform. Even better, receive automatic updates by subscribing to the show through your preferred podcast service.
Brad Baldridge 0:00
Details on the new loan forgiveness and what it means for parents. Coming up next.
Presenter 0:06
You have kids, they grow up, and before you know it's it's time to plan for college. Where do you start? How much is it going to cost? Will you qualify for financial aid? Should you be looking into scholarships? When will you be able to retire? What about student loans? A list of questions is never ending. The good news is all the answers are right here. Welcome to the Taming the High Cost of College podcast. Here is your host certified financial planner, Brad Baldridge.
Brad Baldridge 0:36
Hello, and welcome to Taming the High Cost of College. I'm your host Brad Baldridge. Today we have an interview with Mary Morris. She is the CEO of Virginia529. And we talked today quite a bit about the breaking news around the loan forgiveness where President Biden has put together a program that will pay off 10,000 or 20,000 dollars of student loan debt. For many borrowers, again, if your income qualifies, etc. We'll talk a little bit more about the details of that program. And then we also talk a little bit more about kind of the philosophy of education and how families might think about planning and paying for college. One good idea where we mentioned maybe we 1/3 could be paid by the parents' savings and investments, a third in current income, and a third by loans as one way to think about how college might be covered. As always shownotes are available at our website tamingthehighcostofcollege.com/ 161. We'll put all the links and other information from this interview on that page. So you can go directly there. So if you're driving or exercising, you can just go get the notes later. Alright, let's go ahead and jump into the interview. Today I'm sitting down with Mary Morris. She is the CEO of the Virginia529. Welcome, Mary.
Mary Morris 1:57
Hi, good to be with you today.
Brad Baldridge 1:59
All right. So today we're gonna talk primarily about kind of the breaking news around loan forgiveness and that kind of stuff. But before we get into that, do you mind sharing a little bit about what a CEO of a 529 actually does, and kind of what some of your history is?
Mary Morris 2:15
Sure, I've been doing this for a long time, my career goes back to the beginning of 529s in Virginia, and I will not go all the way back there. But I've been in my current job for about 15 years. And I have the privilege of running what is the largest 529 program in the country. And 529 programs are simply tax-advantaged ways for families to save for mostly for higher education expenses, although what a 529 can be used for has been expanded a bit in recent years. And we can talk about that some other day probably but it helps families all around the country. We have several about two and a half million accounts across the country in Virginia529. And we also do we have moved more into maybe holistic financial wellness at Virginia529 we also offer the state's ABLE Disability Savings Programs, and in 2023 will open up a state-facilitated retirement program to be made available through employers who don't already offer retirement options. So it's really about helping families wherever they are with whatever their savings goals are to do that in an efficient and cost-effective way.
Brad Baldridge 3:24
Right? Absolutely. So well, great. So let's tap some of that experience then. So obviously, the breaking news. So it's middle of October right now, just to kind of put a frame of reference on this, because people might be listening, later in the in the year or whatever. But they've just opened up the form that helps people with loan forgiveness. So it sounds like you've looked at the form, it's relatively easy to do. And can you tell us a little bit more about what the broad scope of what loan forgiveness is going on? For those that have been under a rock or haven't heard anything about it?
Mary Morris 3:59
Yeah, well, it's been discussed for years, really, it has been sort of campaign talking point. It's become quite political, as as many things do these days. And I try to stay away from that. So I'm not talking about the policy part of it. But I've been hearing for years, particularly through the pandemic, about the problem of student debt. I never use the crisis word, for going through volatile markets or whatever. So I don't see it as a crisis. But some people use that terminology, but it's a problem. You have 1.6 to 1.7 trillion dollars in student loan debt across the country, about 90% of that is in federally guaranteed or federal loan balances. So it's a problem. And it's something that in 529 programs, we try to help families avoid that problem by planning and saving early so they take on either no debt or less student debt, but we are where we are today. Right. And we're coming out of a pandemic and a time when millennials in particular and younger graduates and folks who have been to school, had some school maybe didn't finish, that's one of the biggest student debt issues are people who take on student debt, but don't complete their degree or their credential. And so they end up with debt, that they don't have a good way to repay, because they're not making enough money to do that. So that's where all the discussion comes around debt. And so there have been proposals to eliminate debt, some debt. And that's where we're down to now. And so yeah, we've had lots of people Virginia529, and I said, 'Well, I worry about it, they're just going to forgive it.' And we hear that sometimes, should I, why should I save for college? And I would always tell people don't take anything to the bank until it's actually there. Whether it's student debt, I'm talking about free college for years as well. And we haven't really seen it, you see more close to free options, at least on tuition in community college, that has been a trend, in differences states. But it's not universal. So unless you know exactly what you want to do, and you're all set, don't count on things like that. It makes you not think about planning for yourself and learning and talking as a family about what you want to do. So on the student debt front, the latest and greatest, I guess, is that President Biden, I guess, back at the end of August, so about two months ago, announced after thinking about it, since his presidency began, I guess, that there would be a plan to forgive up to $10,000 in federal student loan debt, and then the parent federal loans as well are eligible for this for certain individuals. And as much as 20,000, for anybody who receives Federal Pell Grants. And that just means for those those families, those individuals who had the lowest household incomes, and were eligible for Federal Pell Grants, then if they also took on some debt, which does happen, even if you get that federal financial aid, they could actually have more forgiven. And there's some income thresholds, I think, if you're an individual applying for relief, your household income today has to be under $125,000. And if you're married, then it can be up to $250,000. So pretty, pretty generous and civil loan forgiveness will cover most people, I guess, are a great number of those who have outstanding federal debt. And yeah, just this week, the portal at studentaid.gov. That's where I would send people go to studentaid.gov. And there's a lot of information on student financial aid, generally, on this forgiveness program, who's eligible, who isn't, there is what appears right when you open up that site, there is a one page form to complete with some basic information, name, address, social security number, household income, your income, things like that, to qualify for the forgiveness, the most recent I read is that if you have already been in an Income-Based Repayment, or you had some other activity with the federal loan program in the last few years, and they have all of your information, you shouldn't have to do the form, it'll happen automatically. But I would suggest going ahead and doing the form, because then you know that you've got the information in, and it's all up to date, and you've done what you can do, and then sit back and wait.
Brad Baldridge 8:14
Right,
Mary Morris 8:15
Because the other breaking news is that there are some challenges to this loan relief program in court in federal court, I think most recently, it may, who knows if they'll accept it, if it is, in good form. I'm a former lawyer as well. So I'm not a practicing lawyer. So I don't know all the ins and outs. But there are some challenges in federal court across the country, some attorneys general, who were state-elected officials are challenging the debt elimination program, debt reduction program. There are some I think federal loan servicers who are challenging it. So there are a number of types of court challenges, I assume they're on a fast track, they're going to try and get that done quickly. So it does put some uncertainty. But from an individual's perspective, if you have student debt, I know most of your audience, you do tend to talk more to families with high school aged kids, unfortunately, what I know is that a lot of those parents are still carrying student debt themselves. So if you're in that boat, and you're worrying about what to do about your kids, but you've also got your own issues to deal with, then certainly, I would go to studentaid.gov. See if you're eligible, fill out the form. And you've done what you can do, and then the rest of it will play out, as it will play out.
Brad Baldridge 9:26
Right, exactly. So take action, fill out the form, do the best you can on it, and then wait and see if this actually comes all the way to the end. And again, it could get stopped because of these lawsuits or other political or judicial or whatever, procedural things. So we don't know but you certainly could do that. But another interesting thought on that process, right? So I have a son that's in college and his freshman loan was issued and on the books soon enough that he can get it forgiven. So he took out a sophomore loan so as he's receiving his software alone, he can turn around and get as freshmen, forgiven. So I think there might be a lot of parents who are, some kids are in college, and some kids are still in high school, and they're saying, 'Oh, okay, so some of my kids get their loans forgiven. And some of them unfortunately, don't have their loan yet, so they can't get it forgiven,' which is my situation, I also have a freshman whose loans aren't actually issued yet. So he's, unfortunately gonna miss the opportunity to get anything forgiven. So let's talk a little bit about...
Mary Morris 10:31
Well, you don't have to receive it. I mean, I'm looking on on their site. And some states, it looks like, would my tax that forgiveness. So if you don't want that, you don't have to accept the student debt relief. I know, in Virginia, they've said it will not be taxed, we sort of follow the federal rules there for how you mark income, and it's definitely not going to be taxed at the federal level. Although I would point out generally, when you have forgiveness of debt, that is a taxable event. So you have taxable income, to the extent you don't have to repay that debt. There are some exceptions to that if you're insolvent, or what have you. But in this instance, a part of this whole deal is that it also will not be subject to federal, and in many instances, state income tax either. But that is something
Brad Baldridge 11:21
And if you're in a state where they will tax you, again to knock 10,000 off, and they might say, well, because we forgave 10,000, were going to tax you 500 or 600, or 800, or whatever, 5% or whatever.
Mary Morris 11:36
Right? Right.
Brad Baldridge 11:36
So it's still gonna be well worth it, to accept the forgiveness in most instances, but just have to plan on the fact that taxes will be different. Coming up, depending on again, when this forgiveness actually happens, it might happen in this tax year or next tax year. So who knows exactly? I think that's one of the big points is, nobody knows a lot about details, even still, I mean, we're getting more information
Mary Morris 12:01
They're evolving, for sure.
Brad Baldridge 12:03
And so a week from now, it might be drastically different than what we've already explained today. So always go to the websites and get the latest information.
Mary Morris 12:14
Right. And I will say, for one thing, for those who are paying now, or most likely aren't, we've had sort of a hold or a waiver on making student payments, and no interest has accrued, really, since close to the beginning of the pandemic, I guess. And that has been extended again through the end of 2022. So everyone can at least wait until the end of this year to see what's sorted out, you can apply for the debt relief through December 31 of 2023. So you've also got some time to apply for that debt relief as well.
Brad Baldridge 12:45
Right, exactly. So there is a lot of, again, moving rules and so forth, and they announced it, and now they're starting to come out with some details and get a better understanding, it's also important to realize that students can get some of their loans forgiven and parents that have federal loans for their students can get some of those forgiven. And parents that just happen to have debt carried over from when they were in college, they could get some of that forgiven. So there's a lot of opportunity, depending on what the types of loans and and your balances and all that type of stuff. So it's probably worth hitting the website and trying to figure it out.
Mary Morris 13:22
Spending some time on studentaid.gov and reading about it. Yeah, absolutely.
Brad Baldridge 13:26
And then doing what needs to be done. So I think all that stuff is relatively important. But if you got kids in high school, let's talk a little bit about what does that mean, what are your thoughts? I mean, my philosophy is you probably don't want to bank on loan forgiveness in any way. Right? There's loans for teachers that will be forgiven, if you ultimately teach, there's loans for nurses where if you ultimately stay in the health profession, they'll ultimately be forgiven. And now there's, if you work for charities and nonprofits, there's ways to get loans forgiven. The challenge, I think, with a typical parent of a sophomore, junior, senior in high school, is you're making very big assumptions on what their career is going to look like 5-10 years from now.
Mary Morris 14:14
You can always find, right, yeah, we've seen this and the public student loan forgiveness program PSLF, that program has been around for a long time, more than 10 years. And the nasty little surprise that many people had during the pandemic, in fact, is when that story really broke, was that some 90% of people who thought they were qualifying for it, thought they were enrolled, thought that their public service was being credited, was not. And they were denied forgiveness. And that was huge shock. And so more recently, that's something else that in the last year, they've tried to correct, there have been some improvements to that program to make it more transparent, to make it easier to understand how it works, what types of loans qualify, but it still requires, as I understand that they've talked about lowering this threshold, and we'll see, to be to be determined, I guess, TBD. Whether that changes, but right now you have to work 10 years in the public sector, in order to get that forgiveness, and you need to be paying on your loans at the same time. So one of those things that can catch you is that you have to make your payment on time every month. If you're not on time, then you don't get credit for that payment. So unless you're a real stickler, a lot of people don't do that you don't even pay attention, 'Oh in the grace period,' or whatever, well, nope, that might make you not qualify, or if whatever you're working doesn't qualify for that public sector. And it's pretty broad, to be working, as you said, nonprofit teaching anything that's in the public sector. And 10 years is a long time to do anything, right. Most people don't stay in a job that long. So it's just not a sure thing. It is a way to maybe make those loans manageable if you know, you want to work in that sector. And again, I think that's why they have that program. They want to encourage people to work in those public sector jobs, whether it's first responders, as you said, teachers, nurses, in some instances if they're working for a nonprofit, so you want to encourage people to do that. If they have student debt, it's a way to say, 'Well, at least I'll be able to pay off my debt sometime in the future.' The best thing I tell people, and we talk to families all the time, and not that I make all the best choices, and I've had my boneheaded moves, I just get smarter with age, and I've got a little bit of age on me now, is to say to families, one talk, talk to each other. So many families, I'm sure you hear this all the time, because you're talking to families, parents don't talk to their kids about finances. It's been one of those taboos in this country, that you just don't really talk about it. You don't want them to worry or you don't, you're embarrassed that your money, you have too much income or not enough or whatever. And you don't have to overshare I don't think you have to open up a vein and share everything. But you can talk about what's realistic with your kids. And as they get into their middle school and high school years. Talk to them about what they want to do talk about your experiences. If you're a parent who didn't go to college and you wish that you had or you aspire to that for your kids. Tell them why, tell them why you think your life's been harder because you didn't have specific training. And I'm a big, big, big proponent of community college education, of certificate and credential programs, I don't think that every single person has to have a four-year degree.
Brad Baldridge 17:46
Yes, I think that's right. Right is there's a school counselors, I don't know, I shouldn't throw them under the bus? That's not fair. I think there's a large swath of the population, that their solution for education has always just been college for all, that if everybody just goes and gets college education, then we'll solve a lot of these problems. The challenge, of course, is not, a lot of people out there or college education is not a good fit. And they've made it, it's been kind of ostracized almost to the point where if you are taking an alternate path, it might be a great fit for you and lead to a fantastic career. But you don't want to talk about it at the dinner table, or Thanksgiving. So then you're afraid the aunts and uncles are going to say, 'Well, why don't you go into college or...' And again, I think education for all is what needs to be said not college for all. And education can be, as you mentioned, certificate programs, community college, internships, apprentice programs, college, I mean college is a good fit for a lot, but not all.
Mary Morris 18:55
Absolutely. And the current title for the strategic plan for the State Council of Higher Education in Virginia, is pathways to opportunity. And I really liked that. And we talk a lot about pathways, stepping stones, just because you get a certificate when you come out of high school, you're not ready, you know, you're 18, and a lot of 18 year olds aren't very mature, they really had, their brains haven't developed. I think, in some part in this country, we figure well, that's what college is for, you spend four years and you get to mature and live on your own and you'll learn something but you also learn how to live in society and to be an adult being really expensive way of doing that if they're not ready for it. So, again, you have to know your kid, your kid has to know what's important to them, what they want to do, and I really do think that encouraging some form of post secondary education is important. Some kids won't do that, but also say, hey, if you go out and work, and that's not that much fun because you find that you can't get a job that pays you enough to rent an apartment and buy groceries and have any kind of a life, then maybe that sends you back to the community colleges to a four year school to some kind of a training program. But there are millions, millions of highly skilled jobs in this country that employers are begging to hire people for, workforce development is just such a huge buzzword almost. That's where opportunities lie. And again, the the community colleges, there are other ways to get into this programs. But the community colleges are the real delivery vehicle, I guess, for those types of programs because they work with local employers. And they say, we have this neat, we have a steady pipeline of jobs for as many students as you can turn out, who will and it can be a medical technology, it might be in construction field, it might be an information security, cybersecurity, data management, those are such, there's so much need for so many people in those areas, commercial driver's licenses, there's a need for more of those, they simply cannot get enough people through a pipeline to take the CDL course. And I believe it's a eight-week, ten-week course not very long, offered through community colleges. And generally, there's a job waiting for you at the other end of the line. And for a lot of these very technical programs, it is the employer in the community who is providing the instructional materials, sometimes the instructors, the competency tests, they know what they need. And if you can complete the course, and complete the competency test, there's a job waiting, and sometimes that's for an 18, 19, 20 year old, that's a 50, 60, 70 thousand dollar job waiting for them, may not be what they want to do forever, that's fine. Go back and take another course, take another credential. Again, I'm a big fan of lifelong learning, you go back for a new certificate for something new as technology changes as your needs change. As your interests change. You can go back to school, you know, you can go back and get a business degree that lets you be your own boss, you know, if you're a you went through, I have kids that I talked to several years ago at a Junior Achievement Career Center discussion. And he just knew he wanted to be an HVAC, heating, ventilating air conditioning installer. Mechanic, basically, you had a friend whose dad did that. He liked working with his hands he liked not working in an office, you know, just driving around and installing this equipment. He wasn't that impressed with what he could make, ultimately, because we have all these charts, and you can look and see what's median income, working on your own, wasn't bad, but it wasn't where he wanted to be maybe in 20 years, I said, 'Well, you know, you do that for a while you go back and you get a business degree. So you become the boss, and you have other people who work for you. But you keep putting in that HVAC equipment, or plumbing or you know, you name the trades.' I don't know about you and where you live, but where I live in Virginia trying to find somebody to come and do work that I don't know how to do and my house is not that easy, plumbing in particular, that is an aging profession, and you can make really good money, there can be their apprenticeship programs, as you said, for that all different ways to get those skills. And those are all perfectly valid, wonderful ways to take care of yourself and your family. So talk to your family about what works for you. And then when you think about paying for any of that, what's it gonna cost and with most families, we say, if you can think about saving a third of the cost, paying for about a third of the cost from just current income, because you're already paying for room and board for your kids anyway, generally, or they're paying for it themselves. And if you have to take on debt, no more than a third of what your expenses are going to be. And find those lower cost options, if you haven't been able to save for the cost, and make sure that whatever they want to go into will support the debt repayment if they take it off. That's another thing.
Brad Baldridge 24:06
Exactly. I think that's a challenge that a lot of families, you know, 10 and 20 years ago, as colleges got more and more expensive, they stopped, they didn't really do the calculation, it was out there that you know, the college was the golden ticket, you just go get a degree, and life will be good. As college get more expensive now all of a sudden, there's loans and the debt that are associated with it, all of a sudden the math doesn't work as well as it used to. And just like many, you know many things in life, right? The prices go up with demand and etc. And eventually there's a disconnect. And now the word kind of in a reset mode where again, it used to be people say that all the time. Now there's plenty people that say college isn't worth it. And I think, my opinion of it is you gotta be careful. There are situations where it's obviously not worth it. And there's a lot of situations where it obviously is. And there's a lot of situations that kind of fall in the middle where maybe the math isn't quite as good as it should be. But if it's your passion, well, then maybe you're gonna do it anyway, or not, right?
Mary Morris 25:08
So yeah, I don't think you push every kid into a STEM program, right? Or looking where you can make the most money because I also don't think that's the most important thing in life. And if you hate it, and you're miserable, then you're going to hate it and be miserable. And there's just no point in that. But you know, I'm an example, I have benefited tremendously. And I followed a pretty traditional path, I went through high school, I went to William & Mary, I actually finished up at Christopher Newport, personal choices, I had to work. And that made more sense for me, I was out for a couple of years, I went back to law school, got my law degree, I got an additional degree on top of that, a master of law and taxation. And it's, I haven't practiced law for most of my career, but I've used those degrees, right. And I've been able to do a lot of different things and have the life that I wanted to have. So I'm certainly a beneficiary of a more traditional trajectory, and those schools aren't going away. And for our doctors, for lawyers, for you know, those with professional aspirations, you have to have the four-year degree to get on to the graduate degree, but they aren't all created equal. So you just have to know if you're going to have a brilliant daughter who came out with an English degree and got a graduate degree in Shakespeare and Renaissance Literature, still a little bit more of a challenge, and she worked for a nonprofit, don't pay very much money, you know, she didn't have any debt for undergrad we took, we were able to take care of that we'd used our 529, but she took on some for graduate school, but didn't go into a profession that was likely to pay out as higher rate. So it's been a little bit more of a challenge. Still, she's smart, she's hard working, she'll be fine. You know, she did complete that credential. And it'll be fun, it might take a little bit longer, it may not be as easy as it might have been had she been a lawyer or a doctor, but she's following her passion. So that's fine. I have a younger daughter who's really still figuring it out. And education really wasn't the path for her. So spending time with my kids and seeing others and talking to them. And this job that I've been in has really made me understand more and be much more empathetic to the fact that there is no one right path for everybody. You got to make the best choices you can, and in families and again, I really see it a lot with families, if you don't have a history of education being important. If your parents, they may be embarrassed even to talk about it. You know, you see that a lot with families, they don't talk about it, because they don't really know how to talk about it. And that's just a shame. And sometimes the kids have to open up to their parents and say, 'Hey, we understand, you've done great, we know you didn't get a college degree, but you've made a nice life for us. But how can we talk about finding someone that can help us?' We work in Virginia a lot with college access providers who are in many schools, most states have them, I think they're fabulous. And they work with students, and particularly some at risk. Kids who don't maybe have a role model at home, don't have that financial educational level at home, to know how to complete the FAFSA, the Free Application for Federal Student Aid, which everyone should complete because it's not just federal Pell Grant eligibility, it helps you get all kinds of financial aid at the state and federal level, but it's pretty intimidating form to fill out. So find a mentor, find somebody in your high schools, you know, find a family member, find a friend find somebody, if you as a parent aren't comfortable talking with your kids about this, to help you through the process. There are people out there, talk to you schools, any local college, community college, they'll have somebody in their financial aid office, who can help walk you through it and go how do we make this manageable? What are the programs out there? And again, in Virginia, at the community college level, we have a thing called G3, a lot of the programs and they're particularly high needs skills programs, tuition is free, or it's a cost share between the student in the state, the state covers two thirds of the cost. And the student covers a third. There's another program called Fast Forward, which is for more adults. That's more in the credentials arena. And again, for high demand, workforce development types of skills, tuition is completely paid for. So there's a lot of support out there, you just have to do a little bit of work to find it sometimes. And I often worry that that those who have the most need, also have just that they have less ability because they just aren't aware of what's out there. And they haven't been tapped into some of those resources to find a way to make it doable and to make it affordable. And our whole mission. You know, I'll go back to what we do at Virginia529 is to make education more affordable and more accessible for all Virginians. And because we're a national program, I'll take that nationwide. We try to find ways to make educational pathways more accessible and more affordable to everybody.
Brad Baldridge 30:02
Right, absolutely. All right. So if people want to learn more about Virginia529, or anything that you're involved with, what what's a good way for them to reach out or websites or what you know what might be available for you.
Mary Morris 30:15
It's so easy, Virginia529.com, just go out there, tons of information. And I'll even throw out a few others, my guys, so that's one if you're in Virginia, and again, we'll send you, we have lots of information you can get on our mailing list, because we do a lot more than just tell people to save money in our accounts. SavingForCollege.com has a lot of good information, CollegeSavings.org, lists, College Savings Plans Network, they have a ton of information as well. And you can get information about all states programs, or wherever you are. Basically, if you put in your state name, and 529, you will find a lot of information. A lot of that will be Virginia, because we do a good job with digital marketing. But you can get information on 529 programs, we always tell people to start with their state. Again, we have many people from all over the country in our programs. But every state has 529 program. And because they are run by the states, we don't have the profit motive in there. We just want people to succeed, we we believe in the power of education, a very broad definition of education, and that everyone should have access to it. And so we just try to get the word out. And for those who are able to plan for it to save for it, because there is a cost, then we provide vehicles that allow you to do that federal and state tax-free.
Brad Baldridge 31:35
All right, well, great. I really do appreciate all the good information. And I think we will probably have you back in a few months. And we'll talk a little bit more about 529 specifically,
Mary Morris 31:45
Be happy to do that. Always like to talk about this stuff.
Brad Baldridge 31:47
Yes. All right. Thank you.
Mary Morris 31:49
Thank you so much.
Brad Baldridge 31:51
All right. That was a great interview. As we've mentioned many times you need to go to studentaid.gov to get all the latest and greatest details on what's going on. But hopefully by the time you're listening to this, maybe the programs are in full force and things are moving along. That's all we have for today. We look forward to talking next week.
Presenter 32:11
Thank you for listening to the Taming the High Cost of College podcast. Now it's time for you to take action. Head to tamingthehighcostofcollege.com for show notes, bonus content, and to leave feedback for Brad. The next step on your college journey starts now.
Brad Baldridge is a registered representative of Cambridge Investment Research and an investment advisor representative of Cambridge Investment Research Advisors, a registered investment advisor. Securities are offered through Cambridge Investment Research Incorporated, a broker dealer and member of FINRA and SIPC. Brad owns two companies, Baldridge Wealth Management and Baldridge College Solutions. The Baldridge companies are not affiliated with Cambridge Investment Research.
Transcribed by https://otter.ai
Sign up to receive email updates
Enter your name and email address below and I'll send you periodic updates about the podcast.