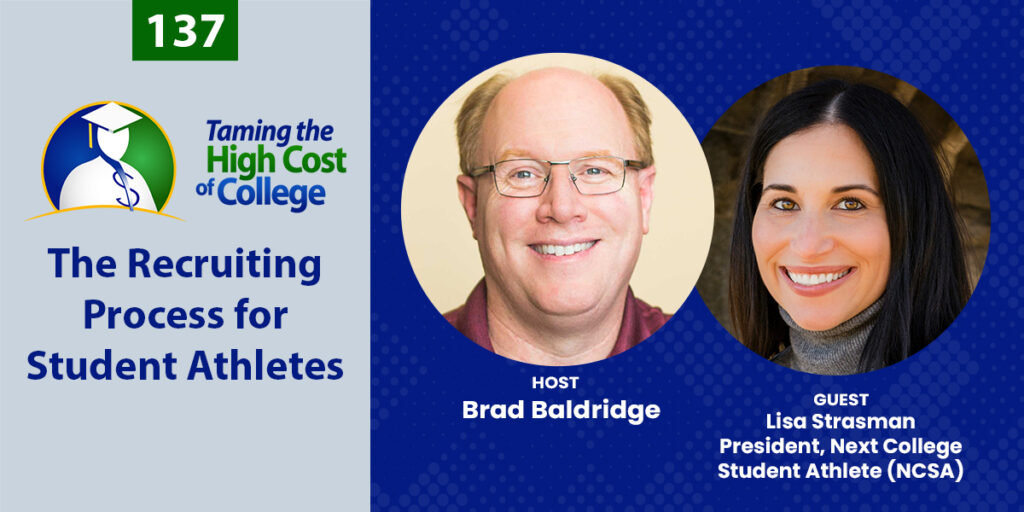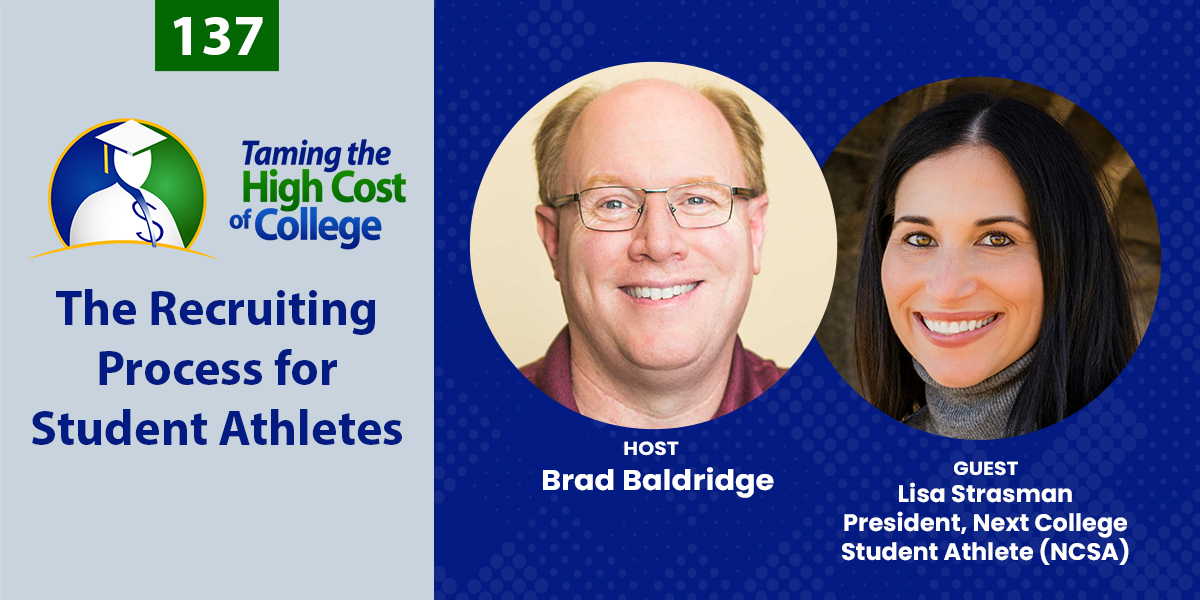 ---
Today's Guest:
Lisa Strasman, President of NCSA
Lisa is an expert in the recruitment process of college athletics. She is the president and COO of the Next College Student Athlete (NCSA), an athletic recruiting platform that works to connect students to colleges where they can play their favorite sport while getting the best college experience.
Questions Answered Today:
If I have a student-athlete, how do I get started with the recruitment process?
"Sometimes families forget the actual desire of their son or daughter to compete at the college level is not always a given." – Lisa Strasman
While it may seem obvious, Lisa says parents sometimes overlook the question, "Is my student willing to commit to playing sports at the collegiate level?"
Families should note that playing sports in college is a long-term commitment. Hence, the first step in identifying if college athletics is a good fit is to engage in a conversation with your student and ask what they really want.
If the student feels that college athletics is the path for them, that's when you should approach the experts (e.g. an expert from NCSA). Otherwise, it's not wise to continue if the student's heart is not in it.
Great tip for parents: educate yourself about:
How the recruitment process works
Which schools have college sports
The different 'division levels' in intercollegiate athletics (i.e. D1, D2, D3)
When is the best time to start looking around for options to compete and get recruited in college athletics?
Lisa says, ideally, you could start as early as the freshman year, especially if your family is already eyeing a D1 (top tier in college sports) school. College coaches also start to recruit as early as this time.
However, I mentioned earlier that you can only get started once the student decides, so you need to go back to that premise. Whether you'll start in the freshman year or senior year depends on the student's willingness and readiness.
What happens if you decide late? Here's what Lisa has to say:
"You might not have or you won't have every opportunity that would have been available if you started a few years prior, but there are always schools that are still looking for student athletes up until quite late in the game."
Hence, while it's not the end of the world if the student starts late, there may be fewer options for the student. It pays to gauge your student's commitment to play in college early!
If my student can't get into D1 or D2 schools, is it worth it to get into D3, despite having less financial gains?
Absolutely! Lisa reminds that more than the financial gain, parents should still focus on choosing the right college where the student would grow and get many opportunities to learn and become better.
"It's really important not to go in with a closed mind on a narrow list of schools because there are so many opportunities out there. The right fit for you might be a school that you didn't even know existed." – Lisa Strasman
For context, let's take a look at how 'D1' and 'D3' compare with each other.
D1 Schools: The good
They offer the best scholarships.
Often, the students that get recruited are those 'rockstar athletes' that make it big in sports.
Official school visits are initiated by the college, and the college pays for all the costs of these visits. D1 recruits can have 5 visits to 5 different D1 schools.
Admissions may be a bit flexible. For example, you can still get in despite not meeting the ACT score requirement. Important: Some colleges may do this, but some may not.
D1 Schools: The bad
Obviously, only a very small population gets a shot, and slots are limited.
Many people will approach you. Some have genuine intention to help, while some have a hidden agenda as there is money in this kind of setup.
Scenario: Student A gets in as a D1 athlete, but he's in the practice squad, so he really doesn't get to play that much. He's upset because while he's getting a full scholarship, but he's not able to do what he came for, which is to play.
D3: The good
Even though there are no athletic scholarships at this level, there are potential academic scholarships.
There are merit scholarships or need-based financial aid available to student-athletes.
Student athletes can get the perfect balance between the academic and athletic side of college.
D3: The bad
There are no athletic scholarships.
The bottom line is, regardless of the type of athlete your student becomes, both D1 and D3 offer amazing opportunities that should not be wasted. In the end, it's all just a matter of skills and priority. When in doubt, ask these questions:
Do you want to be in a D1 school but end up sitting on the bench? Or do you want to be in a D3 school and become a rockstar member of your team?
Now, you may ask, how do I know my student is good enough to be a D1 athlete?
Answer: Although it's hard to measure, you can assess the student's skills by:
Talking to their coach
Checking and comparing your student's experience and expertise with existing college rosters.
What are the rules that athletes need to pay attention to while in the midst of the recruitment process?
The National Collegiate Athletic Association (NCAA) has a set of rules and regulations for coaches and athletes. While the rules are too many to dissect, here are the few Lisa asks students to watch out for:
In most sports in the NCAA, coaches can only start contacting recruits either on June 15th after their sophomore year of high school, or September 1st of their junior year.
These rules vary by sport.
There are different rules on the types of communication that can happen between athletes and coaches. They also have rules about visiting schools. There are two types of school visits: official and unofficial.
Official visits are initiated by schools, so the school pays for everything. Normally, these visits are for top recruits. In this visit, the student gets to experience student life, with activities such as:
Watching practices
Attending a class
Going for meals.
Unofficial visits are normally initiated by parents, so the student shoulders the expenses. The coaches may or may not meet with the student.
Note: When you're invited as a student-athlete to visit a college, make sure to verify if the visit is official or unofficial. Doing so avoids money-related conflicts.
There are grades and test scores that student-athletes need to have in order to be eligible to play at the next level.
The rule of thumb in accepting pay or incentives is to ask the authority to avoid money-related issues.
Tip: Download and read the NCAA Guide for the College Bound Student Athlete to know everything about the recruitment process.
How can NCSA help me with the recruitment process?
NCSA is the 'LinkedIn for College Athletics.' NCSA functions similarly to LinkedIn, serving as a network for student athletes that are looking for colleges and for coaches that are searching for the most promising recruits.
Essentially, NCSA works with students aspiring to play sports in college while also relishing the college experience. NCSA ensures that the student finds a school that not only plays the sport the student loves but also offers an environment where the student will grow.
Brad Recommends
Today, let's talk about scholarships for students interested in athletics. You may access my free resource, The Scholarship Guide for Busy Parents, to learn everything you need to know about college scholarships.
When being recruited, colleges may offer student-athletes the following:
Athletic scholarships (for D1 athletes)
Need-based aid
Merit scholarships
There are many rules surrounding a student's eligibility to receive these scholarships, so be sure to familiarize yourself with those.
Also, note that these scholarships are stackable, meaning a student can get all three types of scholarships at once.
Talking to coaches also helps you identify your options, as they normally coordinate with financial aid offices to provide deals and offers to recruitable student-athletes.
---
Links and Resources
Helpful Articles and Resources
Lisa Strasman's Contact Info:
Website: NCSA
---
---
THANKS FOR JOINING US!
We'd like to extend an invitation to our listeners to share their feedback and questions. Contact us to submit a question.
If you find our podcasts helpful, please share us on social media and tell your friends!
The bottom line is that we care what you think and want to help you out, so we'd appreciate you reviewing us on iTunes or on Stitcher. And even better, receive automatic updates by subscribing to the show on iTunes or Stitcher.