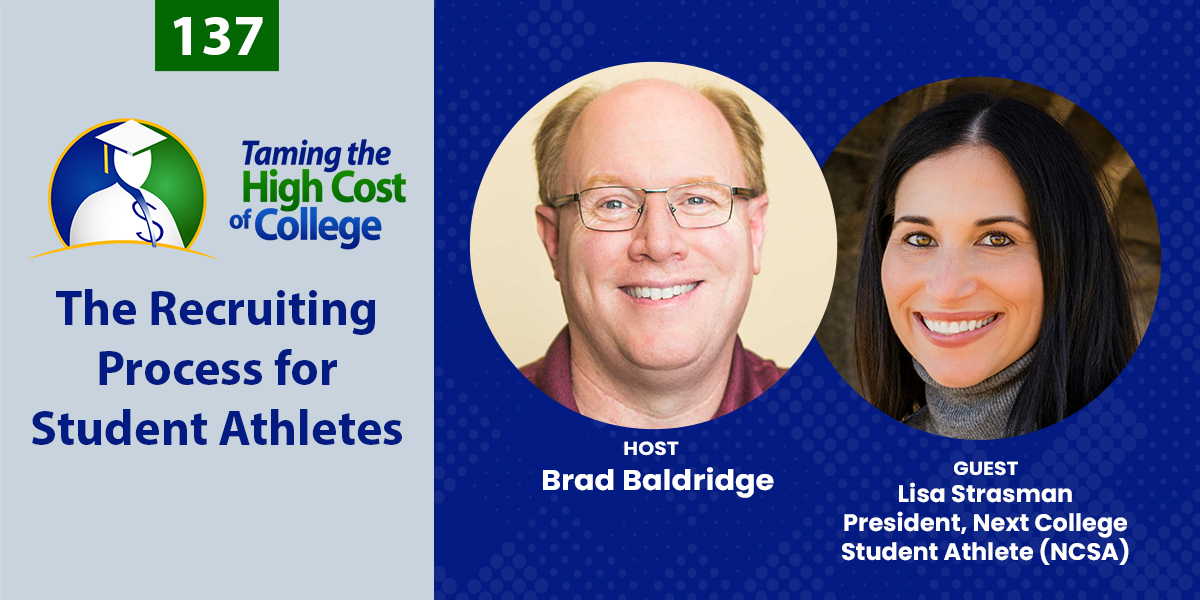 ---
Today's Guest:
Lisa Strasman, President of NCSA
Lisa is an expert in the recruitment process of college athletics. She is the president and COO of the Next College Student Athlete (NCSA), an athletic recruiting platform that works to connect students to colleges where they can play their favorite sport while getting the best college experience.
Questions Answered Today:
If I have a student-athlete, how do I get started with the recruitment process?
"Sometimes families forget the actual desire of their son or daughter to compete at the college level is not always a given." – Lisa Strasman
While it may seem obvious, Lisa says parents sometimes overlook the question, "Is my student willing to commit to playing sports at the collegiate level?"
Families should note that playing sports in college is a long-term commitment. Hence, the first step in identifying if college athletics is a good fit is to engage in a conversation with your student and ask what they really want.
If the student feels that college athletics is the path for them, that's when you should approach the experts (e.g. an expert from NCSA). Otherwise, it's not wise to continue if the student's heart is not in it.
Great tip for parents: educate yourself about:
How the recruitment process works
Which schools have college sports
The different 'division levels' in intercollegiate athletics (i.e. D1, D2, D3)
When is the best time to start looking around for options to compete and get recruited in college athletics?
Lisa says, ideally, you could start as early as the freshman year, especially if your family is already eyeing a D1 (top tier in college sports) school. College coaches also start to recruit as early as this time.
However, I mentioned earlier that you can only get started once the student decides, so you need to go back to that premise. Whether you'll start in the freshman year or senior year depends on the student's willingness and readiness.
What happens if you decide late? Here's what Lisa has to say:
"You might not have or you won't have every opportunity that would have been available if you started a few years prior, but there are always schools that are still looking for student athletes up until quite late in the game."
Hence, while it's not the end of the world if the student starts late, there may be fewer options for the student. It pays to gauge your student's commitment to play in college early!
If my student can't get into D1 or D2 schools, is it worth it to get into D3, despite having less financial gains?
Absolutely! Lisa reminds that more than the financial gain, parents should still focus on choosing the right college where the student would grow and get many opportunities to learn and become better.
"It's really important not to go in with a closed mind on a narrow list of schools because there are so many opportunities out there. The right fit for you might be a school that you didn't even know existed." – Lisa Strasman
For context, let's take a look at how 'D1' and 'D3' compare with each other.
D1 Schools: The good
They offer the best scholarships.
Often, the students that get recruited are those 'rockstar athletes' that make it big in sports.
Official school visits are initiated by the college, and the college pays for all the costs of these visits. D1 recruits can have 5 visits to 5 different D1 schools.
Admissions may be a bit flexible. For example, you can still get in despite not meeting the ACT score requirement. Important: Some colleges may do this, but some may not.
D1 Schools: The bad
Obviously, only a very small population gets a shot, and slots are limited.
Many people will approach you. Some have genuine intention to help, while some have a hidden agenda as there is money in this kind of setup.
Scenario: Student A gets in as a D1 athlete, but he's in the practice squad, so he really doesn't get to play that much. He's upset because while he's getting a full scholarship, but he's not able to do what he came for, which is to play.
D3: The good
Even though there are no athletic scholarships at this level, there are potential academic scholarships.
There are merit scholarships or need-based financial aid available to student-athletes.
Student athletes can get the perfect balance between the academic and athletic side of college.
D3: The bad
There are no athletic scholarships.
The bottom line is, regardless of the type of athlete your student becomes, both D1 and D3 offer amazing opportunities that should not be wasted. In the end, it's all just a matter of skills and priority. When in doubt, ask these questions:
Do you want to be in a D1 school but end up sitting on the bench? Or do you want to be in a D3 school and become a rockstar member of your team?
Now, you may ask, how do I know my student is good enough to be a D1 athlete?
Answer: Although it's hard to measure, you can assess the student's skills by:
Talking to their coach
Checking and comparing your student's experience and expertise with existing college rosters.
What are the rules that athletes need to pay attention to while in the midst of the recruitment process?
The National Collegiate Athletic Association (NCAA) has a set of rules and regulations for coaches and athletes. While the rules are too many to dissect, here are the few Lisa asks students to watch out for:
In most sports in the NCAA, coaches can only start contacting recruits either on June 15th after their sophomore year of high school, or September 1st of their junior year.
These rules vary by sport.
There are different rules on the types of communication that can happen between athletes and coaches. They also have rules about visiting schools. There are two types of school visits: official and unofficial.
Official visits are initiated by schools, so the school pays for everything. Normally, these visits are for top recruits. In this visit, the student gets to experience student life, with activities such as:
Watching practices
Attending a class
Going for meals.
Unofficial visits are normally initiated by parents, so the student shoulders the expenses. The coaches may or may not meet with the student.
Note: When you're invited as a student-athlete to visit a college, make sure to verify if the visit is official or unofficial. Doing so avoids money-related conflicts.
There are grades and test scores that student-athletes need to have in order to be eligible to play at the next level.
The rule of thumb in accepting pay or incentives is to ask the authority to avoid money-related issues.
Tip: Download and read the NCAA Guide for the College Bound Student Athlete to know everything about the recruitment process.
How can NCSA help me with the recruitment process?
NCSA is the 'LinkedIn for College Athletics.' NCSA functions similarly to LinkedIn, serving as a network for student athletes that are looking for colleges and for coaches that are searching for the most promising recruits.
Essentially, NCSA works with students aspiring to play sports in college while also relishing the college experience. NCSA ensures that the student finds a school that not only plays the sport the student loves but also offers an environment where the student will grow.
Brad Recommends
Today, let's talk about scholarships for students interested in athletics. You may access my free resource, The Scholarship Guide for Busy Parents, to learn everything you need to know about college scholarships.
When being recruited, colleges may offer student-athletes the following:
Athletic scholarships (for D1 athletes)
Need-based aid
Merit scholarships
There are many rules surrounding a student's eligibility to receive these scholarships, so be sure to familiarize yourself with those.
Also, note that these scholarships are stackable, meaning a student can get all three types of scholarships at once.
Talking to coaches also helps you identify your options, as they normally coordinate with financial aid offices to provide deals and offers to recruitable student-athletes.
---
Links and Resources
Helpful Articles and Resources
Lisa Strasman's Contact Info:
Website: NCSA
---
---
THANKS FOR JOINING US!
We'd like to extend an invitation to our listeners to share their feedback and questions. Contact us to submit a question.
If you find our podcasts helpful, please share us on social media and tell your friends!
The bottom line is that we care what you think and want to help you out, so we'd appreciate you reviewing us on iTunes or on Stitcher. And even better, receive automatic updates by subscribing to the show on iTunes or Stitcher.
Brad Baldridge
Welcome to Taming the High Cost of College. This episode is all about college athletics and athletic scholarships.
Presenter
You have kids, they grow up, and before you know it, it's time to plan for college. Where do you start? How much is it going to cost? Will you qualify for financial aid? Should you be looking into scholarships? When will you be able to retire? What about student loans? The list of questions is never ending. The good news is all the answers are right here. Welcome to the Taming the High Cost of College Podcast here is your host certified financial planner, Brad Baldridge.
Brad Baldridge
Welcome to Taming the High Cost of College. I'm your host Brad Baldridge. Today, we have a great interview with Lisa Strasman. She's the president of NCSA, which is an athletic recruiting firm that helps families get their students recruited into various college programs. They a lot of great information on their website. And Lisa is always just a wealth of information. As I'm working with families, I often have this talk around college athletics, where maybe they're thinking about it and they're just trying to figure out well, what's the next step? I mean, if we're going to be serious, what should we do? How do we decide if we should be serious around college and playing in college? There's a lot of challenges that families are going through as they start thinking about athletics. So we get a lot of great information on how to think about athletics and how it works and what it all means. So let's go ahead and jump into the interview. Today we are talking about athletic recruiting with Lisa Strasman. She's the president of NCSA. Welcome, Lisa.
Lisa Strasman
Hi, Brad. Good to be here. Thanks for having me.
Brad Baldridge
All right. So I guess before we jump in anything, NCSA, can you tell us a little about that company, and what you guys do and how you do it?
Lisa Strasman
Sure, I would love to. So NCSA stands for Next College Student Athlete, we help high school student athletes who want to play sports in college, we work with the families and ultimately help the student athletes find the right college fit where they can receive amazing college experience and play the sport that they love.
Brad Baldridge
All right. Oh, great. So you're working with essentially high school students, then?
Lisa Strasman
Yes, we work with high school student athletes and help them with their recruiting journey, really, on their entire path to college.
Brad Baldridge
Right. So I run into a lot of parents that are trying to figure out how to pay for college. And of course, we've all heard the rumor that if you're a good athlete, and the college recruits you, then they're going to give you a scholarship and money will be good. How much truth to that is there?
Lisa Strasman
I would say that is a true statement for a very, very miniscule part of the population. Recruiting, it's a massively over simplified way of talking about the recruiting process. In reality, less than 2% of of athletes receive a full ride scholarship. And the recruiting processes is not nearly as simple as just being a great high school student athlete and getting discovered and winding up at your dream school. There's a lot more that goes into the process.
Brad Baldridge
Right? I think there's some strong high school athletes that get a lot of limelight, and they're in the news, and that type of thing. But that's not the norm that is by far the exception. So if I'm kind of new to this, and again, I think there's families out there where mom and dad were athletes, and the students are athletes, and they have a pretty good understanding of what's going on. But let's talk a little bit about where to start. If perhaps there's people out there that aren't all that familiar with how college athletics work, and maybe they happen to have an athlete. Any athlete in my family would not be my fault, that's for sure. Let's put it that way. But if you did have athlete that thought they might play, where do you start as far as figuring this out?
Lisa Strasman
It's a great question. And I'm glad you asked for it. Because the first place that family should start is really to sit down as a family and take a step back and take stock of your child's interest level and really make sure, do a gut check that he or she actually wants, really wants, to play their sport at the collegiate level. This is one of the first questions that we ask at NCSA when we begin talking to a family, because I think sometimes families forget the actual desire of their son or daughter to compete at the college level is not always a given. And sometimes families, kids included, can get so caught up in their busy sports lives in high school and playing for clubs and going to tournaments. They don't always step back and consider if this is really something they want to commit to for the next four years after high school. And if it's not, the rest should really be a non starter. So that conversation and really that gut check, I think, is the first order of business. From there, if the student athlete really does have that strong desire and passion, well, then it's helpful to begin to form a plan for how you as a family will approach the recruiting process. And you're gonna want to talk to your coaches, high school or club coaches, and let them know about your desire or your son or daughter's desire. Ideally, this is a conversation that the student athlete is having directly with their coaches, letting the coaches know about their desire to keep in college. I also recommend and certainly biased, but it's always helpful to have other trusted guides in the process. And this is the stage where NCSA typically enters the picture for many families. And then lastly, it's the beginning of the process is really time for families to start to learn about the recruiting process, learn about the different types of schools and division levels that are out there. So start to formulate an idea of where your student athlete may fit in. And this is also a great place for families to start educating themselves on the recruiting process, we have a wealth of information about the process, different schools, different division levels, all on our website.
Brad Baldridge
Yes, absolutely. I think that's one of the things we'll spend a little bit of time talking about. Because you do have a lot of great information for people that are just starting out. And actually even if you're in the process, a little bit of understanding all the NCAA rules and all the processes and all that kind of stuff. So when do we start this process? When you say we're going to have that discussion with our student? Are we having that discussion, when they're a senior when they're a sophomore, when they're in sixth grade? When does this process kind of get rolling for most families?
Lisa Strasman
I think for most families, the conversation does start to come up really as they're entering high school. For some kids, in rare cases, even earlier, but really, the beginning of high school is a good time to start that conversation and start thinking about, really, life after high school and the recruiting process and playing in college. So the beginning of high school, especially if you think you might have a Division I prospect, that recruiting process does start earlier. So it's even more important to really jump on it at the beginning of freshman year. College coaches are increasingly recruiting prospects earlier. But again, the beginning of high school is a good time to start thinking about it, but that doesn't mean that everything's going to start happening that quickly outside of those top Division I prospects, usually the process more ramps up throughout high school, and is not as concentrated the first year or two. But really, I suggest, once your son or daughter decides that they really want to play or they think that they're really going to want to play their sport in college, you should get started with the process and starting to educate yourself on both the recruiting process and the different types of schools that are out there in division levels. But don't worry if it's too late. Or if you think that it might be too late, we've helped a lot of kids who don't actually start the process until senior year. So if you're in that boat, and maybe you sent it out or has an epiphany that they want to play, and it's later in the game, that's fine. You might not have or you won't have every opportunity that would have been available if you started a few years prior, but there's always schools that are still looking for student athletes up until quite late in the game. So I would say freshman year is great, but it's not a hard, fast rule really, once your son or daughter realizes that they're interested in playing at the next level. That's the time to get started.
Brad Baldridge
Right. So what about ability, I mean, something that flashed through my brain as I was listening to you as, as an example, I was thinking maybe once you're on the varsity team, for sure, it might be a good time to start thinking about it in your high school. Because, again, if you've got a freshman that's a varsity already, that would be an indication that they're perhaps above average in athletic talent and might be a stronger athlete. Whereas if you don't make varsity till your senior year, that might be an indication you're not as strong as an athlete, and maybe it's not as likely you're gonna actually be successful. Any thoughts on ability?
Lisa Strasman
Yeah, so the varsity level, it's a good proxy. But I would caution families that there's a lot of gray area, one being in most sports today, kids are playing clubs sports, and that club activity is even more important than what's happening in their high school from a recruiting standpoint. So if you're really playing at a highly competitive club level, and getting playing time and making an impact, that's probably even more important to consider. There's also some parts of the country where it's really hard to make varsity and junior varsity player at some schools might be way better than a varsity player and another school, or maybe you're playing behind a really strong, a goalkeeper or quarterback or something along those lines. So just because you're not on varsity does not mean that you're not college eligible. So I think it's a good guideline. But it's not the only thing to pay attention to, if that makes sense.
Brad Baldridge
Right, absolutely. I always talk about people that are trying to get into a competitive school. And sometimes it's... You just get bumped by someone. Let's say you're trying to get into Harvard and your skills are ice skating, and you happen to compete at the state level and ice skating, again, maybe attract a high level school, unless one of the Olympians happens to apply to that same school the same year, and then all of a sudden, well, maybe you don't look so good. So yeah, there is that issue around, if you're in the shadow of somebody great. That's, I guess, relatively unfortunate, but I'm sure you can work around that. Let's talk about the different types of athletes then. I kind of think of it a couple different levels. First, we have what I call the rockstar athlete, every greater metropolitan area has that athlete or two that in eighth grade, colleges are starting to chase them, or they get multiple offers in multiple places, and whatever it might be. And I know a basketball player, from my high school was a big deal, got recruited and actually went pro two years in, so there are those types of athletes. But if we move on from there, and again, if you have that type of athlete, there's lots of people wanting to help and lots of people, you know that's a different challenge there could because I think there's more people around trying to help and get their hands in your pocket. But if we move down from there and say that just a strong D1 athlete where maybe you're going to get recruited to D1, you're not even sure you're going to start, I mean, probably won't start, maybe you'll be on the practice squad, or maybe they're just gonna develop you as a freshman so that you can start as a sophomore or junior, what do those types of athletes need to do differently? Or than, say, a D3 athlete or someone that's again, not like they win scholarships, but can just go to a small school somewhere and golf or swim or do whatever it is they're going to do? And it's just they're doing it because they love it, not necessarily, because it's a key to a scholarship. Can you speak to the different levels and what they might do differently? Or how it might be different for them?
Lisa Strasman
Yeah, there are a few differences. And I will say on your last point, even with that rockstar athlete, if they don't love it, they should find a different path. I've seen, it's a miserable experience, even if you're getting a scholarship if you're not wanting to dedicate your time that way. So to me, it still always comes back to really that desire and that commitment to play at the next level, regardless of what types of schools you're going to be able to play at, or how recruited you are. But assuming that that desire is there, there are some major differences. So when you really thinking about that rockstar athlete is, first of all, you're in small company. Again, the numbers are extremely rare to be at that level. In fact, only 7% of high school athletes period go on to play in college. So being that rockstar athlete, we're talking very, very low numbers. But if you're in that category, really the process starts earlier. So when you hear, read on CNE, ESPN or reading the news about the early commitments, kids signing is eighth graders, know that those blue chip athletes that college coaches have identified extremely early, and that process does start right away. So if you truly have an athlete at that level, you are really going to want to be jumping on things and starting to research schools and visit campuses. I know it seems crazy, but is early is even the summer before high school, because there is a real chance that that he or she will be pressured to make the commitment extremely early. Those kids really the rockstar athlete and the really strong Division I athletes also be doing that work early so that they can really think about the right fit overall, athletically, academically, and socially. Even if we assume that the financial part will be taken care of because these kids are so highly recruited that they will be amongst the few that get substantial scholarships, it's still really important that they wind up at the right school for them. And oftentimes, kids who are that sought after and are receiving multiple offers really early have an even harder time figuring out what that right fit is because they're so young and they're enamored by the attention they're getting and often tend to jump at the first offer. Regardless of whether or not that's really the right fit for them. So puts even more pressure on starting to understand really what you might be looking for to college even earlier, which I know can be hard. The other reality for those upper level athletes is really, the more highly recruited you are, the more likely it is that the student athlete will receive help with admissions. So depending on now, this all depends on the school, the sport, the coach, the admissions department, there's lots of variables here. But the reality is, is that if a school really wants you, they do have a few slots where they can have some wiggle room with admissions. And now this doesn't mean that all the requirements are waived, and they can get in whoever they want. But it does mean that maybe that 32 ACT average across the student body, maybe they can get in a student athlete with a lower score than that. And again, exactly what that wiggle room looks like is different across the board, on a school by school and sport by sport basis. But if you're being very highly recruited, and coaches are telling you that they might be able to get you into a school that you didn't think you could get into, just looking at the general admissions guidelines, that is real, and that does happen for high recruits. And then across all of these levels of athletes, at each level, whether you're that rock star athlete all the way down to a more average Division III athlete, there are NCAA rules. And those rules vary materially based on the division level and the sport. So it's really important that you're paying attention and taking a look at what those rules are to ensure that you self up for success in any of the division levels you think may become reality for you. And then lastly, I always recommend that families just don't know. Of course, we talked to the parents of the average athlete and a lot more parents think they have rock stars than really are rock stars when you look at that blue chip category, but it's hard to know, it really is. And so again, I stress talking to your coach or coaches about where you may fit in, taking a look at it, how much playing time you are receiving in high school. Another tip that we recommend for student athletes is to look at college rosters. And you can go on almost any college roster. And you can see, really, the profile of their athletes. So how big they are, where they played prior to college, statistics, height, weight, there's a lot of information that you can find, and try to assess how you measure up. So between doing that and talking to your coaches, and maybe finding someone you know is unbiased, to give you objective feedback can really start to triangulate on which level of athlete you think you might have, or you think you might be.
Brad Baldridge
Right. So is there a difference between team sports and individual, so I'm thinking of like golf, you can, on this course, I can hit par, or I can be three under par or five over par or swimming, you know, 'I swim my 50 meters and this amount of time.' It's very, you can compare that then to what the college competitors are swimming that same race, you know, so you can get some pretty concrete feedback as compared to football or basketball where there's no one indicator that you might be able to use yet. Again, you could be elevated because you have a strong team or you could be held back because you have a weak team. So is there any differences there that you're aware of? Or how does that apply?
Lisa Strasman
Yeah, so the points I was just mentioning about looking at rosters and talking to coaches, that's especially helpful in the team sports that are more subjective. It is a lot easier, frankly, to figure out where you match up in some of those more time-based individual sports. If you play tennis, there's a very thorough ranking site where you can see where you're ranked. And then you know what level of players coaches typically recruit from a different schools or different division levels, track, cross country, swimming or similar you know, where your times match up. It's a bit more of an art when you get into more of the team-base, more subjective sports like soccer, or football or hockey.
Brad Baldridge
Okay. So assuming that we can get a good feel for what type of athlete that we have. Why would you want to play D3 when again, the statistics or the rules are that D3 doesn't offer any scholarships, per se. So why would you even consider if you're, again, not quite strong enough to do D1 or D2, but you're thinking, 'I'm gonna look at D3 schools.' Why do families do that? Or what's the benefit or you talk to that a little bit?
Lisa Strasman
Yeah, for sure. I mean, again, college sports is about so much more than the scholarship or the financial side of things. And so number one, in less than 2% of high school, student athletes are offered full athletic scholarships. So that is not the norm. And not all college divisions, as you mentioned, offer scholarships, athletic scholarships at all. So, at the Division III level, it's an amazing opportunity for a lot of kids to be able to play their sport, it's the next level. And well, they don't offer athletic scholarships at the Division III level, most kids are receiving some sort of aid. So there are academic scholarships that can be earned through solid grades and strong standardized test scores. There's merit scholarships that can be given for different types of things, there's, of course, need-based financial aid as well. So just because you're going to a Division III school does not mean that you're playing full sticker price, and Division III, it really should come down to what the right overall college fit is. And there are so many Division III programs that are amazing schools. Student athletes can go get a fantastic education, really have a healthy balance between the academic side of their college experience, and the athletic side of their college experience. That's not to say that the athletic side isn't intense and competitive and rigorous it is, but usually not to the degree of a Division I school. Typically Division III schools have more of a focus on finding that balance between academics, athletics, and in even social life and other interests as well. And it can be a great experience to be able to actually play and be part of a college team at that level. And then we get the question a lot from kids that are on the bubble, maybe you could play, maybe you could earn a roster spot in Division I or II level, but you're not going to play your first few years, and you're going to be sitting on the bench and being part of the travel of the practice squad. And some of those players don't even travel with the team. So kids would die to have that opportunity. And they just want to be part of the best team they can, regardless of their playing time. But for a lot of other student athletes, they want to play, they don't want to be sitting on the bench. And so it's an important factor to take into consideration. Do you want to be that role player on the bench to a Division I school? Or do you want to start your freshman year at a Division III school and really be an impact player on the team? Oftentimes, those are the kinds of decisions that student athletes might be faced with and might choose that that Division III slot is a lot more appealing.
Brad Baldridge
Right? Absolutely. Another point that I make with a lot of parents is a typical college is trying to build an incoming class that fills up all their various sports and clubs and majors and everything else. So in a lot of schools, they might skip over some highly qualified students because the engineering is full, and they need more history majors. Or they will also potentially do that, because realistically, they need a full soccer team. And they need an entire football team. And they need an entire lacrosse team and all the different things that all the different sports, you know, they need to have enough athletes to make them go. And many colleges, especially the high end, colleges have enough qualified athletes that, again, they're just trying to build a class that checks all the boxes, they need the leaders and the followers and the politicians and the athletes and the musicians. And so once again, that might be the reason that they're interested in you is you can add, add something to the team, and it gets you into a school that maybe you wouldn't have gotten into otherwise. And then of course, the need-based aid and merit aid and all those other things cover the costs, just like everybody else. So I think that's a an important thing.
Lisa Strasman
Absolutely.
Brad Baldridge
So let's talk a little bit about your website, because I you know, one of the things that I was in prepping for this, I would spend some time looking around your website, and there's a wealth of guides and information and checklists, and all kinds of things that families can take advantage of as far as various things. So one of the things I ran across was the and you've touched on it earlier, but I want to hit it a little harder is the recruiting rules. So what are the recruiting rules and who do they regulate? And why do parents care about them?
Lisa Strasman
Yeah, so there's a lot of rules to the recruiting process and specifically the NCAA's regulations of the process. I probably have have an entire podcast just trying to dissect those. But what I will say any amount of time we have is it's really important to know those rules and to get ahead of it. So the NCAA has limits on when college coaches can communicate with athletes. So for example, in most sports in the NCAA, coaches can start contacting recruits either June 15th after their sophomore year of high school, or September 1 of their junior year. That said, there's some differences based on sport. That's important to know. There's different time periods where college coaches, the there's dead periods and quiet periods and times where you can have different types of contact or no contact at all with coaches. So it's important to understand those rules. There's different rules on the types of communication that can happen between athletes and coaches and visiting schools. And then also on for differen, for each division level, there's different rules on academic eligibility as well. So what grades and test scores student athletes need to have in order to be eligible to play at the next level. So we have all of those rules on our website. The NCAA, of course, has the rules as well. There's a publication that the NCAA puts out each year called the NCAA Guide for the College Bound Student Athlete. I highly recommend that any student athlete that's considering playing the next level, download that, it's a proximately 30 to 50 page guide that you can print out from home, it has a wealth of information, all the rules, all the information about registering for the NCAA Eligibility Center, which is an important step in the process and more. So that's an important, and you can access that straight from our website as well, and download it through the link there. There's also the NAIA, which is a separate division, and they have more relaxed rules on the NCAA, but they still do have rules and they have their own eligibility process for kids who might be playing at that level.
Brad Baldridge
Right. So again, I just kind of compartmentalize it, there's a lot of rules on the coaches around when they can call athletes and when they can make offers and all that kind of stuff. But those rules generally don't apply to the families, correct? And if you call the coach, you can't, quote unquote, break the rules, can you? Wouldn't the coach just say 'I'm sorry, we're not allowed to talk right now. We'll talk in a month or two?' or
Lisa Strasman
No, it's a great point. And it is a common misconception because there's those rules for the coaches around when they can contact athletes, but student athletes can reach out to coaches at any time. And they should, that's definitely something that kids should take advantage of.
Brad Baldridge
But I think what are the rules that athletes need to pay attention to? Again, so communications, not a problem, you can reach out to colleges, generally, but where you could mess yourself up, I think is the eligibility around grades and testing.
Lisa Strasman
Yep.
Brad Baldridge
And then what about, occasionally, you hear someone getting in trouble around receiving pay, or someone gave you a free pair of sneakers? Or is there validity in that situation about staying amateur, I guess is what they refer to?
Lisa Strasman
Yeah, so that is a point that is in limbo right now with the recent legislation that's changed around name, image and likeness and what student athletes are allowed or not allowed to do when it comes to accepting pay. The tricky part is that although this new policy allows college student athletes to be compensated as of July 1 this past summer, and I rules really go back to the state by state level for student athletes, and specifically for high school student athletes. So the rules on what you are aren't allowed to do really vary based on the state where your school is located. So I always recommend, I mean, there's so much that's in flux with these rule changes. So I would suggest that before a student athlete accepts any sort of compensation, that's in any way related to their athletic ability, they should talk to their athletic director at their high school, they can talk to the athletic director at their college, if they have already committed to a college and talk through the situation before they commit into anything I would hate to see anybody inadvertently jeopardize their eligibility for something that could be avoided, again, with the recent change, some of the rules are a little less clear than they probably will ultimately be.
Brad Baldridge
Correct. And so we're also talking about not just pay as in, they're gonna cut you a check or pay you cash. But again, they might give you perks or other things, tickets, you know, merchandise, whatever it might be, again, it can be given, but there's rules, and I think, for parents and athletes, don't accept anything until you really understand the rules so that you don't learn
Lisa Strasman
Exactly.
Brad Baldridge
After the fact that, 'Oh, that I probably shouldn't have done that.'
Lisa Strasman
Exactly. Better safe than sorry.
Brad Baldridge
Right. And then I guess the other area that coaches can provide some value to students is the visit. So there's something called an official visit versus an unofficial visit. Can you explain briefly what an official visit is? I mean, if you're visiting, you're visiting, right? I mean, what's the difference?
Lisa Strasman
So the difference is that official visit is a visit to a college campus where any part of that visit is actually being paid for by the school. So coaches usually save official visit invitations for the top recruit. And each division level has its own set of rules surrounding official college visits, and how many are allowed to be taken and so on. So at the Division I level, the NCAA allows a recruit, to take five official visits to Division I schools, and you can take one per school. And so on those visits, typically, the college coach will invite the student athlete to come visit the school, they'll set up a weekend, the school will pay for travel expenses for the student athlete to fly or get to campus, the cover gas if it's short drive, and then they'll post the student athlete on campus with members of the team, you'll get to really experience life on campus, with the team, get to watch practice, go to meals, maybe attend to class, and you're really part of the team being hosted by the team for that weekend, an unofficial visit is really any visit that a recruit might take to a campus. So an unofficial visit, the school is not paying for it the school, they might meet with you, the coach might meet with you while you're on campus, maybe they'll even go to a meal with you, but they wouldn't be paying for it. Typically an unofficial visit is more prompted by the family. They arranged that unofficial visit. Again, you might meet with the coach when you're on campus, but you're not posted or funded by the athletic program.
Brad Baldridge
Right. So again, you can generally go and check out colleges if you pay for it yourself without much risk. Once you start, say having a coach say. 'Hey, I'll pay for your plane ticket, or put you up in finding a place to sleep and give you tickets to the basketball game or the football game or whatever it is, and we'll entertain you.' Now we're talking about an official visit. And obviously, a quick question of, 'Hey coach, is this an official visit or not?' They'll instantly know what you're talking about. And they'll help you through it if you need help?
Lisa Strasman
Exactly. And get you to always ask. If it's at all gray, and you're not sure which visit it is definitely ask. And it's also a good question as recruiters building relationship with a college coach to ask if they would be providing an official visit because that can also be a good, very good indicator how seriously that coach is recruiting you. If they're not willing to provide an official visit, often, typically, that means you're not one of their top few recruits. That said, there are some schools that just don't have the budget for official visits. So peel back the onion, but it is generally a pretty good litmus test.
Brad Baldridge
Right? Exactly. And I think there's obviously at the big D1 schools, football and basketball that are top money-generating sports, they've got much bigger budgets than the swim coach at a D2 or D3 school would have and any amount of money that they spend may impact the equipment that they can buy or anything else. So they have to balance it out. So another analogy that I like to talk about with families, and I'd like to get your take on it is finding a place to play your sport at a college is like looking for a job. You can say all day long that you're going to work for Google. But if Google says you're not going to work here, there's not much you can do about it. So I think in a lot of cases, people when looking for work, don't say 'This is the only company I'm willing to work for,' because if they said that company says no, then what, right? So you send your resume to a lot of opportunities. And you see what's out there and your network and you do different things in order to learn about opportunities, and some of them are clearly advertised. And sometimes it's somebody that you know know somebody that works there that knows a position that happens to be open, and you hear about it, apply for it and get the job before it even hits the advertisements. Is there similar analogies in the athletic? I mean, is that a fair analogy? Am I not leading people too far astray, I assume?
Lisa Strasman
Yeah, it's a great analogy. In your student athletes, one of the first things that they do in the recruiting process is they start their recruiting profile pre-hosted NCSA. And we typically refer to our network as LinkedIn for College Athletics. Because if you're looking for a job, you're probably going to have a resume on LinkedIn, you know that employers can find you and the NCSA network is pretty similar, where student athletes have their athletic resumes, their profiles, and then college coaches are searching and there's so many variables just like a job search where no, maybe you would be a good fit for Google, but they're hiring for, they're not hiring your position. And recruiting is the same thing. So it's really important that kids keep their options open. One of the things that we also do within the site is help kids learn what schools have commonality. So maybe somebody is really been intent on going to go into a specific school. But that coach isn't recruiting their position in their grad year, or maybe they're just not quite good enough to play it at Division I and their dream schools a Division I school, we can help point them in the direction of other schools that are similar, but may have opened positions or maybe a Division III school where they'd have a higher chance of making the team. So keeping your options open is incredibly important. And so much changes during the process as well, as student athletes mature and progress for the things that you thought you might want to school can really change. And it's really common that student athletes come back and tell us that they wound up finding the perfect school and they had never even heard of it until the coach contacted them. They learned about it on the NCSA site, but it's the perfect school for them. So I know it can be hard, but it's really important not to go in with a closed mind on a narrow list of schools, because there's so many opportunities out there and the right fit for you might be a school that you didn't even know existed.
Brad Baldridge
Right? Exactly. There's most students only know of the schools that make it in NCAA tournaments in some way
Lisa Strasman
Exactly.
Brad Baldridge
Or that type of thing and a relatively, quote unquote famous because of it. But there's a lot of other schools that are happy to have students. And I think the same athletic and otherwise bad would apply, even if you choose to not pursue athletics, that there's a lot of choices, and not everybody is going to go to that name brand school, lots of people are going to go elsewhere. And they're going to get a great education they're going to get to and again, if it's athletics, they're going to get to play, it'll lead them to the same place, as you know, again, that one name brand school that everybody is talking about, so to speak.
Lisa Strasman
Exactly, we always tell kids, we caught the name game, and too many families get hung up on the name game. So try to show families that there's a lot beyond the small group of schools that you hear about on ESPN and the right school for you very well, maybe one that you're not familiar with.
Brad Baldridge
Right. And I actually had a son that was involved in the athletic side of things. One of the, that's one of the points he makes with some of the athletes he works with is he asked that question is like, 'How committed to the sport are you?' And then 'Are you committed enough to go to some little college in Ithaca, New York, or Boulder, Colorado, or whatever it might be far from home, you've never heard of it, etc, etc.' But if they're going to get you on the team, and they're going to help you play, and they, lo and behold, maybe that he is a great coach, maybe they do have a great record. Would you go just because even though you don't know, at least you didn't know, initially, I think a lot of people do have that closed mind where it's like, well, not interested in, not sending, I'm not even talk to that person, because I've never heard of it.
Lisa Strasman
Yep.
Brad Baldridge
All right. Well, that was been a lot of great information. If people want to learn more about your company and what you offer, can you tell us a little bit about maybe the next step, obviously, you can go to your website, but is there people they can call? Or do they submit a form or all the above? Or what would be the next step with you guys?
Lisa Strasman
Yeah, exactly. I would invite anybody who is interested in learning more, or talking to a member of our team to visit our website, which is ncsa.sports.org, N-C-S-A sports dot org. There's a phone number, if you want to call somebody right away, there is a link that you can click and fill out a little information, get your profile started, and someone can contact you. And really, what we always do the first steps with a family is really talking to, talking to the family together about really what they're looking for out of their college experience, what their goals are. And we'd be more than happy to help point you in the right direction and offer some advice and also can talk about various ways that NCSA might be able to assist in the process. And then there's also a lot of educational resources on that site as well regarding the NCAA rules, the different division levels, and most of what we talked about today.
Brad Baldridge
Absolutely. Well, I appreciate it, Lisa. It was good talking to you. It's been many years. So we'll talk again, hopefully sooner next time.
Lisa Strasman
Absolutely. Well, I appreciate you reaching out, Brad, and hope families found this helpful.
Brad Baldridge
I'm sure they did.
Lisa Strasman
Thank you so much.
Brad Baldridge
All right. Well, that was a great interview with Lisa. Stick around because in Brad Recommends we're going to talk more about the Scholarship Guide for Busy Parents. And of course, shownotes are available at tamingthehighcostofcollege.com/137, where we have links to all the web pages that I've used at NCSA and other information that will help you in the college athletic recruiting process. So again, all the links and everything we talked about is available on our website at Episode 137. So let's go ahead and roll into Brad Recommends.
Presenter
The latest tips, tricks and tools you can use today. This is Brad Recommends on Taming the High Cost of College.
Brad Baldridge
Today I'm recommending the Scholarship Guide for Busy Parents. Now the Scholarship Guide is a resource on my website. So you can go to tamingthehighcostofcollege.com/scholarship. And that will get you to this scholarship guide. The reason I'm recommending it is because a lot of families that are interested in athletics also need to understand all the other types of scholarships out there. And here's why. A lot of athletes will stack scholarships, they may get some sort of athletic scholarship, but often it doesn't cover everything. So in addition to what they might receive due to athletics, they may get an additional scholarship due to academics and merit, or they may get additional need-based aid. Both of which can then be added on top of the scholarships they get because of athletics. We also see families where you're going to a Division III school and Division III schools do that offer scholarships for anyone as far as athletics are concerned. A lot of times when they're trying to recruit an athlete, they'll work really hard to provide all the other scholarships that may be available. So understanding that you're not getting an athletic scholarship, but because you're an athlete, you may qualify for need-based aid or merit aid and merit scholarships in order to help defray the costs. And again, a lot of the coaches are often in the financial aid office, talking about athletes that they're trying to recruit and encouraging the financial aid office to do the best that they can. Now of course, there's many rules around what athletes can receive at a Division I, II and III school. And colleges tried to obey those rules, of course, but again, colleges pursued different students for different reasons. If they're pursuing your student, because they're an athlete, they may be able to offer athletic scholarships, but they also may be able to offer other forms of scholarships. And if you stack it all together, the scholarships from all the different sources can make many schools very competitive. Alright, that's all we have for today. We appreciate you listening. If you have friends or family that could benefit from listening to this podcast, don't be shy, please share it with them. And of course teach them how to podcast if they haven't learned how to download podcasts yet, but please spread the word. And we'll see you next week.
Presenter
Thank you for listening to the Taming the High Cost of College Podcast. Now it's time for you to take action head to tamingthehighcostofcollege.com for show notes, bonus content and to leave feedback for Brad. The next step on your college journey starts now.
Brad Baldridge is a registered representative of Cambridge Investment Research and an investment advisor representative of Cambridge Investment Research Advisors, a registered investment advisor. Securities are offered through Cambridge Investment Research Incorporated, a broker dealer and member of FINRA and SIPC. Brad owns two companies: Baldridge Wealth Management and Baldridge College Solutions. The Baldridge companies are not affiliated with Cambridge Investment Research.
Transcribed by https://otter.ai
Sign up to receive email updates
Enter your name and email address below and I'll send you periodic updates about the podcast.