---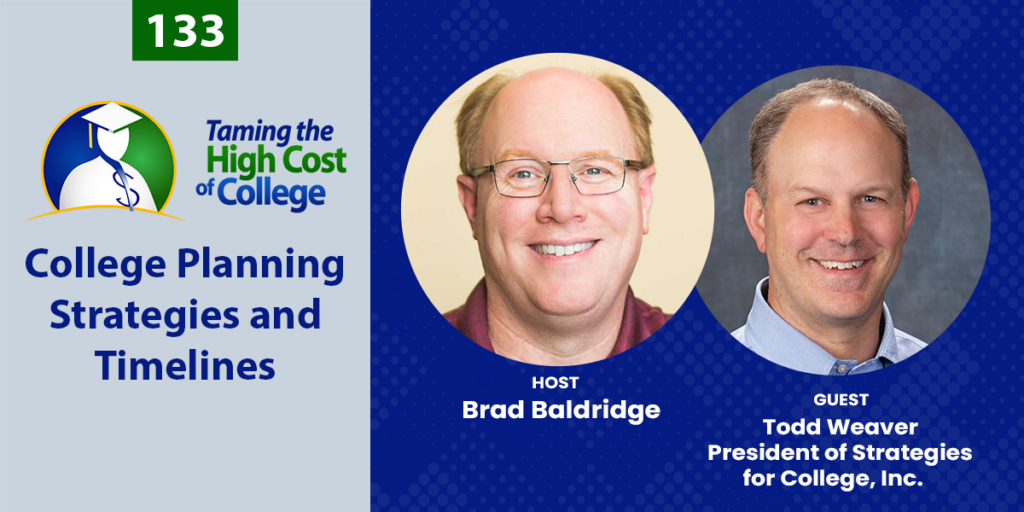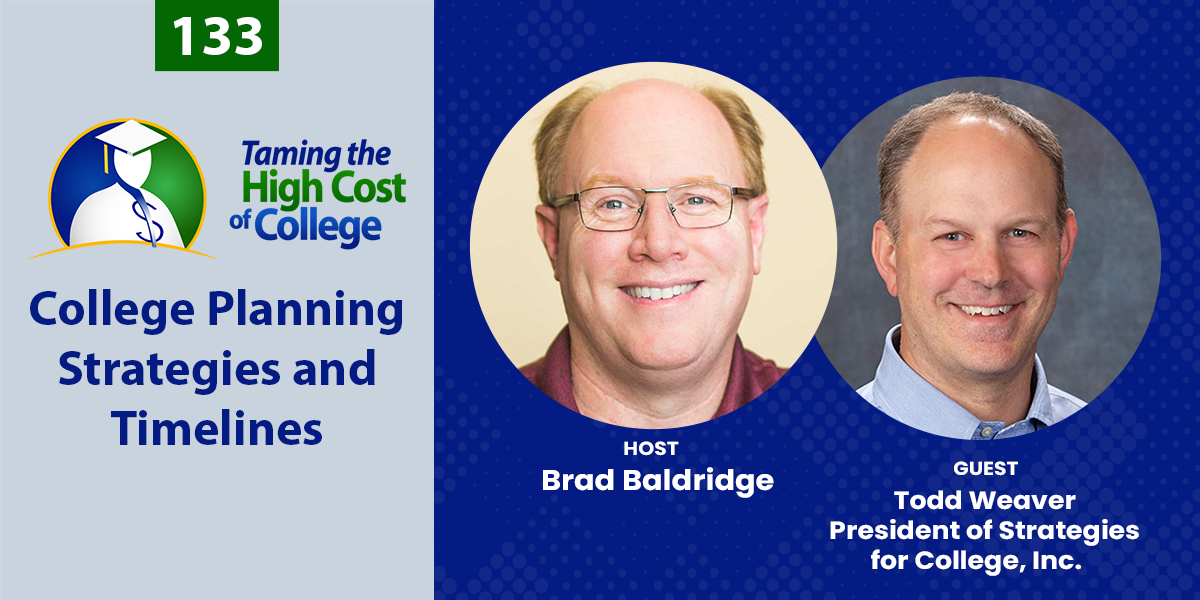 Today's Guests:
Todd Weaver, President of Strategies for College, Inc.
College planning is a complex and overwhelming process for many students and families. Through Strategies for College, Inc., Todd Weaver helps them provide structure and guidance by creating a "game plan" to run. His company does this by helping families discover where they are unknowingly and unnecessarily leaking money. For 30 years, Strategies for College has been helping families with college affordability, visibility, and finding the right social fit for their student.
Questions Answered Today:
When is the best time to start college planning?
One of the most important things for families to keep in mind is that the college planning timeline is different for parents and students.
Parents typically take care of the financial matters, so parents should start planning before the onset of their student's sophomore year in high school. This is because the tax year the colleges will consider when the student applies for college will be during the student's junior year. For example, if you're applying for college and filling out the 2023-24 Free Application for Federal Student Aid (FAFSA), your parents' 2021 tax return will be used to determine financial aid eligibility. So if you're going to make any financial adjustments to help increase your family's chance of qualifying for financial aid, you need to start planning early, in what Brad calls the "prior-prior year."
For students, the best time to start planning for college is after taking the PSAT or PreSAT practice test in the fall of your junior year. This timeframe should give them six to eight months to:
Think of the reason they're going to college
Visit some campuses
Start gathering some admissions requirements (e.g. college essays).
This is critical because, when they become seniors, the application season officially starts for students. They write college essays, apply for financial aid, make more college visits, and deal with many other requirements. If they have already done some work in their junior year, the senior year won't be as busy and stressful.
Also, it's important for students to know what college really means. A longer planning time period gives them time to develop that understanding and the readiness they need as they start with college applications.
Tip: If you can't visit colleges in person, video campus tours are a resource worth checking.
"We pay for college with time, with money, and with stress. If we don't start early enough, then the stress goes up. Often, the costs go up because we didn't put the time in." – Brad Baldridge
How do I work on my finances if I've been affected by the pandemic?
Earlier, we talked about how colleges consider tax returns from two years prior to the time when the student is submitting the FAFSA. That means that if you have a student applying for college next year, in 2022, colleges will scrutinize your 2020 taxes.
This is an issue for families who were hit hard by the pandemic or any new circumstances, such as the following:
Job loss
Business closure
Divorce
Anything similar that affects your income and assets.
Obviously, their 2020 financial situation would be different than now.
Now, if you've experienced any of those listed above, this is for you. Below are the things you can do:
Look for financial aid officers for assistance. Luckily, colleges have them at your disposal. So the next time you accompany your student to a college visit, bring your tax returns and ask about the potential need-based and merit-based aid for your student. Brad notes that colleges can be flexible with financial adjustments. Just ask and prepare proper documentation.
Do not assume that you're ineligible to get financial aid. Todd says this is a typical scenario for families. They base their eligibility on their prior experience or someone else's experience, which is a mistake. Remember that colleges treat each family differently.
Scenario: Two families apply for financial aid. Both have the same house value, live on the same street, use the same car, and have the same salary grade. Family A qualifies, while Family B doesn't. Why? Because Family A has a lot of consumer debt, but Family B doesn't.
The bottom line is, don't listen to anyone (i.e. friends, family, non-experts) assuming your family doesn't qualify. You don't know (and they don't know) unless you actually try and apply.
Involve other experts with your financial planning. You can work with a college financial aid officer, but there are other experts you can turn to for help. These include:
Your CPA or financial advisor
A college financial advisor (such as Brad or Todd).
With your student, schedule a meeting with one of these experts to see what your actual numbers look like. This is important because you don't want to waste time pursuing colleges that turn out to be unaffordable and out of budget.
Do your own research. The following questions should help you figure out where to look:
What's the cost of the local college? What's the cost of private schools? How much financial aid and scholarships can they provide? Start by visiting Brad's Cost of Colleges page and choosing your state. You'll see real data on what families paid on average at the schools in your state, based on their family income.

Looking at these costs allows you to compare schools and find out which ones offer the most value with the least cost.

What do colleges' websites say about their costs? Are their prices updated?

All colleges have an EFC or SAI calculator, which provides an estimate of what colleges think you can afford to pay toward college. Check that out but also verify the numbers with the colleges themselves.
What happens if I'm just starting to plan and my kid's a senior? Is it too late?
Todd says, "It's not the end of the world, but you're getting pretty close to the edge." There needs to be some damage control. For Brad, this includes:
Getting to a college that accepts late application and transferring the following year. Take a look at the following scenario:
Scenario: Out of the 7 colleges the student applied to, 5 said no. The other 1 put the student's name on the waitlist, while the other 1 is really expensive. When the parents sought help, they were advised to just get into any college that accepts late application and transfer the following year.
On the other hand, here are Todd's recommendations:
Get your student to think of prospective colleges. Visit some colleges. You can ask questions such as:
Do you want to go to a big city college?
Do you want to be in a big school?
Do you have any major in mind?
Obviously, you also have to think of finances. Look at these tips that may or may not help you but are still worth trying to improve your financial aid eligibility:
Use cash to pay off credit card debts.
Report bonuses (and similar income) at a later date (e.g. putting off receiving your bonus until January of next year instead of December of this year).
Zeroing out the student's bank account and putting the money in mom and dad's instead.
Now, before making these adjustments, be sure to check first if you qualify for financial aid in the first place. Again, you can do this by inquiring with colleges.
How has the pandemic changed the college testing system?
The pandemic has made testing difficult for students. Hence, many colleges decided to waive testing for the incoming batch. Many colleges removed testing for the academic years of 2021 and 2022, but they don't really have concrete plans for 2023 yet. Here are the current situations for some colleges:
California's UC System doesn't require test scores at all.

California appears to be working to build their own testing system

Florida requires testing for their scholarship programs.
Georgia currently requires students to test.
If it varies by state, what's the absolute rule in testing for 2023?
Reach out to colleges. That's the only way you'll know how testing affects your admission. Ask the following questions:

What is your test policy for admission?
What is your test policy for scholarships, state aid, etc.?

Assume you will test. This helps students develop their test-taking skills and avoid being complacent because "they can opt not to test."
Remember that colleges' policies change. As a rule of thumb, do the following:

Ask now.
Ask when you visit.
Ask when you apply.
What other helpful resources will help me with college planning?
Listen to college planning-related podcasts. Many parents don't know that help is available. You need not to look far, Taming the High Cost of College has you covered!

Check out Todd's website, Strategies for College. They have a free learning center that will help parents and students get started with planning.

Check out Beth Walker's Never Pay Retail for College. It contains some great tips for parents that should help ace the game we all struggle with—college planning.
---
Links and Resources
Helpful Articles and Resources
Strategy for College's Contact Info
---
---
THANKS FOR JOINING US!
We'd like to extend an invitation to our listeners to share their feedback and questions. Contact us to submit a question.
If you find our podcasts helpful, please share us on social media and tell your friends!
The bottom line is that we care what you think and want to help you out, so we'd appreciate you reviewing us on iTunes or on Stitcher. And even better, receive automatic updates by subscribing to the show on iTunes or Stitcher.