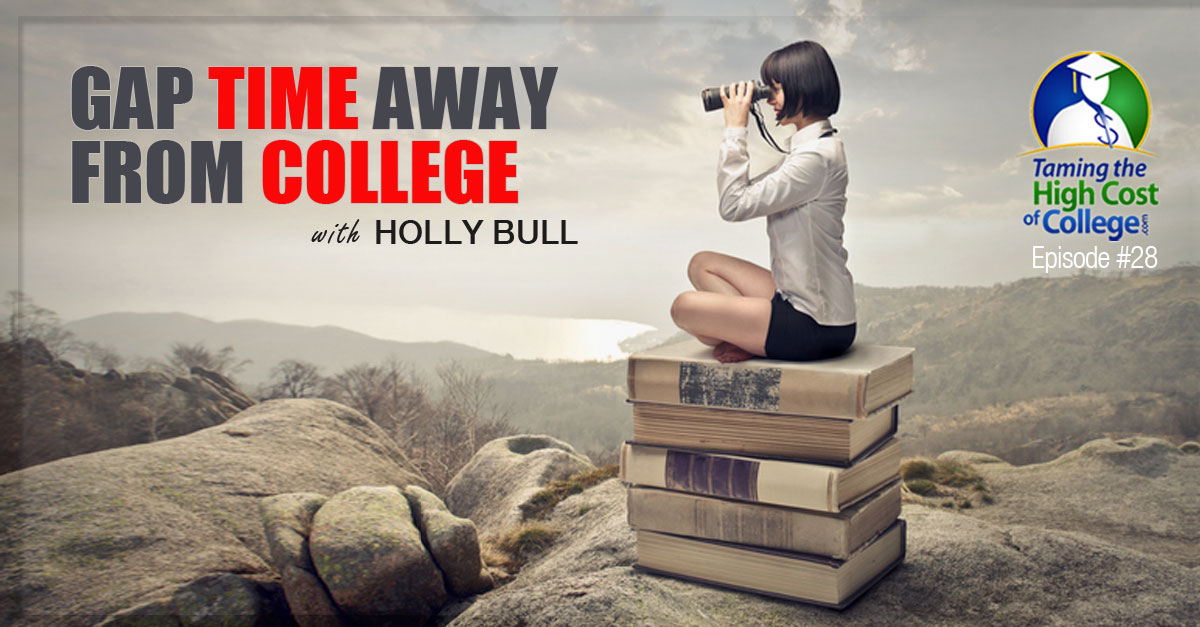 It may be a bit fearsome to consider, but taking a year off after high school or during your college career can be a huge benefit for students.
Holly Bull was a student who did just that and she now counsels students on how they too can do the same, effectively, as President of the Center for Interim Programs. More than just "taking a break," Holly tells us how this year (or even just a semester) spent away from the formal college environment can help students be more prepared to enter college or a career.
And our question of the day is closely related to this topic, as we will be answering the challenge of what to do if you're undecided and college application deadlines begin to loom.
A groundbreaking idea
Holly's father had been a teacher and headmaster in the 1960s when he began collecting the ideas that led to the Center for Interim Programs in 1980, the first organization of its kind to counsel students on their options in taking a gap year, or gap time.
Basically, gap time is any time taken away from college, but Holly is quick to stress it's not time off, but very much time on. It's learning in a different way to get clarity on what you want to achieve in college, and prepare for the world beyond college. Most often students take this time before they start college or after their second semester.
What do students do in their gap time?
While programs can vary widely, here are some basic categories of programs that students can get involved with:
Group programs that include other peers; service projects and cultural immersion experiences are a couple of examples. These can involve tuition and fees, but often scholarships are available
Intensives – these are skill-based programs, and are more individual centered; certifications or internships in fields that may interest a student can provide a real hands on learning experience
Volunteer options may also place students in work situations that can lead to careers
Whatever a student decides to do, Holly stresses it should be structured and come with a plan to be effective.
Who is a good candidate for gap time?
Holly admits she's a bit biased, but says any student can and should consider taking gap time, as often these experiences are much harder to take (especially those involving travel to other countries) as you get older. However, she lays out various scenarios that may lead a student to take gap time:
If you are facing college, and have no clue or motivation for a major, gap time can give you the experience that leads you find out "what lights you up"
Students who, after 12 years of education, are simply tired of the academic process and aren't sure of what they want
Students in college who may not be sure of what job they want after they graduate.
Students who are looking to build a resume while they are in college.
Overall, Holly says that students find themselves better prepared for college or a career when they take gap time, and the transitions are far easier. Some parents who are nervous about their student's grades may push them into taking gap time, but Holly cautions that it should never be forced.
Ultimately, it's all about giving the student the opportunity to choose, and owning that choice.
Personally, I took gap time (although I didn't call it that) in my first semester as a senior, and I went to London. It was the best thing I did because of the cultural experience I gained from it.
What is the gap time experience like?
In general – work in the summer before your program begins
Focus on your budget – how much will you need to save, what expenses will you incur when you're in the program?
Expect to learn life skills – generally work placement programs have you working in a given field to help you gain skills, but the 'off time' from that work also offers time to get to know a culture, how to manage your time and personal needs – students do a lot of growing up in the process
Students step into responsibilities, and drinking is one of them. While most European countries allow students 18 and older to drink, and some may end up doing so to excess on occasion, Holly explains that it's not unlike the freshman experience in college. Students who start college after such gap time however are less likely to get swept away in that culture and are more equipped to learn.
What's the process to get started?
Start discussing this option early, perhaps as early as sophomore year;
Put your energy toward completing and submitting college applications first; it's still advised to go through this process even if a gap year is planned, as it allows the student to get accepted at a school, take a deferral, and not worry about it
Some students will hold off applying to college until midway through their gap year, others will reapply to schools to which they did not previously gain acceptance
Often students who enter college after gap time have a different voice with admissions counselors. Holly explains that admissions for some colleges have stated a desire to have more students take a gap year.
According to counselors, they find students who have taken a gap year make better students on campus and become leaders on campus. Holly adds that taking gap time won't be held against you, as long as you're doing something productive in that time.
Because programs are so varied, applications are also flexible, unlike the timetables for applying to college. While August or September after high school graduation isn't ideal, it is doable, according to Holly. As long as programs have the space, there's not a lot of lead time needed.
However, the earlier the better is a good rule of thumb, especially if the program you're interested in offers scholarships. (Early senior year, or by December of any given year you are looking to apply for an interim program.)
If you have received a scholarship to attend school, check on that scholarship to see if it can be deferred, or if you will need to reapply.
What costs are there for programs?
Holly dismisses the myth that you need a lot of money to do a gap year, citing the example of a student who chose to volunteer at a wolf sanctuary and she bought a tent and food during the time she was there; in her 'spring semester,' she worked at a kids camp and was given free room and board along with a stipend.
In general, if housing and food is covered you really only have miscellaneous expenses to cover, and if you're willing to work, costs are reasonable.
Where can you get information on gap time programs?
Counselors – check with your high school or private counselors for information
USA Gap Year fairs – generally held in January or February
American Gap Association – this is a fairly new organization and they offer a growing listing of vetted programs
Teen Life Media and partner programs focus on students in grades 7-12, but Holly cautions that these programs have not been vetted
Books – Gap Year American Style is one that Holly recommends
Personal research: do your own digging, and ask any program you're considering for alumni feedback, and talk to current attendees when you can (possibly at the fairs)
Financing your gap time
Again, Holly stresses that a low-cost gap year can be wonderful, and points out that students who take gap time are more efficient students in college. With most students requiring more than four years to graduate from college, students who have taken a gap year are clearer on their path because they have already done the exploring and can even test out of certain courses, like languages.
Less time in school therefore means fewer dollars spent on tuition.
The gap time student also enters the work world already launched, more confident and with higher GPAs, which can translate into a better job.
Colleges are now also becoming more aware of the value of gap time, and Princeton, Tufts University, UNC Chapel Hill are among those universities that are offering Bridge programs, which can offer scholarships to gap time students.
If you're worried that "If my child doesn't go to college immediately, they won't go at all"…
Holly stresses that if you plan well, this won't be the case. She offers these insights:
Understand that gap time takes work to manage, as there are more moving parts; therefore structure is important in planning for it
Most students come out of gap time to go on to college
Make the focus of gap time a goal to achieve, not simply seeing what's out there while living at home
'Just' working can also be a wake up call for students to realize what they want and don't want
Some students just need the time to step away from what's been familiar and what has defined them so far, and gap time can help them mature a little and define themselves
Make sure this is a purposeful time… there is no autopilot
For more information, visit the Center for Interim Programs, or email them at info@interimprograms.com
Holly's 3 Quick Tips
Talk to counselors to get started
Attend USA Gap Year Fairs
Realize the opportunity – Holly calls this time a "jewel of a period of time" to pivot yourself toward a life that you're going to love, so consider taking advantage
Question of the Day – What to do if your student is undecided?
I'm working with two families, one whose student can't decide between music and graphic design, and another whose student is completely undecided on any major. What can you do?
Leverage your resources, including
CareerLocker.com (formerly WisCareers) – in depth, target is to provide career counseling information into the high schools as well as providing individual memberships to give you access to their resources
Your Free Career Test – quicker assessment, not as in depth but will provide you with a quick and easy answer than can point you in the direction of a major
Work with your high school counselor – they are trained to help you decide, and may also have resources in their office and online (like Career Locker or other competing sites) so you don't have to invest in the cost
Community colleges may offer classes to help you determine a career path; costs may be involved, but will be nominal; here too you may be able to access their counselors
Summer camps or internships; similar to the gap time resources offered earlier, there are programs aimed at teens to help them get involved and that can lead to an interest in a major
Job shadowing – parents may have a network of professionals at their disposal to give their student insight into various professions
Hire a private counselor to help find colleges and programs of interest
Accept undecided – it's possible that this will work out for the student to land into a major they love; this option makes parents understandably nervous, but there are students for whom this option has worked out well.
The key is understanding that not having a focus while in college can be more expensive, as most students without a declared major will spend more time in college before they graduate.
LINKS AND RESOURCES
Center for Interim Studies website
Email the Center for Interim Studies
Check out when and where a USA Gap Year Fair is in your area
American Gap Association
Read all about it: Gap Year, American Style
Teen Life Media and Teen Life Media partnership camps
Career Locker website
Your Free Career Test website
THANKS FOR JOINING US!
We'd like to extend an invitation to our listeners to share their feedback and questions. Our website offers a couple of ways for you to share your questions with us, and we'd love to hear from you.
Contact Us to submit a question to our email
Leave us a voicemail message on the computer! (We use questions for future shows because it's likely other people have the same question.)
If you find our podcasts helpful, please share us on social media and tell your friends.
The bottom line is that we care what you think and want to help you out, so we'd appreciate you reviewing us on iTunes or on Spotify. And even better, receive automatic updates by subscribing to the show on iTunes or Spotify.
Sign Up for our Newsletter and receive our FREE reports!
Get more need-based aid
Find Scholarships
Find a Great College at a Great Price
Connect with other Parents and Students