Every parent wants to see their children succeed in life, and helping them find the right college and pay for it is one of the first big steps we can help them take.
However, successfully planning for college requires a lot of work, especially for parents. As a parent, unless you're leaving it up to your children to figure out how to pay for college on their own, you're primarily responsible for the financial side of things. And you may also need to provide guidance and be part of the process in other areas.
But your student also has responsibilities in college planning, including a lot of research, preparation, decision-making, and doing the hard part of meeting college requirements and presenting themselves as a good candidate for admissions.
This is why it's important to understand parent vs. student responsibilities as you start to develop your college plan or when you need to regularly assess where you are in the process and what you need to do.
There are areas where parents are primarily responsible, where the student is primarily responsible, and where parents and students will need to work together.
I explore all of these activities in greater detail in my College Planning Jumpstart video course. But to help illustrate the general concept, I've put together the following Venn diagram, to show which college planning areas and tasks are primarily for parents vs. students, and where responsibilities will usually overlap.
Take a look at the diagram to get a sense of how things work, and then we'll walk through each topic area and the key responsibilities you'll need to keep in mind.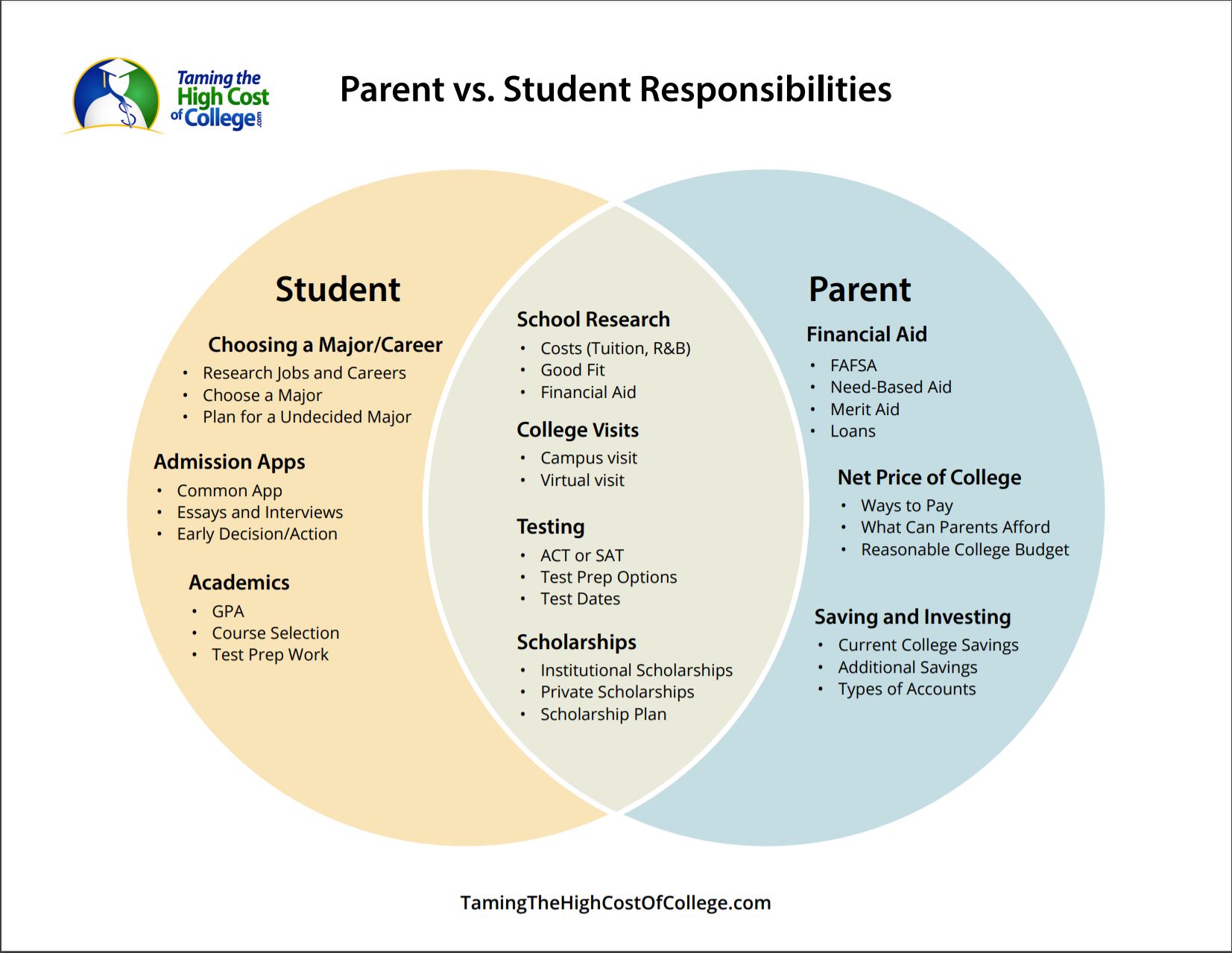 Parent Responsibilities
Let's start with parent responsibilities. Since parents are pretty much in charge of the financial side of college, a big chunk of what they'll do during college planning is financially related.
It's not that students can't be involved or participate in the college financial process. But finances may be a bit over their heads at this stage. They may not understand the terms, they may not be able to relate to the large sums of money involved, and unless they already have significant financial responsibilities, it might be unfamiliar territory for them.
Here are the core financial areas where parents need to take the lead and what you'll need to do:
Financial Aid
Net College Pricing
Saving and Investing
Calculate how much you have in college savings and how much you'll still need to save
Find out how much additional savings you can achieve by reducing family expenses
Explore and choose good saving and investing strategies to help you pay for college
Student Responsibilities
In college planning, most students are primarily responsible for choosing their major and career or choosing to remain undecided, applying for admissions, and taking care of their academics and other qualifications as a prospective college student.
It's their life, so they should be working on these things. But, as parents, you may need to supervise these efforts and provide some guidance or make sure they work with counselors and get things done on time.
However, you shouldn't do it for them. In the end, it's their responsibility, and here's what they'll need to do:
Choosing a Major/Career
Research potential jobs and careers that interest them
Research and choose a potential college major
Understand the implications and options for remaining undecided
Admissions
Complete admissions applications such as the common app
Write college admissions essays and conduct interviews with schools
Make a prompt enrollment decision if you applied for early admission consideration
Academics
Ensure you have a good enough GPA to get into your preferred schools
Choose the right college-prep and other high school courses to boost your qualifications
Prepare for and take college entrance exams (or decide to go test-optional)
Overlapping Responsibilities
There are also key areas where parents and students may share responsibilities and need to work together more closely. Here are the categories where this may need to happen and what parents and students will need to do together:
School Research
Research the cost of attendance and net cost of college at specific schools
Find schools that are a good fit for the student's goals and the family's budget
Find schools that are a good fit and offer the best financial aid opportunities
College Visits
Schedule and make campus visits to help narrow down your list of schools
Make virtual campus visits to gather information when in-person visits aren't possible
College Testing
Decide to take the ACT and/or SAT or go test-optional
Explore test prep options including courses, practice exams and tutors
Review available test dates and register/plan accordingly
Scholarships
Research potential institutional scholarships at colleges you're considering
Research private scholarships based on student merit, characteristics, or other factors
Decide whether scholarships are worth pursuing, create a plan, and do the work
Strategies for College Planning Success
As you can see from the diagram and descriptions above, there is a lot of work to do with college planning. It can seem daunting, but, like with any other major project, you can make things a lot easier with a few simple strategies:
Learn what you need to do
Get organized and plan ahead
Divide the work into smaller tasks
Assign and share responsibilities
Set up a schedule and keep to it
Track and manage your progress
Family Discussions
As part of your family's overall college planning, hold family meetings to discuss each area, what you're going to do, and how you're going to do it.
It might be two parents discussing how you're going to handle college for your kids and make sure you're on the same page. Additional discussions might include your student as you start deciding what schools they might consider, what's affordable for the family and a good fit for your student, where to visit, how to qualify for admission, and how to go about applying.
Building a Team
To help you with developing and executing your plan, you'll want to build a team. Typically this centers on one or both parents with your student at the core.
You might expand your team by adding key resources such as a guidance counselor or career counselor at your high school, or a college planning expert in a specific area.
For example, you can potentially hire a college admissions specialist to help you build a list of schools that are a good fit for your student and family, and help you with the application process. You can hire an essay coach to help your student with writing a good admissions essay.
You can also hire a test prep company or instructor to help you with SAT or ACT test preparation and provide one-on-one, online, or group lessons, classes and tutoring.
But one of the most important members you can add to your team is a college financial planner.
Since the financial side is such a big and crucial part of the college process, many parents find it helpful to work with a college financial expert who can help them figure out how to pay for college, create a complete plan for their family, and potentially save thousands of dollars in the process.
Even if you have an existing financial planner, it's a good idea to hire a college financial specialist. It means you'll be working with someone who truly knows the ins-and-outs and do's and don'ts of financial aid, saving and investing for college, finding the right school, and making college as affordable as possible.
As a Certified Financial Planner® and college funding specialist, I've helped hundreds of families in this capacity. My clients find that it's a great way to divide up some of the college planning workload and get help from an expert who saves them time, money and stress.
To learn more about college funding specialists, what they do, and how they can help families like yours, check out my article on Why Families Hire College Financial Planners. Or visit the Work with Brad page at my college financial advising website to learn more about my services and book an online discovery meeting to explore your options.
For additional expert advice on the college planning process, feel free to read some of my other articles and check out some of my other resources below.
---
Need Help with College Financial Planning?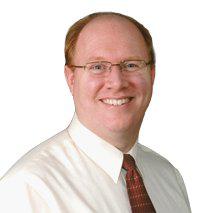 Hi, I'm Brad Baldridge, a college funding specialist and the owner of Taming the High Cost of
College.
If you'd like to get great tips and advice on how to save more money for college, reduce your costs, and put your student on the road to a bright future, subscribe to my free e-newsletter.
You can also check out some of my useful college planning articles and resources below.
---
Helpful Articles and Resources
Learn the 20 core parts of college planning and what your family should be doing in each area.

Find out how to start building a successful college financial plan with these 5 important parts.

Learn the 6 ways to pay for college and make your child's college dreams come true.

Discover how to lower your college costs with the 5 federal financial aid programs.

Find out which student loans offer the best terms and interest rates to help you pay for college.