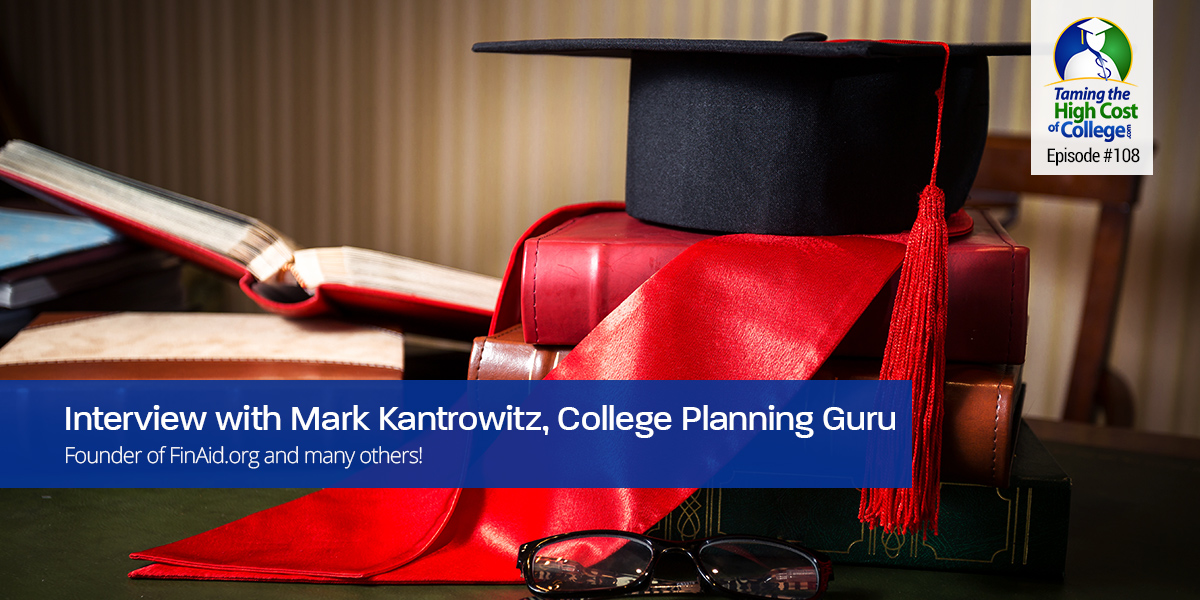 Meet Scholarship Jedi, Mark Kantrowitz. Mark is a mathematician, author, speaker, and expert on scholarships with over 20 years of higher education experience. We invited Mark on the show today to share his incredible knowledge about scholarships and help you learn the lingo. "Financial aid is like a different language, the more you learn about it the easier your process will be," says Kantrowitz. This episode is chock full of great information!
Questions Answered Today:
What types of scholarships are out there?
"There are about six billion dollars worth of scholarships awarded each year to just about under two million students," shares Kantrowitz.
Those include:
Academic
Unusual talents

such as artistic or athletic talents

Need-based grants
Institutional aid
Pell grants
This does NOT include federal money- it is strictly private scholarships from nonfederal/noninstitutional sources.
"Most of the money coming from a college is in the form of a discount," describes Kantrowitz. This means that the price you actually pay might be a little less than half of the sticker price.
About 1 in 8 students receive private scholarship money they then use to help pay for college, with the average amount being just under $4,000.
"Winning a scholarship is part of your plan for paying for college, but it's not the entire plan," warns Kantrowitz, "Everyone should file the FAFSA form because it is your gateway to need-based aid."
With all of the free scholarship search databases available, there aren't any scholarships that go without applicants. It is much more likely that a scholarship goes unclaimed due to requirements not being met. The one that generally is missed the most is the Pell Grant.
You can figure out the total return on investment for attending a college by visiting payscale.com
Kantrowitz strongly recommends that all students include in their college search their in-state public college.
There are six dozen very competitive colleges that have no loan financial aid policies that substitute grants for loans. These or the in-state college will be your cheapest options.
What should we expect in the near future of college?
"Free college isn't entirely free-it is just free tuition," notes Kantrowitz, who has published a paper advocating for free tuition and free textbooks for public colleges which includes how to reallocate existing money spent on financial aid and not raising any taxes.
At this time, it does not appear this will be a priority of the incoming presidential administration, but it remains to be seen what will be enacted.
While online courses are becoming popular, colleges will still need a professor to work with students and meet their individual needs. "The reality right now on the ground is that most students don't benefit from online education," explains Kantrowitz.
Online courses required students to be very strong self-starters. The most successful students of online courses have already earned a college degree.
The cost of a college education increases by a factor of three over any 17 year period, but don't worry because you only need to be saving about one-third of the price of future college tuition, or what college currently costs.
Kantrowitz gives a strategy for this as, "From birth you should save about $250 a month for an in-state public college, $400 a month for an out-of-state public college, and $500 a month for a private nonprofit college."
It will be easier to increase the amount you save if you start now! As your child grows out of expenses, like diapers, allocate those funds towards their college savings plan.
Whatever age your child is, you have to start looking for scholarships now. There are many available to all age groups.
With the new prior, prior year for FAFSA, parents will need to start planning sooner than the junior year of high school for financial aid.
LINKS AND RESOURCES:
Twitter @MKant

Shares his new writing here first
BRAD RECOMMENDS:
Core Area #4 College Visits
This is probably one of the first things you will be doing to create your college plan. There are five types of visits:
Stealth Visit

Drive-by and get out of the car to just check out some buildings or the general campus. You are just looking around because you are already there or it is close by. Very informal and you might not even talk to anybody from the college.

Open House

This is the college encouraging families to come and check out their campus. There might be a themed day (engineering day, nurse day, etc.) or it is just a general organized event, but it is a good way to get a feel for what a tour is going to be like. Check out an open house at your local college, even if it isn't one you are planning to attend. These are usually on a weekend, but there are a lot of people there and not very much individual attention.

Scheduled Visit and Tour

More one-on-one, or one-on-a-few, where you can call and schedule ahead of time. This can have appointments with professors and it is a personalized tour of the college. Important to do this the junior year of high school to all prospective colleges you will apply to.

Accepted Senior Visits

This is more detailed and usually only offered to those students that have already been accepted.

Overnight

Opportunity to really get a feel for the college. You might be paired with a student and stay in their dorm overnight or attend classes for the day.
Families need to work on a visit plan if college options are including out of state schools. Parents need to plan vacation time around school off-times to take advantage of scheduling your visits.
Optional Area- Direct Admit
As an incoming freshman, you can sometimes be directly admitted to a department or program. This isn't available at all schools or for all majors. The medical field, engineering, and business courses of study are popular to have direct admit at some schools. Other majors are more competitive and you can not even apply to that major or program until after completing some prerequisites.
THANKS FOR JOINING US!
We'd like to extend an invitation to our listeners to share their feedback and questions. Contact us to submit a question to our email.
If you find our podcasts helpful, please share us on social media and tell your friends!
The bottom line is that we care what you think and want to help you out, so we'd appreciate you reviewing us on iTunes or on Spotify. And even better, receive automatic updates by subscribing to the show on iTunes or Spotify.