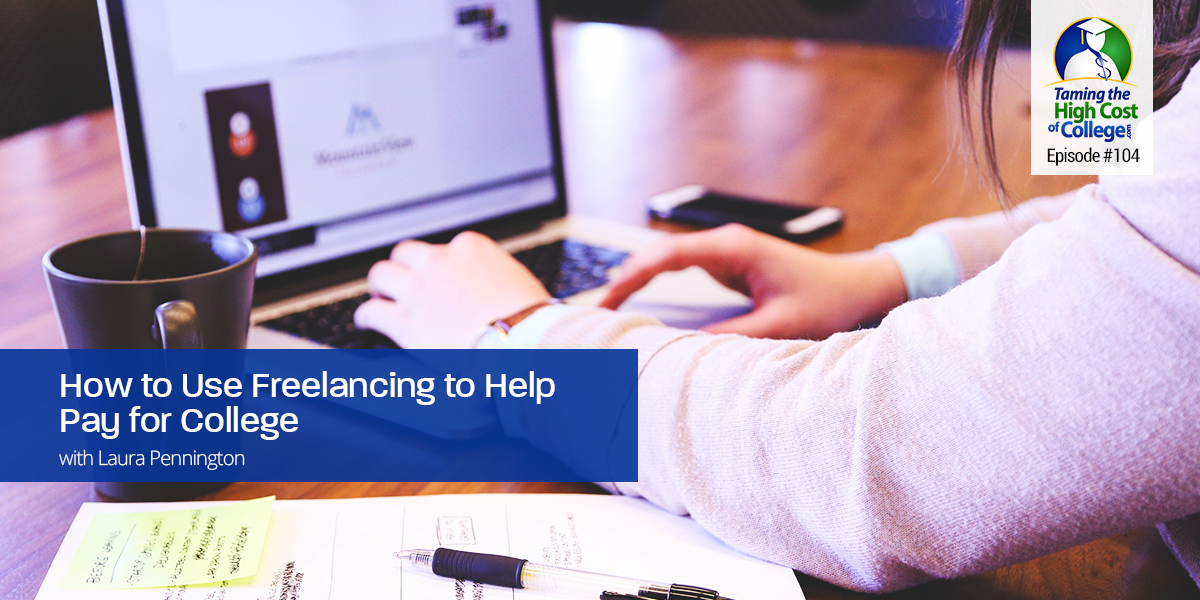 If you have ever thought about earning some extra income on the side, parents or students, here is a great introduction to freelancing by Laura Pennington. We give some examples here of how to use freelancing to help pay for college plus how it can help students acquire some great skills and resume building experience. It's easy and you can start today!
Questions Answered Today:
What do I need to do freelance work?
The characteristics needed to work in freelance include:
Self-discipline
Organization/time-management skills
Ability to put yourself out there to ask for the business
Confidence
"Freelance is becoming more and more popular in the marketplace today because we live in an online world," describes Pennington.
You work on your own time and that is what makes it such a great fit for so many people.
Some of the biggest job areas include:
Graphic design
Virtual assistant
Web developer
Web designer
Voice over work
Comic book artist
Transcription
Translation
"I was earning the same amount of money freelancing as I was at my day job in a little less than 3 months after getting started," notes Pennington.
How do you start?
Begin by taking an inventory of your skills so the learning curve is as easy as possible. Pick something you think you are good at and feel some confidence in. It should be something you have a background in and enjoy doing.
Check UpWork to find jobs to apply to. You bid for a job and the employer then chooses. The web site also acts as an intermediary to manage conflicts and payments to ensure you get paid for your work. You do have to pay to be a member, but it is minimal.
Be sure to have work samples and testimonials available for clients to show your skill level and quality of work. This also helps to prevent the client not liking what you do since they have already seen your style.
Most clients have a deadline, but do not require you to be at your computer during specific hours. "That's why it is such a good fit for college students and parents," says Pennington, "because they can determine how many hours they have free a week."
When people are first starting out, Pennington recommends charging hourly and estimating how long it will take you to do the job. Your first couple jobs will help you learn how much time it will take you to actually complete an assignment. Be up front with the client when you estimate how long it might take you. Employers generally do not like being told something should take 3 hours and then are charged for much more than that.
Once you become accustomed to certain tasks you can then move towards a flat rate per project.
Try various tasks that interest you, then choose where you feel strongest and become a specialist in an industry. Check out Upwork to familiarize yourself with what is available out there and what you might like to do. "Don't wait!" states Pennington, "You could be banking some money already!"
LINKS AND RESOURCES:
BRAD RECOMMENDS:
Core Area #1 Need-Based Aid
Every family will have to deal with need-based aid. It is based on the income and assets of parents and also of the student. This is one of two types of financial aid available and you will have to determine if you qualify for it.
Applications are completed by filling out the FAFSA, or sometimes the CSS profile, and begins at the start of senior year. You do NOT have to accept it all! There are multiple factors that determine how much of what kind of aid you will be offered and it will not be the same for everyone.
You can then accept scholarships and grants (which you do not repay), but decline loans with less than desirable interest rates, or be offered work-study on campus- whatever meets the needs of your unique situation.
Episode 2: Need-Based Aid Part 1
Episode 3: Need-Based Aid Part 2
EFC calculator and training videos
Optional Area- Homeschool
Most families get extra support from their high school in transitioning to college. Guidance counselors help students choose majors, careers, and help guide students towards a college. Without a counselor, this is left up to parents or you can hire an independent counselor for a fee.
Colleges also like to see a transcript with a GPA. If you are homeschooled, this won't look the same. You will have to document the classes, coursework, and other opportunities that the child has had.
Episode 26: Right At Home, In School
THANKS FOR JOINING US!
We'd like to extend an invitation to our listeners to share their feedback and questions. Contact us to submit a question to our email.
If you find our podcasts helpful, please share us on social media and tell your friends!
The bottom line is that we care what you think and want to help you out, so we'd appreciate you reviewing us on iTunes or on Spotify. And even better, receive automatic updates by subscribing to the show on iTunes or Spotify.