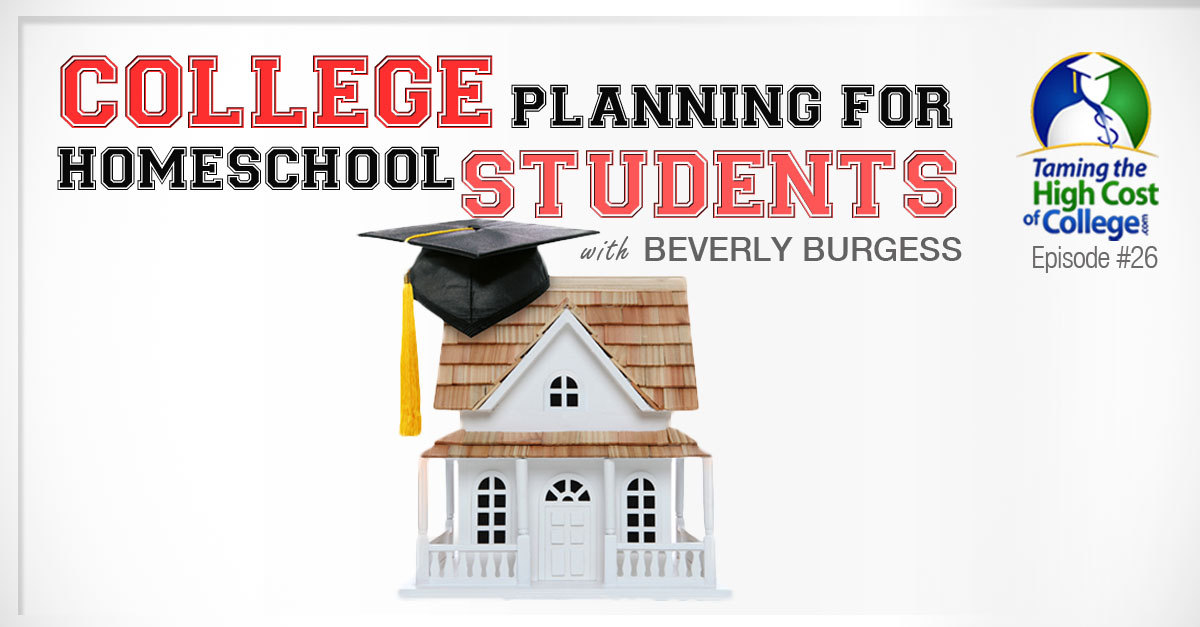 It's becoming more popular to opt-out of traditional education and homeschooling has been one such option for parents seeking to help their kids get an education. However, how does that change things when it comes to planning for college?
Beverly Burgess is a homeschool mom of three, and is the state coordinator for ENRICHri in Rhode Island, and she joins the podcast today to answer those questions.
Afterward, we tackle a question about how students can get help if they're in an upper middle income family but won't have financial support from their parents.
A solution for struggling in school
Beverly explains that homeschooling was not the first option they sought when her son's Tourette syndrome made learning difficult in the traditional school environment. He was intelligent, but she explains that his ongoing health and behavioral issues, and the high cost of private education, led them to decide upon becoming a homeschool family.
Her son is now off to college, and her other two children – a daughter who is a sophomore in high school and another son in fifth grade – remain in school, at home.
The cooperative they formed that became ENRICHri started as a group of 10 families that leaned on each other for resources and support, and quickly grew to 300. ENRICHri holds about 300 events every year, including seminars for special needs students, and provides support and advocacy for homeschool families.
Setting up for college in a homeschool environment
There are a lot of similarities for students in homeschool, and the advice to start early and stay relaxed about the college planning process apply here as well. However, without a counselor to help students prepare and distribute documents like transcripts, Beverly says the ways to build a student's profile for review by a college admissions counselor does vary.
What to expect as a homeschool family:
Core requirements don't change, so high school curriculum will still include 4 years of math and English, 3 years of science and history (check your state's requirements for graduation)
Homeschool students tend to use their communities to provide extra curricular activities, like sports, clubs, etc.
In addition, work/study, apprenticeships, field work and immersion programs help build the student's portfolio
Materials presented to colleges will include their transcripts, but often it's been the portfolio that colleges place their emphasis on, according to Beverly.
What else do colleges use to evaluate a student if there's no "class rank"?
Beverly tells us that grades are important, but they are also only a part of the equation when colleges look at a student seeking enrollment.
Community service
Activities – again, while not active in clubs or sports at the high school, there are often programs available in the community
Businesses and civic organizations also recognize the flexibility homeschoolers can offer, and there are often part-time work and volunteer opportunities available
Overall, the opportunities to show involvement for homeschoolers are not nearly as difficult to find as they used to be
Students in homeschool are still strongly encouraged to take the SAT and/or ACT, but Beverly notes that 4 of the 6 colleges her son was considering didn't even ask for those scores
For Beverly's son, his portfolio was strong, which carried more weight with the schools they sought
How can homeschoolers prep for college entrance exams?
Whether in a traditional high school, or homeschooled, Beverly says online resources for sample tests and test prep are a great place to start
Learning at home is showing positive results: According to the National Home Education Research Institute, kids who are homeschooled average test scores that are about 30 points (percentiles) higher than their public school counterparts
The takeaway: families are seeing great results, even though the learning and test prep is different in a homeschool environment
Is high school too hard for parents to handle?
Most parents find helping their kids with their homework stressful enough in grade school, but Beverly said handling high school curriculum was not as overwhelming as she thought, although she knew her limits and had her son take Latin through an online course.
Other options:
Homeschool cooperatives – these are available to support other families and can provide curriculum where parents might feel a gap
Tutoring – Beverly said that often it's easy to find retired teachers who will spend one-on-one time with students in a particular subject
Study groups to help bolster learning in those subjects that parents may not feel as strong in teaching
Getting your college application ready
Colleges are welcoming and helpful for homeschool students, Beverly has found. Online, search their website and enter search terms to find out what their specific requirements are; or call admissions with your questions
The vast majority (if not all) colleges require transcripts – make sure you present yours in a professional format
DonnaYoung.org or HomeSchoolTracker.com are two sites Beverly recommends to download templates for transcripts
• Don't view this as a disadvantage; Beverly points out that the experience is a good one to prepare students for filling out a job application or resume
Are there financial considerations for homeschoolers?
Some items that parents pay for that public school parents may not have to include:
Textbooks
Online courses
Extra curricular activities
However, if you can't find a class your student needs to take, check with your area school district to take a class in school.
Aside from the obvious, what are the key differences in being homeschooled?
Beverly sums it up in one word: freedom
Kids are free to pursue individual interests within their course of study
Families can schedule time to do things together
The learning environment and schedule are not tied to the traditional format, and generally coursework is completed much quicker
One-on-one attention
Students are free to explore topics more in depth, and can go beyond what's in the textbook or in the lesson plan
Beverly's role with ENRICHri also counsels parents as they begin the process to help make the transition easier. Her goal has been to provide resources in their community and help families with curriculum planning.
For parents who have already had their students in public school and are moving to homeschooling, she calls the process 'deschooling.' This helps parents get to understand how their child learns to provide the best curriculum, and more practically, helps them break out of the 9 to 3 mindset of traditional educational forums.
Beverly's 3 Quick Tips for college planning
Start early – freshmen year of high school is a good time to start college planning
Learn the language – parents in traditional school systems know the verbiage of college and financial aid planning better, so get familiar with what the terms are and what they mean
Be professional when it comes to the transcripts and other important application documents
Visit Beverly's website, ENRICHri.org, for more information.
Question of the Day – What are a student's options if parents who can afford to help pay for college, won't?
A tough question comes to us from a web forum, and asks what a student can do if parents, who are considered upper middle class and able to assist with college funding, refuse to help their kids with tuition. In this particular case, the student has older siblings who also did not receive assistance from the parents, is one of a set of twins, and is reluctant to take on student loans.
For upper middle income families, it's not too likely that they'll receive need-based aid, which comes in the form of Pell Grants, work study opportunities and the like.
First, let's lay out some facts:
There is no legal requirement for parents to help students pay for their college tuition
Colleges, on the other hand, can hold parents hostage in the expectation that they will
Students in these situations who can't fill the gap between the cost of attendance and their ability to pay might be told by most schools that they are simply out of luck
For parents whose financial situations have changed since they submitted their information on the FAFSA (divorce, job loss, etc.), there is a possibility of filing an appeal with the college; the college can use professional judgment then to change their application and award more need-based aid
In this student's case, however, the options are as follows:
Apply for a loan, understanding that most freshman can be eligible for as much as $5500
Pursue scholarships
Consider taking a 'gap year' to earn more money to pay for college
Consider lower cost schools
On or off campus jobs
Take classes part time
In addition, students who demonstrate they are independent could be considered for need based aid. To be considered independent, however, one of the following needs to be true:
The student is 24 years or older
The student already has a degree
Separation from the military must be shown
The student is married
The student is a ward of the state
Again, it's a tough question because the answers aren't likely what a student with hopes for college wants to hear, however know that there are many students who have taken on the task of paying for their own education, and done so successfully.
LINKS AND RESOURCES
Beverly Burgess' website, ENRICHri.org
Homeschool research and resources at your fingertips on the National Home Education Research Institute website
Get your transcript looking college ready using DonnaYoung.org or HomeSchoolTracker.com.
<h3class="dark-blue bold"="">THANKS FOR JOINING US!
We'd like to extend an invitation to our listeners to share their feedback and questions. Our website offers a couple of ways for you to share your questions with us, and we'd love to hear from you.
Contact Us to submit a question to our email
Leave us a voicemail message on the computer! (We use questions for future shows because it's likely other people have the same question.)
If you find our podcasts helpful, please share us on social media and tell your friends.
The bottom line is that we care what you think and want to help you out, so we'd appreciate you reviewing us on iTunes or on Spotify. And even better, receive automatic updates by subscribing to the show on iTunes or Spotify.
Sign Up for our Newsletter and receive our FREE reports!
Get more need-based aid
Find Scholarships
Find a Great College at a Great Price
Connect with other Parents and Students
</h3class="dark-blue>