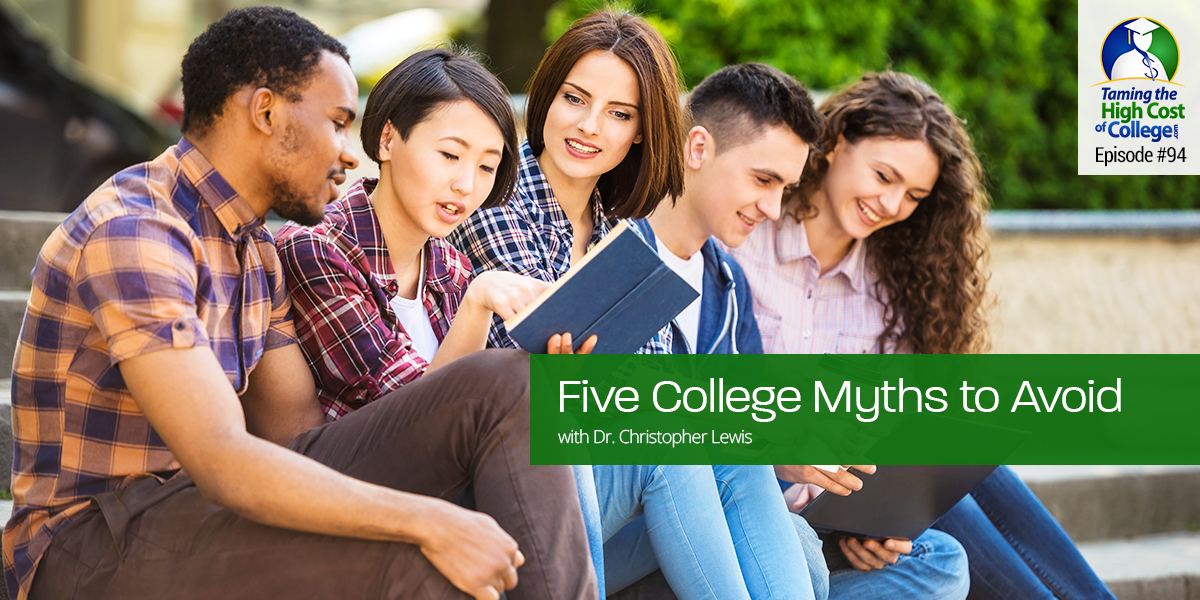 College graduates earn an average of 74% more money compared to high school graduates.
You can't get far without a degree these days. Dr. Lewis has been in the college admissions and student affairs fields for almost 20 years. He knows it inside and out and is happy to share what he has experienced with us today. In all his various roles with higher education, Dr. Lewis kept encountering these 5 myths from both students and parents. He is the author of the fantastic book, "The Ultimate College Preparation Blueprint" that is short, but very effective, to help jumpstart the college planning process for anyone.
Questions Answered Today:
What are the five college myths?
Myth 1: There is only one true and perfect college. "There are so many colleges that you do not even know about," describes Lewis, "To say there is only one out there that is a right fit is a misnomer."
Students need to be the ones to decide which college will be right for them- do not let other people make this big decision.
Myth 2: A career or major has to be chosen before picking a college. Paths change frequently in college. The current national average shows that college students will change their major at least 3 times. The Department of Labor predicts that people entering the workforce will have between 12-15 jobs, including 4 different career changes.
The first year of college, no matter where you go, will usually be general education courses. It is important to take the time to find where you will be happy.
Before picking a major or certain program track you should:
Check with Career Services

Talk to people with that major

Find what careers your major will lead to

Imagine yourself in one of those careers to be certain it is what you want for your life
There is nothing wrong with starting at a community college first if your student is undecided. This could be especially beneficial because class sizes are smaller and professors are just as qualified. These are also much cheaper compared to a four-year university.
If you are planning on a university no matter what, look for a college that has a broad choice of academic areas. A liberal arts focus is also a good choice for undecided students. Going on to graduate school can provide better training after that in a specific field.
Myth 3: You can only afford low-priced colleges. Dr. Lewis recommends having a list of colleges that would be a good fit. Apply to them all and see what financial aid packages might be available.
Myth 4: I have never heard of this college, so it can't be any good. There are over 3,300 colleges and universities just in the United States. "You have to go in with an open mind," notes Lewis. College visits and quality questions are critical. Students must really envision if they can be there for the next four or five years. It can't be based on where friends are going or what someone is telling them to do.
Myth 5: Maybe I will think about college someday, but I don't really need it. If you don't have a college education, then you will need technical training. Dr. Lewis also strongly recommends that undergraduate students volunteer, do internships, and do things in the career area of interest. This will provide connections for networking and possible options for the future.
People that do not go to college right away usually have life get in the way. Going abroad for a year or doing something else for a year is ok, but it's difficult to be able to go back.
LINKS AND RESOURCES:
BRAD RECOMMENDS:
Episode 71: How to Find a College Internship to Supercharge Your Career Interview with Sharise Kent
Episode 63: Understanding the Admissions Process with Lydia Fayal
Episode 37: My Daughter's Gap Year with Kurt and Audrey Jacobsen
Episode 31: Grant Baldwin, Major Decisions, Career Choices
Episode 18: Virtual Campus , Real Benefits! Interview with Chris Carson
THANKS FOR JOINING US!
We'd like to extend an invitation to our listeners to share their feedback and questions. Contact us to submit a question to our email.
If you find our podcasts helpful, please share us on social media and tell your friends!
The bottom line is that we care what you think and want to help you out, so we'd appreciate you reviewing us on iTunes or on Spotify. And even better, receive automatic updates by subscribing to the show on iTunes or Spotify.
Brad is not affiliated with Dr. Lewis.