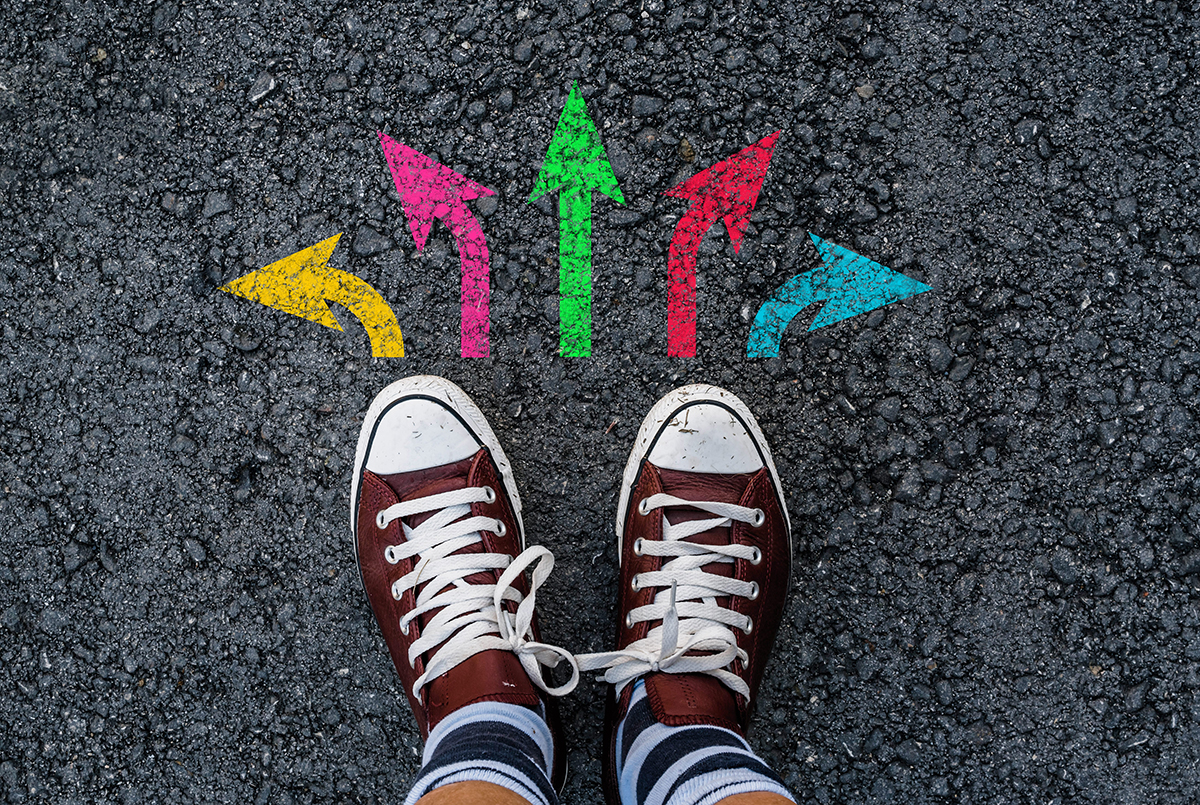 Choosing a college major and a potential career can be a big challenge for many college-bound students. It's often a struggle for parents too, who often wonder how they can help and encourage their teen to make a decision. Should you push your student toward a particular major or career? Should you let them decide? What do you do if they're undecided?
To sort out the answers to these questions, I recently spoke with Chuck Erickson, an independent educational consultant. Chuck has been working with college-bound students and their families for over 15 years, and he specializes in helping them with the college process.
Much like I do in my work as a college financial planner, Chuck gets a lot of questions from students and their families about choosing a major and a potential career. So I invited him to join me on my podcast, Taming the High Cost of College, where we shared our best tips and advice on this topic.
In this article, we'll take a look at some of the most common questions that parents ask about choosing a major and a career, and we'll review some of the best answers and advice that Chuck and I have learned and shared over the years.
You'll learn what to do and what you need to know to help your student make the right decisions for their future, so let's jump in and get started!
What should I do if my student is undecided about a college major and a career?
Coming out of high school, some students have a clear idea of what they'd like to study in college, and they already have a specific career path they want to follow. But many others are undecided, and many go off to college and even spend their first year or two without knowing what they want to do.
If that's your student, don't worry. It's not the end of the world.
Being undecided isn't necessarily a bad thing, and your college major doesn't necessarily determine your future career.
Most colleges and universities don't require you to declare a major until the end of your sophomore year, so students typically have plenty of time to explore different majors and figure out what they want to do. It's part of the college process, which is an opportunity to learn more about yourself and what you want to do in life.
Even if you have a specific major and career in mind, there are always other majors and potential fields you can learn about and consider while you're in college. And it's okay to change your mind.
Colleges have a lot of different majors to offer, and some work really well with undecided students to help guide them through their decision and eventually plan their careers.
If your student is undecided, then your goal should be to find a college that will help your student explore different majors and career opportunities and will help guide them along the way.
If you're heading into specialized fields that advanced degrees, such as medicine, or you plan to go to graduate school in fields such as business, you may have more flexibility in choosing an undergraduate major than you realize. We'll talk more about that later in this article.
What can I do to help my undecided student make a decision?
First off, we need to start with a reality check. As an adult, you know that your major does not necessarily become your career. It's not a lifelong commitment and restriction, and many people will change careers, sometimes multiple times.
You might not end up in a career that matches your college degree anyway, and some majors don't have a one-to-one relationship with specific jobs.
For example, English majors can lead to many different jobs and career paths. Wherever there's publishing, writing, editing, teaching, or other areas where a background in English comes into play, a graduate with an English degree can fit.
Sometimes there are many majors for a particular career, and sometimes there are many careers for a particular major.
Students should know that they can earn a degree in a major but ultimately do something else, so they're not locked into anything for life. They can study nursing and become something other than a nurse, just as they can study accounting or psychology and become something other than a CPA or psychologist.
For students to maximize their potential, you just need to help them realize all the possible career opportunities available. It isn't just all about your major.
What if my student prefers a talent-based major?
Majors such as Dance, Art, Music, Theatre, and other talents require years of practice and preparation. For these kinds of students, colleges are looking for two things: talent and teachability.
If your student is thinking about a major and a career in one of these fields, it helps to ask these questions:
Am I willing to be coached, molded, and pushed to the next level?
Do I have an audition/portfolio prepared, aside from my academic requirements?
Do I want to focus on Dance/Arts/Music/Theatre only? Or do I want to pair it with an education in something else?
Chuck says that talent-based programs don't have to be your major. They can work alongside your major. In fact, engaging in talent-based programs that genuinely interest you can make you an interesting candidate for whatever you're majoring in. Take a look at this scenario:
There's a student who loved biology and playing the flute. She was able to play in the college symphony while studying biology and preparing for med school. She ended up becoming a formidable candidate for med school because she could talk about the connection between the body and music in her med school application.
What about careers that require graduate degrees?
Most graduate degree programs don't require their graduate students to come directly from their undergraduate program. Some don't even require an undergraduate degree in the exact same field.
In fact, most medical schools across the country, including Harvard Medical School, accept students who finished their undergraduate studies at other colleges, and most leading medical schools like these don't require that you have an undergraduate degree in a medically-related field to get accepted.
To qualify for most med schools, students need to take certain types of college courses, pass the MCAT entrance exam, and ideally get a minimum number of hours of patient care experience during their undergraduate years. But they can actually major in a completely unrelated field and be a strong medical school candidate because many top medical schools look for well-rounded students with varied backgrounds and experiences.
However, there are med schools and other types of graduate schools that may have different requirements and may favor their own undergraduates. Do your research before you make any assumptions.
Another thing to keep in mind when planning for careers that require graduate degrees is an opportunity for direct entry. Some schools have direct entry programs that allow students to get started toward an advanced degree as an undergraduate straight out of high school.
A direct entry program is a win-win for many students and schools, and here is an example of why:
Physical therapy education can take just three years for undergrad and three years for graduate school in a direct entry program. That's two years fewer than normal, which is two years reduced from college expenses, and a two-year head-start in the workforce.
In this scenario, the school saves money as well because it doesn't have to recruit or find suitable candidates for graduate school. It can accept qualified students from its pool of incoming undergraduates who'd like to get into the direct entry program.
However, be aware that these programs are typically only for students with outstanding qualifications, and they require a hardcore commitment because students will be on a fast track with a demanding course load, right from the beginning of college.
That can be a lot for a 17 year-old that is just beginning to explore the outside world, so it takes a lot of consideration and grit to pursue this type of admission.
What can I do to help my kids learn about the path they may want to pursue?
There are tons of things you can do to help guide your student:
In many high schools, career guidance software programs such as Xello and Career Cruiser are available for students. Students can get help from their high school counselors as well. Peterson's, Princeton Review, and College Board also offer assistance in picking a major through their websites.
For those who are clueless but curious, Chuck recommends YouScience.com. The YouScience website gives details of possible majors and careers after a two-hour assessment. It also provides recommendations on how to better the student's learning styles. It's a great resource that is reliable, affordable, and easily accessible.
Provide them with an actual experience of what a major feels like. Go to nearby colleges that are having a "Nursing Day" or any kind of open house, summer camp, workshop, or seminar about specific majors or careers. These may open their eyes and help them narrow down their options.
Don't overwhelm your student with words such as 'major' or 'minor.' They might not even know what those words truly mean. Instead, gauge what they want by asking these questions they may have answers to:

What do you want your possible job to feel like?
What challenge do you want to face in the world? What challenge do you want to work on?
Do you want your job to be outside, in an office, or at home?
Do you want to work eight to five? Or do you want to be running around on your feet all day and working a third shift?

Show them your actual job. Afterwards, you may introduce them to some professional friends and perhaps send them to their offices just so they can see other jobs in action.
Work with professional experts. There are college planning and career planning experts you can hire to help you and your student through the process, and they want your student to be in a career they'll be happy with, and they want your investment in their services be money well-spent.
In the end, college may have different purposes for everyone. What's important is that you understand that college is a place for your student to explore new things, interact, communicate, take risks, and learn the most valuable skills they'll need once they step into the real world.
---
Helpful Articles and Resources
Get a free report with an estimate of how much you'll pay for college at the schools on your list.

Learn the 6 ways to pay for college and make your child's college dreams come true.

Discover how to lower your college costs with the 5 federal financial aid programs.

Find out why college doesn't cost what you probably think and how to estimate your true cost.

Learn the 20 core parts of college planning and what your family should be doing in each area.