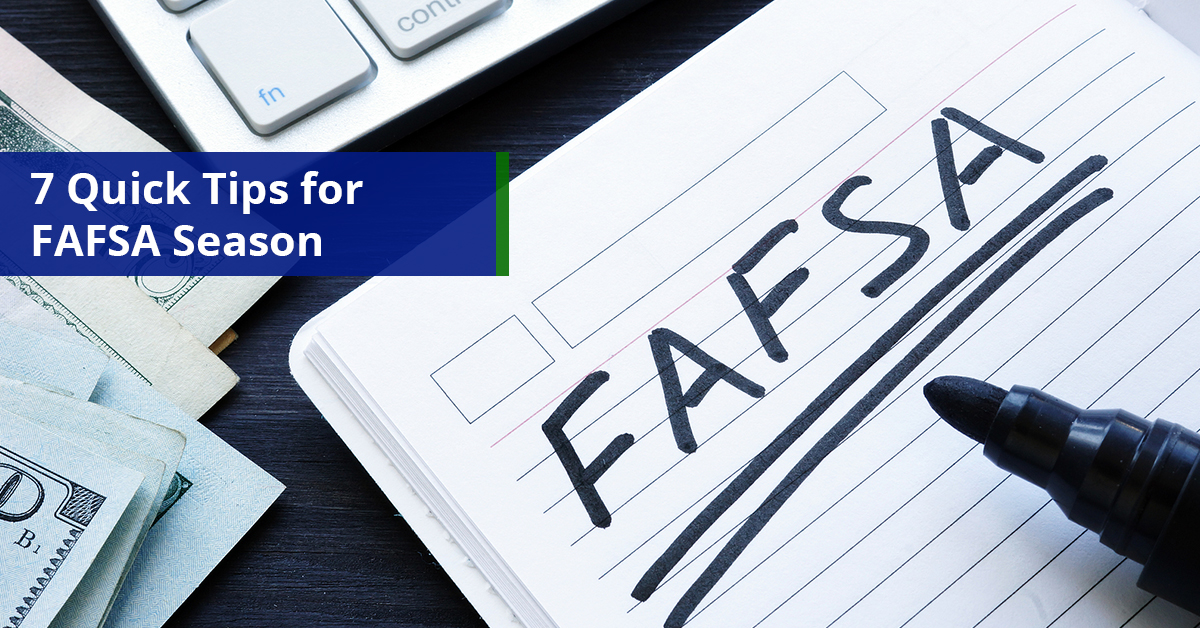 College is expensive, and unless you're independently wealthy, you need to save money on college whenever you can. This is why the FAFSA, or Free Application for Federal Student Aid, is so important.
You use it to apply for federal financial aid to help you pay for college costs. Everyone should apply, even if you don't think you'll qualify. Many families miss out on financial aid opportunities because they incorrectly assume they won't qualify. Plus the form is also used for state aid, scholarships and institutional grants. Just do it.
All colleges have a priority deadline for financial aid, and it's as early as November 1 at some schools.
Seniors: We're now in October and the FAFSA became available October 1, so if you're the parent of a high school senior, it's "go" time. Do your last-minute financial aid planning and submit your form ASAP. Even if you don't have a senior, FAFSA season is still an important time if you have a high school junior or sophomore.
Juniors: If you have a junior, you're only one year away from applying for financial aid, and it's helpful to start planning right away and understand what you'll be doing a year from now.
Sophomores: If you have a sophomore, your base tax year for financial aid will be 2022, so you only have until the end of this year to execute any tax or financial plans to maximize your chances of qualifying for aid.
No matter where you are in the process, don't procrastinate. I've been helping families plan and save for college for over 15 years, and it always pays to get started early. Once it's time to fill out your FAFSA and apply for aid, here's what you need to do.
1. Get an FSA ID.
Students and parents need to get an FSA ID, which is required to access financial aid information from the U.S. Department of Education and electronically sign your FAFSA forms. There will be one for the student and another for one of the student's parents. Your FSA ID is used to confirm your identity when accessing Department of Education online systems and signing documents with e-signature.
You can get your ID early, and sometimes it takes a couple of days, so start now. Once you have a parent FSA ID, you can use it for all your kids. And your student can use their student FSA ID for all four years of college. As always, keep your ID and login credentials safe, as they can be used to log in and access information at various federal student aid and loan websites.
To create your FSA ID, visit the FSA ID page at the Federal Student Aid website. Look for
the button and link near the top of the page:

2. Verify that your school doesn't need the CSS Profile or other forms.
The CSS Profile, which stands for College Scholarship Service Profile, is an online application created and maintained by the College Board. It allows college students to apply for non-federal financial aid.
The CSS profile is an additional financial aid form used at about 300 colleges, including many top schools and prestigious private colleges.
If your school doesn't need the CSS Profile, you don't need to worry about it. If it does, you need to complete both the FAFSA and the CSS Profile, which means you need to plan and prepare to do more work.
The CSS profile is not free. It costs $25 to fill out and submit the form to one school, and it costs $16 to submit it to each additional school. The CSS profile is also three times as long as the FAFSA, so it will take more time to complete. A few schools may also require their own financial aid form or forms.
Here is list of institutions that use the CSS profile, as of the 2020-21 school year. You can also make a quick visit to the financial aid section of a school's website to find out which financial aid forms are required.
Here's a quick example from the Division of Financial Aid at the Purdue University website. Based on a review of Purdue's instructions for how to apply for financial aid, only the FAFSA is required as of October, 2019.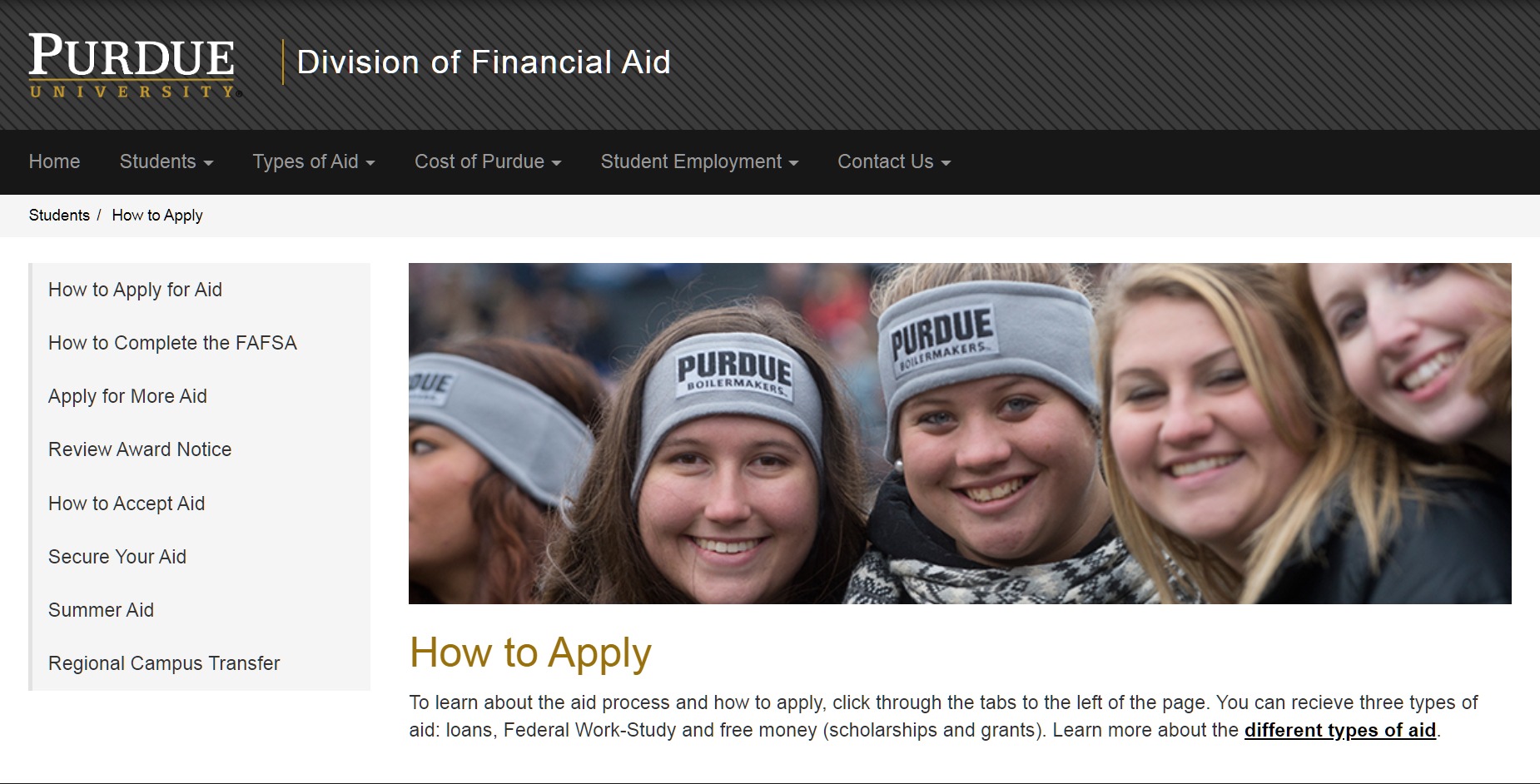 3. Get all your financial aid done at least one week before each school's priority financial aid deadline.
The typical priority deadline is Nov. 1, Dec. 1, Jan. 1 or Feb. 15. But make sure you check your school's priority deadline. This deadline means having everything submitted and verifying that your submission has gone through by this date.
You should definitely submit and verify all your financial aid submissions at least one week before this deadline, to avoid any timing issues or last-minute delays. But generally, you should get all of your information together and have it ready by October, even though you may not submit it at that time.
You won't get more aid by being one of the first to submit the FAFSA. There's a myth that you have to get in line early to apply for financial aid, but that's not exactly true. In 99.99% of cases, Oct 8 is not any better that Oct 12.  But they're both much better than March or next July.
On the flipside, DO NOT put it off. You need to allow enough time to complete your forms and submit all your information.
This is why it's a good idea to start early, by at least gathering together everything you need. And you'll want to make sure you submit everything and verify your submission at least one week before the deadline.
If you're a student in the process of applying, you may already have a username and password at the college where you can track financial aid forms and their status.
Most schools receive all financial aid submissions, transcripts, financial aid forms, letters of recommendation, and all required materials through the same portal.
BREAKOUT TIP: Students must check their email.
When applying for federal and non-federal aid, students will receive email notifications about things they need to review, read, or do at the Federal Student Aid portal or college websites. If they don't take care of these items, they might fail to complete the financial aid process and miss out on financial aid entirely.
Even though a lot of students think email is "so 1990s" and an antiquated way of communicating, it's still how colleges communicate with students. Make sure your student checks their email and pays attention to any notifications related to college and financial aid.
4. You can calculate how much aid you're likely receive.
Beyond applying for financial aid, you can actually do some calculations to verify how much aid you can expect and what your Expected Family Contribution (EFC) will be. Your EFC is how much your family will be expected to pay toward college costs for the upcoming enrollment year.
You can use my EFC calculator to calculate this amount based on the same financial aid formulas used by the U.S. Department of Education. You can even email a copy of the results to your inbox or print a copy for your records.
Here's a sample of what your emailed or printed output will look like: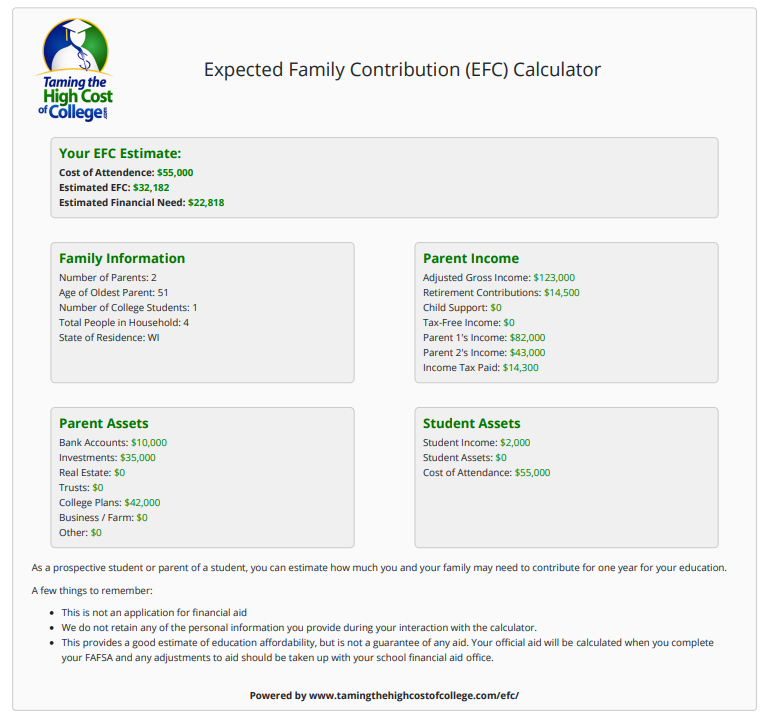 You can use my EFC calculator throughout your college planning process, and you can also use it to verify that the financial aid that colleges offer you is in line with what you should expect.
5. Always apply for aid, even if you don't think you'll get any.
Unless you're wealthy enough or your time is so valuable that you don't care about college costs, you should apply for financial aid. You don't want to assume anything and miss out on opportunities to help your student pay for college.
Your best bet is to apply for aid for each year of college. If you don't receive any offer of aid during the first couple of years and your financial situation hasn't changed, then you can consider not applying.
6. Verify Your SAR against your predictions.
After you fill out and submit your FAFSA, you'll get a student aid report (SAR). You can then verify that your EFC and aid qualification from the U.S. Department of Education is in line with your predictions (from tip #4 above).
If you haven't predicted your EFC and how much need-based aid you might receive, you need to get over to my EFC calculator and get started.
If things don't match up, verify what went wrong. Did you enter the correct and same data in both places? Was anything missing? If you can't figure out the discrepancy, the colleges can help you. Or you can hire me to help you with this or any other area of college planning.
7. Have your student set up usernames and passwords with college admissions tracking portals.
Applying for financial aid and applying for admission are two different processes. You may need to set up a username and password to submit an application through your college's application portal, or a login will provided once you've applied, through the college's tracking system, which is usually part of the same portal. Always check your school's dates and deadlines for applying for financial aid, admissions, scholarships, etc.
Getting Started and Finding More Resources
Now that you know the 7 Quick Tips for FAFSA Season, if you have a high school senior, it's time to get started! If you have a junior or sophomore, make sure to bookmark this page or print and save this article for future reference.
Also, if you need more assistance with college planning, you can check out some of my other helpful articles and resources below.
---
Want More Help with College Planning?
Subscribe to my free e-newsletter and get great tips and advice on how to plan and save more money for college, how to reduce your costs, and how to put your student on the path to a bright future.
You can also check some of my other helpful blog articles and resources below.
---
Helpful Articles and Resources
Learn the 5 key parts of a good college financial plan and how to get started.

Find out if the 5 types of federal aid are available to your family and what they mean for you.

Find out the 6 ways to pay for college and the crucial things to keep in mind for each one.

Learn the 20 things virtually everybody should work on when planning and saving for college

Don't make one of the biggest decisions of your life without reading this article.