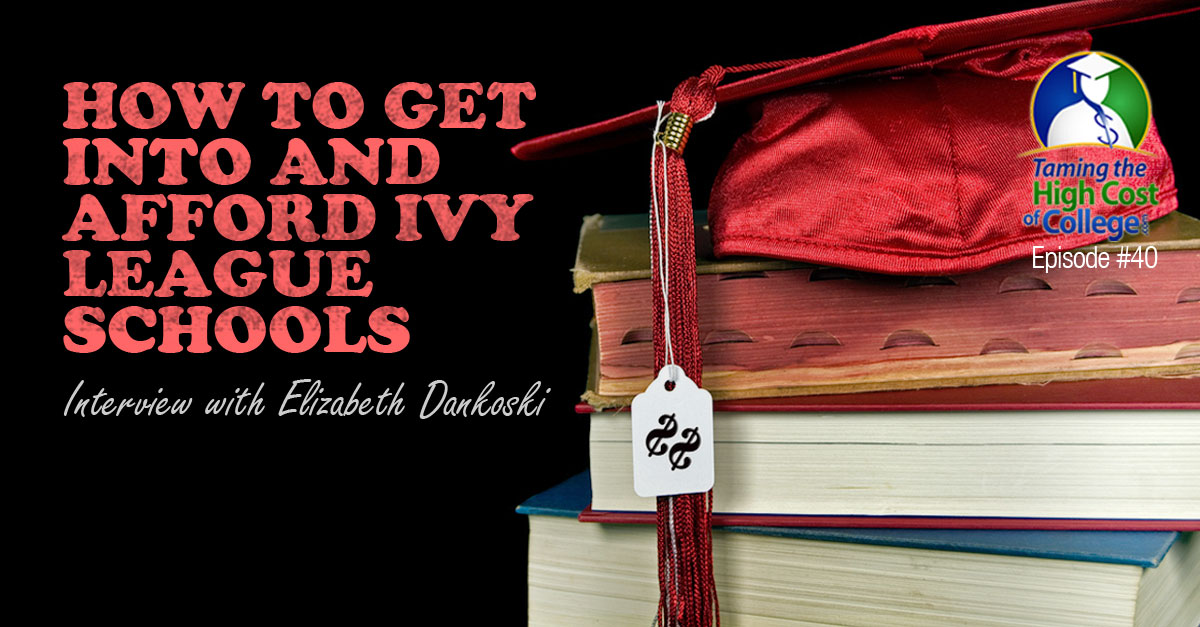 Elizabeth Dankoski – What She Does and How She Does It
Elizabeth is considered an educational pathfinder! She is a(n):
College consultant
SAT tutor
Admission expert
Elizabeth attended Wellesley College, where she was one of the top writing tutors. As a result, people asked her to help others with writing. Then she was asked to teach the SAT. "The kids were getting great scores," she said of those she taught.
Next, she was asked to help with the college application process. "I just kind of taught myself the process. I had only applied to one school – Wellesley – when I applied to college. So I wasn't the typical, sort of high school to college student. But I learned the process, and the kids were getting really good results – getting into the really tough schools like Harvard and MIT and Cal Tech."
Elizabeth works with families that have students trying to attend elite colleges.
She discusses information and resources available to those families.
Changing Trends:
About three to four years ago, people were following the typical formula when applying to colleges:
Top SAT scores
Top grade point average (GPA)
Numerous extra-curricular activities
Outstanding essays
Elizabeth was following that typical formula, but then things changed. Some of the students she helped were not getting into the top colleges.
"I was curious – what is the difference? They look the same on paper," said Elizabeth. She realized that the difference was that those who were getting into the top colleges had a strong, distinguishing factor.
"It really came down to having a unique project or a unique undertaking or some way that expressed how they were different," she said.
Students and Stress Levels
"I was really concerned about the level of stress that the kids were dealing with," said Elizabeth. They were overworked and exhausted, but thought that all they were doing would help them to get into the top colleges (Ivy League schools like Cornell, Stanford, Harvard, Columbia, etc.). When that did not happen for some, it felt unfair.
Students were so stressed and worried about being accepted to specific colleges. So Elizabeth explained to the students that besides following the typical formula, they also had to figure out their distinguishing factor.
"So that's really become my mission," she said. "Every student needs to have a purpose, have a passion, have something that lights them up."
Top and Mid-Tier Schools:
Elizabeth helps students who want to go to Ivy League schools or mid-tier schools, including Duke and Notre Dame. She helps them identify:
Where do they want to go? Where are they going to thrive?
What kind of environment do they need to get the resources they need?
Do they need to be in a large university?
Do they need a smaller, liberal arts environment?
"It really is a very individual experience, and I look at it holistically with my students," said Elizabeth.
Parents of high achieving students:
Parents often do not know how to help their children or the steps they should take. So Elizabeth offered some advice:
Read Cal Newport's book, How to Be a High School Superstar.
Help students identify their passion and purpose – their distinguishing factor.
Have students complete Elizabeth's free college readiness assessment quiz, which is available on her Web site.
Price Tags:
Attending the top schools can be costly. But parents and students need to consider the following:
Most top schools have large endowments, so they can give out a lot of financial aid.
Price tags are usually less than what is marketed.
If they are able to pay, then they will most likely have to pay and not receive scholarships or merit awards.
Parents need to be honest with their children about any financial issues/concerns.
"I wouldn't automatically assume that whatever the price tag is – is what you are going to pay," said Elizabeth. "Don't refrain from applying because of the sticker price."
For some families, the ivies can be very affordable!
Innovation Project:
Elizabeth's Innovation Project is to guide incoming high school students who do not have a way to distinguish themselves or feel empowered. The project:
Helps students identify their distinguished factor/passion
Focuses on science of success
Looks at the meaning and style of leadership
Helps students identify their innovative project
How to make mentoring connections
Developing time management and productivity
Visit Elizabeth's Web site for more information.
NOTE: The Innovation Project is now called The Dream School Project
Three quick tips:
Figure out how you can help your child identify their distinguished factor.
Look at colleges to determine level of acceptance possibility (what are typical SAT scores, GPAs, etc.).
Figure out how to write a remarkable essay.
Naviance Program:
Many schools use the Naviance Program to identify:
Where students at a specific high school have been accepted
Likelihood to be accepted at specific colleges
Typical applicants at specific colleges
Contact your child's high school to determine if it offers the Naviance Program.
LINKS AND RESOURCES
THANKS FOR JOINING US!
We'd like to extend an invitation to our listeners to share their feedback and questions. Our website offers a couple of ways for you to share your questions with us, and we'd love to hear from you.
Contact Us to submit a question to our email
Leave us a voicemail message on the computer! (We use questions for future shows because it's likely other people have the same question.)
If you find our podcasts helpful, please share us on social media and tell your friends.
The bottom line is that we care what you think and want to help you out, so we'd appreciate you reviewing us on iTunes or on Spotify. And even better, receive automatic updates by subscribing to the show on iTunes or Spotify.
Brad is not affiliated with Elizabeth Dankoski.
Sign Up for our Newsletter and receive our FREE Report!