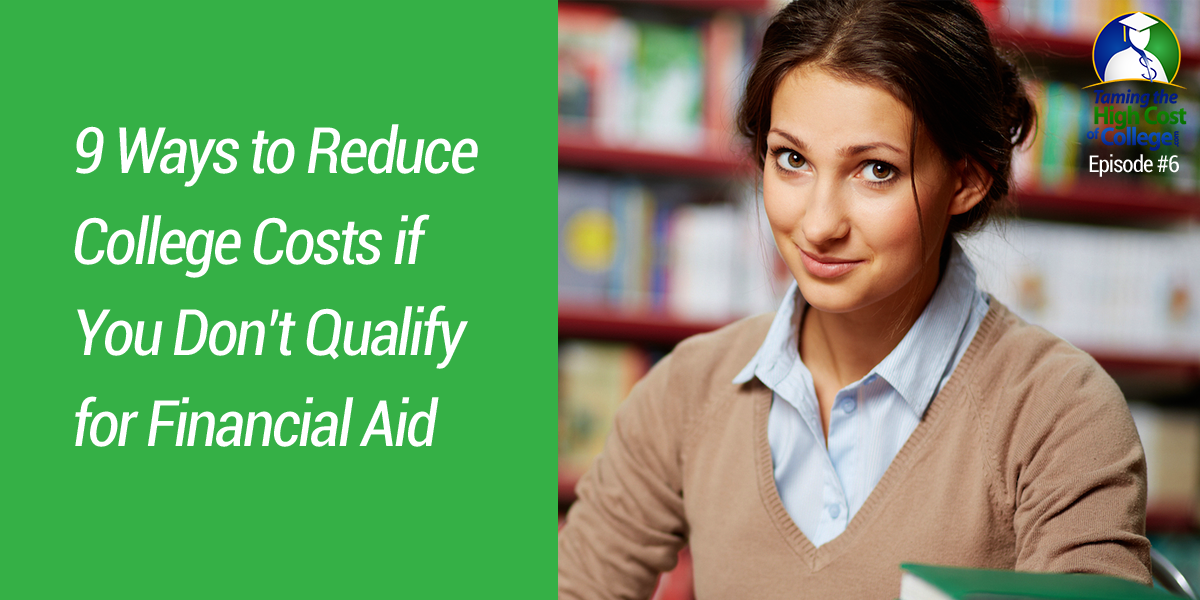 Need-Based Aid versus Merit Aid:
Need based aid is determined based on your ability to pay.
Merit aid is based on why a college may want you on campus, i.e. high academics, geography, ethnicity, musical talent, sport, etc.
1) Tax Planning
Before college starts..
– Set up 529s…. some states allow state tax deduction for contributions.
While in college…
– American Opportunity Credit
$2500 credit if you pay up to $4000 in qualifying education expenses.
Phases out $160,000 – $180,000 (Married)
Phases out $80,000 – $90,000 (Single)
– Tuition expenses may be deductible.
After college…
– Student loan interest is deductible to the student.
2) Investing
Invest from cash flow early. Set money aside now for college, no matter if it's 6 months or 6 years away. Save it in a bank account or in a 529 for tax benefits.
3) Increase your Cash Flow
Increase income….do some consulting if possible.
Start a small business and the student can participate.
Stay at home mom or dad gets back into the workforce.
Reduce expenses by reviewing the household budget and determine where the money is going.
4) School Selection
Pick the right types of schools and find a school that is a good fit.
Determine the net price of college; it can be the same or less than the cost of the local state school.
Consider a transfer school; start at a community college and transfer to another school for the final 2 years.
Start the school list in the sophomore year and do the serious planning in the junior year.
5) Present the Best Student Possible
GPA
Class Rank
Course selection
ACT / SAT test scores
Extracurricular activities
6) Pursue Reciprocity
For example, with Minnesota and Wisconsin you can live in Wisconsin and attend
Minnesota schools for the resident price and vice versa.
Check your region for the reciprocity rules that may apply.
Southern Regional Educational Board Academic Common Market
Midwest Student Exchange
Western Undergraduate Exchange
New England Regional Student Program
7) Scholarships
Plan ahead and start early.
Check with your high school, where mom and dad work and play and clubs and organizations they belong to. Check with Grandpa and Grandma too!
See my PODCAST #5 which is an interview with Kim Stezala, The Scholarship Lady. Kim is an advocate between scholarship providers and the individuals that need the scholarships. During the podcast she shares tips on when to start the scholarship process, where to find scholarships and more.
8) Attempt to Graduate in 4 Years
Some schools guarantee courses will be available for you to graduate in 4 years. If you don't graduate in 4 years, they will provide an extra year or semester, at no charge.
Work hard on your schedule.
Take summer or night classes to stay on track.
Start college with some college credits from high school.
– IB or AP (Advanced Placement)
– Beware some credits will not transfer toward college majors.
9) Borrow Wisely
Check into student loans and private loans.
Understand the options.
Consider a home equity loan on your home or second home.
Federal loans have benefits.
$5500 Stafford loan to student as a freshman.
Balance of borrowing is by Mom and Dad based on credit worthiness.
Special loans may be available at the college the student attends.
BRAD RECOMMENDS
www.collegeconfidential.com
This is a great website that hosts college forums for students and parents on a wide range of topics.
The website also contains information on
college search
college admissions
paying for college
college life
"ask the dean"