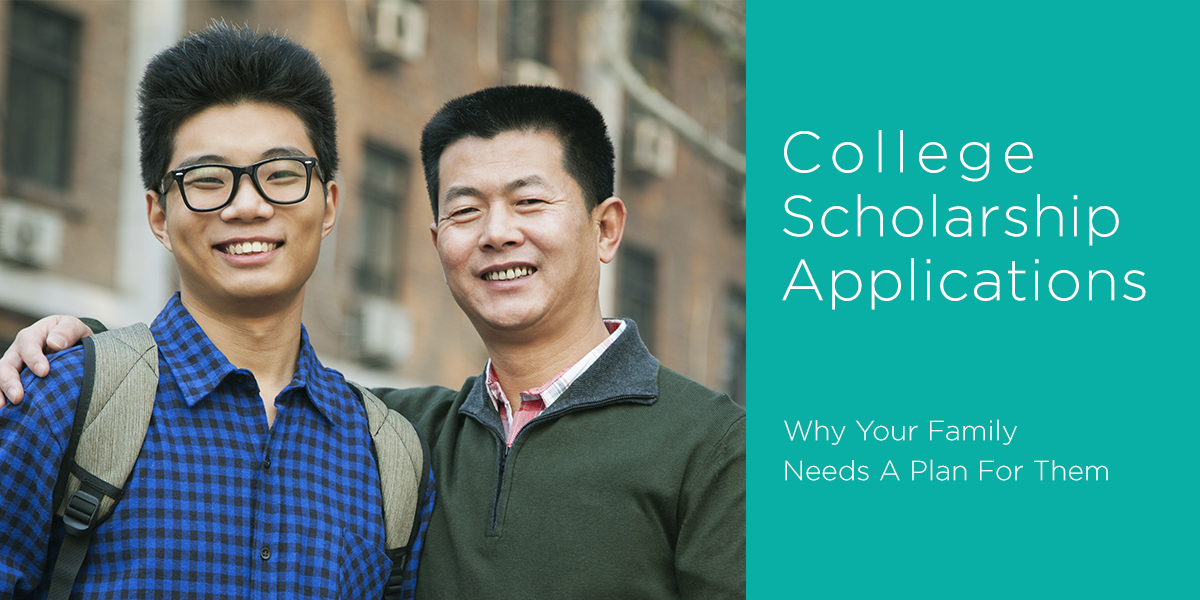 Scholarship Applications
If your child is a high school sophomore or junior who is planning to attend college, now is the time to start thinking about scholarships.
There are some that students can win while in college, but most are available only to graduating high school students — so it's critical to prepare for the application process while your child is still a few years away from enrolling.
Take these steps to get started.
Choose your scholarship path
Parents and students alike are often excited about the prospect of winning money for college, but not all families should spend their time applying for scholarships. Instead, choose the scholarship path that's most suitable for you and your child.
1. "Apply for everything"
This is the best choice for families with students who have long lists of accomplishments. You should only take this path if your student excels in at least one of these areas: academics, athletics, art, leadership or community service.
Applying for scholarships can be much more profitable for these students than an after-school job — but, as with a job, researching and filling out scholarship applications can take a considerable amount of time. Your student will do the bulk of this work, so make sure he or she is committed to the process.
2. "Focus"
It might be best for other students and their families to focus on applying for a small number of scholarships with more limited applicant pools. These might include scholarships that apply only to those of a certain race, gender, sexuality, religion, family situation, geographical area or financial circumstance. They might also consider whether applicants have overcome obstacles.
Other options include scholarships that aren't well-advertised, are worth only a small amount or are only given out to a small number of people. For example, if your workplace gives out scholarships to children of employees, you should definitely apply on behalf of your child.
3. "Put your attention elsewhere"
The final path families can take is to choose not to apply for scholarships at all. If your student has gotten mediocre marks and hasn't been involved in extracurricular activities or artistic or athletic accomplishments, then he or she may not be a suitable candidate for many scholarships.
While you can follow the more focused path and find some scholarships that fit, your family might decide against it. Life is busy, and applying for scholarships might not be worth the time and effort it requires.
Build your scholarship team
The main people involved in your scholarship team will be you — the parents — and your student. Your family will be doing most of the work, though you can also hire a scholarship coach to help.
You'll also want to enlist your child's teachers, counselors, coaches and mentors. This group can help you find scholarships and potentially act as references.
Finally, recruit relatives, family friends, co-workers and teammates to help with the scholarship search.
Create a timeline
Once you've identified a few appropriate scholarships, make a schedule — perhaps on a spreadsheet — of the application due dates. Include information such as the selection criteria and the documents or essays that each application requires.
Make sure your child gives his or her references at least three weeks' notice about the application deadline, then reminds them a week before the references are due.
As you create this timeline, evaluate how realistic the schedule is. To meet back-to-back deadlines, your child should get started early and might need your help prioritizing applications.
Consider the costs
Applying for scholarships will only cost some families their time. For others, the expenses can add up.
If your student needs some extra help creating compelling applications, you can hire a scholarship coach or tutors. These professionals generally charge $50 to $100 per hour.
You also might want to buy books that suggest certain scholarships and give tips about them and the application process. Four or five books would cost around $100.
Other miscellaneous expenses — including the costs of official transcripts, postage and thank-you gifts for references — could also add up to about $100 to $200.
Start early
Scholarship applications can require a lot of time and effort. You should start working with your child to create a scholarship plan by sophomore year — or even earlier if your child is an especially good candidate and plans to apply for many scholarships. Those who start too late often miss important deadlines.
By getting a head start, you can also help your child shape his or her extracurriculars to look best on scholarship applications. This will improve your child's chances of securing a scholarship, a move that could save you thousands in education costs and have a significant impact on your family's finances during your child's college years.
This article was originally published on NerdWallet.com.
What's Next? Get Your Scholarship Guide
I have a completely free video series called "The Scholarship Guide for Busy Parents." It is four videos that are 12 minutes or less to complete, with cheat sheets and other resources to help you find and win scholarships. If you're interested in the video series and learning more about scholarships, please visit: tamingthehighcostofcollege.com/scholarships