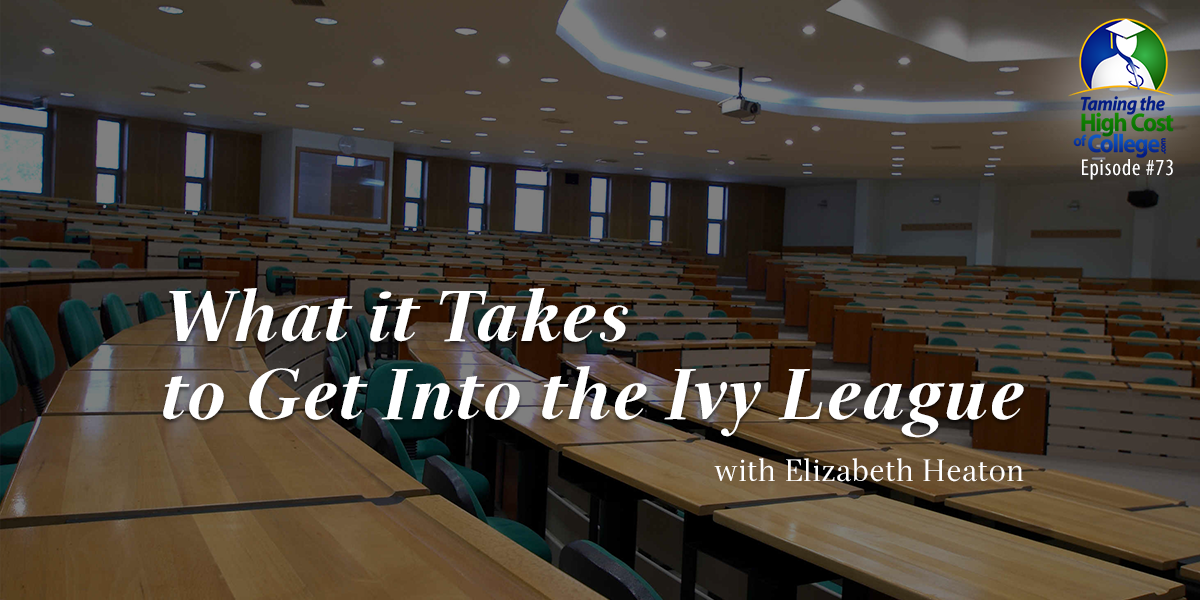 The admissions process for college can be intimidating, especially if you are considering an ivy league school. Former admissions officer, and current Vice President and educational consultant for College Coach, Elizabeth Heaton helps you understand the process of how to get into a school and what school to go for in this interview.
Applying to an Elite School
If you are thinking about applying to an elite school, be prepared to go elsewhere. "Make sure you have a balanced list because it is very difficult to get in," recommends Heaton. These top tier schools are very competitive with about 5% of applicants getting in.
If you are thinking of pursuing ivy league schools, parents should take an honest look at your child's accomplishments and consider the following:
Stellar academics across the board.

Room for a B or two, sure, but a C is really less likely to be accepted.
Rigor of curriculum.

Challenging in the most rigorous classes available.

Starts in 9th grade.

Great test scores

ACT 33 minimum, more like 34 or 35 out of 36.

Sat scores 750 or above.

Bare minimum is a 700 in each section of the SATs.

Achievement tests in different subject areas.

Most schools ask for 2 subject tests with a bare minimum of 700 in those sections.
"Those are just the quantitative side of things, so if you see holes in this quantitative effort that's an indication that the most elite schools are not going to be a possibility or an option," states Heaton stressing, "There might be exceptions whom academic expectations might be slightly less, but really the quantitative piece needs to be there."
All applications must have these great academics. Because of this, Heaton describes the places where decisions really get made are:
Letters of recommendation.
Student essays.
Extracurricular activities.

Goes beyond average high school student activities (sports, school paper, etc.).
Has one area really emerged as a strength with "distinguishing excellence".

Think of it as being the top in that area or passion.
Go above and beyond "If you're going to be involved in something, you need to be involved with it in a lot of different ways," explains Heaton.

Elite colleges are looking for diversity of geography, perspective, socioeconomic situations, interests, experiences, and activities.
"All of these elite schools are very different," cautions Heaton, "Each school has a very different personality, things they are looking for, and applicant pool to stand out against."
Being admitted to one highly selective school does not mean you will be admitted to another just as being denied at one school does not mean you will be denied at another.

Where to Apply since Ivy Schools Are Unlikely

Heaton shares, "79% of colleges accept more students than they turn away." If your student isn't quite measuring up to these higher ranked and name-brand schools, there are still plenty of good choices.
There is no official way to divide up schools by exclusivity.
"Find the best fit school and don't focus just on prestige," says Heaton. When considering what school to apply to, she suggests considering the individual student including:

Personal accomplishments.
Area of interest.
What they want to study.
The purpose of college.

To get an education, explore areas of interest, and get a degree for a career you love.

If you are focused on only ivy league schools, figure out why. "The idea that going to an ivy school guarantees you will go on to a career you love is a total and utter fallacy," states Heaton. "There are other options out there."
The best name school doesn't necessarily equal the best experience or opportunity.

What to Consider About a College

Some things to do before applying to a college are:

Make a list of what is most important to a student and what they must have (programs, facilities, etc.).
What to possibly study.
Be exposed to various colleges.

If on vacation, go visit a campus even when children are young. Students won't know what they like about a school if they haven't seen anything.
Visit local schools.
It's not about if you are really going to go to that school, it just gives you a sense of what it would be like to attend that kind of school.

What can you afford?
Make a list of schools you like equally and try not to fall in love with just one.
You can plan visits in advance and try to set up a meeting with someone in a department you are really interested in.
Check school websites.

Research professors.
See course catalogs.
Check activities available.

Do NOT wait to visit a school until after you are accepted!

"Make sure this is a place you would fit and why and be sure you can articulate that," notes Heaton. A great name isn't enough.
Have students really share why they are choosing a school to apply to before you apply there.
About College Coach
Everyone employed is a former admissions officer. There are blogs and lots of information on the website.
Heaton hosts a radio show on VoiceAmerica- "Getting In: A College Coach Conversation".
Check with your company's benefits program- lots of companies purchase this service that you could access for free.

LINKS AND RESOURCES:

THANKS FOR JOINING US!

We are starting a new video series called, "The Scholarship Guide for Busy Par-ents." It is going to be 4 videos that are 12 minutes or less complete with cheat sheets and other resources to help you find and win scholarships. If you are inter-ested in learning more about scholarships please visit:
tamingthehighcostofcollege.com/scholarships

We'd like to extend an invitation to our listeners to share their feedback and questions. Our website offers a couple of ways for you to share your questions with us, and we'd love to hear from you.
Contact Us to submit a question to our email.

If you find our podcasts helpful, please share us on social media and tell your friends.

The bottom line is that we care what you think and want to help you out, so we'd appreciate you reviewing us on iTunes or on Spotify. And even better, receive automatic updates by subscribing to the show on iTunes or Spotify.

Brad is not affiliated with the College Coach or VoiceAmerica..