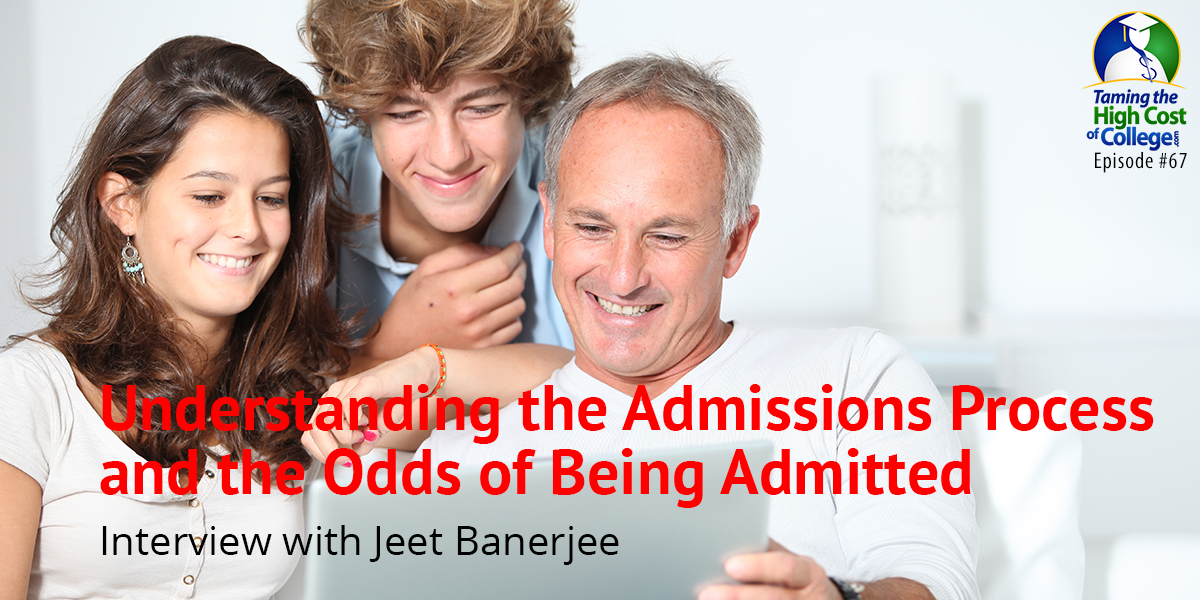 "Statfuse is an online application that helps high school and community college students with the college admissions process," describes Banerjee.
Students can fill out a college application and select a college of interest. The site will then give them a percentage of likelihood that they would be accepted to that university or college. Students will also be told their strengths, weaknesses, and what they can do to better their odds of acceptance.
In this episode, Jeet Banerjee shares about his experience with applying to college and his website Statfuse:
Jeet is an entrepreneur.
Has delivered a talk for TedX.
Went to public high school and had a difficult experience with his co-founder figuring out how to apply to college.
Turned to the internet and struggled to find a credible source for helping with admissions.
Began serving other students immediately after graduating from high school.
Calculating the Odds of Acceptance
"We aggregate data from the universities of who was wait-listed, rejected, and accepted," says Banerjee. The site was also in a beta testing mode for 6 months to test the algorithm and validate the software with actual students.
Other sites only use GPA and SAT/ACT scores. Statfuse has over 25 questions they ask to go in depth and really look at the whole picture and opportunity for acceptance.
Essays and personal statements required by universities cannot be measured through this program, but everything else from extracurricular activities to accolades are considered.
"We don't directly have anything that will tell students if they will qualify for scholarships, but we are building relationships and partnerships with scholarship organizations where students can apply directly through our portal," notes Banerjee.
The site is specifically created for students, but parents and students are both able to sign up. Users create an account and can save their information and edit it as needed.
As a parent, if you see a 15% or lower chance for your child to be accepted Banerjee suggests considering:
What grade is your child in?

As a junior or senior it is a little more alarming. The site will let you know what is weak about the application and gives you the opportunity to improve that area.

Be aware if it is an expensive school.
Create a list of colleges that include:

Safety schools you have a high chance of getting into.
Reach schools with around a 50% chance of being accepted.
High reach schools or dream schools with low percentages of acceptance.
"Anything above a 75% is a strong likelihood at a university and I would put them on your safety list," recommends Banerjee.
Percentages can range from 95% at a school with less requirements and 5% at some of the top universities if a lot of things are missing from your application.
AP, Honors, and foreign language class requirements are considered.
Other Potential Features of StatFuse
"In terms of looking into the future," says Banerjee, "We want to see other ways we can add additional value to the site."
Some ideas for the future are:
1 on 1 access with students already accepted to universities.

Letting them connect over a Skype call possibly and helping with their application, essays, and describing their experience.

Talking with previous admissions officers or consultants.
Offering virtual counseling.
All information collected through the site is stored in a secure database. None of the information is ever released to third parties without the user's consent. There is an option users can choose to opt in and their information can then be given to colleges/universities or other third parties.
"It's a great idea to go through our portal and get a realistic expectation of what colleges they might get accepted to and one's they might not; that way they can really plan," elaborates Banerjee.
LINKS AND RESOURCES:
THANKS FOR JOINING US!
We are starting a new video series called, "The Scholarship Guide for Busy Parents." It is going to be 4 videos that are 12 minutes or less complete with cheat sheets and other resources to help you find and win scholarships. If you are interested in learning more about scholarships please visit:
tamingthehighcostofcollege.com/scholarships
We'd like to extend an invitation to our listeners to share their feedback and questions. Our website offers a couple of ways for you to share your questions with us, and we'd love to hear from you.
Contact Us to submit a question to our email
Leave us a voicemail message on the computer! (We use questions for future shows because it's likely other people have the same question.)
If you find our podcasts helpful, please share us on social media and tell your friends.
The bottom line is that we care what you think and want to help you out, so we'd appreciate you reviewing us on iTunes or on Spotify. And even better, receive automatic updates by subscribing to the show on iTunes or Spotify.
Brad is not affiliated with Statfuse.