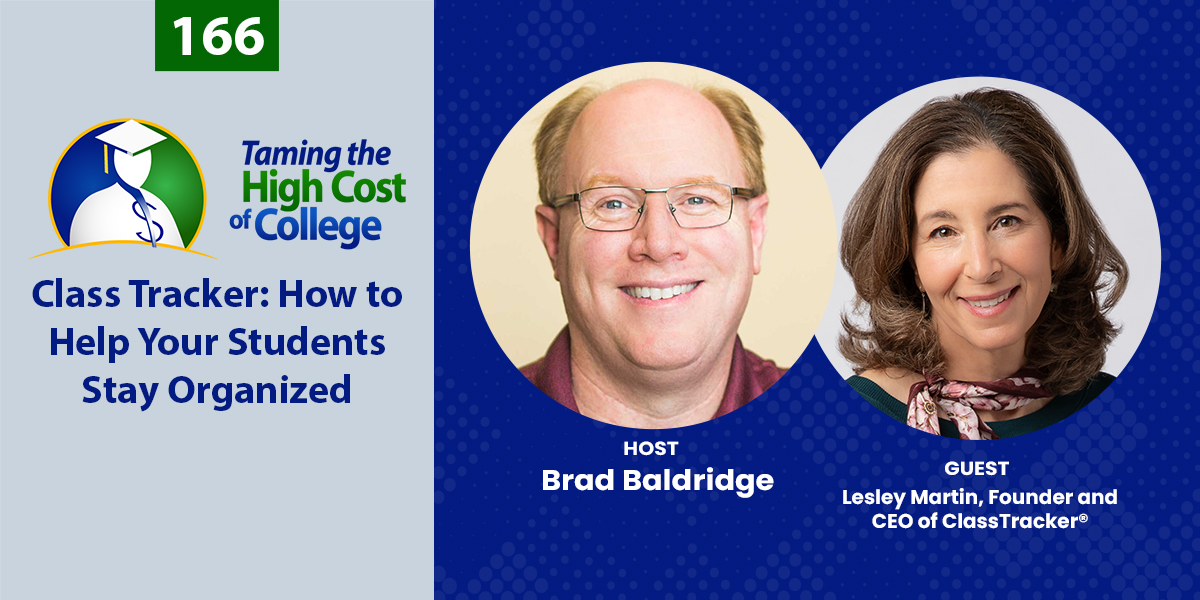 ---
Today's Guest:
Lesley Martin, Founder and CEO of ClassTracker®
Lesley Martin is an author, educator and entrepreneur who has worked with students for over 20 years as a classroom teacher, track and field coach, personal tutor, and academic coach. She's worked with students in every capacity, understands how the adolescent brain works, and understands how to address the challenges that middle, high school, and college students face.
Lesley is the author of the books Where's My Stuff? and Make the Grade, which focus on organization and time management, different ways kids learn, getting and staying motivated, methods to avoid procrastination, goal setting, study skills, and more.
Lesley is also the founder of ClassTracker®, a company that produces academic planners that are currently used annually by over 50,000 students nationwide.
Questions Answered Today:
How are ClassTracker®'s academic planners any different from other organizers?
Lesley has worked with students for decades, and, over the years, she has learned that a person's planning habits vary depending on their academic level. Therefore, a middle schooler needs a planning tool that's different from what a high schooler or an adult uses.
ClassTracker® makes planners combining two critical principles:
How much structure does the brain need?
What is that academic experience like?
Lesley shares what their planners look like per level and the rationale behind them:
1. Middle schoolers' planners need to be quite structured. Each class would have to have a specific bucket, such as:
A bucket for English class
A bucket for Math class
A bucket for Social Studies class
2. As the student levels up to high school, their lives become fuller and richer, making their schedule tighter not only due to academic responsibilities (more projects and tests) but also due to other engagements, such as:
Extracurricular activities (e.g. sports)
Jobs
Etc.
Therefore, high schoolers' planners need to have specific spots that will remind them of those academic and extracurricular activities.
3. A college student's activities are pretty similar to a high school student's except that each day in college usually looks different. On Monday, they may have 4 classes while there's none on Tuesday. Therefore, a college student's planner needs to give them a space where they can plan each day individually.
If the student asks "What does my day look like tomorrow?", they will have a spot in their planner where they could list their activities for the day.
"I had known from my experience in teaching that students who kept track of their assignments and got things done on time, were the students who were most successful."

— Lesley Martin
How can parents help students with organization issues?
There is more than one way that parents can help their kids build the habit of being organized. One of them is providing them with organization tools while the other is finding them a mentor.
1. Giving your student organizing tools (e.g. a planner). The effectiveness of this approach depends on the relationship between the parent and the student. There are two possible scenarios:
Get your student a planner, then they can do whatever they want with it. Most of the time, if you give them material that's structured and intuitive enough, they can make do with it on their own.

Get your student a planner, then guide them as they figure out how to make the best out of it. Statements such as the ones below should help:
I got you a planner. I don't know if you know how to use it or not. But I'm happy to sit down with you and talk you through it.
Why don't use it for a while and then show me how you're using it. And we can talk about if it's helping you or not.
2. Finding your student a mentor. Parents sometimes have a complicated relationship with their kids where your child will take advice from anyone but their parents. In this situation, finding your student a trustworthy mentor could help. These mentors could be coaches such as Lesley, but they could also be other people the student has close relationships with such as:
An aunt or uncle
An older sibling
A friend
A teacher
What challenges should my student look out for when transitioning from high school to college?
High school to college is a big transition for students, whether or not they realize it. Parents can inquire about their student's assignments and test scores in high school, but it's not the same in college. Hence, failing to take note of tests or deadlines could be a big deal.
Another issue could be students thinking that they have too much "free time." In college, just because there's no class doesn't mean it's free time. Most of the time, students should spend such time doing other activities. Lesley thinks it helps students to map out their time and think of their schedule as 'layers.' For example:
The first layer: when are your classes?
The second layer – when you're not in classes, which could be:
At work
Playing sports
Attending practices (for extracurricular activities)
And similar activities
The third layer – studying and studying breaks
Mapping out your time like above should help the student determine empty blocks, which they can use for studying and study breaks.
Lesley recommends the book, The Teenage Brain, by Frances Jensen, which is a good resource for parents to mentally prepare their students for the big college transition.
The book talks about "future scenario planning," which opens a conversation for how the student will actually manage their life in college. While this approach does not necessarily force the student to do something in the moment, it gives them an opportunity to start seriously thinking about the future.
How does an academic coach (or another professional) contribute to a student's success?
"What's lovely about an academic coach is that they can work with your student in a very non-judgmental, supportive way."

— Lesley Martin
Sometimes, the student may feel judged if they're working with their parents. It's not because parents are judgmental—it's simply because of how some parent-student relationship dynamics work.
Academic coaches' expertise is based on experience. As professionals, they:
Have worked in schools and have coached lots of students
Have greater breadth and depth of understanding of different strategies, techniques, and tools to support students' learning of executive functions and skills.
Since academic coaches are experts, there are costs for their expertise, so Lesley reminds parents that there are other resources that are out there, including:
Academic support centers in colleges and universities
Writing centers
Time management organizations
College programs that support students
What parents need to understand is that a student's executive function skills such as organization need to be taught. It doesn't matter how—they can learn through hired experts or from programs and tools from their schools or, sometimes, from the Internet. The most important thing is knowing that there are resources available. You just have to find the ones that fit your student's learning style.
Why opt for paper organizers vs. digital organizers?
As we are in a digital era, everything can be done digitally, and there are hundreds of apps that students can use if they really want to be organized.
However, Lesley believes that there's nothing more distracting than our digital devices. The human brain is prone toward distractions.
There's a huge advantage in using paper for planning because:
You don't get alerts or notifications about other things that distract you.
You don't suddenly go to YouTube or check your email.
The use of paper may no longer be a trend these days, but your student is likely to create firm organization habits if you encourage them to use paper organizers.
---
Links and Resources
Helpful Articles and Resources
Lesley Martin's Contact Info:
---
---
THANKS FOR JOINING US!
We'd like to extend an invitation to our listeners to share their feedback and questions. Contact us to submit a question.
If you find our podcasts helpful, please share us on social media and tell your friends!
The bottom line is that we care what you think and want to help you out, so we'd appreciate you reviewing us on your favorite podcast platform. Even better, receive automatic updates by subscribing to the show through your preferred podcast service.
Brad Baldridge 0:00
How to help your students stay organized. An interview with Lesley Martin.
Presenter 0:04
Do you have kids? They grow up, and before you know it, it's time to plan for college. Where do you start? How much is it going to cost? Will you qualify for financial aid? Should you be looking into scholarships? When will you be able to retire? What about student loans? The list of questions is never ending. The good news is all the answers are right here. Welcome to the Taming the High Cost of College podcast. Here is your host, certified financial planner, Brad Baldridge.
Brad Baldridge 0:34
Hello, and welcome to Taming the High Cost of College. I'm your host Brad Baldridge. Today, we have a great interview with Lesley Martin. She is the founder and CEO of Class Tracker. She's also worked as a teacher, an academic coach, and many other roles with students for the last 20 years. We're going to talk about Class Tracker, an organizer that she's developed for high school and college students. And we're going to have a lot of great discussions about how to help students stay organized. So if you're a parent that has a student that is not very organized and needs to improve, or even if you have a student that just loves the idea of being organized and looking for additional products or ideas, this podcast is for you. As always, shownotes are available at our website. Let's go ahead and jump into the interview. So today I'm talking with Lesley Martin. She's the founder and CEO of Class Tracker. Welcome, Lesley.
Lesley Martin 1:31
Thank you for having me here today, Brad.
Brad Baldridge 1:34
All right, so Class Tracker, that's the company you founded. And I know you're involved in some organization and that type of thing. And also have some background, can you tell us a little bit more about why you decided to start Class Tracker and a little bit of your history?
Lesley Martin 1:48
Sure. So I was a high school teacher for about eight years. And I decided to take a break from teaching and see what other things might be out there. And so during that sabbatical, I started working with students one on one. And as a tutor, helping them with their assignments. That was my job. And I quickly realized, as I was sitting with my students that we were spending at least half our time figuring out what they had to do in any given week, and how they were going to do it. And then about half the time maybe doing the assignments together. But there was this huge amount of time that we spent organizing both their stuff, and what they needed to do. And I had known from my experience in teaching that students who kept track of their assignments and got things done on time, those were the students who are most successful. And the students that I was working with really needed something they needed a tool to help them plan. And so I developed a weekly planning sheet. And I worked with students from many of whom went to the school that I had taught. And so I gear that planning sheet to match the schedule of the school. And so we use this planning sheet week after week after week, the students, all of a sudden, I noticed two things. One, they became better planners, I was like, 'Wow, look, look at, they can actually do this, their brains were learning how to plan and to that this tool gave them the structure to be able to do so.' And so I thought, 'Well, gosh, this is kind of working. What if, what if I could like get just beyond my roster of students and maybe make a tool that can help more students, like maybe all the students that went to that school?' And so I designed a planner, and I pitched it to the school that I had taught at so they were kind to me, and they said, 'Yeah, we'll try this out.' And that was when Class Tracker was born in 2005. And so from there, you know, I expandm, over the course of the following 10 or 15 years, I grew that. Roster of one school to a roster of 40, and I made custom planners. So that's how the company was started. And then five years ago, I started saying, 'Hey, you know, wouldn't it be great if not just the kids who went to my schools, they weren't really my schools, but the schools that were I bought my planners, what if more students can use planners?' And so I started a direct consumer arm of a business where I sell planners that are designed for specific educational levels, middle school, high school and college, online at classtracker.com.
Brad Baldridge 4:34
Right. And obviously, because you were working with students, you built a tracking system. So how was your planner or your ideas different than if you just went to the office store and bought a weekly planner so to speak?
Lesley Martin 4:49
Well, what I realized in all the time that I've been spending working with students one on one it and you know I learned a lot more about adolescent brain development after I left the classroom. But what I've learned is the prefrontal cortex, which is the part of the brain that helps you to organize and prioritize and think about the future is really developed, it's still developing, isn't fully formed until you're 25 or so years old in some people. And so what I realized is that, at each academic level, students needed a different structure to help them manage their times in their lives. So in middle school, you need a lot of structure, you can't give, you know, this is exactly what I have to have for my math class. In my english class, in my social studies class, you need very specific buckets. And so the middle school planners are very structured. When you get into high school, students have all sorts of their lives, their lives become more full and rich, right, they might have a job after school, or they might have sports after school, or they might have reminders, and they have a lot of more tests and projects that are due. And so the weekly planning pages of those planners are structured, they have a structure that asks the kid sort of the question without being obvious, like, 'Hey, what are those tests that you have this week?' and they have a specific spot for it? What are the after school things you have this week, there's a specific spot for it. And then when you get to college, it's also similar to the high school except in college, your days look different every day. Because one class you might have one day, you might have four classes, and another day, you might have zero. And so you really need a spot in your planner to figure out, what am I going to do each day and make a plan on for that day? And so those planners have a special area for that. So it's an overlay of like, what does the brain need? How much structure does the brain need, coupled with what is that academic experience like? And that's how they're different.
Brad Baldridge 6:53
Right? So you spent a lot of time obviously working with students and then talking with parents and students and organization, you have to have this discussion a lot as far as. So if a parent is starting to feel like oh, my students, quote unquote, disorganized, and maybe you could benefit from a planner or other planning techniques? I mean, what do you think the first step for a typical parent might be? Is it just buy them a planner and to hand it off and say, 'Here you go use this,' Or you need to sit down and teach them how to do it? Or what kind of resources or thoughts would you have her on that?
Lesley Martin 7:28
That's a great question. You know, I think a lot of people come to looking for, they see parents, they see it, they see if their kids are struggling, and they're like, 'I need to help them or I want to give them a tool,' especially when you're in middle school, right? Like, oh, there's a lot going on, you go from being in a single classroom where everything happens in one room, to once you're in sixth grade, you start moving around, and every teacher could have a different system. So a lot of times parents will look for a planner. And they do because of the way that mine are structured, it's sort of kind of intuitive, however you ask a good question. And that is like, what can parents do? It's one thing to say, 'Hey, I got your planner. Good luck.'
Brad Baldridge 8:12
Right.
Lesley Martin 8:13
Another is, 'I got you a planner. I don't know if you know how to use it or not. But I'm happy to sit down with you and talk you through it.' Or why don't use it for a while and then show me how you're using it. And we can talk about if it's helping you or not?' So I think there's different ways like know, obviously parents and other kids best, and they know how they're going to respond, whether it's like I will teach you let's sit down and do it. Or I will ask you how it's going. And I'll be here for feedback. So that's just kind of how that the parenting relationship is what I would say would dictate that.
Brad Baldridge 8:47
Right.
Lesley Martin 8:48
Yeah. And I think that you know, when you get to high school, as an academic coach, that's when people, a lot of people come in, they sometimes come in middle school, but it's mostly in high school, because that is the time when parents and students, their kids don't always, kids don't always want to hear what their parents have to say. Right. And so that becomes a little bit more difficult in terms, and that is where at least if you hand off a product that is thoughtful, then there is a chance that it's intuitive enough that the kids are going to know it a little bit about what to do with it.
Brad Baldridge 9:19
Right? Absolutely. So my oldest who's in college now, at his high school, freshman year, first day of class, they handed out a planner to every student. And then I don't know exactly, but I think maybe the first three or four weeks they collected them, just to, so they kind of forced them to at least try to use it. Whereas again, I think that's a situation a lot of parents would deal with, is you hand off this planner, and you see it sitting on the edge of the dresser or the corner of the desk and it hasn't moved for six weeks. So you know they're not using it. So let's talk a little bit about the motivational side of things. It's hard to help a student or a parent or anybody else for that matter that doesn't think they need the help, but they've got it. So what has been your experience been around that process of talking or working with your student?
Lesley Martin 10:12
Yeah, I mean, when I work with kids privately, the way I bring them into my coaching practices, the first thing I do is I asked them to fill out an online form. And in that online form, the Google Form, it asks them a lot of questions. And then the first question I ask is, when you think about school, on a scale of 1 to 10, 10 being a lot, and 1 being none, how stressed do you feel? And so, oftentimes, if kids have something above a seven, that means that they are internalizing the discomfort that the disorganization is causing them. And so oftentimes, when I asked them, we go through all these different parts of executive function categories, we talked about, like, 'Well, how's your backpack look? Is it tidy, or not? Does that make you feel stressed?' 'No, it doesn't make me feel stressed.' Okay, move on. But when you can find the nugget where I'm like, if we fix this a little bit, would that help alleviate your stress? Then you can find the motivation. So most kids don't want to feel stressed, most adults don't want to feel stressed. And there's obviously there's healthy stress, which is what I would call pressure. And then there's unhealthy stress where you like, can't sleep at night or your stomach hurts or whatnot, and where you have these negative physical manifestations of stress. And so, oftentimes, when I'm talking to kids, I'm sorry, when I'm talking to kids, I look for the openings where I can tell that we can turn the conversation into, 'Hey, I think that maybe you could feel less stressed, if you did x, would you be willing to try that?' And that's where I think you can get the motivation. Right.
Brad Baldridge 12:08
And if you know, organization is an issue, you could, like, for my son, we worked with, essentially an uncle, when it was time to write the essays, because we knew it would be hard for us to coach him just because of the parent dynamic. So someone that's not around him all the time, because they know they could have very structured conversations around the essays and that type of thing was useful. So I think that might be another situation where maybe it's not mom or dad that's trying to instill organization, maybe it's somebody else with a coach, a teacher, an aunt, or uncle or friend, or whatever, that might be helpful there.
Lesley Martin 12:48
Or even an older sibling sometimes, right?
Brad Baldridge 12:52
Yes. And again, I think the other thing to talk about is the transition from high school to college is another big transition. Because most high schools that I'm aware of have a website, where even inquiring parent can dig in and see where all the assignments are, and what all the tests and test scores are. And but when you get to college, a lot of times there is no 'here's where all the assignments that the wherever assigned show up,' there is and it's the first time for a lot of kids that are just gonna say, 'Oh, when the professor said, we have a text next Thursday, if I didn't write it down, then it's gone forever.' Because I can't go back and look it up on a website, or maybe it's on a syllabus. But again, it's the requirement to keep things organized, I think shifts strongly from the organization to the individual in college.
Lesley Martin 13:46
Yes, it does. And I think that well, what I've noticed in the past few years is there actually has been a greater migration of in middle school, high school and universities to have everything, at least, assignments and things like that listed online. So they're mostly out there. Now, to your point, if you're in high school, your parents can often get a login to that online system, and they can see and they can see your grades, there's all sorts of stuff they can see which that's a whole different topic. And in college, those systems exist as well. I think that the greatest challenge for students, those systems are in place, right? So they know how, okay, I know how to look up on my syllabus. But I think really, when I think about the transition from high school to college, what I see is the biggest challenge for kids is that they go from a very structured, you go to school at this time, and end the day at this time, and then you have your activities in high school too. You go to college and all of a sudden you have a lot of unstructured time, and some kids might call that free time. And so what happens is that is we know, in college and universities, those courses require plenty of work outside of your actual class. So you might go to class for three hours a week. But that might mean that you still have about nine hours of work that you need to do to support what's going on in that class.
Brad Baldridge 15:24
Right.
Lesley Martin 15:24
And oftentimes, students neglect to put into their personal schedule, time dedicated to each of their classes outside of class. So one of the tips that I like to offer to students, when they go to college is 'Look, you have to map out your week. And the first layer of that map is when are you in classes? The next layer is, when are you in other things? Like, if you have a job, when are you at work, if you are playing a sport, when are your practices, if you do some extracurriculars or clubs, one of those things, and that's the next layer.' So I think about tissue paper, the first layer is your classes. On top of that, you layer on those extra things that are commitments. And then what you see after that is the empty blocks that are left. And it's in those empty blocks, that I encourage students to block out what I call study blocks. So it's like, you're gonna have on Monday, you have four hours in the afternoon, put two hour and a half study blocks in there, give yourself a break in between, but put to an hour and a half study blocks there. So that you know, 'Okay, it's Monday, at this time, I'm gonna go get some work done.' Because if it's not scheduled and planned out, it's really easy to think, 'Oh, I can do it later. I've got plenty of time. I've got all this free time.' But in fact, that's not true.
Brad Baldridge 17:02
Right, absolutely. Reminds me of, you know, way back a long time ago, when I was in college, I had a friend that was very disciplined around that. And between classes, he would go to the library or go find a quiet place or whatever, instead of coming back to the house that we were living in. And watching Days of Our Lives, or whatever it was when we were some silly thing that we did. But then at seven o'clock every evening, he was done, because he had already done all this studying and all that type stuff. And then he could go do whatever he wanted, he was fun, you could do as fun or you go out whatever it was. And I didn't even realize what he was doing till I was, 10 years later, I was fully an adult. And I look back at it and said, 'Oh, that made a lot of sense. I don't know why...' I didn't recognize it at the time for sure. So I think a lot of students are in that boat where they don't even know what they're up against. And it's kind of new to them. And that's where parents can give them some guidance, talk about it a little bit. Maybe it'll stick or maybe it won't, but at least they've seen it or heard about it prior to the them learning the hard way that, 'Oh, I really need to organize a few things here and there.'
Lesley Martin 18:08
Yeah, I mean, there's a woman named Frances Jensen, who wrote a book called The Teenage Brain and she talks about in that book, as a parent, what you can do with your adolescence is do sort of future scenario planning. Right? So when things are not in the moment, you can just say, Hey, you're going to college next year, you got life is going to be looking really different. Tell me how you're thinking about managing your schedule, what what plans might you have, they may not have a plan, but just the fact that you as a parents, say, 'Hey, that is a good idea,' it might make them think about it. And then you can have that conversation again, like, 'Hey, when we talked a couple weeks ago, you didn't really have much thought about a plan. If you've given it any more thought, I'm just, I'm really want to make sure you are set up for as much success as you possibly can. And I would love to hear what you're thinking.' So that there can be ways in which you know, because as kids get older, and they're 18 years old, they're they're adults, right? So we have to give them the agency, or at least the first pass is at least you try and give them the agency to come up with something and have a conversation about it.
Brad Baldridge 19:24
Right. Absolutely.
Lesley Martin 19:26
I mean, the truth is that for a lot of students, and a lot of families, sending your kid to college, and a kid going to college is a big deal. Big financial investment, which obviously you are an expert in. And anytime you make a big investment, it's probably a good idea to think it through a little bit and have a plan. So it's kind of a good precursor to thinking about how you make, spend money in the future is like, you know, it is an investment. So how are you going to make the most of it?
Brad Baldridge 19:56
Right. So let's say we're, we're tightening to get didn't have this organizational thing and now and we're realizing that maybe we're in over our head, both as parents and as the student, you mentioned that you did you do some coaching or did some coaching around that, I think that's the first point I'd like to make is there are people out there that teach this stuff for a living, and they might know seven different ways to be organized and help your student pick the one that's going to work for them or whatever it is. But can you speak a little more to that process or being the expert, where how you can help compared to what a parent might do by quickly reading a book and trying to do it on the fly?
Lesley Martin 20:37
Yeah, for sure. So there has been this blooming industry called academic coaches, and they've, that term didn't exist a lot, a few, you know, called 10 years ago. And now, there's a lot of people who are academic coaches, and really, What's lovely about an academic coach is that they can work with your students in a very non judgmental, supportive way. And not the parents need to be judgmental, but sometimes, like, kids will feel judged by their parents. And what happens when you have a coach is that I'll tell students that like, 'Look, I'm the number one, the number one member of your fan club, like, I'm here to support you, I'm here to help you. And I am able to offer and lend expertise, because I've worked in schools.' And because I've worked with so many students that I have a greater breadth and depth of understanding different strategies, techniques, tools, etc. that to support a kid's, to learn more about these sort of executive function skills. Parents are not experts in this, it's hard to say, 'Oh, okay, well, if I'm not a particularly organized person, and now I'm trying to help my kid who's not very organized, that's not fun for anybody.' And so there are people who are professionals. That said, it costs money. And I'm sensitive to that. And so there are ways in which certainly, in colleges and universities, there are academic support centers, there are places you can go, that they will help you. Right, whether it's a writing center, or more and more and more, there are time management organizations, and there are there are programs at colleges that are meant to help and support students. There are actually courses that are offered for a lot of first year students, they have like a, you know, a, how are you going to be successful in college kind of introduction course. So I think that there is an understanding that those skills are needed to be taught. And it's a matter of looking to see what resources are out there. So some of them, yes, you can pay for us, for someone like me. And I certainly know that there are others that are available as part of your college education.
Brad Baldridge 23:03
Right, absolutely. So the last idea is, again, the generational divide between parents and students, where most parents that went to college, I distinctly remember that, I just barely was able to use a computer to write a paper, just a couple of years before it was a typewriter. And it was just fantastic that we had access to computers and printers where we could be able to edit a paper and not have to try and type it and all that kind of fun. And then of course, but now, we're all the way to students, perhaps doing this all in an app on their phone, or can you speak to, obviously your company makes paper planners still, and you didn't make the app, so to speak? Is there advantages or disadvantages of paper compared to the app that a student might think they're going to do instead? Or what are your thoughts?
Lesley Martin 23:54
Yeah, sure. So I will say, my blanket statement is, first of all, everyone needs a system to manage their time and stay organized. And I don't care if that system is an electronic system, a paper system or some combination of the two. As long as you have something that works for you, that is the most important thing. So from the beginning, like I will say, a system that works is is a good system. I'm partial of paper for a number of reasons. I right now in the world that we live in, the way our human brains are built is we're prone towards distractions. Okay, so, and there is nothing more distracting than our digital devices.
Brad Baldridge 24:47
Yes.
Lesley Martin 24:48
So when one is trying to focus, and think and plan and organize, you don't want to be distracted.
Brad Baldridge 24:59
Right?
Lesley Martin 24:59
And so there's a huge utility in using paper as a device to help you plan because paper does not have alerts, it does not have you notifications. And that when you open it up, you can look at, 'Okay, here's the plan I made, here's what I told myself, I'm going to do, it's in front of me.' If you put your plan on your device, there is a very good chance, very, very good chance that when you go to look for the plan that you've carefully thought through and put together, but all of a sudden, you might be at YouTube watching a video, like you could easily get distracted. And so the way the brain works is we are prone towards distractions and what I understand and believe and know to be true, is that paper is not distracting.
Brad Baldridge 25:54
Yes, I think that's huge. I see that myself with when you have to go to get online and go, I gotta go find that email to get the answer. Of course, when you open your email program, there's a couple new ones. So I may as well read them first, so that you're good on that hole for a while. Then you close the email and you go back to what you were doing. And you say, 'Oh, that's right, I was gonna go look up that number in the email.' Right? So I just spent a half an hour looking up a number, and I didn't look up the number. So I think we all can relate to that. And I think there's a lot of people out there that just love paper. So, and I think sometimes when students try it, they love it, which but they have to get be encouraged to try it. I think that's...
Lesley Martin 26:36
Right. And I think that a lot of times too, one of the things that there's a lot of pushback when you talked about like, 'Oh, I buy my kid a planner, and then it's on its desk for six weeks and never gets used.' A lot of times because of this migration, of putting syllabus and assignments online students don't think they're like, 'Oh, it's I don't need to write anything down in my planner, because it's all up there.'
Brad Baldridge 27:02
Right.
Lesley Martin 27:02
'Up there. It's all online, I can look it up.' But really what I want people to do with a planner, and when I work with students, is I say like, 'Okay, yes, it's all up there. But let's, let's pull it down. And let's put it in the spot where you're going to do it.' Right? So you have this list of, my one of my my expressions that I coined is a list is not a plan. Online is one big series of lists. So you have all these things up there. But you haven't actually taken those items and planned out when and where and how you're going to do them. And that's where a paper planner is super effective. So yes, my planner, I have one coming out for adults. It's not out yet, but it's coming. And I'm working been using it. And what's nice about the way I use it is I have my list on it. So when let's say you and I are having a conversation, I say oh, you will be talking. And I'll know there's a follow up item. So I'll jot it down in my planner and then later on, I'll move it to where I'm going to actually do it. Or if it's like I know Lesley write a thank you note to Brad and I put it for a week from now or tomorrow on my to-dos is I just entered on that day. So some of it requires more thinking about when you're going to do it and and others you just put it on the day. But the point being is that you have taken you deconstruct the long list. So long lists are intimidating, but if you spread them out across many days, then it seems tangible. It's, I mean, seems doable. And that also can help with motivation. A lot of times kids get really overwhelmed, they get behind. They think I'm never going to be able to do anything. They have this massive stack of things to do. And all they see is like all these things, and they haven't mapped it out, but you knock it out. You're like, 'Oh, I can do two things a day. It's totally doable.'
Brad Baldridge 29:09
Yes.
Lesley Martin 29:10
That's why I love paper.
Brad Baldridge 29:11
Yes, I agree. And I think also having that big picture and the idea that you have to put it on your schedule in a time slot. As you get busier, it helps you say no to where, 'Hey, do you want to go do this next Thursday night?' You open your planner and say, 'Well, I've got this scheduled for Thursday night and there's no way I can move it to.' So now I have to say no to something. And I have to start prioritizing and I think that's where it's a challenge for a lot of kids to realize that if I say yes to these immediate gratifications now, then all this stuff I'm saying no to is gonna pile up in this weekend. I'm gonna spend it all weekend doing my homework because I was led astray and I did something that wasn't all that much fun. I would have my head much rather had a free weekend. but it just, I blew it in my overall organization.
Lesley Martin 30:03
Yeah, and I mean, this is a little bit of a tangent, but related, a student is that, what I've noticed in the work I've done with students privately, specifically students who have attention deficit disorders, that they're the tendency of those students is procrastination. It's just part of the way because the ability to look into the future is just really, it's very much about the moment. So what I've noticed in when I have students who will lay things out in the planner is they actually procrastinate less. Because they can see just what you said, they can see like, 'Oh, no, I've got like a mock trial all weekend. There's absolutely no way I can do anything on the weekend. And I have all these things to do. So I have to do them now.' Right. So this, I will do it later. Or in your case, like Thursday is the only time I have to do it. So I have to do it. It's very powerful. Very powerful.
Brad Baldridge 31:02
Right? Absolutely. All right. Well, we've learned a ton about it. And I guess there's one other real quick thing I want to talk about, you've got a book out there called Where's My Stuff? Can you tell us a little about bat book? And who should maybe read it? And a little more there?
Lesley Martin 31:19
Yeah, sure. Where's My Stuff, it's yeah, I would say it's great for middle school parents and maybe a middle schooler, it's a real fun, read about how to manage and organize your stuff. And there's a lot of different, and some of it, it was written quite a while ago, at this point. Now, when you know, maybe there was digital wasn't as dominant as it is now so there's a lot of information about how to organize paper, which still is relevant, but maybe not as relevant. There's also another book I wrote called Make the Grade and that is more of a book written for high school students and their parents. And it's really a, sort of takes a lot of what I learned as an educator and as a tutor, and as a coach and helps students understand some of the concepts we talked about and, and layered on as well. You know, study skills, self advocacy, skills, things like that. So it's a little bit of a guide to how to do well in high school.
Brad Baldridge 32:20
Wow, great. Okay. Well, I appreciate it. If people want to learn more about your planners and that type of thing. Can you give us your website or however else they can find them?
Lesley Martin 32:31
Yes, please visit classtracker.com. That's C-L-A-S-S-T-R-A-C-K-E-R dot com.
Brad Baldridge 32:41
Great. I appreciate it. And we'll stay in touch.
Lesley Martin 32:44
Great. Thanks so much, Brad. Super fun.
Brad Baldridge 32:47
All right. That was a great interview. Thank you, Lesley. Hopefully, you've learned a lot about staying organized. I would encourage you to go ahead and check out the Class Tracker website and look at some of her products. They can be customized, they would make a great graduation gift or Christmas gift for our students. And also she has some good books out there that you can track down. Alright, that's all we have for today. I look forward to talking to you next week.
Presenter 33:14
Thank you for listening to the Taming the High Cost of College podcast. Now it's time for you to take action. Head to tamingthehighcostofcollege.com for show notes, bonus content, and to leave feedback for Brad. The next step on your college journey starts now. Brad Baldridge is a registered representative of Cambridge Investment Research and an investment advisor representative of Cambridge Investment Research Advisors, a registered investment advisor. Securities are offered through Cambridge Investment Research Incorporated, a broker dealer and member of FINRA and SIPC. Brad owns two companies Baldridge Wealth Management and Baldridge College Solutions. The Baldridge companies are not affiliated with Cambridge Investment Research.
Transcribed by https://otter.ai
Sign up to receive email updates
Enter your name and email address below and I'll send you periodic updates about the podcast.