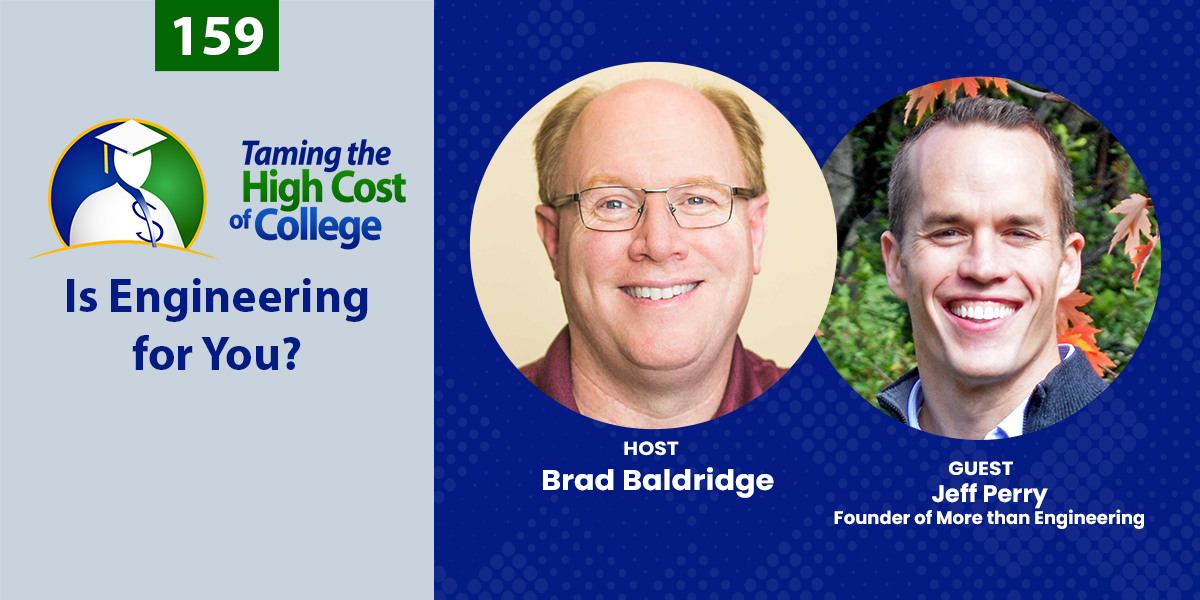 ---
Today's Guest:
Jeff Perry, Founder of More than Engineering
Jeff believes that everyone has great value, and he wants to help them see it in themselves.
Now Jeff provides engineering and technical professionals with coaching and support to take intentional action toward developing a career and life they love. Jeff helps unlock their leadership and improve mindsets to empower hidden potential and remove self-imposed roadblocks and fear that hold them back.
For years, Jeff has had the pleasure of supporting engineers and software pros, from new grads to director-level professionals. Having been on the front lines in the technical world, he's been able to map out the necessary skills for becoming a quality leader in the field. As a result, he helps professionals develop the skills they need to get them where they want to go.
Questions Answered Today:
What do engineers actually do?
We all know what teachers and doctors do because our families often interact with them. You probably know what lawyers do because of a bunch of movies and TV shows you see. But how about engineers? What do they really do?
Jeff shares that there are a lot of stereotypes around engineers such as "technical geniuses," "hackers", or "the ones always wearing blue jeans and T-shirts." But, of course, they're a lot more than that. In fact, if you look around, almost any piece of infrastructure or any type of technical innovation wouldn't be possible without the touch of an engineer.
Here are some examples of engineers in action:
Mechanical engineers work on designing things that actually function and, at the same time, meet the standards.
Electrical engineers deal with circuits, wiring, and signal processing.
Software engineers are responsible for applications and software that you use on your phone and computer.
Data engineers take data and use it to optimize processes.
Chemical engineers use chemistry principles in manufacturing processes.
Civil engineers make sure that buildings, bridges, and other types of infrastructure are built in adherence to the right scientific principles, so they don't put anyone at risk.
Aerospace engineers work on spacecraft, satellites, and other aerospace-related technologies at places such as Boeing and Blue Origin.
"Engineers are taking principles of science and other things and finding ways to apply them in ways that we can use."

– Jeff Perry
What are the other types of engineers we don't often see in action?
There's a wide spectrum of engineers. Some engineers can work in the comfort of their own homes, while some need to be on-site, monitoring progress and troubleshooting problems in real-time. Some need to be in their offices, while some need to travel back and forth.
Some of the not-so-common engineers include:
Manufacturing engineers who create a specific part of a larger vehicle and make sure they fit and work together (e.g. part of an airplane or a rocket)
Sales engineers who work as intermediaries between customers (who buy the products) and companies (who sell the products), who do the "technical work" in sales. It is the sales engineer's job to make sure the product being sold is designed well for its purpose.
Consulting engineers consult for cities, counties, states, companies that want to build buildings and other infrastructure.
If my kid wants to be an engineer, what do I need to consider when picking a college?
Here are two initial areas of consideration:
Location. Does the student want to go somewhere close to home, or somewhere far?
Cost. How much will an engineering degree cost at state schools vs. private schools?
What might matter:
Engineering score rankings. This has an influence only if the student is from a top-tier engineering school such as MIT (or somewhere close). But outside the top-tier-schools category, there's not much difference. For example, it won't really matter for the employer if the student is from a college ranked as 30th or a college ranked as 200th.
What definitely has an advantage:
Going to a college that prioritizes team-based and project-based learning. Engineering professions are all about application, so it will be problematic if the student has only learned theoretically in college.
It is important that engineering students have plenty of opportunities to research and design projects where they can apply everything they learn. Having a portfolio of projects that are completed inside and outside the classroom is helpful when looking for internships and employment.
Creating a network and connections. This is as important as completing requirements and attending classes. Building relationships with people in the profession gives the student a jumpstart and opens doors to many job opportunities.
How can a young student create a network of professionals?
It's easier than you would think! It can be as easy as sending a message or making a phone call. As I've said in previous podcast episodes, the younger the student, the higher the chances that professionals will extend assistance.
Here are some ways to connect to professionals:
Reach out on LinkedIn. LinkedIn is quite useful. Students can search people by profession and BY COMPANY. So, if the student is interested in applying to a certain company and is seeking advice, they can find people working in the same company and send them a message. This is particularly helpful if the student is eyeing giant companies such as Google.
Volunteer in professional organizations. At events such as conferences, chances are they're always short of hands, so finding an opportunity shouldn't be too hard. Volunteering as a student to do menial tasks such as handing out brochures or manning the registration desk, in exchange for meeting professional individuals with whom you can connect, is not a bad deal.
What are some paths that an engineering professional can take for professional growth?
The engineering field is so wide that there are plenty of opportunities to grow. Some of them include pursuing a:
PhD: for those who want to be in academia, doing deep-level research.
MBA: for those who want to deviate a bit from engineering, but still want to use the technical skills of an engineer. Their common jobs include being product/project manager handling technical projects.
Engineering management degree: for those who want to stay in engineering but also want to learn more about management and leadership. They learn about skills they didn't necessarily learn in engineering, such as finance and other processes.
Master's degree in engineering: for those who want to be deeply technical. They're likely to pick a particular engineering field and specialize in it through research.
Jeff notes that engineers, to stay happy where they are, need to be open-minded. People keep changing, and that is perfectly normal. An engineer's life is not all mapped out, and they should be wanting to continually learn in order not to get stuck.

Asking the following questions empowers growth:
What do I want to learn?
Where do I want to go in the future?
Is what I do enjoyable?
If yes, then continue.
If not, ask: What can I learn from this to make the best out of the situation now? Can I map out the next thing I want to try?
What resources are going to help my kid if they pick engineering as their career path?
Jeff has a bunch of resources that are accessible online. Click the links below:
Brad Recommends
Today, I'd like to recommend utilizing LinkedIn. It's a great tool to use for engineers (and other professionals) to:
Connect with other engineers and managers
Connect with other businesses (i.e. suppliers, etc.)
For LinkedIn to provide a competitive edge, students should work on building a profile as early as high school.
What LinkedIn is:
A place for professionals
A place to share your ongoing/finished engineering projects
A place to check what projects that others, students or professionals are working on
What LinkedIn is not:
A place to share photos of your dinner the previous night
Build a LinkedIn profile as early as you can. It can tremendously help your internship and employment search.
---
Links and Resources
Helpful Articles and Resources
---
---
THANKS FOR JOINING US!
We'd like to extend an invitation to our listeners to share their feedback and questions. Contact us to submit a question.
If you find our podcasts helpful, please share us on social media and tell your friends!
The bottom line is that we care what you think and want to help you out, so we'd appreciate you reviewing us on your favorite podcast platform. Even better, receive automatic updates by subscribing to the show through your preferred podcast service.
Brad Baldridge 0:00
Is your student considering engineering or some other STEM field? If they are, stay tuned.
Presenter 0:06
You have kids, they grow up, and before you know it, it's time to plan for college? Where do you start? How much is it going to cost? Will you qualify for financial aid? Should you be looking into scholarships? When will you be able to retire? What about student loans? A list of questions is never ending. The good news is all the answers are right here. Welcome to the Taming the High Cost of College podcast. Here is your host, certified financial planner, Brad Baldridge.
Brad Baldridge 0:36
Hello, and welcome to Taming the High Cost of College. I'm your host, Brad Baldridge. Today, we have a great interview with Jeff Perry. He works with a lot of engineers, and he has a lot of great insight around engineering fields and what it means to be an engineering major, and other great ideas. So if your student is looking at engineering, or maybe a related STEM field, like software, or other sciences, this is a great episode to listen to, because we're going to dive into a little bit about how that process works. And Jeff has some great information about what it's like on the other side. Once you have a degree and you're out in the working world, what are some of the things that are going on? We've got some great resources for families that are trying to figure out if engineering or another STEM field is appropriate. And some materials that your student could perhaps dive into when they are thinking about it as a way to maybe confirm or deny whatever it is that they're thinking about. So there's some podcasts and other resources that we'll talk about as well. As always show notes are available. This is episode number 159. So if you go to tamingthehighcostofcollege.com/159, that will get you to the show notes where all the links to the resources and other information about Jeff is. That's all for now. Let's go ahead and jump into the interview.
Today I'm talking with Jeff Perry. He is the founder of More than Engineering. Welcome, Jeff.
Jeff Perry 2:09
Hi, Brad. So glad to be with you.
Brad Baldridge 2:11
All right. So tell us a little bit more about more than engineering. What is that about?
Jeff Perry 2:16
Yeah, so put simply, I do leadership and career coaching for engineers and technical professionals. And the word or the name More than Engineering contrary in this idea that engineers take on this engineering identity, and there are a lot of stereotypes about what that is and what that means in some cases. I'll let people think about what they think that means. But the more than attach that is that we're also more than just that, we're husbands, wives, friends, neighbors, fathers, mothers, and you we have other hobbies and interests and things that we're interested in. So we want to look at the whole person and who they are and what they're trying to accomplish in their lives and their careers, as we take a big picture approach. And so that's a lot of that ethos around how I go about doing the work that I get to do and in terms of helping engineers and technical professionals level up their career opportunities, but also make sure that that's in alignment with the other things that are really important to them.
Brad Baldridge 3:16
Right? Absolutely. And I'm excited to talk to you because you talk to a lot of engineers that are on the backside of going to college and dealing with picking their major and career and all that kind of stuff. So I guess to start with, can you explain a little bit more about what an engineer does? I mean, a lot of families understand teachers, because we have a lot of interaction with them. And we know what a doctor does, because we go see them. And then of course, we see lawyers on TV. But we don't really see many engineers on TV. Well, I guess maybe there's that exception of the technical genius that doesn't get working can wear blue jeans and T-shirts, even though everybody else has to wear a suit. And he's got the pocket protector. And he's so brilliant. He can just sit down and touch a keyboard and hack into something in 27 seconds. But what do they really do?
Jeff Perry 4:06
Yeah, so there we go with the stereotypes of engineers.
Brad Baldridge 4:09
Exactly.
Jeff Perry 4:10
And so engineers, in some ways are the unsung heroes that we don't see. When you think of almost any piece of infrastructure or technical innovation, or a product that you use, or a thing that you even like wear or what's in your pocket there engineers are behind all of that. From mechanical engineers who work out and design things that move, okay and need to have mechanical mechanisms to electrical engineers who deal with the circuits and the wiring and the signal processing and the software underneath all that. And then software engineers are more what are you looking at on your computer and the apps and the things on your phone to data engineering and how do we take all of this data which the world creates way more data in a day than we used to over hundreds of years now, and how do we take all that data and actually do something with that for optimizing processes, for other things things too, chemical engineers who deal with manufacturing processes and how do create mixed chemistry and things. Anyway, it all comes down to engineers are taking principles of science and other things and finding ways to apply them in ways that we can use. Oh, and I forgot civil engineers, which is a common thing, which is any road, any piece of infrastructure, like plumbing and sewage, and things like this to bridges, and buildings and structures and things to make sure that, hey, if you're in a building, it's not going to fall civil engineers take care of a lot of that. And so, there's so much behind that we just don't notice, but everything you touch almost has the influence of an engineer, and a lot of the big problems that we need to solve in our world, when as a society will be solved and need the help of engineers to accomplish that.
Brad Baldridge 6:10
Right. Absolutely. Now, so if a student is interested in getting involved in engineering, obviously, he's gonna go to engineering school. So any thoughts on when you when you're picking a school? Is there the right school, the wrong school? How would you recommend someone a valuated school from the start, so that you're we're not talking to you 10 years later, saying, 'Man, I wish I would have picked a different school.'
Jeff Perry 6:36
Yeah, so I don't know that there is necessarily a perfect school for everyone. Okay. But there is perhaps an element of fit when you're trying to make those decisions for families and an individual like being close to home, or do you need to get away, those are considerations,. Certainly cost as a consideration state school versus private schools and other things, engineering score rankings, it may have an influence, on the really top end of high end engineering schools, like an MIT or something like that. But outside of that, it's probably not going to make a huge difference. The only difference perhaps is like, okay, there's an alumni network, but that's only useful if you know as a student, or as a graduate, how to actually utilize that, right? Outside of that top tier, like, you don't get some special bump, if you went to some school that's ranked number 30, versus someone ranked number 200. No one really knows because no employer is looking at those rankings. They only know like those few really name brand schools, but you have to decide if first of all you can get in. And second of all, if you can afford that investment, and then it might pay off, it might not. And so there's a lot of considerations. The other thing is just understanding as you go into it, look, you do want to have a school that has an influence or an approach towards team-based, project based learning, not just theoretical learning, that's the only big complaint I've heard from engineers, as far as I regret they have around school is that they got to the end, and they're like, 'Oh, I didn't realize that there are a lot of things that other schools do, like building projects, instead of just having theoretical classes.' So theoretical classes are okay. And there are some things that you're going to learn at every school, but actually having opportunity to apply that in projects that you can say, 'Hey, I built something, I've created something, I've designed something' that you can show to a potential employer or an internship or something like that, or build a portfolio, which I highly recommend to do during school as be building projects, through the projects inside your classes, but elsewhere, or if you can get into research it's going on, like those things are critical is you're thinking about, 'Okay, what's after school, gonna be building a portfolio that shows that I didn't just take classes, but I can actually do things on the other side. And I can prove that and let me show you some examples.'
Brad Baldridge 9:12
Right? Absolutely. So you work a lot with like I said, engineering graduates, what are your thoughts on masters and PhD in engineering, or MBA, or any of those things? Do you see people that have done it, their ways to do it, or give me your opinion.
Jeff Perry 9:31
Yeah, all of the above. I mean, I've worked with people who didn't go to a traditional four year college and just did like some of the boot camp stuff that it's four to six months, and then you're you're getting a crash course in software, and then now you can go into software job, and certainly I've worked with plenty of people with just bachelor's degrees, master's degrees, whether they're technical or not, and then PhDs as well. It's a really personal choice. And there's so many different factors in terms of where you're at in your life, where do you want to go with this, and I would only generally do a PhD level thing if you want to be in academia or really deep level research, okay? If you want to get into, and then MBA versus masters and engineering versus there's something in the middle, there's kind of like technology management degrees or engineering management degrees. So it's sort of like do I want, so the MBA is more, 'Okay, I'm in engineering, maybe I want to shift to something that has a little bit of sense of engineering or can utilize those skills, but I don't really want to be called an engineer anymore.' And so these people would often go work on being things like product and project managers, and things for technical projects and stuff like that, that's a common path. To engineering management degree, that that's a pretty clear path, like, 'Hey, I want to stay in engineering, but I want to get into the management and leadership side of things. But there's some other higher level things that I didn't learn in engineering around finance and processes and things like that, that I need to understand.' So that's, that's a degree that would help you there. And then a master's in engineering allows you to go deeper into a technical thing, where you're gonna be getting into research methods and stuff like that. And so that might be a little bit more specialized in your particular engineering field, if you want to stay in that technical realm, which is a great fit for a lot of people.
Brad Baldridge 11:24
Right, exactly. So I think that's one of the things that, again, getting back to what does an engineer do, obviously, they're very involved in all the technical aspects of just about everything. And I think that's where a lot again, because it's hard to nail that down, like, you could be the manufacturing expert on how to make things out of plastic, or metal, or you could be a sales engineer. So can you talk kind of from the maybe career paths, that would be engineering degree, but deeply technical, all the way to go, I studied engineering, but maybe I'm not. So really using the the heavy lifting side of engineering?
Jeff Perry 12:05
Yeah, so let me make sure I understand your question right here, Brad, you're trying to figure out like, okay, just give some clear examples of these different ways. Okay.
Brad Baldridge 12:15
Like the job titles, and what do they do? Because I think hardcore design engineer versus a sales engineer, versus, product manager versus, etc.
Jeff Perry 12:27
Yeah, great. So let's talk about one example of a design engineer. Okay. So I work with, I mean, one of the pieces of engineering that people kind of jumped to, because they think it's cool is like, okay, being an aerospace engineer, I want to work on airplanes, or rocket ships or something like that, right. And I've worked with people who, who work at places like Boeing and Blue Origin and stuff like that, right? So think about, even inside of that, there's a lot of different disciplines. So one person is really into the manufacturing process, but in particular, the additive manufacturing process using 3D printing. So additive manufacturing, is you're adding on materials to create a new part, instead of taking like a chunk of metal and machining that out to create a part or creating a mold that didn't mass produce something. And that's really innovative, and a growing field. And it's really important in a field, such as aerospace, where you're not doing 1000s and 1000s of rocket ships, you're making just a few at a time. And so you can iterate and change and create this because you're creating these parts one at a time, as you need to. And so he's doing the analysis and the testing and everything around, okay, we're creating a specific part inside of a larger vehicle that we want to make sure we're doing it well. And we're doing it right. Okay. And he's supporting people to do that. So that's one example. Something in the sales engineering realm is worked with plenty of these as well. And these are people, okay, there is a company that has technical products and solutions. And so they're kind of the liaison between the actual salespeople and creating the initial process to help the customer or client understand how the products the company has could actually be put into place and implemented in their needs. So one example is like a power company. Okay, so utility company, and a company and a technical engineering company that makes things that would go into a power plant or something like that. And so the sales engineer would help create the specking out of these are the products you need, this is how you're going to implement it, where you're going to do that. So that helps facilitate the sales process. He's a very large sales situations. They're not just like, hey, you're gonna buy something on Amazon. These are we're talking large infrastructure level things that need to work and be designed well. So there's a design element to the sales cycle. And so they're doing that technical work as part of the sales process. And then there's it generally gets put into implementation engineers, who then consult with the company to then go put it into place in some cases.
Brad Baldridge 15:13
Right.
Jeff Perry 15:14
So that's a couple of different examples on the spectrum there. And certainly, we can think of the hackers there. And the hackers, them having all these crazy lines of code that looked like the matrix or something and hacking away their computers doesn't really exist. Like that's a pretty rare thing. But yeah, I mean, software engineers are generally people are creating your apps, your websites, and things that you use digitally, that that you interact with in different ways, helped deliver the Netflix to you so that you can watch and understand what you're trying to find there.
Brad Baldridge 15:49
Right. Absolutely. And I think it's also important to realize that many people that are working in engineering are, can work from home are working from home, all they really need is a decent computer and internet connection. But then there's lots of process engineers that are on site, and trying to make figure out why the process is broken, or why the beer doesn't taste right, or whatever it might be. And then also, maybe, out in the weather, right, you're gonna build a bridge, all winter long, and someone has to be there to make sure that it's being built properly. And if it's raining, maybe you have to be out in the weather. And certainly, there's travel for some, and you can be a consultant that bounces around from project to project, there's a wide variety or around that.
Jeff Perry 16:39
Yeah, and consulting engineers, that's a great example. That's especially true, probably the realm that does that the most is probably civil engineering, where a lot of the civil engineering companies are consulting engineers, and they will consult for cities, counties, states, companies that want to build buildings, or build infrastructure or other things. But they're these companies that specialize in either one particular area of a building, or infrastructure, or maybe they kind of have a whole service firm. And they're working on a consulting basis, they're always having to bid for, for their job. Rather, they're always having to bid for their jobs against other potential companies to fulfill that role. And then they go implement and do the design build process, whether that's for a building, or a bridge, or a road or some piece of infrastructure, or sometimes it's a new street layout or a park or something like that, to help do that for the community. And so, yeah.
Brad Baldridge 17:38
Right. So all right. So then, you know, one of the things that I think that a lot of people don't realize, as well as how the first job might set the tone for your career. Again, I, as I told you, I'm a recovering engineer. So when I graduated long ago, I went to work for a company that built motors and transformers. And I didn't really love it. But after five years of experience in working in sales, and that type of thing around motors and transformers, well, that's where my skills were now. And if I wanted another job, that paid more than what I was earning, now, I probably had to go to the competitors, and sell their motors and transformers. And I did the hard left turn, and got involved in college planning and all that other stuff instead. But, I don't regret at all my, you know, I feel like I'm doing college engineering now, in some ways. But anyway, do you see that as well, where whatever you do out of school and you build your experience in sets a track for you, whether it's you get good at sales, or you get high technical knowledge and something esoteric, not really as terrible as automobile suspensions, you become a really good expert in that, well, then, you're gonna work at a car company, or maybe a forklift company or something related, but in the end, your expertise is now kind of put you in into a particular industry. Is that some basic knowledge of that?
Jeff Perry 19:14
Yes, and no, it depends. So just to speak, from my own experience, I got a mechanical engineering degree. And then out of school I did, I wrote code and I was a software engineer, I went back and did some mechanical engineering and also manufacturing work. And then I got into leadership and culture development, and now I'm a leadership and career coach. So I mean, for engineers, and so I had a really wide variety of technical applications that I was working on across that time. And now I apply that and what I do now, and I see people making jumps in industry all the time, from someone who is in medical devices, to green energy, or air aerospace to automotive or automotive to aerospace are different things. So I like to say yes, like you want to be constantly thinking about what do I want to learn? Where do I want to go in the future? And but it's a mix of being, why would say deliberate, while also allowing new ideas and things to emerge. Okay. So from a strategic perspective, there's some theories on strategy and business and personal development around deliberate strategy and emerging strategy. And I think we need to take that approach with our lives and our careers. So you can be deliberate say, 'Hey, these are the types of things I want to work on, and the things that I'm interested in and get some clarity around that in someone who's in school and early.' It really takes, you need to try things to know if you like it. Like Brad, you said, you didn't, you didn't really love what you're doing. And I got into software, and I didn't really love software. Although I'm grateful for that experience and perspective that it gave me I learned lessons that I've been able to apply in many other ways. So no matter even if you go into something new, try something considered do like this. Is this enjoyable? If so, great, continue on that path and explore the things if not say, 'Okay, what can I learn from this make the best out of the situation now? But also, can I map out what's the next thing I want to try?' It's almost like running a series of experiments or creating prototypes for your career. And so careers in our lives are iterative, we keep adjusting and learning and collecting data, seeing what's working and what's not working. And then we try something new to expect that we're going to understand exactly what we want to do and where we want to go and where the industry is gonna go. And we're 18, 19, 20 years old, and have our life mapped out like that just isn't true. So like, yeah, try and figure out and have experiences while you're in school to see what you like, then make the best decision you can but also feel like, if you try something, you're not completely stuck, you can you can build on those skills and try something new. And that's okay. We keep changing.
Brad Baldridge 22:07
Right? Absolutely. So what I also, I mean, again, if you start looking at engineering and on the internet, a very common theme is, people have goals, like I want to be a software engineer at Google, or the ones you mentioned, right? I want to build rockets, because that sounds like fun. And so I want to be an engineer at SpaceX or Lockheed Martin, or one of the other big ones. Is that a realistic thing to be talking about when you're 18 and just rolling into school? I mean, how would you, if your goal is software engineer at Google, how would you go about doing that?
Jeff Perry 22:46
Sure, it can be realistic, and Google hires 1000s of new engineers, new grad engineers every year, okay. But you need to recognize that if you're going to try and get into a place like Google or space after something that's extremely competitive, you need to do some things that are different than the random things, you can't think that even if you're a great student, and you show up and do your classes and have a 4.0 GPA that you're just going to apply to Google. And they're going to be like, 'Oh, yeah, this is a smart person with a with a great GPA, we're going to want to do them.' Okay. There's a couple of ways to do this and set yourself apart again, first of all, creating projects and doing things that are assigned by your classes. But beyond that, doing personal projects, or getting deeper into research and things, creating relationships with your professors, having informational interviews and talking to people who work at these companies that you're considering, go ahead and pull out that student card and say, 'Hey, I'm a student, I'm considering taking this career path, what does that look like? What do I need to do?' And get the insider view on what that takes to get there? Okay, because it's not as simple as just applying the something on the other side of school. And just hoping you get that, I call that the 'spray and pray' approach. And people just hope to put out a bunch of job applications and hope they they get some feedback, or get some interviews out of that, it doesn't work all that often, we need to take some unique approaches, and I'd find a much more personal approach to going through that process is much more impactful. But if that's something that you are truly, really interested in, consider that and do some things differently and learn what that's going to take early on, and start preparing for that and taking actions appropriately. Not just hoping they get to the end and be like, 'Oh, yeah, now I want to work for Google, it's probably not gonna happen.' You still could do that, but you're now going to have to put in some other work and get some other experiences that are going to help you get there in the end.
Brad Baldridge 24:42
Right, exactly. And I think that's not just engineering, but certainly it does apply to engineering where if there's particular industries or that type of thing that you might be interested in. You can start now and I don't care if you're a freshman in high school, a freshman in college or a new graduate of, and the younger you are, probably the easier it is. And I've said this on another podcast, but if you're a high school student, and you called an engineer at Google, and said, 'Hey, I'm a sophomore in high school, and I'm trying to figure out this engineering thing.' There's a good chance they would take the call and spend the two years with you, because you're young, you're 40 and have 10 years of experience in engineering, and now you're calling them. Now, it just doesn't seem, it's a different situation. And they may or may not take call, right? I mean, they're, they're not a career coach, they're not doing what you do. But the younger, still in college or in high school, I think there's a lot of people out there that would love to be a mentor for someone.
Jeff Perry 25:41
Absolutely. Yeah, and I spent a lot of time on LinkedIn, as far as social media, which is, which is great from the professional standpoint. And I'm extremely impressed with kids who are early in their college career, or even high schoolers who are considering talking to people who are experts in their field and different things like that. And LinkedIn is an easy place to figure out who works at these companies. can I connect with them? Can I have conversations with them? Can I ask for phone calls, because people are sharing, that's the whole purpose of it. They're sharing. This is my role. And this is where I work and stuff like that you can find almost anyone you want professionally, on LinkedIn. And so I'm extremely impressed. And I think everyone else is when you see a high school or college kid who's actually active there, instead of just, 'Oh, wait, now I'm graduating need to find a job. I'm gonna go look at LinkedIn.' And, you know, investing in that early and trying to create a network and connections and people you can have conversations with, absolutely, sooner rather than later. And that's honestly one of my regrets is I didn't really do that I was, I spent a lot of time focusing on the classes and the things I had responsibilities, I cared about my grades and stuff, and that's fine. But I didn't spend as much time connecting with people along the way and building relationships. And I think that was something I could have done better when I was younger,
Brad Baldridge 27:04
Right, exactly. And I think that's the other interesting thing is, if you want to join a certain community, if you want to join the rocket science community, there's probably professional organizations, and that type of thing where you could talk to a couple of those engineers or just work it out and figure out well, where do they go? And what conferences do they attend? And then as a student, you could volunteer and say, 'Hey, I'll show up and hand out brochures or man, that registration desk or do whatever, if you just let me hang out and chat.' And yeah, I guarantee that the guy that's running it is always short of hands, more than happy to have a volunteer that's willing to work hard and follow directions. And if you do that, well, guess what? Now you're talking with someone that knows a lot of engineers in the rocket science community, and a lot of job opportunities, etc, etc. So again, there's a lot that you can do is just thinking about it strategically. I think that's where the challenge, the kind of the leveling up is around jobs and careers, and that types of thing where, again, 25 years ago, you just go get a college degree, it's your golden ticket. And then once that's done, then you take the next step. Well, now, college is a given in a lot of career paths where you're going to get a degree, we know that and you need that, just like engineering would be a great example, right? It's going to be really hard to break into engineering without some sort of education or degree at this point, it works 50 years ago, you could sweep floors at General Electric, and then get promoted to draftsman and then get promoted to engineer. And you just got to learn on the job and earn the title. It doesn't work that way much anymore. But I think doing things with intention. And I'm guessing that some of the things that you're coaching people, like, can you give us kind of your take on that?
Jeff Perry 28:54
Yeah, so in some of the things you're talking about here, Brad, like recognize, we think of engineers as like these techies that, you know, have the pocket protectors and whatever. But some things you're talking about, like getting yourself out there joining professional associations and things like that, what you can do in school, and their club, you know, local clubs and student chapters of those things, when you can be a leader and stuff like that. Those take not just technical skills, but the soft skills of how do you present and talk to people and connect with them and things like this. And it's often neglected, either on purpose or through these stereotypes that we have around engineers and things like this, that are unhelpful. And so if we can look at this, 'Hey, I want to build out to be a whole person,' you still as an even working as an engineer need to be able to communicate your ideas and sell your ideas and share them with other people through this process in order to be successful. When you are in a job interview, you're essentially selling yourself to show that you can be and do what they need to do and solve the problems that they need to solve, and so, absolutely, it's just a big, big thing. And I work with people all the time, not just like, not just that your strategic things around what we need to do to get a job or take the next step, but also those feelings of like, what do I want to do getting clarity around what's important to them, and where they're trying to go. And even like, what they believe about themselves addressing their mindsets around this process. Because if people don't believe in themselves, it's going to be hard for a potential employer to believe in them too. And so the earlier you can work on some of those things, build up your experience and opportunities and put yourself out there and in different ways, the better serve, you're going to be later on absolutely.
Brad Baldridge 30:44
Right. Absolutely. So I think we learned a ton about engineering. And I know you've got some free resources. So I want to spend a little bit of time talking about it. So let's start with the podcast. I know, obviously, we're on a podcast now. So you also offer a podcast, you tell us the name of it, first of all?
Jeff Perry 31:01
Yeah, so it's the Engineering Career Coach Podcast. And I do that in partnership with the Engineering Management Institute, you can find it on any anywhere that podcasts are live. And we also have a YouTube version as well. And we do episodes two to three times a month around career opportunities, different perspectives, what do you need to do to grow and your leadership and other things? It's general across engineering disciplines. So it's a great place to learn for people who are considering to go in school or are already in school, I'm trying to figure out what's right for me. And how do I think about growing my career from an early age, lots of resources there.
Brad Baldridge 31:43
Right. So if I'm a parent of a budding engineer that saying I can't decide between civil, mechanical, electrical, and they all sound interesting, I don't understand. I don't understand a lot about what they do. I mean, they could go to your podcast and look around and find some people that have those careers. And see, listen to them talk through an interview. And they each have, like, about a half hour I noticed or so
Jeff Perry 32:10
Yeah, about a half hour, generally 30 to 40 minutes, right. So we have some great resources there to help people. And certainly, if people want to have a conversation, they can always reach out to me, as well. And I can help give them some perspectives and things like that.
Brad Baldridge 32:26
All right, great. And then your company, you also offer a free Masterclass. So can you tell us what that's about?
Jeff Perry 32:27
Yeah. So this is, in particular, for people who are in that stage of, 'Hey, I'm now looking for a job or internship, and I'm not sure how to stand out and make myself known and have the opportunities that I'm looking for, I'm kind of concerned about actually being able to make that launch out of school, or maybe I'm already in my career. And I'm trying to make a change here. And I'm not sure exactly how to do that.' So we talk about some critical factors that you need to consider. And make sure to optimize and think about, they're maybe a little bit different from some of the common knowledge. It's not just like updating the resume, there's more than that, if you really want to get a great job opportunity that is aligned with your career goals. And so we go through that process, and talk about how to move forward from there. So you can go, so people can go to that. My other website is www.engineeringcareeraccelerator.com. And they can go grab that Masterclass.
Brad Baldridge 33:32
Right, all right, great. Well, we'll put links to all this stuff in the show notes. So you'll be able to just go to Taming the High Cost of College as well, and there'll be links there. Well, I really do appreciate it. Any final thoughts for parents out there that are going down the engineering path with their kids?
Jeff Perry 33:49
Yeah, final thing. And maybe just one more resource that might be helpful. We've talked a lot about kind of making those decisions, getting clarity around where you want to go. One more resource that I've got a call it My Career Clarity checklist. And it's just a bunch of resources and activities to consider the deeper motivations, what really fires you up and some of the things that you're really interested in so that you can chart your path, it doesn't necessarily mean that you're going to have this magical treasure map, or X marks the spot and you've got the perfect map to get there. But it is a guide to help you figure out okay, what are those different areas, not just in your career, but other areas of your life as well. And what's most important to you to get those things, the second be for parents who are trying to consider for themselves or certainly students earlier on, you can go grab that at www.engineeringcareeraccelerator.com/career-clarity. And I'll get you that link as well, Brad.
Brad Baldridge 34:47
All right. Great. I do. Yeah. So it's fantastic. So that last the clarity piece that you just mentioned, is it focused towards engineering or is it more of a general?
Jeff Perry 34:58
It is, I mean, almost everything I do personally is angled towards engineers. But I think the the activities and processes can be used for for everyone. So, absolutely.
Brad Baldridge 35:08
Well, great. Well, I really do appreciate it. Let's stay in touch.
Jeff Perry 35:12
Absolutely, Brad, thanks for having me on and happy to help and connect with with anyone, they can find me on LinkedIn, pretty active there if they want to connect and ask any other questions, happy to help and connect, if I can do that in any way. Thanks so much.
Brad Baldridge 35:25
All right, that was a great interview. Hopefully, you learned as much as I did. We appreciate it. If you could give us a review. If you go to iTunes, or Apple, and leave us a review, it's much appreciated. Stay tuned, as we jump into Brad Recommends, I'm gonna expand a little bit on the idea around LinkedIn that was mentioned during the interview.
Presenter 35:46
The latest tips, tricks and tools you can use today. This is Brad Recommends on Taming the High Cost of College.
Brad Baldridge 35:56
Today, I'm going to recommend LinkedIn. LinkedIn, of course, is a tool that many professionals use, but I think it's a very important tool, especially in the engineering fields, where a lot of people will use it to find their next job or to connect with other engineers and engineer managers and other businesses, suppliers, that type of thing. So depending on where you are, what you're doing, as far as an engineer, you can start building contacts, and it's a great place to collect them up and keep track of all the people that you know and pay attention to where they are and what opportunities they might be able to bring to you, as well as what opportunities you can bring to them. Now, the reason I'm bringing it up now is many students can start building their LinkedIn profile, even in high school, and but certainly in college. So if you're not familiar with LinkedIn, or I would encourage you to look into it a little bit for yourself, but also encourage your student to start working on their LinkedIn profile. So that as they move into needing internships and that type of thing, they have less work to do. And they've got some interesting things in there and a little bit of history. So again, LinkedIn is generally kind of a professional location. So you're not going to put a lot of pictures of family and what you had for dinner last night and that type of thing. But it is a place where you keep track of you know, for an engineering student, especially the projects you've worked on, and link to the people that have helped you with those projects, a lot of time that's those projects are out in actual industry, where you're maybe solving a real problem for a company. And it's part of the... So now you would have links to people that are out in the working world already. So again, LinkedIn, I think, is a great place for students to get started. And they can do that at any age, and it certainly beats them spending another couple hours on TikTok, or Twitch or wherever it is that a lot of times, the very youngest are spending their time these days. Alright, that's all we have for today. I appreciate you listening. As always, if you can give us a review on Apple iTunes or wherever you're getting your podcasts it would be greatly appreciated and helps us get found and help lets people know that we're out here and available to help with your situation. That's all for this week. We'll see you next week.
Presenter 38:26
Thank you for listening to the Taming the High Cost of College podcast. Now it's time for you to take action. Head to tamingthehighcostofcollege.com for show notes, bonus content, and to leave feedback for Brad. The next step on your college journey starts now. Brad Baldrige is a registered representative of Cambridge Investment Research and an investment advisor representative of Cambridge Investment Research Advisors, a registered investment advisor. Securities are offered through Cambridge Investment Research Incorporated, a broker dealer and member of FINRA and SIPC. Brad owns two companies, Baldrige Wealth Management and Baldridge College Solutions. The Baldrige companies are not affiliated with Cambridge Investment Research.
Transcribed by https://otter.ai
Sign up to receive email updates
Enter your name and email address below and I'll send you periodic updates about the podcast.