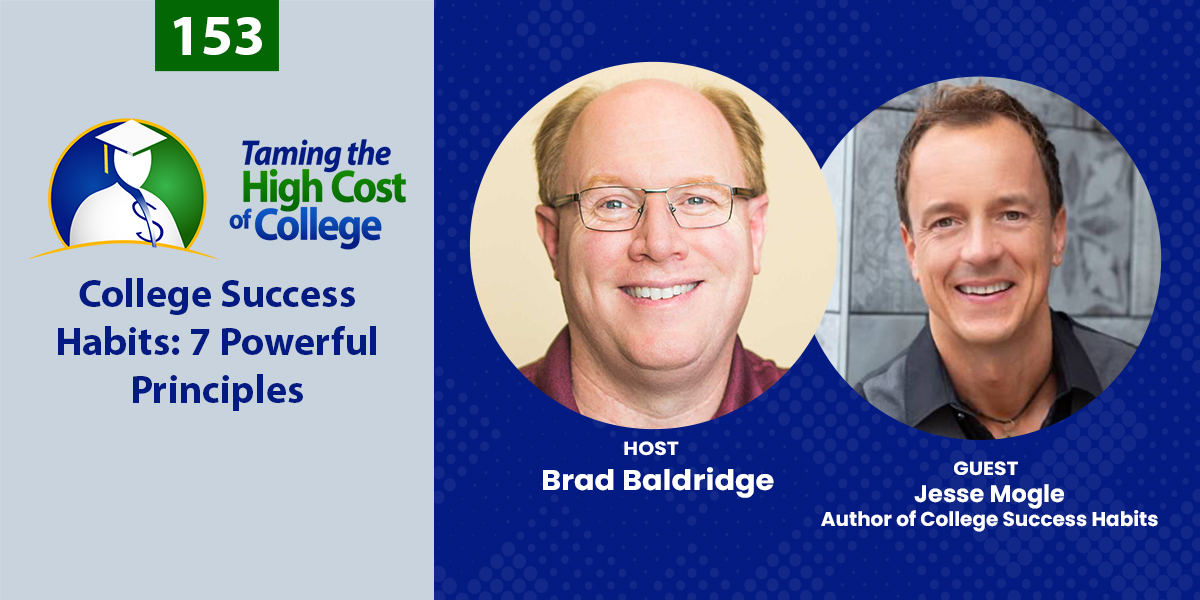 ---
Today's Guest:
Jesse Mogle, Author of College Success Habits
Despite not pursuing a medical degree, Jesse spent 12 years attending college, which he attributed mainly to his behavior back in high school and college. Realizing there's a huge need to help students to develop the right habits and mindset to stay on track, Jesse now coaches students as they navigate their emotional, physical, mental, and spiritual development at the middle school, high school, and college level.
He also hosts two top charting podcasts: "College Success Habits" and "From Sobriety to Recovery," and he uses his book "College Success Habits: 7 Powerful Principles to Excel in College and Beyond" as the foundation for his speeches, workshops, and seminars.
Questions Answered Today:
What is emotional intelligence?
Emotional intelligence, or the ability to understand and regulate one's emotions. It greatly helps a person to respond better to situations at hand, whether involving oneself or others. As shared by Jesse, its four pillars are:
Self-awareness and self-management
Being aware of your own emotions and feelings
Understanding how to manage what's happening inside of you at any time
Social awareness and relationship management
Being aware and recognizing others' emotions and feelings
Using your emotions and those of others to communicate better.
Why does emotional intelligence matter?
Having a high emotional intelligence is important for a student to be on track to success. There are thousands of resources available to help students get into college (e.g. taking the SATs and ACTs, writing theses and cover letters, etc.). But there are only a few that actually focus on how students become emotionally strong to get through college and beyond.
Jesse believes that having a high emotional intelligence is just as important as having a high IQ. This is because Jesse himself struggled with low emotional intelligence. He had good grades in high school, ranked seventh in his class, and many believed he would be successful in college. However, before his high school graduation, he found out that his parents were getting divorced. To cope, he turned to partying and drinking, which ultimately were the reasons why he had to spend 12 years in college.
Looking back, Jeff thinks that he probably would have acted differently if he was stronger mentally.
It's very critical that parents care about their students' emotional intelligence for two reasons:
Parents never know what's going on inside their kid's head, especially when they leave home and start a journey of their own.
Having a low emotional intelligence—or sometimes lack of it, which can lead to unpleasant situations—can happen to literally anyone.
It happened to Jesse. It happened to the world-class professional athlete, Simone Biles, who could not compete in the Olympics, despite it being her dream, because of her mental health issue. It happened to Oscar winner Will Smith, who hit Chris Rock right on the Oscars stage.
If these things can happen to professionals and to the people who are the best at their games, then they can happen to anyone. And when they do, it can cost your student their dreams. Or more.
As a parent/guardian, how do I empower my student's emotional intelligence?
1. First of all, learn how to parent with emotional intelligence. These days, it's getting harder for kids to do something simply because they find it enjoyable. If a kid wants to play basketball, some parents somehow put unwanted pressure on six-year-olds (e.g. screaming coaches, endless training, tournaments, etc.) instead of simply encouraging them and supporting them. A kid's enjoyment should not be made a parent's lottery ticket in life.
2. Don't dictate what your kid can or can't quit. Ask your student about what's interesting to them. Let them participate. If they want to continue doing it, let them. If it's not as fun as they thought it would be, they can quit. That way, they can move forward and start doing what they actually want.
Quitting something you don't enjoy is okay. As Jesse says, "It's not quitting if it's not serving me."
3. Seek out help from credible sources. Most parents aren't aware that help exists. Parents can learn more about emotional intelligence through:
4. Take ownership and be with your student at every step of the way. It's easy to tell your kids to read a book or listen to a podcast, but it's easier for them to just go to TikTok or Instagram. Instead, take the initiative and show your kid your willingness to learn and commit by:
Listening to a podcast with them while in the car
Reading a chapter of a book and discussing it with them.
5. Promote and model healthy communications. Don't hide difficult conversations such as finances and relationship conflicts. Remember that your kid learns what you show them. If you show how to communicate respectfully despite an unpleasant situation, your kid learns to:
Have a deep, meaningful conversation
Become open-minded
Actively listen
Ask great questions that get meaningful answers
Negotiate
Come to an agreement that serves both sides.
What are the seven powerful principles I can incorporate with my parenting as well as share with my kids?
"We think what we say matters more than what we're actually doing. But it does not, what we're doing speaks way louder than what we're saying."

– Jesse Mogle
While we're not far from a time when society didn't pay attention to mental health, Jesse believes that it's now time for parents to step into a more proactive role and lead their kids to becoming better versions of themselves.
If parents can exemplify these strategies, then their kids can mirror them and develop much stronger and healthier mindsets:
1. Develop a growth mindset. Kids usually have a fixed mindset. They don't want their parents to tell them what to do. They don't change their mind just because their parents told them so.
The key to getting them to have a growth mindset is first to understand why they think in a certain way:
Always ask them what they think about certain things
Encourage open-minded conversations.
2. Cultivate courage – Have the tough conversations and encourage your kids to take them on too, in order to help them come up with the best decisions.
3. Be decisive – Be decisive and encourage your kids to do the same. When you make a decision, stick to it.
4. Take action – Take action every single day and encourage your kids to do the same.
5. Embrace discipline – In a world where 80% of what is done is the norm and is good enough, be the one that pushes for 100%. If something seems so big and impossible to accomplish, break it down to small steps or bite-sized pieces to get it done little by little.
6. Exercise flexibility – Accept that, despite planning, something unprecedented can happen. Learning to be flexible and being understanding that things don't always go as they should is a great advantage.
7. Embody tenaciousness – Being tenacious means committing to be better. Parents can start with regular introspection:
How can I be more mindful of how I'm parenting?
How can I communicate with my kid more effectively, so that they actually want to be my friend when they're a teenager?
---
Links and Resources
Helpful Articles and Resources
---
---
THANKS FOR JOINING US!
We'd like to extend an invitation to our listeners to share their feedback and questions. Contact us to submit a question.
If you find our podcasts helpful, please share us on social media and tell your friends!
The bottom line is that we care what you think and want to help you out, so we'd appreciate you reviewing us on your favorite podcast platform. Even better, receive automatic updates by subscribing to the show through your preferred podcast service.
Brad Baldridge
Seven powerful principles to excel in college and beyond.
Presenter
You have kids, they grow up, and before you know it, it's time to plan for college. Where do you start? How much is it going to cost? Will you qualify for financial aid? Should you be looking into scholarships? When will you be able to retire? What about student loans? The list of questions is never ending. The good news is all the answers are right here. Welcome to the Taming the High Cost of College Podcast. Here is your host, certified financial planner, Brad Baldridge.
Brad Baldridge
Hello and welcome to Taming the High Cost of College. I'm your host, Brad Baldridge. Today, we have a great interview with Jesse Mogle. He's the author of 7 Powerful Principles to Excel in College and Beyond. Now, in this interview, we talk a lot about emotional intelligence and strategies that parents can use to help their students learn more about how to develop a growth mindset and other important things. And this is all based on a book that he wrote, again, the 7 Powerful Principles to Excel in College and Beyond. So those seven principles are develop a growth mindset, cultivate courage, be decisive, take action, embrace discipline, exercise flexibility, and embody tenaciousness. Now, those seven principles that he talks about, I think, come into focus as we talk and so forth. But I just want to do point out the book. It's a pretty quick read, I just was reading it again a little bit just before I recorded this intro here. And I think it's something great for both parents to read and understand so that you can perhaps impart that to your children a little bit. And it also would be great if your students actually took the time and effort to read the book as well. And I realized that sometimes it's hard to get our students to read books, especially if it's something that mom and dad are suggesting. We actually talked about that in the interview as well. But I just wanted to talk a little bit more about the book so we didn't hit it that hard in the actual interview itself. It is available out there on Amazon. And it's a quick read and relatively low cost as far as a Kindle book is concerned as well. Alright, let's go ahead and jump into the interview.
Today, our guest is Jesse Mogle. Jesse spent 12 years attending college and is not a doctor. He is, however, a guest expert on Fox and NBC. And he's spoken at universities, and he's the author of the book College Success Habits. And he also hosts a podcast by that very same name. Welcome, Jesse.
Jesse Mogle
Hello, Brad. It's a pleasure to be on your show to this morning. Thank you.
Brad Baldridge
It's great to have you. You got a lot of interesting stuff that you work on that's a little further afield around college than what I typically we're working on. So I think there's a lot of great stuff that we can learn here. But before we jump into all of that, can you tell us a little bit more about how College Success Habits came about and why you got involved and a little more about your backstory?
Jesse Mogle
Absolutely. Well, like it said, right there spent 12 years in college and no, I'm not a doctor. I was definitely someone who had amazing grades in high school, seventh in my class, I was absolutely projected to be very successful when I went to college and ultimately got my degree and went off into my career. Most of it is not all of it got derailed. When my parents announced a divorce about a week before I graduated high school, I had a much lower emotional intelligence than I had an IQ, got off to college and discovered drinking and partying and ultimately just stopped going to class and was asked to exit stage right by my first university. And that started me about just trying to fix all that, you know, that took eight years just try to fix the first three years. And when I ultimately chose to step away from alcohol, when I turned 40, I looked back at my life and asked myself what could have changed the most that would have helped me. And ultimately, I looked back at my high school and college years and realized that so much of my behavior had been sort of preset by my habits and by mindset, and I thought, 'Well, is there a way that I can talk to the current kids in middle school in high school and college and help them with their emotional intelligence, help them understand what's going on inside of them to make sure that they can stay on track?' And I think was we talked earlier, I went to the bookstore to see what other people were writing about this stuff. And there are bookshelves after bookshelves on how to get into college, SATs, ACTs, how to write theses, cover letters. But then there's like 20 books on the emotional intelligence aspect of it. And I realized there's a huge need for this in a world where social media seems to have taken over our young kids minds help takes over adult minds. If we can't even manage it, how are they doing it? So the College Success Habits was birthed out of this idea if I could just help one person be able to navigate their emotional and physical and mental and spiritual development at the middle school, high school and college level, then all of the struggles I had in my 20s, and 30s would have been worth it. And here comes to the College Success Habits podcast, and then I wrote a book about it. And it's worked out very well. And I'm very happy with the people I've helped. And I'd love being on your show to reach a whole another audience, because I think it's the parents may not be aware of what's going on inside themselves, let alone their kid whenever they leave home and step onto a college campus and take that whole journey on.
Brad Baldridge
Right, exactly. So let's start there. I guess. Some parents may have heard of emotional intelligence. And I obviously, there's many parents out there might even be the expert on it. But I think a vast majority of us don't, you know, let's make sure we're on the same page. What do you mean by emotional intelligence?
Jesse Mogle
There's four primary parts of it. And I won't get everybody in the weeds, but at least you'll understand, if you're thinking emotional intelligence, there's the self management and the self awareness aspect of it. Are you aware of your emotions? Are you aware of your feelings? Do you understand how to manage those and be able to not necessarily control them, but understand what is happening inside of you at any given moment? And then there's the social awareness and the relationship management aspect of it. So those are the four pillars of emotional intelligence, and whether parents will love hearing this or not, one of the things that I have noticed, I've done this now for five years is that there's a lack of emotional intelligence in most people, and therefore, we're raising children with less than emotional intelligence, because we were raised by parents with less than emotional intelligence. I mean, we are only what 20-30 years old. In the 80s, I was actually paddled in school in front of the class, right? Being spanked in the 80s was still a thing. It was worse in the 40s, 50s, and 60s. We are not that far away from a civilization that used to think that public humiliation in the form of punishment was a good idea. And now all of a sudden, everyone looks at what's going on in the culture today, I can't believe that we behave this way and think this way I might. It's just 2022 and 1982, we were still getting spanked in front of our class, for talking out of turn, that was 40 years ago. That's not that long ago. So let's understand that our emotional intelligence has not been that far afield. And it's time that we've put more attention toward it.
Brad Baldridge
Right? Absolutely. In general, I think people are becoming more aware of this stuff, or the some people are becoming more aware of it. And I think it's a potential advantage. You know, there's a lot of parents out there that are saying, 'I want to give my kid every advantage, I need to get them into the right grade school so I can get them into the right high school so that they can go to the right college.' And I think a lot of that type of advantage in there might be a little bit of merit here and there, but not generally not, in my opinion. I think there's a lot more advantage to be had around understanding things like emotional intelligence and growth mindset and learning how to manage your life and how to study and there's all kinds of soft skills that schools don't teach. And, quite frankly, most people don't understand very well. And just a little bit of knowledge in some of these areas can go long ways.
Jesse Mogle
Huge. The difference, I mean, let's look back at the at the last summer Olympics, when Simone Biles I mean, world class professional athlete had been preparing for this moment, her entire life and she gets there and she has some mental health issues that caused her not to be able to perform. And it's the first time in our society. And I've been paying attention to this aspect of social intelligence for a long time. Back in the day, and 80s, 90s, people would have been mocking her, 'I can't believe she went there, she collapsed, she she led her whole country down, she led her whole team down.' Instead, people embraced it. And now we're talking about mental health and a whole new way. This idea that someone who is of that caliber can have a mental health and emotional intelligence issue on the world's biggest stage. And then to think that your child won't be having something similar happened to them? There's a lack of awareness there. If someone like her can have it, then all of us normal people are definitely going to have those issues and you can study all you want. But if you don't handle your emotions well and you get triggered and you get angry, and you start to act out, there are a lot of things in college that will be more than happy to feel that emotional desire and need from your child. And the first thing that they'll turn to is partying. And once they go down that path, it is very difficult to pull them out of it without a major intrusion on their own life that they've got going on in college and this stuff, they could be teaching their kids in high school. We should have more emotional intelligence classes in high school. I don't see that becoming a thing. So I think it's part of the parents responsibility to start to figure it out for themselves so that they can they can actually parent with emotional intelligence and the kids will just learn through matching and mirroring and modeling,
Brad Baldridge
Right, absolutely. When you talked about this Simone Biles thing that led me to kind of a theory that I've been kind of thinking about in that we see a lot more quote unquote, mental health issues, etc, etc, of the pandemic and that type of thing. People are always talking about how there's not enough mental health providers to go around and all that type of thing. And one of my theories is obviously, we're much more aware of the concept where, because we're aware of it now, people seek help. In the past, you didn't seek help, because you didn't know it was a problem, you didn't understand it, and you didn't know help was available. Now that we've got the awareness now, so I think one big thing is the awareness. But I think the other area and looking for your opinion on this theory as well, is if you look at just the thing around gymnastics, right? If you watch gymnastics from 40, and 50, and 60 years ago, I mean, it's almost comical compared to what they're doing today. And obviously, Simone Biles from a very young age, put a whole lot of focus and energy. And her parents probably put a lot of money into making her, get to the level that she was at. But, and then, and again, gymnastics is one area of life, but I think we see it in all areas of life. I mean, when I was a kid, if we wanted to go play baseball, we got our bat in our glove, who went to the local park, and whoever was there that Saturday morning play baseball. Kids today, if they want to play baseball, they joined a team and the parents hire some coaches, and they scheduled some games and some practices. And then maybe they do some traveling, and it just becomes a bigger, more challenging more pressure. And hence I think might be causing your you know, because everything goes to that level. Now, it seems are more things. There's more opportunity for mental health and more opportunity for pressure and more opportunity for learning how to manage this stuff. What do you think? Is that, am I onto something there? Or is that?
Jesse Mogle
Oh, yeah, you're definitely onto something. I mean, you know, one, let's look at the financial repercussions of this, right? If your kid can be good at this particular sport, it's like a goldmine. It's like a lottery ticket in their life. And so now all of a sudden, you see the pressure that's happening to these kids at Peewee, and Pop Warner Football games, and like hockey games with like six years old, their parents yelling and screaming. The person you see yelling and screaming at the coaches and the other kids and their kid, you can look now and understand after listening to this show, that's a lack of emotional intelligence right there. Self management, self awareness is not happening right now when you see a parents screaming at a referee, while their nine-year-old is playing baseball. And then what we're pushing these kids and ourselves to do physically is that a whole another level, because we have so much more information at our fingertips than we did in the 80s and 90s. When you either read a magazine, you read a book, or you read a newspaper, that was the only way to get information for the most part. Now all of a sudden, you've got every, you get the entire scope of human intelligence on the internet. So everybody can know the latest fad and training for an Olympic event or for getting their kid to hit the baseball better, throw a better football, and so the pressure on these kids is coming from all angles, let alone what they're going to be expected to do in school. And now also they're trying to navigate school around a bunch of people who have the same resources, or better or worse, or just depends on the family life they have. And now there's social media. And now everybody's comparing themselves to not just the Joneses who live next door. But now you can compete compare yourself to the Joneses who live in Montana, or South Dakota or Hawaii. If you live in Florida, it seems like we have all these inputs coming from all over the place. And the technology has developed way faster than our human brain has developed ways of coping with it.
Brad Baldridge
Right, for sure. But to go along with that, though, I think. And then, and again, we use sports as the analogy. And we see this in all areas, right? When I went to high school, we barely touched on calculus. When my son went to high school, he took more calculus his junior year, and then took another math class after that, you know? So his junior year, he covered all the Calculus I had in high school in like eight weeks.
Jesse Mogle
Yes.
Brad Baldridge
Then he finished a full calculus class. And then he went on to whatever multivariable calculus which whatever that means, and learned a whole bunch more, and it was his thing. So he enjoyed it. But I think, because we understand education better, we're able to do the right things into kindergarten to do the right things in grade school and middle school, to where it's possible to get more math done more quickly, especially for kids where it's their thing, but it isn't necessarily you know, that's that challenge of well is math, should math be my kids thing? I mean, do they enjoy it? Should gymnastics be my kids thing? Do they, that there's that yin and yang of 'well, let the kids be kids' versus 'well, if they want to excel in life, they're going to have to become a deep expert in something or whatever and therefore they should get to work now start practicing and so that they can go to the Olympics when they're 22' or 17, depending on what sport.
Jesse Mogle
Well, you know, I have a whole episode on this, I call it the Curiosity, Interest, Passion, Purpose Ladder. When people are, they'll come to me and say, 'I'm trying to find my purpose, I want to know what what my purpose in life is.' I'm like, 'Well, let's dive into what you're curious and interested about.' Because curiosity becomes interest and interest becomes passions, passions are internalized for your own benefit, purpose becomes externalized for other people's benefit. So people will often want to start, I'm going to discover my purpose. And they start asking themselves, 'Well, what do I like to do?' And I'm like, 'Okay, that's a way. Let's try another way. Let's see what you're curious and interested about. And let's try a bunch of different stuff.' And like Europe, at a young age, they have the kids take test to decide, are you going to go languages route? Are you going to go math route? I was never somebody who wanted to learn calculus, I get STEM is important. And that's some. And that's definitely if you're into computer sciences, you can become a millionaire by 20 if you develop an app. And STEM is important, but there's other students who are not stem people. They're not math-driven. We need others who can write, we need the languages. We need marketers and developers, there's other there's other careers out there that are just as needed. Every job is necessary. I mean, we learned that during the pandemic, take bag boys in grocery stores, and employees out of the equation, and everyone's starved. So every job is necessary. Let's find the one that works best for your kid. And I think the best way to do that is to introduce them to a ton of stuff. And my dad used to tell me, 'No, you don't you don't quit anything.' It's not quitting if it's not serving me. If okay, I tried baseball, not my thing. Let's go try football. No. Instead, he made me play baseball for six years. I didn't want to play baseball. I barely even liked the sport, but he liked baseball. So that's why I was told I couldn't quit it. So I think it's important that we let, even adults, what are you curious about? What are you interested in? Start participating in those more often, and if it's not clicking with you, ask yourself, am I quitting it because it's hard? Or am I ready to release this because it's not really as enjoyable as I thought it would be? And once you know that answer, then you can move forward very confidently knowing that changing directions isn't quitting because it's too difficult. It's more that it's not really as enjoyable as you thought it was. And that's okay.
Brad Baldridge
Right, for sure. And I think there's a great, I listened to a podcast Freakonomics and he had a whole hour episode about the whole idea of, you've only got so much time in your life, you may need to quit things so that you can do other other things. And I think that's a different question than I'm going to quit everything I'm doing and now all I do is TikTok.
Jesse Mogle
Right. yes. Hey, there's a million dollars to be made in TikTok. I know, I mean, I used to live in Los Angeles. Now I live in North Alabama. Some of my best friends were YouTube influencers and TikTokers and Instagrammers. And they're the ones written out entire floors in the W and throwing parties and making millions of dollars. Yeah, there's, there's a way, my mom used to tell me
Brad Baldridge
But it is, you can be, like, they make it look, right?
Jesse Mogle
No, it's a lot of social
Brad Baldridge
Right. Everybody wants to be that social media influencer where I get to travel and take pictures. And I'm gonna make a million dollars.
Jesse Mogle
Yeah, don't don't bank on that any more than you should bank on your kid becoming a world class athlete. That's your retirement fund.
Brad Baldridge
Exactly. And that's right. And that's the other challenge, right? It's, 50 years ago, it was much easier to become an NFL star. It didn't pay that well like it does today. But it was much easier because there was it wasn't such a huge focus. Now, many families are working on their skills, their target is the NFL from age six. And, is that right or wrong? I don't know. But it is, and we've had to deal with it. That's just unfortunately, the way it is. And, again, that's the sports analogy, but you can see the same thing in music, you're learning to play your instruments and get your practice in, you can see it in academics, right? I'm gonna go to the right schools and study the right stuff so that I can climb the ladder there, whether it's STEM, or then there's like leadership training, right? To be a really good salesman, a lot of people are going to study somehow or practice or at least they should, in my opinion, because sales is a skill that people can work on. And maybe you need it directly for your job because that's your job to sell. But that's that's applicable in other areas of life as well. But so there's this broad stuff that parents need to understand how the world works, and then they need to impart that to their children. And I think there's another challenge there with you know, when teenagers get to a certain age that they don't really want to have mom and dad tell them this is how the world works. Any ideas on how to deal with that?
Jesse Mogle
How to get a teenager not to reject your wisdom. Oh, boy, that would be there should be bookshelves on that. This is a great time to bring up, you know, growth mindset versus fixed mindset. It's something, it's one of the reasons I wrote the book that I did. You want to understand that a growth mindset, a lot of people like, 'Oh, just be open minded and know I can accomplish anything if I set my mind to it.' Yeah, that's a great philosophy. It's absolutely the mindset you want to have. It's the fixed mindset aspect of it, that's actually more important, because that's where the underlying sort of unconscious behavior will get in the way, where the parent wants to tell the child that this is the way it works just, right? They don't want to be told that this is the way it works, because they've seen outliers, they've seen other people be able to achieve things. So I think it's more important that parents ask the questions that sparked the child's to investigate it deeper for themselves, has a life coach, a business coach, somebody who coaches people in recovery. And as somebody who's coached college kids, the best way to get them to actually do something is to ask them questions that make them think it's their idea. I think I think anybody who's ever coached, anyone will realize if you can get them to think it's their idea, you get them to want to do it more than they want to not do it to spite you. It'll get done. And that fixed mindset is what comes in where they think, 'Well, I can't do this', or 'That's too difficult.' And that's all a perspective shift. So I think more importantly, parents, instead of telling their kid what they think, they should be asking their kid what they think and getting a better understanding of why their kid is thinking the way they are. And just continue encouraging open minded conversations. Because eventually, if you bring something up enough, and you do it in a good way, it's sort of like you backdoor into their unconscious mind. And it's, the kid thus thinks it's their idea. And that's where, that's how I coach parents and kids on how to have better communication with one another. Because there's a lot of little tips and tricks that you can use to immediately cause connective communication to happen very quickly.
Brad Baldridge
Right? Absolutely. And I think once you realize that, there are people that have studied this, and they can kind of get you off of square one more quickly, I always use the analogy of I got a puppy, just before COVID happened. And I know nothing, you know, I've never had a dog before. I know nothing about it. So I hired a dog trainer to help me. And he spent 90% of the time training me, not the dog, because essentially, I have to break all my bad behaviors that cause bad behaviors in the dog that's really 90% of dog training, where he worked with me and taught me all the stuff I didn't know. And when it comes to dog, and dog trainers and that kind of stuff, everybody's kind of aware of that they exist, right? I need help with my dog, there's dog trainers, that's probably a good place to start. When we start talking about things like emotional intelligence, and growth mindset, and some of these things, I think there's a lot less awareness that there's books on the subject, there's courses on the subject, there's coaches on the subject, there's all kinds of things, you just need to be aware that they exist, and then go seek them out.
Jesse Mogle
You know, what you just said really sparked something, I look back at my, at the 80s when I was a kid. And there was topics that the parents didn't really discuss at the table, they didn't discuss their finances, they didn't discuss the problems they were having, we didn't really discuss much of anything. And that's to me, it was the completely wrong way to parent, I think that the best way to parent is being again, not necessarily a parenting expert, but certainly a communication expert is to have conversations in front of your kids that model to them the way healthy communication should happen. Talk about finances in front of them so they understand all of the decisions that are being made in order to buy the new car or to save for college. This would absolutely help the parents in your in your demographic. And if you're going to talk about difficult things with your spouse, your kids are always watching. They're always watching you and they're gonna go off and they're gonna mirror it, they're gonna match it, they're gonna model it. So if they see you and your partner having a really connective conversation around a very difficult topic, and doing it calmly and open minded and actively listening and asking really great questions that spark really great answers, they're gonna model it they have no, it's it's not even they making the choice to model it, their unconscious mind is just gonna see, 'Wow, look, the parents seemed upset. Now they're happy. How did that occur? Oh, wow. They sat down. They had a deep meaningful conversation. They actively listened to one another. They said thank you a lot. They appreciated what the other person had to say. They negotiated and they came up with an amicable agreement that works for both sides. Oh, well, you know what, I'm just going to do that with my friend. Next time we decide we're going to argue over which Transformer we're going to play with.' I think that the parents have an amazing opportunity to show the children how to be an adult by actually having conversations in front of their children that normally we were raised not to have.
Brad Baldridge
Right? I would wholeheartedly agree with that, where, and having those conversations around just ideas that emotional intelligence even exist, like you said, it's not covered in school. And some kids will take to it, and they'll go learn about it, and some kids won't, but at least they've heard about it before. Whereas
Jesse Mogle
Yes
Brad Baldridge
And again, in a lot of cases, I think that's a big challenge, where there's a lot of people out there that Tony Robbins, who people may have seen on TV, there's a lot of people that think Tony Robbins is great, and some people think it's a complete farce, but at least you've been exposed to it. And then you can make your own decision. You know, I'm in the more in the believer camp. But again, if Tony Robbins isn't the right person, there's lots of other people out there that talk about growth mindset and habits and all kinds of stuff that I think for many parents as well as students, that's going to be the challenge, right? You're going to need a good study habit. Well, how do you create a good study habit? And parents would be like, 'Well, I don't even know how to begin to talk about how to create a good study habit.' Well, you've got two options that you need to hire a study habit, coach, do you need to buy the book and give it to the kid? Do you need to listen to your podcast while you're driving around, so that they inadvertently hear a little bit here and there? And maybe they'll choose to go back and listen to a whole episode? Because they found interest in it. I think there's a lot of value and that type of thing. All right, well, let's jump into, I'd like to talk a little bit more about your podcast, because I think, who should listen to that? I know, it's targeted to students, I believe, typically? Would parents gain much from listening? Or can that you know, is that a two step process? Perhaps a parent listens, learns about the subject, and then hands it off to the student? How you what did you think a parent should do around your podcast?
Jesse Mogle
Perfect question. Perfect question. So one of the, what you had just said, really sparked me, giving a kid a book and just expecting them to read it or telling them about a podcast and expecting them to go listen to it. There's a lack of ownership there. It's very easy, pop on my podcast, like, 'Hey, I'm gonna, let's check out this podcast. And there's amazing information.' I mean, I started off trying to teach kids how to study better and set up a good study environment. And then COVID happened. And I realized, man, there's a lot of emotional intelligence issues that I have not even touched upon that on my other podcast, From Sobriety to Recovery I discuss all the time. So I just immediately started to bring in the topics I talked about on the recovery show. And that's actually going on in the show immensely. There is a there is a desire for more people to understand their emotions and their human mind. So find an episode on the College Success Habits podcast and just have it playing when you pick your kid up from school, and be like, 'Hey, you know what, don't put your headphones on. Let's just sit here. Let's just chat. I'd love to listen to this show with you and talk about it. Let's go get the College Success Habits book. And let's sit down and let's read a chapter together.' I made it very easy to read, and I broke it down into nice little chunks. So it can become a conversation. Because if you just hand them over something and say, 'You go figure it out.' Well, they're not they're gonna go watch TikTok, they're gonna go on Instagram, they're gonna, we already know what behaviors they're programmed to do. They're not going to break those simply because you said read this book. So it really needs to become this group thing where the parent also says, 'Well, you know what, I didn't know that I'm going to implement that too.' Again, it's all about modeling the best behavior for your child, if they see you doing it. And then even if it's not, quote, unquote, successful, if they're seeing you put an effort to uplevel yourself, they're going to be more driven to uplevel themselves. If they see you sitting on the couch watching TV all day, eating bonbons or drinking beer and just letting the house fall into disarray, what behavior do you think you're modeling to them? We think what we say matters more than what we're actually doing. But it does not, what we're doing speaks way louder than what we're saying. And I think it's time that we all step into a more proactive role. That's why I wrote the book, be courageous and be decisive are the first or the second and third principles. Be courageous enough to have tough conversations with your kids make a decision. And then once you've made that decision, stick with it and show them what it's like to take action principle number four, on that every single day. And how do you take this, how do you take action every day? By having discipline, realizing I've made this decision, I'm going to see it through to the end. I believe our society has I call it an 80% problem, where we get about 80% done with something and we're like, 'Yep, that's good enough.' And we, but no, it's not, you started something, see it through to a conclusion and you do that every day by breaking things down into small little steps. No students know how to write a 20-page thesis paper. If they sit down and think of 20 pages in a thesis paper, but if they sit down and think, what's one page I can write today? That 20-page thesis paper will get done in less than 20 days. But if they sit down afraid of 20 pages, it's too many steps. Break things down into bite sized chunks. You don't eat an elephant at one, in one sitting. It's one bite at a time.
Brad Baldridge
Right? Absolutely. So you've covered, looks like you have most of them, there's two more here the exercise flexibility and embody tenaciousness.
Jesse Mogle
Flexibility, I think is one of the ones that I've suffered. I don't know if I like the word suffer, I'm mindful of more often than not, because I get in my mind, 'This is the way I'm going to achieve this.' And this and once I get a plan in my head, I don't want to deviate from it. But once you come up with a plan, what is the one of the things I say on the show all the time, planning is priceless, but plans are worthless. Because once you actually get into the execution of anything, parenting, writing a paper, getting your kid into college, so many things show up you weren't even prepared for, you didn't even know to think about it, no blog will be able to tell you all 187 steps to get your kid into college. So be flexible and understand. 'Okay, well, here's a little roadblock, let's just take a detour pocket to experience something really cool. Get that experience. And in the end, we're still gonna get you into college. It just may not be what we thought it would be when we first started this journey. And tenacity, embodying tenaciousness, that's just dedicating every single day to waking up and saying how can I better myself today? As a parent, they can say, 'How can I be more mindful of how I'm parenting? How can I communicate with my kid more effectively, so that they actually want to be my friend when they're a teenager?' Not all teenagers, riot against their parents. I have absolutely seen parents who have had a strong relationship through all those hormonal years. And a lot of it is because the parent is also willing to learn new ways of parenting and behaving in front of their child, to again, model the best behavior. And the likelihood that your child will follow your lead is way higher than if you just assume that they'll figure it out. Because if, let's just put it this way, if you're not willing to teach your kid how to listen, how to be a good human being, don't worry, the internet has no problem filling that void. And what is the likelihood that they're going to show your child the best ways of behaving? I would say based off of what we saw the Oscars on Sunday night, even the best can have moments of a lack of emotional intelligence. That dude got emotionally triggered, and you get emotionally triggered and one moment of your life one 20-second moment of your life, it can destroy everything that you have spent a lifetime creating. If we have not seen how emotional intelligence can derail someone's life in a split second, I think we need look no further than what happened on the Oscars with Will Smith and Chris Rock. And that's professionals, who are paid millions of dollars to do what they do. And they can have moments like that. What's the likelihood that your child and you will have moments like that? That's the tenacity, that's being self aware and knowing each and every day you have a choice, be acting desirably or allow your emotions to get the best of you, get triggered and do something that you'll regret for years, maybe even decades to come.
Brad Baldridge
Right? Absolutely. So we're gonna wrap things up here, I think we've, again, you got a wealth of information. I encourage people to check out your podcast and your book, and we'll put links to those in the show notes. But can you also just tell us where we can find the book and your podcast and how people can reach out to you and get to learn more if they want to?
Jesse Mogle
Absolutely, and I want to thank you for this opportunity. I love talking college success and all the habits that are created there. If you want to find me, social media, super interesting. I'm literally the only Jesse Mogle on the planet. I have searched for other versions of me out there @jessemogle is my Instagram handle as well as my Twitter, my Tiktok, my LinkedIn, all @jessemogle, you can go to my website, jessemogle.com. I've actually recently launched an entire emotional intelligence-based membership site called The Hub, The Wise Mind Empowerment Hub. You can find out more about that at jessemogle.com/thehub.
Brad Baldridge
Wow, great. So you've got lots of next steps for people that want to take them. I really appreciate all the good information and we'll stay in touch.
Jesse Mogle
Yes, absolutely. Brad, thanks for having me on the show. Appreciate you.
Brad Baldridge
All right, that was a great interview with Jesse. As always, show notes are available at tamingthehighcostofcollege/153. We'll have links to Jesse's book and podcast and all his other relevant information. So you're welcome to go there if you're driving or you're not able to write things down as you're hearing it. As always, we appreciate reviews in iTunes or wherever you're downloading your podcasts, it helps us get found and feel free to share this information with other parents and other students. That's all we have today, we'll talk to you soon.
Presenter
Thank you for listening to the Taming the High Cost of College Podcast. Now it's time for you to take action. Head to tamingthehighcostofcollege.com for show notes, bonus content, and to leave feedback for Brad. The next step on your college journey starts now. Brad Baldridge is a registered representative of Cambridge investment Research and an investment advisor representative of Cambridge Investment Research Advisors, a registered investment advisor. Securities are offered through Cambridge Investment Research Incorporated, a broker dealer and member of FINRA and SIPC. Brad owns two companies: Baldridge Wealth Management and Baldridge College Solutions. The Baldridge companies are not affiliated with Cambridge Investment Research.
Transcribed by https://otter.ai
Sign up to receive email updates
Enter your name and email address below and I'll send you periodic updates about the podcast.